July 2020
| | |
| --- | --- |
| | For answers to many questions, consult the CURRENT MONTHLY REVISED EDITION of the Official Traditional Catholic Directory, Listing All Traditional Latin Masses and Traditional Resources for North America. For further information, click on the TRADITIO Network's Official Traditional Catholic Directory department, provided to the TRADITIO Network by the National Registry of Traditional Latin Masses. |
For information about the protocol for sending messages to the TRADITIO Fathers, click on Ask the Fathers. First, here are some ]hints for locating items that have already been covered. The TRADITIO Network has the most varied and extensive repository of traditional Catholicism, collected over the 20 years of our existence on the internet, the longest of any traditional site. (1) Check the 16 departments listed in the TRADITIO Network's Web Site Map on our home page, www.traditio.com. (2) Check the 14 FAQs in the TRADITIO Network's Library of Files (FAQs and Traditional Apologetics) department, which answers your most common questions. (3) Use the Search engine on the TRADITIO Network's home page, www.traditio.com.
| | |
| --- | --- |
| | If you have you have personally benefited from the services of the TRADITIO Network, please support the continuation of the TRADITIO Network's Apostolate by clicking on the box to the left to made a donation easily, securely, and confidentially by bank account or credit card through PayPal. Regular contributors become Benefactors of the TRADITIO Network, and their intentions are specially commemorated at Traditional Latin Masses offered. Using PayPal reduces our administrative burden considerably, but if need to use a paper check, click on FAQ01: "How Can I Help the TRADITIO Network's Apostolate?" We have always refused to display those annoying "click" ads to raise money. We hate those ads, and we think that you do too, so we have kept TRADITIO 100 per cent free of them and rely instead on you for voluntary donations. |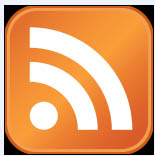 Subscribe to the Free TRADITIO RSS Feed
Enter "http://www.traditio.com/rssfeed.xml" into your Yahoo, Google, Microsoft, or Other Aggregator
---
NOW RELEASED: THE 25TH EDITION (2020)
OF THE OFFICIAL TRADITIONAL CATHOLIC DIRECTORY
THE 2020 ANNUAL USE FEE IS NOW DUE
FOR THOSE WHO WISH TO USE THE NEW EDITION
The TRADITIO Network has been informed by the National Registry of Traditional Latin Masses that the new July 2020 Revised Edition of the 25th Annual Edition (2020) of the Official Traditional Catholic Directory, Listing All Traditional Latin Masses and Traditional Resources for North America has been published. For further information, click on the Official Traditional Catholic Directory department, provided to the TRADITIO Network by the National Registry of Traditional Latin Masses. The annual use fee is now due for those who wish to use the new 2020 Original Edition and its monthly Revised Editions. Site representatives, be sure to check your traditional site's listing for correctness.
---
FEATURED GREGORIAN CHANT CD OF THE MONTH
The TRADITIO Network recommends the Gregorian chant recordings of the St. John Schola, which is recording a CD series consisting of live recordings of the type of chant pieces that may be used at traditional churches and chapels. It makes no pretense to being professional, but to what is achievable, with a little work, by the average small lay choir. The hope is that this series will serve as a practical guide for the wider use of Gregorian chant in the traditional Roman Catholic liturgy. For ordering and descriptive information on the CD series, click on A Traditional Chapel Sings Gregorian Chant. This month's featured Gregorian Chant CD is: FEAST OF THE PRECIOUS BLOOD (VOLUME X).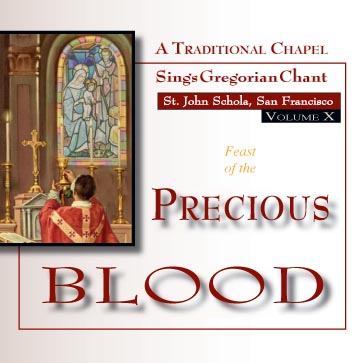 ---
---
July 13, 2020 - St. Anacletus, Pope & Martyr
Semidouble Feast
Francis-Bergoglio Consigns Hong Kong to the Communist Chinese
He Deliberately Omits Prepared Remarks on Hong Kong Freedom from His Angelus Screed
From: The TRADITIO Fathers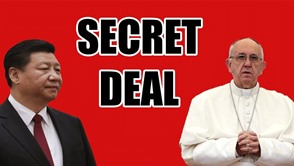 Francis-Bergoglio Entered into a Still Secret
Deal for His Newchurch to Be Sold Out To
Atheist Communist Dictator Xi Jin-ping
In September 2018, up for Renewal in 2020
Bergoglio, Fearing Xi's Anger, Has Avoided
Any Public Statement about Religious Liberty
Both in Hong Kong and on the Chinese Mainland
Clearly, Bergoglio Is a Marxist First
And a Newpope of the Apostate Newchurch Second
More and more, Francis-Bergoglio has turned what is supposed to be religious into politics. The Sunday Angelus from the Apostolic loggia is supposed to be a devotion to the Incarnation and the Blessed Virgin Mary, but the Marxist/Modernist Francis-Bergoglio has now turned it into an opportunity to give speeches based in Leftist politics. On July 5, 2020, he had already distributed the text of his speech, which included a plea for religious freedom in Hong Kong, where Communist China is now trying to take over. But, without explanation, the plea for freedom was dropped. The statement was to have read in part: "I thus express the desire that societal freedom, and especially religious freedom, be expressed in full and true liberty, as indeed various international documents provide for it."
The deliberate omission gives further evidence that the Marxist Newpope has sold out to Communist China in his still secret sellout agreement of September 2018. Since that agreement the Red Chinese government of Xi Jin-ping has conducted a campaign of extermination of Christians, killing clergy, razing churches and demolishing crosses throughout the Red China. Bergoglio has said nothing against these predations, even though many of his own clergy and laity have been its victims. And some people think that Pius XII was evil for not speaking out publicly against the Nazis! [Some information for this Commentary was contributed by Catholic World News.]
True Catholics, it has been reported that the plea for Hong Kong's freedom was suppressed out of concern that Xi Jin-ping would become angry at Bergoglio. Bergoglio has thus avoided any public statement about religious liberty both in Hong Kong and on the Chinese mainland. Francis-Bergoglio's 2018 secret sellout agreement comes up for renewal in September 2020. Clearly, Bergoglio is a Marxist first and a Newpope of the apostate Newchurch second.
---
July 12, 2020 - Sixth Sunday after Pentecost
Semidouble Sunday
One-third of Newchurchers in Germany Are Leaving Francis-Bergoglio
Europe's Largest Country Is Rejecting His Marxist Newchurch of the New Order
From: The TRADITIO Fathers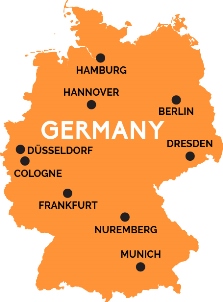 Germany Is Europe's Largest Country
One-third of Its Newchurchers Are Planning to Leave
Francis-Bergoglio and His Newchurch of the New Order
In just One Year the Number of Departures
Went up by 26 per Cent
Germany Is Considered a Bellwether
For What Is Already Happening
And Will Soon Happen to Other Countries in Europe
Newchurch Has Been Leaking Like a Sieve
Since the Vatican II Anti-council (1962-1965)
On July 9, 2020, the Newchurch newspaper Die Tagespost announced that three out of every ten Newchurchers, or 8.5 million German Newchurchers, are preparing to leave Francis-Bergoglio and his New Order sect. Germany is Europe's largest country and is considered a bellwether for what is already and will soon happen to other countries in Europe.
Only half of Newchurchers, or about 15 million German Newchurchers, said that they would stay with Newchurch -- for now. In 2019 a record number of Newchurchers left Francis-Bergoglio's sect, 272,771, a 26 per cent increase over 2018. [Some information for this Commentary was contributed by the Catholic News Agency.]
True Catholics, Francis-Bergoglio's Marxist/Modernist New Order sect has been leaking like a sieve since the Vatican II Anti-council (1962-1965). It was Bergoglio's predecessor, Benedict-Ratzinger, the Modernist heretic, who came from Germany and presided from 1981 to 2013 over Newchurch's Great Sex & Embezzlement Holocaust, which hit Germany hard. Now Germany has had enough and is cutting its ties with its own Ratzinger and his successor, the Modernist/Marxist Francis-Bergoglio, and their Newchurch of the New Order. "And it fell, and great was the fall thereof" (Matthew 7:27/DRV).
---
July 11, 2020 - Our Lady's Saturday
Simple Feast
A Reader Asks: "Should a True Catholic Be Concerned about 'End Times'
Or Entirely Avoid Such Speculation as Sinful?"
From: Monica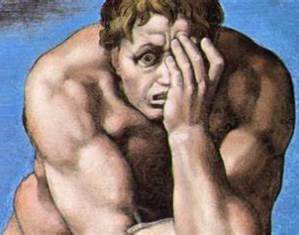 The Damned Soul Contemplates His Fate
In Michelangelo's Powerful Fresco
"The Last Judgment" (1535-1541)
Before the Last Judgment Will Come
Our Own Particular Judgment at Death
It Is Our Own Judgement upon Which
Each of Us Needs to Be Focused
Not Idle Speculations on "End Times"
Such Speculations Are Explicitly Condemned
By Our Lord as Sinful
And Can Lead Us to Wander Away
From Our Own Eternal Salvation
Dear TRADITIO Fathers:
Given the uncertainties of our present day, I am curious about the timeline for the "end of times." We hear so much about the "Three Days of Darkness," the "Reign of the Anti-Christ," the "Reign of Mary," the "Great Catholic Monarch," and the like. Should a true Catholic be concerned about "end times" or entirely avoid such speculation as sinful?
THE TRADITIO FATHERS REPLY
Our Lord clearly answers your question: such curiosity is actually sinful. In the fifth book of the New Testament, The Acts of the Apostles, it is recorded that the Apostles ask Our Lord before His Ascension into Heaven about the so-called end times. He chastises their question, saying: "It is not for you to know the times or moments, which the Father hath put in his own power" (Acts 1:7/DRV).
Ignoring Christ's clear words, some errant Catholics have become so obsessed with "end times" that they risk their own salvation. It is certainly true that the world will eventually end, but what you should be concerned about is the end of your own time. When the world comes to an end is immaterial for your own salvation or damnation. It is your own salvation, God's Particular Judgment upon you at the end of your own times (life) upon which you need to focus.
Put aside idle speculations about things over which you have no control and instead focus upon meriting your own salvation. Becoming obsessed with useless material questions can easily lead you astray and risk your own salvation.
---
July 7, 2020 - Seven Holy Brothers, Martyrs
Sts. Rufina & Secunda, Virgins & Martyrs
Semidouble Feast
Traditional Catholic Film Composer Ennio Morricone Dead at 91
Morricone Wrote the Haunting Film Score for 1986's Oscar-winning "The Mission"
From: The TRADITIO Fathers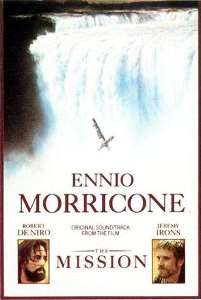 Traditional Catholic Ennio Morricone
Who Died on July 7, 2020, at Age 91
Wrote Numerous Classic Film Scores
Including 1986's Breathtaking "The Mission"
In Which Latin Church Music
Was Woven with Native Panpipe Music
The Native Choir Beautifully Sings
A Latin Te Deum and a Miserere
He Refused to Compose for the "New Mess"
And Demanded that the Church's "Vital" Music
Be Used, the Sacred Gregorian Chant
Composer Ennio Morricone died on July 6, 2020, at age 91. Morricone was a classically-trained musician, composer, and conductor, who, in addition to symphonic pieces, wrote classic music for numerous films. his crowning achievement being the score for the 1986 religious film The Mission.
In this Oscar-winning film, Jeremy Irons plays an 18th-century Spanish Jesuit who goes into the Brazilian rain forest to build a mission in the hope of converting the Indians of the region, with Robert DeNiro playing a convert who assists Irons in his mission. In the film score Morricone wove the mesmerizing and doleful panpipe music of the indigenous people with that of the missionary party's European instruments. Morricone included in the score a Latin Te Deum and Miserere, beautifully sung by the native choir. For further information on this film, click on FAQ12: What Films Do You Recommend for Traditional Catholics? in the TRADITIO Network's Library of Files (FAQs and Traditional Apologetics) department.
Morricone spoke out on the Vatican II Anti-council's degrading effect upon music. In a 2009 interview he denounced the Anti-council's
liturgical errors ... that continue to exist. Today the [New]church has made a big mistake, replacing 500 years with guitars and popular songs. I don't like it at all. Gregorian chant is a vital and important tradition of the Church, and to waste this by having guys mix religious words with profane Western songs is hugely grave, hugely grave. The same thing happened before the Council of Trent, when singers sang profane songs with sacred melodies and sacred words.
Morricone criticized Benedict-Ratzinger for not having the courage to enforce even his meagre attempts to correct the errors of the Vatican II Anti-council in the realm of music. Morricone supported " the tradition of the Church to set aside a language like Latin, which is so important and serious, for the Church itself." He went on:
But I don't agree with, and feel very strongly about, mixing profane, secular music with religious words in Church, or mixing religious music with a profane and secular text. After the Second Vatican [Anti-]council, I was asked to be a consultor to the vicariate for two pieces of sung Church music, and I refused. The Church and Christians have Gregorian chant, and they said we had to now have this other music, so I refused. All the musicians in Rome also refused to work with it."
At least some Church musicians have the courage to stand up for what is truly Catholic!
---
July 6, 2020 - Ferial Day
Francis-Bergoglio Recalls Benedict-Ratzinger to House Arrest in Newrome
Before He Could Publish His Bergoglio Tell-all Book with His Now-dead Elder Brother
From: Peter, The TRADITIO Network's Roman Correspondent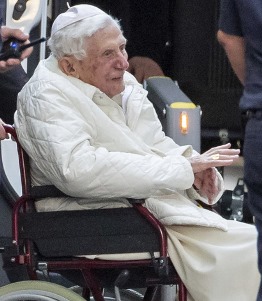 Benedict-Ratzinger, Now Wheelchair Bound
Was Recalled to Newrome by Francis-Bergoglio
After Spending only Five Days
With His Dying Elder Brother
Ratzinger Has Now Been Placed under House Arrest
With His Newnuns Replaced
By Bergoglio's Own Assistenti (Spies)
The Tell-all Book that Ratzinger Was Writing
With His Now-dead Elder Brother
Will Never See the Light of Day
After the debacle of Benedict-Ratzinger's five-day release from house arrest on June 18-22 to Regensburg, Germany, to visit his dying elder brother, and his sudden recall to house arrest in the Old Newpopes' Retirement Home literally under the nose of Francis-Bergoglio, Bergoglio seems to have blown a fuse and has put the household staff of Ratzinger henceforth under a commissar. There is reason to believe that the four Newnuns who care for him are about to be replaced with Bergoglio's own assistenti (spies), who are to be under an unknown entity controlled directly by Bergoglio. It's all very conspiratorial.
Ratzinger and his elder brother Georg, who died on July 1, 2020, just nine days after Ratzinger had been yanked back to Newrome, were apparently working on a tell-all book when the Georg died. We all remember what happened when Ratzinger tried to work on a book with Newcardinal Sarah. Bergoglio had a panic attack, and Gaenswein, his and Ratzinger's private secretary (and spy on Ratzinger), was nearly decapitated.
Bergoglio has been exposed in this incident to be not only a megalomaniac but also a paranoid in the proper sense of the latter term: someone who fears that those around him are plotting against him. His Newpontificate is in tatters, and he obsesses about his 93-year-old predecessor, who is in no shape to lead any movement except to Hades . The evidence is obvious: Bergoglio is mentally ill. We knew that he was already doctrinally apostatic, but that's nothing new for the Newprelates of Newchurch. This is something deeper. Is he fundamentally mad?
---
July 8, 2020 - St. Elizabeth, Queen of Portugal, Widow
Semidouble Feast
Scientists Confirm Eight-century Provenance for Holy Face Crucifix
Devotion to the Holy Face Spread throughout the Middle Ages to the Present Day
From: The TRADITIO Fathers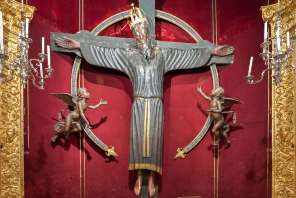 The Holy Face Crucifix in Lucca, Italy
Has Now Been Confirmed by Scientists
As Carved in the Eighth Century
Not as Late as the Twelfth Century
As Was Previously Thought
The Image of the Crucified on This Crucifix
Inspired Devotion to the Holy Face
Which Has Been Practiced
From the Middle Ages to the Present Day
On June 26, 2020, scientists announced that the Holy Face crucifix in the Cathedral of St. Martin in Lucca, Italy, is in fact the oldest wooden statue in Europe. A radiocarbon dating study placed the provenance of the 2.4-metre high crucifix at between A.D. 770 to 880.
The study coincided with the 950th-year anniversary of the cathedral's consecration in the late 12th century. The scientists concluded: "We can now consider [it] the oldest wooden statue in the West that has been passed down to us."
True Catholics, from the image of the Crucified on this crucifix, devotion to the Holy Face spread throughout Europe in the Middle Ages as a living memory of the Crucified. Faithful making the pilgrimage from Canterbury to Rome stopped in the Tuscan city of Lucca to venerate the crucifix. The Holy Face is mentioned by Dante Alighieri in his famous epic poem Inferno, the first of his Divina Comedia trilogy.
---
July 7, 2020 - Sts. Cyril & Methodius, Bishops & Confessors
Double Feast
Newdiocese of Pittsburgh Shutters Two-thirds of Its Newparishes
In Forty Years because of Paedophile Sex Crimes
From: The TRADITIO Fathers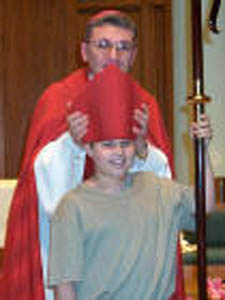 Newchurch Bishop David Zubick
Of Pittsburgh, Pennsylvania
Places His Newepiscopal Miter
On the Head of a Girl, Saying:
"It Is Never too Early
To Plant the Seed of Ordination [Sic]"
The Modernist Heretic Zubik Is Shuttering
Another 46 of His 152 Newparishes
In One Fell Swoop
The Newdiocese of Pittsburgh, Pennsylvania, has been awash in sex crimes perpetrated by its Newbishops and presbyters. It was featured in the 2018 Pennsylvania Grand Jury Report when its former Newbishop, Donald Wuerl (1988-2006), was charged with knowingly suborning a ring of paedophile presbyters and covering up the ring's activities in a "Circle of Silence." In 2007 David Zubik took over and things got only worse.
In 1980 the Newdiocese had 321 Newparishes, then went down in 2000 by almost 40 per cent, then went down again in 2016 by almost another 10 percent. In 2020, the number of Newparishes stood at only 152. On July 1, 2020, with his Newdiocese swirling down into the abyss, Zubik announced that he was shuttering 46 more Newparishes. [Some information for this Commentary was contributed by Pittsburgh KPXI-TV.]
True Catholics, in a letter to his disenfranchised Newparishioners, Zubik tried to describe his shuttering of 46 Newparishes in one fell swoop as "a message of love and mercy." Only an officer of the hypocrtical Newchurch of the New Order, headed by the Chief Hypocrite, Francis-Bergoglio, could make such an analogy. That is why Newchurch is fast sinking into a sump hole.
---
July 6, 2020 - Octave Day of Sts. Peter & Paul, Apostles
Double Major Feast
Protestants Attempt to Set Afire the Marian Column
Originally Erected in 1650 in the Town Square of Once-Catholic Prague, Czechoslovakia
From: The TRADITIO Fathers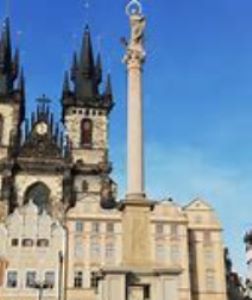 The Marian Column
Originally Erected in 1650
And Destroyed in 1918
Has Been Rebuilt and Reinstated
In Prague's Old Town Square
A Group of Protestants
Attempted to Set the Column Afire
But the Vandals Were Stopped
By the Prague Police
In January 2020, the city of Prague, Czechoslovakia, rebuilt and reinstated the historic Marian Column to the Old Town Square. The column, originally erected in 1650 in thanksgiving for the victory in the Battle of Prague (1648), in which Holy Roman Emperor defeated the Swedes, had been destroyed in 1918 after the First World War. It stands 15 metres high and bears a Corinthian pedestal at the top, upon which a two-metre gilded statue of the Blessed Virgin Mary sits, crowned with stars.
On June 4, 2020, a major part of the impressive column was reinstalled, standing 15 meters high, with the remainder to be completed by mid-August. But just 17 days afterward, a group of men, apparently supporters of the heretic John Hus (1372-1415), who was burned at the stake, tried to set the column afire. Today Czechoslovakia (now the Czech Republic), once Catholic, is among the least religious countries in Europe. [Some information for this Commentary was contributed by Global Voices.]
True Catholics, whereas in the United States the police have been reluctant to stop the vandalism of numerous historic monuments commemorating the Confederacy and the U.S. Presidents, the Prague Police quickly intervened to stop the act of vandalism and save the Marian monument. It is scandalous that the continent from which the Catholic religion spread to the entire world, Europe, is quickly shedding its Catholic heritage. Even Newvatican is now headed by a self-confessed Marxist.
---
July 5, 2020 - Fifth Sunday after Pentecost
Semidouble Sunday
Francis-Bergoglio Yanks Ex-Newpope Benedict-Ratzinger back to Newrome
From the Deathbed of Ratzinger's 96-year-old Brother, Who Has Now Died just Nine Days Later
From: The TRADITIO Fathers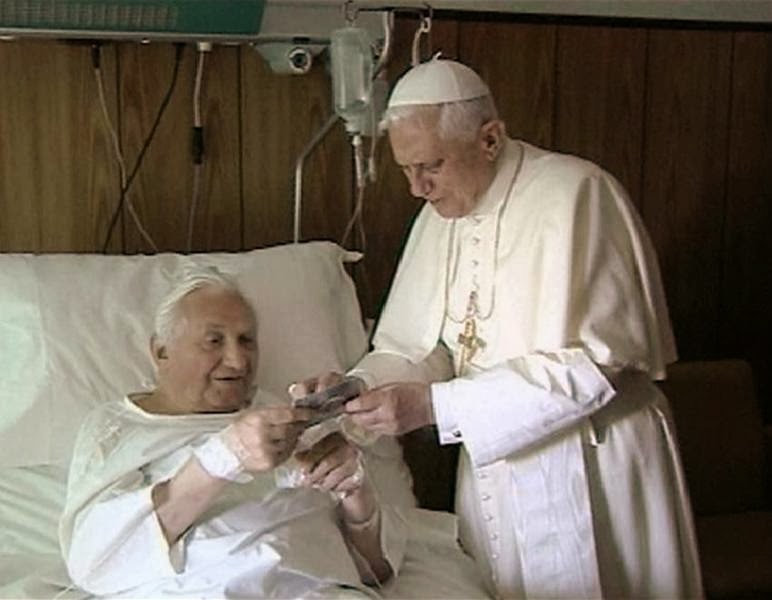 Why Was Ex-Newpope Benedict-Ratzinger
Wrested Away from the Bedside
Of His Dying Elder Brother
Newmonsignor Georg Ratzinger (Left)
And Dragged back
To the Old Ex-Newpopes' Retirement Home
Literally under the Nose of Francis-Bergoglio?
Now Ratzinger's Elder Brother Has Died
Just Nine Days after
Ratzinger Was Hauled back to Newrome
Newmonsignor Georg Ratzinger, the elder brother of ex-Newpope Benedict-Ratzinger (Josef), has died on July 1, 2020, at the age of 96. On June 18, 2020, Francis-Bergoglio had furloughed Josef from house arrest in the Old Newpopes' Retirement Home in Newvatican to visit his dying brother in Regensburg, Germany. When asked when he would return to Newrome, Ratzinger did not give a date. He said merely that he would "spend the necessary time with his brother."
It was a surprise, therefore, that Josef was whisked back to Newrome under guard by the Deputy Commander of the Vatican Gendarmerie within just four days, nine days before his brother's actual death. Speculation has arisen that Bergoglio was afraid to let him out of his sight for more than a very few days. [Some information for this Commentary was contributed by the National Catholic Register.]
True Catholics, Georg Ratzinger died under a very dark cloud. Under his directorship of the Regensburg Cathedral Choir from 1964 to 1994, some 200 cases of sexual and other crimes were reported. Whether Georg was involved in the sexual abuse is debatable, but it is clear that he engaged in physical abuse, such as the throwing of a chair at a boy who sang off key. Georg had thrown the chair with such force at the boy that Georg's false teeth fell out. Newvatican, in this case as in virtually all the others under Benedict-Ratzinger's complete charge from 1981 to 2005, took no punitive action. As a result, Newchurch's Great Sex & Embezzlement Holocaust continues unabated under Francis-Bergoglio.
---
July 4, 2020 - Within the Octave of Sts. Peter & Paul, Apostles
Semidouble
Prosecutors Raid St. Peter's Archbasilica
The Sistine Chapel Choir Is Implicated in Money Laundering and Theft
From: The TRADITIO Fathers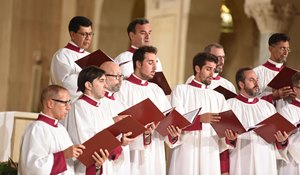 St. Peter's Archbasilica Has Been Raided
By Criminal Prosecutors
Seizing Documents and Computers
In a Heightened Investigation of Financial Crimes
Perpetrated by the "Holy See"
Also Implicated in Money Laundering and Theft
Is the Sistine Chapel Choir
Whose Revenues Were Diverted
Into Private Pockets
On June 30, 2020, criminal prosecutors raided St. Peter's Archbasilica to seize documents and computers in a heightened new investigation into financial crimes perpetrated by the "Holy See." The Auditor General had previously reported finding financial crimes in the operation of the Archbasilica.
Also implicated in money laundering and theft is the Sistine Chapel Choir, which now sings for Francis-Bergoglio's Novus Ordo Messes at the archbasilica. One choirmaster has already been fired. Revenue from the choir's performances was not included in its income statements, but was diverted into private pockets.
True Catholics, Francis-Bergoglio's administration has run amuck in financial crimes, added to its moral crimes, in Newchurch's Great Sex & Embezzlement Holocaust. A criminal investigation is continuing into Bergoglio's Secretary of State, the No. 2 man at Newvatican, who is accused of overseeing the diversion of hundreds of millions of U.S. dollars in Newchurchers' charitable donations to the Unholy See into the pockets of European financiers. The Newroman sewer is stinking to high heaven!
---
July 3, 2020 - St. Leo II, Pope & Confessor
Semidouble Feast
A Reader Asks: "Is the Fellay/Pagliarani Neo-SSPX Continuing to Import
Elements of the New Order Used by the Modernist Newchurch into Its Messes?"
From: John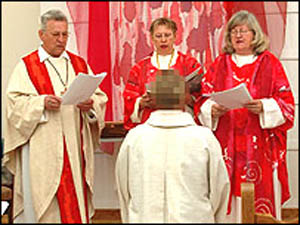 The Future of the Fellay/Pagliarani Neo-SSPX?
Their June 29, 2020, Ordinations
Have Caused Controversy
Because of Numerous Abberations
From the Traditional Latin Mass
As Fellay/Pagliarani Continue to Import
Elements of the New Order
Used by the Heretic Newchurch into its Messes
Dear TRADITIO Fathers:
Fellay/Pagliarani's Neo-SSPX staged an ordination service on July 29, 2020, at its seminary in Econe, Switzerland. I noticed a number of aberrations from the Traditional Latin Mass. For example, the celebrant did not read the Gospel while the deacon sang it. Is the Neo-SSPX continuing to import the elements of the New Order used by the heretic Newchurch into its Messes?
THE TRADITIO FATHERS REPLY
The Neo-Society of St. Pius X does not use the Traditional Latin Mass, but the New Latin Mess of 1962. Since Bernie Fellay began to court the heretic Newchurch of the New Order during his 24-year regime (1994-2018) as Superior General after the death of Archbishop Lefebvre in 1991, the Neo-SSPX has not been a truly Catholic organization
What you have observed is just one of the aberrations from the Traditional Latin Mass that is contained in over 200 pages of aberrations that were introduced in 1960. Most traditional Catholics are aware of another one of these, the elimination of the Confiteor recited by the servers before Holy Communion is distributed, but there are hundreds of other aberrations introduced mainly in Five Major Steps to the Invalid 1969 "New Mess." The Archbishop found this elimination to be tantamount to the Protestant heresy of the "priesthood of the people" and ordered it reinstated for his original traditional Society of St. Pius X. Finally, in 1962 the Sacred Canon of the Mass, which had not been touched since Apostolic times, was desecrated.
These aberrations were fabricated from Pius XII's personally-appointed head of liturgical "reformation," the notorious Freemason presbyter Hannibal Bugnini, and came in Five Major Steps starting in 1951. It was Pius XII who took important decisions on the Sacred Liturgy away from the traditional and highly-conservative Sacred Congregation of Rites, which had successfully guarded the integrity of the Mass and Divine Office since 1588 when Pope Sixtus V constituted it. In 1948 Pius XII put the liturgy into the hands of a new Commission for Liturgical Reformation headed by the Modernist heretic Bugnini.
Pius XII's Bugnini Commission did its hatchet-job well. Over the period from 1951 to 1960, it implemented changes to destroy the Traditional Latin Mass. By 1969, the sacrilegious, idolatrous, blasphemous, and invalid "New Mess" replaced the Traditional Latin Mass in Newchurch. For further information, click on the TRADITIO Network's Traditional Latin Mass, Divine Office & Sacraments department in the section "The Descent into the Black Hole of the Liturgical 'New Order'."
---
JULY 2, 2020 - VISITATION OF THE BLESSED VIRGIN MARY
DOUBLE FEAST OF THE SECOND CLASS
A Reader Asks: "Is It Permitted for Me to Become the Godfather of the Child
Of My "Ex-" wife, Who Has "Married" Her Paramour in a Bigamous "Second Marriage"?
From: Paul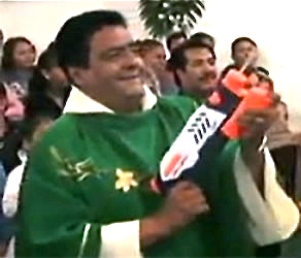 A Novus Ordo Presbyter Simulates
A Phony "Installation" by Squirt Gun
One Month after the "New Mess"
Was Approved in 1969
Newchurch Changed the Sacrament of Baptism
Into a New Rite of "Inititiation"
Like a College Fraternity Party
By Now Novus Ordo "Initiations"
Are of Highly Doubtful Validity (Fake)
Dear TRADITIO Fathers:
I am a traditional Catholic. My wife, a Newchurcher, divorced me against my will. Since then, I've remained faithful to my marriage vows, but she entered into a bigamous "second marriage." She is now pregnant by her paramour and wants me to be the godfather of her child. I'm not inclined to agree, but, on the other hand, I could be the only truly Catholic influence in the life of that child. Would it be proper for me to agree to be the child's godfather?
THE TRADITIO FATHERS REPLY.
St. Paul answers your question in his Epistle to the Romans (3:8), saying that those who do evil that some good may result are justly damned. Your Catholics instincts are correct in that you cannot assume such a role in an pseudo-sacrament of "initiation" (the Novus Ordo stopped using "baptism" in 1969, the same year it introduced the "New Mess" into its sect) any more than you could be a godfather of a Methodist child.
In practical terms, it is unlikely that you would have any other role in the child's life than as a one-time place filler at a sacrilegious service for show. Your "ex"-wife is probably trying, in some perverse way, to legitimate in her own mind her bigamy through getting you entangled in it.
You don't mention the father of the child. We suspect that he would not tolerate your traditional Catholic "influence" anyway. By her bigamy she has publicly rejected and excommunicate herself. If you want to have an influence in the child's life, and you are in reality permitted to do so by the parents, then do so. Take him to the Traditional Latin Mass and educate him in the traditional Catholic Faith. You don't have to be a spurious "godfather" to do that.
---
JULY 1, 2020 - MOST PRECIOUS BLOOD OF OUR LORD JESUS CHRIST
DOUBLE FEAST OF THE FIRST CLASS
50 Courageous Citizens Hold off 150 Vandals
Who Had Planned to Destroy a Bronze Statue of California Missionary Padre Serra
From: The TRADITIO Fathers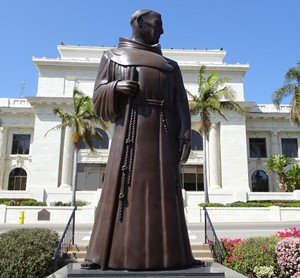 The Bronze Statue of Padre Serra
Founder of 21 California Missions
To Convert and Teach the Indians There
Not Only Religion, but Music and Practical Arts
50 Courageous Citizens Surrounded the Statue
And Held off 150 Vandals to Save the Statue
Statues in San Francisco and Los Angeles
Did Not Have Such Defenders
While the famous California missionary Franciscan priest, Padre Junipero Serra, was being vilified by the atheistic seditionists who are currently destroying historical statues all over the United States, his statues in that state were being removed by equally atheistic secular authorities (many of whom call themselves "Catholic" to obtain votes from clueless Newchurchers), a few courageous citizens stood up for Catholic history and surrounded a Serra statue in Ventura, California, to protect the bronze that had stood in front of Ventura City Hall since 1936.
These 50 defenders, facing down 150 vandals, prevented the atheist insurrectionists from destroying the bronze statue in the city where Padre Serra founded the Mission of San Buenaventura, one of the longest surviving of the missions. Even when a citizen placed a call to 911, no police came to prevent the intended vandalism, a felony. The defenders stood alone, but in the end succeeded. The confrontation occurred on June 20, 2020, in response to a planned "Tear Down Junipero Serra" riiot. Similar statues in San Francisco and Los Angeles were not defended and were subsequently destroyed by the atheist insurrectionists. [Some information for this Commentary was contributed by the California Catholic Daily.]
Padre Serra founded a series of 21 missions between 1769 and 1833 from the Mexican border to the north of San Francisco. The purpose of the missions was to evangelize the Indians of California into the True Faith. At the same time the Franciscans taught the Indians agriculture, viticulture, and other practical arts to sustain themselves. The missions also provided the Indians with protection, as Indian tribes frequently attacked each other. In addition, the Franciscans taught the Indians the proper music of the Church, Gregorian chant, in which the Indians according to local reports excelled, as well as in instrumental music. For further information, click on the TRADITIO Network's Holy Cards, California Missions & Stations of the Cross department.
True Catholics, on June 26, 2020, the U.S. President, Donald Trump, who is one of the few has been speaking out in defense of the historical statues and monuments, issued an executive order ramping up the resources of the federal government to protect statues such as those of Padre Serra and to impose a penalty of ten years in federal prison upon those insurrectionists who would presume to destroy the statues and monuments. It is too bad that those who call themselves "Catholics" do not rise up in large numbers to protect what is truly Catholic.
---

Return to Daily Commentaries from the TRADITIO Fathers.