November 2017
| | |
| --- | --- |
| | For answers to many questions, consult the CURRENT MONTHLY REVISED EDITION of the Official Traditional Catholic Directory, Listing All Traditional Latin Masses and Traditional Resources for North America. For further information, click on the TRADITIO Network's Official Traditional Catholic Directory department, provided to the TRADITIO Network by the National Registry of Traditional Latin Masses. |
For information about the protocol for sending messages to the TRADITIO Fathers, click on Ask the Fathers. First, here are some hints for locating items that have already been covered. The TRADITIO Network has the most varied and extensive repository of traditional Catholicism, collected over the 20 years of our existence on the internet, the longest of any traditional site. (1) Check the 16 departments listed in the TRADITIO Network's Web Site Map on our home page, www.traditio.com. (2) Check the 14 FAQs in the TRADITIO Network's Library of Files (FAQs and Traditional Apologetics) department, which answers your most common questions. (3) Use the Search engine on the TRADITIO Network's home page, www.traditio.com.
| | |
| --- | --- |
| | If you have you have personally benefited from the services of the TRADITIO Network, please support the continuation of the TRADITIO Network's Apostolate by clicking on the box to the left to made a donation easily, securely, and confidentially by bank account or credit card through PayPal. Regular contributors become Benefactors of the TRADITIO Network, and their intentions are specially commemorated at Traditional Latin Masses offered. Using PayPal reduces our administrative burden considerably, but if need to use a paper check, click on FAQ01: "How Can I Help the TRADITIO Network's Apostolate?" We have always refused to display those annoying "click" ads to raise money. We hate those ads, and we think that you do too, so we have kept TRADITIO 100 per cent free of them and rely instead on you for voluntary donations. |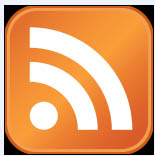 Subscribe to the Free TRADITIO RSS Feed
---
THE TRADITIO NETWORK HAS BEEN INFORMED BY THE NATIONAL REGISTRY OF TRADITIONAL LATIN MASSES THAT THE NEW NOVEMBER 2017 MONTHLY REVISED EDITION OF THE 22ND ANNUAL EDITION (2017) OF THE OFFICIAL TRADITIONAL CATHOLIC DIRECTORY, LISTING ALL TRADITIONAL LATIN MASSES AND TRADITIONAL RESOURCES FOR NORTH AMERICA HAS BEEN PUBLISHED. FOR FURTHER INFORMATION, CLICK ON THE OFFICIAL TRADITIONAL CATHOLIC DIRECTORY DEPARTMENT, PROVIDED TO THE TRADITIO NETWORK BY THE NATIONAL REGISTRY OF TRADITIONAL LATIN MASSES. THE 2017 ANNUAL USE FEE IS NOW DUE FOR THOSE WHO WISH TO USE THE NEW 2017 ORIGINAL EDITION AND ITS MONTHLY UPDATE EDITIONS. BE SURE TO CHECK YOUR TRADITIONAL SITE'S LISTING FOR CORRECTNESS.

---

REMEMBERING YOUR HOLY SOULS IN PURGATORY DURING NOVEMBER

The Church has taught from Apostolic times that we here on earth have a responsibility as members of the Communion of Saints to help the Holy Souls in Purgatory to hasten their admission to Heaven. If you wish to have a fully Traditional Latin Mass celebrated for your faithful departed, click on FAQ02: How Do I Submit a Mass Intention? in the TRADITIO Library of Files (FAQs and Traditional Apologetics).

---

November 22, 2017 - St. Cecilia, Virgin & Martyr
Double Feast Newcardinal Ray "Bully" Burke Wimps Out
All His Bluff and Bluster against Bergoglio Turns out to Be a Sham From: The TRADITIO Fathers

Pseudo-traditionalist Newcardinal Ray "Bully" Burke
Is Exposed in His Bridal Train
Burke, Every Bit the Narcissist as Is Francis-Bergoglio
Has Now, after only a Year, Thrown in the Towel
And Accepted Bergoglio's Heresy on Marriage, Divorce, and Bigamy
Why Wouldn't Such Hypocrisy Be Expected from a Man
Who Consecrated a Transsexual as a Novus Ordo "Nun"
And Persecuted a Traditionally-bent Church
Burke Was Such an Embarrassment
That He Was Fired and Exiled to a Small Island in the Pacific
We TRADITIO Fathers have always given our readers the true story about Newcardinal Ray "Bully" Burke. Now we have been proven right once again. This man is no "traditionalist," but a slave of the New Order. Recently he has gotten some good press in the gullible Neocon media because he seemed to object to Francis-Bergoglio's heresies on marriage (divorce and "communion" for civilly-remarried bigamists). Now it turns out, just as we predicted, that he was all bluster and bluff for personal publicity, but in the end he has now caved.
He led his Neocon Newchurcher followers to expect that he was about to lower the boom on Bergoglio for his public heresy, but Burke has now indicated that he has made his "final plea" on November 14, 2017, and is now dropping the subject. Two (Joachim Meisner and Carlo Caffarra) of the three Newcardinals that originally joined him in speaking out on November 19, 2016, are dead, and the third (Walter Brandumuller) has essentially disowned him. Just one year, and Burke has given up. [Some information for this Commentary was contributed by the National Catholic Register.]
True Catholics, while Neocon Newchurchers were hailing Burke, we TRADITIO Fathers were publishing photographs of him in is Novus Ordo getup, just as whacked out as all the other Modernist Newclergy. Burke, it turns out, does share something with the Marxist Francis-Bergoglio: he too suffers from Narcissistic Personality Disorder (NPD), for which Bergoglio admitted he has undergone treatment. Burke envied Bergoglio's publicity, so he pulled a sham to get his own name in the press. But now, having been battered around by Bergoglio, he has thrown in the towel on the very heresy that he himself was once purporting to contest.
---
November 21, 2017 - Presentation of the Blessed Virgin Mary
Double Major Feast
Trial Run of "Oecumenical Mess" Has Been Rolled out in Italy
As Francis-Bergoglio's Secret Committee Works on a Novior Ordo Mess
From: The TRADITIO Fathers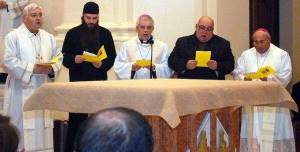 The First Steps Have Been Taken to Give a Trial Run
In Turin to Francis-Bergoglio's "Oecumenical Mess"
At Which (Invalid) Newchurch and Protestant Ministers Simulate
And Distribute (Invalid) Cookies and Kool-Aid
The Use of This Mess Continues in Turin Once a Month
With the Distribution of the Phony "Communion"
To Newchurchers, Protestants, Infidels, Pagans
And Anyone Else Who Wishes to Munch and Swill
With the Overt Permission of the Turin Newarchbishop
The Practice Is Starting to Spread to Other Cities in Italy as Well
Before the (invalid) New Order (Novus Ordo) Mess was rolled out in 1969 by its Chief Architect, the Freemason presbyter Hannibal Bugnini and his virtual ventriloquist's dummy, Paul VI-Montini, who signed everything stuck under his nose, the "New Mess" was given a trial run before a group of Newcardinals. So shocked were they that two cardinals and a group of Roman theologians wrote the famous 1969 Short Critical Study of the New Order of Mass [Sic], which called the "New Mess" a Protestant service and called on Montini to withdraw it.
Montini didn't, and now, according to the Modernist Benedict-Ratzinger's 2007 Motu Proprio, the "New Mess" is officially the "Ordinary Mess" of Newchurch. For further information, click on OTTAVIAN: Ottaviani Intervention: Short Critical Study of the New Order of Mass (Alfredo Cardinal Ottaviani & Antonio Cardinal Bacci) in the TRADITIO Network's Library of Files: FAQs and Traditional Apologetics department.
The same methodology that was so successful in destroying in Newchurch the true Mass of the Roman Catholic Church, which is now known as the Traditional Latin Mass (not the Half Novus Ordo Vatican II "New Latin Mess" knockoff of 1962, which Newchurch tries fraudulently to fob off as traditional). The Novior Ordo, which Newchurch calls the "Oecumenical Mess," currently under developoment by a secret committee established by Francis-Bergoglio, was given a test run in Turin, Italy, on September 21, 2017. The use of this Mess continues in Turin once a month, together with the distribution of the (invalid) Novus Ordo cookies and Kool-Aid to Newchurchers, Protestants, Infidels, Pagans, and anyone else who wishes to munch and swill the phony material -- with the overt permission of Turin Newarchbishop Cesare Nosiglia. The practice is starting to spread to other cities in Italy as well.
Attendees at the "Oecumenical Mess" are not required to have a "single thought" on the "eucharist," but all beliefs are respected. This is outright heresy and is an expansion even upon Francis-Bergoglio's widely-denounced plans to offer the invalid Novus Ordo cookies and Kool-Aid to couples living in bigamy by way of a phony "divorce" and a phony "remarriage." The Newarchdiocese of Turin states that Bergoglio supported the concept of an "Oecumenical Mess" during his June 22, 2015, junket to Turin. [Some information for this Commentary was contributed by Catholic World Report.]
True Catholics, on that same occasion, Francis-Bergoglio also rejected the dogmatic teaching of the councils and popes, saying specifically that he was moving his Newchurch of the New Order away from doctrine and toward a more "synodal" model. Such a model is the Protestant model, in which doctrinal and moral questions are voted upon and are infinitely changeable, regardless of what the teaching of Jesus Christ and His Apostles is (e.g., on divorce, priestesses, etc.). This is heresy pure and simple, and the teaching of the Church about a heretic "pope" is clear: he has no authority and cannot be followed by any Catholic.
---
November 11, 2017 - St. Felix of Valois, Confessor
Double Feast
Newchurch's Great Sex & Embezzlement Holocaust Continues Unabated
Canadian Newdiocese Considers Bankruptcy as 7-year Olds Are Assaulted
From: Peter, the TRADITIO Network's Canadian Correspondent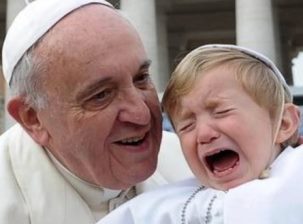 Even the Children Themselves
Are Howling against Francis-Bergoglio
For His Subornation of Paedophilia
Amongst His Newbishops and Presbyters
The Latest Country to Be Caught Up
In Newchurch's Great Sex & Embezzlement Holocaust
Is Canada
Where Newchurch Presbyters Have Now Been Implicated
In Sex Crimes against Children as Young as Age Seven
Dear TRADITIO Fathers:
Any notion that Newchurch's Great Sex & Embezzlement Holocaust has been resolved has been disproven by many reports in recent years, not least the latest sobering news from Canada. On November 15, 2017, the Canadian press is reporting that cases of sex crimes against children by Newchurch presbyters and Newbishops has gone out of control. Francis-Bergoglio continues to let off his paedophile clergy, and the holocaust is just getting worse.
For example, in the Canadian Province of New Brunswick, involving the Newarchdiocese of Moncton, there are now fifty cases pending, and a new case comes forward almost every week. Eleven presbyters have been fingered in these new cases, one of whom was a serial predator. He attacked children who were as young as seven.
Cases continue to come forward, suggesting that the crimes are ongoing into 2017. The Newchurch Empire is falling, and great will be the fall of it. It would seem that twenty churches in the Newarchdiocese of Moncton will have to close owing to past damage costs. More and more lawsuits are now being filed, and the costs are beginning to skyrocket. The Newchurch archdiocese of Moncton is on the verge of filing for bankruptcy, as it cannot afford the punitive damages.
---
November 19, 2017 - Twenty-fourth Sunday after Pentecost
Semidouble Sunday
Is Ivanka Trump Denouncing Francis-Bergoglio as a Paedophiliac?
Her Statement about a Political Candidate Applies Equally to Newpopes
From: The TRADITIO Fathers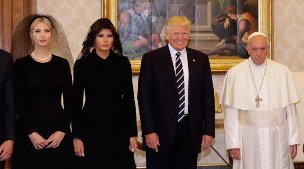 Ivanka Trump (Left)
Elder Daughter of U.S. President Donald Trump
And Senior Advisor to the Same
Has Issued a Devastating Statement against Paedophiles
That Includes Francis-Bergoglio, the Third Paedophile Newpope
Ivanka Trump's Statement Is Closely Based upon Sacred Scripture
A Passage in St. Matthew's Gospel
That Bergoglio Is Too Afraid Ever to Quote
At a public appearance on November 15, 2017, Ivanka Trump, elder daughter of U.S. President Donald Trump and Senior Advisor to the same, uttered a shocking religious truth about the fate of paedophiles. "There's a special place in Hell for people who prey on children." This is exactly the statement that neither the First Paedophile Newpope, the Unsaint JPII-Wojtyla, nor the Second Paedophile Newpope, Benedict-Ratzinger, nor the Third Paedophile Newpope Francis-Bergoglio has been able to utter since Newchurch's Great Sex & Embezzlement Holocaust became public in 2001.
Ivanka Trump was closely reflecting the words of Our Lord, as recorded in St. Matthew's Gospel (18:6/DRV): "But he that shall scandalize one of these little ones that believe in me, it were better for him that a millstone should be hanged about his neck, and that he should be drowned in the depth of the sea." One could easily substitute for the image "depth of the sea" the image "special place in Hell." Our Lord's statement follows immediately upon the Sermon on the Mount, which pseudo-Catholics wrongly read as some pusillanimous statement of non-judgmentalism. Verse 6, however, makes it clear that Our Lord out of His own mouth judges harshly the harshest of crimes. [Some information for this Commentary was contributed by the Associated Press.]
True Catholics, the Marxist Newpope Francis-Bergoglio consistently urges mercy without justice. Even those who commit the most heinous of crimes, mass murder, for example, he wants to spare from the gallows. In that, he is contradicting Our Lord; the Universal Doctor of the Church, St. Thomas Aquinas; and Catholic Popes up to the Polish Unsaint-Newpope JPII-Wojtyla. Yes, God is merciful, but not to the unrepentant. Moreover, God is All Just as well. That side of Divinity is rarely, if ever, mentioned by Bergoglio. Thus, his teaching is erroneous by way of omission and leads the Unholy Father to the crime of covering up the rampant paedophilia continuing amongst his own Newcardinals, Newbishops, and presbyters.
---
November 18, 2017 - Dedication of the Archbasilicas of St. Peter & Paul
Double Major Feast
Anti-abortion Newbishop Barely Edges out Pro-abortion Newbishop
As Head of U.S. Conference of Catholic [Sic] Bishops "Pro-life" Committee
From: The TRADITIO Fathers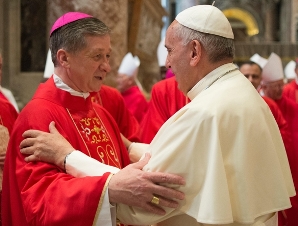 Newarchbishop (Left) Blaise Cupich Declared on November 10, 2017
That U.S. Newchurchers Are "Not Scandalized"
By Francis-Bergoglio's Heresies and Immoralities
Cupich, a Bergoglio Appointee, Who Is Wishy-washy on Abortion
Was Barely Defeated by a "Pro-life" Candidate
The Poison of Francis-Bergoglio's Heretical, Marxist Programme
For the Newchurch of the New Order, Is Clearly, after just Four Years
Seeping into the Bloodstream of That Anti-Catholic Institution
It is clear that Francis-Bergoglio's deliberate fuzzing of the immorality of abortion is taking root amongst his Newbishops around the world. The latest example: on November 14, 2017, the U.S. Conference of Catholic [Sic] Bishops, meeting in Baltimore, Maryland, just barely elected an anti-abortion candidate to head its "Pro-life" Activities Committee. Joseph Naumann, the anti-abortion candidate, got barely a majority, 54 per cent, of the votes of the U.S. Newbishops, to defeat Blase Cupich, who, like Bergoglio, is wishy-washy on abortion and has criticized "pro-life" politicians.
True Catholics, the poison of Francis-Bergoglio's heretical, Marxist programme for the Newchurch of the New Order, is clearly, after just four years, seeping into the bloodstream of that anti-Catholic institution. As one of our TRADITIO Commentators has previously reported in these Commentaries, Bergoglio has been on a Newbishop-appointing binge to replace even "moderate" Newbishops with Bergoglian-style anti-Catholics, like Cupich, who will not put up with Catholic worship, doctrine, or morality. Bergoglio's Newchurch becomes a Marxist organization, while more and more Newchurch rats are abandoning the sinking Newchurch Titanic.
---
November 17, 2017 - St. Gregory Thaumaturgus, Bishop & Confessor
Semidouble Feast
German Catholic Mother Throws back Son's Islamic Homework
"We Are Catholics!" She Declares
From: The TRADITIO Fathers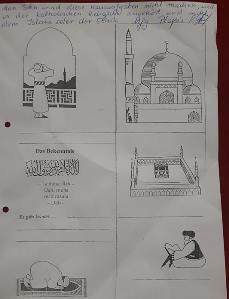 When a German State Schoolteacher Assigned Homework
Teaching the Islamic Creed and Declaring the Mohammed as God's Prophet
The Mother Threw the Assignment Back in the Face of the Teacher
With a Note, Written in German (at Top of Photograph Above):
"My Son Is Not Going to Do This Homework
Because He Is a Catholic, Not a Muslim"
Sellout Pseudo-traditionalists and Neocon Newchurchers
Should Take a Page from This German Mother's Hymnbook
And Kick Their Addiction
To the "Oecumenical" Newchurch and Its Newpopes
Pusillanimous pseudo-traditionalists and Neocon Newchurchers could take a page from this German mother's hymnbook. When a German state schoolteacher gave her son Islamic homework, she threw it back in the face of the teacher and declared, "We are Catholics!" The homework for the religion class taught the Islamic creed, declaring the acceptance of Mohammed as God's prophet. The mother sent the assignment back to the state teacher with a note: "My son is not going to do this homework because he is a Catholic, not a Muslim." The state teacher is also planning to take the class to visit an Imam, which is a kind of Islamic shaman.
German Catholics are quite riled up these days. They are disenrolling from the Marxist Newpope Francis-Bergoglio's New Order sect in record numbers, sick of his compromises with Islamism, which is condemned by the Catholic Church, and even more sick at his allowing sodomy by his Newbishops and presbyters upon German children to go on with impunity, as Newchurch's Great Sex & Embezzlement Holocaust continues unabated. At the same time German parents are pulling their children out of state-run schools and homeschooling them. [Some information for this Commentary was contributed by Voice of Europe.]
True Catholics, the German state schools runs religion classes, which are undoubtedly "oecumenical," that heresy dreamt up by the heretical Modernist Vatican II Anti-council (1962-1965) which preached "we all worship the same god" and "all religious are the same." This Catholic mother courageously has said nuts to that, setting an example for all true Catholics.
---
November 16, 2017 - St. Gertrude, Virgin, Abbess
Double Feast
Newcardinal Zen Denounces the Marxist Francis-Bergoglio
For His Proposed Sellout to the Chinese Communist Government
From: The TRADITIO Fathers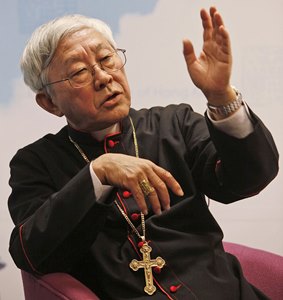 Newcardinal Joseph Zen, of Hong Kong Has Sounded the Alarm
On Francis-Bergoglio's Sellout to the Red Chinese
He Called the Marxist Bergoglio's Proposal
A "Huge Disaster" and the "Brink of the Precipice"
Bergoglio Wants Newbishops to Resign so that He Can Appoint
Excommunicated Chinese Bishops in Their Place
Even as the Communist Chinese Are Killing and Imprisoning His Prebyters
Newcardinal Joseph Zen, who as the former Newbishop of Hong Kong knows something about murderous Communist China, sounded the alarm November 11, 2017, on Francis-Bergoglio's proposed sellout agreement to the Red Chinese on the matter of the appointment of Newbishops there. He called Bergoglio's proposal "a huge disaster for the [New]church" and going over the "brink of the precipice." Bergoglio is going to ask sitting Newbishops to resign in order to leave room for him to appoint excommunicated Chinese bishops in their stead.
The Marxist Francis-Bergoglio, says the Newcardinal, is seeking a compromise at all costs with the Communist Chinese government. That government, he says, was behind the recent dumping of the body of a presbyter, bashed in the head, into a river and calling it a suicide. The Communist Chinese have also destroyed crosses and churches throughout China. Bergoglio, says the Newcardinal, "is ceaselessly compromising and has even arrived at the point of selling [Newchurch] out to appease." [Some information for this Commentary was contributed by Asia News.]
Red China is currently running a campaign to replace Jesus Christ with Red leader Xi Jinping, who is developing a cult of personality and violently suppressing Christianity. He is aping the virulent atheistic Communist Leader, Mao Tse Tung, who took over China in 1949. Red China, despite its efforts to fool the world into thinking that it is a western-like country nation, is actually a repressive atheistic tyranny that has openly killed Christians since 1949.
True Catholics, for years Newchurch has been trying to sell out to the Red Chinese government, even when that government has been killing and imprisoning its own presbyters who are trying to maintain an underground Church. Let's face it. The Newpopes have been faithless even to their own presbyters. No wonder Newchurch seminaries are emptying out, and Francis-bergoglio wants to play the priestess card!
---
November 15, 2017 - St. Albertus Magnus, Bishop, Confessor & Doctor
Double Feast
While Francis-Bergoglio Flip-flops on Moral Issues
U.S. President Trump Makes Blocking Abortion a Priority around the World
From: The TRADITIO Fathers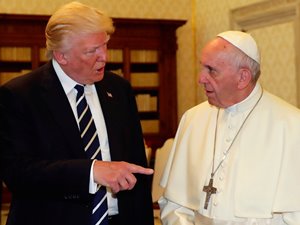 U.S. President Donald Trump Lectures Marxist Newpope Francis-Bergoglio
On Catholic Morality, Which Trump Supports and Bergoglio Does Not
The U.S. President Is Working Hard to Stop Abortions
And Their Funding around the World
Whereas Bergoglio Issues only Mealy-mouthed Statements
Indicating that He Will Try to Change -- if That Were even Possible
Catholic Doctrine and God's Natural Law against Abortion
Francis-Bergoglio in four years has flip-flopped on practically every Catholic moral issue. He is soft, to say the least, on One of the Four Sins that Cry out to Heaven for Justice: sodomy. His administration is filled with sodomites, many of who are paedophiles to boot. He wants to open the door, contrary to the explicit teaching of Jesus Christ, Whose vicar he purports to be, to Newchurch divorce. He proudly calls atheists, who deny the very existence of the God in Whom he is supposed to believe, some of his "best friends." He has made wishy-washy statements at best about abortion.
No wonder Bergoglio does not like U.S. President Donald Trump! Trump's administration is actually doing something very Catholic, blocking abortion and funding for it around the world. U.S. negotiators accepted no compromise on the matter of abortion in negotiations that ended in the G7 Conference on November 5, 2017. Frustrated leftist abortionists in the abortion group "She Decides," described the Trump administration's definitive position against abortion as "extreme." [Some information for this Commentary was contributed by the Center for Family and Human Rights.]
True Catholics, one has to wonder who the true "Catholic" here is: the U.S. President, who is nominally a Presbyterian, Donald Trump, but holds firmly to traditional Catholic moral values -- and acts upon them -- or the Marxist Newpope of the Newchurch, who refuses to teach clear Catholic doctrine on moral issues. Perhaps Donald Trump is in the wrong job. He ought to run against Bergoglio for Newpope. He couldn't do a worse job than Bergoglio!
---
November 14, 2017 - St. Josaphat, Bishop & Martyr
Double Feast
A Reader Asks: "Why Do Some People Wrongly Think
That All Traditional Priests Must Come only from the Neo-SSPX?"
From: Joe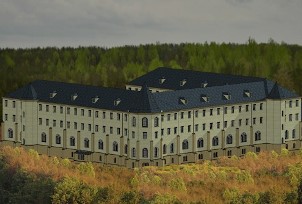 Bernie Fellay's Latest Folly: A Prison-seminary in Virginia
Fellay Is Said to Have Millions of Dollars Salted Away
In a Dozen Corporations in Fellay's Native Switzerland
In Order to Maintain His Shaky Control of the Neo-SSPX
He Has Been Spending More of That Money on Propaganda
So that He Isn't Thrown out in the July 2018 Duodecimal Elections
One Goal of Fellay's Propaganda Is to Make It Seem
As If His Own Neo-SSPX Is the Only Game in Town
Ignoring the Thousands of Real, Traditional Catholic Priests and Congregations
That Have Nothing to Do with Either His or Bergoglio's Sects
Dear TRADITIO Fathers:
Why do some people wrongly think that all traditionalist priests must come only from the Neo-SSPX? Fellay and his Neo-SSPX sect have turned traditional Catholicism into vicious thuggery!
The TRADITIO Fathers Reply.
It is simply the power of propaganda. Fellay and his lieutenant, the Jewish fundraiser Maximilian Krah, are said to have millions of dollars salted away in a dozen corporations in Fellay's native Switzerland. Now Fellay is spending more of that money on propaganda to maintain his shaky control of the Neo-SSPX against being thrown out in the Neo-SSPX duodecimal elections of July 2018.
One goal of Fellay's propaganda is to make seem as if his own Neo-SSPX is the only traditional game in town -- and Fellay is not even traditional Catholic, but for years has been in cahoots with the Newchurch of the New Order in Newvatican, now headed by the Marxist Newpope Francis-Bergoglio. Both Fellay and Bergoglio are afraid that if it gets out that Fellay's sect is only the tip of the iceberg and that there are thousands of real, traditional Catholic priests and congregations around the world that have nothing to do with either Fellay's half New Order sect or with Bergoglio's full-blown New Order sect, it will compromise their ill-gotten power.
---
November 13, 2017 - St. Didacus, Confessor
Semidouble Feast
"Oecumenical" Mess Is Being Written by a Secret Commission
Francis-Bergoglio's Novior Ordo May Start in Advent 2018
From: The TRADITIO Fathers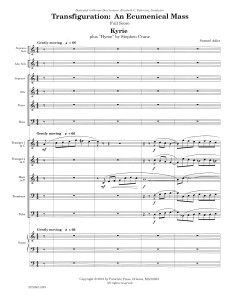 Music Is Already Being Written for the "Oecumenical" Mess
Which Is the Successor to the (Invalid) Novus Ordo Mess
This Novior Ordo, or Newer Mess, Is Now Being Written
By a Secret Commission Established by Francis-Bergoglio
To Make the Novus Ordo Mess of 1969, Newchurch's "Ordinary" Mess
Even More Protestant than It Is (as if That Were Possible!)
So that Already Protestantized Novus Ordo Presbyters
Can Join with Their Fellow Heretics in the Protestant Sects
The Novior Ordo May Start Coming into Effect in Advent 2018
On November 8, 2017, Newvatican denied that there is a commission charged with drawing up an "Oecumenical" Mess for Catholics and Protestants to attend, at which both would receive the invalid cookie and Kool-Aid. But why wouldn't Newvatican be expected to deny the existence of such a commission? When Francis-Bergoglio first alluded a Novior Ordo (Newer Order), it was supposed to be a "secret."
You see, Bergoglio is smart enough to know that a public commission would stir up controversy, as his other anti-Catholic actions have done, so he wants to keep this one secret until the day of execution. In the interim, he can maintain "plausible deniability" because there is no "official" commission on the books. Even the man who should be responsible for such a commission, the Prefect of the Congregration for Divine [New Order] Worship, Newcardinal Robert Sarah, has not been officially informed of the commission, nor is he being briefed on its work.
True Catholics, long ago Newvatican lost all credibility, as it consistently lies about its paedophile (now brought to the doorstep of Francis-Bergoglio's own Newvatican Junior Seminary) and about widespread corruption in the Vatican Bank, which continues to be run sub rosa by the Italian Mafia. Bergoglio also denies his secret "Oecumenical" Mess commission while staging "Oecumenical" Messes in his Santa Marta Executive Resort and takes every opportunity to praise the Arch-heretic Martin Luther and the Protestant Revolt on its500th anniversary.
---
November 12, 2017 - Twenty-third Sunday after Pentecost
Semidouble Sunday
New Book Exposes Sodomy in Francis-Bergoglio's Newseminaries
As Newvatican Moves to Shut down Many Newsemiaries for Lack of Novus Ordo Seminarians
From: The TRADITIO Fathers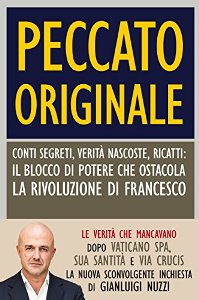 Investigative Journalist Gianluigi Nuzzi's New Book Stuns Newvatican
Original Sin: Secret Accounts, Hidden Truth, Blackmail
Was Released on November 9, 2017
It Documents Sodomy of Minors Going on in Francis-Bergoglio's Junior Newseminary
And Josef Ratzinger (later Benedict)'s Release of One of the Criminal Presbyters
Financial Crimes of Bergoglio's Regime Are Also Documented in the Book
Multi-million-dollar Slush Funds Are Being Maintained
In His Vatican Bank in the Name of Dead Newpopes
It is well known from police reports and court cases around the world that all too many Newchurch seminaries are little more than homosexual brothels run by Newbishops who "sample the merchandise." Now a noted Italian investigative journalist Gianluigi Nuzzi's latest book, Peccato Originale: Conti Segreti, Veritą Nascoste, Ricatti [Original Sin: Secret Accounts, Hidden Truth, Blackmail] was released on November 9, 2017, documenting that sodomy has come full blown to Francis-Bergoglio's doorstep, in his own Newvatican Junior Seminary.
Nuzzi's documentation shows that sodomy is running rampant in Francis-Bergoglio's pre-seminary for middle and high-schoolis, ironically called the St. Pius X Junior Seminary. Nuzzi had a copy of the book hand-delivered to Newvatican's criminal prosecutor, with documentation showing that at least one of the Newseminarians was a minor at the time of the crimes. Bergoglio, who is known for his daily loquaciousness, remained uncharacteristically silent in the face of the charges.
Nuzzi reproduces documents from a Newseminarian, who recounted how a presbyter used to come into his dormitory room in Francis-Bergoglio's seminary to fellate the minor. Newvatican's Congregation for the Doctrine of the Faith, then headed by Josef Ratzinger, later to be elected Newpope in 2005, essentially dismissed the charges, as was Ratzinger's practice in the majority of cases, in order that Newchurch wouldn't be scandalized by public knowledge of criminal Newchurch presbyters. Francis-Bergoglio, instead of prosecuting the sex criminals in his administration, instead chose to try Nuzzi and a fellow journalist for eight months in a Newvatican court for publishing confidential documents, after which the charges were dismissed.
But sex crimes aren't the only crimes going on in Francis-Bergoglio's regime. It was the TRADITIO Network that first, as early as 2001, linked Newvatican's sex crimes with its financial crimes, terming the goings-on Newvatican's Great Sex & Embezzlement Scandal. Nuzzi also documents that, contrary to Francis-Bergoglio's promise to the Newcardinals who elected him, financial crimes in his Vatican Bank are out of control. Nuzzi published documents showing that multi-million-dollar slush funds are being maintained in the names of Paul VI-Montini (dead for 38 years), John Paul II-Wojtyla (dead for 7 years) and their private secretaries. [Some information for this Commentary was contributed by the Associated Press.]
True Catholics, two days before the publication of Nuzzi's book, Newvatican had announced that it will close Newseminaries with fewer than 17-20 students. It is not surprising that because of the rampant sex crimes going on in Newchurch seminaries and because of the corruption of the Catholic Faith being taught in them, few young men wish to enter. The number of seminarians in Newchurch is beginning to hit rock bottom, and thus Bergoglio's desperate talk lately about installing married presbyters, deaconesses, and priestesses in his Newchurch to replace priest, which Newchurch has not ordained since 1968, when the Protestantized New Ordinal replaced the Sacrament of Holy Orders.
---
November 11, 2017 - St. Martin of Tours, Confessor
Double Feast
Francis-Bergoglio Admits that the New Mass Has Become a Joke
More Newchurchers Are Interested in Taking Cell Pictures than Worshipping
From: The TRADITIO Fathers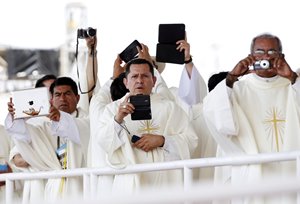 The "New Mess" Is Such a Joke
As even Francis-Bergoglio Admits
That Participating Presbyters Are More Interested
In Taking Cell-phone Pictures than in Worshipping
What Was Once Described As
"The Most Beautiful Thing This Side of Heaven"
Became after the Vatican II Anti-council's Destruction of the Mass
A Cheap Theatrical Performance Starring Clowns
Ministresses, Circus People, and Vaudeville Comedians
At his General Audience of November 11, 2017, Newpope Francis-Bergoglio admitted what anyone with eyes has seen for decades since the Vatican II Anti-council (1962-1965): Newchurchers treat the New Order Mess has become a joke. They are more interested in taking cell-phone pictures that actually worshipping:
And I say to you, it makes me very sad when I am celebrating here in the square or in the Basilica, and I see lots of cellphones raised up, not only by the faithful, but also by some presbyters and even [New]bishops. Please! Mass [sic] is not a show: it means going to encounter the Passion and the Resurrection of the Lord.
Immediately after Bergoglio's remarks, more cell-phones were raised to take pictures! [Some information for this Commentary was contributed by the Vatican Press Office.]
As usual, Francis-Bergoglio has gotten it all wrong. What he is talking about is not the Catholic Mass. Instead, the New Order service of 1969, which Benedict-Ratzinger officially decreed in 2007 to be the "Ordinary" Mess of Newchurch, is an invalid Protestant-Masonic-Pagan service, which deserves no true Catholic's respect, but rather every true Catholic's condemnation. The "New Mess" is a travesty. And Newchurch's "New Latin Mess" of 1962 is just as fraudulent, having been engineered by the Freemason presbyter Hannibal Bugnini. If after all this time anyone needs proof of these facts, click on the TRADITIO Network's Novus Ordo Service Photo Gallery department.
True Catholics, note too that Francis-Bergoglio also chides the sacrilege of even Newchurch bishops and presbyters. In fact, even the leaders of Newchurch think that what they are doing is a joke. That is why they have given up talking about religion and instead prattle on about politics. Newchurch is dying in front of their eyes, but they don't care. Just as long as they can enjoy a fancy car, a juicy pension, nice digs, meals, wardrobe, and an expense account -- all extorted by fraud from hardworking Newparishioners. And what they can't extort from Newchurch, they embezzle in Newchurch's ongoing Great Sex & Embezzlement Holocaust.
---
November 10, 2017 - St. Andrew Avellino
Double Feast
More Controversy about the Death/Murder of Newpope JPI-Luciani
The Potential "Traditional Pope" Who Started to Restore the Traditional Latin Mass
From: The TRADITIO Fathers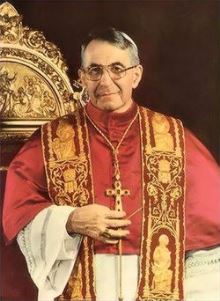 Did Modernists Murder John Paul I-Luciani?
A New Book Raises Questions about the Newpope's Death/Murder
According to the Founder of the Catholic Traditionalist Movement in 1964
Fr. Gommar DePauw (1918-2005), Just after His Election, Luciani Summoned
DePauw to Newrome to Sit on a Commission to Restore the Traditional Latin Mass
Best-selling Malachi Martin, Famous Vatican Insider
Wrote that Several Newcardinals Had Participated in a "Satanic Mass"
Within the Walls of Newvatican
Could Luciani Have Given His Life for Being "Too Traditional"?
On November 7, 2017, a book by Stefania Falasca Papa Luciani: Chronicle of a Death was published about the death (some say murder) of Newpope John Paul I-Luciani. Conveniently (or in collusion with Newvatican) the book was issued at the same time that Newvatian announced that it is going to make Luciani a Newsaint. There is evidence that JPI-Luciani, who died in 1978 after only 33 days in office, was murdered by the Mafia, which he publicly stated that he was going to rout out of the Vatican Bank. Investigative reporter David Yallop in 1984 published his book, In God's Name, substantiating the Mafia-murder theory. [Some information for this Commentary was contributed by the National Catholic Register.]
Moreover, according to the founder of the Catholic Traditionalist Movement in 1964, Fr. Gommar DePauw (1918-2005), just after his election, Luciani summoned DePauw to Newrome to sit on a commission to restore the Traditional Latin Mass. Malachi Martin, the best-selling author and famous Vatican insider who exposed Newchurch's corruption from the regime of Paul VI-Montini in 1963, wrote that several Newcardinals had participated in a "Satanic Mass" within the walls of Newvatican. Could Luciani have given his life for being "too traditional"?
Stefania Falasca simply rehashes the old story, pushed by Newvatican then and now, that JPI-Luciani died of a heart attack, but Newvatican has lost all credibility as a truth-teller after all the lies it has told about the tens of thousands of children whom its Newcardinals, Newbishops, and presbyters that it has sodomized. Moreover, Newvatican was caught in several lies in the false reports that it issued at the time of Luciani's death in 1978, which led to an investigative reporter's uncovering of a possible murder of the Newpope:
Newvatican lied that Luciani's body was discovered by his papal secretary; in fact, he was found by a nun


Newvatican lied that he was discovered reading Tomas ą Kempis's famous devotional work, De Imitatione Christi; in fact, he was found sprawled on the floor


Newvatican lied about the time of his death; in fact, it was not 05:30, but earlier in the night (by 05:30 rigor mortis had set in, and when Luciani's secretary lifted his body from the floor to the bed to conceal the manner of his death, he broke Luciani's bones because of the rigor of the muscles


Newvatican lied that his will, on which he was working at the time of his death, had disappeared; in fact, it was in the hands of his family


Newvatican lied by stating that the purported heart attack was caused by Luciani's heavy smoking; in fact, Luciani had never smoked


Newvatican broke papal tradition and embalmed Luciani's body within one day of his death, no post mortem, no investigation
True Catholics, it is all too convenient that Falasca's whitewash has come out at the same time Newvatican announced the process for making JPI-Luciani the latest of its Newsaints. Can you believe it? All of the heretic Newpopes from Paul VI-Montini through JPII-Wojtyla are (or will be) con-anized as Newsaints? What did they do but destroy the Catholic Church, the Catholic Mass, the Catholic Sacraments, Catholic doctrine, and Catholic morality? The whole affair of a lying and heretical Newvatican and Newpopes since the Vatican II Anti-council is enough to make God cry and true Catholics vomit.
---
NOVEMBER 9, 2017 - DEDICATION OF THE ARCHBASILICA OF OUR SAVIOR
DOUBLE FEAST OF THE SECOND CLASS
Did Francis-Bergoglio Play Josef Ratzinger for a Fool?
A Recent Interview Might Indicate that Bergoglio Engineered Ratzinger's Fall
From: The TRADITIO Fathers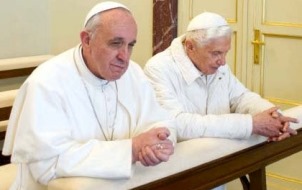 Francis-Bergoglio Grins as if to Say: Ratzinger Still Doesn't Get It!
Bergoglio Has Let Slip Information in an Interview
That He May Have Set up Ratzinger in the 2005 Conclave for a Fall
In Fact, Benedict-Ratzinger's Regime Lasted Not Even Eight Years
Before He Was Forced to Abdicate when His Paedophilia Connections
Were at the Point of Being Revealed by the Italian Press
The Marxists, Like the Marxist Newpope Bergoglio
Are Devious, after All
Francis-Bergoglio admitted in an interview published on November 5, 2017 that he had pushed for the election of Josef Ratzinger as Newpope in 2005. Bergoglio, according to an Italian Newcardinal's secret diary, had attracted many votes from leftist Newcardinals at the 2005 Conclave and was said to be a close runner-up.
What Bergoglio did not reveal in the interview was whether he had set up Ratzinger to abdicate the Newpapacy in the midst of a Newchurch-wide paedophile scandal. Was Bergoglio merely setting Ratzinger up, cognizant (as was common knowledge in Newrome) that Ratzinger was already surrounded by allegations of paedophilia complicity? So it would have been a matter of waiting just a few years until the Ratzingerian regime toppled owing to its own corruption. Marxists are devious, after all!
In the interview, Francis-Bergoglio allowed a glimpse into his stratagem when he criticized "certain extrapolated German theologies" who were not leftist enough. The German Ratzinger is the most noted proponent of those "German theologies." Bergoglio, as a good Marxist, also criticizes "the international monetary system" based on Western capitalism, which Ratzinger did not seriously criticize, but which the Marxist Bergoglio denounces frequently. [Some information for this Commentary was contributed by the Argentine News Agency Telam.]
True Catholics, we are seeing the continuation of the radicalization of Newchurch as an agent for the leftist programme associated with socialist and Marxist politicians. Bergoglio from the inception of his Newpapacy became the spokesman for these groups, so immediately that one has to wonder whether his takeover of Newchurch wasn't planned in the same manner that the Modernists planned the destruction of the Catholic Mass and Sacraments before and after the Vatican II Anti-council, to turn them into a Protestantized, invalid "new" version. Much can be learned by studying the methods used by the anti-Catholics in the highest levels of the Church in the 1950s/1960s and subsequently, as these same methods are still being used by Bergoglio.
---
November 8, 2017 - Octave Day of All Saints
Double Major Feast
Vatican II's "Oecumenism" Works only against Catholicism
In England Catholics Still Face Prejudice since Henry VIII
From: The TRADITIO Fathers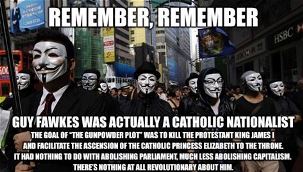 In 400 Years Not Much Has Changed
Since Guy Fawkes and His Catholic Loyalists
Tried to Restore the Catholic Monarchy to England
Of Which Catholics Were Robbed when the Vicious Heretic and Adulterer
King Henry VIII Took the World's Most Catholic Country
And Made It the First Protestant Country
Catholics Were Crushed, Hanged, Drawn and Quartered
Even the Newchurch "Unsaint" JPII-Wojtyla Flipped out in Anger
Against the Anglican Church of England's One-way Demands
That His Newchurch "Oecumenize" Four Hundred Years Later
Almost one hundred years after the vicious heretic and adulterer King Henry VIII of England took the world's most Catholic country and made it the first Protestant country, Guy Fawkes and his Catholic loyalists attempted to express their loyalty to England's true faith, Catholicism, which had been violently and illegally stripped from them by Henry and his successors, including "Bloody Bess" Elizabeth I. The English royalty murdered thousands of Catholic bishops, priests, and laymen by the most brutal methods possible: crushing, hanging, drawing and quartering. Even such a great light of England and the world at that time as St. Thomas More was subjected to butchery.
Yet 400 years after Fawkes' revolt, England still hates popery and it has tried to gut Newchurch schools (which it ignorantly thinks are still "Catholic") by imposing on them a requirement to admit non-Catholic students as half of the student population. England never did restore diplomatic relations with the Catholic Church, but only with the anti-Catholic Newchurch in 1982. [Some information for this Commentary was contributed by the U.K. Guardian]
True Catholics, even the Newchurch "Unsaint" JPII-Wojtyla flipped out in anger against the Anglican Church of England. He finally became fed up with the fact that more and more demands were being made to "oecuemize" Newchurch four hundred years later, but the CofE made no compromises with Newchurch. Therefore, he cut off relations. Benedict-Ratzinger then sold out Newchurch to the Anglicans by treating them like "Catholics" in his 2009 document Anglicanorum coetibus. But Newchurch is just as anti-Catholic and the CofE, so it seems to be a case of Anglican and Newchurch birds of a feather flocking together, neither of them Catholic.
---
November 7, 2017 - Within the Octave of All Saints
Semidouble Feast
Newmonsignor: Newchurch's "New Latin" Mess of 1962 Is Dying
In Fact, the Traditional Latin Mass Is Steadily Growing Independent of Newchurch
From: The TRADITIO Fathers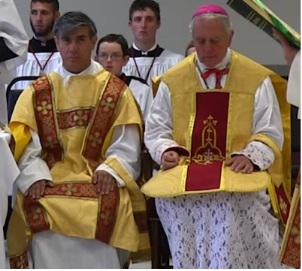 The Latest Independent Traditional Catholic Bishop
Gerardo Zendejas (Left), Consecrated by Bishop Richard Williamson (Right)
Although the "New Latin" Mess of 1962 Is Failing in Newchurch
The Traditional Latin Mass Independent of Newchurch Is Steadily Growing
New Independent Traditional Catholic Organizations Have Been Founded
And New Independent Traditional Catholic Bishops Have Been Consecrated
For the Worldwide Traditional Catholic Movement
Thousands of Independent Traditional Catholic Priests around the World
Celebrate outside of the Anti-Catholic Newchurch of the New Order
Thousands of Real Traditional Latin Masses
And Thus Keep the Flame of the Catholic Faith Alive
For Millions of Faithful Traditional Catholics Worldwide
One Newmonsignor Charles Pope, of Washington, D.C., has scandalized true traditional Catholics by stating that "the Traditional Latin Mass (TLM) has manifested very little growth." Even after a good number of years, less [sic] than 1 percent of Catholics [sic] are attending the TLM." In addition to Pope's ungrammatical use of less in place of fewer, there is much more wrong with his statement. First of all, he is not talking about the "Traditional Latin Mass" at all. Rather, he is taking about the "New Latin" Mess of 1962, a Half New Order Vatican II fabrication, aka erroneously as the "Extraordinary" Mess of 2007, which is most certainly not the Traditional Latin Mass. [Some information for this Commentary was contributed by the National Catholic Register.]
The "New Latin Mess" of 1962 is the fraud that Newchurch is trying to perpetrate onto its clueless members by deceptively calling it the "Traditional Latin Mass." This corrupted Mess, which is half way to the full-blown New Order Mess of 1962 and which Newchurch calls its "Ordinary" Mess, includes two waves of the Freemason presbyter Hannibal Bugnini's radical Protestantizing changes to the Traditional Catholic Latin Mass, to the Roman Calendar, to the traditional Feastdays, and to traditional liturgical practice.
In fact, the Traditional Latin Mass, that is, the real one before the Freemason presbyter and Newchurch started deconstructing and Protestantizing it starting in 1951, has seen real growth. The Traditional Catholic Movement has been growing steadily outside the Marxist Newpope Francis-Bergoglio's heretical Newchurch of the New Order. New independent traditional Catholic organizations have been established, particularly what is known as the worldwide Traditional Resistance, which was founded by the Vienna Five (Frs. Joseph Pfeiffer, Ronald Ringrose, Richard Voigt, David Hewko, and Francois Chazal), on August 10, 2012. The five abandoned Bernie Fellay and his Neo-SSPX, which was making active efforts to embrace the New Order headquarter at Newrome. In addition, the Traditional Catholic Movement (not counting Fellay's Neo-SSPX) has in recent years added three traditional Catholic bishops: Jean-Michel Faure (2015), Benedictine Dom Tomas Aquino (2016), and Gerardo Zendejas (2017).
True Catholics, the fraudulent "New Latin" Mess of 1962, aka "Extraordinary," touted by Neocon Newchurchers, simulated invalidly by Novus Ordo presbyters, on Novus Ordo dinner tables, in Novus Ordo temples preaching the Novus Ordo heresy, is supposed to die, if not of its own accord along with the heretical Newchurch, then by fiat of Benedict-Ratzinger and Francis-Bergoglio who, like all good Newchurchers, hate it and everything else Catholic. Thank the Lord, there are many courageous traditional Catholic priests and organizations that have nothing to do with the heretical Newchurch, which hijacked the "institutional" Church in 1964. These independent traditional Catholic priests celebrate thousands of real Traditional Latin Masses around the world and thus keep the flame of the Catholic Faith alive for millions of faithful traditional Catholics worldwide.
---
November 6, 2017 - Within the Octave of All Saints Day
Semidouble Feast
Francis-Bergoglio, in Affiliating Himself with Martin Luther
Has Embraced the Arch-heretic's Vulgarity and Hypocrisy as Well
From: The TRADITIO Fathers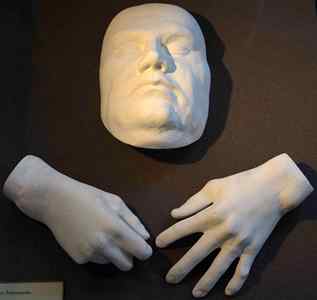 The Death Mask and Cast Hands of the Arch-heretic Martin Luther
Who Died an Unrepentant Excommunicate
Having Asphyxiated Himself in His Own Vomit
After Participating in a Drunken Orgy
His Rank Hypocrisy Is Exposed in a Letter to His Mother
Who Asked Him whether She Should Abandon Her Catholic Faith
And Become a Protestant
Luther Replied: "No, Remain a Catholic
For I Will neither Deceive nor Betray My Mother"
It is ironic that Francis-Bergoglio, who touts the Arch-heretic Martin Luther and honors him with a Newvatican postage stamp and a statue in Newvatican is apparently ignorant of Luther's absolute detestation of the Catholic papacy. In 1545, just one year before his unrepentant death, Luther wrote Against the Roman Papacy, an Institution of the Devil. In which he spared none of his vulgar mouth to denounce St. Peter and his successors. Following are some examples of his statements against the popes. (Be warned; Luther was known for his vulgarity, but the English versions below are mild in comparison with the original German!)
"You are the head of all the worst scoundrels on earth, a Vicar of the Devil, an enemy of God, an adversary of Christ, a destroyer of Christ's churches; a teacher of lies, blasphemies, and idolatries; an arch-thief and robber; a murderer of kings and inciter to all kinds of bloodshed; a brothel-keeper over all brothel-keepers and all vermin, even that which cannot be named; an Antichrist, a person of sin and child of perdition; a true werewolf.


"Even if we were stones and wooden blocks, we could see by your works throughout all the world that you are lost, desperate children of the Devil and also mad, crude asses in Scripture. Someone probably would like to curse you so that you might be struck down by lightning and thunder, burned by hellish fire, have the plague, syphilis, epilepsy, the plague of St. Anthony, leprosy, carbuncles, and all the plagues -- but these are all caresses, and God has long ago punished you with greater plagues, just as God's despisers and blasphemers should be punished."


"Why would anyone tolerate such things from someone like you, a rotten paunch, crude ass, and fart-ass?" [It takes one to know one!]


"I can with good conscience consider you a fart-ass and an enemy of God."


"You are like a magician who conjures gulden into the mouths of silly people, but when they open their mouths they have horse shit in them."


"I was frightened and thought I was dreaming, it was such a thunderclap, such a great horrid fart did you let go here! You certainly pressed with great might to let out such a thunderous fart -- it is a wonder that it did not tear your asshole and belly apart!"
Thus spoke the founder of the Protestant heresy: no logic, no argumentation, not even the high- blown satire of St. Thomas More and Venerable Erasmus, but only a filthy mouth. There are many stories about the mode of his death, one being that he drunk himself to death at an orgy, asphyxiating himself in his own vomit.
In addition to his heresies and vulgarity, Luther was also a hypocrite. Knowing what the teaching of Christ was, he "translated" his heresies into a vulgar German version of official Latin Vulgate. He vocally supported the militarized aristocracy against the German people in the Peasants' War, in which up to 300,000 of the German people were slaughtered.
True Catholics, a revealing letter from Martin Luther to his mother has been preserved among the many and valuable manuscripts in the library belonging to the Dominican Convent of Santa Maria sopra Minerva at Rome. His mother wrote and asked him whether she ought to change her religion and adopt his new Protestantism. He replied: "No, remain a Catholic, for I will neither deceive nor betray my mother." What better refutation of Luther's doctrine could there be than such a reply, which revealed that Luther knew his Protestantism to be a lie all along?
---
November 5, 2017 - Twenty-second Sunday after Pentecost
Semidouble Sunday
Another Newchurch Leader Speaks out against Bergoglio
And Newchurch Immediately Fires Him without even a Hearing
From: The TRADITIO Fathers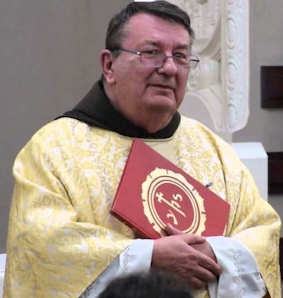 Newcapuchin/Newtheologian Thomas Weinandy
Executive Director for Doctrine
Of the U.S. Conference of Catholic [Sic] Bishops
Was Fired, without a Hearing, on the Very Same Day
That He Went Public with His Letter
Pointing out Francis-Bergoglio's Heresies
Weinandy Might Be a Clueless Newchurcher
But He Hasn't Been Accused of Paedophilia
If He Had Been, Bergoglio Would Give Him
Years of Hearings and Appeals!
Francis-Bergoglio's pogrom against conservatives in his Newchurch continues. Newcapuchin Fr. Thomas Weinandy, was Executive Director for Doctrine of the U.S. Conference of Catholic Bishops. He was awarded the Pro Pontifice et Ecclesiae medal and appointed a member of Newvatican's International Theological Commission. He passes for a leading theologian in Newchurch.
But Weinandy couldn't take it any longer. Francis-Bergoglio's heretical March 19, 2016, document Amoris laetitia (The Joy of Sex), was too much for him. Thus, he challenged Bergoglio's document, joining with numerous Newcardinals, Newbishops, and Newchurch theologians. For his concern the Newcapuchin was immediately fired, without a hearing, on the very same day that he went public with his blistering statement, November 2, 2017. Whereas Bergoglio's paedophile Newclergy gets years of hearings and appeals, the Newcapuchin got nothing.
Weinandy had already written directly to Francis-Bergoglio on July 31, 2017, but, like the Newcardinals and Newbishops, got no response from the Marxist Newpope. Weinandy wrote that "a chronic confusion seems to mark your pontificate... You seem to censor and even mock those who interpret Chapter 8 of Amoris Laetitia in accord with Church tradition as Pharisaic stone-throwers who embody a merciless rigorism. This kind of calumny is alien to the nature of the Petrine ministry."
True Catholics, Francis-Bergoglio is relying on the fact that he can bully those Newchurch officials who challenge his heresies. But his bullying is having the opposite effect now: more Newchurch officials every day are speaking out against him. Bergoglio's Marxist castle in Newrome is crumbling, but he is too consumed by his Narcissistic Personality Disorder to realize that his days as Supreme Tyrant of the Newchurch of the New Order are numbered.
---
November 11, 2017 - St. Charles Borromeo, Bishop & Confessor
Double Feat
Francis-Bergoglio Is Falling Asleep during the Novus Ordo Mess
These Are Not the Only Times at Which He Is Asleep at the Switch
From: The TRADITIO Fathers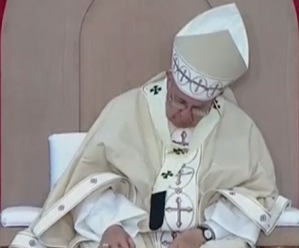 Francis-Bergoglio Falls Asleep during the Novus Ordo Mess
Now He Admits that He Falls Asleep during Prayer
His Predecessor, Benedict-Ratzinger
Similarly Used to Fall Asleep during the Novus Ordo Mess
Apparently, the Invalid New Mess Is So Banal and Uninteresting
Even to the Newpopes that Shove It Down the Throats of Newchurchers
As the "Ordinary Mess" of Newchurch
That They Scandalously Can't Stay Awake during Its Simulation
Francis-Bergoglio's latest confession, on Halloween 2017, is that he sleeps during prayer. Certainly the cameras have caught him with his head slumped forward during his own invalid Novus Ordo Messes. But what is the reason why Bergoglio is becoming more out of it and disconnected from his Newchurch?
Bergoglio appears more and more tired and unhappy as his Marxist programme for Newchurch is being openly resisted by Newchurch leaders and laity. They don't like his anti-Catholic Novus Ordo Mess, which is supposed to become an even abomination when he rolls out his Novior Ordo Mess on the First Sunday of Advent 2018. They don't like his heretical doctrine on such issues as bigamy, Hell, sodomy, and "oecumenism" (syncretism). They don't like his pig-sty morality, which condemns chastity, fidelity, and celibacy, but barely blinks at paedophilia, sodomy, and bigamy. [Some information for this Commentary was contributed by the British daily Guardian.]
True Catholics, Francis-Bergoglio is asleep at the switch on everything Catholic, not just the phony Novus Ordo Mess. Now, at age 80, with one lung, a diagnosed psychiatric personality disorder, and morbid obesity dogging him, his energy is increasingly sapped. He might not make it for the five years that he already said was his limit in the Newpapacy.
---
November 3, 2017 - Within the Octave of All Saints Day
Semidouble Feast
Francis-Bergoglio Has Honored the Arch-heretic Martin Luther
With the First Vatican Postage Stamp Dedicated to an Excommunicate
From: The TRADITIO Fathers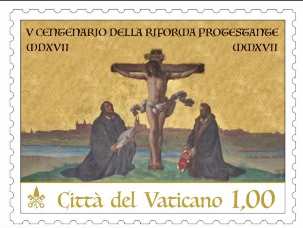 Francis-Bergoglio Has Ordered the Issuance of a Postage Stamp
To Honor the Arch-heretic Martin Luther, Hater of Catholicism and the Mass
The Stamp Depicts Luther and His Heretic Accomplice Philip Melanchthon
Kneeling to the Left and Right at the Foot of the Cross
With an Inscription Recognizing the 500th Anniversary of the Protestant Revolt
That Led into Heresy Half the Souls in the Church at the Time
The Vatican II Anti-council (1962-1965) Was Even More Successful
It Replaced the Catholic Church as the "Institutional" Church in 1964
With the Heretical Newchurch of the New Order
And Destroyed the Priesthood with Its Invalid New Ordinal of 1968
Francis-Bergoglio has lent further confirmation to charges that he is heretic by issuing a Newvatican postage stamp honoring the arch-heretic of the heretical Protestant Revolt, Martin Luther. Luther was formally excommunicated by Pope Leo X on January 3, 1521, by the papal bull Decet Romanum pontificem. Luther was originally an Augustinian monk, but forswore his vocation and married a run-away Cistercian nun turned trollope.
In spite of these facts, Bergoglio's Newvatican has described Luther as a "witness to the Gospel." Bergoglio made an "oecumenical" (sycretistic) junket to Lund, Sweden, on October 31, 2016, to congratulate personally the Lutheran World Federation on the 500th anniversary of the Protestant Revolt from Catholicism. The Lutherans were not so "oecumenical" toward Bergoglio. His reception at Lund was described as frigid. In conjunction with his syncretistic visit, he erected in Newvatican a statue of the Arch-heretic.
Newvatican's Philatelic and Numismatic Office announced on October 31, 2017 -- suitably the day known as Halloween -- that the heretical Protestant Revolution and its Arch-heretic, who so vilely condemned the Catholic Church, would be recognized with a commemorative postage stamp, to be put on sale November 23, 2017.
The postage stamp depicts Luther and Philip Melanchthon, Luther's heretic accomplice, kneeling to the left and right at the foot of the Cross with an inscription recognizing the 500th anniversary of the Protestant Revolt. In the background is a representation of the city of Wittenberg, upon the door of whose church Luther contumeliously posted his Disputatio pro Declaratione Virtutis Indulgentiarum [Disputation on the Declaration on the Power of Indulgences], commonly known as the "95 Theses," against the Catholic Church. Luther holds the Bible as the only source of doctrine, representing his heretical principle Biblia Sola," [Bible Only], rejecting that book's own recognition of Tradition as an coequal source of the true Faith. Melanchthon holds the Confessio Augustana [Augsburg Confession], the heretical creed of Protestantism. [Some information for this Commentary was contributed by LS News.]
True Catholics, it is no surprise that Francis-Bergoglio has gone ape over the Arch-heretic Martin Luther, who hated the Catholic Church and its true Mass, the Traditional Latin Mass. Bergoglio is a Marxist who calls atheists his best friends. But Bergoglio is so looney that even the Lutherans have rejected him. His reception by the Lutheran World Federation on Halloween 2016 was frigid. The Lutheran hierarchy has no love lost for Bergoglio. He doesn't meet even Lutheran standards!
---
November 2, 2017 - Commemoration of All the Faithful Departed Souls
Double Feast
Monasteries Are Shutting down All around the World
After Their Takeover by the Anti-Catholic Newchurch
From: The TRADITIO Fathers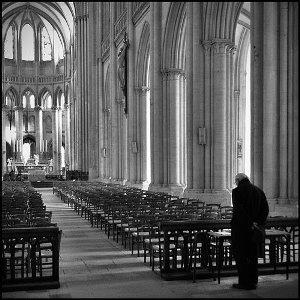 A Man Weeps over the Closing of Yet Another Great Monastery
Because Newchurch Is Not Catholic, It Has Destroyed Everything Catholic
The Cistercian Monastery of Huntsville, Utah, Is Closing after 70 Years
St. Bernard's Own Monastery of Himmerod in Germany Is Closing after 1000 Years
Since 1968 Newchurch Doesn't Have a Valid Mass or a Valid Priesthood
The Clueless Newchurchers Don't Care
After All, They Support the Goal of the Vatican II Anti-council and Their Newpopes
To Destroy the Catholic Church, and They Would Have Done So
If It Weren't for Those Courageously Independent Traditional Catholic Priests
Around the world monasteries and convents are closing as if there were no tomorrow. Because Newchurch is not Catholic, it has destroyed everything Catholic. What man wants to waste his life in a phony Newchurch monastery? What woman wants to waste her life in a phony Newchurch convent? Thus, Newchurch is forcing them to do what Martin Luther did. They are abandoning their vocations and going secular. (Luther, you remember, married a trollope of a former nun.)
Such is the case with the Cistercian Abbey of Our Lady of the Holy Trinity in Huntsville, Utah. It was founded in 1947, but couldn't outlive the predations of the anti-Catholic Newchurch of the New Order, which took over the "institutional" Church in 1964. At its height the monastery boasted 84 monks, who chanted the Hours of the traditional Catholic Divine Office daily. The monastery is shutting down now that only a few elderly monks remain.
When the monastery chanted the traditional Catholic Mass and Divine Office, the beauty of its services were renowned. Now Newchurch doesn't have a valid Mass or a valid priesthood, so truly Catholic sacred music has not been heard in the monastery in fifty years. Newchurch destroyed Catholic music when it replaced the sacred organ with the profane piano and when it replaced the Sacred Chant and Polyphony with profane camp songs like Kumbaya.
Now the abbey church, desecrated by the Newchurch of the New Order, which is not Catholic, even when it simulates the New "Unextraordinary" Latin Mess of 1962, stands dark and empty. The occasional Novus Ordo Protestant-Mason-Pagan service attracts only a mournful handful. Shortly the beautiful traditional edifice will be torn down.
Newvatican Radio has announced that another great Cistercian abbey, that of Himmerod, established in 1134 by Cistercians' founder, St. Bernard of Clairvaux, will shut its doors, another victim of the anti-Catholic Newchurch. After all, the goal of the Vatican II Anti-council and its Newpopes has been to destroy the Catholic Church. And they would have done so, if it weren't for those courageously independent traditional Catholic priests and organizations and laypeople, who bend their knee only to the true God, not to a fraudulent Protestant-Masonic-Pagan New Order sect.
True Catholics, God is giving the Newchurchers exactly what they deserve. They doesn't care; they have lost their Catholic Faith, but still cluelessly wander about their Novus Ordo temples, ignorant of Catholic worship, Catholic devotion, and the Catholic Mass. When the Newpopes heretically deny Catholic doctrine and suborn paedophilia, it gets barely a yawn from the Newchurchers. Why should anyone expect anything different? Hell for them is God justly giving them just what they desire.
---
NOVEMBER 1, 2017 - ALL SAINTS DAY - A HOLYDAY OF OBLIGATION
DOUBLE FEAST OF THE FIRST CLASS
Ex-Newpope Benedict-Ratzinger Has Suffered a Syncopal Attack
Reports in the Italian Press Have Indicated that He Is on His Last Legs
From: The TRADITIO Fathers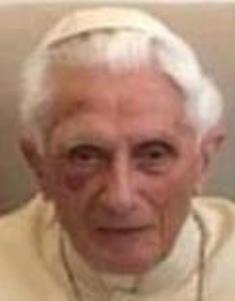 Ex Newpope Benedict-Ratzinger
Has Suffered a Syncopal Attack
That Has Left Him with a Clearly-noticeable
Circumorbital Haematoma of the Right Eye
Reports in the Italian Press for the Last Few Weeks
Indicate that Ratzinger Is on His Last Lega
Newvatican Has Gone to Extraordinary Lengths
To Suppress the Evidence
Ex-Newpope Benedict-Ratzinger has suffered another syncopal attack on or about October 21, 2017, which Newvatican tried to conceal, but a photograph published by German Newbishop Stefan Oster leaves no doubt. The photograph shows that the syncope has left Ratzinger with a clearly-noticeable circumorbital haematoma of the right eye. [Some information for this Commentary was contributed by the Italian daily La Stampa.]
True Catholics, there have been reports in the Italian press for the last few weeks that Benedict-Ratzinger is on his last legs. Confirmation of this has been revealed in the photograph and by the fact that Newvatican has gone to extraordinary lengths to conceal the evidence. To a Newchurch that essentially denies the dogma of Hell and Judgment, such a twisted resistance to accept the normal end of earthly life is not surprising.
---

Return to Daily Commentaries from the TRADITIO Fathers.