February 2007
| | |
| --- | --- |
| | For answers to many questions, consult the Official Traditional Catholic Directory, Listing All Traditional Latin Masses and Traditional Resources for North America, 12th Annual Edition (2007) - February 2007 Monthly Revised Edition. For further information, click on the Official Traditional Catholic Directory department, provided to the TRADITIO Network by the National Registry of Traditional Latin Masses. |
For information about the protocol for sending messages to the Fathers, see Ask the Fathers.
| | |
| --- | --- |
| | If you wish to support the TRADITIO Network's Apostolate, click on the box to the left to made a donation easily, securely, and confidentially by bank account or credit card through PayPal. Regular contributors become Benefactors of the TRADITIO Network, and their intentions are specially commemorated at Traditional Latin Masses offered. Indicate "TRADITIO" in the Payment For field. Using PayPal reduces our administrative burden considerably, but if need to use a paper check, see FAQ01: How Can I Help the TRADITIO Network's Apostolate? |
---
February 28 - Ferial Day - Ember Wednesday
Lenten Fast Day & Partial Abstinence
This Lent the "Reconciliation" Light Is Out
From: The Fathers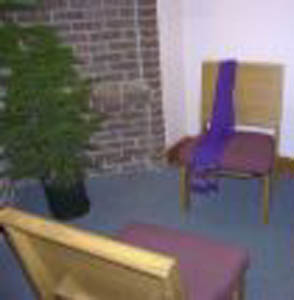 A Novus Ordo "Reconciliation" Room
Newchurchers Avoid the Invalid Novus Ordo "Reconciliation" Room like the Plague
While Public Sinners like U.S. Senators Kennedy & Kerry and U.S. Speaker Nancy Pelosi
Are Handed the Invalid Novus Ordo Cookie by Washington, D.C.'s Archbishop
It is not just that attendance at the invalid Novus Ordo Protestant-Masonic-Pagan service is tanking (to 15% or lower, according to Newchurch reports). The light is off in the "reconciliation" room too.
The Washington Post reports that the number of Newchurchers taking part in "reconciliation" has plunged. Therefore, the Newchurch archbishop of Washington, D.C., who finds no sin in public abortion advocates such as U.S Senators Kennedy & Kerry and Speaker Nancy Pelosi, all posing as "Catholics," is launching a big marketing blitz, using ads on buses, subway trains, billboards, 100,000 brochures, and radio spots, in an effort to get people back to the "reconciliation" room, which is the New Order's companion to the Baptismal pool.
"Reconciliation" is the phony substitute in the New Order for what used to be the traditional Sacrament of Penance, or Confession. Just as with the Novus Ordo cookie, form, matter, and intention are entirely different. You can make a silk purse out of a sow's ear. Invalid is invalid is invalid, and no power on earth can make an invalid Novus Ordo sham into a valid Sacrament.
---
February 27 - St. Gabriel of Our Lady of Sorrows, Confessor
Double Feast
Lenten Fast Day
Newvatican Backs off Talk of a "New Indult"
From: The Fathers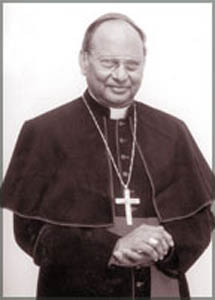 Newchurch Archbishop Malcolm Ranjith
Newvatican's Novus Ordo Worship Secretary Downplays Talk of a New "Indult"
Demands "Obedience" to the New Order Leadership Controlling Newchurch
It seems that Newvatican is now suppressing rumors of a new "indult" for the Bugninized-Modernized Mass of 1962. After dangling this rumor before the sycophantic indultarians since before Easter 2006, one of Newvatican's leading prelates, Archbishop Malcolm Ranjith, Secretary of the Newchurch Congregation for Divine Worship, stated in a February 21, 2007, interview, "nothing yet is known." Benedict-Ratzinger, he said, will "take note of this and decide what is best for the Church." In Vaticanspeak, that means essentially nothing.
Those who push for the "indult," he intimated, are "getting down to unnecessary and divisive theological hair-splitting. Such things need to be decided through the heart and not so much through the head." In Vaticanspeak, the indultarians of Newchurch have no rights from Christ, the Church, or Sacred Tradition, only temporary "privileges" that the conciliar popes deign to hand out.
And, if Benedict-Ratzinger does not restore the true Mass instead of perpetuating the Novus Ordo Protestant-Masonic-Pagan service, what are sincere Catholics to do? Says Ranjith for the Newvatican Corporation: "we should in all obedience accept what he indicates to us and with a genuine love for the Church strive to help him. Any counter attitude would only harm the spiritual mission of the Church and thwart the Lord's own will."
So, Ranjith is simply a full-throated mouthpiece for false "obedience" to the New Order. Reject Sacred Tradition. Reject the dogmatic Council of Trent. Reject Pope St. Pius V. Reject Pope St. Pius X. This is Alice in Wonderland time, good Catholics. Right is wrong, and wrong is right. It is membership in the Newchurch club that is the important thing.
---
February 26 - Ferial Day
Lenten Fast Day
Cardinal vs. Cardinal: "Mad" Mahony Charged with Conspiracy
From: The Fathers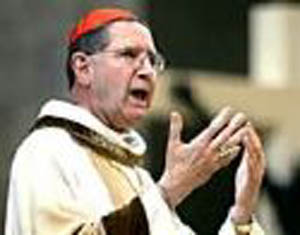 "I Never Had Mail with that Man, Cardinal Rivera"
Newchurch Cardinal Roger "Mad" Mahony of Los Angeles
Implies that His Fellow Cardinal Rivera Is a Liar
Mahony and Rivera Have Been Charged in a Lawsuit as Conspirators in a Cover-up
By all reports Newcardinal Roger Mahony's archdiocese of Los Angeles is seething with sex crimes, but "Mad" Mahony has used every trick in the book to keep them covered up. The dike is now starting to break up, however.
Norberto Rivera, Newcardinal of Tehuacan, Mexico, has publicly accused Mahony of ignoring a letter that Rivera sent him about a presbyter who was later charged with nineteen sex crimes against nine victims as young as 13. Mahony claims, conveniently, that Rivera's warning was lost in the mail. Rivera and Mahony have both been charged with conspiring to conceal the presbyter's criminal conduct. The presbyter is currently on the run from authorities. [Source: Fresno Bee]
---
Cathedral Awash in Unexpected "Pornography" Mess
From: The Fathers
Someone with a wry sense of humor tried to draw attention in a vivid way to the corruption that is going on in the New Order. And did it wake up the Newchurchers who have played deaf to what is going on in their sect!
At the New Order cathedral in Santa Fe, New Mexico, three CD players duct-taped to the bottom of pews blared pornographic messages in the middle of a Novus Ordo service on February 21, 2007. Authorities determined that the music-players were not dangerous. [Source: Arizona Central] Perhaps Newchurch bishop Michael Sheehan will be fired up by the incident to deliver a ringing sermon condemning in no uncertain terms the sex crimes committed by Newchurch bishops and presbyters!
---
Moral Law Trumps Canon Law
From: Peter
In all the games that Newrome is playing with the Canonized Traditional Latin Mass, we must never forget that moral law trumps canon law, particularly the bastardized post-Vatican II code, every time. The whole of the Canon Law is limited by its divinely-ordained purpose, as is the authority of the pope himself. As St. Thomas Aquinas affirmed, an ordinance that is immoral is not bad law; rather, it fails to qualify as law at all. When ordinances are not ordered to the good, they are not acts of law, but of illegal violence against nature.
Similarly, even a pope has no authority to abolish a right -- and obligation -- to celebrate exclusively the Mass that is hallowed by Sacred Tradition and a dogmatic Council. For us Catholics, Sacred Tradition is a source of law. We are not legal positivists. We do not believe that something is right simply because someone fabricated a human "law." Human laws never trump God's law. Vatican II and the conciliar popes simply don't have that authority!
---
February 25 - First Sunday of Lent
Semidouble Sunday
Newchurch's Highest Court Upholds Excommunication of SSPX from the New Order
From: The Fathers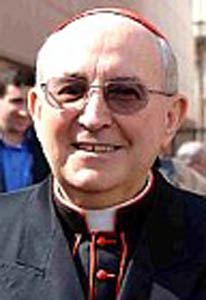 Newcardinal Agostino Vallini, Newvatican's Chief Justice
Appointed by Benedict-Ratzing er
Upholds Excommunication of the Society of St. Pius X
By a Newchurch Bishop Claiming that the Society Is "Incompatible with Catholicism [sic]"
"Give with one hand; take away with the other." That is Newchurch's motto. On the one hand, Newchurch is schmoozing Bernard Fellay, Superior General of the Society of St. Pius X to come into the New Order; on the other hand, it has upheld the excommunication of the Society by a Newchurch bishop.
Fabian "Phony" Bruskewitz, Newchurch bishop of Lincoln, Nebraska, in 1996 excommunicated the SSPX, lumped in with ten other organizations, mostly Masonic and liberalist, "as totally incompatible with the Catholic [sic] faith," but himself marched in the Masonic parade, lent his cathedral out for a Methodist episcopal "consecration," and performs the Novus Ordo Protestant-Masonic-Pagan service.
Two appeals to Benedict-Ratzinger's appointee as Newchurch's Prefect of Bishops, Giovanni Re, in 2005 and on November 24, 2006, resulted in Re's upholding the excommunications. Now Newchurch's highest court, the Apostolic Signatura, on January 27, 2007, has upheld the excommunications. The court's action is widely upheld to be a condemnation by the New Order Church of the Traditional Latin Mass. [Source: CNS]
The Society of St. Pius X should embrace the excommunication as did its founder, Archbishop Marcel Lefebvre, who considered an "excommunication" by the Newchurch of the New Order to be a badge of honor, a clear sign that he did not subscribe in any way to the unCatholic heresies and practices that the New Order represented.
---
When May the Organ Be Played during Lent?
From: Jane
Dear Fathers:
I am looking for information on the forbidding of organ music in Church during Lent.
The Fathers Reply.
During the penitential season of Lent, the organ is permitted only to accompany the chant or during Benediction of the Most Blessed Sacrament. During the Triduum Sacrum the organ is not to be used at all until the Vigil Mass of Easter, which begins around noon of Holy Saturday. The organ is permitted on Laetare Sunday, the Fourth Sunday of Lent.
---
February 24 - St. Matthew, Apostle
Double Feast of the Second Class
Lenten Fast Day
Fifth Newchurch Diocese Approaches Bankruptcy
From: The Fathers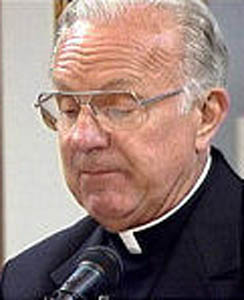 Robert Brom, Newchurch Bishop of San Diego, Closes His Eyes in Shame
His Diocese Is So Mired in Sex Crimes that He Is About to Declare Bankruptcy
Newchurch Is Falling Down Stone by Stone
As San Diego Joins Four Other Bankrupt Dioceses, with More to Come
It appears that the Newchurch diocese of San Diego will join the Newchurch dioceses of Davenport, Iowa; Portland, Oregon; Spokane, Washington; and Tucson, Arizona, in bankruptcy.
Newchurch bishops Robert Brom says that his diocese's presbyters are so out of control that no fewer that 140 suits have been entered by child victims of their sex crimes. One of victims' representatives said, however, that Brom was perpetrating a "sham." His Newchurch diocese has plenty of money, but wants to pocket it for advancing the New Order rather than pay due reparations to victimized children. In fact, Brom stated that he would not allow reparations to victims "hurt the [New]church's ability to function." [Source: AP]
We are on the side of the child victims and giving them their due from the New Order machine. In the words of U.S. President Ronald Reagan about the atheistic Communist machine, the New Order of Newchurch is an "evil empire" and deserves to be bankrupt. Actually, it already is -- morally bankrupt.
---
What Good are Newvatican Commissions and Congregations?
From: Jeff
Dear Fathers:
What is the point of creating such Newvatican organizations as the Ecclesia Dei Commission, the Divine Worship Congregation, etc.? Anyone I know who has ever written to these organizations either to advise that their local bishop will not grant the "Indult" Mass in their diocese or to report liturgical abuses in the Novus Ordo Mess never receives a reply back.
The Fathers Reply.
As we have covered many times in the TRADITIO Commentaries, these organizations are purely paper-tigers for P.R. purposes only. Newvatican has no intention of returning to even the Bugninized-Modernized Mass of 1962. Newvatican is not the solution to any problem; it is the problem! It is remarkable how many Newchurchers are fooled by these empty structures, even though the evidence is right before their eyes!
---
February 23 - St. Peter Damien, Bishop, Confessor & Doctor
Double Feast
Lenten Fast Day & Complete Friday Abstinence
Roman Presbyter Publicly Joins Freemasons; Benedict-Ratzinger Remains Silent
From: The Fathers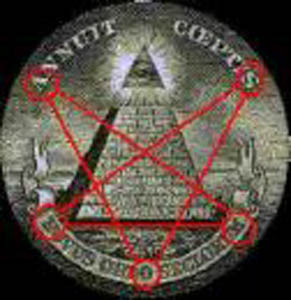 Emblem of the Freemasonic Order, with Its Novus Ordo Motto
Newpope's Presbyter Publicly Joins the Freemasons of the Novus Ordo Seclorum
And Jeers the Automatic Excommunication that Is Supposed to Follow
Benedict-Ratzinger, However, Remains Silent
As He Always Does in the Face of Affronts to the Catholic Faith
On February 19, 2007, in a public ceremony, a Roman Paulist presbyter became a member of the Freemasons, while forty people attended at the Masonic headquarters at Piazza del Gesu in Rome. Presbyter Rosario Francesco Esposito publicly rejected the automatic excommunication that he supposedly incurred by his action.
And Newpope's presence was not far away. Esposito was commissioned in 1983 by the Congregation for the Doctrine of the Faith, Ratzinger's old commission, to study the Church's ban on Freemasonry. Ratzinger, then Prefect of the Congregation, made a public announcement that the teaching of the Church had not changed and that the ban on Masonic membership remained in place. Now, it seems, the cat has got his tongue as pope. [Source: CWN]
---
When Is Benedict-Ratzinger Going to Shut down His Crackpot Primate?
From: The Fathers
Benedict-Ratzinger's Primate of All England and Wales, Newchurch cardinal Cormac Murphy-O'Connor, has hit a triple header! On January 31, 2007, he approved the Blair government's proposed "Equality Act" to permit adoption by "gay" and lesbian "couples. Then, he established regular "Gay" Messes for homosexual Newchurchers in London (heterosexual Newchurchers need welcome). Now this wacko is polluting the country of historical martyrs to the Traditional Latin Mass with the heresy of "universal salvation."
Yes, folks, this crazy Newcardinal believes for a certainty that when he is received at the Pearly Gates, he will be greeted by Adolph Hitler, Josef Stalin, and Mao-Tse Tung, as well as all the Newchurch criminal presbyters. Murphy-O'Connor expects a shivaree there with Protestants and non-Christians. Well, maybe he's got his destination wrong. He might be very surprised to arrive not at the Pearly Gates, but at the Gates of Hell!
The heresy of "universal salvation" is not even believed in by the Protestants who surround him in the Church of England. Nor is this heresy even in accordance with the Protestantized so-called Catechism of the Catholic [sic] Church, which itself admits: "Jesus often speaks of Gehenna, of 'the unquenchable fire' reserved for those who, to the end of their lives, refuse to believe and be converted, where both soul and body can be lost.... Christ descended into hell not to deliver the damned, nor to destroy the hell of damnation." Nor is this heresy in accordance with Our Lady's apparition at Fatima, in which she displayed a truly horrifying vision of the reality of Hell, in which the Fatima children saw one of their friends, a nine year old boy.
Benedict-Ratzinger, wake up! If you have any shred of Catholicism left in you, if you have not sold yourself out heart and soul to the heretics, infidels, and pagans, you must eject -- subito -- those of your executive staff who promote heresy of the rankest kind. Of course, your own record indicates that you won't. Just as you sit in silent complicity with your bishop and presbyter child-rapists, you will let the likes of your Murphy-O'Connor continue to deceive the ignoscenti about true Catholic doctrine.
---
February 22 - St. Peter's Chair at Antioch
Double Major Feast
Lenten Fast Day
Newchurch Forwards Plans to Unite with Protestant Heretics
From: The Fathers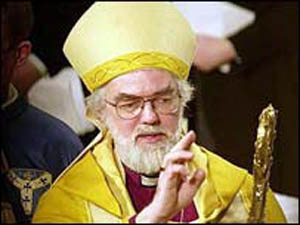 Rowan Williams, Heretical Archbishop of Canterbury
Being Touted by a Newvatican-Anglican Commission to Be Co-pope
In a Deal Being Planned by Newchurch and Supported by Ratzinger even as Cardinal
The Newchurch of the New Order is continuing Benedict-Ratzinger's plans to unite with Anglican Protestants, according to a 42-page statement prepared by the International Anglican-Roman Catholic [sic] Commission for Unity and Mission, an "oecumenical" Newvatican-Anglican commission of Anglicans and Newchurchers, co-chaired by Anglican Bishop David Beetge, of South Africa. The statement, leaked to The London Times, is before Newvatican. There may be a fly in the ointment, however.
Large numbers of traditional Anglican churches, ministers, and bishops at the Anglican Communion meeting in Dar es Salaam, Tanzania, are planning to split from the Anglican Church over that sect's ordination of ministresses, bishopesses, and "gay" bishop Gene Robinson in the United States. Seven traditional Anglican Primates have refused to share communion with the liberalists. However, Benedict-Ratzinger's approval of "Gay" Messes in London under the sponsorship of his Primate, Cormac Murphy-O'Connor, may pave the way for Newchurch's uniting with the liberalist Anglicans in that sect under the Archbishop of Canterbury, Rowan Williams.
The joint statement recommends the movement of clergy from one sect to the other, common teaching resources for children in Sunday schools, and attendance at each other's [invalid] services, and prayer at the Novus Ordo Mess for the heretical Archbishop of Canterbury, Rowan Williams. Williams supports a "liberal interpretation" of Scripture in favor of "gayness." Benedict-Ratzinger has already "gone Protestant" by ignoring the prescriptions of Sacred Scripture and Sacred Tradition on the requirement of celibacy for true priests. He has opened a back door for Anglican ministers to join the New Order in their married state. [Source: London Times]
---
His Own Finance Office Fingers Newchurch Archbishop Pilla as Thief
From: The Fathers
You know that it's getting bad in the Newchurch of the New Order when you can't even count on honor among thieves! In a 40-page motion filed Friday in U.S. District Court, former Cleveland Newchurch Chief Financial Office Joseph Smith and Newchurch employee Anton Zgoznik fingered as their accomplice Cleveland Newchurch bishop Anthony Pilla, who resigned in April 2004, for theft of $177,000 in money and furniture over a decade from a hidden account set up to hide the transactions.
Smith and Zgoznik were indicted in U.S. District Court in 2006 on charges including conspiracy, money-laudering, fraud, and tax evasion in the Cleveland Newchurch Diocese over seven years to the tune of at least $17,500,000 in an elaborate kickback scheme. The two men maintain that they simply followed orders from their diocesan supervisors, including Newchurch bishop Pilla, and are being made to take the fall for the church's poorly managed finances, when Pilla was at the head of it. [Source: Cleveland Plain Dealer]
Of course, Pilla denies the charges -- all those Newchurch bishops do --, but even if Pilla were innocent, he has got to be the most incompetent doofus of a bishop to be so clueless that this degree of criminality was going on right under his nose for seven years!
---
February 21 - Ash Wednesday
Lenten Fast Day & Complete Abstinence
Benedict-Ratzinger's Primate Establishes Regular "Gay" Messes with Newvatican's Approval
From: The Fathers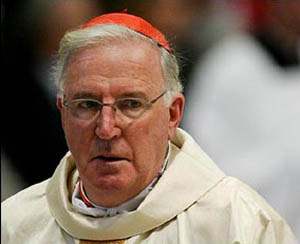 Benedict-Ratzinger's Primate for All England and Wales, Cormac Murphy-O'Connor
Formally Has Approved Regular "Gay" Messes in London, Which He Himself May Perform
With the Explicit Approval of Newpope and His Newvatican
The Messes Are Sponsored by the Lesbian and Gay Christian [sic] Movement
Which Is Campaigning for Newchurch to Endorse Homosexual Acts
God is Gay, They Say, and Heterosexuals Are Not Welcome
Benedict-Ratzinger's Primate has approved the request of the Soho Mass Pastoral Council, a "gay" radical organization that has been actively campaigning to have its services formally recognized by Newchurch, to sponsor a fortnightly "Gay" Mess. And don't say that Benedict-Ratzinger and his Newvatican weren't involved. In fact, Murphy-O'Connor got the official permission of Newpope and his Congregation for the Doctrine of the Faith in Rome before taking his decision.
Newcardinal Cormac Murphy-O'Connor, Newchurch Primate for All England and Wales, has approved the regular "Gay" Messes for his own Westminster diocese. Only "gays" are welcome. Rumor has it that he may personally celebrate the "Gay" Mess. Sources close to Murphy-O'Connor said he was keen to authorize the services in order to be more "inclusive" of the "gay community. "Conservative" Newchurchers in England have pilloried Murphy-O'Connor, charging that by endorsing these services, he has implicitly sanctioned "sacrilegious" Messes and that it will make it far easier for practicing homosexuals to take the Novus Ordo cookie. They also charge that Murphy-O'Connor is establishing a blueprint for other dioceses to follow.
Michael Akerman, of Pro Ecclesia et Pontifice, a "conservative" Novus Ordo group said: "Homosexuals can attend their own [New Order] parish church, so having a separate and distinct Mass [sic] looks like they are trying to make a statement." Well, duh! Yet Akerman didn't follow the dictate of Our Lord: "Going forth from thence, shake off the dust from your feet for a testimony to them" (Mark 6:11/DRV). When are these doltish "conservative" Newchurchers going to drop their hypocrisy of supporting Newchurch and Newpope, who reject traditional Catholic morality by their actions? Note carefully that Murphy-O'Connor can't seem to eke out an "Indult" Mass on his polluted altars.
The "Gay" Messes will be performed at Our Lady of the Assumption in London starting March 2007, after the "gay" group has met for the past eight years in an Anglican church in west London. These Messes have been held under the auspices of the Lesbian and Gay Christian [Sic] Movement and are explicitly being used to campaign for a change in the Newchurch's teaching on "gay" sodomy. It sounds as if these "gay" Newchurch radicals aren't particularly wedded to "Catholicism," as Anglicanism is just as good. Their slogan is: God is Gay; Heterosexuals Not Welcome. [Source: UK Telegraph]
Good Catholics, you can take great solace in the fact that the providence of Almighty God has seen fit to ensure that the Novus Ordo service is not a Catholic Mass, but an invalid Mess that serves merely a cookie and grape juice. It is no more a valid Catholic Mass than the services of the Protestants, the prayer-meetings of the Freemasons, or the rites of the pagans.
---
Should I Consume the "Indult" Cookie from a Novus Ordo Service?
From: Ed
Most of the time I attend a Traditional Latin Mass at an independent traditional Catholic church, but sometimes, when I am out of town, I attend the "Indult" Mass at a Newchurch parish. My problem is that when the presbyter who is saying the "Indult" Mass takes hosts from the tabernacle that come from a prior Novus Ordo service and distributes them, should I not receive because a true consecration did not take place, and therefore the Novus Ordo cookie is not the Body and Blood of Our Lord?
The Fathers Reply.
You are correct not to receive such phony "communion." Furthermore, what you are describing is not even an "Indult" Mass. It is a Pseudo-indult Mass and should be scrupulously avoided by the Catholic faithful. In those circumstances where you do not have access to a true Traditional Latin Mass, your obligation is to keep the Lord's Day holy with traditional private devotions instead of going to the Novus Ordo worship service with its phony cookie, just as you would refrain from going to a Protestant church, a Masonic prayer-meeting, or a pagan temple.
The "Indult" Mass is deceitfully clever. From reports that we receive from our correspondents around the world, more and more "Indult" sites are trying to get the indultarians to munch a fake Novus Ordo cookie from a previous Novus Ordo service. For further information, click on the Official Traditional Catholic Directory department, provided to the TRADITIO Network by the National Registry of Traditional Latin Masses, for the Traditional Directory's section "Warning against Pseudo-traditional Services."
---
February 20 - Ferial Day (Shrove Tuesday, Mardi Gras)
Why Doesn't the Church Baptize by Immersion Any Longer?
From: John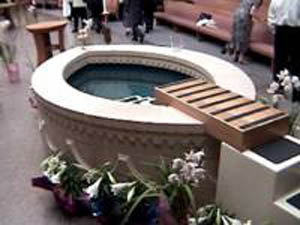 Walking the Novus Ordo Gangplank: the "Jacuzzi" or "Whirlpool" Dunk
Several Infants Have Been Drowned by This Baptismal Method
And Adults Have Contracted Nasty Bacterial Infections
From the Germ-infested Waters that Lie in These Pools
Dear Fathers:
Why doesn't the Church baptize by immersion any longer? Didn't it used to be the custom?
The Fathers Reply.
Immersion is one of three valid ways of baptizing: infusion (pouring), immersion (dunking), and aspersion (sprinkling). All three are mentioned in Scripture. However, as you say, the use of immersion fell out of the Church rather quickly on account of sacrilege and for practical reasons, just as did the consumption by those other than the celebrant of the Precious Blood.
There have been several cases of infants baptized by immersion who have drowned, for instance, and people who have caught nasty bacterial infections from those filthy "baptismal pools" that the New Order sect uses, not to speak of the scandal caused by "see-through" baptismal robes. If there is an equally valid and safe method (infusion), the wisdom of the Church used the media tutior. Such is the wisdom of the Church from Tradition. There have been no drownings or diseases reported from baptisms at traditional churches.
---
Ratzinger and Bush Joined in Oecumenical Enterprise
From: The Fathers
Now here's an odd one. It seems that Neil Bush, the U.S. President's brother, in 1999 joined with a certain Cardinal Ratzinger as founding board member of an oecumenical foundation based at the Orthodox Center of the [Schismatic] Oecumenical Patriarchate in Geneva, Switzerland, site of the World Council of Churches, a well-known consortium of heretical sects. The other charter board members of the Foundation for Interreligious and Intercultural Research and Dialogue included the former Chief Rabbi of France, two Mohammedan princes, the director of a Protestant institute, and a schismatic Greek Orthodox lay leader.
A foundation official in Geneva could not explain why Bush had been on the founding board. Ratzinger also left and was replaced by another Newchurch cardinal known for his oecumenical excesses. The former board president, a schismatic Greek, revealed: "We keep a low profile because that makes it easier to get work done." One wonders exactly what work was being done that involved Bush and Ratzinger....
---
February 19 - Ferial Day (Shrove Monday)
Newchurch Cardinal Admits that the Traditional Priesthood
Is No Longer to Be Found in the New Order Church
From: The Fathers

Roger Mahony, Newchurch Cardinal of Los Angeles
Celebrates the "Kool-aid" Mess with Grape, Cherry, and Orange Flavors
The New Order Has a Changed Understanding of the "Priesthood," He Says
Confirming the Invalidity of Novus Ordo "Messes"
One of the most frequent questions that the TRADITIO Fathers have been receiving recently is whether Novus Ordo presbyters are priests and can validly offer the "Indult" Mass, if they want to flip-flop. Now we have an answer from a Newchurch cardinal: the Novus Ordo presbyterate is different from the traditional priesthood.
Roger Mahony, Newchurch cardinal of Los Angeles, told the inaugural meeting of the Archdiocesan Pastoral Council on February 13, 2007: "Our understanding of the ordained priesthood has changed" since Vatican II. Mahony indicated that the Novus Ordo presbyters are merely engaged in a "shared ministry" with laypeople and are to be considered only "a sign of ecclesial communion," having no powers or faculties of Holy Orders.
Mahony's description, albeit accurate for the New Order, sounds essentially the same as Martin Luther's Protestant heresy. There is no Sacrament of Holy Orders, said Luther. Moreover, "ecclesial communion" is simply a code-word for membership in the Masonic New Order club, much as New Order Baptisms are now termed "initiations," with no reference to Original Sin.
Mahony also made the correlative statement that "what some refer to as a 'vocations crisis' is, rather, one of the many fruits of the Second Vatican Council, a sign of God's deep love for the Church, and an invitation to a more creative and effective ordering of gifts and energy in the Body of Christ." In other word, God is suppressing Novus Ordo "vocations" to the presbyterate so that laypeople can run the Church like Protestants, and priests can be done away with, as they have been in the Protestant sects.
That statement is so bizarre that it is reminiscent of discredited U.S. President Clinton's statement trying to excuse his particularly filthy adultery with Monica Lewinsky because "it depends on what the meaning of the words 'is' is"! All sane people view the Novus Ordo "vocations crisis" as an indication that virtually no one, except some radical women perhaps, wants to be a phony Novus Ordo presbyter. [Source: California Catholic Daily]
For further information on the invalid Novus Ordo service, click on the TRADITIO Network's Novus Ordo Service Photo Gallery department.
---
February 18 - Quinquagesima Sunday (Shrove Sunday)
Semidouble Sunday
The "Indult" Compromise Was Tried Before -- and Led to War!
From: The Fathers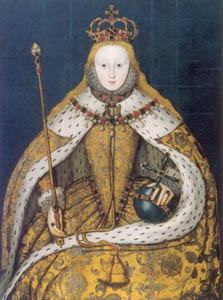 "Bloody Bess," Elizabeth I of England
Excommunicated in 1570 by Pope St. Pius V in Regnans in Excelsis
Tried to Compromise between Protestantism and Catholicism
And Ended up Starting a War
Those who want to veil a Protestantized New Order under the trappings of "traditional" garb (read "Indult" Mass) as some kind of "compromise" or "negotiation" with the New Order have forgotten their history. It was tried before, and led to war.
When Henry VIII and Edward VI attempted to impose Protestantism on the English people around the middle of the 16th century, there were constant battles between the Catholics and the Protestants in the new Church of England. When Elizabeth I succeeded to the throne, she wanted to make a via media, a middle way, between the two sides. She, therefore, insisted to the Parliament of 1559 that she be empowered to retain traditional "ornaments and rubrics" in the Anglican service on her sole authority. This included traditional ceremonies like making the Sign of the Cross in Baptism and requiring the clergy to wear traditional vestments like the surplice and the cope.
What she concocted -- just as the indultarians of our time are concocting -- is a Church that was Protestant in its doctrines, but Catholic in the appearance of its ceremonies and clerical dress. Elizabeth hoped that this would satisfy all but a handful of the English people. But did the ploy work? It did not. The deceit fooled no one. The Protestant and Catholic sides became even more outraged, and fiercer battles broke out between Catholics and Protestants, in fact, a war.
The idea of the "indultarians" of our own time -- those who want an "Indult" Mass and a "new "indult" -- takes its philosophy right from Bloody Bess. If only a few "traditional" trappings can be laid on, they think, it is not necessary to combat the unCatholic New Order, with its New Theology, its New Morality, and its New Mess and Sacraments. The indultarians want to have smoke and mirrors, not true Catholicism. The indultarians are essentially Protestant Anglicans, many of whom like what they term "smells and bells," but adhere to a clearly Protestant sect with its Protestant doctrine and morality.
And how has Elizabeth's Anglican/Episcopalian Church been faring in modern times? It is undergoing yet another schism. Although the Church of England retains some "traditional" exteriors, its doctrine accepts homosexuality and divorce and its practice accepts priestesses and bishopesses. Thus, many traditional Episcopalian Churches around the world are splitting from the liberalist Anglican Church. Predictions are that in a mere decade or two the only thing left of the fractured Church of England will be the traditional Episcopalians!
Good Catholics, if we only stand fast in the traditional Catholic Faith, the New Order will continue to collapse on its own. It has more problems that it can do anything about now, and in a few decades only the remnant of traditional Catholics will be left around to pick up the pieces.
---
Longtime Friend of JPII Confirmed as an Informant of the Communist Secret Police
From: The Fathers
The TRADITIO Network predicted it once again. The Polish Institute of National Remembrance has now confirmed that Fr. Mieczyslaw Malinski, a longtime friend of JPII, was an informant for the Communist Secret Police, according to documents that have come to light since the fall of Communism in Poland in 1989. The charge of association with the Communist Secret Police is getting closer and closer to JPII himself.
---
February 17 - Our Lady's Saturday
Simple Feast
Angry Statue of Christ "Zaps" Sinners
From: The Fathers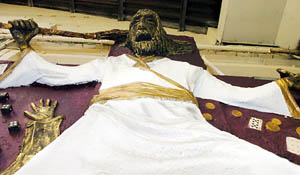 Brian Burgess' Sculpture of Christ Cleaning His Temple
Is Causing a Sensation at a Liverpool Art Gallery
The Statue Is Reportedly Zapping Sinners Who Kneel Before It
This statue at the Liverpool Academy of Art is not content to shed tears or blood. It is angry! The steel and bronze work by Brian Burgess, which is causing a sensation, is titled Cleansing of the Temple and portrays an angry Christ brandishing a whip to drive out sinners from His Temple. The statute is said to shoot sparks from its eyes at sinners that kneel at its feet. Bravo! It appears that heavenly "apparitions" may be getting down to brass tacks about the current condition of the Church!
---
Newchurch Archdiocese Goes Ballistic:
Independent Traditional Catholics Wrest Gothic Church Away from the New Order
From: The Fathers
Over the opposition of the Newchurch Archdiocese of Boston, independent traditional Catholics have apparently won their battle to take possession of Sacred Heart Church in Lawrence, Massachusetts, which the archdiocese abandoned. The Willing Shepherds of Jesus Christ, a traditional organization, has signed a 15-year lease with an option to buy the Gothic-style church from the development company that purchased it in May 2006. The city's Zoning Board of Appeals approved the lease by a 5-0 vote on January 25, 2007.
Having been outwitted, the Newchurch archdiocese has gone ballistic. Sputtered Terence Donilon, the archdiocese's spokesman: "They are not a Catholic organization." No, Terence, it is you and your Newchurch archdiocese that is not Catholic! The archdiocese is mad that the clergy serving the resurrected church are independent traditional priests, not Novus Ordo presbyters.
Good Catholics, we are winning the war against the Newchurch of the New Order, church by church. Newchurch is counting on us to sell out to some phony "indult" so that it can have the last laugh on us, but if we are the traditional Catholics we say that we are, we must persevere to the end. And, if we do, we will win. The danger is compromise and sell-out to the Newchurch of the New Order, which will try every device to deceive us. As Our Lord told us in no uncertain terms, the forces of the Enemy will try to seduce even the elect (Mark 13:22/DRV).
---
Eyewitness Report: Newchurch Diocese Imprisons Preservationists
Who Sit in at 120-Year-Old Church
From: The Fathers
A eyewitness reports to the TRADITIO Network that a protest sit-in at Our Lady Queen of Angels in East Harlem, New York, was broken up by police acting on instructions of the Newchurch Archdiocese of New York.
Protests against Newchurch are spreading as its bishops go on a demolition rampage of older churches to pay off for sex crimes. But preservationists are not "obediently" accepting the closings any longer. Waves of protest have now spread from Boston to New York. Even though the closing of Queen of Angels does not take effect until March 1, 2007, Newchurch officials changed the locks on the front door February 11, "like a thief in the night," as one parishioner put it. The protesters decided to begin their vigil to avoid being shut out later.
In Boston, preservationists have sat in four churches for 28 months, and experienced legal assistance has been sent from Boston to New York to fight for the preservation of Queen of Angels and several other churches. Preservationists wrote Newchurch archbishop Edward Egan with a warning: "We caution the archdiocese of New York to consider very carefully whether it will imprison its own parishioners for engaging in a prayerful vigil."
But imprison them, it did. On February 13, 2007, at 11:15 p.m., six parishioners were arrested and taken out of the church in handcuffs, so that all the media outside could see what was being done. News camera crews were physically forced to leave the church shortly thereafter by Newchurch's goon squad. There was scuffling in the aisles, and some of the news crews were nearly shoved to the floor. Yet outside there were camera crews and trucks everywhere. Some 15 minutes later, the six handcuffed parishioners were led single file down the driveway of the church, as a crowd of perhaps 100 supporters chanted "Save our church."
The TRADITIO Network has been following for many years the legal situation with respect to these traditionally-built churches and the efforts of Newchurch bishops to destroy them, claiming that they need money to pay for sex crimes. It is our opinion that the public in the United States will eventually prevail upon their legislators and courts to regard these churches as the property of the parishioners and their predecessors who built them, not the Corporation Sole of the Newchurch Diocese.
This is already how the law regards churches of Protestant denominations. Since Newchurchers are Protestants, why shouldn't the same protection of the laws apply to them? At least, for the time being, the traditional buildings can be preserved for the use of traditional Catholics later, when the true Church is fully restored?
---
February 16 - Ferial Day
Complete Friday Abstinence
A Lesson from History for Those Who Would Give up to a New Order
From: The Fathers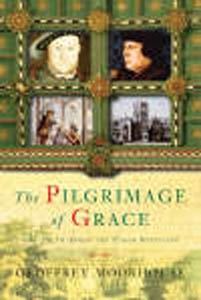 The Traditional Catholics of 1536 Had the Upper Hand over Henry VIII
And Could Easily Have Returned England to Catholicism
But They Choose to "Negotiate" and Instead Ended up with Nothing
Traditional Catholics Were Gotten Rid of, and the Heretical Church of England Won
History is a wonderful teacher. It provides the thinking man with many patterns of what has succeeded and what has failed. In particular, classical Greece and Rome have been for Western Civilization a rich resource for the understanding of historical trends and lessons. But, in this case, we would like to take an episode from 16th-century British history.
Many know that the British king Henry VIII led the Church of England into schism, and later heresy, from the Roman Catholic Church. Most do not know, however, that the traditional Catholics rose up against him and could have expelled Henry and returned England to Catholicism. But the traditional Catholics decided on compromise rather than principle and lost the true Faith.
There were about 500 monasteries scattered over England when, in 1536, Henry VIII began the process of dissolving the monasteries of the Roman Catholic religion. At first the objective was presented as "reform," but soon it turned to outright abolition, and by 1540 the last abbey had gone. It was desecration and sacrilege on the grandest scale. It provoked shock, outrage, and finally open revolt. The result was that in the autumn of 1536, Henry VIII faced the worst crisis of his reign, the rebellion known as the Pilgrimage of Grace.
The first uprising was at Lincolnshire. It spread quickly across the north of England. Under the banner of the Five Wounds of Christ, noblemen and peasants joined together, demanding the restoration of the monasteries and the return of the Roman Catholic religion. Some monks and priests played a leading part in the uprising, preaching incendiary sermons and even wearing armor. Secure in their control of the north, the formidably well-disciplined army marched south. By the time they reached Doncaster, only the king's much smaller forces stood between them in London and Henry's very throne.
At dawn in the morning of the October 26, the traditional Catholics called a general muster of their troops. All the flower of the north was there, and when the final count was taken, they numbered 30,000, with another 12,000 in reserve at Pontefract. It was the largest army that England had seen since the Wars of the Roses, and it wasn't the king's. But even though the rebels faced only 8,000 of Henry's forces, they chose to negotiate. They persuaded themselves that the attack on the Church was the work not of the king, but of his wicked advisors like Cranmer. Henry promised the traditional Catholics pardon, and, believing him, the traditional Catholics disbanded their army.
But a few months later a new minor revolt in the north gave Henry the excuse that he had wanted to break his promises and exact revenge. The leaders of the revolt were arrested and sent to London for trial. Henry was especially severe on clerics who had been involved. They were arrested and sent to the tower. The aristocratic leaders of the revolt were beheaded, but the rest suffered the full horrors of hanging, drawing, and quartering.
Now, how does this historical episode parallel the current situation with the Church of our time? The similarities are striking:
The conciliar popes, like King Henry, have been dissolving the Roman Catholic Church under the banner of "reform," but it has become clear in time that the "reform" means "abolition."
It have been desecration and sacrilege on the grandest scale.
It has provoked shock, outrage, and finally open revolt on the part of traditional Catholics.
Traditional Catholics have joined together, demanding the restoration of the return of the Roman Catholic religion.
The traditional clergy has played a leading part in the uprising.
Although traditional Catholics have large numbers and could easily shut down the New Order pretenders, many have chosen to negotiate and have received trifles, such as "Indult" Masses.
Many otherwise traditional Catholics have persuaded themselves that the attack on the true Faith is not to be laid, where it properly should, at the feed of the conciliar popes and their lieutenants.
The conciliar popes have promised traditional Catholics "pardon," and many have capitulated.
In hopes of a new "indult," many traditional Catholics have abandoned their public opposition to and their dissociation from the New Order.
And what will be the end of this episode of the New Order? If history is our teacher, the conciliar popes will break their promises and exact revenge. They will attempt to decapitate the movement. Not that the promises, a phony "indult," are even worth fighting for. If the traditional Catholics of 1536 had stood with the Faith instead of negotiating with the enemy of the Church, the English would be Catholic today. If the traditional Catholics of 2007 stand with the Faith instead of negotiating with the unCatholic New Order, every evidence indicates that the New Order will fall, just as it is already falling. All it would have taken in 1536 was perseverance. All it will take in 2007 is perseverance.
---
February 15 - Sts. Faustinus & Jovita, Martyrs
Simple Feast
Can Benedict-Ratzinger's Statements Be Believed?
From: The Fathers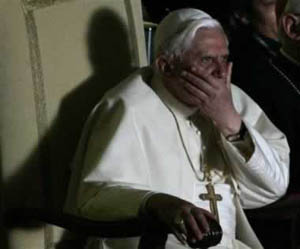 Benedict-Ratzinger Remains Silent on the Moral Corruption in His Papacy
While He Speaks to Others on the Moral Requirements of Natural Law
He Fails to Enforce The Moral Law in His Own Papacy
As More Presbyter-Criminals and Criminal Cover-ups Are Brought to Light
Benedict-Ratzinger, in February 12, 2007, remarks to a conference on natural law at the Pontifical Lateran University, stated that natural law has "concrete applications" such as protecting human life from conception to its natural end, and the institution of marriage between a man and a woman. The comments came as the formerly Catholic country of Portugal, confounding Fatimist predictions, is moving to liberalize abortion and the formerly Catholic country of Italy is planning to grant legal status to ménage à deux. [Source: AFP]
But is Benedict-Ratzinger really interested in protecting human life? His own Church of the New Order is totally out of synch with natural law. For example, the same day that Newpope made this statement, it was revealed that his bishop in Milwaukee knew of a presbyter's string of sex crimes against minors as young as 11, yet advised California officials, to which state the presbyter was being shunted off, that he would be "no great risk" doing pastoral work. The Milwaukee Newchurch archdiocese has since admitted its guilt, but has worked feverishly to prevent the release of documents.
After the presbyter was convicted of a sex crime and saw a "church-employed therapist," he had been put on probation, but when the archdiocese learned of new crimes by its presbyter, it had decided to shunt him off on "temporary assignment" to Orange County, California. Milwaukee Newchurch archbishop William Cousins wrote to his accomplices in Orange County: "There would seem to be no great risk in allowing this man to return to pastoral work, but there are legal complications at present."
The presbyter, therefore, wound up being assigned to an Orange County, California, Newparish where the ignorant Newchurchers claimed that he was the best presbyter they ever had! The presbyter then diddled his way from Newparish to Newparish around California until he accumulated 33 felony sex charges. Meanwhile, in Wisconsin, police issued 11 more felony charges. The presbyter then went on the run and, when cornered by police in a hotel resort in Mexico, he committed suicide by jumping from the balcony. [Source: Milwaukee Journal]
Another example. Last Sunday, February 11, 2007, the pastor of a Newchurch parish in Jamaica, New York, was fired after he was fingered for sex crimes. The allegation was investigated by the diocesan review board, and "it was determined that the allegation was considered credible." The pastor will get off scot-free, however, because the statue of limitations has expired. A parishioner said, "It's crazy." He was the best presbyter they ever had -- the standard Newchurcher mantra when the corruption of its New Order and its agents is exposed. [Source: New York Post]
Until Benedict-Ratzinger puts words into action in his own organization, he is not to be believed. His bishops and presbyters are raping, embezzling, and even murdering by the tens of thousands while he lifts not a finger. The record of the corruption of his papacy has now far surpassed that of Alexander VI.
---
Another Side of Fatima
From: Hugh
Dear Fathers:
When you analyse the sayings of Fatima, there is the symbolic side that Catholics so easily overlook for more literal, and thus sensational, human meanings. This is somewhat reminiscent of Apocalypse in the New Testament, which is rich in symbolism, in fact, so much so that no one can really interpret the whole book from an earthly perspective, for example, those who see a nuclear war being predicted. This is entirely human speculation and can often sound absurd.
I tell my children that these days we must keep our eyes on the Blessed Trinity and adore It only. Truth is available only in the consistent Sacred Tradition of The Church and in the authoritative interpretation of Sacred Scripture. Avoid novelties in doctrine: Fatima has assumed such novel formats. However, the spiritual message holds true: prayer, penance, and sacrifice. There is no substitute for that is there?
---
February 14 - St. Valentine, Martyr
Simple Feast
Note that today is Saint Valentine's Day. Somewhere amongst all commercialism that enriches confectioners and florists on this day, the religious origin of the day is lost in the shuffle. St. Valentine was first and foremost a priest and a martyr for the Catholic Faith, whose letters to his congregation from prison are the origin of the term "valentine." Your Newchurch acquaintances will not be celebrating Saint Valentine's Day today, as the Newchurch of the New Order has striken him from its liturgical calendar. Newchurchers celebrate Valentine's (not Saint Valentine's Day) as a purely secular affair.
Newchurch Presbyters Claim that Their Bishop Robbed Them of $85,400,000
From: The Fathers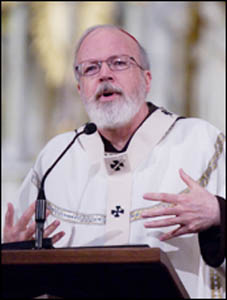 Newchurch Archbishop of Boston, Sean O'Malley, Wearing the Pallium that He Has Desecrated
Did He and His Discredited Predecessor, Bernard Law
Embezzle $85,400,000 from Donations Specifically Made for the Presbyter Retirement Fund?
If So, the U.S. Federal Retirement and Age Discrimination Statutes May Have Been Violated
And Law Could Be Extradited Back to the United States for Federal Prosecution
Unless Benedict-Ratzinger Claims "Diplomatic Immunity" for Embezzlers
First we received the report of Villanova University, a Newchurch institution, which concluded that 80% of Newchurch parishes were being robbed by their presbyters. Now we have the further scandal of the Newchurch presbyters of Boston claiming Sean O'Malley, Newchurch archbishop of Boston, has robbed them of $85,400,000 of monies that Newchurchers specifically donated for their retirement funds. Newchurch documents show that as of April 2006 the Clergy Retirement/Disability Trust faced an $85,400,000 million gap between the money on hand and what it is expected to have.
It seems that at least $70,000,000 in donations collected between 1986 to 2002 from parishioners who were specifically told that the money would fund presbyters' retirements, went instead to other purposes, like funding presbyters accused of sex crimes, legal bills, psychological treatment, and other expenses associated with dozens of presbyter sex criminals. Bernard Law, the discredited former archbishop of Boston was accused of embezzling large amounts of money from the presbyter retirement fund before he fled Boston to reside in the protective bosom of Benedict-Ratzinger in Newrome.
Law and O'Malley have been accused by irate presbyters as having "failed to observe canon law." As a matter of fact, Newchurch's Modernist 1983 "canon law" is more honored in the breach than in observance. In his statement O'Malley didn't deny that he had dipped into the fund. Meanwhile, presbyters are saying that their "morale is horrible." And why shouldn't it be, when they are the servants of the failed and corrupt New Order, so aptly represented by the likes of Law and O'Malley. [Source: Boston Herald]
---
Is Fatima Dying with "Catholic" Portugal?
From: Michael
Dear Fathers:
Although I certainly understand the Church's teaching that Fatima cannot trump nineteen centuries of Catholic tradition and history, I have always accepted the Fatima message. But now I am seeing a problem. Current news out of Portugal is that its Catholic-based anti-abortion laws are about to be repealed. If I couple this with the banjo church that's a-building and the recent oecumenical travesties perpetrated by the Portuguese Newchurch hierarchy, it is difficult for me to understand what the Blessed Virgin could have meant when she said that in Portugal the dogma of the Faith would always be preserved. Since Portugal seems as cutting edge Newchurch as any country in the world, I do not think that the high profile Fatima promoters (you know who they are) have sufficiently addressed, or given a satisfactory answer to, this question.
The Fathers Reply.
There is something unique about Fatima that gives one great pause. Lourdes, Guadalupe, etc., never produced this kind of idle speculation about future events that Our Lord in Scripture condemns. Lourdes and Guadalupe led simply to an increase in Faith and its practice. Fatima, on the other hand, has led to the most ridiculous speculations and a kind of "gnostic" literature of its own trying to explain just such contradictions as you mention. Obsession with "secrets" is another historic characteristic of gnosticism.
Our Lord Himself warned us that false "miracles" can be used by Satan to deceive: "For there shall arise false Christs and false prophets and shall shew great signs and wonders, insomuch as to deceive (if possible) even the elect" (Matthew 24:24/DRV). When His Apostles asked for a prediction of the future, Our Lord told them explicitly: "It is not for you to know the times or moments, which the Father hath put in his own power" (Acts 1:8/DRV).
Pope Benedict XIV clearly expressed the traditional place of private revelation in the Church when he stated: "[The Church] simply permits them [private revelations] to be published for the instruction and the edification of the faithful. The assent to be given to them is not therefore an act of Catholic Faith but of human faith." St. John of the Cross (1542-1591), perhaps the Church's greatest mystic, warned:
The desire for private revelations deprives faith of its purity, develops a dangerous curiosity that becomes a source of illusions, fills the mind with vain fancies, and often proves the want of humility, and of submission to Our Lord, Who, through His public revelation, has given all that is needed for salvation. We must suspect those apparitions that lack dignity or proper reserve, and above all, those that are ridiculous. This last characteristic is a mark of human or diabolical machination. Stay away from visions, apparitions, and miracles as much as you can. Be careful of visions, even when they are authentic.
Whether Fatima is authentic or not authentic, it can never be a matter of Faith according to the doctrine of the Church about private apparitions. The time spent in idle Fatima speculations may well pull the speculators in the direction of darkness rather than light. The time should instead be spent in contemplating Sacred Scripture, the Fathers and Doctors of the Church, the lives of the Saints, and other Catholic occupations. For further information, see FAQ10: How Do You Explain These Traditional Catholic Beliefs in the TRADITIO Network's Library of Files (FAQs & Traditional Apologetics) in the article "Private Revelations/Apparitions/Visions."
---
February 13 - Ferial Day
Newvatican Approves of Dancing at Novus Ordo Messes
From: Larry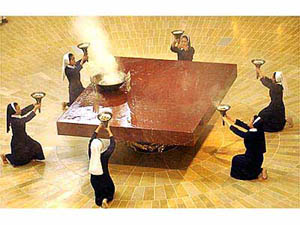 Nuns Dance around the Pagan Altar of the Taj Mahoney
The Novus Ordo Cathedral of Los Angeles
Sponsored by Newchurch Cardinal Roger "Mad" Mahony
Dear Fathers:
Liturgical dance, i.e., a gaggle of unrehearsed young women (mostly) making an awkward public display of "interpretive dance" of questionable taste and artistic merit, seemingly with no connection to the matter on hand or purpose in mind other than to disrupt the proceedings and annoy the congregation, appears to be more and more common in allegedly "very sacred" Novus Ordo worship and ceremonies, such as ordinations of new presbyters, installation of new bishops and consecrations of new "cathedral-spaces." Liturgical Dance seems like an oxymoron, especially given the putative solemnity of these occasions. We all know King David may have danced, but not at "Mass." Is there any basis in Tradition for the use of it in Catholic worship, or this just another questionable excess of the Novus Ordo train-wreck?
The Fathers Reply.
Newvatican admitted in 1975:
Dance has never constituted an essential part in the official liturgy of the Latin Church. If local Churches have introduced the dance, at times even in the temples, this was on occasion of feasts in order to show feelings of jubilation and devotion. But the dance always took place outside the liturgical actions. Conciliar decisions have often condemned the religious dance, as not befitting worship, and also because it could degenerate into disorders.... Hence, it is not possible to introduce something of that sort in the liturgical celebration; it would mean bringing into the liturgy one of the most desacralized and desacralizing elements; and this would mean the same as introducing an atmosphere of profanity. [Notitiae, [a Newvatican publication], June-July 1975
Then, under JPII, sometimes called "The Clown Pope" because of his fondness for "Clown Messes," Newvatican did a 180-degree turnabout. In its 1994 "Instruction on The Roman Liturgy and Inculturation" (art. 42), the Newchurch Congregation for the Sacraments and Divine Worship gave Newchurch's formal approval for "handclapping, rhythmic swaying, and dance movements" [manuum percussio seu plausus, fluctuationes rhythmicae seu motus modulati, aut choreae motus] in the Novus Ordo Mess."
Known as "liturgical tribalism," these pagan practices were supposed to be limited to certain pagan countries, but in Novus Ordo style, it was the pagan practice that spread all over the New Order world. Before Vatican II, the Roman Catholic Church used to civilize pagans. Since Vatican II, the pagan world has inculturated Newrome to paganism.
---
What Is "Meat"?
From: Brendan
Dear Fathers:
On Fridays I like clam chowder. However, a couple of months ago, I happened to look at the contents and found that it contains chicken broth (evidently to help bring out the clam flavor -- I don't really know). Does this mean no more clam chowder on Fridays? Also, here in Virginia, one of the older "dishes" (going back to Colonial times), is peanut soup, which is also made with chicken broth, peanut butter, celery seed (or chopped celery), and chopped peanuts. Could you enlighten me on Friday consumption of these products?
The Fathers Reply.
Meat broth eaten as such would be considered a meat dish. However, meat "condiments" are not included in the abstinence. It would seem that an insignificant amount of chicken broth that might be used as a condiment in making a chowder that is essentially clam, would not be considered "meat." The same would seem to be true of an insignificant amount of chicken broth used as a condiment in the "peanut soup" (sounds wonderful!), which is essentially vegetarian.
Catholics should be aware that the Church defines these things by local custom, not by Linnaean taxonomy. That is why, in different local areas, the same food might be considered meat or not meat (for example, duck). In this case, the common understanding is undoubtedly that clam chowder is made of clams, even if an insignificant amount of chicken broth is added as a condiment. Most people wouldn't have even bothered to read the label and would reasonably assume that clam chowder is composed of clams and a cream or tomato sauce.
Catholics are not like Jews trying to interpret the Mosaic dietary laws, which are based on the concept that there is something morally wrong with eating certain kinds of foods. Catholics believe that it is the spirit of the law that is the important thing. There is nothing immoral in the food itself from which we are abstaining. We are simply depriving ourselves voluntarily of some licit pleasure for a penitential purpose, remembering that Friday on which Our Lord died on the Cross for us.
---
February 12 - The Seven Holy Founders of the Servites
Double Feast
Newchurch Archbishop of San Francisco Engineers "Gay" Adoptions
From: The Fathers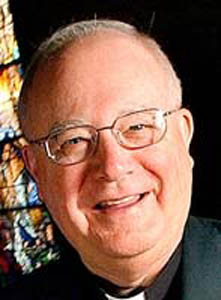 George Niederauer, Newchurch Archbishop of San Francisco
Gets the Last Laugh on Paper-tiger Benedict-Ratzinger, Who Appointed Him
Engineers a Deal by Which Catholic [sic] Charities Employees
Are to Be Paid by a "Gay" Adoption Agency
When Benedict-Ratzinger appointed a successor to William Levada, Newchurch archbishop of San Francisco, whom he spirited off to Newrome so that he wouldn't have to testify in U.S. federal court about his personal involvement in the sex-crime scandal in Portland, Oregon, and San Francisco, he selected not even a conservative Newchurcher, but an out-and-out "gay"-friendly one. Benedict-Ratzinger's appointment of George Niederauer was hailed unanimously by the "gay" zealots in San Francisco as if he were a new Messias!
California secular law would force Newchurch adoption agencies to include "gay" adoptions, so Catholic [sic] Charities San Francisco made the decision to close its adoption services after receiving clarification from Newvatican that Newchurch organizations should not take part in the immoral adoption of children to "gays." But Niederauer was not happy with that restriction, so he engineered "gay" adoptions through the indirect auspices of Newchurch. Catholic Charities will now pay its employees to work for California Kids Connection, a web-referral service for Family Builders by Adoption, a "gay" adoption group. In a February 7, 2007, interview on San Francisco's all-news station, Niederauer lauded the immoral arrangement:
I'm really very happy with the decision made by the Catholic Charities CEO, was to work with the program on the internet for finding homes for children [with "gays"], posting their pictures and being able to guide people [i.e., "gays"] who would be interested in this particular child to an adoption agency which could handle the situation [by gay adoption].
Niederauer couldn't use the actual words, knowing that it would offend even Newvatican, but some have pointed out that, in effect, Catholic Charities were pimping out children to "gays" by posting photographs of the children for "selection." San Francisco has a very active chapter of NAMBLA, the North American May-Boy Lover Association, which endorses paedophilia.
Neither Niederauer nor Benedict-Ratzinger's bosom-buddy William Levada, in their entire terms as Newchurch archbishops have ever spoken out about the sin that cries to heaven for vengeance or have publicly tried to get "gay" practitioners to convert their life to a Christian basis. So, what do you think Benedict-Ratzinger do to Niederauer as a result of his scheme to give the raspberry to Newvatican and what remains of Catholic morality? Newpope's record and motto is clear: Nihil fiat, Do Nothing! [Source: CNS]
---
Italian Attendance at the Novus Ordo Service Sinks to 15%
From: The Fathers
The Newchurch archdiocese of Venice commissioned a study of Novus Ordo service attendance that has exposed the reality of the Church of the New Order in Italy. In the carefully-conducted survey, those who said they had gone to the service on all of the previous four Sundays numbered 15% of the Newchurch population, half the number that Newchurch has been previously reporting.
For more than thirty years, sociological findings have agreed in attesting to regular service attendance much higher than in other European countries: steady around 30T. Italy's paltry 15% may well be higher than the rest of Europe. Belgium, Holland, and Newpope's own Germany boast Novus Ordo service attendance of only 3-4%. [Source: Chiesa]
---
Uncatholic Theology of Newchurch Rejects the Bible and Tradition
From: The Fathers
It seems that Newvatican is once again on a juggernaut to demonstrate how unCatholic its theology is. It has already dumped Hell and Purgatory, Original Sin, and Limbo. Now it wants to dump capital punishment, against the unanimous teaching of popes, councils, and the Fathers and Doctors of the Church.
Newchurch is pretending that capital punishment contravenes "the evangelical teaching of forgiveness" and the "right to life." Yet Scripture includes many confirmations of capital punishment, among them:
Pilate therefore saith to him: Speakest thou not to me? Knowest thou not that I have power to crucify thee, and I have power to release thee? Jesus answered: Thou shouldst not have any power against me, unless it were given thee from above (John 19:10-11/DRV)
But he that shall scandalize one of these little ones that believe in me, it were better for him that a millstone be hanged about his neck and that he should be drowned in the depth of the sea (Matthew 18:6/DRV)
Dost not even thou fear God, seeing that thou art under the same sentence? And we indeed justly, for we are receiving what our deeds deserved, but this man has done nothing wrong (Luke 23:40-41/DRV)
As to the spurious "right to life" claim for heinous criminals, it should be noted that these are not innocent persons (like unborn children). As Pope Pius XII explained it:
Even in the question of the execution of a man condemned to death, the state does not dispose of the individual's right to life. It then falls to the public authority to deprive the condemned man of the good of life in expiation of his fault after he, by his crime, has already deprived himself of his right to life.
The teaching of the Catholic Church from the earliest centuries is that society has the authority to inflict punishments upon its members, and even to deprive a criminal of his life, for the necessity of the common good:
to vindicate the moral order and expiate the crime
to defend itself
to deter other would-be offenders
to reform the criminal or deter future crime
Given these purposes, an execution may take place if the following conditions are met:
the guilt of the prisoner is certain
the crime is of major gravity
the penalty is to be inflicted
after due process, by state authority, not by private individuals or by lynching
the prisoner is given the opportunity to make his peace with God
For further information, see FAQ10: How Do You Explain These Traditional Catholic Beliefs in the TRADITIO Network's Library of Files (FAQs & Traditional Apologetics) in the article "Capital Punishment/Death Penalty." Perhaps Benedict-Ratzinger should read the article to brush up on Catholic theology.
---
Newchurch Presbyter Captured by Police after Six Days on the Run
From: The Fathers
The Newchurch presbyter from Las Vegas who was wanted for attempted murder, kidnapping, sexual assault, and battery was caught on February 1, 2007, in Apache Junction, Arizona, after six days on the run. George Chaanine had been featured on America's Most Wanted. It seems that the chief characteristic of Newchurch clergy is criminality -- from the top on down.
---
February 11 - Sexagesima Sunday
Semidouble Sunday
The SSPX Begins Its Transition to the Vernacular Mess of 1965
From: The Fathers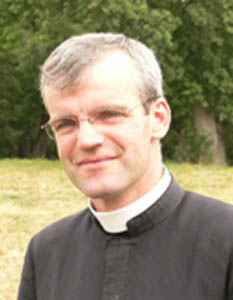 Père Patrick de la Rocque of the Society of St. Pius X (SSPX)
This Director of an Official SSPX Publication
Is Advocating Turned-around Altars and the Early Novus Ordo Mess of 1965
With Its Use of the Vulgar Tongues in the Sacred Liturgy

A letter attributed to Fr. Patrick de la Rocque, who signs himself Director of the Publication Lettre à nos frères prêtres [Letter to our brother priests (sic)], an official publication of the Society of St. Pius X to New Order presbyters of France, has been circulating in France and causing quite a stir there about the real goals of the Society of St. Pius X (SSPX). France is a stronghold of the SSPX and the source of much of its income.
In reference to a DVD that the SSPX has been distributing in France to Newchurch presbyters to teach them how to perform the Bugninized/Modernized "Indult" Mass, de la Rocque writes:
The Tridentine [sic] Mass can just as well (également) be celebrated in the vernacular. In 1965 an edition of the Roman Missal designated also a French translation. In the same way, the ritus servandus introducing the 1962 edition provides for the Mass facing the people, if such should be the case. If Benedict XVI should come to liberalizing this rite, it then seems possible to introduce it progressively in the parishes, without overturning (bousculer) your parishioners' habits all at once.
From this startling letter sent out by an SSPX official and in an official SSPX organ, we have to wonder what the SSPX is teaching in its seminarians at Econe and elsewhere. We already know from reports several years ago that instruction is given not in Latin, as the Church requires, but in French and German. No wonder the vulgar tongues are creeping into some SSPX Messes now. It seems that de la Rocque is unaware that the "Tridentine" Mass is entirely in Latin. He is not speaking of the "Tridentine" Mass, but of the Bugninized/Modernized Mass of 1962 -- and not even of that, but of the early Novus Ordo Mess of 1965. The path of replacing the Traditional Latin Mass with the "Indult" Mass of 1962 then the early Novus Ordo Mess of 1965 has been trodden by other organizations working with Newchurch. One case in point was the Society of St. John the Evangelist of Scranton, Pennsylvania.
It has now come out as well that that the SSPX is blithely treating Newchurch presbyters as priests, even though they have not been ordained to celebrate the traditional Roman Catholic Latin Mass, but only to "preside over the assembly" at the Novus Ordo Protestant-Masonic-Pagan service. This is a real problem for the increasing number of traditional Catholics who have concluded that New Order ordinations and consecrations are invalid.
Quo vadis, Societas? Ever since the death of Archbishop Lefebvre, the TRADITIO Network has been consistently skeptical, to say the least, of the SSPX Fellay administration's buddying up to Benedict-Ratzinger and his New Order. Now we have further confirmation that the TRADITIO Network has been correct from the beginning.
---
February 10 - St. Scholastica, Virgin
Double Feast
Jesus Christ: The Greatest of the Satirists
From: Gary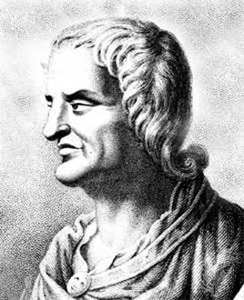 Decimus Iunius Iuvenalis (ca. 60-ca. 140), Roman Satirist
Satire Is the Only Native Roman Literary Form
And Has Been Used by Catholic Saint-Authors Like Thomas More
Christ Himself Used This Rhetorical Technique to Quash the Hypocritical Church Leaders of His Time
Dear Fathers:
What is the background of Juvenal? Why do you use his style in constructing your Commentaries?
The Fathers Reply.
Juvenal (Decimus Iunius Iuvenalis) was the greatest of the Roman satirists, and satire was the only literary form that the Romans invented, all the rest all being taken from the Greeks. Juvenal's bitter wit, often described as "angry" or "indignant," a favorite of Latin readers since the first century, markedly influenced the Saints of the Church who satirized the failings of Church prelates in their times, such as St. Thomas More and Venerable Erasmus. One can see influences even in Dante's greatest work, Divina Commedia, frequently praised by the popes as a quasi-theological work.
It is a common misconception among some Catholics that the Saints and faithful were always sycophantically "respectful" toward errant prelates. To the contrary, when the Saints and the faithful encountered an errant prelate, they have historically been more likely to become outraged. The people would run them out of town or throw errant popes into the Tiber. The Saint-authors would satirize them bitterly.
And what is so unusual about with this? After all, it is Our Lord who gives us the example. His excoriating words against the errant prelates of His time was the ultimate example for the Christian Saint-authors. One must distinguish here between private actions and public actions. The Christian exhibits charity in his dealing with private people, but, as the example of Our Lord shows, a prelate's (or politician's) public acts -- and that includes the pope's acts -- are subject to public correction and even biting satire. The Church's primary theologian, St. Thomas Aquinas, confirms that doctrine in his Summa Theologica.
Our Lord himself was a master of satire. Just think of the episode of rendering tribute to Caesar or the episode of the Roman centurion or so many other episodes related in Scripture, and we see that Our Lord far surpassed even Juvenal in biting satire that hit the mark of dead consciences. Our Lord used whatever techniques of rhetoric and debate to drive His points home effectively against the hypocritical Church leaders of His time.
Moreover, it is certainly clear that Newchurch prelates of the post-Vatican II period have been counting on -- and have received -- a sycophantic "respect" from the Newchurchers, under color of which the Newchurch prelates have perpetrated the most vile of crimes and attempted to cover them up. No, good Catholics, respect is earned. Nonetheless, Newchurchers are frequently heard to say: "He's the best pope/bishop/presbyter we've ever had," when reports of their sex crimes against children or embezzlements from the Church or even murders are reported. Roman Catholics would historically throw such criminal prelates into the Tiber and skewer them with the bitterest of satire!
---
Something Doesn't Add up about the SSPX Rosaries
From: Bob
Dear Fathers:
I'm a very loyal SSPXer, yet something doesn't add up and has been worrying me for a while. Much was made about the "spiritual bouquet of rosaries" that Bernard Fellay of the SSPX gave to Benedict-Ratzinger, a million in total that took some months to accumulate. If the SSPX has approximately a million adherents, as it claims, why should it have taken months to get these? Surely (even assuming that only half of the SSPX members attend Mass each Sunday), the whole total could have been accumulated over two Sundays' worth of the faithful reciting an extra rosary either before or after the Mass.
The Fathers Reply.
From the beginning that whole thing seemed to us to be a political game rather than a religious effort. As you know, other New Order-oriented organizations were rounding up rosaries to send to Benedict-Ratzinger for just the opposite purpose! Our question is how many of the purported rosaries will actually be prayed. It is all too easy to click a button on the internet, then go off and do something else.
But the biggest question is why the SSPX is even playing up to the New Order in the first place. The Mass and Sacraments come not from the some transient "indult" given by the false "authority" of the New Order, but from Catholic and Apostolic Tradition, canonized by a dogmatic council and a Saint-pope.
---
February 9 - St. Cyril of Alexandria, Bishop, Confessor & Doctor
Double Feast
Complete Friday Abstinence
What Is the King James Bible?
From: Dave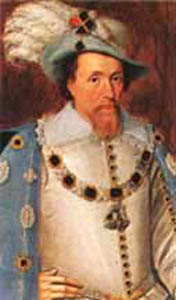 King James I of England (1603-1625) and of the King James Bible (1611)
Although It Was Issued for the Anglicans about a Century after Henry VIII
In Many Ways, in Addition to Being a Monument of English Literature
It Surpasses Post Vatican II Newchurch Translations
Dear Fathers:
Who was the King James after whom the King James Bible is named, and what is that Bible?
The Fathers Reply.
James I (1603-1625) was the British king who established the committee to issue a new translation of the Bible to be read in Anglican churches, which is now commonly called the King James Version (1611). It is heavily based upn on the Latin Vulgate, the authoritative text that the Catholic Church uses, and upon the Douay-Rheims (1582-1609) Catholic English translation.
During the Protestant Reformation in England, and the subsequent persecutions of Catholics in that benighted country, the faithful were compelled either to go underground or to seek refuge on foreign soil. The clergy in charge of keeping alive the study of the Sacred Scriptures within the English-speaking world were among those who took flight to other shores. For their escape had become an imperative, if their work was to continue unencumbered. Among the great scholars who were forced to flee were the Catholic Fathers of Oxford, many of whom settled at Douay in Flanders (Belgium).
They translated directly, not from the original Hebrew or Greek, but from the Latin Vulgate of St. Jerome. This had been declared authoritative for Catholics by the Council of Trent, but it was also commonly admitted that the Latin text was purer than in any Greek or Hebrew manuscripts extant in the 16th century. The Douay-Rheims Bible is a scrupulously faithful, word-for-word translation into English of the Latin Vulgate Bible. The New Testament was published at Rheims in 1582, and the Old Testament, at Douay in 1609. Thus, the New Testament appeared nearly thirty years before the King James Version and is now commonly recognized to have been significantly influenced by it. In 1749-1752 Bishop Richard Challoner, a Carmelite, revised the Douay-Rheims version and modernized the language. This revision is sometimes called the Douay-Rheims-Challoner version and is the one most commonly used today in traditional Catholic churches.
The Douay-Rheims translators took great pains to translate the Latin text exactly -- as exactly as any "translation" can. Of course, the Latin Vulgate is always to be preferred over any "translation." Contrary to the procedure of the modern Bible translators, when a passage seemed strange and unintelligible, they left it alone, even if obscure. The modern Bible translators, on the other hand, will often look at an obscure passage, decide what they think it means, then translate it in words that bring out that meaning.
The result is that the modern English translations are usually easier to understand, but do not necessarily reflect accurately and completely what the Bible says. Rather, they reflect the biased interpretation and understanding of what particular modern translators think that the Bible says. Modern translations are generally not translations at all, but paraphrases, which inject modern "translators'" views into the paraphrase. In many ways, the King James Version, in addition to being a monument of English literature, surpasses post-Vatican II Newchurch translations, such as the New Jerusalem Bible and particularly the New American Bible, which is the Novus Ordo Bible. These introduce throughout the paraphrase Modernistic conceptions at the whim of the paraphraser.
An interesting sidelight of the King James Version is that some scholars believe that William Shakespeare (1564-1616) was raised as a Catholic and probably remained so in secret during his life. Psalm 46 is called by some the "Shakespeare" Psalm in the King James Bible. If you count 46 words in from the beginning you find the word shake and 46 words in from the end (excepting Selah) you find "spear." As the King James Version was published in 1611 when Shakespeare was 47 years old, he may have been working on his versions of the Psalms in his 46th year and thus chose that psalm to "sign."
For further information, see FAQ10: How Do You Explain These Traditional Catholic Beliefs in the TRADITIO Network's Library of Files (FAQs & Traditional Apologetics) in the article "Latin Vulgate & Douay-Rheims Bibles." For the better English "translations," see FAQ05: What Traditional Books Do You Recommend? in the TRADITIO Network's Library of Files (FAQs & Traditional Apologetics) in the section "Bible."
---
February 8 - St. John of Matha, Confessor
Double Feast
While Newchurch Deceives Indultarians with a Phony "Indult"
It Attacks Traditional Catholic Clergy and Religious
From: The Fathers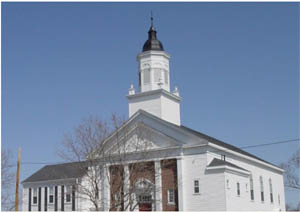 Sacred Heart Church, of Lawrence, Massachusetts
Closed and Abandoned by the Newchurch Archdiocese of Boston
Now Purchased by Traditional Dominicans
And the Newchurch Archbishop of Boston Is Hopping Mad
Exhibits Vitriol, not the Vaunted Newchurch "Charity"
When It Comes to Traditional Catholics
Isn't it just like the Newchurch of the New Order? While taking in the indultarians with talk of a "new indult" for the Bugninized/Modernized Mass of 1962, it attacks traditional Roman Catholic clergy and faithful.
It seems that a traditional Third Order Dominican group in Lawrence, Massachusetts, has succeeded in buying out from under the Newchurch archdiocese of Boston the former Sacred Heart Newparish, which the Boston archdiocese closed in April 2006. And Sean O'Malley, the Newchurch archbishop, is hopping mad. He'd rather that Protestants take it over. He sent out a vitriolic announcement defaming the traditional Roman Catholic Third Order, traditional Roman Catholic Dominicans, and their traditional Roman Catholic bishop. What was the charge? O'Malley claims that the traditional Dominicans are "in now way associated with the Roman Catholic Church, the Catholic Order of Preachers (the Dominicans), and the Roman Catholic Third Order of Saint Dominic." [Source: Newchurch Archdiocese of Boston and local sources]
Come on now, Sean. By what right do you call yourself a "Roman Catholic" bishop? You close "Roman Catholic" churches right and left. You even suppressed the sop of the "Indult Mass" that used to exist in one of the closed churches. You have forced true Roman Catholics of Boston out of their beautiful church buildings. You have stripped formerly Catholic parishes of their altars and Saints' statues or closed them outright. You have taken a sledge-hammer marble altars. You have removed Communion rails, closed convents, replaced Roman Catholic devotions replaced by Buddhist "meditations" that have nothing to do with Catholicism. You have promoted New Age religion and radical feminist "creation theology" in your RCIA classes. You still harbor presbyters under your charge who continue to assault Newchurch children. You're no better -- and maybe worse -- than your discredited predecessor, Bernard Law.
You have perpetrated a multi-million-dollar cover-up passing itself off as "Catholic," while it is really Protestant, Masonic, and pagan. Let's face it. You have abandoned the Roman Catholic religion except when its name gets you power or money. You promote an unCatholic "Mess," a totally new and different catechism, canon law, rosary, and sacraments from what is Roman Catholic. You embrace and promote a new, one-world religion, a Novus Ordo Seclorum for a one-world political structure and a one-world Church. And when even your own Newchurchers criticized you, you hid in your limousine and balled like a baby!
You claim that it is the traditional Dominican Order is not "Roman Catholic." Yet it teaches true Roman Catholic doctrine and devotions, promotes the Rosary and the Roman Catholic Sacraments. Do you? Or do you fob off on ignorant Newchurchers a Protestant-Masonic-Pagan "Mess" with its cookies and grape juice? Who are the real "Roman Catholics" here? Sorry, Sean, you flunk the test.
---
Newchurchers Emulating Their Presbyters; They Too Embezzle from Their Churches
From: The Fathers
A Richmond, Virginia, Newchurch secretary has been charged with felony embezzlement after she was videotaped by the bookkeeper stealing church donations at St. Peter "Catholic" parish by stuffing money from the collection-plate into her purse. The Newchurch employee is the second embezzler to have been caught in the Newchurch diocese recently. [Source: Richmond Times-Dispatch]
---
February 7 - St. Romauld, Abbot
Double Feast
"Indult" Priest-Pastor Robs His Own Newparish
From: The Fathers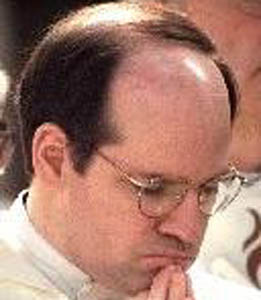 Stephen Gutgsell, Newchurch Presbyter-Pastor of St. Patrick "Indult" Mass Newparish
While the Indultarians Were Being Deceived with a Little Latin in One Hand
Their Novus Ordo Pastor Had His Other Hand in the Cookie Jar to the Tune of over $100,000!
One of the many problems in supporting the "Indult" Mass is that "if you lie down with dogs, you get up with fleas." Such is the case with St. Patrick Newparish, site of the "Indult" Mass in Omaha, Nebraska. It seems that while a little Latin was being thrown into the New Order mix, presbyter-pastor Stephen Gutgsell was pilfering newparish to the tune of more than $100,000 from his parish. Another "Indult" Mass down the tubes!
True to the incompetence of Newchurch bishops, Omaha's Elden Curtiss was asleep at the switch. Stephen's brother Michael is in the same archdiocese as pastor-presbyter of Omaha's St. Cecilia Cathedral. By the way, it was not the Newchurch archdiocese that caught the "indult" presbyter. It was a financial review by parishioners. Police are now handling the matter.
True to the blindness now fully installed by forty years of the Newchurch of the New Order into the remaining "pew" Newchurchers (most Catholics have by now left Newchurch), the parishioners don't believe the evidence of their own auditors. Several blathered the same line we always here in such cases: "he was the best presbyter we ever had." But Gutgsell was not the first Omaha presbyter to be caught with his hand in the Newchurch money-jar. Presbyter Walter Wancewicz was sued by the archiocese in 2003 after money turned up missing from two of his former Newparishes. [Sources: Associated Press, Omaha World-Herald]
Tell your Newchurch friends to wake up and smell the coffee. If they put their money into "Indult" Masses, they're only setting themselves up to be deceived and taken. So the evidence shows over and over again. You don't have to defend traditional Catholicism; the corrupt, phony "Catholicism" of the New Order is the point. And don't you let them forget it!
---
February 6 - St. Titus, Bishop & Confessor
Double Feast
When Did the Slippery Slope to Vatican II Begin?
From: James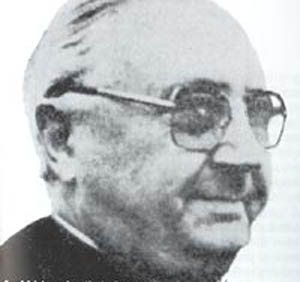 The Shady Hannibal Bugnini (1912-1982), Chief Architect of the New Order
He Was Apponted Secretary of the New Commission for the Reform of the Liturgy
In 1948, Well Before Vatican II (1963-1965)
The Modernism that Was Temporarily Routed by Pope St. Pius X (1903-1914)
Began to Reassert Itself Anew under Pius XII (1939-1958)
Dear Fathers:
My question is: how did all this evil enter into the Church before Vatican II without the oversight of the bishops and cardinals taking corrective action? It seems as if incorrect teachings went unchecked or unreported for many years and finally came to bear fruit at the Vatican II Council. Is there a seminal moment before Vatican II that opened the flood gates of incorrect doctrine?
The Fathers Reply.
As with most historical movements, it is impossible to pinpoint a particular date for a genesis. When did Americans decide that the British imperial rule should be revolted from? Certainly the revolutionary movement was building many years before July 4, 1776.
It is becoming clearer also that the 1950s were not in all respects the zenith of the Church that many traditional Catholics believe they were. In many external aspects, they appeared to be sound, but the asp of Modernism, once routed by Pope St. Pius X after the turn of the century, began festering again after World War II, as much in the open as underground, even in the Vatican.
Hannibal Bugnini, the Chief Architect of the New Order, began his official operations not at Vatican II, but in 1948, when he was appointed to the Commission for the Reform of the Liturgy under Pius XII. The Sacred Congregation of Rites, which since 1588 had rigorously and meticulously guarded the Sacred Rites, was in effect shunted aside while the liturgical revolutionaries got the upper hand on the new commission. There were a number of questionable, even objectionable, changes introduced in the 1950s. That is why, for a fully traditional liturgy of the Roman Rite, one must go before these 1950s Modernistic "reforms." For further information, click on the TRADITIO Network's Traditional Latin Mass, Divine Office & Sacraments department for the section "The Road into the Black Hole of the "New Mass."
One might ask what Pius XII was doing while all this was going on? Was he oblivious to it? Probably, since it was only in its nascent stages at that time. Pius XII's own Mediator Dei, his encyclical letter on the Sacred Liturgy, though often quoted as being traditional, itself bears the seeds of the later Vatican II revolution, though the pope himself was undoubtedly orthodox.
Nor did Pius XII ever personally sign off on the Bugnini hatchet-job of the traditional Rites of Holy Week in 1956, which marked a major change from the Roman Missal itself. Although in the United States, the revolutionary rites were accepted without question, in many places in Europe they were simply ignored. It is interesting to note that Pius XII was apparently taken in my Bugnini, but John XXIII was not. John fired Bugnini. It was only Paul VI after the Council who brought him back to do his dirty work engineering the "New Order."
---
February 5 - St. Agatha, Virgin & Martyr
Double Feast
WARNING: "ARMED AND DANGEROUS" NEWCHURCH PRESBYTER
AT LARGE IN NORTHERN CALIFORNIA
From: The Fathers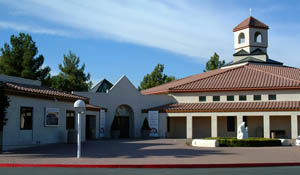 Our Lady of Las Vegas, Where Armed Newchurch Presbyter George Chaanine
Barricaded Himself with a Gun in the Children's Schoolyard while Holding Off Police
After Beating, Assaulting, and Attempting to Murder a Newchurch Employee
Subsequently He Has Escaped to Monterey, California
Newchurch presbyter George Chaanine, who beat up, assaulted, and attempted to murder a Newchurch employee on the grounds of his Las Vegas church, then fled police, who believe that he is armed, has been sighted in Monterey, California, where on January 30, 2007, Richard Garcia was being installed as the Newchurch bishop. What connection Chaanine and Garcia may have is unknown at this time. The Newchurch presbyter will be featured on the February 4-5, 2007, America's Most Wanted.
Good Catholics, the "Springtime of Vatican II" so vaunted by the Modernists a myth. It has taken less than forty years for the suppuritious pus of the New Order to consume Newchurch from the pope on down. A day hardly goes by but that the TRADITIO Network is not informed of another outrageous crime, virtually unthinkable in the pre-Vatican period, perpetrated by some Newchurch prelate or presbyter. Obviously, the unCatholic nature of the New Order has quickly infested Newchurch with rampant crime, perversion, and apostasy. Our advice to you is to stay away from Newchurch entirely, lest too you become mortally infected.
---
Was Edgar Allan Poe Attracted to Catholicism?
From: Tina
Dear Fathers:
My daughter is writing a research paper on Edgar Allan Poe and his religion. She came across a poem entitled "Catholic Hymn" (below) written by him to the Virgin Mary. After reading this beautiful poem, we have been searching to find out whether he was a Catholic. Can you help us, please?
Catholic Hymn (1833 Version)

Sancta Maria! turn thine eyes
Upon the sinner's sacrifice
Of fervent prayer and humble love,
From thy holy throne above.

At morn, at noon, at twilight dim
Maria! thou hast heard my hymn.
In joy and woe, in good and ill
Mother of God! be with us still.

When my hours flew gently by,
And no storms were in the sky,
My soul, lest it should truant be,
Thy love did guide to thine and thee.

Now, when clouds of Fate o'ercast
All my Present, and my Past,
Let my Future radiant shine
With sweet hopes of thee and thine.

The Fathers Reply.
Edgar Allan Poe, one of America's most renowned poets and prose-writers of the 19th century, is generally held not to have practiced any religion in adulthood. Not quite 3 years old, Edgar was baptized on January 7, 1812, with John and Frances Allan as his godparents. His foster-mother, Francis Allan, was a pious and deeply religious woman. When Poe lived with her in childhood, Francis and Edgar regularly attended services at Monumental Episcopal Church. Poe's foster-father, John Allan, raised as a Scotch Presbyterian, may have visited from time to time. One of the surviving artifacts from Moldavia, John Allan's elegant Richmond mansion, is a large painting of the Holy Family, a nativity scene complete with putti and seraphim.
In Fordham, New York, Poe often played cards with Jesuits who lived nearby, of whom he said: "They were highly cultivated gentlemen and scholars ... smoked, drank, and played cards like gentlemen, and never said a word about religion." He also wrote in the same year (1848): "Why I was not a priest is a mystery, for I feel I am now a prophet." Poe did write the Catholic Hymn to the Virgin Mary in 1833 as part of his story story, Morella. Although the hymn was removed from later versions of the story, it was nevertheless included, in edited form, in the 1845 publication of The Raven and Other Poems.
---
February 4 - Septuagesima Sunday
Semidouble Sunday
Newchurch's Cardinal-Primate of England Endorses "Gay" Adoption
From: The Fathers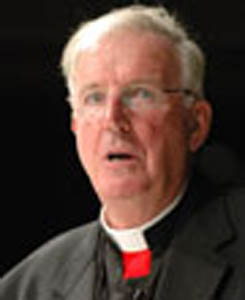 Cormac Murphy-O'Connor, Newchurch Cardinal-Primate of England
Calls the Blair Government's Proposed Equality Act
To Be a "Proper Desire to ... Permit Adoption by Same-sex Couples"
As Usual, Benedict-Ratzinger Remains Silent in the Scandal
Newchurch's Cardinal-Primate of England has shocked that nation by endorsing "gay" adoptions. In a January 31, 2007, letter to the London Daily Telegraph, Cormac Murphy-O'Connor stated that the Equality Act, which Prime Minister Tony Blair's government will bring before Parliament in April 2007, is a response to "a proper desire to remove hurtful homophobia and permit adoption by same-sex couples." Couples?!
Such a position, of course, goes counter to Catholic moral theology, even Newchurch theology, and even the statements of Benedict-Ratzinger himself. What is the word from Newpope, then? Was Murphy-O'Connor corrected, let alone punished, by Benedict-Ratzinger for his scandalous anti-Catholic position? Will he withhold from him the Novus Ordo cookie? Of course not.
Any Newchurch prelate can say anything unCatholic that he pleases, and Benedict-Ratzinger won't lift a finger against him. Newpope is too busy defending Mohammedans and appointing Communist spies as archbishops!
---
Should It Matter Who the Pope Is?
From: Dan
Why don't traditional Catholic groups get together and elect a pope? What we need is a pope, not the continuation of the Sacraments or the Holy Sacrifice of the Mass.
The Fathers Reply.
What a blasphemous statement! The Sacraments and the Holy Sacrifice of the Mass are unimportant? Rather, they are of prime importance!
For most of the history of the Church, the faithful didn't even know who the pope was. In the 1928 U.S. Presidential campaign, the Democratic candidate, Al Smith, a lifelong Catholic, was asked for his comment on an encyclical that the pope had just issued. Smith's response was: "What's an encyclical?" One wonders whether he, or most Catholics then, could even have come up with the name of the current pope.
Before Vatican II popes came and went. It was the Catholic Faith that remained. After Vatican II popes became cult figures, rock stars, "personalities." It was their personal Modernist stamp that remained, and the Catholic Faith that came and went. The identify of the pope should essentially be unimportant. Every pope should be teaching the traditional Catholic Faith as it was handed down to him, not making it up according to his own image.
We believe that Providence is using the confusion of this period of test to remind the faithful that which the Psalmist clearly tells us and which we have clearly forgotten:
Bonum est confidere in Dominum, quam confidere in homine.
Bonum est sperare in Domino quam sperare in principibus.
[It is good to confide in the Lord, rather than to have confidence in man.
[It is good to trust in the Lord, rather than to trust in princes.] (117:8/DRV)
Until we stop looking to men to solve these problems, we will simply be playing "organization" games, secular politics, spitting contests, if you will, that will lead us further and further away from the practice of the true Roman Catholic Faith.
---
February 3 - Our Lady's Saturday
Simple Feast
All Italy Is Abuzz: Novus Ordo "Reconciliation Sacrament" Proven Phony
From: The Fathers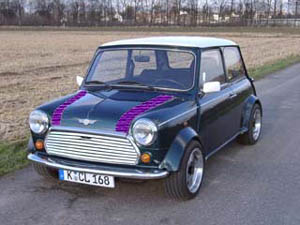 The Latest in Phony Newchurch "Reconciliation": The Sin-mobile
An Italian Investigative Report Has Exposed the Phoniness of the New Order "Sacrament"
Newchurch Presbyters Are Telling Penitents: "Go, and Sin Again"!
Not infrequently the question is asked: "We know that the Novus Ordo service is phony, but what about the Novus Ordo 'sacrament' of 'Reconciliation'?" The Prime Traditional Catholic Principle, based on Pope Leo XIII's Apostolic Letter Apostolicae Curae, is to treat the Novus Ordo as you would a Protestant sect. As to its "sacraments," since Protestant baptisms and marriages are usually valid, Novus Ordo ones would usually be valid as well. Otherwise, the form and/or matter and/or intention of Newchurch sacraments is defective.
And now the Newchurch of the New Order has itself furnished further proof of the phoniness of its sacraments. All Italy is abuzz about the exposure, in L'Espresso magazine's January 29, 2007, investigative report about Novus Ordo "Reconciliation." Reporter Riccardo Bocca visited 24 confessionals in Rome, Milan, Turin, Naples, and Palermo posing as an HIV-positive man who wanted to use prophylactics with his "gay" paramour, a doctor with a cocaine habit, and a divorcee wanting to remarry, to see how much the presbyters' advice might deviate from traditional Catholic teachings. Bocca confirmed that Newchurch presbyters' "reconciliation" advice was worlds apart from traditional Catholic teaching, even Newchurch teaching. Here are some examples of what Bocca was told by Novus Ordo presbyters at "confessions":
use prophylactics for homosexual sex -- it's "more of a personal problem, one of conscience"
take a lucrative job offer to work on embryonic stem cells
be yourself; "come out" if you think that you are homosexual
And what was Newvatican's reaction? True to form, Newvatican was outraged -- not because its presbyters are performing phony sacraments, but because the reporter "exploited the good faith of confessors and offended the religious sentiments of millions of people." How far can Newvatican miss the point. It was the "good faith of confessors" in Newchurch that was the issue: they had no "good faith" with Catholic teaching!
By the same token, Newvatican has no problem with its presbyters raping Newchurch children. It is only outraged that the media report the crimes! [Source: Fox News, The Guardian, CNS] Novus Ordo presbyters can have all the "faculties" they want from unCatholic Newchurch bishops, but it doesn't do any good. A phony "sacrament" is a phony "sacrament," and no color of phony New Order "authority" can make arsenic into old lace.
---
Italian Media Give the Raspberry to Benedict-Ratzinger, Caught in Hypocrisy Again:
Newpope Picks Dan Brown's Da Vinci Code Publisher for His Own Book!
From: The Fathers
Poor Benedict-Ratzinger. It seems as if he can't take a step any longer without making a fool of himself!
After Newvatican made a big stink about Dan Brown's novel as being "blasphemous," The Da Vinci Code, Newpope has selected Brown's publisher, Doubleday, for his own Life of Christ. As a result, Italian media were ridiculing Benedict-Ratzinger for his hypocrisy. [Source: Reuters]
It seems that Providence is teaching the world, in ways all too obvious, that the New Order is not Catholic, but a laughing-stock. Yet the Newchurchers adhere to the phony New Order, truly earning for themselves the Biblical description: "the people that walked in darkness."
---
Newchurch Sponsors Pro-"Gay" Conference
From: The Fathers
"Live in God's welcoming embrace," Newchurch "gays" and "lesbians" are told for an upcoming February 16-18, 2007, conference sponsored by the Newchurch diocese of Oakland, California. Now, this wouldn't be bad if the goal were to turn homosexuals from a sin that cries to heaven for vengeance to the true Catholic Faith, but that is not the purpose of the conference. The purpose of the conference is to validate homosexuality as a fully Christian, a fully Catholic, activity.
Heading the conference will be presbyter Jim Schexnayder, co-founder and now Resource Director for the National Association of Catholic [sic] Diocesan Lesbian and Gay Ministries, an outspoken proponent of the normality of homosexuality. The event is being advertised by the Bay Area Coalition of Welcoming Congregations, which seeks to show how religious groups "can work together to strengthen legal protections for LGBT people" and "provide a religious rationale for supporting civil marriage for lesbian and gay people." For those who are unaware of the lingo, "LGBT" stands for "lesbian, gay, bisexual, transvestite."
And Newchurch bishop Allen Vigneron encourages this charade. His Administrative Weekly advertises the event. Presbyter Schexnayder claims to "operate within Catholic teachings," and apparently Vigneron agrees, even though Schexnayder's association is linked to the National Transgender Advocacy Coalition, which teaches that homosexual acts are good and that "gay" marriages should be legal. [Source: California Catholic Daily]
Good going, Vigneron & Schexnayder. You're quite a "Catholic" pair!
---
February 2 - Purification of the Blessed Virgin Mary (Candlemas)
Double Feast of the Second Class
Complete Friday Abstinence
Is Newchurch Now Following the Pattern of Buddhism?
From: The Fathers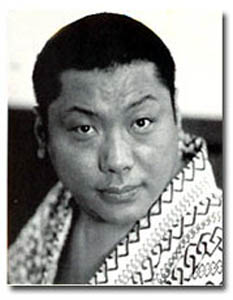 Lama Chogyam Trungpa Rinpoche
This Beloved Buddhist "Saint" and His Successor Lived in Moral Infamy
Does Fanatical Adhesion to the Crimes of the New Order
Demonstrate that Newchurch Has Fallen into the Same False "Hero Worship"?
Ever since October 27, 1986, when JPII participated in an oecumenical prayer meeting at Assisi, Italy, during which an image of Buddha was placed on top of the tabernacle, it seems that Newchurch has been courting the Buddhists. Several official letters have been sent from the highest ranks of Newvatican to congratulate the Buddhists on their pagan "holydays."
In a climate in which we hear so much about the moral peregrinations of Newchurch, it might be fair to point out that other religions (if technically atheist Buddhism can actually be called a religion rather than a philosophy) are far from morally clean. Take Buddhist Lama Chogyam Trungpa Rinpoche (1939-1987), for example, the founder of the Shambhala movement. He was highly praised by the Dalai Lama, with whom JPII associated in the scandalous oecumenical rites at Assisi.
It seems, however, that everything was not sweetness and light in Buddha Land. His biographer, Katy Butler, reported that Chogyam Trungpa died at the age of 47 from terminal alcoholism, producing cirrhosis of the liver and other diseases, "had sexual relationships with his followers, encouraged the use of mind-altering drugs, and was rather abusive," among other things, ordering two students to be denuded against their will. His successor, Osel Tendzin, was even less savoury. Before he died in 1990, this Buddhist lama "admitted to having sex with over a hundred men and women even though he knew that he had AIDs. A number of these partners contracted the disease themselves."
In a pattern that we have seen exhibited by benighted Newchurchers, many Buddhists still believe that Chogyam Trungpa and Osel Tendzin were spiritual masters, "saints," and use all sorts of mystical rationalizations to defend adoration of them by the faithful. Butler correctly warns: "The dissolution of the ego can, if accompanied by the dissolution of the critical intellect, result in abject subjugation to another person's ego, an ego that may have a hidden and unpalatable agenda." [Source: The Republic]
And if you need any proof of that fact, just look at Newchurch's Great Sex & Embezzlement Scandal, involvement in which includes presbyters, bishops, cardinals, and even right to the top, to JPII and Benedict-Ratzinger themselves.
---
Is Newchurch Altar-cloth Lace Being Used for Women's Underwear?
From: The Fathers
Once Pandora's box is opened, every evil comes to light. For years it was believed that Poland was a "Catholic" country. After all, JPII came from there, didn't he? But then we find out that the now-expelled Archbishop of Warsaw, knowingly appointed by Benedict-Ratzinger, was a Communist spy against the Church for twenty years after Vatican II. Then we find out that in Krakow, one-fifth to one-seventh of JPII's presbyters were also doing spying for the Communists.
Now we find out that even Polish altar-cloths are tainted. It seems that the "Catholic" women of Poland have been using the same lace for altar-cloths as they use for the "sexy underwear" that they produce: "tight little tops, pants, bras, and even the briefest of G-strings, called stringi. "And now people are going to wear Koniakow lace on their bottoms," the same lace used by JPII for his surplice!
And how do these Newchurch lace-makers justify this "sexy sacrilege"? They pointed out that the money coming in from the products was helping to fund Newchurch! The same argument could be used to justify drug-dealing -- by giving some of the filthy lucre to Newchurch to "launder" it, so to speak. [Source: UK Telegraph]
---
February 1 - St. Ignatius, Bishop & Martyr
Double Feast
Newchurch Presbyters Now Resorting to Sacrilege; on "Most Wanted" List
From: The Fathers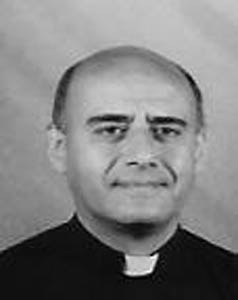 Newchurch Presbyter George Chaanine
1.73 m, 65.9 Kg, Black Hair, Brown Eyes
Wanted by Police for Raping and Beating a Woman on Church Grounds
The Newchurch Clergy Has Sunk So Low as to Use Even Its Churches as Crime Scenes
What next? Newchurch presbyters and bishops have been found guilty of rape, embezzlement, fraud, obstruction of justice, and aiding and abetting crime. Now, it seems, presbyters are resorting to sacrilege. We're not referring to the sacrilege that is implicit in practicing the invalid Novus Ordo service and sacraments. No, we are talking about the use of a supposed "Catholic" church as the scene of the most vile crimes.
Police are searching for a Newchurch presbyter whom they believe fought with, assaulted, and beat up a woman at a Las Vegas, Nevada, church. The police were summoned to Our Lady of Las Vegas church on January 26, 2007, by someone who heard the woman's screams as she ran out of the church. Officers found a church employee there, who said that she had been hit repeatedly by the presbyter with a wine bottle until he finally broke it on her head. He then dragged her by the hair, assaulted her, and attempted to choke her to death. At the hospital she received twenty staples in her skull and had bruising around the throat, head, and knees.
Police locked down the grounds of the church for about an hour while they searched for Chaanine, believing that the presbyter had barricaded himself in a church building with a weapon while children were playing in the area. Nevertheless, the presbyter escaped in a cream-colored 2005 Buick LeSabre with Nevada license plates 732-RRM. If you see his car, call the Las Vegas Metropolitan Police. Authorities warn the presbyter Chaanine could be armed. [Source: Associated Press and local sources]
Good Catholics, shall we tell you how this will end? The fugitive presbyter will be caught in another state or in a foreign country. It will be discovered that, in addition to his other crimes, he has been stealing Newparish money for years. His Newchurch bishop will give him a slap on the hand, and even that light penalty will be disputed by his Newparishioners, who will call him "the best presbyter we've ever had." Newvatican will remain silent and cover up the reality of the crimes.
Good Catholics, it's a pretty old story by now, isn't it? Newchurch by now is so corrupt that, as with the leg infested with gangrene, it is far too late for medicinal remedies, such as silly "indults." No, one can only chop off the leg lest the entire body die.
---

Return to Commentaries from the Mailbox.