January 2007
| | |
| --- | --- |
| | For answers to many questions, consult the Official Traditional Catholic Directory, Listing All Traditional Latin Masses and Traditional Resources for North America, 12th Annual Edition (2007) - January 2007 Monthly Revised Edition. For further information, click on the Official Traditional Catholic Directory department, provided to the TRADITIO Network by the National Registry of Traditional Latin Masses. |
For information about the protocol for sending messages to the Fathers, see Ask the Fathers.
| | |
| --- | --- |
| | If you wish to support the TRADITIO Network's Apostolate, click on the box to the left to made a donation easily, securely, and confidentially by bank account or credit card through PayPal. Regular contributors become Benefactors of the TRADITIO Network, and their intentions are specially commemorated at Traditional Latin Masses offered. Indicate "TRADITIO" in the Payment For field. Using PayPal reduces our administrative burden considerably, but if need to use a paper check, see FAQ01: How Can I Help the TRADITIO Network's Apostolate? |
---
January 31 - St. John Bosco, Confessor
Double Feast
Newvatican's Senior Latinist Says that There Will Be No "New Indult"
From: The Fathers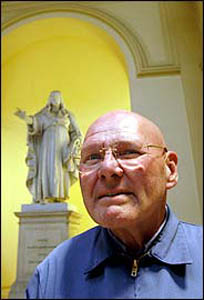 Newvatican's Senior Latininst, Reginald Foster
Who Works Just down the Corridor from Newpope
Announces that the Idea of a "New Indult" for the Modernized Mass of 1962
Is Dead
One of our contacts at Newvatican via a chain of Latin correspondence over the years has been Fr. Reginald Foster, who is now the senior Latinist there at age 68. Among many other Latin projects, Foster made the final translation of Benedict-Ratzinger's only encyclical, Deus Caritas Est, and translated much of the Novus Ordo Catechism into Latin for its official publication as the Catechismus Catholicae Ecclesiae. Sorry to say, although Foster is a fine Latinist, he is Modernist all the way, including being a full supporter of the vulgarized Novus Ordo service.
Among all the babble that has appeared on mindless "blogs" recently about a "new indult" for the Bugninized/Modernized Mass of 1962, Foster's recent interview seems a ray of honesty amid a lot of typical Newvatican puffery to try to wed the indultarians to Newchurch by tying them to a phony "indult" that has legal or enforcement authority. In the interview, Foster announced candidly that that reports that Newpope will issue a "new indult" for the "Indult Mass" are wrong, particularly now since Benedict-Ratzinger desperately wants to avoid more controversies. You see, already Benedict-Ratzinger's papacy is awash in deep controversy because of a 2006 speech in Regensberg in which he offended the Mohammedans and because of his appointment of an archbishop for Warsaw, who was eventually forced to resign after admitting that for over twenty years he had been a spy against the Church for the Communists.
"He [Benedict-Ratzinger] is not going to do it," Foster said. "He had trouble with Regensberg, and then trouble in Warsaw, and if he does this [issue a "new indult" for the Modernized Mass of 1962], all Hell will break loose." Foster argued that the only solution to the decline of Latin was for Newpope to lead by example. "Instead of a siesta, he should announce that from 2 p.m. to 4 p.m. every day he will read Latin at the Vatican. People who come will get assignments. You will be picked on to answer questions, and if you mess up, the pope will make you disappear."
Foster's announcement that talk of a "new indult" is wrong corresponds with the statements of Newchurch Bishop William Skylstad, President of the U.S. Conference of Catholic [sic] Bishops; Newcardinal Jean-Pierre Richard of France, a recent appointee to the Ecclesia Dei Commission; and others. Foster has been candid in the past in admitting that bits and piece of various "draft" Latin documents are "in the computer," but most of them will never see the light of day.
Such a case was the Apostolic Letter Ecclesia Dei itself. This document was quickly patched together from at least three Latin bits, as anyone who reads the official Latin document will see because there are three different Latin styles involved. The only reason that these bits were hastily thrown together and published on June 30, 1988, was that Archbishop Marcel Lefebvre called the hand of Newvatican when he proceed to carry out his consecration oath by appointing four traditional bishops. This action threw JPII and Newvatican into a panic. Thus was issued that curious Apostolic Letter, often erroneously called an "indult," but which was really not an indult at all.
However objectionable Foster's personal views on the Traditional Latin Mass are, he knows Newvatican and how its inner circle works. After all, he's worked in the offices of the Vatican for 38 years, just down the corridor from the pope!
---
January 30 - St. Martina, Virgin & Martyr
Semidouble Feast
A Former KBG Communist Intelligence Agent Now Admits It:
The KGB Was Behind the Character Assassination of Pope Pius XII
From: The Fathers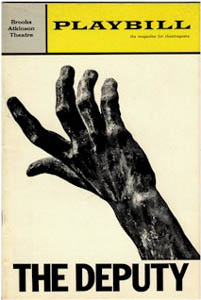 It Now Turns out that the Kremlin and Its Communist KGB Was Behind the Play, The Deputy
Which Started a Smear Campaign against Pope Pius XII in the 1960s
Actually, Pius XII Was an Enemy of Hitler from His First Encyclical
Benedict-Ratzinger is appointing Communist spies as Newchurch archbishops, and now it is coming to light that it was the Kremlin and its Communist KGB (Committee for State Security, the Soviet Intelligence Agency) that was behind the "smear campaign" in the 1960s against the Catholic Church. "The main target was Pope Pius XII," says a former high-ranking officer with the KGB.
You may have wondered why Pope Pius XII, who was highly praised by one and all for his courageous actions during World War II was, suddenly became, in the 1960s, the subject of virulent character assassination. Well, KGB Lt. General Ion Mihai Pacepa, who defected from the former Soviet bloc, recounts how the Kremlin and its KGB designed the deliberate campaign to portray Pope Pius XII "as a coldhearted Nazi sympathizer."
In February 1960, Soviet Premier Nikita Khrushchev approved a super-secret plan for destroying the Vatican's moral authority in Western Europe," writes Pacepa. "Eugenio Pacelli, by then Pope Pius XII, was selected as the KGB's main target, its incarnation of evil, because he had departed this world in 1958, [and] dead men cannot defend themselves." The KGB used against him the fact that Archbishop Pacelli had served as the papal nuncio in Munich and Berlin when the Nazis were beginning their bid for power. "The KGB wanted to depict him as an anti-Semite who had encouraged Hitler's holocaust," says Pacepa.
To do this, the KGB wanted some original Vatican documents to "slightly modify." So they called in Pacepa, who was working for the Romanian intelligence service. The KGB used these documents to produce a powerful play attacking Pope Pius XII, entitled The Deputy. It eventually saw the stage in Germany in 1963, under the title The Deputy: A Christian Tragedy. It deceitfully charged that Pius XII had supported Hitler and encouraged him to go ahead with the Jewish Holocaust. The play ran in New York in 1964 and was translated into 20 languages to smear Pius XII's saintly reputation. KGB chairman Yury Andropov, the unparalleled master of Soviet deception, told Pacepa: "People are more ready to believe smut than holiness."
Pacepa says that the truth has finally begun to emerge. "Witnesses from all over the world have compellingly proved that Pius XII was an enemy, not a friend, of Hitler," says Pacepa. "At the start of World War II, Pope Pius XII's first encyclical was so anti-Hitler that the Royal Air Force and the French Air Force dropped 88,000 copies of it over Germany." [Source: CNA]
---
January 29 - St. Francis de Sales, Bishop, Confessor & Doctor
Double Feast
From: The Fathers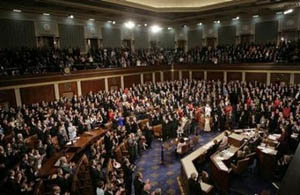 The United States 110th Congress, Whose Speaker Is a Newchurcher
Of the 535 Members, One out of Three Is a Newchurcher
And Six out of Seven Are Christian
Why Is It So Hard to Pass Legislation
In Conformity with Natural Law and Christian Morals?
A survey published by Americans for Religious Liberty finds that Newchurchers hold 155 seats out of 535 in the new 110th Congress of the United States, seated January 11, 2007. That's nearly one out of three. The new Speaker of the House of Representatives is a Newchurcher. If you add the other Christians, that comes to a total of 448 Christians, or 84% of the entire U.S. Congress.
Why, then, is it so difficult to pass legislation that conforms to Natural Law and Christian morals: against abortion, against "gay marriage," etc.? Why is it so difficult even to get legislation against the greatest moral crimes, such as partial birth abortion, which only extremists in the United States advocate?
The answer is simple. These Newchurchers are not really Christian, nor are many of the non-Catholic "Christian" denominations. Their faith is not associated with the Bible, not to speak of Tradition. It is, rather, associated with non-religious, secular, liberalist politics. Senators John Kerry, failed 2004 U.S. Presidential candidate, and Ted Kennedy, participant in the death of a young woman at Chappaquiddick and proud "divorcee," who consistently vote against Natural Law and Christian moral principles, are good examples of this ilk. They do not hesitate to grab the Novus Ordo cookie for a photo opportunity, nor does Donald Wuerl, the new Newchurch archbishop of Washington, D.C., hesitate to give the invalid cookie to them.
We wonder whether it ever occurred to this ilk, which dares to call itself Christian, that if they actually represented Christian morality, they have control of congress to enact the most far-reaching moral programme ever attempted? But with Benedict-Ratzinger their nominal head, a conciliar pope who advocates Modernist/Liberalist policies himself, there isn't much difference any longer between the U.S. Congress and Newpope.
---
January 28 - Fourth Sunday after Epiphany
Semidouble Feast
Protestant and Masonic, Yes, but Why Is the Novus Ordo "Pagan"?
From: The Fathers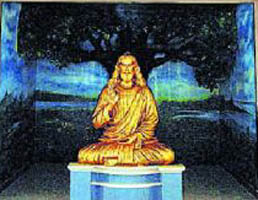 On January 27, 2007, Stanley Roman, Newchurch Bishop of Quilon, India
Will Perform the Invalid Novus Ordo Service Seated as Buddha
And Bless This Statue of Christ as Buddha
The Novus Ordo service is described as Protestant, Masonic, and pagan. Most can see how it is Protestant, as being similar or identical to Episcopalian and Lutheran services, and how it is Masonic, as being based on the principles of Freemasonry and fabricated by the Freemason Hannibal Bugnini, who was personally congratulated for his work in a letter of July 14, 1964, penned by the Masonic Peerless Grand Master of Rome:
Dear Buan,
We inform you of the task that the Council of Brothers has established for you in agreement with the Grand Master and the Princes to the Throne, and we charge you ... to spread de-Christianization by confusing rites and languages and to set priests, bishops, and cardinals against each other. Linguistic and ritualistic babble means victory for us, since linguistic and ritual unity has been the strength of the Church.... Everything must happen within a decade.
But how is the Novus Ordo pagan? Yes, pagan. Surely the October 27, 1986, episode of the Buddha being placed above the tabernacle at Assisi, the hometown of St. Francis, when JPII was attending an "oecumenical" conference there, is etched into the brain of every true Catholic. Such paganizing of Catholicism, which has been rejected time after time by popes and councils, is now being pushed with full force by Newchurch and its Newpopes.
For example, on January 26, 2007, Newchurch bishop Stanley Roman, of Quilon, India will perform the invalid Novus Ordo service "seated in [the Buddhistic] padmasanam posture" to declare open a meditation centre. In front of the centre, designed in the form of a Hindu temple, is a statue of Christ as Buddha. For the pagan Buddhists, the sitting posture represents enlightenment and symbolises a pagan "guru." The pagan statue will be "blessed" by the Novus Ordo bishop when he performs the "Mess" there.
How does Roman get away with this, you ask? Why, it's all part of that unCatholic error introduced at Vatican II called "inculturation": all gods are equal, all cultures are equal, Christian and pagan alike. Newvatican and Newpope love it! After all, if Benedict-Ratzinger can pray in the Blue Mosque in the posture of a Mohammedan, why shouldn't Roman pray like a Buddhist! [Source: The Hindu]
---
January 27 - St. John Chrysostom, Bishop & Doctor
Double Feast
Why Is Newchurch in a Rush to Judgment to Make Modernist "Saints"?
From: The Fathers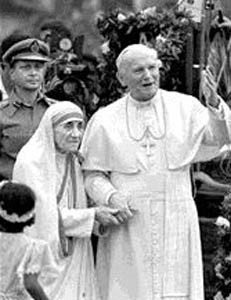 Mother Theresa and JPII
Newchurch Wants to Make Them Novus Ordo "Saints"
Before Their Backgrounds Can be Fully Vetted
Like Stanislaw Wielgus, the Communist Spy Archbishop
They Have Skeletons in Their Closets that Should Take Centuries to Investigate
Why does Newchurch seem to be in such a hurry to declare Novus Ordo Modernists as "saints"? Traditionally, it takes centuries for a true Saint to be vetted. The evidence of the candidate's life and writings, together with the attestation of several unquestioned miracles, are sifted through over and over again, with a fine-tooth comb, not just by one generation, but by many.
Given recent revelations, the answer appears to be that Newchurch is afraid that unless it acts fast, damning information will come out against its candidates. Mother Theresa has been accused by witnesses of compromising with pagan Hinduism in her religious activities. The Newchurch investigators refuse to look into it. Mother Theresa's "miracle" has been disputed by her physicians, who say that the "miracle" was easily explained by the action of the anticarcinogenic drugs that the patient was being given.
While JPII the Non-great is being pushed as the poster-boy Novus Ordo "saint," the Newchurch investigators will not touch his criminal complicity in aiding and abetting by cover-up the Great Sex & Embezzlement Scandal that began with JPII and continues to rage through Newchurch. Now, with documents from the Soviet regime in Poland becoming public, will the Newchurch investigators dig deeply into the preliminary evidence that JPII cooperated with the Communists or covered up with silent complicity the Communist collaboration of an estimated one out of seven of his priests? Of course not. That wouldn't be good P.R.
Newchurch is desperate to justify itself. The years since Vatican II (1963-1965) have flopped. The "New Mass" now draws fewer than 3-15% of Newchurchers on a Sunday. Newchurch "theology" is so obviously unCatholic that it is a laughing-stock. Newchurch morals are at a nadir, as the Great Sex & Embezzlement Scandal continues unabated and has ensnared even Newvatican officials and Newpope himself. Newchurch desperately needs Modernist saints like Theresa and JPII to boost its P.R. image and justify itself. They don't have to be Catholic -- just popular with the unCatholic press and people. Mother Theresa and JPII fit that bill. Catholics suspect that they were Cinos (Catholics in Name Only); agnostic and atheistic secularists love them.
To the contrary, Almighty God blessed the work of the dogmatic council of Trent (1545-1563) by sending literally a flood of Saints to carry out the Council's decrees throughout the Church and the world, elevating the lives of the Catholic clergy and people. Among these Saints were Pope St. Pius V, St. Philip Neri, St. Peter Canisius, St. Teresa of Avila, St. John of the Cross, St. Francis de Sales, St. Jane, and St. Vincent de Paul. As for Vatican II, Pope Paul VI hit the nail on the head when he called that pastoral council "a day of clouds and storms, of darkness, of searching and uncertainties" (June 29, 1972, Sermon during the Mass for Sts. Peter & Paul, on the occasion of the ninth anniversary of his coronation).
As you watch how this Newchurch P.R. charade play out, remember that in 1983 JPII, to his own advantage apparently, gutted the very careful age-old process of investigating candidates for sainthood. The role of the Advocatus Diaboli (Devil's Advocate) was eliminated, and the number of meticulously-substantiated miracles to practically nothing. The new norms eliminated any way that objections could be freely and fairly raised and allow the postulator (who is appointed by the petitioner for the cause) to present the case both for and against the candidate. In other words, one man may act as both lawyer for the plaintiff and defendant, but is in fact appointed by the plaintiff!
Now JPII has been dead for -- what? -- less than two years. Even the saintly Pope Pius X had to wait an unprecedentedly-short forty years for canonization. St. Joan of Arc had to wait 500 years. Now, according to Newvatican reports, Newchurch is going to "create" JPII the Non-great a "saint" in less than five years, as it tries to accredit three new "miracles"? Newchurch is really desperate, good Catholics. Thank the Lord that these Newchurch "canonizations" are putatively invalid. For further information, see FAQ10: How Do You Explain These Traditional Catholic Beliefs in the TRADITIO Network's Library of Files (FAQs & Traditional Apologetics) in the article "Canonizations - Post-conciliar."
---
Pray the Rosary with Your Underwear
From: The Fathers
Another example, if one were needed, of how Newchurch is being spurned by the popular culture to which it panders is the announcement by the Niki lingerie company of Paris that it is launching the "Rosary Collection" in stores worldwide this February 2007. The couture lingerie collection comes with a "Swarovski crystal and Czech glass Rosary necklace that can be suspended from the straps, the chastity belt, or worn separately... with jeans or dressed up, over or under clothes."
The "Rosary Collection" includes a "balconette multi-way/strapless bra, chastity belt and knickers with removable Rosary jewelry." The designer, Niki McMorrough, told the press: "The Rosary is an age-old symbol of purity and peace, used for centuries by people seeking instant redemption. I couldn't think of a better place to put one than on this devilishly decadent bra." The "Rosary Collection" can be ordered in either Heavenly White or Devilish Black. [Source: PRWEB]
---
January 26 - St. Polycarp, Bishop & Martyr
Double Feast
Complete Friday Abstinence
Benedict-Ratzinger's Papacy Already Stymied by In-fighting
He Is Said to "Play the Piano while Newrome Burns"
From: The Fathers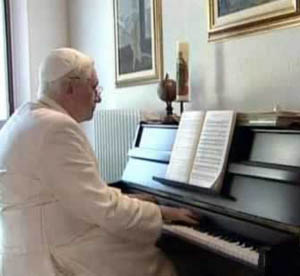 Newpope Has Become So Isolated and Powerless
That He Spends Most of His Time Alone in His Study Writing and Playing the Piano
While Newrome Burns with In-fighting
All Hell, as it were, has broken loose at Newvatican since Benedict-Ratzinger appointed a known Communist spy to be Newchurch archbishop of Warsaw, who was forced by the Polish people to resign the day after he was installed. Archbishop Wielgus was exposed by documents unearthed at the Poland's National Memorial Institute as an agent for Poland's Communist Secret Service for decades and as having twice attended its spy school. Responsibility for the appointment rests directly upon Benedict-Ratzinger, who personally had passed over six other candidates to select Wielgus and publicly admitted that he knew Wielgus had serious skeletons in his closet.
But there is more to the story. This crisis has had the consequence of exposing to the public deep divisions within Newvatican, which insiders say have left Newpope increasingly isolated and powerless. Add to that the fact that he has no plan and refuses to make controversial decisions, his papacy is already becoming a footnote in papal history. According to the Italian newsmagazine Panorama:
Benedict does not have a decisive temperament and must take into account his age. The initiatives that he has taken are meeting with much resistance. For months, Benedict appeared isolated, closed up in his study polishing his speeches, writing his book Jesus of Nazareth, to be published in April, or playing the piano.
Newvatican also became a laughing stock in all Italy when Tarcisio Bertone, Benedict-Ratzinger's new Secretary of State since September 2006, announced that the Vatican could field a soccer team in Italy's first division! It seems that the Newchurch Curia's attention these days is more on sports than religion, while Newrome burns.
Newpope, who was JPII's "enforcer," has displayed an incapacity for the leadership of Newchurch. He isolates himself from his Curia and eats out only at the home of his former secretary, Monsignor Josef Clemens. [Source: The Washington Times]
---
Benedict-Ratzinber Hankers after Communist Chinese
From: The Fathers
Benedict-Ratzinger is pushing recognition of Communist China, which kills its presbyters and nuns in public, persecutes its "underground" Church, and supports the schismatic Patriotic National Church. According to Asia News, the last months have seen 20 arrests of Newchurch presbyters, as at least 17 "underground" bishops have disappeared, been arrested or detained in isolation.
Why is Newpope so eager to unite with the Communists of late? It appears that since Newchurch attendance is tanking in Europe and the Americas, the billion inhabitants of China are viewed as a possible replacement, even though most of them are atheists. One of Newpope's most outspoken opponents on the issue is the Newchurch cardinal of Hong Kong, Joseph Zen, who has publicly spoken out against the pope for remaining silent while the PNC consecrates more and more schismatic bishops.
In July 1944, a decree from the Holy Office excommunicated for apostasy Catholics who "profess the materialism and anti-Christian doctrines of the Communists." Diplomatic relations between Beijing and the Vatican were broken in 1949, when the officially atheist Communist government took over in a revolution. In 1951 Communist China's ruling party ordered China's Catholics to sever ties with Rome.
Newvatican has said that it is ready to abandon democratic Taiwan to play up to Communist Beijing. The Communist PNC consecrated three schismatic bishops in 2006 alone, but, contrary to the case of traditional Archbishop Marcel Lefebvre, Newpope has expressed only "great sorrow" without imposing any penalty. [Source: Associated Press]
---
January 25 - The Conversion of St. Paul, Ap.
Double Major Feast
Newchurch Embezzler-Pastor Remains a "Priest [sic] in Good Standing"
From: The Fathers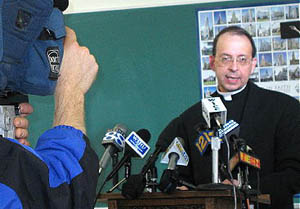 Newchurch Bishop William Lori, of Bridgeport, Connecticut, Again on the Hot Seat
Tries to Explain How One of His Presbyter-Pastors Let Half a Million Dollars "Go Missing"
While the Benighted Newchurchers in the Parish Defended the Embezzler!
How serious a crime does a Newchurch presbyter have to commit in order to be expelled? Apparently, half a million dollars isn't nearly enough!
Presbyter Michael Moynihan, pastor of St. Michael's Newparish in Greenwich, Connecticut, got off with merely resigning from his position, after a preliminary financial audit uncovered more than $500,000 unaccounted for. William Lori, Newbishop of Bridgeport since January 2001, declared that in spite of the embezzlement, Moynihan remains "a priest [sic] in good standing." Moynihan shares that distinction with the thousands of other presbyter-embezzlers and presbyter-rapists, whom Newchurch refuses to expel and punish according to the gravity of their crimes.
Lori himself has been involved in several embezzlement scandals of his pastors. For example, in 2006 a scandal broke involving Michael Fay, former pastor of St. John Newparish in Darien. Fay was accused by police of spending $1,400,00 in parish funds over six years, some of it to buy gifts for a man who was his paramour. The record shows that Lori is a incompetent nincompoop, who should be offering his own resignation. Naturally, Benedict-Ratzinger wants to keep him on, nevertheless.
Moynihan used Newparish funds as his own personal finances and kept at least two "off-the-books" bank accounts, which only he knew about and had control of. About $1,400,000 in transactions passed through one account -- half a million of which auditors cannot account for because checks were used to pay for some of Moynihan's personal credit cards and, in some cases, were made out simply to "Cash."
Lori is certainly not the only nincompoop in Bridgeport. In spite of the fact that Moynihan had apparently bilked them of half a million dollars, several benighted parishioners defended the embezzler and were critical of Lori's decision to ask for Moynihan's resignation. Several other parishioners left the church crying and upset, saying that the Newchurch diocese had mistreated Moynihan. [Source: Hartford Courant]
The support by pew Newchurchers of their pastors who rape their children and embezzle parish money is nothing less than diabolical. These are the same people that routinely call presbyter-rapists and embezzlers "the best presbyters we ever had." Don't feel sorry for these bedeviled Newchurchers. They deserve everything they get. They are not innocent bystanders. They are aiding and abetting criminals and should be "cast out into the exterior darkness: there shall be weeping and gnashing of teeth" (Matthew 8:12/DRV).
---
Nothing Has Changed: Newchurch Continues to Cover up for Presbyter-Rapists;
Censors a PBS Report on Newchurch's Ongoing Great Sex & Embezzlement Scandal
From: The Fathers
"Keep them ignorant." That's the philosophy Benedict-Ratzinger and his Newchurch minions employ to allow the Great Sex & Embezzlement Scandal to continue unabated. Most recently a television station owned by the Newchurch diocese of Brownsville, Texas, censored the Public Broadcasting Service's Frontline investigative report The Hand of God because the program reported on Newchurch's sex scandal. The station instead repeated the previous week's program.
To cover up the censorship, the Newchurch station lied to its viewers, claiming that the program did not air because it was not provided to the station on time. However, Carrie Johnson, senior director of Prime-time Publicity for PBS Media Relations in Washington, D.C., said that the episode was fed to the Newchurch station in the standard manner. [Source: Associated Press]
---
When Was Newchurch Baptism Introduced?
From: Ken
Dear Fathers:
Someone told me that a significant portion of the traditional rite of Baptism was said in the vernacular rather than Latin. Was this a standard practice in the early 20th century?
The Fathers Reply.
No, it wasn't. The Freemason Hannibal Bugnini introduced a little of the vulgar tongues optionally in 1954 as part of the ramp-up to the New Order. For Newchurch the Bugninized/Modernized rite of Baptism is now entirely different from the traditional form. The introduction of the vulgar tongues into the Sacraments made it possible for Newchurch to change the nature of Baptism to a fraternity "initiation" having nothing to do with the remission of Original Sin, which is a concept detestable to the New Order.
You may recall that Newchurch recently tried to "do away with" Limbo. It had already de facto eliminated Hell and Purgatory. As far as Newchurch is concerned, there is no Original Sin, or any sin at all, for that matter, unless it is the Environmental Sin of Global Warming. Newchurch might just keep a little bit of Hell open for the perpetrators of that fictional sin!
---
January 24 - St. Timothy, Bishop & Martyr
Double Feast
Benedict-Ratzinger Revokes "Indult"
From: The Fathers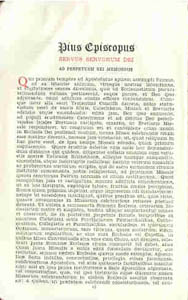 "Indults" Are Merely Temporary, Revocable Privileges
The Bull Quo Primum Confirms in Perpetuity the Right and Obligation
Of All Catholics to Use the Mass of Apostolic Tradition
Called the Mass of St. Peter, Commonly Known as the Traditional Latin Mass
Here's a case that just proves the point that the TRADITIO Network has been making about the notion of a phony "new indult." Indults are not rights; they are merely temporary "privileges," dependent entirely upon the will of the one giving the temporary privilege. Now Benedict-Ratzinger has revoked the indult to allow the Novus Ordo "extraordinary ministers" to clean the silverware (though these days it's more often glass or ceramic); lay deacons will do it now. Big deal, as the invalid Novus Ordo cookie will still be given in the hand unabated, and the Newchurchers will still slurp their grape juice and germs from the "cup." [Source: CNS]
But Newpope has made his point: "indults" can be revoked at any time, for any reason -- or no reason at all, simply ad nutum papae. "Indult" Mass sycophants take note: any Newchurcher who puts his eggs into the basket of a "new indult" for the Bugninized/Modernized "Mass of 1962" is being played for a fool.
---
Changing a Couple of Words Will Not Make the Novus Ordo Mess Valid
From: William
Dear Fathers:
I read on the TRADITIO Network that the Novus Ordo officials in the United States have decided not to change the English "translation" of the "consecration" to "for many" after all. What effect does this effect have on the validity of the Novus Ordo service?
The Fathers Reply.
The Novus Ordo service, in any version, is unCatholic, sacrilegious, irreverent, scandalous, blasphemous, idolatrous, and conclusively invalid, because it fails to meet one or more of the three criteria established in Catholic dogmatic and sacramental theology for a valid Mass and most cogently in Pope Leo XIII's Apostolic Letter Apostolicae Curae. The Novus Ordo service fails the Catholic sacramental tests of validity even more clearly than the High Anglican service to which the pope was originally referring. For further information, see CURAE.TXT: Apostolic Letter Apostolicae Curae [On the Nullity of Anglican Orders], Given by His Holiness Pope Leo XIII in the TRADITIO Library of Files (FAQs and Traditional Apologetics).
The Novus Ordo service is, therefore, invalid anyway -- for 1001 reasons other than just the "translation" of a couple of words -- because the essence of the service is not a Catholic and Apostolic rite, but essentially a Protestant service fabricated by the Freemason Hannibal Bugnini. What many have missed in the announcement was the fact that Newchurch itself never admitted that the old "translation" was wrong and that the new "translation" corrected the error. If it had admitted that, then, according to the principles of Catholic sacramental theology, the pope would have had to decree that all the millions of Novus Ordo services since 1967 would have to be re-performed, as otherwise the beneficiaries of the services would be cheated of the graces of a valid Mass.
So, what Newrome has spoken is not that there was anything wrong with the old "translation," but that a new "translation" was being substituted (and now, it turns out, not even that) and that this new "translation" can be changed again at any time in the future. The 1001 other invalidating factors in the New Order service were not touched. The only Mass that is valid (outside a few small Apostolic Eastern rites) is the Catholic and Apostolic Traditional Latin Mass (not just any Novus Ordo "Latin Mass"), which, in all its essentials was passed on by St. Peter, the first pope, to the Church.
---
January 23 - St. Raymond of Pennafort, Confessor
Semidouble Feast
Is Benedict-Ratzinger Planning a Deal with the Communist Chinese?
From: Peter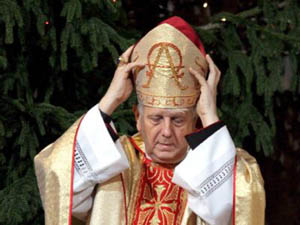 Stanislaw Wielgus, Forced to Remove His Mitre and Resign
When the Polish Press Exposed What Benedict-Ratzinger Already Knew:
His Appointee for Newchurch Archbishop of Warsaw Had Been a Communist Spy
Wielgus Is Available for Benedict-Ratzinger to Appoint
As Newchurch's Communist Archbishop of Beijing
Dear Fathers:
It has been reported that the Newrome Curia will soon meet to discuss how Newchurch can move forward and make a deal with the Communist government of China. The solution is obvious.
First, Benedict-Ratzinger can appoint as the Newchurch archbishop of Beijing the former archbishop of Warsaw, Stanislaw Wielgus, who resigned on January 7, 2007, when it became public knowledge what Benedict-Ratzinger already knew, that Wielgus had been a Communist spy against the Church for more than twenty years. His credentials both as a Communist and as a Newchurcher are impeccable!
Second, Benedict-Ratzinger can appoint as the new Papal Nuncio to Communist China, Claudio Hummes, a Brazilian Newcardinal of Marxist tendencies, whom Benedict-Ratzinger recently appointed his Prefect for the Clergy.
Together, a "reconciliation" with Communism could be made so that Wielgus and Hummes would convert the Novus Ordo underground" Church to the principles of Marxism. The schismatic Patriotic National Church is already Communist, so its members could be swooped up too. That way Newchurch can have "peaceful co-existence" atheistic Communists, which has martyred so many of the faithful.
The Fathers Reply.
It is becoming clearer and clearer why Benedict-Ratzinger tried to appoint a Communist spy as Newchurch archbishop of Warsaw. Since Benedict-Ratzinger is collaborating with Communists, will he be honest enough to impose upon himself the excommunication that which has been the penalty for such collaboration since 1944?
---
Crime Rate Soars in Vatican City
From: The Fathers
The top crime neighborhood in the world isn't in Sao Paulo or Lagos. It's not the Bronx in New York, or even Wedding in Berlin. It's the small city ruled by Benedict-Ratzinger, which sees more criminal cases per capita than any other part of the world.
Newvatican's attorney general Nicola Picardi released the astounding statistic: the crime rate in the Vatican City State is 1.5 cases per person -- twenty times the corresponding rate in Italy. By this measurement at least, crime is soaring in Newatican in spite of a security force that would put a police state to shame. The seat of the Catholic Church has one Swiss guard for every four citizens, not to mention museum guards and police assigned to Newvatican by Italy.
And what is the response of Benedict-Ratzinger, himself under subpoena for possible crimes in the Great Sex and Embezzlement Scandal, to his soaring crime rate? In a speech to Newvatican security personnel, he didn't have a clue. "Let us pray," is all he could say, "for the maternal protection of the Virgin Mary." [Source: Reuters]
---
January 22 - Sts. Vincent & Anastasius, Martyrs
Semidouble Feast
Newchurch Takes Steps to Burn Its Members to a Crisp
From: The Fathers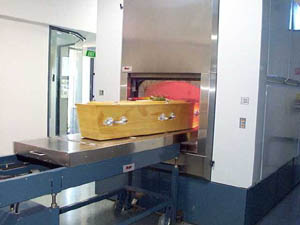 Since after Vatican II Newchurch Has Been Pushing Cremations
A Practice Associated with Pagans and Freemasons
Even the Romans of the Republic Had Enough Morality Not to Burn Bodies
The pagans do it. The Freemasons do it. And now Newchurch is doing it. Cremation has long been associated in the Catholic Church with pagan customs (the ancient Romans customarily burned their dead during the most corrupt period from the late Republic to the mid fourth century) or with the denial of the Resurrection. Cremation became popular around the time of the 18th-century "Enlightenment," when it was advocated by atheists and agnostics as a visual symbol of the denial of the soul's existence. Traditionally, anyone who directs that his body be given over to cremation is to be denied ecclesiastical burial.
The Christian custom of burial of the dead, and not cremation, dates back to the time of Christ. In the New Testament, given that Our Lord's body was not cast into flames, even though He died under the hands of the Romans, we have the most fundamental example of respect for the body by burial that could be learned. Christ, Our Lord and Master, was not cremated, so neither should we allow ourselves this practice. Given how this practice has been perverted even further in modern society, one sees the traditional wisdom of the Church. It is bad enough that the temple of the Holy Ghost be burned to a crisp, but it is even worse when the ashes aren't even buried or inurned, but instead tossed out in the garden, in the ocean, in the forest, etc.
No matter. Despite the Catholic Church's condemnation of cremation (except in cases of necessary, such as plague or war), the Metuchen, New Jersey, Newchurch diocese will break ground January 17, 2007, on the first crematorium in the United States to be built by a diocese. Newchurch bishop Paul Bootkoski says that the furnace will start burning up Newchurchers by the end of 2007. "It is the wave of the future," he says. He expects that by the end of 2025, if he is still around, he will be burning up 50% of his Newchurch parishioners. Because cremation is so lucrative, the diocese expects the chared bodies of nuked Newchurchers to provide financial support for it New Order programme. The diocese will also be happy to burn the bodies of heretics and pagans to gain more filthy lucre.
Newchurch has gone pagan with the rest of society. Until 1997, it allowed cremations to take place only after a Novus Ordo "Resurrected Mess." Since then, a Novus Ordo service can use "burnt offerings." In fact, the Newchurch diocese will have a special viewing area, where family members can watch their "loved one" be shoved into a furnace before their very eyes! [Source: Star Ledger]
For further information, see FAQ10: How Do You Explain These Traditional Catholic Beliefs in the TRADITIO Network's Library of Files (FAQs & Traditional Apologetics) in the article "Cremation & Traditional Funeral Instructions."
---
Newchurch Requires Voter-card to Get the Novus Ordo "Cookie"
From: The Fathers
The TRADITIO Network has reported before that the Newchurch of the New Order is not a religion but a political party. Its bishops rarely mention religion, but tell secular politicians how to run countries. In his Angelus address Newpope doesn't address religious issues, but tells people not to violate secular speeding laws. Now a Newchurch diocese has taken this political bent one step further. Newchurchers can't get the invalid Novus Ordo cookie unless they produce their voter-cards!
A Newchurch diocese in Nigeria has instructed parishioners to show they have registered to vote in the April 2007 elections or forsake the right to get the cookie. Many Nigerian Newchurchers don't vote because of Nigeria's long history of poll rigging. Now all that remains is for political Newchurch potentates to tell Newchurchers how to vote. And don't think that they won't! [Source: Reuters]
---
January 21 - Third Sunday after Epiphany
Semidouble Sunday
Washington's New Newchurch Archbishop Won't Get Rid of Non-Catholic "Catholic" Politicians
From: The Fathers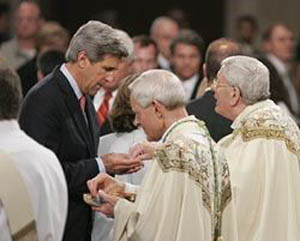 Donald Wuerl, Who according to Newvatican, Failed Canon Law
Hands the Invalid Novus Ordo Cookie to Pro-abortion 2004 U.S. Presidential Candidate Kerry
At Wuerl's Inaugural Service as the New Newchurch Archbishop of Washington, D.C.
And you thought that the Newchurch archbishop of Washington, D.C., Theodore McCarrick, was bad when on several public occasions he offered prayers to Allah. Now he's out, retired, and Benedict-Ratzinger selected Donald Wuerl to replace him. You remember Wuerl. Newvatican sent him a letter, which became public, telling him that his ignorance of canon law was an embarrassment and that he'd better go back to school!
Wuerl has now made it clear that politicians can call themselves "Catholic" and not be held to any Catholic standards. Both failed 2004 U.S. Presidential candidate John Kerry and Senator Ted Kennedy, both pro-abortionist radicals, have received personal handshakes in Wuerl's "entrance procession" and the Novus Ordo cookie from Wuerl's hands. If Kerry and Kennedy want to exercise their First-Amendment rights, fine, but they should be honest enough not to call themselves "Catholics," and, if they do, Wuerl should ban them from Newchurch functions, such as the Novus Ordo service and its cookie.
Now Washington boasts another prominent errant "Catholic": new U.S. House of Representatives speaker Nancy Pelosi, of San Francisco. Pelosi has come out publicly in favor of abortion and the use of the aborted foetuses for stem cell research, as well as "gay marriage." Yet the ever-political Pelosi toured the Italian district of San Francisco and portrayed herself as an Italian "Catholic" mother. Newpope will do nothing about such cases. In fact, he allowed a presbyter to run for the Canadian parliament on a pro "gay marriage" platform!
When a reporter asked Wuerl: "Will you issue a statement to your priests [sic] and deacons, I'm sorry, to priests and deacons, to warn them not to allow her to receive if she presents herself for communion [sic]?," Wuerl's answer was: "You're talking about a whole different style of pastoral ministry. No thank you."
In 2004, as the U.S. Newchurch bishops were discussing the matter of handing out the Novus Ordo cookie to pro-abortion politicians, Pelosi told the media that she would continue to grab the cookie despite her pro-abortion position. She went so far as to call her scandalous pro-abortion stance "consistent with my Catholic upbringing." Even McCarrick came out of the closet during the week of January 8, 2006, to support his successor Wuerl. In comments to the Catholic News Service last week, Cardinal McCarrick said that he considered Pelosi, "a very thoughtful and committed defender of human rights." With "bishops" like these, no wonder Newchurch isn't Catholic! [Source: HLI]
---
January 20 - St. Fabian, Pope & Sebastian, Martyrs
Double Feast
Bruskewitz "Reinvents" Vatican II and Calls It "Binding"
From: The Fathers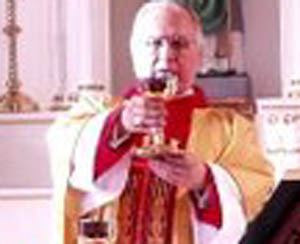 "For All": Newchurch Bishop Fabian "Phony" Bruskewitz, of Lincoln, Nebraska
Performs the Novus Ordo Protestant-Masonic-Pagan Service
Bruskewitz Poses as a "Conservative" but Defends Modernist Vatican II as "Binding"
Pope Paul VI Was More Accurate to Call It the "Smoke of Satan"
The Modernist pastoral council Vatican II (1963-1965) is broken. It can't be fixed -- but it can be reinvented with historical revisionism. And who is a better advocate of the "Real Vatican II" fraud than Fabian Bruskewitz, Newchurch bishop of Lincoln, Nebraska, who, posing as a "conservative," is actually a flaming Modernist/liberalist, pigging out at Masonic picnics and lending his cathedral for Protestant "consecrations"? His diocese has been reported to be "oozing with Pentecostalism, Oecumenism and Polka Masses [sic]." He has refused to implement the national guidelines to prevent Newchurch children from being raped by his presbyters.
According to Bruskewitz, Vatican II wasn't evil, just "misinterpreted." That's like saying that abortion isn't evil, just "misguided." He gives the raspberry to traditional Catholicism and Archbishop Lefebvre, who was courageous enough to call Vatican II the evil that it was. Bruskewicz, a sworn proponent of the New Order, retorts: "It is a necessary task to defend the Second Vatican Council against Msgr. Lefebvre as valid and as binding upon the Church."
Bruskewitz can try to reinvent Vatican II all he wants, but his own pope, Paul VI, consigned it to oblivion a decade after it adjourned, calling it the "smoke of Satan." Paul VI certainly hit the papal nail on the head with that piercing truth! For further information, see FAQ08: What Is the Authority of Vatican II? in the TRADITIO Network's Library of Files (FAQs & Traditional Apologetics).
---
Is Fellay Still Playing Stooge to Benedict-Ratzinger?
From: The Fathers
So now Bernard Fellay, Superior General of the Society of St. Pius X (SSPX), has turned over a "spiritual bouquet" to Benedict-Ratzinger. This act has already been condemned both inside and outside the Society as a political charade. One wonders just how many of those rosaries will actually be prayed, and how many will end with the clicking of a button on the internet!
Moreover, we hear that Newrome sent a letter of congratulations to Fellay for being re-elected as SSPX Superior General in July 2006. Why would Newrome send a letter of congratulations to the bishop of a group whom it considers "schismatic" or "irregular"? It sounds ominously like the letter that the Freemasonic Worshipful Master of Rome sent to Hannibal Bugnini, the Chief Architect of the New Order, congratulating him for his work on behalf of the New Order. Fellay has already sold out to the Modernist Newchurch that his consecrator, Archbishop Lefebvre, condemned when Fellay referred to "permission to say the Tridentine Mass."
Fellay is wrong on two counts. Firstly, he is wrong in referring to "permission" purportedly needed from the Newchurch of the New Order to say the true Mass. Roman Catholic priests have that right, in fact the obligation, to celebrate the true Mass, given them from Sacred Tradition and formally canonized in perpetuity by the dogmatic Council of Trent and Pope St. Pius V. Secondly, Fellay is wrong in referring to the "Indult" Mass as the "Tridentine" Mass. The Bugninized/Modernized Mass of 1962, supposed used for the "indult," is only by a pretty far stretch to be termed "Tridentine," as it incorporates the Freemason Bugnini's Modernist "changes" implemented from 1950, 1956, 1960, and 1962. For further information, see the Traditional Latin Mass, Divine Office & Sacraments department of TRADITIO for "The Road into the Black Hole of the New Mass."
But that is not the whole story. The "Indult" Mass has become in most places no longer even the "Mass of 1962." It is a hybrid, to one degree or another, of the Bugninized/Modernized Mass of 1962 with the Novus Ordo Protestant-Masonic-Pagan service:
using the vulgar (vernacular) tongues instead of the Sacred Latin at Mass
mixing in elements of the invalid Novus Ordo service
using the new calendar, the new lectionary, or the new rubrics of 1964 or later
giving communion in the hand
using lay "ministers" and "ministresses"
using "altar girls"
enforcing standing rather than kneeling at the Canon or to receive communion
eliminating the traditional Collect prayers and the Leonine prayers
transferring or eliminating traditional holydays
holding Saturday "anticipated" services for Mass on the Lord's Day
virtually abolishing the traditional Eucharistic fast and traditional days of fast and abstinence
Fellay has hitched himself to a falling star. Why would anyone who calls himself a Catholic bishop want to unite himself to Fr. Ratzinger, the man who personally introduced false oecumenism at Vatican II? To Cardinal Ratzinger, who personally covered up tens of thousands of rapes of Newchurch children by Newchurch officials? To Pope Benedict-Ratzinger, who knowingly appointed a Communist spy against the Church to the position of archbishop, until the people threw the appointment back in his face.
If Fellay doesn't watch the birds with whom he flocks, his feathers will be steeped in the theological and moral mire into which his New Order friends have already sunk. "They beat upon that house, and it fell, and great was the fall thereof" (Matthew 7:27/DRV).
---
Watch out for This Scam?
From: Bob
Dear Fathers:
I have received twice now requests for donations from some "Monsignor" who is "Rome Project Director" for "One Million Latin Mass Missals." His goal is to raise $500,000 for printing Latin Missals to be distributed. I believe that a "new indult" is not forthcoming and deceptive. He makes no mention of what "Latin" rite is to be printed -- Novus Ordo, "indult," or (unlikely) Traditional. I believe this to be another New Order scheme. It would be wise to alert traditional Catholics.
The Fathers Reply.
There seem to be endless money-raising schemes for the Indult and/or Novus Ordo. You can spot them easily. They usually involve expensive mailings, invoke the pope's name, and are, as you say, vague about the details of how the money is to be spent. All too many traditional Catholics pay into these "pie in the sky" schemes uncritically and end up supporting the New Order unawares. Beware!
---
January 19 - Sts. Marius & Companions, Martyrs
Simple Feast
Complete Friday Abstinence
Benedict-Ratzinger "Angry and Isolated" as a Result of Communist Spy Scandal
"He Didn't Stand up to the Nazis, and He Doesn't Expect Others to Be Courageous"
From: The Fathers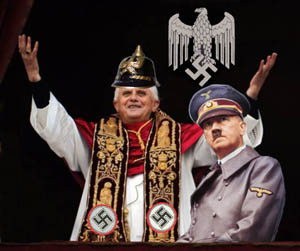 A European Political Cartoon of Benedict-Ratzinger as Nazi Collaborator
After His Appointment of a Communist Spy to Be Archbishop of Warsaw
The Roman Press Is Beginning to Wonder Whether the German Pope Is "Soft on Communism"
Because He Doesn't Want to Face His Own Collaboration with the Nazis
As a Self-admitted Member of the Hitler Youth Army
The Roman press reports that Benedict-Ratzinger feels "isolated" by the fury of criticism against him for knowingly appointing long-time spy for the Communist Secret Service to be installed as Newchurch Archbishop of Warsaw on January 6, 2007. Benedict-Ratzinger is also described as being "angry" that public outcry forced his appointee, Stanislaw Wielgus, to resign the day after his installation. The President of Poland, an outspoken anti-Communist, who was present in the cathedral, stood up and applauded Wielgus's resignation. Benedict-Ratzinger, who, in spite of knowing Wielgus's background, appointed him anyway, and gave him a full-throated public endorsement, at the same time that his officials in Warsaw had confirmed through documents in the state archives Wielgus's Communist collaboration over a period of twenty years after Vatican II.
Of course, Newchurch is too dishonest to call a spade and spade and demand Newpope's resignation, as would happen in any civilized country in the world. Instead, Benedict-Ratzinger has apparently determined to make Cardinal Giovanni Battista Re, Newchurch Prefect of Bishops, to be the fall-guy for Newpope's brazen invalid appointment, because under Church law since 1944, Wielgus is automatically excommunicated on the ground of Communist collaboration and is automatically deposed from holding Church office.
Re was caught in a lie to the press, when he said that Benedict-Ratzinger was ignorant of Wielgus's background as a Communist spy, even though Newpope admitted publicly that he had appointed Wielgus with "full confidence" in spite of "all his life circumstances, including those connected with his past," apparently referring to Wielgus's twenty-year portfolio as a Communist spy against the Church. In fact, Benedict-Ratzinger personally overruled the terna, the list of three nominees furnished by his Newchurch officials in Warsaw and appointed the spy Wielgus motu proprio.
Newvatican insiders say that the German pope, who was himself a member of Hitler's Youth Army, has been badly damaged by the latest of many scandals to hit his papacy in just two years. The international press is again speculating whether Ratzinger himself spied for Hitler and, as a result, is willing to forgive outrageous behavior in other clergy. "Ratzinger is not a courageous man," said one Roman insider. "He didn't stand up to the Nazis, and he doesn't expect others to be courageous."
---
Benedict-Ratzinger Appoints Another Liberalist/Modernist, "Gay"-friendly Newchurch Bishop
Newvatican Observers Think that Newpope Is Pushing Newchurch Liberalist and Pro-"Gay"
Benedict-Ratzinger's false reputation as a "conservative" is shattering fast. The TRADITIO Network has consistently warned that Newpope is a flaming Liberalist/Modernist/Pro-"Gay" Radical since before Vatican II, who simply conceals the reality behind a white-haired, European-gentleman facade.
Benedict-Ratzinger's selections of bishops, however, has made it clear that he is packing the Newchurch episcopacy with liberalist/modernists/"gays" to a degree that even JPII did not. When he whisked William Levada out of San Francisco to Newvatican before the subpoenaed Levada's involvement in the Sex Crimes Scandal could be adequately investigated by two U.S. federal courts, he appointed George Niederauer from Salt Lake City to become Newchurch archbishop of San Francisco. Niederaurer was so publicly associated with the pro-"gay" cause that the radical "gay" community of San Francisco, whose standards for "gay" support are remarkably high, praised him without exception in the most glowing terms.
Levada's and Niderauer's gauleiter John Wester has served as an auxiliary Newchurch bishop for the last eight years in that Baghdad by the Bay, and before that for 22 years in the same archdiocese, mired in the Sex & Embezzlement Scandal. Observers say that Wester, who assumes his new position March 14, 2007, will not likely threaten to excommunicate Catholic politicians who support abortion rights, or attack gay activists or academics who challenge doctrinal interpretations.
That's apparently what Benedict-Ratzinger wants. Since becoming pope in April 2005, Benedict-Ratzinger has appointed about 30 U.S. bishops, and Newvatican observers see a pattern emerging that is distinctively different from JPII's. Benedict-Ratzinger's bishops tend to be men "who avoid conflict at all costs." They do not stand up for "Catholic" doctrine, but sell out doctrine in order to be "oecumenical" (translation: "All Religions Are Equal") and "good guys." [Source: Salt Lake Tribune]
---
January 18 - St. Peter's Chair at Rome
Double Major Feast
"Indult Mass" Presbyter Arrested in Crack Cocaine Sting
From: The Fathers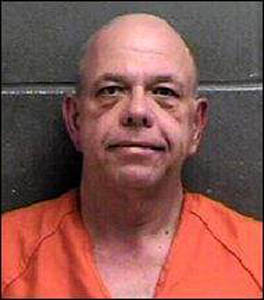 Newchurch Presbyter and "Indult Mass" Pastor Thomas Gaeke in Jail Attire
Arrested in Cincinnati for Possession of Cocaine in the Company of Two Male Prostitutes
He Rented His House to a Convicted Felon Who Was Dealing Drugs out of the House
Where Was Newchurch Bishop Daniel Pilarcyzk While All This Was Going On?
After sex, embezzlement, and Communism, what more could Newchurch presbyters engage in? It appears that the latest is drug-dealing.
In the Cincinnati area, police found drug paraphernalia and crack cocaine in Presbyter Thomas Gaeke's car. Also found was a suitcase that contained "a whip, KY Jelly, and prophylactics." Presbyter Gaeke was arrested, in the company of two male prostitutes, and charged with first-degree possession of a controlled substance, a felony, and possession of drug periphernalia, a misdemeanor. Although he had previously been arrested on drug charges, he was allowed to be pastor of two Dayton Newparishes, one of which was an "Indult Mass" site. Police also stated that Gaeke rented his house to a tenant who was dealing crack out of the house. The tenant has a criminal record dating to 1989.
According drug-enforcement agents, neighbors have complained to police about possible drug activity at that address for the past year. "A lot of cars with Ohio and Indiana plates would pull up at all hours, and people were always coming and going. There'd usually be someone standing in the yard or on the porch most hours of the day and night."
True to form, Gaeke's parishioners say "what a great guy he was." Instead of lamenting "what a nice guy he was," the "conservative" Newchurchers and indultarians should seeing this case for what it is: a by-word, a warning, and a wake-up call, if they think that "it could never happen here" in their own dear "indult" parishes. It is happening there, right under their very noses. The stench of Newchurch is inescapable for those who insist on loyalty to the New Order and Newpope, and the case at hands demonstrates that no amount of Newchurch incense, Latin phrases, or Bugninized/Modernized "Indult" Masses will ever cover it up.
---
Newchurch Presbyter Embezzles $600,000 from Newchurch to Support His "Wife" and Children
From: The Fathers
Those who think that Newchurch's problems can be solved by having a non-celibate clergy should pay particular attention to this case in Newchurch's ongoing Great Sex & Embezzlement Scandal.
Presbyter Rodney Rodis was living with his "wife Joyce" and three children ages 5 to 20 in a subdivision near Frederickburg, Virginia, while embezzling $600,000 from two Newchurches to support them from September 2001 through October 2006. Rodis told neighbors that he was in the import-export business and was often gone for days or weeks at a time. A neighbor said that he was never sure what Rodis did, but "I would always see him leaving very early on Sunday mornings." The front yard was adorned with lawn ornaments and angel statues. Three vehicles were parked in the driveway: a late-model silver Toyota Highlander, a red Ford Escort station wagon, and a blue-gray Toyota 4Runner with a window sticker reading 90% ANGEL
Rodis has been charged with felony embezzlement from Immaculate Conception in Bumpass and St. Jude in Mineral, both of which are part of the Diocese of Richmond, site of an "Indult" Mass community. Rodis now resides at Central Virginia Regional Jail. Ironically, in addition to the criminal aspects of this case, Rodis had taken a vow of poverty when he entered the Order of St. Camillus!
And here we go again. A Newchurch parishioner said that "Rodis was the best priest [sic] he'd ever encountered." Are these Newchurchers totally devoid of sanity? Their "Catholic" presbyter is a triple criminal: a fradulently-married man with three kids, an embezzler of over half a million dollars, and a perjurer breaking his oath of poverty! And where was Newchurch bishop Francis DiLorenzo while all this was going on? He was caught flatfooted, even though Rodis was living in sin and crime for eight years and embezzling $600,000 of Church money. Now there's a bishop that Newchurch can be proud of, phony "indult" and all! [Source: Richmond Times-Dispatch]
---
January 17 - St. Anthony, Abbot
Double Feast
U.S. Federal Court Finds Probable Cause that Benedict-Ratzinger Was "Negligent"
Allows Pope to be Sued for His Role in Newchurch Sex Crimes
Bishops May Be Held Legal "Agents of the Pope" in Landmark Decision
From: The Fathers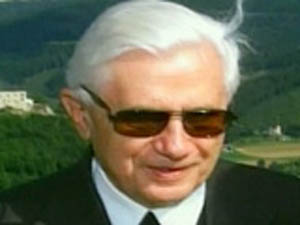 Is Benedict-Ratzinger Now on the Lam from Justice?
U.S. Federal Court Wants Newpope to Answer as Head of the Newchurch Syndicate
For His Complicity in Abetting and Covering up Sex Crimes
This just isn't Benedict-Ratzinger's year! The poor guy, a white-haired front for the worst aspects of the Newchurch of the New Order, is now facing a lawsuit in the United States for his role in the sex-crimes scandal that continues to rock Newchurch. A U.S. Federal District Judge has ruled that the pope cannot hide behind the facade of immunity in Rome. If he, as head of the Church, permitted vile crimes to be committed in his name and was negligent by doing nothing about it, the long arm of the law is going to yank his collar. The Louisville Federal Court has ruled that Benedict-Ratzinger himself can be held legally "negligent" for allowing his child-raping bishops and presbyters to continue their dirty deeds with no warning to the public or to the civil authorities.
This ruling is a major break-through in renting Newrome's veil of secrecy from top to bottom. It could open the way to take depositions of the pope's Newvatican operatives in the United States and to obtain copies of incriminating Newchurch records and documents. It looks as if finally the buck may stop with the head of Newchurch's crime syndicate. Newchurch bishops may be held legal "agents of the pope." Newvatican representatives were speechless in response to the decision. [Source: Associated Press]
---
Police Say that Satanism Is Taking over Rome and Italy
Novus Ordo Rite of Exorcism Isn't Working
From: The Fathers
Italian police report that Rome and Italy as a whole is being swamped by a rising tide of crimes linked to devil worship. In recent months there has also been a string of murders that has been linked to devil worship. Estimates are that there are at least 8000 satanic sects across Italy, with more than 600,000 members, and the numbers are growing all the time. [Source: London Telegraph]
"We are not just talking about murders but the psychological grip that these sects have on young people, especially taking them away from traditional social values and exposing them to all sorts of horrors." Hmm, that sounds a little like a description of the Cult of the New Order, doesn't it?
---
January 16 - St. Marcellus I, Pope & Martyr
Semidouble Feast
Bishops Liturgy Head Rejects "For Many" Translation for the U.S.
Novus Ordo Protestant-Masonic-Pagan Service to Remain Invalid
For This and, Oh, So Many Other Reasons
From: The Fathers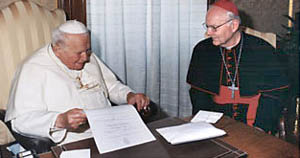 Newchurch Bishop Donald Trautman with JPII, the "Clown Mass Pope"
The Head of U.S. Newchurch Liturgy Committee Now Tells Newvatican:
We Want More Clown Masses!
"For All" Universal Salvation Heresy to Remain Newchurch Dogma in the U.S.
Just as the TRADITIO Network warned, those "conservative" Newchurchers who rejoiced about Newvatican's decision to use "for many" in the vulgar-tongued "translations" of the Novus Ordo "consecration" may have rejoiced much too soon. The Head of the U.S. Conference of Catholic [sic] Bishops' Liturgy Committee has rejected Newvatican's directive, saying that "that change could be easily misinterpreted as denying the faith of the Roman Catholic Church that Christ died for all people."
In other words, Trautman wants to maintain the heretical notion of universal salvation, that is, "All Dogs Go to Heaven." Trautman rejected Newvatican's directives for "better" vulgar-tongued translation because they "betray the intention of the Second Vatican Council." Now, isn't that the touchstone for all activity in the Newchurch of the New Order: goose-step obedience to "the Spirit of Vatican II"?!
To show just what a paper tiger Newpope is now, the all-powerful National Bishops' Conferences are rejecting Newrome's directive to "translate" the Novus Ordo "better." Here's the problem: for forty years now, Newchurchers have been mouthing a Protestantized/Modernist "translation" of the New Order. They're so used to it now, that the National Bishops' Conferences don't want to change it.
The same argument was used with Paul VI to keep communion in the hand, condemned by countless popes and councils starting in the early Church. "The people are so used to it now," the bishops said, "that we can't take it away from them." Paul VI, no true Catholic pope, caved in, instead of telling the bishops to go back and do the right thing. But that is not what conciliar popes do. The bishops rule them, not the other way around.
Now Trautman for the United States Bishops has essentially told Newvatican to pound sand. He contended that the more "conservative," supposedly more "literal," translations currently being prepared in accordance with Newvatican's directives "do not adequately meet the liturgical needs of the average Catholic [sic], and ... the significant changes in the texts no longer reflect understandable English usage." Translation: Newchurchers don't understand "And with Your Spirit." Trautman is afraid that a "better" translation "will confuse the faithful and predicted that the new texts will contribute to a greater number of departures from the Catholic [sic] Church." [Source: RNS]
If a "translation" will do that, let's get it in now and empty those Novus Ordo temples, so that traditional Catholics can start rebuilding the true Roman Catholic Church!
---
January 15 - St. Paul, First Hermit
Double Feast
Documents Disclose that "Saint" JPII May Have Covered up Newchurch Presbyter Communist Spies
Benedict-Ratzinger Is Himself Accused of Appointing a Communist Spy as Archbishop
From: The Fathers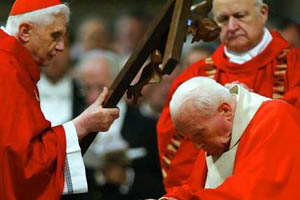 Partners in Crime? JPII and Benedict-Ratzinger
International Press Reveals Possible JPII Collaboration with the Communist Secret Service
And Benedict-Ratzinger's Involvement in the Cover-up
Of Widespread Newchurch Collaboration with the Communists after Vatican II
All Hell is breaking loose in Newchurch since the Polish people forced Stanislaw Wielgus, Benedict-Ratzinger's appointee as Archbishop of Warsaw, to resign in the face of incontrovertible evidence that he was a spy against the Church from around the time of Vatican II to the fall of the Soviet government in 1989.
In Krakow, where JPII was Archbishop from 1964 to 1978, more Newchurch clergy are being fingered as having been spies for the Communist Secret Service. The stream of disclosures now promises to become a torrent. In JPII's Krakow, Fr. Tadeusz Isakowicz-Zaleski is preparing to publish a book that will identify 39 priests whose names he found in Krakow's secret police files, three of whom are now bishops in the Polish Church. Everyone in Krakow and in Rome is wondering: will JPII's name turn up on that list?
Either JPII was a Communist spy, or he was part of a cover-up of presbyters under him collaborating with the Communists against the Church -- an excommunicable offense. The only alternative is that Karol Woytyla was an incompetent Newchurch bishop, guilty of gross negligence. Moreover, Poles are beginning to ask: did Benedict-Ratzinger, JPII's personal gauleiter, also participate in the cover-up as head of the Doctrine of the Faith and JPII's principal advisor?
Most researchers who have delved into the archives of the Sluzba Bezpieczenstwa, or Communist Secret Service, estimate that thousands of the country's presbyters -- as many as 10% -- collaborated with the secret police to some degree. Newchurch's undeserved reputation for moral "purity" has been crucified forever. Cardinal Glemp, a Newchurch bishop in Poland since 1979, told an Italian news agency last year that the overall percentage was 15%, and was likely to have been much higher in major cities. Poles are now enraged at Newchurch and Benedict-Ratzinger for letting the news media disclose these crimes rather than itself researching the archives and coming clean. It appears that the Newchurch principles that brought about the Great Sex & Embezzlement Scandal are still very much alive.
Cardinal Giovanni Battista Re, Prefect of the Congregation for the Clergy, himself involved in the appointment scandal, tried to weasel himself and Newpope out of blame, but that attempt has been derided because in December 2006 Benedict-Ratzinger stated that he "nourishes full trust in Archbishop Stanislaw Wielgus and, in full awareness, has entrusted him with the mission of pastor of the Archdiocese of Warsaw." Simultaneously, Benedict-Ratzinger's Newchurch officials in Poland were already examining the documentary evidence and concluding that Wielgus was guilty as sin. Then, when Newchurch officials publicly denounced Wielgus on the basis of the documentary evidence, Benedict-Ratzinger attempted to ram through the appointment and stood by Wielgus while all the time he knew that Wielgus was lying by denying the allegations that Benedict-Ratzinger knew to be true.
The world is now beginning to conclude that Benedict-Ratzinger and his Newchurch officials are the ones doing the real harm to the Church. And here's the kicker. In spite of Newcardinal Re's complicity, Benedict-Ratzinger appointed him on January 8, 2007, to a new plum as one of the members of the Congregation for the Evangelization of Peoples. Was this a payoff from a corrupt pope to a corrupt bureaucrat?
Good Catholics, forget "new indults" for the Bugninized/Modernized "Mass of 1962" Benedict-Ratzinger is now mired so deep in international scandal that the Newchurch bishops would simply laugh in his face and ignore any fabled "motu proprio" of his.
---
France Is No Longer Catholic: Only 5% Now Attend the Novus Ordo Service
From: The Fathers
"France" came into being (having previously been the Roman province of Gaul or part of the Holy Roman Empire) in the year 843, when the Treaty of Verdun divided the empire of Charlemagne into independent kingdoms. France was thus Catholic from the beginning, "the eldest daughter of the Church," as she was called. No more.
A recent study published by Le Monde des Religions shows that France should no longer be considered a Catholic country. The survey should that under just forty years of the Newchurch of the New Order, there has been a steep decline in the number of French people identifying themselves as "Catholics" (by which most mean "Newchurchers," although there is a strong traditional Catholic element outside the control of Newchurch). The self identification has dropped from 80% in 1991 to 51% in 2006. Of the remaining 51% of Frenchmen who identify themselves as "Catholics," only 10% attend the Novus Ordo service regularly. So a more accurate figure would be that 5% of Frenchmen identify themselves as "Catholic" and practice the New Order Religion. A previous study showed that approximately 96% of students who made their First Communion in primary school no longer practice the faith by the time that they complete their studies.
It is even more remarkable that only half of the self-identified "Catholics" say that they believe in God. Apparently, since Vatican II and its False Oecumenism, one can be, in the Newchurch of the New Order, a "Catholic" and an atheist at the same time! In fact, from 1991 to 2006, the number of professed atheists has risen from 23 to 31%. Newchurchers have become like most Jews. They identify their association as a "social or cultural entity" rather than a religion. The study concludes: "In its institutions and in its mentality, France is no longer a Catholic country." [Source: CWN]
Say, folks, whatever happened to the wonderful Novus Ordo service that was going to revitalize the "Modern(ist)" Church after Vatican II? It seems as if it has gone the way of the hula hoop. It was a cute novelty at first, but now clutters the junkyard of history. Benedict-Ratzinger and his failed minions should get out of the way, and let traditional Catholics take over the institutional Church again. At least they believe in God!
---
How Are We Ever to Get Out of This Problem of the Church?
A "New Indult" Is Not the Answer, but the Uncompromising Traditional Catholic Faith
From: Tom
Dear Fathers:
I know that you are not of the sede-vacantist persuasion, but if in fact the post-conciliar "pontiffs" occupying the ancient buildings of the Vatican were not true popes, but rather proponents of a new religion, and the bulk of the College of "Cardinals" appointed by them are of similar heretical ilk, how then -- short of direct intervention by the Holy Ghost -- are we ever to get out of this problem? Of course the Holy Ghost might intervene directly, but is there another far-less dramatic solution.
The Fathers Reply.
The "canonical" situation is a mess, of course, so that is not the best place to find a solution. Yet the present situation of the Church is not unprecedented. You may want to get hold of a copy of Cardinal Newman's The Arians of the Fourth Century, which answers your question. The situation during the period of the Arian heresy in the early Church was just as desperate, if not more so, than today's, and the solution was then, as it should be now too, the uncompromising adherence to the Faith by the people, the so-called sensus Catholicus It was this that brought errant popes, emperors, and bishops back to orthodoxy in about a century. (It is no short process when large parts of the Church fall into error.)
We believe that the answer to the current crisis in the Church is not some "Philadelphia lawyer" approach, but what St. Paul tells us, to cling to the Tradition of the Faith. That is the Catholic way. If the Catholics of England had continued to do this, they would have overcome Henry VIII as they did Henry II. If the Catholics after Vatican II had continued to do this, we would now have no Novus Ordo service, no Novus Ordo sacraments, no New Theology, no New Morality.
Errant popes and bishops don't scare us. We've had them many times before, and Our Lord will take care of them in due time. We have absolute faith on that point and in the ultimate indefectibility of the Church. What scares us is the tendency of too many people nowadays calling themselves "Catholics" to sell out to some phony Newchurch "indult" under the authority of the same New Order that took the Mass away from them in the first place. This attitude of compromise of the Faith is the very thing that ruined England and perpetuates the plague of the New Order of Newchurch now.
---
What about Going to the "Mass of 1965"?
From: Rudi
Dear Fathers:
Having apparently tired of the "Mass of 1962," some "conservatives" and indultarians are talking about taking the next step: going to the "Mass of 1965," which came in after Vatican II.
Is the 1965 Missal acceptable? It introduced the so-called Sign of Peace, the Offertory procession, the General Intercessions, as well as widespread "concelebration" by several presbyters and/or bishops. I am a traditional Catholic, and I hate the Novus Ordo service.
The Fathers Reply.
One has to remember that 1965 was not the first change to the Mass introduced by the Bugnini Commission (Bugnini being the Freemason, who was Chief Architect of the Novus Ordo of 1969). The Commission was established much earlier, in 1947, and began to introduce unCatholic "modernizations" into the Mass shortly thereafter:
1950 saw changes in the Easter rites
1956 saw major changes to the most ancient rites of Holy Week, as well as other changes to the Mass and mDivine Office
1960 saw changes again to the Mass and Divine Office rites
1962 for the first time since the period of the early Fathers & Doctors of the Church and contrary to all Tradition of the Catholic Church, saw the ancient Roman Canon of the Mass itself, tampered with
1965 saw those changes carried to a further extreme, with several innovations taken from Protestant services (such as the General Intercessions: "Spare, O Lord, those afflicted by AIDS, so that they may continue their immoral lifestyle healed by your grace," etc.)
1967 saw the Catholic and Apostolic Canon, the very heart of the Mass and the Consecration, changed again and essentially replaced with three new "Canons" composed by Bugnini & Co.
1969 finally saw the "debut" of the full-blown New Order was "debuted"
So, no, the "Mass of 1965" is not Catholic, but already tainted overtly and purposefully by Protestantism. The safest traditional form of the Mass and Divine Office is that before any of the Bugnini changes were introduced, i.e., pre 1950. This is the Traditional Latin Mass, which is offered by the Society of St. Pius V and many independent traditional priests. The Congregation of Mary Immaculate uses the version through 1956 (up to the death of Pope Pius XII), and the Society of St. Pius X and the "indult" Novus Ordo sites use the version through 1962 (up to the death of Pope John XXIII).
For further information, see the Traditional Latin Mass, Divine Office & Sacraments department of TRADITIO for "The Road into the Black Hole of the New Mass."
---
January 14 - Second Sunday after Epiphany
Semidouble Feast
Cardinal "Mad" Mahony of Los Angeles Perverts Ancient Christian Symbol to Serve Sin
From: The Fathers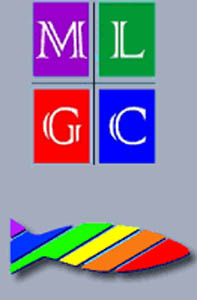 Newchurch Promotes the Sin that Cries to Heaven for Vengeance
And That Is at the Heart of Newchurch's Ongoing Great Sex & Embezzlement Scandal
Newchurch Cardinal "Mad" Mahony Himself Founded the MGLC
Which Has Now Perverted the Oldest Christian Symbol to Serve the "Gay" Cause
"Mad" Mahony, Newchurch Cardinal of Los Angeles, also known as the "Arch-heretic" for his unCatholic theology, has once again earned his eponyms by turning one of the most sacred symbols of Christianity, the fish, as superimposed with the rainbow, symbol of "gay" sodomy crusade, into a logo for his Ministry with Gay and Lesbian "Catholics." Mahony does not call upon these people to renounce their sin, one of the four that cry to Heaven for vengeance, but allows them to advocate that sin publicly and to ensnare the youth of the Church into it, just as he has allowed his presbyters to rape children. A spate of lawsuits against him for his personal involvement in the Great Sex & Embezzlement Scandal provide ample proof of his unCatholic status. The MGLC organization was founded by Mahony himself in 1986 and by his edict is supported actively throughout his Newchurch archdiocese. And you wonder why Newchurch's Great Sex & Embezzlement Scandal continues?
The fish is an ancient symbol of Christianity. It was actually a secret sign by which Christians during the Roman persecutions identified each other. The origin of the symbol is the early Christian motto in Greek: Iesus Christos, Theou Uios, Soter, that is "Jesus Christ, Son of God, Savior," whose first letters in Greek spell out ICHTHYS, i.e., "fish."
What, you may ask, is Benedict-Ratzinger's position on all of this? He supports Mahony, of course! Benedict-Ratzinger has exhibited a confirmed and disturbing pro-"gay" pattern in his less-than-two-year papacy. He flew "gay"-friendly Archbishop William Levada to be the head of the Congregation for the Doctrine of the Faith, after Levada had been subpoenaed by two U.S. federal courts to testify on his involvement in sex crimes in his two archdioceses. Benedict-Ratzinger appointed "gay"-friendly Donald Wuerl to be Archbishop of Washington, D.C., to succeed liberalist Theodore McCarrick. Benedict-Ratzinger appointed "gay"-friendly George Niederauer to be Archbishop of San Francisco, to succeed the aforementioned William Levada. Moreover, Benedict signed the document on homosexuals in Newchurch seminaries, a toothless document that can be interpreted any way the pro-"gay" bishops want.
---
This Is How a Real Pope Once Spoke against the Unspeakable Crimes
Now Engulfing Newchurch Presbyters and Bishops and Popes
From: The Fathers
It cannot be denied that by his silence (if not complicity), Benedict-Ratzinger has allowed tens of thousands of crimes that cry to Heaven for vengeance to be ignored and perpetuated in his name. He ignores the legal principle: Qui parcit nocentibus, innocentes punit [He who spares the guilty punishes the innocent].
When the hint of such crimes in the Papal States came to his ears, Pope St. Pius V wrote as follows to his clergy:
CONTRA QUOSCUMQUE CLERICOS, TAM SAECULARES QUAM REGULARES, NEFANDI CRIMINIS REOS
PIUS [V] EPISCOPUS, SERYUS SERVORUM DEI
AD PERPETUAM REI MEMORIAM.

Horrendum illud scelus, quo pollutae foederatae Civitates a tremendo Dei judicio coflagrarunt, acerbissimum Nobis dolorem inurit, graviterque animum nostrum commovet, ut ad illud, quantum potest, comprimendum, studia nostra conferamus.

#1. Sane Lateranensi Concilio dignoscitur constitutum, ut quicumque Clerici, illa incontinentia, quae contra naturam est, propter quam ira Dei venit in filios diffidentiae, deprehensi fuerint laborare, a Clero dejiciantur, vel ad agendum in Monasteriis poenitentiam detrudantur.

#2. Verum ne tanti flagitii contagium, impunitatis spe, quae maxima peccandi illecebra est, fidentius invalescat, Clericos hujus nefarii criminis reos, gravius ulciscendos deliberavimus, ut qui animae interitum non horrescunt, hos certe deterreat civilium legum vindex gladius saecularis.

#3. Itaque quod Nos iam in ipso Pontificatus nostri principio hac de re decrevimus, plenius nunc, fortiusque persequi intendentes, omnes, & quoscumque Presbyteros, & alios Clericos saeculares, & regulares cujuscumque gradus, & dignitatis, tam dirum nefas exercentes, omni privilegio clericali, omnique officio, dignitate, & beneficio Ecc1esiastico praesentis Canonis auctoritate privamus. Ita quod per Judicem Ecclesiasticum degradati, potestati statim saeculari tradantur, qui de eis illud idem capiat supplicium, quod in laicos hoc in exitio devolutos, legitimis reperitur sanctionibus constitutum. Nulli ergo &c.

Datum Romae apud S. Petrum, Anno Incarnationis Dominicae 1568, 3 Kal. Sep. Pont. nostri Anno III.
AGAINST WHATEVER CLERICS, BOTH SECULAR AND REGULAR, GUILTY OF THE UNSPEAKABLE CRIME
PIUS [V], BISHOP, SERVANT OF THE SERVANTS OF GOD
FOR A PERPETUAL MEMORIAL OF THE MATTER

That ghastly crime, by which the polluted federated [papal] States burn by God's fearful judgment, enflames the bitterest sorrow in Us, and gravely moves Our soul so that we give Our attentions to repress it as much as possible.

#1. It was properly recognized by the Lateran Council that whatever Clerics will have been discovered to suffer from that incontinence which is against nature, because of which the wrath of God falls upon the sons of disobedience, are to be ejected from the clergy, or be forced to do penance in a Monastery.

#2. But lest the contagion of go great a scourge, from the hope of impunity, which is the greatest lure of sinning, more confidently grow, We determine that clerics guilty of this ghastly crime are to be quite gravely punished, in order that with certainty the avenging sword of the civil laws deter those who do not abhor the ruin of the soul.

#3. Therefore, because We have made a decree on this matter at the very beginning of Our Pontificate, now intending to follow up more fully and more boldly, We deprive all priests whoever, and all secular Clerics, and regular Clerics of whatsoever grade and dignity, participating in such a dire crime, monstrosity, of every clerical privilege, and every office, dignity, and Ecclesiastical benefice, by the authority of this Canon: that thus when they are degraded by the Ecclesiastical Judge, they be handed over immediately to the secular power, who shall exact from them that same penalty which is found enacted by licit sanctions upon laymen having fallen to this ruin. to have been constituted by legitimate sanctions against laymen who have slid down into this ruin. Nothing to the contrary withstanding, etc.

Given at Rome at St. Peter's, 30 August in the Year of the Lord's Incarnation 1568, in the third year of Our Pontificate.
So, Pope St. Pius V put the grave punishment of this crime that cries to Heaven for vengeance and the expulsion of the offenders from the clergy at the top of his agenda, whereas the current pontiff, Benedict-Ratzinger, in his Primum Nuntium [First Speech], talked about a destructive "love" that was not Christian and, of course, about the non-judgmental principle of Vatican II. No wonder Newchurch presbyters and bishops are continuing to perpetrate this grave sin against children, now in the name of Benedict-Ratzinger, who could certainly take a leaf from the sterling example of his saintly predecessor.
---
Traditional Author P.H. Omlor Recovering from Emergency Operation
From: The Fathers
The TRADITIO Network has been informed that Patrick Henry Omlor is now at home recuperating for several weeks from a successful emergency operation for a life-threatening condition.
Omlor shattered the post-Vatican II world, when, in 1968, he published his bombshell, Questioning the Validity of the Masses Using the New, All-English Canon, which was introduced by the Bugnini Commission for the New Order in 1968. Omlor later stated that he regretted toning down the title of his monograph, which was originally, "The Invalidity of the Masses Using the New, All-English Canon," as he did not question the invalidity, but was certain of it, according to approved Thomistic Catholic sacramental theology.
Omlor's writings were later collected in 1997 in The Robber Church: An Anthology of the Complete Writings of Patrick Henry Omlor 1967-1997. Omlor's monograph triggered a plethora of other works denying the validity of the Novus Ordo service. One of these, in 1969, was Cardinals Ottaviani and Bacci's Short Critical Study of the New Order of Mass, the definitive critique of the New Mass, in which the leading Roman cardinals pleaded with Pope Paul VI in 1969 to abrogate the New Mass because of its "manifest errors against the integrity of the Catholic Faith." Another, in 1971, was Fr. James Wathen's The Great Sacrilege, a thorough doctrinal, liturgical, and canonical critique of the New Mass.
For further information, see FAQ05.TXT: What Traditional Books Do You Recommend? in the TRADITIO Network's Library of Files (FAQs & Traditional Apologetics).
---
January 13 - Octave Day of the Epiphany
Double Major Feast
The Story of a Noted Deathbed Convert to Traditional Catholicism
From: The Fathers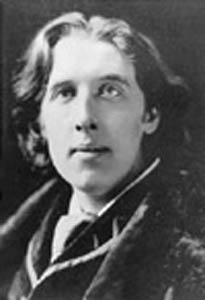 Oscar Wilde (1854-1900), Dramatist, Essayist & Poet
He Fell into the Most Grievous Sins
But Received the Grace of Conversion to the True Faith on his Deathbed
Oscar Wilde, an unquestioned master in English literature at the turn of the 19th to 20th century, unfortunately fell into one of the sins that cry to heaven for vengeance, for which he was imprisoned at hard labor for two years. Yet, he never lost himself entirely, as throughout his life he felt a fascination and tug toward Catholicism, being a sporadic attender of Mass and Benediction of the Most Blessed Sacrament.
Wilde loved the Catholic liturgy (one can only imagine his disgust if he were confront with the vapid Novus Ordo service). Wilde's classic novella, The Picture of Dorian Grey, in fact, has a Catholic theme. At Oxford Wilde filled his dormitory room with photographs of Cardinal Manning and Pope Pius, and in his studies he began reading intensely in Catholic literature, coming greatly to admire John Henry Cardinal Newman and making Thomas a Kempis's De Imitatione Christi his nightly devotional book.
In his last days, during which he was living in Paris in poverty and disgrace, a good Catholic friend, Robert Ross, was with Wilde. A few hours before Wilde died on November 30, 1900, at the age of 46, Ross said to him, "Oscar, you must see a priest." Wilde responded, "Yes." Ross ran to the nearest parish, and the priest came at once. Wilde was received into the Catholic Church, made his confession, and received the Last Rites. He had often said: "Catholicism is the only religion to die in."
Wilde had toyed with conversion to Catholicism since his university days, but it was not until the last moment that he received the grace of conversion. The Marquis of Queensbury, who publicly accused Wilde and initiated his trial for immorality, was so haunted by what had happened to the man that he too converted to the Catholic Church before his death. His son, "Bosie" Douglas, who had been "involved" with Wilde and was the real cause of the uproar, was so haunted by it all that he too converted before his death and became quite devout, to the point of being a "Catholic pest" to many people. This story is a perfect example of God bringing great good out of evil and turning human depravity and sin to His greater glory.
In the end, Christ did not turn Wilde out. Despite his sins, his unconscionable behavior toward his wife and two sons, his self-deceptions and deceptions of others, his vanity and pomposity, and all the other character failings that he wore so conspicuously on his sleeve, Wilde turned to God for pardon and the healing grace of the Sacraments and in the end died a child of the Catholic Church. His Catholic funeral took place at 09:00 on December 3, 1900, at St. Germain des Pres, with committal afterward at CimetiFre de Bagneux.
---
The "New Indult" Ruse
From: Peter
Dear Fathers:
We can at least say that Newvaticanologists and the other journalists in Italy have been consistent in their reportage on the supposed "new indult": they are consistently wrong!
First, they reported that a "new indult" for the Bugninized/Modernized Mass of 1962 would be announced in November 2006, probably before the meeting of the French Episcopal Conference on November 4. When that didn't happen, they promised that reliable sources had told them that it would be released "before Christmas." When that didn't happen, they assured us a date of "between Christmas and Epiphany." Now even the fake transferred Novus Ordo Epiphany has passed, and there is still no "new indult"! Perhaps we should ask the Communist Secret Service when a "new indult" will be released. It seems to know more about the goings-on in this brave new papacy than Newpope does!
Readers should note how these phony reports, which are mindlessly picked up by ignorant "blogs," are engineered to prepare us for a false promise. Traditional Catholics never asked for a "new indult," because none is needed. What they asked for was not a transitory "privilege" (indult) to operate an "Indult Mass" under the control of the Novus Ordo, but Modernist Rome's public recognition that the right of every real priest (not Novus Ordo presbyters) to celebrate the Traditional Latin Mass was never abrogated in the first place!
Hence, a "new indult" would be a disaster for traditional Catholics. It would imply that "permission" is needed to celebrate the Traditional Latin Mass. Absolutely no permission is needed to celebrate the Roman Catholic Mass handed down in Sacred Tradition from St. Peter and formally canonized in perpetuum by a Dogmatic Council and a Saint-Pope. No "permission" is needed from a conciliar pope who perpetuates child-raping presbyters with his new seminary document giving rights to "gay" seminarians, who tried to appoint a Communist spy as Archbishop of Warsaw, and who named Claudio Hummes, a Marxist, as his Prefect for the Clergy. Even Newrome's puppet "indult" Bishop Rifan of Campos attended a Novus Ordo service at Our Lady of Aparecida in Brazil, at which a Marxist was appointed to deliver a speech from the sanctuary!
The scandals are overtaking this pontificate. If Benedict-Ratzinger has any Catholic bone in his body left, it is time for him to declare that the Newchurch of the New Order is corrupt beyond repair and, should he find it beyond his own courage to dismantle it, he should abdicate and retire as a humble monk to a traditional monastery not controlled by Newchurch. It is time to "shake up and wake up." Meanwhile, God and St. Michael are dismantling this paper-tiger Newchurch before our very eyes.
---
"Indult" Priest-Presbyter Resigns the FSSP to Become a Full-blown Novus Ordo Presbyter
From: The Fathers
The TRADITIO Network has been informed that Fr. Dennis Duvelius, who used to serve two locations in Indiana for the "indult" Fraternity of St. Peter (FSSP), has resigned from the FSSP to become a full-blown Novus Ordo presbyter in Batesville, Indiana.
This not the first time that an "indult" priest-presbyter has abandoned the "indult" to become a full-blow Novus Ordinarian. At least Duvelius was honest enough to come down on one side or the other -- traditional or New Order -- instead of playing the fence-sitting game of the phony "indult." Too bad he came down on the wrong side, the unCatholic side.
---
January 12 - Within the Octave of the Epiphany
Semidouble Feast
Complete Friday Abstinence
New Traditional Bishop to be Consecrated
From: The Fathers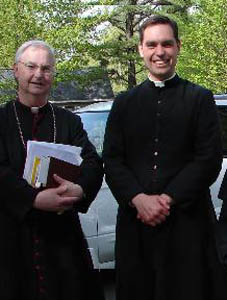 Bishop Clarence Kelly (Left), of the Society of St. Pius V
Will Consecrate Fr. Joseph Santay as a Traditional Bishop
On Ember Wednesday, February 28, 2007
The Society of St. Pius V (SSPV), which separated from the Society of St. Pius X (SSPX) in 1983 to follow a more traditional path, has announced that SSPV Bishop Clarence Kelly will consecrate Fr. Joseph Santay in the traditional rite of consecration on Ember Wednesday, February 28, 2007, at the Pius V Chapel in Oyster Bay, Newyork. Bishop Kelly has reportedly been experiencing some health problems in recent years after suffering a fall at the SSPV Seminary at Round Top, New York, a few years ago.
The Society of St. Pius V, which according to the 2007 Official Traditional Catholic Directory has 23 Traditional Latin Mass sites in the United States, celebrates the fully Traditional rites of the Roman Catholic Church, before they were "modernized" under the Freemason Hannibal Bugnini from 1950 to 1962.
---
The Truth Is Out: Newchurch Has Robbed 85% of Novus Ordo Parishes
From: The Fathers
Hasn't the TRADITIO Network reported that Newchurch officials have been robbing their parishes blind? Now a new study by Villanova University of Philadelphia has found that 85% of Catholic dioceses in the United States have discovered embezzlement during the past five years, with 11 percent having been embezzled out of more than half a million dollars each. And the study says that these numbers included only the Newchurch embezzlements that have been caught!
The authors of the study, experts in church management and accounting, indicated that Newchurch bishops were perpetrators of gross mismanagement. Among recent reports of the shockingly pervasive thefts by Newchurch were those of a Newchurch pastor in Bridgeport, Connecticut, who was investigated in 2006 on charges of stealing $1,400,000, and four purchasing agents in the New York Archdiocese who extorted more than $2,000,000 in a kickback scheme. [Source: Philadelphia Inquirer]
It seems undeniable that the Newchurch of the New Order, right up to its head, are mired in such immoral dealings that no one calling himself Catholic can in good conscience associate with these people and their false religion. Sex crimes by its bishops and presbyters are pervasive and continuing unabated. The pope appoints a known Communist spy to become archbishop. 85% of Newchurch parishes are being robbed by presbyters. Newchurch bishops, Newvatican, and the pope himself are involved in a massive cover-up of rampant crime in the Church. As Caiphas said: "What further need have we of witnesses?" (Matthew 26:65/DRV).
We don't even speak of the imposition of a phony Novus Ordo service and sacraments and a New Theology that is Protestant and Modernistic. Nor to we speak of the ruse of tickling some benighted Newchurchers with a phony "indult" for the Bugninized/Modernized Mass of 1962, "performed" within the context of a false religion by presbyters, not priests. The "conservative" Newchurchers and indultarians are like the dumb statues of the pagans, of whom the Church reads each Sunday at Vespers:
Os habent, et non loquuntur; oculos habent, et non vident.
Aures habent, et non audiunt; nares habent, et non odorantur.
They have mouths and speak not; they have eyes and see not. They have ears and hear not; they have noses and smell not. (Psalm 113:5-6/DRV)
Hang tough, good Catholics. The Newchurch of the New Order is sinking into the mire before our eyes. Prudence dictates that you stay clear of the filth and maintain your Traditions independently, as St. Paul charged you to do. Then, when the New Order finally self-destructs, as Pope Paul VI said that it would, the restoration of the Roman Catholic Church can begin in earnest.
---
January 11 - Within the Octave of the Epiphany
Semidouble Feast
The Polish People Have Forced Newpope's Appointee to Resign in Shame
Mired in Scandal, Newpope May Not Last the Year, Some Say
From: The Fathers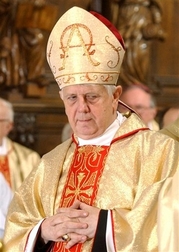 Stanislaw Wielgus, Excommunicate Bishop, in the Golden Miter that He Desecrated
Benedict-Ratzinger Appointed Wielgus Knowing that He Had Been a Communist Spy Against the Church
Newpope Is Himself Now Reeling from the Fifth International Scandal of His Short Papacy
Some Are Already Predicting that His Papacy Will Not Last Another Year
"Stop the installation," shouted the Polish people around St. John's Warsaw Cathedral, protesting Benedict-Ratzinger's appointment of Stanislaw Wielgus to be installed as Archbishop-Primate of Poland at the cathedral on Epiphany 2007. Something had gone desperately wrong with Newpope's appointee. Instead of appearing for his installation, Wielgus showed up to resign.
As previously reported by the TRADITIO Network, Wielgus had been exposed as a Communist spy against the Church for over twenty years, from shortly after Vatican II until the 1990s. Benedict-Ratzinger nevertheless appointed Wielgus to become Archbishop of Warsaw, fully aware that he had been a spy and refused to withdraw his papal appointment when Wielgus's Communist collaboration was at last revealed to the public by several Polish journals in the last two weeks. Wielgus was the "Church Mole" of the Communists and, while Newchurch presbyter in 1978, signed an agreement promising to cooperate with the Communist Secret Police in exchange for an all-expenses-paid study trip to West Germany.
Even a Newchurch commission found from a recent investigation that there was sufficient evidence to confirm Wielgus was a "willing" informer on Church members to the Communist Secret Service. "There are plenty of important documents which confirm Wielgus's willingness for ... cooperation. The documents ... show some opinions of intelligence service officials that suggested that the actions of Stanislaw Wielgus (in the city were he lived) could have done harm to people from Church circles," the commission found. Yet Benedict-Ratzinger overruled their objections and insisted upon appointing the Communist collaborator to the highest Newchurch position in Poland.
Wielgus's collaboration with the Communists automatically made him an excommunicate according to a 1949 Decree of the Holy Office, but he has been functioning as a Newchurch bishop since 1999 with the full knowledge of Benedict-Ratzinger. Since Newpope did not act, the Polish people themselves forced Wielgus to resign. The President of Poland, an anti-Communist, who was present at the cathedral, conspicuously applauded, together with many of the other attendees. The Poles are understandably hostile to the Soviet Communists, who took over their country in 1956 and retained control until 1989.
Wielgus at first lied, denying the reports, but once the documentation, made public because of the fall of the Soviet Union, was revealed, Wielgus admitted his guilt and resigned. He has now admitted that he was a collaborator with the Communist Secret Service. Nevertheless, there are Newchurchers, including corrupt Newvatican, who want to exculpate him because they claim that he was "intimidated and threatened" by the Communists.
That won't wash. Bishops take an oath at their consecration to defend the Faith, even at the cost of their own life. 11,000,000 common Romans did so in the first three centuries of the Christian era. Wielgus should be denounced by Newpope, not praised. But Benedict-Ratzinger and his papacy have already been caught in so much criminality of their own that there is no surprise in that.
The BBC's World News Service is broadcasting around the world that the resignation is a grave setback for Benedict-Ratzinger. The sudden announcement of Wielgus's resignation came only two days after Benedict-Ratzinger said that the excommunicate bishop "enjoyed the pontiff's full confidence." The papacy of Benedict-Ratzinger is now drowned in its fifth scandal, splashed across the headlines of the international news. Some are saying that Newpope will not survive the year. [Source: UPI
---
January 10 - Within the Octave of the Epiphany
Semidouble Feast
SSPX Members of Europe Petition Their Bishops Not to Sell out to Newrome
From: The Fathers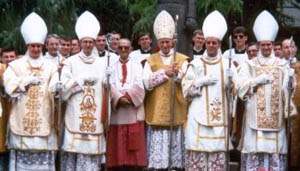 Six Traditional Catholic Bishops on June 30, 1988
de Galleretta, de Mallerais, de Castro Mayer, Archbishop Lefebvre, Williamson, Fellay
Newchurch Hates the "Indult Mass"
It Was Archbishop Lefebvre's Courageous Action
That Forced JPII into the Gimmick of a so-called "Indult Mass
SSPX members in Europe are currently circulating a petition in France, Germany, Italy, and England, addressed to the bishops of the Society of St. Pius X (SSPX) not to abandon traditional principles by selling out to Newrome. The text of the English version reads:
To: Your Excellencies Bishops Richard Williamson, Bernard Tissier de Mallerais, Alphonso de Galarreta, and Bernard Fellay
From: Your Humble Flocks

We the undersigned beg of you to oppose any further communication with Modernist Rome and to fight against any internal forces within the Society of Saint Pius X, if such forces exist, that may now or in the future seek to make an agreement with Modernist Rome.

We beg you to remember and hold fast to your assurances of the past, claiming that it would be wrong to have anything to do with Modernist Rome until such time as it has returned to the Faith, voided Vatican II, and rejected the Novus Ordo.

We the undersigned beg Your Excellencies to make your rejection of any further communication or agreement with Rome clear with a public statement.

We implore that you maintain and uphold the words of your consecrating bishop, Archbishop Lefebvre, who in his last years stated repeatedly that there was no further need to communicate with rome and that nothing short of a complete return to the Faith by Rome would be sufficient for any manner of agreement.

We beg that you will forgive our presumption in addressing you in this manner and that you understand that it is only with great fear and urgency that we do so.
It must be remembered that the so-called "Indult Mass" is a sham being perpetrated by Newchurch to cajole more traditional Catholics into the Newchurch of the New Order. An "indult" is a temporary privilege; it is not a right. The Traditional Latin Mass is a right, confirmed by Sacred Tradition, a Dogmatic Council, and a Pope-Saint.
Without Archbishop Lefebvre's courageous action in 1988, there would be no "Indult Mass" in Newchurch. And remember that the "Indult Mass" is not even the Bugninized/Modernized Mass of 1962, but over the years has been hybridized with the Novus Ordo worship service. For further information, click on the Traditional Latin Mass, Divine Office & Sacraments department in the "The Road into the Hole of the 'New Mass'" section.
JPII was forced into making an immediate move against traditional Catholicism, and thus the "Ecclesia Dei" gimmick came about. It is amazing how many indultarian and "conservative" Newchurchers are falling for it, right into the clutches of Newchurch with its New Religion and New Morality. They're willing to sell out the true Faith for hobbled horse.
---
Fabled "New Indult" Now Said to Be Eviscerated to Presbyter-alone Services
From: The Fathers
Speculation continuing for more than a year about a "new indult" now has shifted yet again to prophesy that if there is any "new indult," it will allow the Modernized "Indult Mass" to be used without the local bishop's explicit permission only in the setting of a "private Mass." A "private Mass" is one in which the presbyter alone is present. It is known in the Novus Ordo Missal as the Ordo Missae sine Populo, that is, a Mass [sic] without anyone being present but the presbyter.
Oh, the tangled web Newchurch weaves! Have you not figured out yet that Newvatican doesn't give a hoot about the Bugninized/Modernized Mass of 1962, let alone the Traditional Latin Mass? This is all a game to these Newchurch clerics, from Newpope on down -- a game of money and power. The indultariaans are of no more importance to Newvatican than the heretic Anglicans, for whom Newvatican is even now concocting a hybrid Novus Ordo/Anglican "liturgy."
The fact of the matter is that Newvatican is never going to allow any "Indult Mass" to be held without the local bishop's permission. That is how Newchurch works since Vatican II: local bishops hold the power, not the pope. Even if Benedict-Ratzinger tried that (which even he, as a self-proclaimed foot-soldier of Vatican II), the local bishop has the real power to quash it in his diocese. Face it, you've got now what the Newchurch bishops are going to give you. No "new indult" is going to change that, and even Newpope has said so. Newchurchers have no rights except what Newchurch deigns to give them. If they sell out their Catholic Faith to this "indult" gimmick, they deserve the New Religion that they will get!
And, as proof of that fact, what are indultarians and "conservative" Newchurchers doting on: a Novus Ordo Bugninized/Modernized Mass of 1962. It doesn't seem to phase them that the head of this charade is a man who has no compunctions against appointing as archbishop a spy against the Church in the employ of the Communist Secret Service. It doesn't seem to matter to them that the head of this charade is a man who stands in silent complicity while tens of thousands of Newchurch children are raped, while his administration sets the presbyter-criminals free. No, these indultarians and "conservative" Newchurch are quite willing to pair with Newpope of the New Order and his Newchurch of the New Order.
These indultarians and "conservative" Newchurchers need to get their priorities straight. Traditional Catholics want to bury Newchurch's phony "indult," not to praise it.
---
Catholics United for the Faith Call on SSPX to Adhere to Fully Traditional Catholicism
From: Elizabeth
Dear Fathers:
Catholics united for the Faith (not an organization) are circulating a petition calling on the SSPX bishops to adhere to fully traditional Catholicism and the principles of its founder, Archbishop Lefebvre.
To: Your Excellencies Bishops Richard Williamson, Bernard Tissier de Mallerais, Alphonso de Galarreta, and Bernard Fellay
From: Catholics united for the Faith

We the undersigned beg of you finally to take a real stand for the Faith, that pearl of great price, by rejecting the anathematized rite of 1962 and returning to the canonized Roman rite as codified under Pope St. Pius V.

We now realize that each and every time a priest offers the anathematized rite of John XXIII [the Bugninized/Modernized Mass of 1962 or "Indult" Mass], that priest dethrones Our Lord in His Pontificate since it is the Pontificate of Our Lord that is being simultaneously rejected and replaced with the pontificate of lawless man.

We implore you to reject this abortive rite. Archbishop Lefebvre began the fight for the Faith. Under your leadership the opportunity for greatly advancing the Faith exists. Seize it!
---
January 9 - Within the Octave of the Epiphany
Semidouble Feast
Benedict-Ratzinger Admits that He Knew His Archbishop Appointee
Was an Atheistic Communist Spy Against the Church
But Newpope Refuses to Withdraw the Invalid Appointment
From: The Fathers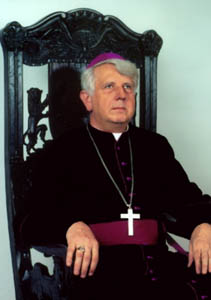 Portrait of an Excommunicate Bishop, Communist Spy Stanislaw Wielgus
Appointed by Benedict-Ratzinger to Become the Archbishop of Warsaw on January 6, 2007
In Spite of the Fact that Newpope Admits He Knew that His Appointee Was an Communist Spy
The fallout from Benedict-Ratzinger's appointment of a spy reporting to the Communist Secret Service continues to rock Newvatican before his installation as Archbishop of Warsaw on the Sunday of the Holy Family, January 7, 2007.
The authoritative Polish daily Rzeczpospolita has shaken all of Poland by reporting that Benedict-Ratzinger's appointee was "a secret agent of the Communist services for twenty years. The new archbishop of Warsaw was a secret and conscious collaborator with the SB [Communist Secret Service] for more than 20 years. Documents confirm this." Rzeczpospolita's report confirms previous investigative reports by the Polish weekly Gazeta Polska.
The evidence mounts that Stanislaw Wielgus was a mole, planted by the atheistic Communists shortly after Vatican II, in 1967, to spy on the internal activities of the Church. He operated under at least three pseudonyms: "Adam," "Grey," and "Adam Wysocki." Rzeczpospolita has unearthed the microfilm of Wielgus' signed agreement to work for the Communist Secret Service, along with documents showing that he gathered information for the Communists about internal Church matters and personnel. Rzeczpospolita has discovered other documents indicating that Wielgus received "special training" for Communist secret agents.
Now an investigatory commission established by the Newchurch hierarchy in Poland has confirmed that Wielgus did in fact cooperate with the Communist Secret Service and has asked that his appointment be withdrawn before his scheduled installation as Newchurch Archbishop of Warsaw on January 6, 2007. Nevertheless, Newvatican leaders say that Benedict-Ratzinger knew that his appointee was a Communist spy and stubbornly refuses to withdraw the appointment.
The appointment is invalid anyway, as collaborators with Communists have been automatically excommunicated since 1949 by a Vatican decree and cannot, therefore, validly hold office. Thus, under Benedict-Ratzinger, the Newchurch world will have the scandal of a situation of sede vacante in the Archdiocese of Warsaw. Moreover, Benedict-Ratzinger is once again directly involved in a morality scandal so grave that his papacy is being compared to that of the "Bad Pope" Alexander VI. [Sources: Il Giornale, Guardian, CNS]
---
Newchurch in the United States to Be Secularized within 20 Years
From: The Fathers
In an interesting year-end prediction, American Chronicle posits the complete secularization of Newchurch institutions within the United States "within the next 20 years":
It's no secret that the U.S. Catholic Church [sic] is in a deep crisis. The numerous sexual-molestation scandals and the class-action lawsuits that have followed are draining diocesan treasuries dry. Many such dioceses are selling off buildings like closed churches and schools and other real estate properties they own. On top of that, the shortage of priests [presbyters] and nuns in the U.S. mean more such closures are on the way. And because of that shortage, the Church's institutions, its colleges, hospitals and other charitable foundations, will become completely secularized within the next 20 years. The whole infrastructure of the Church within the U.S. could be almost gone by within that time period.
That's honest. The only thing not honest is to call the Newchurch fraud the "Catholic Church." The Catholic Church is to be found not in the New Order, not in new "indults," but where it always has been: in the traditional Catholic Faith and those who keep it. The Great Doctor of the Church, St. Athanasius of Alexandria, made that exact point in an epistle to his flock, who were suffering under a Church led at the time almost entirely by bishops who were heretics, denying the divinity of Christ in the Arian heresy:
Who has lost and who has won in the struggle -- the one who keeps the buildings or the one who keeps the Faith? The true Faith, obviously.
The great Saint's prediction has come true in our own time, when the false Newchurch of the New Order cannot even keep its buildings, but sells them off to become mosques and breweries!
---
January 8 - Within the Octave of the Epiphany
Semidouble Feast
U.S. Supreme Court Justice Speaks Publicly of the Need for Latin
From: The Fathers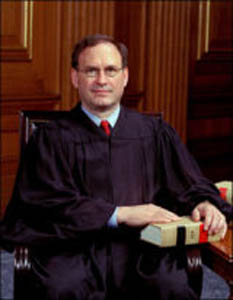 United States Supreme Court Justice Samuel Alito
Tells 600 Students, Teachers, and Parents to Study Latin
It Is "Far from a Dead Language," He Pronounces
It turns out that the newest member of the United States Supreme Court, Samuel Alito, 56, is a fiery advocate of the Latin language and our Greco-Roman civilization. To prove it, he traveled from Washington, D.C., to Berkeley Heights, New Jersey, the area where he grew up, to issue a passionate plea for the language to the Latin Language Club.
On January 3, 2007, Alito, in front of more than 600 students, teachers, and parents at Steinert High School, urged students to study Latin. He told them that Latin is "far from a dead language." In addition to its literary, historical, and cultural importance, Latin helps students with their writing skills and even "the dreaded SAT," he said. [Source: New Jersey Star-Ledger]
One can only wonder how such a person, like Antonin Scalia and other Newchurch Supreme Court justices, must feel sitting in pews listening to the vulgar drivel made up by the Freemason Bugnini, which masquerades for a "Mass" in Novus Ordo temples.
---
January 7 - The Holy Family
Double Major Sunday
Benedict-Ratzinger Sponsors Punk-rock Opera Dedicated to Himself
From: The Fathers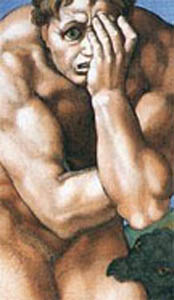 The Damned Soul in Hell from Michelangelo's Last Judgment
Benedict-Ratzinger, Who Purports to Want to Maintain Catholic Culture in Europe
Is Revealed to Be Sponsoring a Punk-rock Opera Based on Dante's Inferno
It seems that Benedict-Ratzinger has been caught in another hypocrisy, this time of the cultural type. And Catholics concerned with preserving the best of Catholic culture are livid against Newpope. Remember when JPII, the "Clown Mass Pope," was justly ridiculed when he recorded poetry to beatnik music? Well, Benedict-Ratzinger has gone his predecessor one better. He's sponsoring punk rock and heavy metal.
Benedict-Ratzinger has made quite a propaganda crusade about Europe losing its Catholic culture, but his Newvatican has now disclosed its plans to sponsor translating one of the greatest works of Catholic literature, the 14th-century poet Dante's classic Divina Commedia, or Divine Comedy, into a punk-rock opera, to be staged in the autumn of 2007, with music composed by an "avant-garge" presbyter. Msgr. Marco Frisina uses punk rock, heavy metal, and jazz as background for the First Part of Dante's work, Inferno, or Hell.
Dante Alighieri, a Third Order Franciscan, was called an "Aquinas in verse" and the "greatest of all Catholic artists" by Pope Benedict XV (r. 1914-1922) in his encyclical on the occasion of the 600th anniversary of Dante's death in 1921. But Benedict-Ratzinger apparently doesn't have the cultural taste of his papal predecessor. Frisina's punk-rock opera is being dedicated to the Pope of Love, Benedict-Ratzinger, "who dedicated his first encyclical to love." It's enough to make one sick. [Source: La Repubblica]
---
The Pronunciation of Ecclesiastical Latin
From: John
Dear Fathers:
Where can I get information, and preferably examples, of the pronunciation of ecclesiastical Latin?
The Fathers Reply.
The TRADITIO Network has begun adding MP3 audio files on various aspects of the traditional liturgy. The first of these files is a description of the Pronunciation of Ecclesiastical Latin in two parts. Included are a discussion of the varieties of Latin pronunciation, a description of the sounds of the vowels and consonants in the ecclesiastical (Italianate) pronunciation, and a reading of sample prayers in ecclesiastical Latin. For further information, click on the Traditional Latin Mass, Divine Office & Sacraments department in the "Audio files" section.
---
January 6 - Epiphany of Our Lord
Double of the First Class
U.S. Newchurch Military Archbishop Vetoes Catholic Prayers
From: The Fathers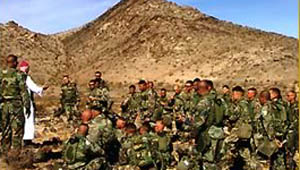 U.S. Newchurch Military Archbishop Edwin O'Brien Tells Newchurch Soldiers
That He Vetoes Newchurch Chaplains from Offering Catholic Prayers
As It Would Be a Sin against Newchurch's Great Commandment of Oecumenism
Newchurch just gets less and less "Catholic" all the time, doesn't it? Now the U.S. Newchurch Military Chaplain has vetoed Newchurch chaplains from saying Catholic prayers.
The United States Congress is ready to pass an amendment to the National Defense Authorization Act of 2007 to guarantee the right of military chaplains to pray according to their conscience. In other words, they wouldn't be forced to stifle Catholic belief and theology in the prayers they offer. The issue came to a head when a Newchurch presbyter was ordered not to preach to their congregations about legislation banning partial-birth abortion.
But U.S. Newchurch Military Archbishop Edwin O'Brien vetoed the amendment, saying that for Newchurch chaplains to offer Catholic prayer would have an "adverse effect on unit cohesion." Yet it appears that the Congress may give the proverbial raspberry to O'Brien, as Senate-House conferees agreed to incorporate into the act a section overturning current Air Force and Navy regulations that restricted prayers specific to one faith at public military ceremonies. [Source: CNS]
---
"Indult" Has Been Powerless to Save Newchurch in England and Wales;
Newchurch Will Be Dead in Ten Years, All the Faster because of the "Indult"
From: The Fathers
Nothing could demonstrate more clearly the Death of the New Order than the case of the formerly Catholic Church in England and Wales. The latest figures are out, and this is the story they tell.
Mass attendance in the Catholic Church in England peaked exactly at the conclusion of Vatican II -- and plummeted from then. According to the 2006 English Church Census, published on September 18, 2006, Catholic Mass attendance in England and Wales rose steadily to peak at 2,114,219 in 1966 exactly at the close of Vatican II and then fell steadily to 1,071,975 in 2002, falling again by 200,000 in two years to 876,613 in 2004. Mass attendance has dropped by almost a third in the last seven years. Such are the fruits of the post-Vatican II New Order in Newchurch.
That means that active Newchurchers in England and Wales now number fewer than 1.5% of the population. At the present rate of decline, Newchurch will be dead in England and Wales within a decade, except for some traditional Catholic communities deliberately staying independent from the contamination of Newchurch and Newvatican.
"Britain is showing the world how religion as we have known it can die," stated Callum Brown, an historian at the University of Dundee in Scotland. He was pessimistic about the future, observing that after two generations of the New Order, people with little experience of regular church participation, it will be difficult to turn the situation around.
But this is nothing new for England. From the time of Henry VIII, Catholics have had to operate in small communities, sometimes underground, because of persecution. The only difference now is that the persecution is coming not from the civil government, but from the New Order that has taken over the Church and deceptively calls itself "Catholic."
Moreover, this Death of the New Order has taken place in spite of the fact that England and Wales has had an "indult" against the Novus Ordo service. Cardinal Heenan was able to pry out of Paul VI a 1967 "indult" for parts of England and Wales to use the pre-1967 edition of the Roman Missal (before the changes in the Canon) on an occasional basis and then received in 1971 a new "indult" to permit the Bugninized/Modernized Mass of 1962 to be celebrated in England.
These spurious "indults" did no good. In fact, England is actually sinking faster as a result of them. At the current rate, England and Wales will return to a state of sede vacante, which it endured from the period of Henry VIII to the restoration of the Catholic episcopal sees in 1850.
For further information, see AGATHA: 1971 Petition by Distinguished Writers, Scholars, Artists, and Historians Living in England to Spare the Traditional Latin Mass in the TRADITIO Network's Library of Files (FAQs & Traditional Apologetics).
---
Italians Oppose a "New Indult"
From: The Fathers
A statement circulated by Newchurchers opposing the wider use of the so-called "Indult Mass," was submitted to Benedict-Ratzinger. "We ask you not to publish the indult," the new Italian statement said in a direct appeal to Benedict-Ratzinger, arguing that the Pontiff does not have the authority "to contradict a council." [Source: CWN]
This phraseology is particularly interesting because it overtly gives Vatican II some kind of "super-authority," in spite of the fact that Pope John XXIII, who convoked the pastoral Council, and Pope Paul VI, who promulgated the pastoral Council's documents, both specifically proclaimed that it had no dogmatic authority. For further information, see FAQ08: What Is the Authority of Vatican II? in the TRADITIO Network's Library of Files (FAQs & Traditional Apologetics).
---
Information on the Significance of the Council of Trent
From: James
Dear Fathers:
We hear a lot about the Council of Trent, but where can I find out about its history and importance?
The Fathers Reply.
The TRADITIO Network has begun adding audio sermons in MP3 format to the Special Features department. The first set of audio sermons is a three-part series on the Council of Trent, delivered in 1995, on the 450th anniversary of the convening of the Council. The three sermons treat the history, the doctrine, and the Saints of the Council. The second set of audio sermons is on the Feastdays of Corpus Christi, the Holy Family, the Holy Name, and the Sacred Heart. For further information, click on the Special Features department in the "Sermons" section.
---
January 5 - Vigil of the Epiphany
Complete Friday Abstinence
Marian Site at Lourdes Is the Site of a New Year's Bash
From: The Fathers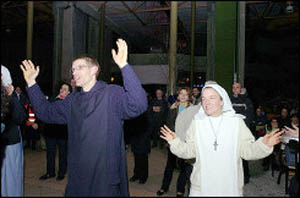 The Newchurch Diocese at Lourdes Desecrates the Holy Site
Sponsors a "Down and Dirty" Party in the Shrine City
At Which a Newchurch "Nun" Leads the Festivities
The regional Newchurch diocese at Our Lady's shrine at Lourdes sponsored a party so that the "faithful" could "get down and boggie in God's disco." "We wanted to put on a different New Year's Eve, even if there's no religious meaning attached to the night," said Catherine Albrech, one of the team that organized the event for the regional Newchurch diocese. [Source: AFP]
No religious meaning?! In fact, on January 1 the Church traditionally celebrates no fewer than four occasions of worship:
It is the beginning of the civil year in modern times (though it was not always so). The Church reminds us by the grave obligation of attending Holy Mass on this day that we must use all the days of the new year in accordance with the will of God for us.
It is the Octave Day of the Nativity, the eighth day after Christmas. The Church celebrates its great feasts not only on one day, but for a full week afterward, especially on the Octave Day.
It is the Feast of the Circumcision of Our Lord. The Church reminds us that Christ assumed our human nature so completely that He even submitted to the Jewish law of circumcision on the eighth day of His human life and accepted the name that was given to Him by the Angel before He was conceived: Jesus, meaning "Savior."
It is also a feast of Mary, perhaps the oldest. The Church recalls Our Lady's God-given role in the Incarnation both as Mother of God and as virgin.
But apparently not for Newchurch.
---
January 4 - Octave Day of the Holy Innocents, Martyrs
Simple Feast
Benedict-Ratzinger Appoints a Communist Mole as Archbishop of Warsaw
From: The Fathers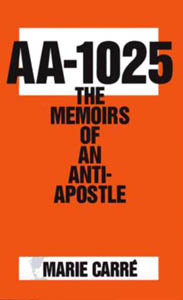 Catholic Nurse Marie Carre's Explosive Book around the Time of Vatican II
Revealed the Notes of One of 1025 Communist Agents
Who Joined the Catholic Priesthood and Hierarchy
With the Intention of Subverting and Destroying the Church from Within
There has been a persistent evidence that the Communists deliberately infiltrated the Catholic Church to destroy the Church from within. Although the infiltration started in the late 1930s, it was around the time of Vatican II in the 1960's that a French Catholic nurse, Marie Carre, attended an auto-crash victim who was brought into her hospital. The man lingered there near death for a few hours and then died. He had no identification on him, but he had a briefcase in which there was a set of notes indicating that the man, along with 1024 other Communist agents, purposely entered the Catholic priesthood with the intent of subverting and destroying the Church from within.
Prominent at Vatican II was one Fr. Ratzinger, who was personally responsible for introducing into Council documents Modernistic, even Communistic, slanted verbiage and philosophies. Now, on December 6, 2006, Benedict-Ratzinger has appointed to become Newchurch archbishop of Warsaw one Stanislaw Wielgus, who, according to the Polish weekly Gazeta Polska. is a former Communist spy and was a secret collaborator with the Communist Secret Service into the 1990s.
Investigative journalists from the weekly have found documents from the now-opened Communist archives, according to which the newly-appointed archbishop-metropolitan of Warsaw collaborated with the Communist Secret Service for over twenty years, informing the Communists about the activities of the Catholic Church in Communist Poland, into the 1990s. The editor-in-chief of the Polish weekly writes:
Our authors have found materials from the archives of Communist Secret Police that show us Bishop Wielgus was a secret collaborator with secret Communist intelligence. We are very sure that these materials are true. His cooperation lasted for 22 years. He was one of the most important collaborators in the Church with Communist intelligence.
According to the weekly, Wielgus was one of the most important Communist spies in the Catholic Church. He is supposed to have started his collaboration with the Communists back in the 1960s at the time of Vatican II and worked initially for the department dedicated to destroying the Catholic Church. The weekly writes that the archbishop's cooperation went uninterrupted until the beginning of the 1990s. He never changed his mind about what he was doing, even after a series of brutal murders by the Communist regime on Newchurch presbyters. One independent investigative journalist writes on the Communists' use of Newchurch clergy, particularly from the time of Vatican II, to work against the Catholic Church:
Communism used priests [Newchurch presbyters] as very important sources of information. They informed about everything that happened in the Catholic organizations and in the Catholic Church. The Communist government used them to fight against the Catholic Church. Information gained from the priests was used to enforce the actions of intimidation by the Catholic hierarchy and to discourage Poles from being Catholic.
Lately, Benedict-Ratzinger's appointee Wielgus has been known as a vocal opponent of revealing former Communist spies in the present Polish public life. Hmmm. He admits that he himself "kept in contact with the Communist-era Secret Service."
Good Catholics, have you ever wondered why Newchurch is in such a corrupt state? Why it has lost the Catholic Faith? Why its bishops and presbyters have sunken to the foulest crimes? The "fish rots from the head," goes the old saw. One can lay the blame right in the lap of Benedict-Ratzinger. After all, it is he who is responsible for appointing the likes of Wielgus. For further information about AA-1025 and the "Modernist Plan of 1940" to infiltrate the clergy of the Catholic Church, see use the TRADITIO Search Engine in the Commentaries from the Mailbox" department for "AA-1025."
---
January 3 - Octave Day of St. John, Apostle & Evangelist
Simple Feast
Why Doesn't Benedict-Ratzinger Excommunicate Schismatic Communist Bishops?
From: The Fathers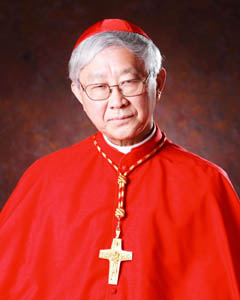 Joseph Zen, Newchurch Cardinal of Shanghai, Criticizes Benedict-Ratzinger:
Why Don't You Excommunicate Schismatic Bishops?
Newrome "Excommunicates" Traditional Bishops, but Embraces Communist Schismatics
Even Newchurch cardinal Joseph Zen wants to know. Loyalist Catholic archbishop Marcel Lefebvre was "excommunicated" for consecrating four traditional Catholic bishops, but Communist China has been consecrating bishops right and left for its schismatic Patriotic National Church. Benedict-Ratzinger remains as mute as the proverbial monkey about these "consecrations," for which the Communist government has abducted Newchurch bishops to take part in the services in order to lend them credibility.
Isn't it curious that Newvatican regards the Patriotic National Church of Communist China as "estranged," but still "in communion" with Newrome, whereas the traditional Society of St. Pius X is considered "schismatic" and not "in communion" with Newrome?
---
Newchurch Wanted to Spare Mass Murderer and Torturer Hussein
From: Tom
Dear Fathers:
Saddam Hussein has been executed after a fair trial. He was guilty of killing the innocent by unjustifiable homicide, that is, murder. Newvatican, via Newcardinal Renato Martino, claimed that "capital punishment is contrary to the teaching of the Roman Catholic Church" and that the just judicial execution of this mass murderer and torturer is compounding a "crime with another crime." So now Newchurch teaches that those who punish justly-convicted criminals with the death penalty are themselves committing a crime? Holy Scripture, both the Old Testament and the New Testament repeatedly justify the death penalty.
When any organization teaches that which is clearly contrary to traditional Catholic dogma and Tradition, then one thing becomes certain: that organization is not teaching in the name of the Roman Catholic Church. Those who teach that which is contrary to the explicit law of God have de facto placed themselves above God Almighty in violation of the First Commandment, and Our Lord Himself had grave words about the most special place of the First Commandment.
The Fathers Reply.
Renato Martino is in grave error to say that "capital punishment is contrary to the teaching of the Roman Catholic Church." You must realize that Martino is not a "Roman Catholic"; rather, he is a member of the Newchurch of the New Order, who obviously doesn't know (or care) what the clear Roman Catholic teaching on the subject has been for 2000 years. Since Martino also displays an abysmal ignorance of the Bible, one has to wonder whether he is even a Christian!
Given Benedict-Ratzinger, William Levada, and other Newchurch officials' involvement in aiding and abetting (or even engaging in) sex crimes against children, one can understand why Newchurch would be reluctant to apply severe penalties against criminals. Our Lord Himself spoke publicly about the justice of the death penalty for such people: "But he that shall scandalize one of these little ones that believe in me, it were better for him that a millstone should be hanged about his neck, and that he should be drowned in the depth of the sea" (Matthew 18:6/DRV).
The participation in such crimes by Benedict-Ratzinger and his Newchurch officials are numbered among the Four Sins that Cry to Heaven for Vengeance. One day they might well receive the justice of God for their grave crimes against the innocent, just as the mass murderer Saddam Hussein did for his. For further information on the Catholic teaching on capital punishment, see FAQ10: How Do You Explain These Traditional Catholic Beliefs in the TRADITIO Network's Library of Files (FAQs & Traditional Apologetics) in the article "Capital Punishment/Death Penalty."
---
January 2 - Most Holy Name of Jesus
Double Feast of the Second Class
Benedict-Ratzinger's Newvatican Frees Predator Presbyter
From: The Fathers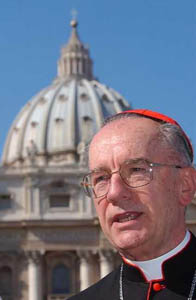 Benedict-Ratzinger's Clergy Minister, Cardinal Claudio Hummes
Frees Admitted Sex Criminal to Go Back to the "Active Ministry"
Newchurch Parents: Pull Your Kids out of "Catholic" Schools Now
Before You Become Responsible for Their Rape
The criminal responsibility for the ongoing Great Sex & Embezzlement Scandal in Newchurch goes right to the top: Benedict-Ratzinger. A case in point: his Newvatican bureaucracy has freed a presbyter who was accused of sex crimes by his students.
Daniel Pilarczyk, Newchurch archbishop of Cincinnati, placed the presbyter on administrative leave in April 2002, after a former student accused the presbyter of sex crimes when the presbyter was teaching at a Newchurch high school. The student said that the crimes occurred at the end of his senior year and after he graduated from the school. Another student at the high school also accused the presbyter of sex crimes. The presbyter paid off the students to "settle" the matter.
Newvatican has now overturned Pilarcyzk's action and put the sex criminal back on "active duty" in Newchurch and is forcing the archbishop to place him in a new assignment! The basis of freeing the accused sex criminal to go back on "active duty" in Newchurch was a technicality: the statute of limitations had expired. So now the presbyter, by direct order of Newvatican, will be back in a near occasion of sin against children. (Is Benedict-Ratzinger and Newvatican sick or what?) [Source: Kentucky Post]
---
January 1 - Circumcision of Our Lord
Holyday of Obligation
Double Feast of the Second Class
Protestant Church the Beneficiary of Displaced Newchurchers
From: The Fathers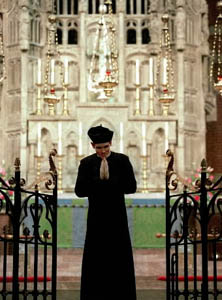 Since Newchurch Has Abandoned Traditional Churches
Protestant Congregations Are Snapping Them Up
And Welcoming the Newchurchers into Their Protestant Congregations
(The Anglo-Catholic Church in Boston Pictured Above Looks
More Traditional than Most New Order Temples!)
"God has blessed the church with a growing membership." No, not the Newchurch of the New Order. This is Protestant Pastor Cecilio Perez, of the Assemby of God Protestant Church in Lawrence, Massachusetts, outside Boston. Pastor Perez has offered to buy out one of the city's five closed "Catholic" churches. In Lawrence alone, there are three church properties left vacant by Newchurchers who have abandoned weekly Novus Ordo service attendance and withheld collections because of the Great Sex & Embezzlement Scandal, aided and abetted by the Newchurch bishops and Newrome.
Although Newchurch trashes these mostly traditional-style churches, Protestant pastors say that the former Catholic churches are appealing because of their prime locations, size, and architecture. "Catholics [sic] are not looking at them; it's nondenominational churches who meet in storefronts in neighborhoods with no parking," one Protestant pastor said. "A lot of them are leasing or owning worship spaces and want something bigger. This would give them greater standing in the community because they can become more active." [Source: Eagle-Tribune]
Standing that Newchurch has lost.
---

Return to Commentaries from the Mailbox.