June 2006
For answers to many questions, consult the Official Traditional Catholic Directory, Listing All Traditional Latin Masses and Traditional Resources for the United States and Canada (11th Annual Edition - 2006). To order the full 147-page paperback edition, click on the button below: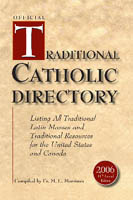 Buy the 2006 Traditional Directory.
For information about the protocol for sending messages to the Fathers, see Ask the Fathers.
| | |
| --- | --- |
| | If you wish to support the work of TRADITIO, click on the box to the left to made a donation easily, securely, and confidentially by bank account or credit card through PayPal. Regular contributors become Benefactors of TRADITIO, and their intentions are specially commemorated at Traditional Latin Masses offered. Indicate in the Message section of your payment "For TRADITIO." For other methods, see FAQ01: How Do I Help to Offset Expenses? |
---
June 30 - Octave Day of the Sacred Heart
Double Major Feast
Complete Friday Abstinence
Newchurcher "Annulments" Make a Mockery of Marriage
From: The Fathers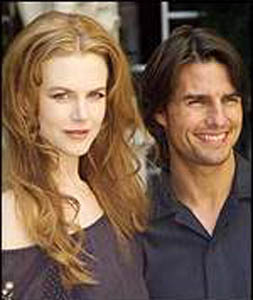 Did Newchurcher Kidman Invalidly Marry Cruise outside Newchurch?
Now She Has "Remarried" in a Newchurch Temple a Country Crooner
Meanwhile, Newchurch Has Been Handing out "Annulments" like Candy!
Now here's an odd one. How was actress Nichole Kidman, the wife of Tom Cruise for ten years, "remarried" to country crooner Keith Urban in a Sydney newchurch on June 24 after she divorced mega-star Cruise? More Newchurch shenanigans?
According to the BBC News, it appears that Kidman, a Newchurcher, was never married to Cruise in the first place. Kidman supposedly invalidly married Cruise, who is now an adherent of that crazy Scientology sect, outside Newchurch, in which some of the principles of marriage still stand, but those that remain are observed more in the breach than in the observance. Scientology was invented by the late L. Ron Hubbard, who reportedly said: "I'd like to start a religion. That's where the money is." Newchurcher Kidman even dabbled in the sect herself.
Well, whatever the case may be with this mixed-up situation -- we'll let Newchurch do its usual tripping over its own feet in these matters --, there are certain things that we know for sure. Traditionally, a Catholic must marry another Catholic for a valid marriage. Occasionally, a Catholic may be given a dispensation, if just cause can be adduced, to marry a non-Catholic, but only if the proposed non-Catholic spouse makes a written promise not to interfere in the Catholic spouse's practice of the true Faith and to raise any children as Catholics. The exchange of vows is then held in the rectory, not the sanctuary.
It has been another scandal of Newchurch that after Vatican II the Sacrament of Matrimony has been undermined by phony "annulments," which, particularly in the United States, have amounted to hypocritical "Catholic divorce." In 1930 only nine declarations of nullity were issued in the U.S. By 1991 that number had risen 700,000% to 64,000!
By then the New Order had set in. In addition to serious, provable grounds for the invalidity of the marriage at the time it was contracted (incest, underage, mental defect, etc.), Newchurch added such silly categories as "lack of due discretion" -- in other words, "I made a mistake marrying her (him) and want to opt out." Today Newchurch hands out phony "annulments" like candy in 90% of cases! The statistics show that, among so many other things, Newchurch is completely incompetent in its required investigation of nullifying conditions before conducting a marriage service.
In contrast, when we cover the activities of certainly the most recognized traditional Catholic on the public scene, producer-actor-director Mel Gibson, we always get a couple of fanatics writing in to disparage Gibson because, in addition to his many serious films (The Passion of the Christ, Hamlet, Braveheart, The Patriot, Tim, Man without a Face, We Were Soldiers, Bounty, Gallipoli), he has done some at-times suggestive light comedies, which are far from the worst that Hollywood produces.
Well, all we can say is that a Hollywood mega-star who has been married as a traditional Catholic to his wife for 26 years and has raised seven children, one of whom wants to become a traditional Catholic nun, can't be all that bad. Gibson has never apostatized from the traditional Catholic Faith, like Cruise and Kidman.
---
June 29 - Sts. Peter & Paul, Apostles
Double Feast of the First Class
More of the Same Whirl with Wuerl
From: The Fathers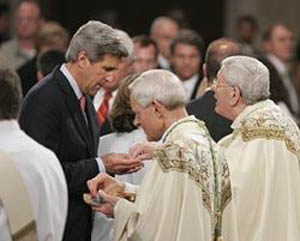 Pro-abortion U.S. Senator, John Kerry (l.), Posing as a "Catholic"
Receives the Phony Novus Ordo Cookie in the Hand
From Benedict-Ratzinger's Personal Representative to the U.S., Pietro Sambi (r.)
While the New Newchurch Archbishop of Washington, D.C.
Donald Wuerl (center), Who Failed Canon Law according to Newvatican, Looks On
Update. After handing out the phony Novus Ordo cookie to pro-abortion U.S. Senator Kennedy, Benedict-Ratzinger's Nuncio's office tried to claim that Newchurch Archbishop Sambi had not done it "intentionally." It just so happened that Kerry was on his side, where the "dignitaries" were seated! If that were the case, why was Kerry seated among dignitaries as a "Catholic"? Moreover, if Sambi was too Italian to recognize Kerry, certainly Wuerl, standing right beside him, did recognize Kerry and could have interposed his veto. This incident was no mistake, just more hypocrisy from Newchurch. Neither Sambi not Wuerl nor Newpope were about to refuse Kerry the cookie.
Anybody who thinks that Benedict-Ratzinger's appointees will improve upon JPII's have only to look at the new archbishop and cardinal-to-be, Donald Wuerl, formerly archbishop of Pittsburgh. During his Newchurch "inauguration" on June 22, Wuerl made it a point during his entrance procession to shake hands with two U.S. Senators who pose as Catholics, Ted Kennedy and John Kerry, both of whom have publicly denied Catholic doctrine and practice, without so much as receiving a slap on the wrist from Newchurch bishops. During the associated Mess, Kerry took the Novus Ordo cookie, into his own hand, directly from Benedict-Ratzinger's apostolic nuncio to the United States, Pietro Sambi.
Moreover, although Newchurch is supposed to support the people "understanding" the Mess in their own vulgar tongues, parts of the Mess were conducted in tongues that were unknown to the majority of the attendees, not only Spanish but also Korean, Chinese, Vietnamese, Tagalog, Igbo, Creole, Portuguese, and American Sign Language. How's that for Vatican II hypocrisy!
The clueless secular press is calling Wuerl is a "teaching bishop"! Perhaps they have forgotten, or never known, that Newvatican reprimanded Wuerl for illegally persecuting a presbyter and ordered Wuerl to get training in canon law because his ignorance of canon law was an embarrassment to Newchurch. The letter of reprimand, which Newchurch had wanted to keep secret, was released to the press by the persecuted presbyter.
Good Catholics, the name of the Newchurch games is more of the same. Benedict-Ratzinger is no less a Modernist than his conciliar predecessors -- actually more so, and for more years. After all, he was one of the architects of Vatican II.
---
June 28 - St. Irenaeus, Bishop & Martyr
Double Feast
First It Was Newchurch Presbyter Criminals; Now It's Newchurch Nun Criminals
From: The Fathers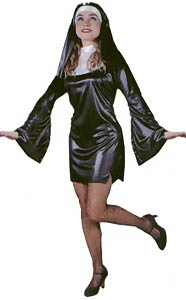 Latest in Newchurch's Great Sex & Embezzlement Scandal:
"Nuns" Committing Sex Crimes against Girls (and Boys) in Their Charge
Four Hundred Complaints of Sex Crimes by Newchurch "Nuns"
Have Now Accumulated, and the Victims Are Saying:
We're Not Going to Take It Any More!
Just when you though that Newchurch had sunk as low as it could, now comes the next Newchurch Scandal: "nun" sex criminals. The Star Tribune of Minneapolis-St. Paul has reported three new cases of Newchurch "nuns" who have committed sex crimes against the girls in their charge. In May five female victims sued the Sisters of St. Francis in Rochester. The Newchurch "nuns" do not discriminate: the 400 crime reports so far include both girls and boys as young as age seven.
A St. Paul attorney who specializes in clergy sex-crime cases said that he has received about a dozen plausible reports of crimes by Newchurch nuns with Minnesota ties, and "we're likely to see more cases in the years to come." Sex crimes by Newchurch nuns have gone largely unreported until recently in part because they use more "seductive ways to silence and confuse their young victims," the attorney said.
Newchurch bishops have, to date, hidden behind the maze of 450 women's religious orders, saying that the dioceses have no jurisdiction over the orders. Current Archbishop Harry Flynn's vicar-general excused the archdiocese from responsibility: "We do not have the right to tell the nuns how to respond. Frankly, we have our own housecleaning to do on the priest [sic] abuse situation."
Moreover, the national Leadership Conference of Women Religious has refused to adopt even the wishy-washy "Charter for the Protection of Children and Young People," drafted in 2002 for the U.S. Conference of Catholic [sic] Bishops. The women's orders involved have also refused look for other possible victims at the locations where the criminal Newchurch nuns lived and worked. The women's orders are doing exactly the same thing that Newchurch bishops, cardinals, and the pope have done, citing "confidentiality" for the criminals and engaging in a cover-up.
Well, this may not be a problem for too much longer. The number of nuns in the United States has fallen precipitously from about 170,000 before Vatican II to about 65,000 currently. That is a drop of almost two-thirds since Vatican II! At the present rate there will be no Newchurch "nuns" in thirty years. Newchurch has learned nothing from the Great Sex & Embezzlement Scandal. Its crimes go on and on and on....
---
June 27 - Within the Octave of the Sacred Heart
Semidouble Feast
SSPX Liberalist Fellay-Schmidberger Campaign Programme Revealed
Exclusive Report from Francois (TRADITIO's SSPX French Correspondent)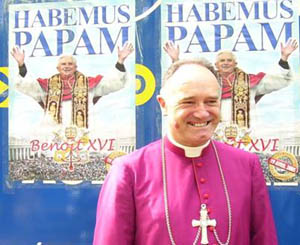 Bernard Fellay, Leader of the SSPX Liberalist Faction
Poses before Posters of Newpope at Chartres, June 2006
The Liberalist Campaign Programme Includes Closer Ties with the New Order
Led by Benedict-Ratzinger, Who Has Been a Modernist Since Before Vatican II
Here in France we have been inundated with propaganda from the SSPX liberalist faction, led by Fellay & Schmidberger. Even the recent SSPX pilgrimage to Chartres this month was turned into a campaign stop. But some courageous SSPX priests have been denouncing Fellay and, mainly, Schmidberger. The Fellay-Schmidberger campaign programme, if their liberalist faction wins the July 3 SSPX elections (which is almost certain to occur, as Fellay personally appoints most of the electors), has been distilled into the following points in one publication:
Dialogue with the New Order, in a "climate of respect," for an eventual reconciliation with the New Order, in a spirit of "oecumenism"
Lifting the Newchurch excommunications (by implication the SSPX liberalists recognize the excommunications as valid, since otherwise there would be nothing to "lift")
Seeking permission for Novus Ordo presbyters to act as priests for the purpose of offering the Modernized Mass of 1962 (the SSPX routinely "reordains" Novus Ordo presbyters as priests because it is not convinced of the validity of Novus Ordo ordinations)
Accepting Vatican II "in the light of Tradition"
Getting Newchurch "recognition" for the SSPX, so that the SSPX can assist the New Order with a "reform of the reform" (a code phrase indicating acceptance of the Novus Ordo service, if only it is "translated better")
Yet, at the same time that Fellay stood before posters of Benedict XVI for a "photo op" in Chartres, he stated in a political "sermon" on June 25 across the Atlantic Ocean in Winona, Minnesota: "There is nothing to negotiate. You cannot negotiate the Faith. If we go to Rome we go not to negotiate -- it is to simply ask these authorities to come back -- that is all." So which is it? Is Fellay a supporter of Benedict-Ratzinger and his Newchurch, or is Fellay firm in a traditional stance?
We in France, who have access to more direct information than elsewhere (since 75% of the membership and activity of the SSPX is here in France) have seen Fellay as the "The Chameleon": he is pro-Newchurch or pro-traditional, according as it will get him electoral support with the liberalist or the traditional faction of the SSPX. He wants to be re-elected with Schmidberger and now seems to be secure in the two-thirds majority he needs, as he appointed most of the electors.
As soon as he is re-elected, we in France are looking for Fellay to restart the "process of reconciliation" again. He has to date failed to respond to calls for a signed document stating that he would will not complete a sellout to Newchurch.
---
June 26 - Within the Octave of the Sacred Heart
Semidouble Sunday
Episcopalian Convention Dumps Christ; Will Newchurch Follow Suit?
From: The Fathers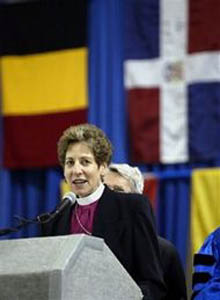 The Mostess Reverendess Katherine Schori
Liberalist Elected Presiding Bishop of the Episcopalian Church on June 18
Delivers a Sermon on "Our Mother Jesus"
As Newchurch-like Episcopalians Embrace a Feminine and "Gay" Clergy
Can Newchurch Be Far Behind Its Episcopalian Guides?
The Episcopalian Church, the U.S. branch of the Anglican Church, is disintegrating before our eyes. And the lesson of recent Church history is: as the Anglicans go, so goes (eventually) Newchurch.
Having embraced divorce, homosexuality, deaconesses, priestesses, and bishopesses, the Episcopalian House of Deputies meeting in convention in Columbus, Ohio, during the week of June 19, by a vote of 70% refused even to consider a resolution that affirms Jesus Christ as the "only name by which any person may be saved." One presbyter explained that how one lives his life is the more important issue than whether one affirms Jesus as Lord. Ah, well, if that is so, then the Episcopalians should close up their heretic Church, save their parishioners a lot of time and money, and recommend that they simply go to Aristotle's Ethics for guidance.
The liberalization of the Episcopalian Church predates 1982. Episcopalians have made it clear by their rejection of traditional marriage and other recent innovations that a new set of heresies now dominates the Episcopalian Church. No wonder that more and more Episcopalian laymen and clergy are leaving the "institutional" Church to found a traditional Episcopalian Church, particularly since the "consecration" of a publicly-practicing homosexual as bishop. At this convention the House of Delegates soundly refused even to place a moratorium on the consecration of homosexual bishops and the blessing of homosexual unions, and its newly-elected liberalist bishopess head preached a sermon on "Our Mother Jesus."
In a rather amusing episode demonstrating how the Anglican Church is fracturing, an Anglican bishop and his party from England were abandoned to wander deep in the African bush by the Anglican Archbishop of Kenya, when the archbishop discovered that the bishop had become a patron of a lesbian and "gay" lobby group. When the bishop and party found its way back to civilization, instead of putting the blame on himself for his heretical views, the bishop claimed that "the devil did it"!
Well, now Newchurch has already accepted an Episcopalian-like service as its "New Mess." And recently Newrome has provided that the chair of the presbyter should be modeled after the Protestant preacher's chair. It has mandated "a position facing the people at the head of the sanctuary," i.e., behind the altar facing the people" (Instructio Generalis Missalis Romani, N. 310). Now think: what used to be in this position? Why the Blessed Sacrament, of course! So, in Newchurch, man has become god. The symbolism is unmistakable.
In addition to accepting the Episcopalian service, Newchurch has already watered down the Biblical teaching against homosexual acts, even abetting homosexual clergy who rape children. Newchurch has already done away essentially with such Catholic doctrines as Original Sin and Limbo. Yes, we'd say that Newchurch doesn't have too far to catch up to its liberalist Episcopalian guides!
Moreover, as the Episcopalian situation proves, the era of false "oecumenism" is over. Rather than joining disparate Protestant sects together, as was attempted unsuccessfully in the 1960s, the Protestant sects are splitting into traditional and liberalist branches -- as is true of Newchurch as well.
---
June 25 - Sunday within the Octave of the Sacred Heart
Semidouble Sunday
Forget New "Indult" without Obedience, Says Newrome's Puppet Bishop Rifan
From: The Fathers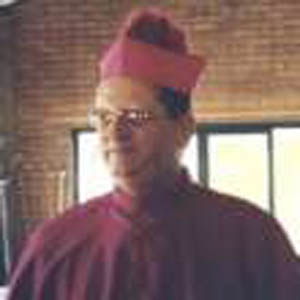 "Indult" Puppet Bishop Fernando Rifan, of Campos, Brazil
This "Exclusively Traditional" Bishop Who Publicly Concelebrates the Novus Ordo Service
In a June 22 Interview Reveals the Truth
About Why No New "Indult" Happened -- or Will Happen
Many other sources were taken in by the talk of a new "indult" for the Modernized Mass of 1962, to be issued by Benedict-Ratzinger just before Easter 2006. When it never happened, most of the "indultarians" said nothing, and stuck their heads back into the sand. But TRADITIO, being more familiar these last forty years with the wiles of Newchurch, cut through the propaganda to find the reality, which is that Newvatican is not interested in the "Indult" Mass per se, but only as a tool for keeping money and bodies in Newchurch, which is currently reeling from scandal after scandal.
TRADITIO's analysis was recently confirmed in an interview that Newvatican's puppet "indult" bishop, Fernando Rifan, of Campos, Brazil, gave on June 22 to an anti-traditional, "conservative" periodical. Rifan, undoubtedly under Newvatican orders, has been going around the world trying to drum up support for the crippled "indult." Rifan, if you remember, was appointed in place of the formerly traditional bishop of Campos and, although his propaganda indicated that he was "exclusively" traditional, he was caught on film publicly concelebrating a Novus Ordo service with other New Order bishops.
Rifan's message to traditional Catholics in the interview is clear: "Show perfect communion with the pope" or forget any new "indult." Of course, he doesn't promise any new "indult." It is the usual carrot-and-stick approach with the indultarians that Newvatican has been using since July 1, 1988, when Archbishop Lefebvre said a public No to Newchurch. Since then, Newvatican has been playing all kinds of games to cajole traditional Catholics into Newchurch, fearing that unless it showed some nominal attention to them, they would leave Newchurch in droves -- and in tatters.
And the indultarians have fallen for it. Since 1988 they have kowtowed to Newchurch bishops, sworn to uphold the New Order, to eke out "permission" for the Traditional Latin Mass to which they have a right, confirmed by Apostolic Tradition and by an explicit Solemn Papal Bull canonizing that right.
To Newvatican, the Mass is not a question of Apostolic Doctrine, of Apostolic Tradition, or of religion at all. It is merely organizational politics: do you do lip-service to Newpope or not? And, let's be clear about this, it is only lip-service for Newchurchers, who praise Newpope with their lips and then blithely and publicly violate even his watered-down teachings. (If you need any proof of this, just remember the words and actions of those sterling Newchurchers Ted Kennedy and John Kerry.)
The Rifan interview, obviously speaking for Newvatican, is a mine of revelations, if one excavates carefully.
First: Rifan reveals that if Newpope should ever grant a new "indult," it "would not be a real reaffirmation of the [Pope St. Pius' infallible] bull Quo Primum." It would be a "concession" of Newpope, "who has the power over the liturgy of the Church." Later, Rifan uses a quite novel term to describe this phantom dogma: the "supreme power dogma."
Of course, such a dogma is just a fantasy, a lot of "bull," as it were. Dogmatically, the pope has no power to invent or "approve" a "New Mass," but can only "religiously guard and faithfully expound the revelation or Deposit of Faith transmitted by the Apostles" (First Vatican Council). But Newchurch has to come up with some justification for the conciliar popes' doing what no popes ever dared to do: fabricate a brand new "Mass," virtually from scratch.
Second: Rifan reveals that even if the Newchurch "excommunications" of the SSPX's Bernard Fellay and the others were "lifted," that will be merely a drop in the bucket, a "sign of benevolence." "They will be in the similar condition of the Greek Orthodox, from whom the Pope [Paul VI in 1964] lifted the decree of excommunication too. Afterwards, they will need the canonical regularization and the correction of doctrinal mistakes."
"Doctrinal mistakes." That's a new one! So, not only would Fellay and the rest have to fess up to "doctrinal mistakes" and obey the Newpope unconditionally but also they would find themselves "under a shadow," just like the schismatic Eastern Orthodox, who, since 1964, have still not been recognized as legitimate by Newchurch.
Third: Rifan cannot even promise that the "indult" groups (FSSP, ICCSS, etc.) will get any benefit whatsoever from a new "indult." "Perhaps they will gain the possibility of more apostolates in the dioceses." Could he have watered down the language any further?!
Fourth: Rifan admits that Newvatican is hearing a lot of opposition from traditional Catholics to the "Mass of Paul VI." He almost quotes TRADITIO's description of that service verbatim as "unCatholic, sacrilegious, irreverent, scandalous, blasphemous, idolatrous, and conclusively invalid," when, as a good servant of the New Order and its fabricated service, he rejects the terms "invalid, heterodox, sinful, sacrilegious, and not Catholic."
What can we conclude from this revealing interview? Newvatican and Newpope seem to have gone through a bath of fire late last year. They thought that with the help of the SSPX's Fellay & Schmidberger, they might be able to bamboozle the Society of St. Pius X into Newchurch. What Newvatican discovered, however, was that, even within the Society, large numbers of the membership opposed its leadership on an SSPX sell-out.
Moreover, other traditional organizations, independent clergy, and even "conservative" Newchurchers took Fellay & Schmidberger to task for even entertaining a sell-out. Although they themselves would not admit it publicly, highly-placed sources within the Society confirmed that Fellay & Schmidberger were burned by the outcry of so many SSPXers against their negotiations with the New Order.
So, don't bet on a new "indult." And, even if one should be forthcoming, very little will change because Newpope does not run Newchurch; the local Newchurch bishops do. And they've gone as far as they're going to go to placate those "infernal traditionalists."
---
June 24 - Nativity of St. John the Baptist
Double Feast of the First Class
TRADITIO Called for It Long Ago:
Now Newchurch Is Being Prosecuted under the U.S. Corrupt Organizations Act
From: The Fathers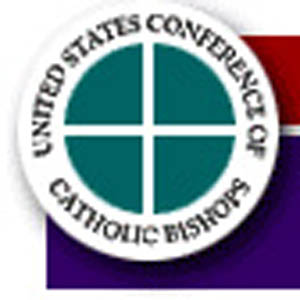 The U.S. Conference of Catholic [sic] Bishops
Its Philadelphia Arm Is Being Charged like the Mafia
Under U.S. Racketeering and Corrupt Organizations Act
Will Newchurch in the United States Finally Be Suppressed
Like the Mob Its Own Investigator Said It Is?
When it became clear that the Great Sex & Embezzlement Scandal involved not just a pacel of criminal presbyters, but actually a conspiracy by the Newchurch bishops' organization, incorporated in the United States as the U.S. Conference of Catholic [sic] Bishops (USCCB), to engage in obstruction of justice, aiding and abetting crime, and facilitating prostitution across state lines, TRADITIO called for prosecution of Newchurch bishops under the U.S. federal RICO (Racketeer Influenced and Corrupt Organizations) Act.
Now the initiative to hold Newchurch and its bishop underlings responsible as an organization for the corporate facilitation of sex and embezzlement crimes has begun.
Thirteen plaintiffs have filed a RICO class-action suit in U.S. federal court in Philadelphia (this is not the usual state-court tort case), charging "Newchurch, Inc.," in the guise of Newchurch Cardinals Justin Rigali, Anthony Bevilacqua, and John Krol, with violation of federal conspiracy and racketeering laws.
In 1970 the U.S. Congress passed the Racketeer Influenced and Corrupt Organizations (RICO) Act, the purpose of which was to eliminate the ill effects of organized crime on the nation's economy. The RICO Act was intended to destroy the Mafia and corrupted labor unions. But, according to one FBI investigator, hired by the USCCB itself, that is just what Newchurch has become, "a mafia," in his own words. The USCCB fired its own investigator instead of dealing seriously with the Conference's own criminality.
The federal suit cites a Philadelphia grand-jury report that excoriated the Newchurch archdiocese and its cardinals, accusing them of concealing and facilitating sex crimes of minors by Newchurch presbyters (and bishops). In some cases, the report said, Newchurch leaders knew of and concealed the crimes, putting Newchurch's reputation above the safety of children. The grand jury said that Krol and Bevilacqua had "excused and enabled" the crimes by protecting abusive presbyters and concealing their crimes from parishioners, the public, and law-enforcement officials.
Newchurch has consistently blocked initiatives in state legislatures to hold the Newchurch leadership accountable for the sex crimes, alleging that it could spell "incalculable" financial damage to the New Order and its institutions. Once again the "Newchurch of Love" is shown up for what it is: the "Newchurch of Hate," which condones the rape of children, one-seventh of whom, according to the USCCB's own study, involve children age 9 and under. It is more concerned with money than Catholic morality. So what else is new? Newchurch has been robbing and pillaging everything Catholic since Vatican II.
"The archdiocese committed acts that are just as severe as those of the priests [sic] themselves," plaintiffs' attorney Stewart Eisenberg said. "It's never too late to redress a wrong -- particularly against children." The cover-up conspiracy "continues even to today," citing a case in which a Newchurch presbyter weekly raped a child while other presbyters looked on. Last year's Philadelphia grand-jury report on sex crimes in Newchurch said that the presbyter had raped more than 100 children during the seven years he spent working for the Newchurch cardinals. [Philadelphia Inquirer]
The criminality of the Newchurch "prelates," from Newpope on down to diocesan bishops no longer surprises us, but the stick-your-head-in-sand attitude of the pew Newchurchers is harder to figure. They must realize by this time that they are being led by a coven of criminals, who have no more right to the title "Most Reverend" than the devil himself. (This is, by the way, the reason that TRADITIO does not use these titles. We believe that titles of respect should be earned by actions that are worthy of respect. We're not about to call gratuitously the "Least Reverend" Newchurch bishops by the "Most Reverend" title that true Catholic prelates of the past have earned.)
The Newchurchers in the pews should wake up to the fact that they have willingly been supporting with their own money a coterie of criminal-racketeers, let alone heathens who have deprived most Catholics of their true faith and worship. Doesn't that sound like the traditional definition of Mortal Sin?
---
June 23 - Sacred Heart of Jesus
Double Feast of the First Class
Complete Friday Abstinence
SSPX and Its Involvement in "Le Cercle GREC" Exposed in New Book
Exclusive Report from Francois (TRADITIO's SSPX French Correspondent)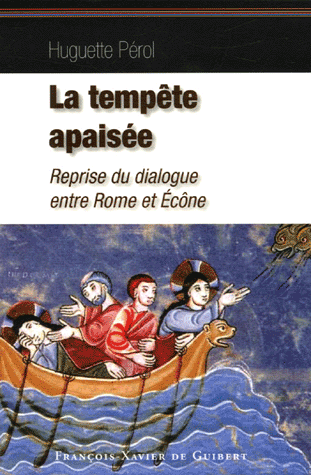 A Book just Released in France by Madame Huguette Pérol
Has Stirred a Controversy concerning a Secret Committee
Headed by an SSPX Officer Working at "Oecumenical" Sellout
To the New Order since 1998
A controversial book has just been published here in France by Madame Huguette Pérol, the widow of a former Ambassador of France to Rome. Her book La tempête apaisée: Reprise du dialogue entre Rome et Écône [The Tempest Calmed: Resumption of the Dialogue between Rome and Econe] was planned for publication just after Easter, when Benedict-Ratzinger was supposed to have issued another "indult" for the Modernized Mass of 1962 and was supposed to have started the process by getting the Fellay/Schmidberger to sign on with Newrome.
But the "indult" was never issued. Benedict-Ratzinger stopped the process at Easter to wait for the July re-election of the SSPX's Liberalist faction, led by Fellay/Schmidberger and their cohorts. When Newpope stopped the process, the book had already been shipped to bookstores and could not be recalled.
The book describes how the hidden Le Cercle GREC has been working since 1998, organising conferences, workshops, and monthly meetings, in a secret way. The public was not invited. The Greek Circle is headed by Fellay's communications manager, closely attached to Franz Schmidberger and with Fellay's authorisation, it is said, and includes Madame Pérol herself, a priest friend of Ratzinger, a French Newbishop, several "indult" priests, and presbyters of Newchurch. The chairman is said to be reporting to the Apostolic Nuncio in Paris, to the Chief of the Episcopal Conference in France, and to Cardinal Hoyos.
GREC, much to the astonishment of many SSPX members, is said to be discussing how to "reconcile" with Newrome. The GREC members would like to promote "dialogue." They say that the truth is "uniting in depth" the SSPX and the Newchurch, and they would like to facilitate an understanding and to reconcile. This is "oecumenism" applied to the SSPX and Newrome, using the same terminology and methodology ("dialogue," "reconciliation") as is being used by Newrome with the Protestant Anglicans and Eastern Orthodox schismatics.
What GREC is doing is exactly the contrary of what Archbishop Lefebvre recommended in a sermon of 1987. The founder of the SSPX would have immediately canceled GREC or would have forbidden SSPX priests to participate in such meetings.
Madame Pérol's book could become a weapon in the next elections for Superior General of the SSPX. Fellay/Schmidberger are trying to keep everything quiet since Easter and to present themselves as "nice guys," as if they had never discussed the sell-out with Benedict-Ratzinger. Candidates for Superior General, just as for the pope, needs a two-thirds majority of votes. The first Assistant and the Second Assistant each need to get a simple majority of votes. A negative reaction among the forty electors (mostly appointed by Fellay, except for a few ex officio) against the German network could block the liberalist Fellay/Schmidberger faction from being re-elected.
Madame Pérol's book raises several questions. How has the chairman been managing such a subversive movement in Paris for more than eight years in secret? How can the chairman be reporting to Hoyos with the approval of Fellay? Why has the chairman been allowed to remain in the SSPX with such ideas? This information is surfacing only a few weeks before the SSPX elections in early July and as the German Network of Schmidberger is being denounced more and more publicly.
---
Why Doesn't the SSPX Just Use Latin?
From: Tomas (Japan)
Dear Fathers:
Last Sunday a group of SSPX seminarians visited our church. In the course of conversing with one, I heard some unusual sentiments. I was told that there is now little exchange of seminarians between Europe and the US, the principal reason cited being "vast cultural differences, which make it difficult to get along with each other," and that there is in particular friction between the French and the Americans.
I would have thought that the shared sensus Catholicus would have united the seminarians from all countries, at least to some extent, but apparently this is not the case. The biggest friction mentioned was the "language gap," the language of the seminary in Winona being English, while in Econe and France it is "of course" French. I had naively assumed that the language of instruction and daily life in all the seminaries of a traditional Catholic order would be Latin. I was surprised to learn this is not the case. When I asked why the seminarians don't use Latin, the young aspirant to the priesthood recoiled, looked at me as if I was crazy, and said "it's much too difficult -- that would be impossible!"
The Fathers Reply.
As the onion is peeled back, we are beginning to learn just how "traditional" the Society of St. Pius X is (or isn't). Actually, this information about not using Latin, even to the extent required by Pope John XXIII in his Apostolic Constitution, Veterum Sapientia, is not a new revelation. Several years back, when a Newchurch investigator visited the seminary at Econe, he encountered the same babel of vernacular languages being used at the seminary. "We are all Catholics, aren't we? Why aren't we speaking Latin?," he asked.
Well, even a Newchurch cardinal gets it right once in a while! As a matter of fact, one of Pope John's arguments for the traditional Latin requirement was the elimination of nationalistic quarrels in the Catholic (Universal) Church. (For further information, see LATNECES.TXT: Necessity of Latin for the Roman Catholic Church, including the Apostolic Constitution Veterum Sapientia [On Promoting the Study of Latin], Given by His Holiness Pope John XXIII.)
It is well known that the Society either directly or indirectly promotes such nationalistic quarrels. Econe teaches primarily in French and some German. Thus, seminarians from the North America and Latin America are forced to learn French and/or German, whereas they should be studying Latin! Reports are regularly received from Econe that indicate that the French (who constitute 75% of the Society) are given preferential treatment, and that seminarians from the Western Hemisphere are looked down upon. Even at the Vatican pontifical universities, courses were taught in Latin, though less so now in Newvatican.
---
June 22 - Octave Day of Corpus Christi
Double Major Feast
Protestants (and Newchurch?) to Invalidate Baptism
From: The Fathers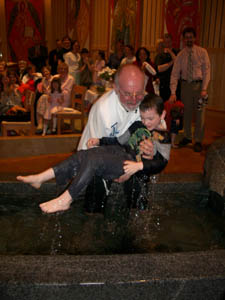 Don't Drop Me, Says Newchurch Kid Being Dunked by a Presbyter
In a New Order "Swimming Pool" Baptism in Juneau
These Ridiculous "Dunk Tank" Replacements for Baptismal Fonts
Are Being Purchased with Many Thousands of Newchurchers' Dollars
The baptisms of heretical mainline Protestant churches and the schismatic Eastern Orthodox and Old Catholic Churches have consistently been considered valid in Catholic moral theology, as long as the form, matter, and intention are correct. The same would be true of the Novus Ordo baptisms. In the case of the Sacrament of Baptism, the form is specific; it is stated in Scripture. (For further information, see FAQ10: How Do You Explain These Traditional Beliefs? in the TRADITIO Library of Files (Catholic Apologetics) in the section "Sacraments: Their True Form and Matter."
Invalidation occurs when the form is changed. Some Novus Ordo baptisms in New York and Australian parishes, according to recent newspaper articles, have been invalidated because the presbyter took it upon himself to change the form to baptize in the name of "the Creator, the Redeemer, and the Sanctifier," instead of Christ's own form: in nomine Patris, et Filii, et Spiritus Sancti ["in the name of the Father and of the Son and of the Holy Ghost"].
Now it appears that the heretical, but valid, baptisms by one mainline Protestant Church, the Presbyterian, is considering invalidating alternatives such as:
in the name of the Mother, Child, and Womb
in the name of the Rock, Redeemer, and Friend
in the name of the Lover, Beloved, and Love
in the name of the Creator, Savior, and Sanctifier
in the name of the King of Glory, Prince of Peace, and Spirit of Love
The Presbyterian Church's National Assembly on June 19 voted to receive a policy paper on gender-inclusive language for the Trinity, a step short of approving it. The Assembly rejected a motion to refer back for further study. That means church officials can propose experimental "liturgies" with alternative "phrasings" for the Trinity for optional use. From the newspaper articles previously mentioned, it seems that on the Newchurch side, some New Order parishes have already jumped the gun even ahead of the Presbyterians! A flyer from the Newchurch diocese of Kansas City, Missouri, has eliminated any mention of Original Sin, Sanctifying Grace, or the Holy Ghost. The flyer, with the imprimatur of the Newchurch cathedral there, contains such heresies as that Baptism is not necessary for salvation and that it is "just a ritual, a celebration, and an initiation." In such cases, one has to wonder about sacramental intention.
---
June 21 - Within the Octave of Corpus Christi
Semidouble Feast
Former Anglican "Pope" Criticizes Current Anglican "Pope" for Doctrinal Departures
From: The Fathers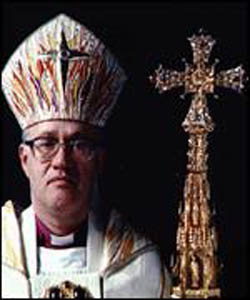 George Lord Carey, Previous Anglican Archbishop of Canterbury
Criticizes His Successor for Allowing "Gay" Bishops
Speaks out against Homosexuality on a Biblical Basis in Clear Words
That Not even Wishy-Washy Benedict-Ratzinger Has Been Heard to Utter
In an unprecedented criticism of his successor, George Lord Carey, the previous Anglican Archbishop of Canterbury, has delivered a damning critique of the Anglican communion under Rowan Williams, the current archbishop. "The Anglican Church has fallen apart since I was in charge," says Carey. In actions similar to what traditional Catholics have had to take many years ago against the New Order in Newchurch, traditional Anglicans are keeping their distance from the liberalist "institutional" Anglican Church, which in recent years has begun to embrace female and "gay" bishopesses. Can Newchurch be far behind?
Archbishop Carey's remarks have given additional encouragement to traditional Anglicans. In a speech in which he might have been addressing Newpope and Newchurch, Archbishop Carey accused liberalists of devastating the communion "that we once loved." "It is difficult to say in what way we are now a communion. Bitterness, hostility, misunderstanding, and strife now separate provinces from one another and divide individual provinces."
As if to highlight the timeliness of Archbishop Carey's remarks, newly-elected bishopess-leader of the U.S. Episcopal Church (a branch of the Anglican Church) Katharine Jefferts Schori said on June 19 that she believed that God had created homosexuals to engage in sodomy with one other. It is interesting that Mrs. Bishopess apparently learned her immorality at the feet of Newchurch, as she used to be a Newchurcher. Trying to explain away why her belief contradicted the Bible, Kathleen said gave the usual Modernist explanation that the Bible was written in a very different historical context by people "asking different questions." This phony excuse has been increasing used by Newchurch.
He also criticized the Anglican Church's statement on "civil partnerships," otherwise known as "gay marriage," by describing it as "a serious and extraordinary departure from the Church's practice. The Bible is unequivocal in its condemnation of practising homosexuality. It cannot be dismissed as having no consequence for us today." Meanwhile, Newchurch cardinal Theodore McCarrick, of Washington, D.C., has endorsed such "civil partnerships."
Wow! If only Benedict-Ratzinger had made such a clear moral statement instead of merely indirect references in wishy-washy language. Might Archbishop Carey consider standing for election as the next pope in Newchurch? He certainly couldn't be any worse than the old Vatican II liberalist Ratzinger, and would probably be a darn sight better, if Carey's clear biblical moral stance here is representative of his thinking.
More than that, Archbishop Carey is a man of action, not just words. He has traveled across the Atlantic Ocean to Virginia to urge the American Church to repent of its decision to consecrate Gene Robinson, who lives an openly "gay" lifestyle with his "lover." He told the audience of his fear that the Anglican General Convention, which meets during the week of June 25, would "fudge" its response to the homosexuality crisis. "On that basis the communion will split," he said. [UK News Telegraph]
Newpope and Newchurch could learn much from Archbishop Carey!
---
Traditional Periodical Editor Injured in Car Crash
From: The Fathers
The TRADITIO Network has been notified that Kathleen Plumb [editor of the new traditional periodical, The Four Marks, which just published its fifth monthly issue] was involved in a serious vehicle accident, in which her husband died of head injuries. Kathleen has been released from hospital with a broken ankle and road rash. Kathleen has indicated that the next issue will perforce be delayed.
---
No Confession by Telephone
From: Anastasia
Dear Fathers:
Could you please explain why confession cannot be made over the telephone?
The Fathers Reply.
According to Catholic sacramental theology, the Sacraments are personal and must be administered in personal proximity. Confession cannot be administered over the telephone, any more than Matrimony can be. One can also think of serious risks of the seal being broken by technology or otherwise, or of sacrilegious confession.
---
June 20 - Within the Octave of Corpus Christi
Semidouble Feast
TRADITIO Reaches Four Million Readers
On June 20, in the twelfth year of its Apostolate on the internet, TRADITIO has reached its 4,000,000th reader. TRADITIO was the first traditional Roman Catholic site to appear on the internet. We were here even before the Vatican was! We thank the Lord for our four million participants over these years and for our hundreds of dedicated correspondents from all over the world, who keep us current on everything going on in the bowels of Newvatican, in the inner sancta of various traditional organizations, and at many Traditional Latin Mass sites. TRADITIO was determined by an Alexis-Amazon statistical survey to be the most popular traditional Roman Catholic web site on the internet.
In its daily Commentaries from the Mailbox, TRADITIO does not just copy news reports from secular and religious publications, who in fact have very little background or understanding of what they write about, nor does TRADITIO represent any particular organization's viewpoint. Instead, TRADITIO provides the hard-hitting, independent analysis and perspective of half a century of Roman Catholicism, even from before Vatican II. TRADITIO is avidly read even within the bowels of Newrome and Menzingen.
In addition to the daily Commentaries, TRADITIO provides resources and materials for its participants to study and learn about the traditional Roman Catholic Faith: FAQs, Library of Files (Traditional Apologetics), Holy Cards, Missions, Stations of the Cross, Novus Ordo Service Photo Gallery, Papal Photo Gallery, Special Features and Articles by prominent traditional writers, a list of Traditional Catholic Priests Wanted and Available, numerous files and texts on the Traditional Latin Mass, Office, Sacraments, and Chant, and the Traditional Liturgical Calendar.
We are touched by the many thousands of messages that we have received from Newchurchers who say that they have been converted, or have reverted, to the traditional Roman Catholic Faith because of TRADITIO's uncompromising, independent commentaries and materials. Of course, we are just one of many means through which Our Lord appears be working out the Traditional Catholic Restoration of the 21st Century.
---
Traditional Periodical Review:
Catholic Voice Hits the Mark for 22 Years
From: The Fathers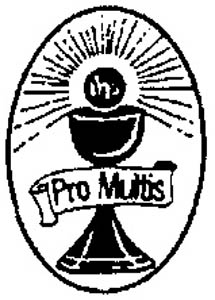 The Pro Multis Pin
Distributed by the Society for Traditional Roman Catholics
The STRC's Excellent Periodical, Catholic Voice
Is Celebrating Its 22nd Year of Publishing
Fully Traditional Catholic Analysis and Guidance
The Fathers are often asked for a recommendation about the best traditional Catholic periodical for traditional Catholics to subscribe to. There is no question in our minds about the answer to that question: it is Catholic Voice, published by the Society of Traditional Roman Catholics (STRC), a lay organization perhaps best known for its campaign against the Novus Ordo Protestant-Masonic-Pagan service by means of its Pro Multis pins and stickers (the Pro Multis reference is to the change in the Novus Ordo service from the valid Apostolic form of Consecration).
This unpretentious publication consistently hits the nail on the head in well-edited, brief, down-to-earth, and focused articles on issues that traditional Catholics face. With its reasoned argument Catholic Voice continues in its 22nd year to guide traditional Catholics it what it means to be a fully traditional Catholic. There is no editorial vacillation here, no "indult" and SSPX compromises, no worship of goddesses or prelates -- just a sound traditional Catholic approach. For example, the June issue, just out, covers:
"Tradition" Is Redefined according to Evolutionary Principles - how Newchurch is redefining "Tradition" from the Catholic doctrine to the Protestant)
The "Universal Indult" and Rumblings in the Traditional Movement - why a "universal indult" for the Traditional Latin Mass misses the point and is not to be supported)
A Look at Some Pre-Vatican Proposals for Modernist-style Liturgical Reform - an article from 1954 illustrating the proposals for a Modernist "reform" of the liturgy, even during the pontificate of Pius XII
Modern-style Attacks against the Sacredness of the Priesthood - an analysis of some developments undermining the traditional priesthood
A Catholic Reading of the Declaration "Dominus Jesus" - Part IV - an ongoing analysis of the Modernist errors inherent in Cardinal Ratzinger's June 2000 declaration, which subtlely places the Catholic Church on the foundation of Protestant theology and reinforces the Modernist "we all worship the same god" theology
The Agnus Dei: A Powerful and Forgotten Sacramental - a description of the origins and use of the Agnus Dei, an ancient and powerful sacramental
And the best thing about Catholic Voice is that its quarterly 16-page issues are completely free, though donations are welcome and needed to continue its service to traditional Catholicism. The issues are produced frugally, so expensive production costs can be eschewed in favor of content. This is not a periodical for looking at pretty pictures and then throwing away. This is not a periodical that can't make up its mind about what traditional Catholicism is and where it stands against Modernist notions of all stripes. This is a periodical to read slowly and reflectively for traditional instruction. Subscription requests can be mailed to P.O. Box 130, Mead, WA 99021-0130, USA.
---
Mexicans Desecrate Holy Infant
From: The Fathers
Just when you thought the deification of professional sports into a modern gladiatorial barbarism had gone as far as it could, the Mexicans have shown the world that no sacrilege is too much under the aegis of the New Order. A statue of the Child Jesus dressed in the Mexican soccer team's World Cup uniform is being worshipped at the main altar of the Church in the Newchurch parish of St. Gabriel the Archangel in Mexico City, where it is prayed to before and after the Novus Ordo Mess.
The Fathers can think of no better example of how Newchurch has become not a religion, but a game. "Soccer-player" Jesus wears tennis shoes and a soccer uniform with the number 12, a soccer ball resting on his left foot while he sits on his throne. And this sacrilege has been going on since 1994, "approved" by the Newchurch pastor. We can only think of the words from Scripture quoted by John Henry Cardinal Newman, when walking by an Anglican Church after his conversion to Catholicism: "He is not here" (Matthew 28:6/DRV).
It is erroneous to say that Mexico remains a Catholic country. Except for a few traditional enclaves, it has sold out lock, stock, and barrel to the New Order, perhaps more rapidly than most countries. In fact, there are clear signs that Mexico after Vatican II is increasingly reverting back to its pagan Aztec and Mayan roots before the Reconquista and Our Lady of Guadalupe. It keeps some Catholic icons, but these are essentially no more than meaningless decorations like the pagan tattoos that one sees around so often these days. And this neo-paganism is being imported to the tune of millions each year crossing (mostly illegally) into the United States and its Newchurch of America.
Perhaps this is why traditional Catholic producer-director Mel Gibson chose as the theme of his next film, Apocalypto, the period of Mexican paganism, including its human sacrifice, before the coming of Christianity.
---
June 19 - Within the Octave of Corpus Christi
Semidouble Feast
Is Benedict-Ratzinger Turning into an Islamophile?
From: The Fathers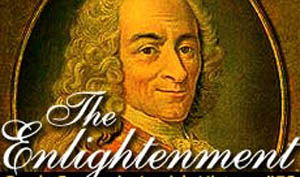 Benedict-Ratzinger Wants a Christianity Based on the Values of the "Enlightenment"
The Period of the Anti-Catholic Voltaire (Pictured Here)
The Age of Protestantism, Freemasonry, and Secularism
Benedict-Ratzinger has publicly taken the position that it is very important for Muslim children to have the opportunity to attend in German schools an hour of instruction in the Muslim religion. In an allocution on August 20, 2005, while meeting with German representatives of Islam in Cologne, he pontificated: "You guide Muslim believers and train them in the Islamic faith."
It appears that Newpope would approve the curriculum used in California schools, which requires all pupils to take a unit on Islam, during which they must wear Muslim name-tags and pray Muslim prayers five times a day on a prayer-rug. Many California parents are hopping made about this civil-rights violation, which was upheld by the U.S. Circuit Court of Appeals. Can you imagine a mandatory unit on Catholicism, during which all pupils were forced to bless themselves with holy water, worship at a Traditional Latin Mass, and sing Gregorian chant? No way!
The Fathers have read articles that claim that Newvatican is imposing the U.S. constitutional principles upon the world. Far from it. He has advocated the values found in the German constitution, which are founded on the Jewish-Christian West and the Enlightenment. The Enlightenment?! The period of the arch-heretic Martin Luther, the Freemason Voltaire, the Protestant Revolution, the bloody French Revolution, and all those other wonderful "principles"?
No talk of conversion to the Catholicism by this pope, or by his conciliar predecessors. When does he ever talk about St. Augustine, St. Thomas Aquinas, the heights of the Middle Ages, or the brilliance of the Christian Renaissance? One wonders why Newpope doesn't just close up Newvatican and return to Germany. There really is no purpose to the existence of Newchurch; since Vatican II it is merely a political game. He should get out of the way of real Catholics, who want to restore the traditional Faith.
---
A Modernistic "Transubstantiation"
From: Philip (Australia)
Dear Fathers:
Leaving aside our anger and feelings of betrayal re the Mass, aren't Newpope's words true: "The transubstantiation of 'poor man's bread' into the Body of Christ is both a 'synthesis of creation' and a means by which 'creation is raised to the divine.'" Actually, he can say any orthodox belief he wants to, whilst the sacraments of his ministers are invalid.
The Fathers Reply.
You have to be very careful about these Moderistic formulations of traditional doctrines. We have seen already how Benedict-Ratzinger has laid the groundwork for acceptance of homosexual acts by a rewording of the doctrine in the recent Newchurch "Instruction Concerning the Criteria for the Discernment of Vocations with regard to Persons with Homosexual Tendencies in view of their Admission to the Seminary and to Holy Orders."
These Modernistic formulations are reminiscent of condemned Teilhard de Chardin and his pantheism ("the Cosmic Christ"), and readily leads to such notions as "Gaia" (the earth is a living being), animal "rights," radical environmentalism, etc.
---
June 18 - Sunday within the Octave of Corpus Christi
Semidouble Feast
Father Mel Gibson Sells Mansion to Protect His Family
From: The Fathers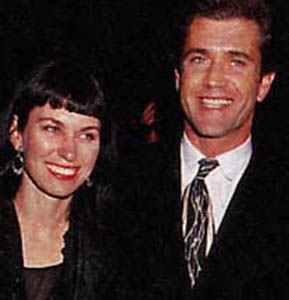 Mel Gibson and Wife Robyn Celebrate Their 26th Wedding Anniversary This Month
Says Traditional Catholic Producer-Director-Actor Mel Gibson:
I Won't Have My Family Live Next to Britney Spears
He Is Looking for a Location Closer to His Holy Family Traditional Catholic Church
Traditional Catholic producer-director-actor Mel Gibson is first of all a family man. Gibson is in the process of selling his $18,000,000 mansion to get his family away from pop star Britney Spears, who is his next-door neighbor in the Malibu gated community. Groupies, press, and police, he said, are always hanging around the gates, and Gibson is worried that his children might be hurt. Gibson is reportedly trying to find a location closer to the Holy Family Traditional Catholic Church, which he built in Agoura Hills with $3,700,000 out of his own funds.
No wonder Gibson doesn't want Spears living next door to his children. Spears is a rock "star" known for risque costumes, a "sexualized" image, which included a semi-nude photo layout for Esquire men's magazine, and indecent "concerts," which involve simulation of sex acts with underage children in the audience.
---
June 17 - Within the Octave of Corpus Christi
Semidouble Feast
New, New, New Order Mess "Is Going to Cause Chaos"
From: The Fathers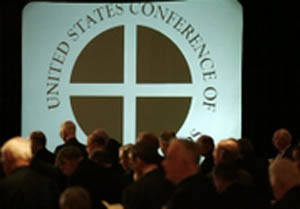 Clueless Conference of U.S. Catholic [sic] Bishops
Meeting June 15-17 in the Los Angeles Den of "Mad" Mahony
The Sex Crimes of Newchurch Bishops and Presbyters Continue
While the USCCB Debates Rewording the "New Mess" -- for the Third Time
Pity the poor Newchurch bishops. They just can't seem to get this vernacular thing right. Since they introduced the vulgar tongues into their invalid Novus Ordo service of 1969, they have had nothing but trouble. They have had to issue two new "editions" in a period of just 20 some years, in 1975 and 2002. Since 2002 the U.S. Newchurch bishops have been trying to figure out how to "translate" the third edition.
Now 12 of the 19 texts spoken by Newchurchers during the service are supposed to be modified in the vulgar tongues, including the Nicene Creed, the Gloria, the Penitential Rite, the Sanctus, and the Communion. The Newchurch bishops are worried about "changing a fundamental rite of worship" that is so much a part of Catholic identity. "It's going to cause chaos and real problems."
Good Catholics, can you believe that?! These Newchurch bishops are worried about changes in a fabricated Protestant-Masonic-Pagan service of twenty years' existence, whereas they are not concerned at all about changing from the true Mass of almost 2000 years! Truly St. Paul's words apply to these servants of the New Order: "Their foolish heart was darkened" (Romans 1:21/DRV).
In any case, all this folderol about "translations" is irrelevant. The New Order service is not a Mass. It is an invalid Protestant-Masonic-Pagan rite that must be avoided in all cases like the plague it is by anyone who calls himself a Catholic. You can't make a silk purse out of a sow's ear!
Attendance at the invalid Novus Ordo Mess attendance has been declining, the presbyter shortage has left a growing number of churches without a resident cleric, Newchurch bishops and parishioners have been battling over the closure of old churches and schools, and Newchurch has been mired in the Great Sex & Embezzlement Scandal. Research figures show that from 1995 to 2005, the number of Newchurch parishes without a resident presbyter went up about 30 percent -- from 2,160 to 3,250. [Associated Press, National Catholic Register]
Meanwhile, the Newchurch bishops just keep digging themselves deeper into the Novus Ordo liturgical mire.
---
June 16 - Within the Octave of Corpus Christi
Semidouble Feast
Complete Friday Abstinence
Schismatic Patriarch Summons, and Benedict-Ratzinger's Newvatican Obeys
From: The Fathers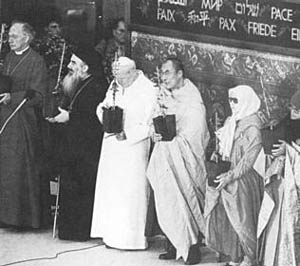 JPII, Holding a Potted Plant
Associated at an "Oecumenical" Shivaree in 1986
With Schismatics, Heretics, and Pagans
His Predecessors Condemned Participation at Such Meetings
As Violating Divine Law
It used to be that the pope was the head of Christ's Church, and Rome was its Apostolic See. No more. It seems that Benedict-Ratzinger has given up that office to the schismatic Russian Orthodox Patriarch, Alexy II of Moscow.
The schismatic Russian Orthodox Church in Moscow through its Patriarch, Alexy II, has summoned Newvatican officials to attend an "oecumenical" meeting July 3-5 in Russia's capital. Newvatican officials will join with Islamic imams, Jewish rabbis, Buddhists, Taoists, and Hindus in this shivaree. Sounds like a repeat of the Assisi fiasco on October 26, 1986, at which JPII joined with schismatics, heretics, and pagans, when a Buddha was placed atop the tabernacle.
And who has Newpope included to represent Newchurch? We have Ted McCarrick, retired Newchurch cardinal of Washington, D.C., known as "Muslim" McCarrick, since he prays in public ceremonies to Allah. Then Walter Kasper, the Newchurch cardinal known as the "Friendly Ghost," as he is friendly all heresies in his mania for false "oecumenism."
This is the same Walter Kasper who recently warned the Church of England that a move to "ordain" bishopesses would destroy any chance of full unity with Newchurch. Think about that. It seems that the ordination of priestesses would not destroy that unity!? And what "unity" does the true Faith have with Anglicanism anyway? In 1896 Pope Leo XIII finally put that issue to rest in his Papal Bull Apostolicae Curae by finding Anglican orders invalid (and the New Order ordains its presbyters in substantially the same way as the Anglicans do). [CNS] (For further information, see CURAE.TXT: Apostolic Letter Apostolicae Curae [On the Nullity of Anglican Orders], Given by His Holiness Pope Leo XIII.)
Previously, on June 12-13, Newvatican took part in a "Tolerance Implementation Meeting on Promoting Intercultural, Interreligious, and Ethnic Understanding." Sounds just like one of those silly "diversity" programs, doesn't it?
All of these shenanigans are fully in accord with Benedict-Ratzinger's stated purpose to sell out Newchurch to buy false "oecumenism." Good Catholics, Kumbaya is passé now at the Novus Ordo. The new anthem is by Elton John and entitled We all worship the same gods. It is scheduled for its debut in St. Peter's on Novus Ordo "Divine Mercy" Sunday.
---
June 15 - Corpus Christi
Double Feast of the First Class
Newpope's Groupies Bark as Milan Cathedral Goes to the Dogs
From: The Fathers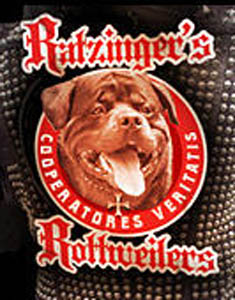 Shield of Ratzinger's Rottweilers
Newpopes' Groupies Have Swallowed the Conciliar Popes' Rock-Star Image
Does This Sickness Bear Any Relation to Vatican I's Dogmatic Definition of the Papacy?
You may remember that before Ratzinger was elected, the "conservative" Newchurchers used to call him "God's Rottweiler," thinking that he was a conservative like them. He was going to "restore" the Modernized Mass of 1962; he was going to clean up the Sex & Embezzlement Scandal; he was going to restore traditional Catholic theology. Were those "conservatives" ever fooled!
It turns out that the "Motu Proprio" announced by so many ignoscenti "blogs" came to nothing. The Great Scandal is spiraling out of control, with cases of embezzlement by Newchurch bishops and presbyters stealing millions from their dioceses and congregations. Newpope's hand-picked cohort, Cardinal Levada, "conservative" Cardinal George, and the President of the U.S. Conference of Catholic [sic] Bishops have all been implicated in knowingly placing presbyter-predators with small children. Newpope has done essentially nothing to clean up the "pinkification" of New Order seminaries. New Order theology has been forwarded by the "elimination" of Limbo and, by implication, the dogma of Original Sin, by a primary focus on False "Oecumenism," and by the distribution of the Novus Ordo cookie to Protestants on international television -- at a Novus Ordo service by Newpope himself!
But every dog has to have his day, and God's Rottweiler now has his own pack, Ratzinger's Rottweilers, who hurl threats of "excommunication" from Newchurch if anyone should dare criticize their "pet." This simply continues the rock-star mentality with which the last two conciliar popes have surrounded themselves. The post Vatican II papacy is certainly not anything like what dogmatic council Vatican I had in mind when it defined the attributes of the papacy!
Indeed Newchurch is slipping into the rock culture. JPII used to praise rock "musicians" and personally put his papal throne in the middle of one rock concert. Milan's great cathedral, where St. Ambrose converted St. Augustine and St. Charles Borromeo preached, was the site in 1997 of the funeral of "gay advocate" Gianni Versace, when a profane piano was placed under the Duomo, on which rock start Elton John played and sang Candle in the Wind.
Well, maybe Elton John got it right after all. The New Order candle has been blown out by the wind of returning traditional Catholicism.
---
June 14 - St. Basil the Great, Bishop, Confessor & Doctor
Double Feast
A "Titanic Legal Victory" against Newvatican:
U.S. Federal Judge Strips Benedict-Ratzinger of Diplomatic Immunity
Case against Newpope for Concealing Sex Crimes Can Proceed
From: The Fathers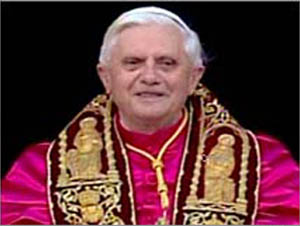 Benedict XVI, Must Face the Music in U.S. Federal Court for Sex-crime Cover-up
Judge Rules that the Case against Newpope and Newvatican Can Proceed
Pope Is not Immune
A United States federal judge in Portland, Oregon, ruled on June 7 that a sex-crimes lawsuit against Newvatican can move forward with its claim that Newpope bears responsibility for a presbyter who was transferred from city to city even though he was known to be a child molester. The judge ruled that Newvatican did "not offer evidence to contradict this allegation of its involvement in transferring a known child-molester."
In a stunning blow to Newvatican's attempt to exculpate itself from sex crimes on the basis of "diplomatic immunity," U.S. District Judge Michael Mosman rule in his decision that there are exceptions to the Foreign Sovereign Immunity Act, under which the Vatican is typically immune from the jurisdiction of U.S. courts. Rejecting Newvatican's bid to dismiss the case, Mosman ruled that there was enough of a connection between the Vatican and the presbyter, who died in 1992, for him to be considered a Newvatican employee under Oregon law.
Attorney Jeffrey Anderson of St. Paul, Minnesota, who filed the lawsuit, called the judge's ruling a "titanic legal victory." Anderson said it was "the first time any court has held or acknowledged there is a basis in law to hold the pope accountable for cover-up and concealment and this international movement of predatory priests [Newchurch presbyters]."
The lawsuit filed in 2002 by a Seattle-area man claims that Newvatican, the archdiocese of Portland, and the archbishop of Chicago conspired to protect the a presbyter by moving him from Ireland to Chicago to Portland despite a history of sex crimes. In the ruling, the judge noted that the presbyter had admitted to sex crimes at the archdiocese of Armagh in Ireland before he was moved to St. Philip's High School in Chicago, where he admitted to attacking three boys. The presbyter was then placed at St. Albert's Church in Portland, where the plaintiff claims that the presbyter repeatedly attacked him in the late 1960s.
---
Newchurch Cardinal Levada's Secret
From: The Fathers
Back in his old home diocese of San Francisco, the SF Weekly is digging into just how involved its former archbishop, William Levada, in sex crimes himself, before Benedict-Ratzinger whisked him away to be Sex Crimes Czar in Newrome.
SF Weekly reports that it has learned that in 1993, when Levada was archbishop of Portland, Oregon, the year before the archbishop's controversial decision to restore a Newchurch presbyter to his presbyteral duties, Levada knew about allegations that the presbyter had attacked not one, but three victims over a period of several years and that Levada authorized secret payments to each of them after they threatened to make the allegations public in a lawsuit. The men were paid undisclosed sums and agreed not to sue the archdiocese in return for their pledging to keep the payments confidential.
Having spent $53 million to settle more than 100 claims of priestly sex abuse, Levada led the archdiocsese into bankruptcy in 2004, the nation's first. Dozens of other sex-crime cases are in limbo (yes, limbo does still exist, no matter how much Newchurch tries to deny it) while a bankruptcy court sorts out the archdiocese's finances. In his letter in his own diocesan newspaper, Catholic San Francisco, Levada said that he restored the presbyters presbyteral duties after attended meetings of a "sex addicts support group." So, Levada is so naive as to think that sex criminals can be cured by a little pop psychology? What kind of a naif did Benedict-Ratzinger choose to control rampant sex crimes in Newchurch?!
David Slader, an attorney for three of the men who have filed lawsuits, says it is "unconscionable" that Levada never bothered to report the perverted presbyter to law enforcement after learning that he was a sex offender. "All the evidence we've been able to find demonstrates that Archbishop Levada's sole concern was to maintain a veil of secrecy," Slader says. "His efforts to protect other children from being preyed upon were halfhearted at best."
---
Protestants Reject Newpope's False "Oecumenism"
From: The Fathers
One of the great disasters following the Second Vatican Council is the emphasis on the Modernists' false notion of "oecumenism." Like so many notions fabricated after Vatican II, this false "oecumenism" is a perversion of traditional Catholic teaching. To be sure, the Greek term oikoumenos existed and was used in the early Church, but with an entirely different meaning. Coming from the root word, oikos, meaning "house" or "household," the reference was to what St. Paul had called "the household of the Faith."
Catholic teaching is that all are called to come to the true Faith. The notion of "false oecumenism" coming after Vatican II, however, teaches that "all gods have equal rights" and that "we all worship the same god." This has led to what Positive Divine Law condemns as the error of "Indifferentism." And Benedict-Ratzinger, as one of the architects of the New Order at Vatican II, publicly stated after his election as pope in 2005 that promoting this false "oecumenism" would be his "primary task." Not the restoration of the true Roman Catholic Faith, not the restoration of the true Mass, not the restoration of the true Sacraments, not the restoration of true morality, but "oecumenism." (Conservative Newchurchers, are you really listening?)
Even most Protestant sects are smart enough to see the phoniness of such a teaching. When Ratzinger tried to schmooze the Lutherans a few years ago into some kind of watered-down statement about justification, most of the Lutherans walked out and said that Martin Luther would condemn them from his grave for betraying him. Well, at least they understood the doctrinal issue involved, albeit they came down on the wrong side. Newchurch doesn't even seem to see the issue, except as a matter of membership in the Newchurch "club."
Professor Fulvio Ferrario of a Protestant theological faculty in Rome responded to a papal audience on June 8 by stating that the idea of a "Petrine succession" was "completely alien" to the New Testament. "Recent biblical research acknowledges that Peter had a special role among the group of disciples," Ferrario told the Italian Protestant news agency NEV. "But this concerns Peter, not Benedict XVI."
The First Vatican Council in 1870 encapsulated the dogma of the papal primacy and of the infallibility of the pope only when he speaks ex cathedra, but states that he has no power to innovate upon the Faith and Tradition. Since this dogma is so frequently misquoted, we are giving here in its official Latin text and a literal English "translation" the relevant passage from Capitulum IV, Constitutio Dogmatica Prima de Ecclesia Christi (Pastor Aeternus):
Neque enim Petri successoribus Spiritus sanctus promissus est, ut eo revelante novam doctrinam patefacerent, sed ut eo assistente traditam per apostolos revelationem seu fidei depositum sancte custodirent et fideliter exponerent.
[For the Holy Ghost was promised to the successors of Peter not in order that they might, by His revelation, make known some new doctrine, but that, by His assistance, they might religiously guard and faithfully expound the revelation, or Deposit of Faith, transmitted by the Apostles.]
JPII essentially rejected this Catholic dogma when, in his 1995 Encyclical Letter, Ut unum sint, subtitled "On the Commitment to Ecumenism," proclaimed that he was ready to change the papacy the better to promote "oecumenism."
---
June 13 - St. Anthony of Padua, Confessor & Doctor
Double Feast
Newchurch Cardinal Advocates "Gay" Unions
From: The Fathers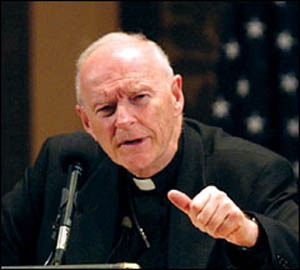 Newchurch Cardinal Theodore McCarrick Gives the Thumbs up to "Gay" Unions
His Approval Would Leave the Door Open for Incestuous Unions, Polygamous Unions
Cross-generational Unions, and Bestial Unions, Among Others
Retiring Newchurch cardinal Theodore "Muslim" McCarrick, of Washington, D.C., opined that "it is acceptable for the government to allow civil unions of gay and lesbian couples." McCarrick justified this immoral position by claiming that "the government needs to protect the rights of same-sex couples to care for each other or visit each other in a hospital" and "allowing civil unions would protect those rights." That argument is entirely specious! All that it takes for the purpose mentioned is a Healthcare Power of Attorney, which is a simple paper available at stationery stores. [WJLA]
McCarrick's proposal for "civil unions" would open the door not just to "gay" and "lesbian" unions, but also incestuous unions (e.g., between a brother and a sister), polygamous unions (e.g., between a man and four women), "cross-generational" unions (e.g., between a teacher and her 13-year-old student), bestial unions (e.g., between a man and his horse), and any other perverse unions that you can think of.
McCarrick was reacting to the U.S. Senate's second rejection of the Marriage Protection Amendment ("Marriage in the United States shall consist only of the union of a man and a woman. Neither this Constitution, nor the constitution of any State, shall be construed to require that marriage or the legal incidents thereof be conferred upon any union other than the union of a man and a woman."), to prevent the states' allowing "gay marriage" (although 45 of them have already enacted laws against "gay" marriage at the state level).
For further information, see traditional author Patricius Anthony's Theodore McCarrick: Newchurch's Great Apostate in the TRADITIO Special Features department.
---
June 12 - St. John of Facundo, Confessor
Double Feast
Benedict-Ratzinger Confirms JPII's Non-traditional View of the Papacy
From: The Fathers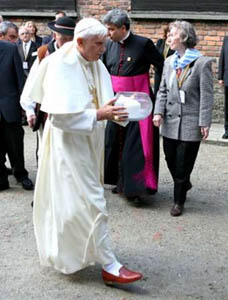 Newpope Questions God at Auschwitz
Then Returns to Rome to Redefine as the Priority of the Conciliar Papacy
Not Restoration of Orthodox Doctrine and Practice to Newchurch
But "Oecumenical Dialogue"
In his 1995 Encyclical Letter, Ut unum sint (On the Commitment to Ecumenism), JPII startled the world by expressing his willingness to modify the office of the papacy to suit oecumenical demands. Benedict-Ratzinger indicated concurrence with his predecessor's statement by indicating that he would not act as pope independently, but only in concurrence with his episcopal1 colleagues. In essence, he described the Conciliar papacy as what the Eastern Orthodox schismatics have been asking for for a millennium, that the Bishop of Rome be simply a primus inter pares, not a pope with independent authority.
On June 8, Newpope took the concept of the Newpapacy several steps further when he defined as a priority of the papacy not, as Vatican I decreed infallibly, "religiously to guard and faithfully to expound the revelation or Deposit of Faith transmitted by the Apostles," but "oecumenical dialogue." He then went on to proclaim what amounts to a new definition of the papacy: "to guide the achievement of charity in everyday life."
In Newchurch's 1967/1970 Oecumenical Directory, an illegitimate offspring of Vatican II, the New Order seeks to incorporate Protestantism, and even Judaism, Mohammedanism, and Paganism into the Newchurch, by such techniques as:
allowing Protestants to conduct the readings in a New Order church [#133]
encouraging common "spiritual exercises" and "retreats" between Newchurchers and Protestants [loc. cit. #114]
allowing Protestants, Jews, Muslims, and Pagans to lecture in seminaries (now you know why the Newchurch seminaries are so fouled up!)
commanding that young children be taught ecumenism in New Order schools [#68]
mandating oecumenism for presbyters and New Order religious in their years of formation (but not Latin) [#s 51, 70]
commanding presbyters to take part in oecumenical teaching and practice [#91]
encouraging diocesan bishops to lend their parish churches to Protestants, Jews, Muslims, and Pagans for their prayer services (but not the Traditional Latin Mass) [#137]
promoting interdenominational prayer-services among Newchurchers and Protestants in each other's churches [#112]
encouraging the joint publication of an "interdenominational Bible" #185]
discouraging Newchurchers from attempting to convert Protestants, Jews, Muslims, and Pagans [#s 23, 79, 81, 125]
recommending the construction of a single church to be owned and used by both Catholics and non-Catholics [#138]
recommending that the Novus Ordo cookie jar be placed in a separate chapel or room so as not to offend "non-believers" (now you know why the tabernacle has been virtually dispensed with in Newchurches) [#139]
Benedict-Ratzinger's view of Newpapacy is in line with his first Encyclical Letter, Deus caritas est, in which Newchurch is not to be the Church of Truth, but the Church of Lovey-Dovey, whereas we all know that Newchurch is really the Church of Hate: hatred of orthodox Catholic doctrine, hatred of valid Catholic sacraments, hatred of Catholic morals, hatred of Newchurch children, whom it treats as sexual prey, and hatred of Newchurch parishioners, from whom its clergy routinely embezzles without censure.
Now you know why TRADITIO calls Newchurch "Protestant, Masonic, Pagan." We're not making any of this up; we don't have the originality! This is official, published, Newchurch policy, available for inspection by anyone who takes the trouble to look it up.
---
June 11 - Trinity Sunday
Double Feast of the First Class
In a new article, Trinity Sunday - A Traditional Feastday, traditional writer Patricius Anthony comments upon the special significance of this feastday for traditional Catholics. For further information, see his article in the Special Features department of TRADITIO.
How Deeply Are Masons and Opus Dei Involved in Newchurch?
From: Ron (Italy)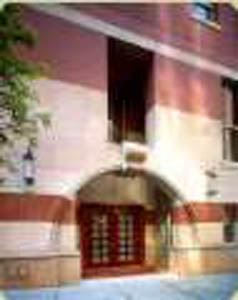 What Lies Behind the Doors of Opus Dei?
JPII Allowed the Secretive Organization
To Assume a Significant Influence in Newvatican
And Rushed to Make Its Founder a Saint of Newchurch
Dear Fathers:
I am a newcomer to the TRADITIO Network. Thank God for your service to truth of Tradition. My question is this: how deeply are the Masons ingrained in Newchurch and what is their relationship to Opus Dei? Knowing that Opus Dei is ultra-conservative and that 1the Masons are ultra-liberal, I'm sure this question sounds strange. Of the Curia membership, is there a listing of each group? My cousin was assassinated by a cabal of Mafia/Masonic forces, and he was absolutely convinced of their involvement in the death of JPI.
The Fathers Reply.
As you can imagine, most of this information is kept secret, but from time to time something slips out that sheds some light on what might be going on. For example, around the time of Vatican II, a list of the Roman prelates who were members of the Masonic Lodge of Rome was revealed, and it was a great embarrassment to Pope Paul VI when the names of many of his cardinals and bishops, including the chief architect of the New Order, Hannibal Bugnini, was discovered on it. There is little doubt that Bugnini was a Freemason, as there exists a letter from the Masonic Grandmaster of Rome, complimenting him on his work, and addressing him familiarly as "Buan." It is frequently stated that Paul VI was forced to exile him to Iran because of his Masonic connections.
Fr. Malachi Martin, who knew the inner workings of Newvatican intimately, revealed information about these matters in his novel, Windswept House. Fr. Martin wrote this novel as a kind of roman á clef, as he stated that if he had published it as non-fiction, he would be killed. A key to the characters in the novel is provided in WIND.TXT: Who's Who in Windswept House: A Key to the Characters in Fr. Malachi Martin's Windswept House" in the TRADITIO Library of Files (Catholic Apologetics).
As to Opus Dei, there is a lot of speculation. It is clear that JPII rushed through the canonization of its founder, Josemaría Escrivá de Balaguer, as a saint of Newchurch in 2002, having already recognized the organization as a "personal prelature" in 1982. There seems little doubt that JPII allowed Opus Dei to assume an important influence in Newchurch. There have been a number of exposés written by those who have been members, describing the organization as having dangerous cultish ideas and practices. Those descriptions sound very much like those of Freemasons who have left the Masonic lodge. For further information, see FAQ10: How Do You Explain These Traditional Beliefs? in the TRADITIO Library of Files (Catholic Apologetics) in the section "Opus Dei."
As to JPI, there have been a number of speculations that his death was not the natural process that Newvatican announced. David Yallop, for example, in his book, In God's Name, laid the responsibility for his death with the officials of the Vatican Bank, in league with Freemasons and the Mafia, with complicity from members of the Roman Curia. JPI was said to have announced his intention to clean up the corruption in the Vatican Bank.
---
June 10 - Pentecost Saturday - Ember Saturday
Semidouble Feast
Fast & Partial Abstinence
Issue of Bishopesses Tears Anglican Church Apart: Is Newchurch Next?
From: The Fathers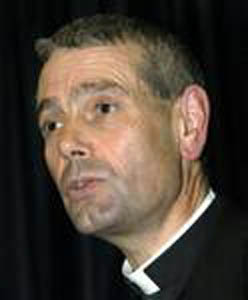 Vicar Paul Plimpton
In the Face of Coming "Consecration" of Bishopesses
He and 300 Traditional Parishes Will Walk out of the Institutional Church
Most Traditional Catholics Can't Seem to Cut the Cord
Of Affiliation with the New Order
As the Anglicans go, so may go Newchurch. Newchurch accepted the New Order service, which has the imprint of Anglican Protestantism. Newchurch is negotiating with the Anglicans, as it did with the Lutherans, and the result has always been watered-down doctrine and practice on the Catholic side. Is the current debate in the Anglican Church about bishopesses the handwriting on the wall for Newchurch?
Traditional Anglicans have proclaimed that they will leave the institutional Church when women are consecrated as bishops. Senior traditional leaders are privately warning that if the institutional Church adopts even a "watered-down version" of "consecrating" bishopesses, the Church could be plunged into a "civil war." One said that up to 300 traditional parishes might withhold some or all of their quota, the "tax" they contribute annually to central Church funds, and the resulting loss of income could cripple several dioceses. But the House of Bishops has also come under huge pressure from liberals who want to change traditional doctrine and practice.
In a proposal that sounds dangerously like the "Campos" arrangement in Newchurch, which the Superior General of the Society of St. Pius X have been publicly touting, traditional parishes would effectively be given a legal right to switch their allegiance from their diocesan bishop to a like-minded traditional bishop, who would report directly to the Archbishop of Canterbury or York. But liberals argue that the proposals would fundamentally undermine the role of the bishop, who has traditionally enjoyed jurisdiction throughout his diocese. In the "Campos" arrangement in Newchurch, Newrome installed a puppet bishop to handle "indult" Catholics. That puppet bishop soon was seen performing the Novus Ordo service with New Order bishop and requiring his "indult" clergy to do the same.
The increasingly-militant stance of traditional parishes is typified by the stance of the Vicar of St. James in Oldham, Paul Plumpton. He said that he was prepared to withhold his entire quota of £18,000 to £19,000 a year if necessary. He says that if the Anglican House of Bishops adopts the bishopess proposal, "I shall be extremely angry and bitter. I have given my life to the Church of England. But you move on if you have to." Plumpton said that his congregation would leave with him. "There would be nobody here in this church. They believe what I believe." [UK Telegraph]
You've got to give these traditional Anglicans points for guts. Many "traditional Catholics" haven't been able to cut the cord of affiliation with the New Order.
---
Traditional Anglican Bishop Rejects the New Order's False Oecumenism
From: The Fathers
The London Times of May 26 reports that the United Kingdom had the shock of hearing one of its Anglican bishops castigate "oecumenism." The Anglican Bishop of Rochester, Michael Nazir-Ali, delivered an extraordinary attack on his fellow bishops, accusing them of pandering to a multifaith society. He accused them of failing to act, allowing key Christian activities to be reduced to a "multifaith mishmash."
"Surely this is where bishops and the Church as a whole should act together. So far, there has been little interest, and our ecclesiastical bureaucracies remain preoccupied with pre-eminently churchy matters. Alas, such a vision of our Christian roots is very far from the ideas of policy-makers and managers in our public institutions. They have been sold the doctrine of the multifaith society, lock, stock and barrel." He might as well have been talking about Newchurch, the United States, and Europe!
Bishop Nazir-Ali says that the Church of England's role and that of other Churches in the nation is built on the assumption that this is a Christian country that owes its constitution, institutions, legal arrangements and values to the Christian faith. But Nazir-Ali argues that there is a "secularising agenda" afoot in which people of no faith argue for a multifaith society to level down or "neutralise" all faiths.
To the contrary, Nazir-Ali says that is the bishop's task to ensure that nothing is done that is contrary to the doctrine of the Church. Imagine a Newchurch bishop saying that: Theodore McCarrick, perhaps, or Roger Mahony!
---
"Words of Wisdom" against the New Order
From: Susan
Dear Fathers:
I just had a Newchurch couple E-mail me to state that I was wrong by advocating the Traditional Latin Mass, and they suggested that I read a book by a Newchurch presbyter who is against the Traditional Latin Mass and would prefer to correct abuses in the Novus Ordo service with a Mess in English. I think I know pretty much how to reply to this couple, but could you please offer some words of wisdom that I could say to them?
The Fathers Reply.
We are what you once were.
We believe what you once believed.
We worship as you once worshipped.
If you were right then, we are right now.
If we are wrong now, you were wrong then.
SEEK OUT EXCLUSIVELY THE TRADITIONAL ROMAN CATHOLIC
LATIN MASS, SACRAMENTS, AND FAITH IN YOUR AREA.

Consider this. If, despite its blatant departure from the Tradition of the Church, the New Order and the new theology that the New Order service supports can be justified and approved of, then all the Saints were superstitious simpletons, all the theologians were liars, and all of our Catholic forefathers were duped idiots, including some of the greatest minds in human history: St. Thomas Aquinas, St. Robert Bellarmine, St. Thomas More, St. Catherine of Siena, St. Augustine, St. Ambrose, St. Benedict, St. Louis de Montfort.
These and all previous Catholics were traditional Catholics. They all believed exactly the same as traditional Catholics today do. It is not a mere matter of opinion, but a matter of irrefutable fact that the traditional Faith, the traditional Mass, and the traditional Sacraments are Roman Catholic, not the novel teachings of Vatican II, not false oecumenism, and certainly not the New Order Protestant-Masonic-Pagan service.
No one who calls himself a Roman Catholic can have anything to do with an invalid "new" rite, defined as not a Mass, flaunting condemned heresy, perverting Christ's own most solemn Consecratory Prayer in both word and form, contradicting Christ's and His Church's identical sacrificial intention, fraudulently introduced as an experiment in flagrant violation of laws made to protect our Holy Mass and in deliberate fracture of two most solemn oaths required of and sworn by ever priest at ordination and every bishop at consecration.
---
June 9 - Pentecost Friday - Ember Friday
Semidouble Feast
Fast & Partial Abstinence
An Analysis of the Current State of the SSPX:
SSPX's Fellay Comes to See the Truth of TRADITIO's Original Predictions
From: The Fathers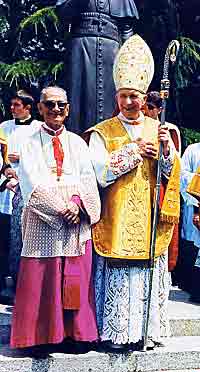 Bishop Antonio Castro de Mayer and Archbishop Marcel Lefebvre
A Brighter Time in the Society of St. Pius X
One Can only Wonder What They Would Think of the Fragmentation
Of the SSPX under the Current Fellay-Schmidberger Regime
In a recent interview with the French newspaper Le Figaro, Bernard Fellay, head of the SSPX, has admitted that Newvatican "has shown a declining interest" in doing a deal with the Society of St. Pius X. This is exactly what TRADITIO predicted months ago. We said that there was a kairos, a critical point, back around December or January during which, if Fellay and Benedict-Ratzinger could agree on a sell-out of the SSPX to Newrome, it would be then or never.
The Fellay sell-out express and the Newrome progaganda mill were going great guns in the last quarter of 2005. So what happened? Pretty much as TRADITIO predicted at the time, Newrome was essentially playing its usual game of smoke and mirrors. The new papal administration detected in Fellay the itch for recognition by the New Order and so played on his weakness. Fellay never openly posed to the SSPX membership the question of a sell-out to Newrome; instead, he conducted secret negotiations behind closed doors. He made every effort to keep what was going on from the Society, including its highest officials. But, thanks to European sources and web sites like TRADITIO, the interdicted information became public, and the SSPX members engaged in debate against one another about a sell-out.
As TRADITIO indicated at the time, Newrome wanted a "clean package." If the Society were to sell out, Newrome wanted a smooth transition. As the possibility of a sell-out became public, loud voices in the Society, from top to bottom, rejected the notion of a sell-out. Therefore, the SSPX package that Fellay could deliver became "dirty," and Newrome started to lose interest. Officials at Newrome, like Cardinal Hoyos, even attacked the members and clergy of the SSPX who were not sympathetic to a sell-out.
The final nail in the coffin was the March 24 consistory of cardinals. As TRADITIO indicated at the time, as soon as the parties to the discussion broadened within Newchurch, a chill wind blew upon the idea of a "negotiated sell-out." Although, as usual, Newvatican issued rosy-colored statements, in reality, the idea was dead when presented to the consistory as a whole. Many people are misled by the modus operandi of Newvatican. They look to words and documents, which are issued only for effect. In Newvatican, much more can be learned from what is not said and what is not done.
But the real story here may be what is happening within the SSPX. Again, just as TRADITIO predicted, the Society has become involved in intranecine battles. The mismanagement and loss of focus in the Society since the death of Archbishop Lefebvre in 1991 is now being addressed publicly by opponents of the Fellay-Schmidberger regime. In response, that regime has engaged in the most virulent repression and censorship of its opponents within the Society.
With the duodecennial SSPX elections coming up, the Fellay-Schmidberger liberalist faction is bound and determined to continue its reign for an unprecedented 24 years and, according to the French web sites, has engaged in a campaign of "blackmail and intimidation" to keep its control over the Society. Likely, the liberalist faction will win the election (which is stacked anyway, since Fellay essentially appoints the electors).
But the forces that have been set off by the secret negotiations for a sell-out to Newrome, the Fellay-Schmidberger propaganda tours during which what they called "rumors" and "lies" turned out to be exactly true, and the techniques of blackmail and intimidation being used against their own clergy and members are bound to lead to a deeply-divided Society, and possibly another schism, as that which happened in the mid 1980s when some of the Society's best priests left to form the Society of St. Pius V.
---
What Is the Real Meaning of "666"?
From: Ron
Dear Fathers:
Can you explain the meaning of "666" in Apocalypse 13:18/DRV: "Here is wisdom. He that hath understanding, let him count the number of the beast. For it is the number of a man: and the number of him is six hundred sixty-six." My Fundamentalist Protestant co-workers fear the end of the world; they even that say the number stands for the pope.
The Fathers Reply.
You can put your coworkers' minds to rest, as the verse refers to the past, not the future.
First of all, one cannot put too much stock in the exact number "666," as it is not certain that this is even the number involved. Before the invention of the printing press, when copies of the Bible had to be made by hand, it was common for copying errors to creep in over time: words and lines transposed or repeated or omitted or mistranscribed. Numerals were particularly likely to be mistranscribed, as the Greeks used letters of the alphabet for numerals (alpha = 1, beta = 2, etc.), followed by a stroke. With such symbols being used outside the context of a word or sentence, it was easy for errors of transcription to arise.
Quite a few numbers in the Bible, such as the number of people that Christ fed with loaves and fishes on the mount and the number of times one should forgive, are variously recorded in the manuscripts. This is also the case with the number "666" in verse 18. The reading hexakosioi hexekonta hex ("666") is supported by the earliest papyrological source (Papyrus 47) of the Apocalypse, as well as the major Codex Sinaiticus (Aleph). However, the uncial manuscript traditions A and C are considered superior to P47 and Aleph for the Apocalypse, and although the A tradition reads hexakonta, the C tradition reads mostly deka, so that the number would be "616."
When Greek letters are thus used as numerals, the difference between 666 and 616 is merely a change from xi to iota (666 = chi xi sigma; 616 = chi iota sigma). St. Irenaeus (ca. 130-202), one of the Apostolic Fathers (a term used to describe the immediate disciples of the Apostles), was aware of the two readings, but added that those who had themselves seen St. John, the author of the Apocalypse, face to face, attested to "666."
By a process called gematria (coming from the Greek word for "geometry"), words and sentences are read as numbers by the assigning of numerical instead of phonetic values to each letter of the alphabet. As it turns out, the number "666" has specific reference to Caesar Nero in Hebrew. Surprisingly, the variant reading, 616, has specific reference to Caesar Nero in Latin and Greek. Thus, we have all three sacred languages concurring in the interpretation of the "mark of the beast" as Caesar Nero.
It should also be pointed out that the translation "beast" is not strictly accurate in modern English. The Greek word, therion, refers simply to a wild animal, even an insect, whereas in modern English the word "beast" carries a pejorative, even monstrous, connotation.
So what is the upshot of all this? It seems clear that the reference to the "number of the beast" is the "number of a man," Caesar Nero, the pagan Roman emperor, who reigned from A.D. 54 to 68. Nero serves here as the representative of the pagan Roman empire as opposed to Christian Rome.
Nero was the first Roman emperor to persecute the Christians, as the Roman historian reports in his Annales (XV.44): ergo abolendo rumori Nero subdidit reos et quaesitissimis poenis adfecit, quos per flagitia invisos vulgus Christianos appellabat [therefore, to put an end to the rumor (that he himself had caused the Great Fire at Rome in A.D. 64), Nero falsely accused as the guilty parties and subjected to the most unusual punishments those hated for their crimes, whom the common people called "Christians."].
The "666" reference, therefore, has nothing to do with the pope. It has nothing to do with the future. Having the "mark of the beast" meant doing obeisance to the pagan emperors of Rome, after the manner of the Jews, whom St. John the Evangelist quotes as proclaiming before the Roman governor Pontius Pilate (John 19:15/DRV): "We have no king but Caesar."
So there is no need to worry about "666." Nero and his pagan empire has already lived and died.
---
June 8 - Pentecost Thursday
Semidouble Feast
Presbyter Pleads Guilty; Embezzeled Hundreds of Thousands from the Poor Box
From: The Fathers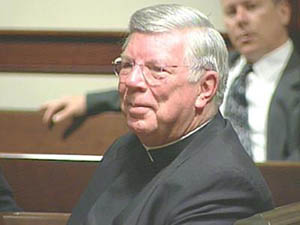 Newchurch Presbyter-Pastor Thomas Axe Pleads Guilty
Embezzled $270,000 of Poor Box Money on "Personal Expenses"
Newchurch Archdiocese of Cincinnati Considers Him "in Good Standing"!
The corruption of Newchurch just never seems to stop. On June 2, the presbyter-pastor of the largest parish in the Newchurch Archdiocese of Cincinnati pleaded guilty to embezzling for nine years from an account meant for helping the poor buy food, clothing, and temporary housing. The archdiocese concluded after a 2004 internal audit that the Thomas Axe embezzled about $270,000 from the account at Good Shepherd parish in Montgomery, and used some of the money for personal expenses. He faces a maximum jail term of one year when he is sentenced later this month in Hamilton County Common Pleas Court.
In an effort to downplay the seriousness of the crime (this is one of the four Sins that Cry to Heaven for Vengeance, after all), the archdiocese spokesman claimed that Axe had not "deliberately acted in bad faith." In fact, the archdiocese has proclaimed the felon-presbyter "in good standing." He continues to perform the Novus Ordo service and do other work within the archdiocese. [Associated Press]
---
The SSPX's Censorship at Chartres and the District of France
From: Abbé Michel Marchiset (From a French Press Release)
"A month from its re-election, the faction of Bishop Fellay and Fr. Schmidberger are blocking all communications. The faction does not want to take any risk. For the Pentecost 2006 pilgrimage, opposition has been blocked by Menzingen [the SSPX headquarters] and Suresnes. There is no question that one of the three [SSPX] bishops issued his criticism [of the Fellay-Schmidberger faction].
"The remarks of Bishop Tissier de Mallerais have been censored in France. His interview, given in the United States, has not been published in French [by the SSPX]. The same thing happened in the case of his statement for the consecration of the new chapel of Vannes at the end of May, in which, along the line of Archbishop Lefebvre on the rites, Bishop Tissier rejects the whole perspective of an accord with Rome. These statements have been passed over in silence by [the French organs of the SSPX].
"The statement of Bishop Williamson has similarly not been published.
"Likewise, in the very firm statement of Bishop de Galaretta à Bergerac, there have been certain words not recorded (a technical problem!), and he will also be stifled....
"Decidedly, a month away from the elections of the General Chapter [of the SSPX, at which a Superior General will be elected for a term of twelve years], it is urgent [for the Fellay-Schmidberger faction] to prevent certain unforeseeable statements from coming out to reveal the truth to the faithful and to the priests, on the question of the invalidity of the conciliar rites, for example, or on the tabula rasa [recission] of Vatican Council II that has been called for by Bishop Tissier de Malarais.
"The team of the German network (Fr. Schmidberger, Fr. Pfluger, Fr. Selegny, Fr. Lorans, Fr. Celier, Fr. de La Rocque, etc.), which is preparing to extend for twelve more years its rule of intimidation [son règne d'intimidation] over the Society, is tightening its control over communications to the faithful and to the media and is suppressing or blocking everything that could enlighten clergy and faithful on its machinations and disinformation in view of its hoped-for union with the apostatizing Ratzinger.
"Unless a breach opens in the wall of its disinformation, the [Fellay-Schmidberger] team does not hesitate to exercise powerful blackmail and intimidation [chantages et pressions]. We continue our fight [against it]."
The Fathers Reply.
The Abbé's statement has been confirmed by other sources in Europe. We have also receive reports that the Fellay-Schmidberger liberalist faction has been giving orders to its lieutenants around the world to badmouth good priests, who refuse to tow the SSPX "official" line.
It is clear that "official" statements from the SSPX can no longer be trusted in view of the efforts of the Fellay-Schmidberger liberalist faction to steal the election by intimidation, as has been reported before here and in European sources. It is clear that at least two of the SSPX bishops are trying to speak out against the liberalist faction, but since that faction controls the "official" organs of communication, the opposing message rarely gets out, particularly in English-speaking countries. It is also clear all three of the other SSPX bishops oppose Fellay's campaign programme to "negotiate" and even "sell out" to the New Order.
In the United States, there is clear proof of this reality. Until Fellay started palavering with Benedict-Ratzinger, The Angelus was generally a good magazine that had a wide variety of informative articles on a variety of subjects. Since then, however, it has become essentially a mouthpiece for Fellay & Schmidberger in their efforts to draw the Society over to the New Order. Almost two entire issues were devoted to a series of articles trying to prove that the Novus Ordo rite of episcopal consecration is valid. That series was so slovenly prepared that the commissioned author barely mentioned the arguably-infallible pronouncement of Pope Pius XII confirming the traditional form in Sacramentum Ordinis!
Poor Archbishop Lefebvre must be turning over in his grave to see what the Fellay-Schmidberger regime has done to the Society that the archbishop founded and governed with knowledge, courage, and grace. Their faction may well win the election through "blackmail and intimidation," but we predict that it will be a Pyrrhic victory. In the long run, blackmail and intimidation does not win. The Society will be torn up over this. Perhaps, as some have suggested, that is exactly what Newrome wants, and Fellay-Schmidberger are playing right into Newrome's game.
---
June 7 - Pentecost Wednesday - Ember Wednesday
Semidouble Feast
Fast & Partial Abstinence
Newchurch Priestess-to-Be Publicly Celebrates Novus Ordo Mess
From: The Fathers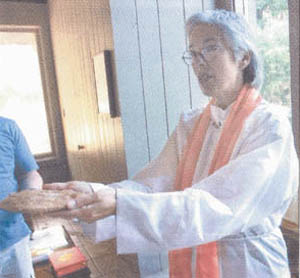 A Newchurch Priestess-to-Be Offers the "Bread"
As She Publicly Celebrates a Novus Ordo Mess
120 More Priestessess Will Be "Ordained" Who Want to Serve Newchurch Parishes
In a look at what is in store for the Church of the New Order, just as it has already occurred in Protestant sects, which the New Order apes, Newchurch priestess-to-be publicly celebrated the Novus Ordo Mess within the boundaries of the Newchurch diocese of San Jose, California, headed by Patrick McGrath, who is one of the most Modernist Newchurch bishops in the United States. (Notice that she didn't try to celebrate the Traditional Latin Mass!)
She is one of 120 women enrolled in the Roman Catholic Womenpriests program. The "Catholic" women say that they envision a more inclusive Church that welcomes women, married men, and "gays" and lesbians. [Associated Press]
---
Upstanding Judge Cites "Profligate" Presbyter to Five Years' Jail Time
From: The Fathers
There is some justice in this world, occasionally. When Rumson, New Jersey, Newchurch presbyter Joseph Hughes stole over $2,000,000 from Holy Cross Newparish, you would have thought the parishioners would have cried: "Throw the bum out." But you know better about Newchurch. The thief asked for leniency, and the benighted Newparishioners supported his request because of the thief's "many acts of kindness and charity." Sure, like robbing the poor box. A forensic audit by the Monmouth County Prosecutor's Office put the figure of the presbyter's embezzlement at $2,032,422.
But Superior Court Judge Bette Uhrmacher is one of those stand-up ladies who gets it. She pronounced from the bench that the Newchurch presbyter's "profligate spending of parish money had eroded the trust parishioners have in their clergy. That trust may never be returned, and that's serious," the judge said.
The presbyter claimed in court that much of the money he stole was used to help others, but the Prosecutor's Office turned up no evidence of charitable giving by the presbyter. A thief, and a liar to boot. The presbyter admitted that he used the money to pay for luxury cars, vacations, jewelry, and lavish meals, but tried to palm off the blame to the 9/11 terrorist attack, saying that he didn't realize how much it had affected him! [New Jersey Star Ledger]
Good Catholics, these criminal presbyters and bishops, and the New Order that supports them, must be amputated root and branch. How many more crimes of rape will it take against children under 10 (which accounts for almost 20% of the sex crimes) and embezzlement of millions of dollars from the poor box to pay for prostitutes and first-class vacations until the Newchurchers will finally say enough! Instead, the Newchurchers knowingly contribute to such crimes by supporting and funding the criminal presbyters and bishops themselves. Newchurch is sick folks, and the only way to keep one's Catholic health is to stay away from it entirely, and keep your family and friends away from its deadly infection.
---
Traditional Church Preservation Victory:
St. Colman's Cathedral, Cork, Ireland
From: Con (TRADITIO's Ireland Correspondent)
TRADITIO previously covered in detail the plight of St. Colman's Cathedral in Cork, Ireland, one of Ireland's most beautiful and historic churches, which was proposed for a New Order gutting (otherwise called "modernization") by the Newchurch diocese.
I can now report to TRADITIO readers the outcome of this story. The Irish government's Planning Board has refused to grant permission to the Newchurch bishop of Cloyne, John Magee, for the gutting of the cathedral. There is no "higher court" to which Magee can appeal. This is a major victory which should help to prevent the desecration of other traditional sanctuaries. The next victory will be the return of the true Mass and Sacraments to this great cathedral outside of control of the New Order.
---
June 6 - Pentecost Tuesday
Double Feast of the First Class
Where Does a Bishop's Authority End and Catholicism Begin?
From: River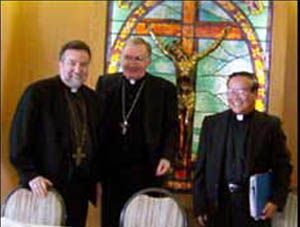 Newchurch Bishop Tod Brown (cen.)
The Smiles Belie the Hostility of Newchurch
In Orange County You're "Excommunicated" if You Dare to Kneel
Dear Fathers:
Can a bishop order a person to stand at a certain part of the Mass and then tell the person if he disobeys this direct order, he (the parishioner) is excommunicated for willfully disobeying the bishop?
The Fathers Reply.
You must be referring to the recent fracas about kneeling or standing at the Agnus Dei at that California Newparish. First of all, that is not a Mass at all; it is the invalid Novus Ordo service, so no Catholic should be going to it anyway. Secondly, that bishop is one in name only. As a promoter of the unCatholic New Order, he has no authority to order anyone to do anything and has no call on any true Catholic's "obedience." For any Catholic to obey the Modernist New Order and its servants would be to commit a grievous sin against the First Commandment.
Frankly, we Fathers have to laugh at this folderol. These Newchurchers get all hot and bothered about whether to stand or kneel, but, whatever their posture, they are still supporting the Novus Ordo Protestant-Masonic-Pagan service, which is, in any version, unCatholic, sacrilegious, irreverent, scandalous, blasphemous, idolatrous, and conclusively invalid.
If these Newchurchers were Catholic, they wouldn't be going to that Novus Ordo temple at all. As it is, they are only dissipating their energies over nothing. The arsenic of the New Order will kill your soul whether you are kneeling or standing. By absenting their persons and money away from the Newchurch diocese entirely, they would recognize Newbishop Tod Brown, with his personal sushi chef, expensive mansions, first-class trips to Hawaii, and promotion of "gay" marriage and "gay" presbyters, for the powerless poobah that he is.
---
The Necessity of the Second Confiteor
From: Michael
Dear Fathers:
Can you tell me the reason for the altar servers saying a second Confiteor before the distribution of Holy Communion and receiving a second absolution during the Mass?
The Fathers Reply.
Essentially, only the Communion of the priest is necessary for the completion of the Sacrifice of the Mass. Communion of anyone but the celebrant is not even provided for in the Missale Romanum. It is an add-on, provided for in the Rituale Romanum.
If one inspects there the rite for administering Communion outside Mass, he will find that the rite used for administering Communion during Mass is an abbreviated form of it, including only the Confiteor, the Absolution, the Ecce Agnus Dei, and the Domine Non Sum Dignus.
The elimination of this second Confiteor from the Modernized Mass of 1962 was apparently aimed at undermining the distinction between priest and layman, a doctrinal distinction that the Protestants eliminated in the revolution of Luther, just as the Modernists did in their ramp-up to the Novus Ordo Mess.
---
June 5 - Pentecost Monday
Double Feast of the First Class
Portrait of a Newchurch Bishop:
George Lucas, of Springfield, Illinois
From: The Fathers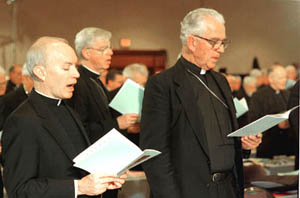 Newchurch Bishop George Lucas (l.) amidst His New Order Cohorts
But What Tune Is He Singing?
His Seven-year Record Includes Full-throated New Orderism
Having the same name as the cinematic creator of fantasy, Newchurch bishop George Lucas, of Springfield, Illinois, since 1999, has already racked up an impressive record as a corrupt New Orderist. He kicked off his administration by holding his installation party at the local Masonic Temple. (It may be that this was an innocent mistake, however, since most Newparishes look like Masonic temples inside. Lucas might not have known the difference.)
Lucas is a good New Order "oecumenist." He has allowed pro-abortion Rabbi Barry Marks, who has been a member of Planned Parenthood's clergy board, to speak in the sanctuary of the diocesan cathedral, as well as at other diocesan facilities. In that same diocesan cathedral, however, as well as all New Order temples in his diocese, Lucas prohibits even the Modernized Mass of 1962. He's no better with the Novus Ordo Mess. If anyone claims that some presbyter has "abused" that that Protestant-Masonic-Pagan service, he says "I choose not to" do anything.
In the moral sphere, Lucas is a big proponent of the "gay" lifestyle. He protected and defended his predecessor, Daniel Ryan, who was forced into "early retirement" in 1999 after being accused of hiring teenage catamites and having sex with presbyters. His situation is currently under review by Newvatican. Lucas is tolerant as well to homosexual presbyters and has allowed active homosexuals to hold key positions of authority within his diocese. Embezzlement doesn't bother Lucas either. He refuses to charge presbyters who admit to stealing thousands of dollars.
All in all, Lucas is a pretty average Newchurch bishop! [RCF]
---
June 4 - Pentecost Sunday
Double Feast of the First Class
"Funeral" for a Presbyter
From: TRADITIO Correspondents from Minnesota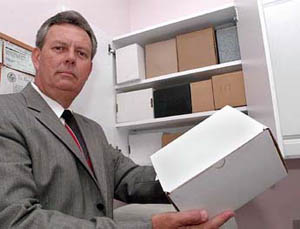 "Funeral" in a Box for a New Order Presbyter
"Those Who Commit Their Body to Burning
Are to Be Denied Ecclesiastical Burial" (Can. 1240)
Although Harvey Egan had originally been ordained as a priest, the deceased long ago had converted to become a presbyter of the New Order. Because he was cremated, in the New Order fashion, there was no casket and no funeral service as such. Those who knew him in those early years stood confused, not knowing what the New Order procedures call for in the case of unCatholic cremations. Because he had turned his parish into little more than a political meeting hall in the New Order fashion, the presbyter was wont to "homilize" not the Gospel of Jesus Christ, but instead a Liberalist/Modernist "social gospel." This explained the core of ex-hippies and war protesters standing about at service, vested in pony tails and Birkenstocks.
The Novus Ordo service observed the "New Missal" in breach only. The service was "rewritten" to make it more relevant to Modernisism. The words He, His, Him, etc., were changed to God or God's, or even She or Her to make the liturgy more "relevant" to those whose primary goal in life is to have women ordained as priestesses. That would pretty much be the whole parish. There was no tabernacle or sanctuary light in sight. A former parishioner said that the tabernacle had been tossed into a nearby closet because "we don't worship bread." In a sanctuary bereft of religious statues, paintings, icons, or stained-glass windows stood a seven- or eight- piece "band" of guitars, trumpets, keyboards, and drums. Some currently-fashionable ribbons dangled from the ceiling.
At the service for the presbyter, concelebrated by Newchurch archbishop Harry Flynn of St. Paul, Minnesota, and five of his presbyters, the Novus Ordo penitential rite and the first and second readings were omitted. Instead, verses from Ecclesiastes were mangled: "There is a time to love, a time to die." For a "Gospel," Christ's Sermon on the Mount was rewritten to reflect the presbyter's political viewpoint. Christ's own words were not good enough. Instead of a cookie, the archbishop and his cohort used a just-as-invalid pita pocket. The altar was adorned not with regal gold and silver vessels, but the dinner crystal. While a dozen or so presbyters of the diocese stood on the side, "extraordinary" ministers tore off pita pieces to hand out, while the dinner guests served themselves a liqueur from crystal goblets.
The band played on: not a Gregorian chant in earshot, but plenty of folk music, Protestant gospel ditties, and old slave spirituals: What a Wonderful World, Bridge over Troubled Waters, I Come to the Garden, Follow Me, Shall We Gather at the River?, In the Sweet By and By, Day by Day, and, for a thrilling conclusion, I'll Fly Away. In the Protestant fashion (condemned by the popes), words to the popular songs were projected on two large screens for the singing-impaired.
If you don't want your funeral to end up in this way, see FAQ10: How Do You Explain These Traditional Beliefs? in the TRADITIO Library of Files (Catholic Apologetics) in the sections "Cremation and Traditional Funeral Instructions."
---
Has Newchurch Become Little More than a "Political Opportunity"?
From: The Fathers
Newpope talks more about politics than about Christ. Newbishops talk more about politics than about Christ. Newmass talks more about politics than about Christ. Is it any surprise that Newchurch is being used by political entities for political purposes?
On Pentecost Sunday St. Paul's Cathedral in Minnesota, as Newchurches around the United States, will be the focus of the "gay-lesbian-bisexual-transgender" (can they add any more?) political Rainbow Sash Movement to push for recognition of "gay" marriage. What do you want to bet that the presbyters will hand them the Novus Ordo cookie? Of course, the cookie is meaningless, but, heck, the Newchurchers are too benighted to know that.
According to the Rainbow Sash Movement, "all liturgies take place in a political context." Well, they're right about that, insofar as the New Order is concerned. And they've got support from one of the top guys at Newvatican: Newcardinal William Levada, former Newchurch archbishop of San Francisco, who allowed the rainbow flag to be flown from the diocesan flagpole during "Gay Pride Day" in that Sodom by the Bay.
Meanwhile, paedophiles are organizing a political party to press for lowering the legal age of sexual relations from 16 to 12 and to legalize child pornography and bestiality. (Will the liberalist animal "rights" groups object?) The paedophiles complain that "politicians only talk about us in a negative sense, as if we were criminals." "As if"?
Well, that's in Holland you say. The Netherlanders are pretty crazy people these days. Ah, have you forgotten that in the United States two years ago California Governor Arnold Schwarzenegger signed a bill dubbed the "Paedophile Protection Act." The new law drastically reduced requirements for mandatory reporting of the known or suspected sexual, physical, and emotional abuse of children.
The California bill created a loophole for abortion providers, such as Planned Parenthood, to be exempted from reporting statutory rape, molestation, and sexual abuse and gave molesters greater opportunity to be involved with the raising of children. In addition, the new law changed the Child Abuse and Neglect Reporting Act's definition of "sexual assault" to exclude consensual oral copulation, sodomy, and sexual penetration between two minors who are both 14 years or older. [World Net Daily]
As Newchurch is learning, what goes around comes around.
---
June 3 - Vigil of Pentecost
Fast & Partial Abstinence
Von Hildebrand's One Blind Spot
From: Anastasia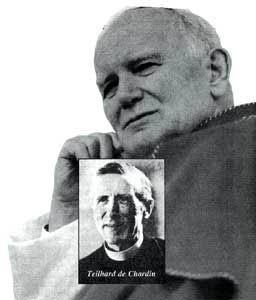 JPII with His Favored Modernist Philosopher Teilhard de Chardin Inset
JPII Called This Theologian, Condemned by Pius XII and John XXIII
A Proponent of the "Cult of Man"
"Seized by Christ in the Depths of His Being"
Dear Fathers:
There is only one weakness in Dietrich von Hildebrand's outlook that marred his otherwise clear-sighted vision, and that is his failure to realize the culpability of the Newpopes for the crisis of the Church. Like many "conservative" Newchurchers, he had a blind spot when it came to assessing the Newchurch papacy.
While he reserved his criticism selectively for the likes of Teilhard de Chardin (1881-1955) and Avery Dulles, he seemed totally unaware of the part played by Montini, Wojtyla, and Ratzinger in the production of the false philosophies of Vatican II, which were at the root of the apostasy in the modern Church. In other words, he criticized prelates who accepted the "New Theology," which he described as a betrayal of the Depositum Catholicae Fidei, but failed to attribute that "New Theology" and betrayal of the Roman Catholic Faith to the Newpopes!
In Chapter 10 of his book The Charitable Anathema, von Hildebrand states that faithful Catholics "follow the lead of the Holy Father" and unite with him "to defend the Church from the secularizers within her." But the Newpopes have been the greatest secularizers of all, with their penchant for the Cult of Man! Teilhard de Chardin has been highly praised by Wojtyla, and Avery Dulles has been made a cardinal in spite of the fact that both of them are the great enemies of Catholic Tradition.
The Fathers Reply.
Unfortunately, this flaw of being a respecter of persons was seen after Vatican II and even to the present day. It is particularly found in the "indult" groups, who criticize what the deconstruction of the Church in the post-conciliar period, but they pull back from criticizing a major cause of that deconstruction, Paul VI, JPII, and Benedict-Ratzinger. We think that this is why even such a intellectual like Bishop Fulton Sheen fell into the New Order to some extent: he just couldn't tell his friend, Paul VI, that the latter was leading the Church into heresy and apostasy. Sheen as much as admits that in one of his lectures.
Of course, being a respecter of persons instead of being a respecter of the Faith and of its Founder, Our Lord Jesus Christ, is not Catholic. Our Lord could not have been a clearer model for us on this point. The Jews certainly knew this about Him: "Master, we know that thou art a true speaker and teachest the way of God in truth. Neither carest thou for any man: for thou dost not regard the person of men" (Matthew 22:16/DRV). In other words, the Truth comes first, not regard for persons.
Bishop Sheen seemed to have learned at least part of the lesson, since after the 1960s his approach changed from being a proponent of Vatican II to a corrector of Vatican II. He spent the latter years of his life giving retreats to Newchurch presbyters, telling them that Vatican II had been wrongly implement. Even that was still a false explanation, as Vatican II was clearly engineered and controlled by the Modernists, but Sheen was still trying to cling to some philosophical justification for his "institutional" Newchurch.
Likewise, von Hildebrand was member of the New York Catholic social circle, which included other "conservative" Newchurchers like William Marra, John Rao, and William F. Buckley. It must have been hard for him to break the ties to men in order to embrace Christ and the true Church completely. His wife, Alice, has been similarly impotent in this regard, selling out to the Charismatics on the EWTN Cable Network. Apparently, traditional Catholic producer-director Mel Gibson knows the score. Alice revealed on EWTN that Gibson had returned unopened her most recent book.
Often we traditional Catholics do not understand how much these "social Catholicism" means to many people and how much for them the Catholic religion is a social club rather more than the true Faith. That is why it is so hard for them to break with the unCatholic Newchurch and embrace the Faith. It is also why those Catholics who have chosen to stand by Christ and His unadulterated Faith, sometimes even having to stand against Newchurch family and friends to do so, are the miracles of our time.
They are the true followers of Fr. Gommar DePauw, the Founder of the Catholic Traditionalist Movement in 1964, who broke his ties with Newchurch even before Vatican II ended. Yet you will rarely hear traditional Catholics, let alone "conservative" Newchurchers, utter the name of the Founder of our movement. His example is just too powerful and too challenging for them.
---
June 2 - St. Marcellinus & Companions, Martyrs
Simple Feast
Complete Friday Abstinence
Pages from the History of the Traditional Catholic Movement:
Prof. Dr. Dietrich von Hildebrand Denounces the New Order in 1967
From: The Fathers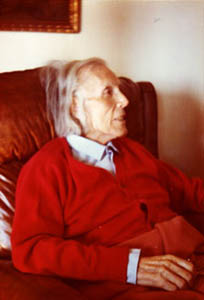 Prof. Dr. Dietrich von Hildebrand (1889-1977)
Pope Pius XII's "Twentieth Century Doctor of the Church"
Was One of the First to Speak out Against the New Order
Since 2004 a project has been underway to promote the thought and spirit of Dietrich von Hildebrand by preserving his memory and disseminating his writings, especially in the English-speaking world. Some of the great churchmen of the 20th century have held von Hildebrand in high regard. One frequently sees the quote of Pope Pius XII, who called von Hildebrand a "20th century Doctor of the Church."
As with other traditional Catholic philosophers and theologians of the modern age, Newchurch has tried to co-opt these figures and make them out to be New Order. Nothing could be farther from the truth. In fact, it turns out that Prof. Dr. von Hildebrand was a traditional Catholic, who spoke out resoundingly against the New Order after the close of Vatican II. He become one of the most outspoken critics of New Order.
His 1967 work, Trojan Horse in the City of God, published just two years after Vatican II closed, rocked the Vatican II world, which, in the first flush of its revolution against Catholicism, was not prepared to be criticized by such a venerated philosopher and theologian. Von Hildebrand's book was a no-holds-barred denunciation of the Modernist/Liberalist New Order and a defense of traditional Catholicism. von Hildebrand exposed the Modernist New Order agenda, its modus operandi, and the dangerous heresies it promotes, contrary to traditional Catholic truth. He treated, among other things:
why true renewal in the Church requires reaffirmation (not denigration) of tradition
why translating Scripture into "everyday" language undermines faith and trivializes Christ's message
the war against beauty in Catholic art, architecture, and worship
the fundamental error in the "new theologies"
why heresy must be condemned (and even punished)
how relativism supplanted belief in objective truth
the tricks that Modernist theologians play with language
how contemporary philosophers calling themselves "Catholic" have gone wrong
In 1973, after he had seen six more years of the depredations against Catholicism perpetrated by the Novus Ordo Protestant-Masonic-Pagan service and other sequelae of Vatican II, von Hildebrand continued his argument against the New Order in Devastated Vineyard. He was never afraid to denounce the Modernist evil and expose what it is doing to the Church and the world. He even criticizing the New Order bishops and cardinals who were, and are, abusing "authority" in the Church to serve false and unCatholic purposes. Von Hildebrand never failed to confront and combat the evils in the Church and world. There is no bury-your-head-in-the-sand-and-put-on-a-smiley-face writing in his books. He argues that Satan has infiltrated the Church in a major way and that true Catholics must thrust him out again.
It is a scandal that his surviving wife, Alice, has so blatantly dishonored her husband and sold out to Newchurch and the phony "Charismatic Catholicism" that is pumped out by the EWTN cable network. It is a scandal the Benedict-Ratzinger did not learn from his fellow German (von Hildebrand emigrated from Germany to the United States), but instead listened to the likes of Teilhard de Chardin. Obviously, neither Alice nor Benedict has one jot or tittle the knowledge and perspicacity of the professor.
---
June 1 - Octave Day of the Ascension
Double Major Feast
Newchurch Hails Its First "Protestant Pope"
From: The Fathers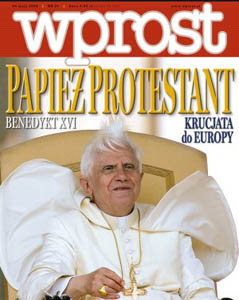 Leading Polish Magazine Proclaims Benedict XVI
As Papiez protestant: "Protestant Pope"
During His Visit to Poland in the Footsteps of JPII
While "conservative" American Newchurchers still labor under delusions about the "conservative" Benedict-Ratzinger, the Europeans know exactly what he stands for. That is why, to mark the pope's current visit to Poland, one of that country's most important magazines, Wprost, in its May 28 edition, calls him "Papiez protestant": "Protestant Pope."
The article begins by noting the reaction -- "Oh, mein Gott!" -- of the liberalist German daily Die Tageszeitung to the 2005 election of Josef Ratzinger to the papacy, gladdening the hearts of liberalists in Northern Europe. His election was viewed in Germany as signaling an increasingly liberalist path for Newchurch, for which he would use methods developed in the "oecumenical" State of Germany for the synthesis of Protestants and Newchurchers. The Germans ought to know. After all, Ratzinger was a priest in the archdiocese of Munich from 1951 to 1977, then its bishop until 1982.
Can Benedict-Ratzinger expect success for his plan for further liberalization of Newchurch, an intention that he confirmed in his First Message (Primum Nuntium) to the Newchurch cardinals after his election? As TRADITIO pointed out at the time of the papal election of 2005, a false "cover story" was being created for Ratzinger by his partisans. He was portrayed as Der Panzerkardinal, the "Tank Cardinal," a term redolent of Nazi tanks rolling into Austria; as a "conservative" who could not be bent.
Such a "conservative" caricature was demonstrably far from the reality. Here was the epitome of the Modernist at Vatican II, who, at the behest of Pastor Schmidt, a Protestant observer at the Council, personally introduced into its documents the previously-condemned notion that Protestant sects were "substantially" the same as the Catholic Church. He wrote some thirty German books, containing the most blatant Modernistic thought, in many cases watered down in English "translations" so as not to scandalize the more naive English-speaking world.
Now Benedict-Ratzinger, like the proverbial infiltrating "mole," is on the track of liberalizing Newchurch further to make it conform to the contemporary secular world, rather than, as Christ's Church is to do, be the "sign of contradiction" to that world. The pillar of the Benedictine strategy would be acceptance of the definitive "protestantization" of Newchurch, on the basis of the lessons Newpope learned in his religiously liberalist, oecumenical German homeland.
After all, Josef Ratzinger has been known as one of the most Modernist of Catholic theologians. Ratzinger was careful not to take clear positions on the burning theological and moral questions of the day: divorce, homosexuality, a married clergy. When JPII appointed him Sex-crimes Czar for Newchurch, he did not publicly proclaim the Catholic moral position against such debased crimes by clergy, but immediately engaged in a great cover-up, sending a document to chanceries around the world requiring strict secrecy.
Ratzinger is generally thought to be behind JPII's 1995 Encyclical Letter Ut unum sint (On Commitment to Oecumenism). In this document a conciliar pope publicly refused to proclaim the dogma of the papacy and opened for discussion how the papacy should change to make it tolerable to Eastern Orthodox schismatics, Anglican Protestants, and the like. Criticism of the document was so great that in 2000 Ratzinger was obliged to publish the instruction Dominus Iesus, whose language on the point, nevertheless, was deliberately ambiguous.
Those Newchurchers who portray Newpope as "conservative" have merely fallen into the trap of the cover story. If the Modernist Cardinal Martini had become pope, the "conservatives" would not accept liberalization from him, but they will accept it from the "conservative" Benedict-Ratzinger.
Traditional Catholics can take comfort in the fact that it is a strategy that is bound to fail, just as U.S. President Bush's domestic progamme is failing. Republican think-tankers expected that if Bush could be portrayed as the "conservative" that he is not, "conservative" Republicans would accept from him the rampant spending and illegal immigration that they would not accept from Democrat Al Gore. Politics based on deception, whether in the Church or in the State, are bound to fail as its victims eventually wake up to reality.
---
Newchurchers Miss the Point Again
From: The Fathers
We've all heard the phrase "rearranging the deck-chairs on the Titanic." When the ship is sinking, and all some clueless people could think to do is to make sure that the deck-chairs were straight. We have yet another example of this principle at work in sinking Newchurch. It seems that in Huntington Beach, California, the Newchurchers are in a dither about whether to kneel or stand at the Agnus Dei. Newchurch bishop Tod Brown says stand; they say kneel.
How out of it can these Newchurchers be? The much bigger issue is that they had a marginally-valid Mass, the Modernized Mass of 1962 under the so-called "indult," and that was recently taken away from them. So, instead of getting out of the corrupt diocesan structure and going to a real Mass, they are splitting hairs about whether to stand or kneel as puppets of the New Order. Posture is tittle when you consider that the Newchurch bishop is still pulling the strings!
Their Newchurch bishop has previously been identified as promoting "gay" marriage and "gay" presbyters, as hiring a personal sushi chef, and as taking first-class trips to Hawaii. Brown was denounced to Benedict-Ratzinger, who has declined to do anything to protect diocesan funds from this Newchurch bishop-pillager.
---
Traditional Clergy Update: Traditional Priest Fr. Carl Pulvermacher Dies
From: The Fathers
As TRADITIO reported previously, independent traditional Capuchin priest Fr. Carl Pulvermacher had been gravely ill. We have now been informed that his condition had significantly deteriorated in recent days and that he had slipped into a semi-comatose state because of kidney failure. He had been informed that through the notice on TRADITIO, traditional Catholics around the world were praying for him, and, according to a witness present at his bedside, "he raised his eyebrows, one of the few times that he responded to anything that was said." He passed into eternity at 16:30 UT, May 29, the feastday of St. Mary Magdalen dei Pazzi. Fr. Pulvermacher had been most recently serving two Traditional Latin Mass sites in Florida.
For a necrology of other traditional Catholic priests, see TRADITIO's Prayers for the Living and Deceased department.
---

Return to Commentaries from the Mailbox.