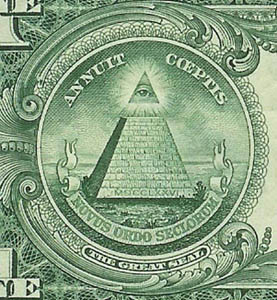 Have you ever wanted to get a translation into Latin for a motto or logo? Have you ever wanted to get a translation from Latin of an inscription on a family heirloom?
You may have already tried some free internet machine "translator" and discovered that the result was not Latin, but gibberish. No surprise there. French or Spanish translation is bad enough, but Latin is a highly-inflected language. Much of the meaning is contained not in the word roots, but in the inflectional endings.
Machines just don't know how to deal with Latin. They can't distinguish between the Latin for Man bites dog and Dog bites man, in Latin Vir canem memordit and Virum canis memordit!
We have the solution for you: VIVAT LATINA! Latin Translations for Every Need. Personalized service, reasonable fees.
(To the left is the reverse of the Great Seal of the United States, found on the reverse of the dollar bill, with its two Latin mottoes: Annuit coeptis: He Has Favored Our Undertakings and Novus Ordo Seclorum: A New Order of the Ages. On the obverse of the Great Seal is the most famous Latin motto of all: E Pluribus Unum: From Many, One. In 1782, the year of the eighteenth centenary of the classical Latin poet Vergil's death, Congress approved the design of the official seal. The seal contains three Vergilian mottoes, which embody a statement of the classical heritage and humanistic origins of the first modern republic, the United States of America.)