January 2021
| | |
| --- | --- |
| | For answers to many questions, consult the CURRENT MONTHLY REVISED EDITION of the Official Traditional Catholic Directory, Listing All Traditional Latin Masses and Traditional Resources for North America. For further information, click on the TRADITIO Network's Official Traditional Catholic Directory department, provided to the TRADITIO Network by the National Registry of Traditional Latin Masses. |
For information about the protocol for sending messages to the TRADITIO Fathers, click on Ask the Fathers. First, here are some ]hints for locating items that have already been covered. The TRADITIO Network has the most varied and extensive repository of traditional Catholicism, collected over the 20 years of our existence on the internet, the longest of any traditional site. (1) Check the 16 departments listed in the TRADITIO Network's Web Site Map on our home page, www.traditio.com. (2) Check the 14 FAQs in the TRADITIO Network's Library of Files (FAQs and Traditional Apologetics) department, which answers your most common questions. (3) Use the Search engine on the TRADITIO Network's home page, www.traditio.com.
| | |
| --- | --- |
| | If you have you have personally benefited from the services of the TRADITIO Network, please support the continuation of the TRADITIO Network's Apostolate by clicking on the box to the left to made a donation easily, securely, and confidentially by bank account or credit card through PayPal. Regular contributors become Benefactors of the TRADITIO Network, and their intentions are specially commemorated at Traditional Latin Masses offered. Using PayPal reduces our administrative burden considerably, but if need to use a paper check, click on FAQ01: "How Can I Help the TRADITIO Network's Apostolate?" We have always refused to display those annoying "click" ads to raise money. We hate those ads, and we think that you do too, so we have kept TRADITIO 100 per cent free of them and rely instead on you for voluntary donations. |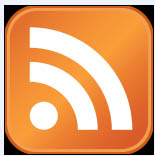 Subscribe to the Free TRADITIO RSS Feed
Enter "http://www.traditio.com/rssfeed.xml" into your Yahoo, Google, Microsoft, or Other Aggregator
---
NOW RELEASED: THE 25TH EDITION (2020)
OF THE OFFICIAL TRADITIONAL CATHOLIC DIRECTORY
THE 2020 ANNUAL USE FEE IS NOW DUE
FOR THOSE WHO WISH TO USE THE NEW EDITION
The TRADITIO Network has been informed by the National Registry of Traditional Latin Masses that the new January 2021 Original Edition of the 26th Annual Edition (2021) of the Official Traditional Catholic Directory, Listing All Traditional Latin Masses and Traditional Resources for North America has been published. For further information, click on the Official Traditional Catholic Directory department, provided to the TRADITIO Network by the National Registry of Traditional Latin Masses. The annual use fee is now due for those who wish to use the new 2021 Original Edition and its monthly Revised Editions. Site representatives, be sure to check your traditional site's listing for correctness.
---
FEATURED GREGORIAN CHANT CD OF THE MONTH
The TRADITIO Network recommends the Gregorian chant recordings of the St. John Schola, which is recording a CD series consisting of live recordings of the type of chant pieces that may be used at traditional churches and chapels. It makes no pretense to being professional, but to what is achievable, with a little work, by the average small lay choir. The hope is that this series will serve as a practical guide for the wider use of Gregorian chant in the traditional Roman Catholic liturgy. For ordering and descriptive information on the CD series, click on A Traditional Chapel Sings Gregorian Chant. This month's featured Gregorian Chant CD is: CANTUS POPULARES - POPULAR CHANTS (VOLUME VIII).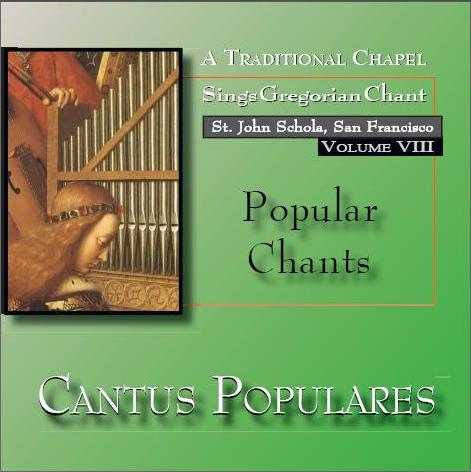 ---
---
January 31, 2021 - Septuagesima Sunday
Semidouble Sunday of the Second Class
The season of Septuagesima begins today. The word itself comes from the Latin for "seventy," as from today until Easter there are some seventy days. To make a transition from the joyousness of Epiphany time to the penitential character of Lent, Septuagesima is a kind of "pre-Lent" or "fore-Lent" before Lent proper begins on Ash Wednesday seventeen days from now. The liturgical color changes from the green of hope to the violet of penitence.
Newchurch Is Moving to Gut, then Shut down New Latin Messes
So-called Extraordinary Messes as a Result of a 2020 Investigation
From: The TRADITIO Fathers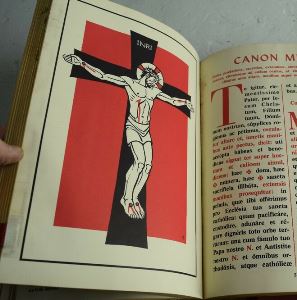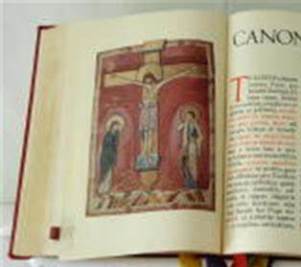 Left: A New Latin "Mess of 1962" Missal
Showing the Low Quality of Its Trash Art
Right: A Traditional Latin Mass Missal
Showing the Quality of Devotional Art
That Characterized the Missals
Used for the Traditional Latin Mass
Newchurch Is Carrying on with Its Plans
To Gut the New Latin Mass
(Which Is Invalidly Simulated in Any Case)
And Eventually to Shut It down Entirely
Now we know the truth. Just as we TRADITIO Fathers predicted, it is the plan of Newchurch to suppress the fake New Latin Mess of 1962, called erroneously by Newchurch the "Extraordinary Mess," so beloved of the clueless Neocon Newchurchers. This Mess was resuscitated by the "Unsaint" Newpope JPII-Wojtyla in his 1988 Motu Proprio Ecclesia Dei, when he panicked after Archbishop Lefebvre consecrated four traditional Catholic bishops to carry on the traditional Catholic Faith. This Mess was renewed in Benedict-Ratzinger's 2007 Motu Proprio Summorum pontificum.
The only thing that Wojtyla could come up with quickly as a response to the Archbishop was this New Latin Mess of 1962, which is the invalid (phony) half New Order Vatican II Mess of 1962 and is certainly not the Traditional Latin Mass -- far from it. It should be noted that these "Extraordinary Messes" put on by Newchurch are fake (invalid) because the presbyters simulating them are not priests. They have not been ordained, but merely installed by Newbishops who were never consecrated; thus, they have no power to consecrate priests.
To be sure, Wojtyla's hand was forced for fear of a revolt, but Newchurch has always hated the "Extraordinary Mess." Now that the pressure is off in Newchurch, because most Newchurchers are now so dumbed down that they wouldn't recognize a valid Mass, Newchurch in March 2020 initiated an "investigation" of this New Latin Mass with an eye to suppressing it. One source surmises that Newchurch is planning to replace the Half New Order Vatican II "Mess of 1962 ("Extraordinary") with the fully New Order Protestant-Masonic-Pagan "New Mess of 1969," with perhaps some conservative "options." [Some information for this Commentary was contributed by Newchurch's Congregation for the Doctrine of the (New Order) Faith.]
The mostly-secret results of the "investigation," so far as they can be determined, indicate the following conclusions by the heretical Newchurch:
the New Latin Mess is contrary to the "reforms" of the Vatican II Anti-council (1962-1965)
those who attend the New Latin Mess are "resisters," who do not like the Vatican II Anti-council
Neocon Newchurchers who attend the New Latin Mess isolate themselves from the Modernist New Order congregations
Neoncon Newchurchers who attend the New Latin Mess do not attend the New Order Mess
Young Newchurch clergy may be drawn to the New Latin Mess because the New Order Mess has become so ridiculous
True Catholics, the history of the phony New Latin Mass of 1962 shows that it was meant to peel off traditional Catholics into Newchurch from traditional Catholic churches, chapels, and oratories. In large part, this effort has failed. Newchurch has closed down many "Extraordinary Messes" and shuffled many of the rest around geographically so that congregations will not gain any stability.
Newchurch is now moving to force Neocon Newchurchers to accept a gutted New Latin Mass that uses the same lectionary and Saints as the New Order does, including such phony Newsaints as the half Hindu pagan "Mother" Theresa, the Marxist Oscar Romero, and the polytheistic Newpope JPII-Wojtyla. Eventually Newchurch is moving to shut down the New Latin Mess entirely. No loss there: these are invalid Messes that are meant only to fool the clueless Neocons.
---
January 30, 2021 - Fourth Sunday after Pentecost - Anticipated
Semdouble Sunday
A Reader Asks: "Does the Church Teach that Receiving Holy Communion
In the Hand is a Sacrilege?"
From: Carmel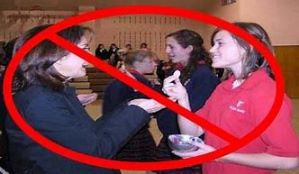 The Church and Its Popes Continuously
From the Second Century Have Taught
That Communion in the Hand Is a Sacrilege
No Traditional Church, Chapel, Oratory
Would Commit Such a Sacrilege
Only Units of the Newchurch of the New Order
Which Is a Heretic Sect
That No Longer Has a Priesthood or a Mass
Dear TRADITIO Fathers:
Does the Church teach that receiving Holy Communion in the hand is a sacrilege?
THE TRADITIO FATHERS REPLY
Absolutely a sacrilege. This has been the teaching of the Church and the popes consistently from the early second century onward. No traditional Catholic church, chapel, or oratory would commit such a sacrilege, only units of the Newchurch of the New Order, which is a heretic sect, most certainly not the Catholic Church. If this is the provenance of your question, you are participating in sacrilege, idolatry, and blasphemy, and you need to get out of Newchurch immediately, as you are in peril of your immortal soul.
Moreover, Newchurch has not ordained priests since 1968, when it adopted a Protestant Ordinal. Neither does Newchurch have Holy Communion, because since 1969 it has had no valid Mass, only a Protestant-Masonic-Pagan New Order service, which has no power to confect the Most Blessed Sacrament. Newchurchers are sacrilegiously munching on mere cookies and swilling mere Kool-Aid.
For further information on this topic, click on FAQ10: How Do You Explain These Traditional Catholic Beliefs? in the TRADITIO Network's Library of Files (FAQs and Traditional Apologetics) department, in the section "Communion in the Hand."
---
January 29, 2021 - St. Frances de Sales, Bishop, Confessor & Doctor
Liturgical Rank
Francis-Bergoglio's Ill Health Curtails Future Activities
He Suffers from Several Conditions that Have Sidelined Him
From: The TRADITIO Fathers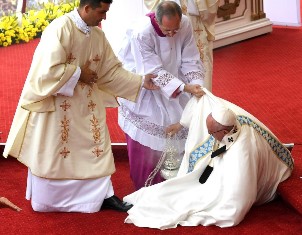 Francis-Bergoglio Goes Splat!
Right in the Middle of a Fake (Invalid) Mess
His Ill Health Has Been Sidelining Him
More and More as Time Goes By
He Has Canceled Major Events
Scheduled for January 2021
And May Have to Cancel
Future International Travel
To Be Massaged and Medicated
Francis-Bergoglio's health continues to decline as he passes his 84th year. His sciatica, a painful and debilitating spinal nerve condition first reported in 2013, is getting worse, to the extent that he has canceled his participation at major public "liturgies" in January 2021. Newvatican has not announced whether he has been prescribed steroids or muscle relaxants, both of which can have significant side effects. In addition, Bergoglio is working with only one lung and is obese to the point that he has fallen several times.
Lengthy "liturgies," requiring prolonged standing and sitting, are just the kind of activity that can lead to a flare-up, requiring downtime. Lengthy travel likewise can provoke a flare-up. Future travel may be severely curtailed. But popes should stay in the See of Rome anyway. The idea of flying all over creation started only with Paul VI-Montini in the 1970s, the Newpope who founded in 1964 the Newchurch of the New Order to replace the Catholic Church and who imposed the apostasy of the Vatican II Anti-council. [Some information for this Commentary was contributed by Crux News.]
True Catholics, in 2020 Francis-Bergoglio made no international trips and did not pontificate over crowds in St. Peter's Square like a cheap politician. Maybe his slowdown will also force him to stop making those extemporaneous heretical statements for which he is famous and which have led increasing millions to consider the Marxist/Modernist not a real pope, but a poseur as a pope, a Christian, and a Catholic.
---
January 28, 2021 - St. Peter Nolasco, Confessor
Double Feast
A Reader Asks: "What English Version of Dante's Divine Comedy
Highly Praised by Centuries of Popes, Would You Recommend?"
From: Ralph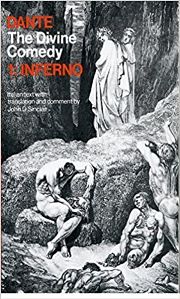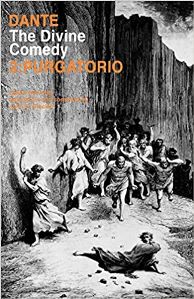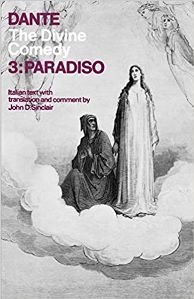 In 2021 the World Is Commemorating
The 700th Anniversary
Of the Death of Dante Aligheri
His Masterpiece, La Divina Commedia
(The Divine Comedy)
In Three Parts: Hell, Purgatory, and Heaven
Has Been Highly Praised by Many Popes
For Its "Catholic Theology in Verse"
Pope Benedict XV Called Him
"The Greatest of Catholic Artists"
Dear TRADITIO Fathers:
I note your admiration in a previous Daily Commentary from the Fathers for Dante Alighieri's La Divina Commedia (The Divine Comedy). Do you have any preference among the many English versions of this work?
THE TRADITIO FATHERS REPLY
Indeed, we, together with many of the popes, greatly admire the Italian poet Dante Alighieri's (ca. 1265-1321) masterpiece, La Divina Commedia (The Divine Comedy), describing Hell, Purgatory, and Heaven. On the 600th anniversary of Dante's death in 1921, Pope Benedict XV called him "the greatest of Catholic artists." His work has been characterized as "Catholic theology in verse." In 2021 the world commemorates the 700th anniversary of Dante's death.
We favor the version by John D. Sinclair for the Oxford University Press. First of all, it is a bilingual edition, with Dante's original Italian on the left-hand pages and Sinclair's version on the right-hand pages. It is always good to remember when we are reading a "translation," that we are reading at best a poor approximation to the original. Moreover, Sinclair's is a relatively-literal prose translation, not a half-baked effort to use English verse, which forces changes in the literal rendition of the text to suit English verse requirements.
Each Sinclair volume of the three that Dante wrote (Inferno, Purgatorio, Paradiso) has a detailed table of contents, a full schema of the volume, and ample footnotes to explain obscure references. It is available in both hardback and paperback at a reasonable price, around 20 USD.
---
January 27, 2021 - St. John Chrysostom, Bishop, Confessor & Doctor
Double Feast
SSPX's Senior Bishop Williamson Slams Current Head of the Neo-SSPX Pagliarani
For Abandoning the Original Traditional Catholic Principles of Archbishop Lefebvre's SSPX
From: The TRADITIO Fathers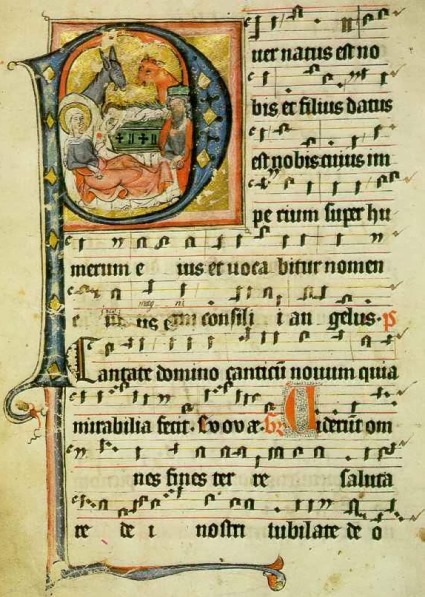 Davide Pagliarani
Current Head of the Neo-SSPX
Which Took over Archbishop Lefebvre's
Original Traditional Catholic
Society of St. Pius X (SSPX)
After the Archbishop Died in 1991
Since that Time the Restructured Organization
Has Lost over 100 Priests who Abandoned It
And Now Acts as a Virtual Arm of the Apostate
Newchurch of the New Order
Which the Courageous Archbishop Had Condemned
On January 23, 2021, the senior bishop of Archbishop Lefebvre's original traditional Catholic SSPX, Richard Williamson, has slammed Davide Pagliarani, the current head of the Neo-SSPX, the restructured organization that took over the Archbishop's original group in 1992 and has turned it into a Novus Ordo-friendly group.
Williamson was responding to a letter that Pagliarani, the current superior general of the Neo-SSPX since 2018, commemorating the fiftieth anniversary of the Archbishop's original traditional Catholic group. Williamson associated himself with the remarks of a priest in the Resistance group, which consists of some one hundred priests who left the Neo-SSPX in 2016 because of its Novus Ordo proclivities of the Society. [Some information for this Commentary was contributed by Eleison Comments.]
The points with which Williamson associates himself are these:
Pagliarani will not confirm that the Neo-SSPX will keep alive the original traditional Catholic flame of the Archbishop without faltering or weakening.
Pagliarani now associates himself with the Vatican II Anti-council (1962-1965), the source of all the errors of faith, doctrine, and morals that have plagued the apostate Newchurch of the New Order that the anti-council established in 1964.
Pagliarani has replaced the Archbishop's commitment to the reign of Christ and to bringing that fight to individual souls, with merely a vague affirmation of "the spiritual life,"
Pagliarani has ceased to combat the doctrinal errors of the anti-council and its Newchurch, in spite of the fact that such errors are growing, not receding, under Francis-Bergoglio.
Pagliarani and his Neo-SSPX have capitulated to and has been silenced by the Newchurch, and has submitting the heretical Modernist Newbishops.
Pagliarani and his Neo-SSPX have become weary of the fight for the traditional Catholic faith, contrary to the example of the Archbishop, who never wearied of that fight well into his eighties.
Pagliarani and his predecessor (and still controller) have promoted the Modernist heresy in Neo-SSPX seminaries. The seminarians are no longer militant Catholics.
True Catholics, after Archbishop Lefebvre died in 1991, the Neo-SSPX that replaced his original organization gradually fell away from traditional Catholic principles and slipped into accommodation with the anti-Catholic New Order sect. As a result of that fall, over 100 priests have left the Neo-SSPX and now the Neo-SSPX acts as a virtual arm of the Newchurch of the New Order, which the courageous Archbishop had condemned in no uncertain terms.
---
January 26, 2021 - St. Polycarp, Bishop & Martyr
Double Feast
Radicals Trash Novus Ordo Mess at Columbus, Ohio's Newcathedral
Meanwhile, an Arsonist Is Shot Dead Torching Toledo, Ohio's Newcathedral
From: The TRADITIO Fathers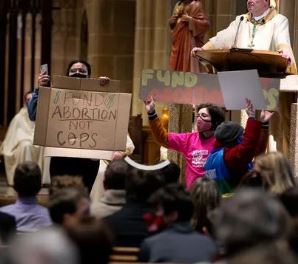 Masked Radicals Invaded the Newcathedral in Columbus, Ohio
And Trashed a Novus Ordo Service Being Simulated by the Newbishop
The Radicals Were Not Protesting the Sacrilege, Blasphemy, and Idolatry
Of the Fake (Invalid) Novus Ordo Mess Going on There
They Were Promoting Abortion
On the Occasion of the 48th Anniversary of the Infamouse Roe v. Wade
Supreme Court Decision Legalizing Abortion in the United States
Francis-Bergoglio and his Newchurch, which tries to play both sides of the fence when it comes to the evil of abortion, suffered for its hypocrisy on January 22, 2021. At the Newcathedral in Columbus, Ohio, masked radicals trashed a Novus Ordo service being simulated by the Newbishop. The radicals were not protesting the sacrilege, blasphemy, and idolatry of the fake (invalid) Novus Ordo Mess going on there. Instead, they were promoting abortion on the occasion of the 48th anniversary of the infamous Roe v. Wade Supreme Court decision legalizing abortion in the United States and killing 61,000,000 unborn souls since then.
The radicals were hawking "reproductive freedom" and screaming "fund abortion not cops." Essentially, this is the position of the new Leftist U.S. President J.R. Biden, who has been quite weak on support for law and order and supportive of Leftist criminality. [Some information for this Commentary was contributed by the Columbus Dispatch.]
True Catholics, it is ironic that just four days earlier, the Newcathedral in Toledo, Ohio, was torched by another radical. He was subsequently killed, and a police officer lost his life in the melee when the arsonist resisted arrest. When violent radicals are coddled by Leftist politicians, everyone is at risk, not to speak of our Holy Faith.
---
January 25, 2021 - The Conversion of St. Paul, Apostle
Double Major Feast
U.S. President Biden's Chief Medical Advisor Outed as an Pro-abortionist
Fauci Told the World Health Organization that Biden Would Repeal the Trump Ban
From: The TRADITIO Fathers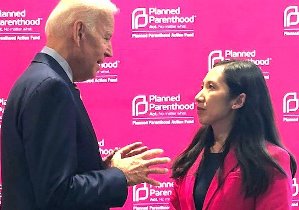 The New Leftist U.S. President J.R. Biden (Left)
Has Been in Bed with the Radical Abortionist
Planned Parenthood Organization for Years
Now He Has Announced His Intention to Repeal
President Trump's Mexico City Policy
Which Blocked Funding of Foreign
Non-governmental Organizations
That Perform Abortion
It didn't take long after the inauguration of the new Leftist U.S. President J.R. Biden on January 20, 2021, for more groundhogs to poke their heads out and fly their Leftist colors. One of these is Anthony Fauci, Director of the National Institute of Allergy and Infectious Diseases and Biden's chief medical advisor, who had previously come under severe attack for hypocrisy in requiring others to wear a face mask while he didn't, for predicting in early 2020 that the China Virus would not come to the United States, and for shooting wildly with his often erroneous predictions on the future of the virus.
Now Fauci has been exposed as a pro-abortionist after his appointment as head of the U.S. delegation to the World Health Organization. President Trump had withdrawn the United States from WHO because of its control by Communists and its attempt to excuse the Communist Chinese for releasing the virus on the world. Trump also created the Mexico City Policy, which blocked funding of foreign non-governmental organizations that perform and promote abortion. The policy was a success, with the vast majority of foreign nongovernmental organizations complying with the policy "with minimal disruption of health services and no reduction in funding."
Biden is a pro-abortionist, and in his name Fauci announced to WHO on January 21, 2021, that Biden would be overturning the Mexico City Policy in "coming days." Biden justifies this gross immorality by claiming that he has a "commitment to protect women's health and advance gender equity at home and around the world." The next day, on the anniversary of the infamous 1973 pro-abortion Roe <.i>v. Wade Supreme Court decision, J.R. Biden and his vice, K.D. Harris, issued a joint statement proclaiming their firm commitment to unrestricted legal abortion, which they said "has been under relentless and extreme attack." [Some information for this Commentary was contributed by the National Catholic Register.]
True Catholics, it is bad enough that Biden's is a pro-abortionist, but in addition he pushes the government funding thereof. It is even worse that Biden commits these grave sins of counseling evil while daring to call himself a "Catholic." Biden is so far out in left field, as the saying goes, that even the U.S. Conference of Catholic [Sic] Bishops has sent out a condemnatory statement on the immorality of his policies. What's next: the entire Conference imposing a nationwide interdict on Biden's receiving the Novus Ordo cookie and Kool-Aid?
---
January 24, 2021 - Third Sunday after Pentecost
Semidouble Sunday
U.S. Newbishops Issue a Condemnatory Statement against Biden's Immorality
Just as the New U.S. President Was Being Inaugurated
From: The TRADITIO Fathers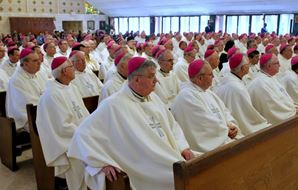 As New U.S. President J.R. Biden Was Being Inaugurated
Miraculously, the U.S. Conference of Catholic [Sic] Bishops
Issued a Harshly-critical Statement against Biden
For His Immoral Positions on Abortion and Homosexuality
Biden Claims to Be a "Catholic," i.e., Newchurcher
For Political Purposes
He Uncharacteristically Larded His Short Inaugural Address
With Religious (Mis)quotations
Miraculously, the Newbishops of the United States at noon on January 20, 2021, just as J.R. Biden was being inaugurated as the new U.S. President, issued a harshly-critical statement against Biden, who is a full-throated supporter of abortion, government funding thereof, and homosexuality. The Leftist Newcardinal of Chicago, Illinois, Blaise Cupich, wanted a more conciliatory statement, but most of the U.S. Newbishops supported Jose Gomez, Newcardinal of Los Angeles, California, and President of the U.S. Conference of Catholic [Sic] Bishops, in issuing the condemnatory statement against Biden.
Even Francis-Bergoglio tried to intervene to prevent the statement's release, as Biden is a fellow Leftist of the Marxist-Modernist Newpope. Bergoglio is known to have detested former U.S. President Donald Trump, a conservative Christian, and openly favored Biden, who, like the Newpope, is a New Order apostate. Biden claims to be a "Catholic," i.e., Newchurcher, for political purposes and uncharacteristically larded his short inaugural address with religious (mis)quotations. Yet his support of immoral abortion and homosexuality (he even performed a "gay wedding" in his official residence as Vice President) has led several Newbishops to bar him from the Novus Ordo cookie and Kool-Aid. [Some information for this Commentary was contributed by the Catholic News Agency.]
True Catholics, Newcardinal Gomez's statement seemed to recognize the fact that Biden is not really Catholic: "So, I must point out that our new President has pledged to pursue certain policies that would advance moral evils and threaten human life and dignity, most seriously in the areas of abortion, contraception, marriage, and gender. Of deep concern is the liberty of the Church and the freedom of believers to live according to their consciences." That certainly doesn't sound like the description of a Catholic, let alone a Newchurcher.
---
August 23, 2021 - St. Raymond Pennafort, Confessor
Double Feast
A Reader Asks: "Could You Please Recommend the Proper Traditional Version
Of the Catholic Bible?"
From: Daniel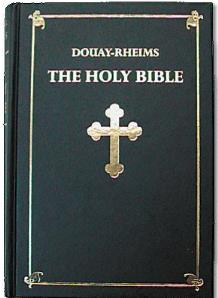 The Douay-Rheims Version of the Catholic Bible
Published a Few Years before the King James Version
Is the Most Traditional
Deliberately Intended to Be on the Literal Side
Post Vatican II Anti-council "Translations"
Are Not Actually Translations, but Paraphrases
Into Which the "Translating" Committees
Have Introduced Their Own Political and Doctrinal Aberrations
And Are Based upon Protestant Versions of Scripture
Dear TRADITIO Fathers:
Could you please recommend the proper traditional version of the Catholic Bible? I am trying to balance a traditional translation with a version that is somewhat easy to read. I am currently using the Douay-Rheims version, but find that it doesn't align with chapter and verse of Church readings and that it's English doesn't flow well. Any advice would be greatly appreciated.
THE TRADITIO FATHERS REPLY
If the Douay-Rheims chapter and verse numbering, which is the traditional Catholic numbering, does not align with the "church readings" you are using, you are in the wrong church! These numberings are those used in the traditional Catholic Missale Romanum, from which all lay handmissals are taken. We suspect that you are attending a church of the New Order sect, which is not Catholic. You need to investigate where you are and be sure to attend a traditional Catholic church not affiliated with the Newchurch of the New Order.
The most traditional Catholic, Douay-Rheims, version is deliberately intended to be on the literal side (as is the King James Version, which is somewhat derived from it), as accurately reflecting the Church's authoritative Vulgate Latin version of St. Jerome as any "translation" will allow. Post Vatican II Anti-council "translations" are not actually translations, but paraphrases, into which the "translating" committees have introduced their own political and doctrinal aberrations, and are based upon Protestant versions of Scripture.
For further information on this topic, click on FAQ05: What Traditional Catholic Resources Do You Recomment? in the TRADITIO Network's Library of Files (FAQs and Traditional Apologetics) department, in the section "Bible."
---
January 22, 2021 - Sts. Vincent & Anastasius, Martyrs
Semidouble Feast
U.S. President Trump Declares National Sanctity of Human Life Day
Exposing His Successor as a Pro-abortionist and Sycophant of Planned Parenthood
From: The TRADITIO Fathers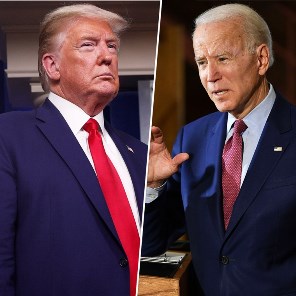 Throughout the Four Years of His Term
U.S. President Donald Trump Stood Strong
For the Sanctity of Human Life
His Successor, J.R. Biden (Right)
Calls Himself a "Catholic," i.e., Newchurcher
But Supports Abortion and the Funding Thereof
So Far Is He from Catholic Morality
That even Several of the Leftist U.S. Newbishops
Have Barred Him from the New Order's
Fake (Invalid) Cookies and Kool-Aid
As one of his last acts as U.S. President, Donald Trump on January 19, 2021, issued an Executive Order proclaiming January 22, National Sanctity of Human Life Day, 2021. This proclaimed day will occur two days after the President leaves office. Trump has been outspoken in favor of the sanctity of human life throughout his presidency, but the proclamation can also be read as a deserved slap in the face to his successor, J.R. Biden, who, though he calls himself a "Catholic," i.e., a Newchurcher, is a full-throated pro-abortionist.
Biden supports a purported legal "right" to abortion and, more than that, the public funding of abortion. One of his biggest supporters is Planned Parenthood, which, as the U.S.'s largest abortion provider, performs thousands of abortions annually. Even several the Leftist Newchurch bishops in the United States have barred Biden from the New Order's fake (invalid) cookies and Kool-Aid because of his anti-Catholic morality. In the words of Trump's proclamation: [Some information for this Commentary was contributed by Gateway.]
Every human life is a gift to the world. Whether born or unborn, young or old, healthy or sick, every person is made in the holy image of God. The Almighty Creator gives unique talents, beautiful dreams, and a great purpose to every person. On National Sanctity of Human Life Day, we celebrate the wonder of human existence and renew our resolve to build a culture of life where every person of every age is protected, valued, and cherished.
True Catholics, Donald Trump was the first sitting U.S. President to address the March for Life in Washington, D.C. With his proclamation he has now placed yet another clear marker in the ground for the sanctity of human life in the United States and around the world. You can be sure that the Newchurch heretic Biden will now further the interests of murderous Planned Parenthood and use government funds to do so.
---
January 21, 2021 - St. Agnes, Virgin & Martyr
Double Feast
Francis-Bergoglio Denies Hell, and the Roof Collapses around Him -- Literally
Within Hours of His Heretical Statement
From: The TRADITIO Fathers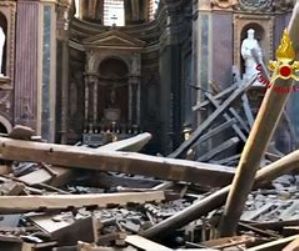 It Wasn't That Long Ago, Good Friday 2018
When the Roof of St. Paul's Archbasilica in Rome
Collapsed around Francis-Bergoglio
When just Hours Before
He Had Committed the Heresy
Of Denying the Existence of Hell
It Was as if Hell Itself Were Telling Him
"Be Silent, Heretic; Thou Dost Lie!"
One of the openly heretical things that Francis-Bergoglio has said is that "Hell doesn't exist" (although he later withdrew the statement in a mealy-mouth retraction). Within hours of his statement, Hell itself spoke up to prove Bergoglio a liar. The roof of St. Paul's Archbasilica in Rome collapsed around him -- literally. A large section of the archbasilica had to be cordoned off as the lives of worshippers were threatened. All this occurred just two years ago, on Good Friday, March 30, 2018.
One day previous, Bergoglio had been interviewed by the Rome daily newspaper, La Repubblica. and had been asked where "evil souls" go to be punished. Bergoglio said that they are not punished, but "disappear." Bergoglio was subsequently accused of heresy and called upon to abdicate. He was condemned for causing confusion among Newchurchers, who no longer know what to believe. [Some information for this Commentary was contributed by the U.K. Express.]
True Catholics, it could just be that Francis-Bergoglio knows how evil a heretic, paedophile accomplice, larcener, and embezzler he himself is and hopes to escape a very real Hell by denying its existence. But if one wants to see signs from Heaven against him and the other Newpopes, it is not hard to find them. Two years after the death of JPII-Wojtyla, a very public apparition in Poland of the Newpope was seen burning in Hell. Lightning struck the pinnacle of St. Peter's Archbasilica in Rome with Benedict-Ratzinger nearby. Now the roof collapses around Francis-Bergoglio. One is tempted to repeat the words of Caiphas, High Priest of the Temple at the time of Christ, who was just as corrupt as the Newpopes of the New Order, who are imbued with paedophilia, larceny, embezzlement, and other crimes: "What further need have we of witnesses?" (Matthew 26:65/DRV)
---
January 20, 2021 - Sts. Fabian, Pope & Sebastian, Martyrs
Double Feast
Newvatican's Massive Embezzlements Have Brought It into Such Discredit
That the Mafia Has Easily Infiltrated Francis-Bergoglio's Regime
From: The TRADITIO Fathers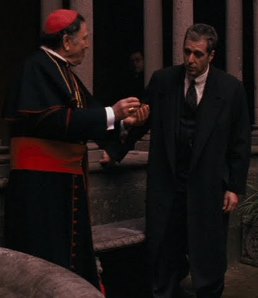 Fictional Mafia Boss Michael Corleone
Makes His Confession to a Cardinal
In "The Godfather- Part III"
Under Francis-Bergoglio
It Is Newchurch that Has Gone to the Mafia
Bergoglio's Larcenies, Embezzlements
And Other Assorted Financial Scams
Now to the Tune of Some Five Billion U.S. Dollars
Has So Scandalized and Disgraced Newchurch
That Newchurch Has Become a Foundering Fish
Easy Prey to the Mafia's Inflitation
There have been constant reports in recent years that the Mafia has infiltrated Newvatican. Even Francis-Bergoglio famously admitted that there is a Mafia in his Newchurch.
On January 16, 2021, Corriere della Sera, Italy's most-read daily newspaper, reported that Newvatican's finances, particularly under Francis-Bergoglio, have so scandalized and disgraced Newchurch that Newvatican's reputation is now destroyed. Thus, Bergoglio's own moral authority has all but disappeared. Newchurch has become a foundering fish, easy prey to the Mafia's infiltration. The report documents examples of this infiltration throughout Italy, particularly though Newchurch's corrupted "charity," Caritas. [Some information for this Commentary was contributed by the Crux News service.]
True Catholics, it seems that the Mafia is doing more charitable work, if with strings, than Newchurch is doing, also with strings. Newchurch is still trying to live down its almost half-a-billion U.S. dollar London real-estate scam, from which Bergoglio committed grand larceny to move funds from Newchurchers' charitable donations to shore up his failing administration. More recently, investigators are still trying to find out why four billion dollars, which on Newvatican's books had been sent to Australian charities for the last six years was never received by Newchurch's Australian bishops.
---
January 19, 2021 - St. Marius & Companions, Martyrs
Simple Feast
Newchurch's Promotes the Presbyter Who Violated the "Rite of Reconciliation"
To the Leadership of Newchurch's Global "Charity," Caritas
From: The TRADITIO Fathers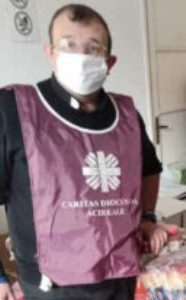 The Presbyter Who Broke the Seal
Of the New Order "Rite of Reconciliation"
A Fake, Non-sacramental Substitute
For the True Sacrament of Penance
To Warn Newchurch Officials of a Coming Investigation
On Another Presbyter Charged with Raping Six Girls
Has Now Been Promoted to No. 2
In His Region for Newchurch's Global "Charity," Caritas
Newchurch's Own Canon Law Calls for This Prtesbyter
To Be Excommunicated
You'd think that Newchurch would have learned something by now, twenty years after its Great Sex & Embezzlement Holocaust was exposed to the public in January 2002 by the Boston Globe Spotlight investigation. But, no, the crimes go on in even greater numbers than before, and Newchurch openly supports these crimes by retaining paedophile Newclergy in major roles. The First Paedophile Newpope, JPII-Wojtyla, and the Second Paedophile Newpope, Benedict-Ratzinger, were dismal, but Francis-Bergoglio is abysmal. He refuses to fire his paedophile Newcardinals and Newbishops and has famously claimed instead that the child victims are liars.
The mother of one of these child victims was grossly imprudent, if not sacrilegious, by going to a phony (invalid) New Order "Rite of Reconciliation," which isn't even a sacrament, but replaced the valid Sacrament of Penance in Newchurch in 1973. The presbyter (Newchurch has not ordained priests since 1968, only presbyter-ministers) broke the "seal of the confessional" (which doesn't exist in Newchurch as there is no sacrament) and ratted on the mother to the Newchurch hierarchy to give the hierarchy advance warning that it was going to be investigated.
Newchurch was eventually foiled, however, when the presbyter known as "Archangel" was arrested for raping six girls. Italian prosecutors also charged three of the Archangel's women accomplices and two men in the Newchurch leadership. The mother was, therefore, stunned on January 12, 2021, to find out that the presbyter who had ratted on her "reconciliation," investigated by prosecutors for aiding and abetting a criminal conspiracy, had been appointed a regional Vice Director of local Caritas, Newchurch's global "charity." Prosecutors even have the presbyter's guilty complicity on a wiretap recording. [Some information for this Commentary was contributed by the Religion News Service.]
True Catholics, for violating the "seal" of its fake "Rite of Reconciliation" and for aiding and abetting sex crimes, Newchurch did not excommunicate the presbyter, as required even by Newchurch canon law, but gave him a promotion as No. 2 for a Newchurch "charity." So corrupt is Newchurch, whose Great Sex & Embezzlement Holocaust accordingly goes on, and on, and on.
---
January 18, 2021 - St. Peter's Chair at Rome
Double Major Feast
Called the "Greatest of Catholic Artists" by Pope Benedict XV in 1921
Dante Alighieri Still Influences our Perception of the Catholic Faith
From: The TRADITIO Fathers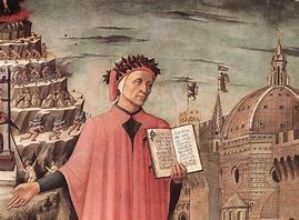 Dante Alighieri (1265-1321)
Italy's Most Renowned Writer
Marks the 700th Anniversary of His Death in 2021
Dante Had an Immense Influence on the Catholic Faith
He Has Been Called the "Aquinas in Verse"
At His Last Centenary Pope Benedict XV Called Him
"The Greatest of Catholic Artists"
Many Popes Have Remarked On
His Orthodox Theology in Verse
Yet He Was Very Hard on the Evil Popes of His Time
2021 marks the 700th anniversary of the death of Italy's most renowned writer, who had an immense influence upon the Catholic Faith. This is Dante Alighieri, who has been called the "Aquinas in verse," as St. Thomas Aquinas wrote exquisitely of the Faith in theological prose. Dante was a Third Order Franciscan.
Certainly Dante's most noted work is his La Divina Commedia, a monumental poem of 14,233 lines in three parts: Inferno (Hell), Purgatorio (Purgatory), and Paradiso (Heaven). On the 600th anniversary of Dante's death in 1921, Pope Benedict XV called him "the greatest of Catholic artists." Many popes have remarked on his orthodox theology in verse. He has influenced particularly the way Catholics think about Hell, which he wrote about in the first part of his work.
Although the Divine Comedy was written in Italian verse, Dante wrote prose works in Latin. His De Monarchia is particularly interesting in that he posited that Christ arranged that the Incarnation wait until the time of Augustus, when there was a complete and single-world government that pacified the world, when mankind enjoyed the blessing of universal peace and tranquility.
True Catholics, Dante was very hard on evil popes, of which his time had several. He castigated Boniface VIII in the Inferno of Divina Commedia for simony, political ambitions, and willingness to use his office to acquire worldly power. Dante has St. Peter in Paradiso (XXVII.25-26) proclaim that the pope (Boniface VIII) "has made my tomb [Rome] a sewer of blood and filth" (fatt' ha del cimiterio mio cloaca del sangue e della puzza). It is amazing how current and fresh Dante's works are. The things of which he spoke 700 years ago are descriptive of our own age as well, as if no time had passed.
---
January 17, 2021 - Second Sunday after the Epiphany
Semidouble Sunday
Newchurch Is Now Eating Its Own
Newrome Withdraws Award to Its Noted Anti-abortion Presbyter Pavone over His "Politics"
From: The TRADITIO Fathers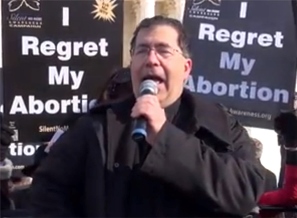 Francis-Bergoglio Withdrew an Award
To Presbyter Frank Pavone
Who "Had Dedicated His Life
To Defending the Sacredness of Human Life"
Because Pavone Supported U.S. President Trump
Acknowledged to Be the Strongest Pro-Life President
In the History of the United States
Bergoglio Himself Is Not Really Opposed to Abortion
As His Statements Indicate
Now he has it, now he doesn't. Perfidious Newchurch has decided to withdraw the award and monetary prize it announced to presbyter Frank Pavone, of Amarillo, Texas, a noted anti-abortion presbyter as National Director of P[rebyters] for Life. Francis-Bergoglio's Pontifical Athenaeum Regina Apostolorum university withdrew the award and monetary prize because of of Pavone's anti-abortion politics.
Yet the Newchurch faculty originally admitted that "the award honors a person who has dedicated his life to defending the sacredness of human life." The award was to be given on January 25, 2021, but withdrawn "because of the political situation." That is code for: he supported U.S. President Donald Trump's strong anti-abortion stance. [Some information for this Commentary was contributed by the Catholic News Service.]
True Catholics, here again we have the hypocritical duplicity of Francis-Bergoglio and his Newchurch. Someone like J.R. Biden, who supports abortion and the funding of abortion, and performed a "gay" marriage in his official capacity and at his official residence as U.S. Vice President can receive the (fake) Novus Ordo cookie and Kool-Aid in most Newchurches, but presbyter Pavone, who supports an anti-abortion official, is deprived of what even the Pontifical University admitted was dedicated life work against abortion. Or maybe the real problem is that Bergoglio, as his statements indicate, is not really opposed to abortion.
---
January 15, 2021 - St. Marcellus I, Pope & Martyr
Semidouble Feast
Even before the China Virus Struck, Newchurch Was Sinking Badly
The Latest Figures Show that It May Not Return after the Current Virus "Surge"
From: The TRADITIO Fathers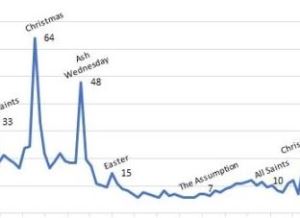 U.S. Newchurch Mess Attendance in 2020
(Inflated by about 75 per Cent)
Before the China Virus It Was Bad
Now It Is Virtually Non-existent
Newchurch Is Now Pondering the Question:
Will Newchurchers Ever Return
To the (Fake) Novus Ordo Mess?
On the Contrary, Truly Traditional Catholics
Should Be Found More Patient and Committed
During the Closure Intervals
Newchurch Novus Ordo Mess attendance has been plummeting ever since the Vatican II Anti-council (1962-1965), which replaced the "institutional" Catholic Church with the Anti-Catholic Church of the New Order. By 1958 (Traditional Latin) Mass attendance had risen to a high of 80 per cent attending every Sunday. That percentage has sunk, even before the China Virus, into single digits. Moreover, it is probably worse than that, as Newchurch Mess attendance figures have been proven by objective sources, like the Pew Study on Religion in America, as inflated by about 75 per cent.
Naturally, attendance would go down to virtually nothing when the first "Slow the Spread" closures took place on March 16, 2020. But in the summer, when churches were opened on a limited basis, the percentage increased to only about 2.5% by the end of the year (adjusted down by 75 per cent for Newchurch's inflated numbers). Now it is down even more as enforced closures were again implemented on account of the "surge."
Newchurch has reported an even worse statistic. Since 2000, the critical number of infant baptisms plummeted 40 per cent below even the nadir of 2000. In addition, many reports have indicated that Newchurch presbyters have commonly been performing invalid baptisms, because of invalid form (the words) or matter (the water and the manner of administering it). [Some information for this Commentary was contributed by Crisis.]
True Catholics, as hard as we traditional Catholics have fought for the True Faith, the True Mass, True Doctrine, and True Morality against the Anti-Catholic Newchurch of the New Order, it seems that Our Lord may be doing the job for us. We are in a time of great test, as has happened throughout the history of the Church. Newchurch, not having the Catholic Faith, is failing miserably -- to its demise. We TRADITIO Fathers have been predicting that the Newchurch would be essentially dead in a decade or two. Now it seems that it will be essentially dead in just a year or two.
---
January 14, 2021 - St. Paul, First Hermit, Confessor
Double Feast
Newchurch Becomes Even More a Protestant Sect
As Women Are "Installed" in Eucharistic Dinner Table Roles
From: The TRADITIO Fathers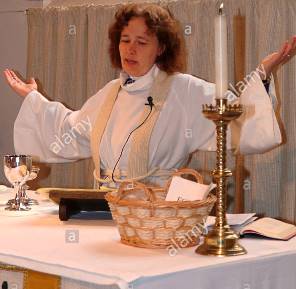 Francis-Bergoglio's Has Directed that That Women
Be Formally Admitted to the Novus Ordo Dinner Table
As Ministers and to the Pulpit as Lectors
Replacing Ordained Men
Bergoglio Is thus Embracing the Arch-heretic Martin Luther's
Protestant Notion of the "Priesthood of the People"
Specifically Condemned by the Dogmatic Council of Trent
Next Will Be Deaconesses
But Pagan Presbyteresses for the New Order Sect
Are Clearly His Ultimate Goal
Before a man is ordained to the priesthood, he had to go through four Minor Orders (Porter, Lector, Exorcist, Acolyte) and Two Major Orders (Subdeacon, Deacon). In 1972 Newchurch abolished the Minor Orders. But on January 11, 2021, Francis-Bergoglio officially directed that women be admitted to the Novus Ordo dinner table as ministers and to the pulpit as lectors.
Thus, we have even more evidence that Newchurch is most certainly not the Catholic Church; rather, that it is based in the heretical Protestant principle known as "priesthood of the baptized," specifically invoked by Bergoglio, who so loves the Arch-heretic, Martin Luther, a heresy specifically condemned by the dogmatic Council of Trent.
Contrary even to New Order regulation, women for years have been running around the Novus Ordo eucharistic dinner table, handing out the fake (invalid) Novus Ordo cookies and Kool-Aid, and in the pulpit, reading Scripture -- in the corrupt new heretical Modernist "translations," of course. Certainly all of this violates Sacred Scripture: "Mulieres in ecclesiis taceant, non enim permittitur eis loqui, sed subditas esse, sicut et lex dicit (Let women keep silence in the churches: for it is not permitted them to speak, but to be subject, as also the law saith" (1 Corinthians 14:34/DRV).
True Catholics, you can be sure that, just as the replacement of Sacred Latin in the true Mass with the babble of vulgar tongues, Bergoglio is the camel sticking his nose under the tent. Next will be deaconesses, but pagan presbyteresses for the New Order sect are clearly his ultimate goal. Even radical Newchurch women admit this fact.
---
January 14, 2021 - St. Hilary, Bishop, Confessor & Doctor
Semidouble Feast
Internet Was Abuzz with the Arrest of Francis-Bergoglio on Paedophilia and Embezzlement
The Satirical Report Was False, but Shows How Bergoglio Is Now Regarded as a Criminal by Many
From: The TRADITIO Fathers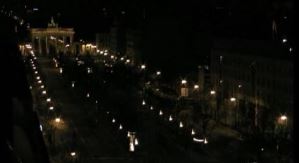 According to Internet Reports on January 10, 2021
Francis-Bergoglio Had Been Arrested by Italian Police
On Eighty Counts of Paedophile Crimes and Embezzlement
It Turned out that a Satirical Article Published on the Internet
Was Taken by Clueless Individuals for Real
This Fracas Has Proven Simply that Bergoglio Is Now So Regarded
By Many around the World as a Sex and Financial Criminal
That a Report of His Indictment and Arrest on Such Charges
Is Easily Believable
Since January 10, 2021, the internet has been abuzz with reports that there was a blackout at Newvatican while Francis-Bergoglio was being arrested the previous day by Italian police on eighty counts of complicity in paedophile crimes (child trafficking), embezzlement (fraud), and related crimes. The report derived from a satirical article published on the internet, which clueless individuals took for real.
Although the report of the arrest was false, the underlying facts are true. Bergoglio has been complicit in allowing paedophile crimes by his Newchurch cardinals, bishops, and presbyters. He is the CEO of the Newvatican Corporation that has been credibly accused as committing larceny by moving half a billion U.S. dollars from his scam "charity," Peter's Pence to the Vatican Bank to prevent his Newchurch from going bankrupt in the 2014 London real-estate scam. More recently, he has been accused by his Australian Newbishops for "losing" in transfer some four billion dollars that was supposed to be transferred to Australian charities. [Some information for this Commentary was contributed by the National Catholic Register.]
True Catholics, although Francis-Bergoglio has denounced "media distortions," he has not raised his voice against the Apple-Amazon-Facebook-Twitter mega-consortium, with major offices in Communist China, that has become so bold as to cut off a U.S. President from addressing his people. The current fracas has proven simply that Bergoglio is now so regarded by many around the world as a sex and finance criminal that a report of his indictment and arrest on such charges is easily believable.
---
January 13, 2021 - Octave Day of the Epiphany
Double Major Feast
Noted Catholic Orator Bishop Fulton Sheen Predicted Already in the 1950s
A Counterfeit Catholic Church "Emptied of Its Divine Content"
From: The TRADITIO Fathers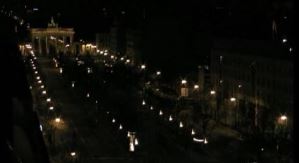 Bishop Fulton Sheen
Famous Catholic Orator of the 1950s
Accurately Predicted the Ascendency
Of the Evils of Atheistic Communism
And of a Counterfeit Catholic Church
Although Soviet Communism Fell in 1992
It Has Been Replaced by a Far More Atheistic
Chinese Communism Binding 1,500,000,000
The "Institutional" Catholic Church Has Been Replaced
By a Counterfeit Newchurch of the New Order
Which, just as Sheen Prophesied
Would Look Externally Like the Catholic Church
But Internally Be "Emptied of Its Divine Content"
Bishop Fulton Sheen, whose 1950's television program "Life Is Worth Living" surpassed in audience all of the network programs in his time-slot, raged against the evils of the time in the Church and society, which are the same evils that we face today. Sheen, along with Fr. Charles Coughlin, the noted radio priest of the 1930s, and Fr. Denis Fahey, prolific popular writer in the 1930s and 1940s, vehemently prophesied and warned against atheistic Communism and counterfeit Catholicism. He was certainly correct in these prophecies and warnings, as both evils have grown far greater in the succeeding half century or so.
One of Sheen's most interesting prophecies was that "there will be an Anti-Christ one day who seeks to take over the world, and there will be his prophet who is a religious leader who seeks to deceive people with a fake system of spirituality." The first part of that prophecy seems to relate to the secular regime of atheistic Communism, and the second part could well refer to the Newpopes of the heretical Newchurch of the New Order.
In the secular realm, when the Soviet Union fell in 1992, it numbered about 300,000,000 souls in its Communist regime, approximately the current population of the United States. Today, the atheistic Communist dictatorship of China rules 1,500,000,000 souls, five times that number.
As to his prophesy of a counterfeit Catholicism, Sheen described it as
a new religion without a Cross, a liturgy without a world to come, a religion to destroy a religion, or a politics which is a religion. The Antichrist will not believe in God, but he will be religious. It will have all the notes and characteristics of the Church, but in reverse and emptied of its divine content. It will be a mystical body of the Antichrist that will in all externals resemble the mystical body of Christ.
It is hard to think of a better description of the apostate Newchurch of the New Order, founded in 1964 at the Vatican II Anticouncil to replace the Catholic Church, and its leaders the Newpopes, who in word or deed no longer even claim to be Catholic popes, let alone act like Catholic popes..
True Catholics, Our Lord warned: "There shall arise false Christs, and false prophets, and shall show great signs and wonders, insomuch as to deceive (if possible) even the elect" (Matthew 24:24/DRV). Unfortunately, Bishop Sheen, who was so accurate in his prophecies, himself succumbed to the Counterfeit Church that he had predicted. He fell prey to the apostasy of Vatican II, but shortly thereafter came to regret it and tried to return to the Catholic Church, but never quite made it. He was too damaged by his sycophancy to the very structure that he himself had described as a Counterfeit Church "emptied of its divine content."
---
January 12, 2021 - Within the Octave of the Epiphany
Semidouble Sunday
A Reader Asks: "What Is That Cloth I See on Traditional Catholic Altars
That Covers the Sacred Altar Linens before Mass?"
From: The TRADITIO Fathers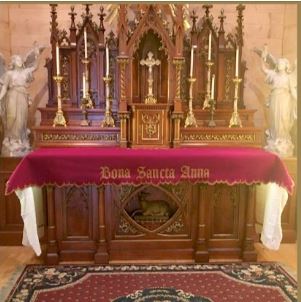 A Traditional Catholic Altar
Shown with a Red Vesperale
To Protect the Sacred Linens from Becoming Soiled
When Not Actually in Use
Any Color May Be Used at Will except Black
In the New Order Sect there Is No Altar
But What It Calls a "Eucharistic Dinner Table"
Which Can Be Little More than a TV Table
Dear TRADITIO Fathers:
I have noticed that in traditional Catholic churches when there is no Mass, the linen altar cloth is protected with a cover cloth. This cloth seems to come in different colors, which are not the color of the liturgical day. Could you explain what this cloth is and what color it is supposed to be?
The TRADITIO Fathers Reply.
In traditional Catholic churches great care is exhibited toward the altar of God. When the sacred linens of the altar are not in use, a cover, known as a Vesperale, is used to protect them from becoming dusty or soiled when the altar is not actually in use. In contrast, the New Order sect does not have an altar, but what it calls a "eucharistic dinner table." In many cases, this table is hardly more than a TV table.
The rubrics do not prescribe the use of a Vesperale, but it is highly recommended from a purely utilitarian motive. The Vesperale can be made of any material. Red or green seems to be the accepted colors, although any color except black is permitted, according to the traditional Catholic rubricians. The front edge of the Vesperale may bear an inscription, such as: Sanctus Sanctus Sanctus, O Bone Iesu, Ecce Agnus Dei, Ave Maria, or Ite ad Joseph..
---
January 11, 2021 - Sunday within the Octave of the Epiphany (Resumed)
Semidouble Feast
Newchurch Sells out to the Lutheran Heresy -- Again
Claims that a "Consensus" Has Been Reached between the Newchurch Sect and the Lutheran Sect
From: The TRADITIO Fathers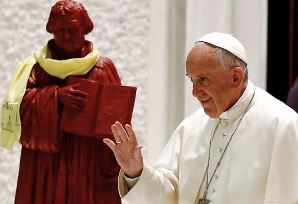 In 2016 Francis-Bergoglio Installed an Image
Of His Idol, the Arch-heretic Martin Luther
In Newvatican's Audience Hall
Now His Pontifical Council Has Confirmed
Bergoglio's Sellout to the Lutheran Heretics
Proclaiming Yet Again that There Is No Difference
In Belief on a Major Doctrine
Between the Newchurch and Lutheran Sects
More evidence that Newchurch is not the Catholic Church was provided on January 7, 2021, when Francis-Bergoglio's Pontifical Council for Promoting Christian Unity reissued the 1999 New Order document of the "Unsaint" JPII-Wojtyla's, accepting the heresy of Martin Luther on justification, which Luther notoriously and heretically held was by Faith alone, not the Sacraments of the New Covenant and certainly not by works. Martin Luther, known as "The Arch-heretic", was excommunicated exactly 500 years ago, on January 3, 1521, by Pope Leo X in his Bull <.i>Decet Romanum Pontificem.
The 2021 document uses the heretical Newchurch catchphrase "unity in diversity." This is the motto of the Vatican II Anti-council, which worked to overturn the dogmatic Council of Trent. As a result, the unity of the Traditional Latin Mass was replaced by a make-it-up-as-you go sham, Gregorian chant was replaced by punk rock ditties, everyone was allowed to come up with his own doctrine and morality accepting abortion, homosexuality, and the like, so that no one knows any more what Newchurch actually stands for. And that is exactly what Bergoglio wants. [Some information for this Commentary was contributed by LS News.]
True Catholics, the Secretary of Francis-Bergoglio's Council proclaimed, again, that the Newchurch sect and the Lutheran sect "have the same doctrine." Thus, one can say that Newchurchers have become full-throated Lutheran heretics. They follow Martin Luther instead of Catholicism.
---
January 10, 2021 - The Holy Family, Jesus, Mary & Joseph
Double Major Feast
A Reader Asks: "With the Expansion of Communication Technologies
Will the Scope of the Knowledge that God Expects of Us Expand as Well?"
From: Luis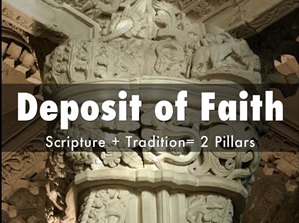 Sacred Scripture and Sacred Tradition
Are Known as the Deposit of Faith
Upon Which the Catholic Faith Is Built
Catholics Have a Moral Obligation
To Expand Their Knowledge of the True Faith
By Using Such Resources Prudently
Dear TRADITIO Fathers:
As Catholics, will our personal ignorance of the beliefs and practices of the Catholic Church weigh against us at our individual judgment? As the scope of our knowledge expands due to communication technologies, will the scope of the knowledge that God expects of us expand as well?
THE TRADITIO FATHERS REPLY.
A Catholic does have a serious obligation to inform himself about his Faith. It is scandalous that so many rely on a First Communion catechism throughout their lives, when there are so many resources to learn about the richness and depth of the true Faith. Just as a worker in his job who learned nothing than what he knew on his first day of work would soon be without a job, we have an moral and spiritual obligation always to increase our knowledge of God from Sacred Scripture, the Sacred Liturgy (Mass, Divine Office, and Sacred Music), the doctrinal and moral teachings of the Church, the history of the Church and salvation, and similar Church teachings.
Technology itself does not bring wisdom. In many cases, it simply makes the propagation of deception and evil that much easier. It is up to us to use its resources to moral ends. A gun can be used to provide dinner, or it can be used to kill someone. It is our responsibility to make prudent use of the resources of technology to learn every more deeply about the teachings of Christ and His true Church.
---
January 9, 2021 - Within the Octave of the Epiphany
Notorious Leftist Activist Chicago Presbyter Michael Pfleger
Has Been Removed from His Newparish on Accusation of Sex Crimes against a Child
From: The TRADITIO Fathers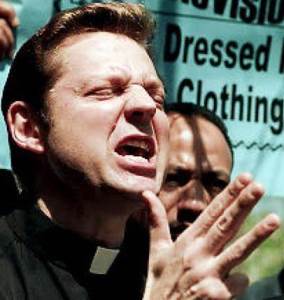 The Notorious Leftist Activist
Presbyter Michael Pfleger
Has Been Removed from His Newparish
On Charges of Sex Crimes against a Child
The Case Is Now Active with the Cook County
State's Attorney's Office in Chicago, Illinois
Pfleger Had Been Suspended in 2008
For Actively Engaging in Politics
He Was the Subject of the 2009 Documentary
"Radical Disciple"
Newchurchers in Chicago, Illinois, were shocked when they woke up on January 5, 2020, to find that presbyter Michael Pfleger, senior pastor of St. Sabina Newparish, had been removed on accusation of sex crimes against a child. The case has been reported to the Illinois Department of Children and Family Services and the Cook County State's Attorney's Office.
Pfleger was a Leftist activist, who had been the subject of the 2009 documentary "Radical Disciple: The Story of Father Pfleger." He had appeared with radical preacher Jesse Jackson on numerous occasions. Jackson, on hearing the news, had to admit: "I'm in shock." Members of Pfleger's Newparish said that they were "appalled." In 2008 Pfleger had been suspended for actively engaging in politics. [Some information for this Commentary was contributed by the Chicago Sun Times.]
True Catholics, this is not the first time that presbyter Pfleger had been sanctioned. In 2008 he had been suspended for engaging in politics. Yet that is what Newchurch is: a political organization, not a religious organization. Its leader, Francis-Bergoglio, is a Marxist and Communist sympathizer, whose passion is for illegal aliens to overrun Western Europe and for whole economies to be destroyed by the politics of climate control.
---
January 8, 2021 - Within the Octave of the Epiphany
Semidouble Feast
Francis-Bergoglio Again Becomes Complicit in Abortion
He Allows a Pro-abortion Law in His Native Argentina to Pass without a Public World of Protest
From: The TRADITIO Fathers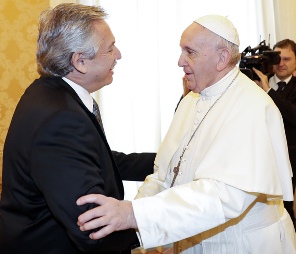 Francis-Bergoglio Warmly Schmoozes
With Pro-Abortion President Alberto Fernandez
Of Bergoglio's Native Argentina
Where Bergoglio Served
As Newchurch's New(arch)bishop for 21 Years
Fernandez Engineered Argentina's Legalization of Abortion
On December 30, 2020
In Which Bergoglio Was Complicit
It is clear that Francis-Bergoglio is not offended at gross immorality of abortion. His statements have fallen far short of denouncing it. He has even met publicly with Italy's most prominent abortionist.
Now his native Argentina, where he served as Newbishop and Newarchbishop of Buenos Aires from 1992 until his election as Newpope in 2013, legalized abortion on December 30, 2020, without a single public word from him. Argentina thus becomes Latin America's largest country to permit abortion, joining the Modernist/Marxist Bergoglio's Communist Cuba in that ignominy. [Some information for this Commentary was contributed by Reuters.]
True Catholics, polls showed that the majority of Argentinians were against legalizing abortion, but Fernandez' Leftist Argentinian government overrode those objections. Francis-Bergoglio could have had an effect on that outcome, but he remained silent. Thus, he became an accomplice in murder, falling under the condemnation of Sacred Scripture: "They who do such things are worthy of death, and not only they that do them, but they also that consent to them that do them (Romans 1:34/DRV).
---
January 7, 2021 - Within the Octave of the Epiphany
Semidouble Feast
Fr. Yves Normandin Goes to His Eternal Reward on the Sixth Day of Christmas 2020
Called the "Defender of Tradition in Canada," He Was the Founder of the Traditional Latin Mass Movement There
From: Petrus Romanus, The TRADITIO Network's Roman Correspondent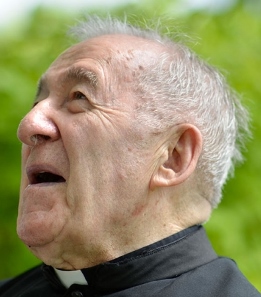 Fr. Yves Normandin (1925-2020)
The "Defender of Tradition in Canada"
And Founder of the Traditional Latin Mass Movement There
Has Died at the Age of 95
Fr. Normandin Rejected the Modernist Revolution
Of the Vatican II Anti-council (1962-1965)
And Refused to Simulate the Invalid (Fake)
Protestant-Masonic-Pagan Novus Ordo Mess
He Was Removed from His Parish
And Went on to Found Most of the Traditional Catholic
Chapels across the Dominion of Canada
On Monday, January 4, 2021, a Requiem Mass was celebrated for traditional Catholic priest Fr. Yves Normandin, who passed to eternity on December 30, 2020, at the age of 95. Known as the "Defender of Tradition in Canada" and founder of the Traditional Latin Mass Movement in Canada, he sustained the true Church when the Modernist Revolution of the heretical Vatican II Anti-council (1962-1965) overwhelmed everyone else. He had been ill for some time and was not expected to survive to Christmas. But he outlived, as the American satirist Mark Twain put it, the reports of his death. He died at Shawinigan, Quebec, on the Sixth Day of Christmas.
Fr. Normandin had been removed by the Newchurch of the New Order from his parish in 1975 because he refused to simulate the invalid (fake) Novus Ordo Mess. Fr. Normandin was the most important independent traditional priest in all of Canada and founded most of the traditional Catholic chapels across the Dominion in the 1970s and 1980s.
Fr. Normandin suffered greatly for refusing to convert to the heretical Newchurch of the New Order when took over the Roman Catholic Church in 1964 as the "institutional" Church. He completely broke with his Newarchdiocese and went independent. He founded independent traditional chapels all over Western Canada in particular, with the cooperation of local traditional Catholic laymen who also refused to convert to the heretical Newchurch. Many of his Traditional Latin Masses started in private homes, as was the case in the Apostolic Age, but eventually transitioned to permanent traditional chapels.
True Catholics, in latter days the Neo-SSPX seems to have taken over many of Fr. Normandin's independent chapels in Western Canada, as that is its modus operandi: to appropriate the work of others, as it did with Fr. Paul Wickens and others in the United States and elsewhere. However, Fr. Gommar DePauw, of New York, the founder of the Traditional Latin Mass Movement in the United States, and Fr. Francis LeBlanc, of Arizona,, for example, prudently made provisions against such hostile takeovers by the Neo-SSPX Fellayites.
---
JANUARY 6, 2021 - THE EPIPHANY OF OUR LORD
DOUBLE FEAST OF THE FIRST CLASS
Newchurch's Plans to Rebuild Notre Dame Cathedral as a Novus Ordo Monstrosity
Like an "Airport Runway" or a "Parking Lot" Have Been Exposed in France
From: The TRADITIO Fathers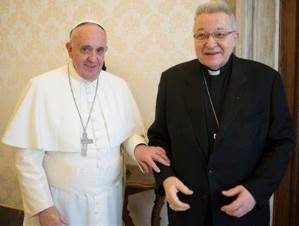 Two Newchurch Barbarians, Francis-Bergoglio (Left)
And His Handmaiden Andre Vingt-Trois (Right)
Newcardinal of Paris, Francis
Vingt-Trois Is Considering Not Rebuilding
Deconstructing the Historical Notre Dame Cathedral
Torched by a Newchurcher in a 2019 Fire
To Become a Model for the Novus Ordo "Catechumenal Path"
Critics, Including the French Government
Have Vilified Newchurch's Plans
As an "Airport Runway" or a "Parking Lot
Thank God, It Is the French Government
Not Newchurch that Has the Final Say
On December 29, 2020, the French daily Le Figaro exposed secret Newchurch plans to wreckovate Notre Dame de Paris Cathedral into a model of the apostate Novus Ordo architecture, reminiscent of an airport runway or a parking lot. This modus operandi has frequently been used by the apostate Newchurch of the New Order to destroy traditional Catholic churches and basilicas. Fires have sometimes been set by Newchurchers, as was the case with the fire at Notre Dame on April 15, 2019, to destroy the traditional structures and replace them with Novus Ordo architectural monstrosities, such as with the "tennis racket" style Newbasilica at Fatima, Portugal.
Its plans having been exposed by Le Figaro, the Newarchdiocese admitted that it was considering using the principles of the Novus Ordo "catechetical path" to deconstruct the historic cathedral, originally built in the twelfth century, consecrated to the Virgin Mary and considered to be one of the finest examples of French Gothic architecture, with enormous and colorful rose windows that are renowned worldwide. But Newchurch is considering replacing the historic glass-stained windows in the chapels around the nave, which survived the fire, by Modernistic ones. Also under active consideration are spotlights to be installed at the base of the cathedral's pillars, which would "give an impression of an airport runway, or even of a parking lot."
Already the Newchurch proposals have stirred a firestorm of negative comment. If Newchurch proceeds with his plans, it appears that the needed financial support from the French population will be gutted in protest against Newchurch's barbarism. By a July 2019 law regulating the rebuilding of Notre-Dame, the funds raised for rebuilding the monument can be used only for restoration and conservation work, not for Novus Ordo "innovations." Thus, a battle in France is now going on between Tradition and Modernism, with Paris Newarchbishop Andre Vingt-Trois admitting that he wishes to go beyond "the heritage the cathedral represents." [Some information for this Commentary was contributed by the National Catholic Register.]
True Catholics, the exposure of Newchurch's malign intentions is just the latest proof that the apostate Newchurch is composed of barbarians who are liars and thieves. Thank God, Newchurch does not own the historic cathedral; but the French state does. The French Ministress of Culture has already denounced Vingt-Trois's barbaric proposal to replace the historic stained-glass windows. She has stated unequivocally: "[This project] is for me inadmissible and contrary to the agreements we signed."
---
January 5, 2021 - Vigil of the Epiphany of Our Lord Jesus Christ
Twelfth Day of Christmas
U.S. President Trump Issues an Historic Religious Proclamation
Declares a Day of Observance in the United States for the Catholic Martyr-Saint Thomas Becket
From: The TRADITIO Fathers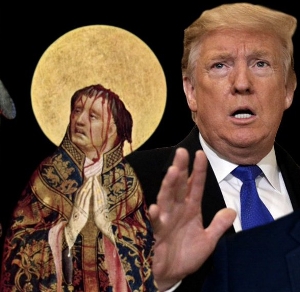 U.S. President Donald Trump (Right)
Has Uniquely Declared
A Day of Observance by All Americans
For the Catholic Martyr-Saint of the Twelfth Century
Archbishop Thomas Becket of Canterbury (Left)
Who Put Church above State
And Resisted the King of England
Who Was Trying to Take Control
Of the Catholic Church in England
King Henry II Was Eventually Forced to Capitulate
To the Legitimate Rights of God over State
And Was Humbled by Having to Crawl in the Snow
To Reverence at the Tomb of the Archbishop
U.S. President Donald Trump in four years has compiled an amazing record on behalf of the Christian, even Catholic, religion. He even exhibits some beliefs of traditional Catholicism, whereas Francis-Bergoglio, who purports to be a pope, displays the characteristics of a heretic, apostate, and atheistic Communist.
The Newchurch of the New Order, which is certainly not the Catholic Church, demoted the December 29 feastday of St. Thomas Becket, Bishop & Martyr (1119-1170), to a mere commemoration, whereas the traditional Catholic calendar recognizes the great Martyr with a Double Feast. President Trump followed traditional Catholicism is singling out the feastday of St. Thomas Becket for a rare Presidential Proclamation as one who courageously stood for the rights of religion against the state. Trump thereby left the atheist-leaning Leftists who are attempting to take control of the U.S. government sputtering in utter disbelief.
The occasion of the December 28, 2020, President Proclamation was the 850th anniversary of the martyrdom of St. Thomas Becket on December 29, 1170, the date on which he is recognized with a high feastday by traditional Catholics. King Henry II (r. 1154-1189) tried to take control of the Catholic Church in England four centuries before King Henry VIII actually succeeded in doing so. Henry II's supporters murdered Becket, the Archbishop of Canterbury, while he was chanting Vespers in the cathedral.
King Henry's attempt to suppress the Catholic Church backfired. Henry was threatened by the English with deposition from the kingship and forced to crawl on his hands and knees in a bitter winter snow to the cathedral, where he had to reverence the Martyr at his tomb. England thereafter imposed numerous constitutional limitations on the power of its king. Forty-five years later, in 1215, the great document of freedom for the Church, known as the Magna Carta, was signed, providing that "the English [Catholic] Church shall be free, and shall have its rights undiminished and its liberties unimpaired." [Some information for this Commentary was contributed by the National Catholic Register.]
True Catholics, in addition to this remarkable Presidential Proclamation, calling upon "the people of the United States to observe the day [of the Catholic Archbishop St. Thomas Becket's Martyrdom] in schools and churches and customary places of meeting with appropriate ceremonies in commemoration of the life and legacy of Thomas Becket," President Trump has also issued unique proclaims on Ash Wednesday and on the Incarnation (Christmas). In his Becket proclamation, the U.S. President specifically invoked the modern case of Newcardinal Joseph Zen, of Hong Kong, who has very publicly denounced Francis-Bergoglio for his sellout of his Newchurch to the atheistic Communist Chinese. After his remarkable successes in four years as U.S. President, Mr. Trump as Newpope would certainly shake up the corrupt and criminal Newchurch of the New Order to its foundations!
---
January 4, 2021 - Octave Day of the Holy Innocents, Martyrs
Simple Feast
Eleventh Day of Christmas
Restoration Begins on the Priceless Baptistery of Catholicism's Mother Church
The Fourth-century St. John Lateran Archbasilica in Rome
From: The TRADITIO Fathers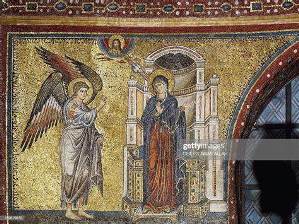 A Mosaic from the Baptistery of St. John Lateran
Rome's Priceless Archbasilica from the Fourth Century
Still Serving as the Mother Church of Catholicism
(St. Peter's Is a Modern Structure
Built a Millennium After)
Restoration Is Now under Way
On the Priceless Roman Mosaics
That Fill the Traditional Catholic Structure
The true seat of Catholic popes is traditionally not the new St. Peter's, which was built in the sixteenth century, but the fourth-century St. John Lateran Archbasilica, known as the Mater Ecclesiae, or Mother Church, of Catholicism and the historic Cathedral of the Diocese of Rome. The Church's oldest basilica was dedicated in A.D. 324 by the Roman emperor Constantine the Great, who brought the powerful Roman empire into the Catholic Church and changed the world thenceforth.
The baptistery of St. John Lateran, the only one in Rome, has been in use since the fourth century. It is decorated with some of the oldest mosaics in Christianity, dated to circa 450, on its side wall and apse. These are now in 2020 being restored. The mosaics are dedicated to Saints Cyprian and Justina, ornamented with depictions of flowers and animals, reflecting the divine light of Baptism conquering the death of the soul in Original Sin. [Some information for this Commentary was contributed by the Catholic News Service.]
True Catholics, no one exceeded the Romans in the art of mosaic. From the pre-Christian era of Republican Rome to the post-Christian era of the Roman Empire, Roman mosaics surpass all others. In early Catholic churches from the time of the Roman emperor Constantine the Great in the fourth century, mosaics were used by Christian artists to depict the true Faith, putting to shame the modern-day trash that Newchurch imposes upon its handmaidens to its apostate New Order.
---
JANUARY 3, 2020 - THE MOST HOLY NAME OF JESUS
DOUBLE FEAST OF THE SECOND CLASS
TENTH DAY OF CHRISTMAS
The Roman Satirist Juvenal Warned: "Quis Custodiet Ipsos Custodes?"
And Now Another Financial Official Was Caught Stealing from Newchurch to the Tune of 2,700,000 USD
From: The TRADITIO Fathers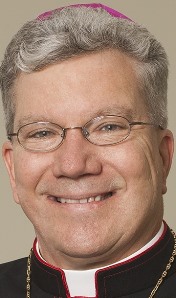 Jeffrey Monforton, the Newbishop of Steubenville, Ohio
Is Smiling No Longer after He Was Notified by U.S. Prosecutors
That He Had Been Duped by His Comptroller, David Franklin
Who Embezzled under His Nose
What Eventually Amounted to 2,700,000 USD
From the Paychecks of Employees
Of the Newdiocese, Its Cemetery Association
And Its Office of Social Ministry
Because the Newchurch of the New Order, Founded in 1964
At the Vatican II Anti-council to Replace the Catholic Church
Is Based upon Fraud, Heresy, and Apostasy
It Should be No Surprise How Corrupt It Has Become
In the Last Sixty Years
It's a pretty sad circumstance when officials whose job it is to prevent theft, embezzlement, larceny, and other financial crimes themselves are guilty of the same crimes. In the Newchurch of the New Order such contradictions are rife, right up to Newpope Francis-Bergoglio. Now another Newchurch thief has been caught red-handed.
The comptroller of the Newchurch diocese of Steubenville, Ohio, its Office of Social Ministry, and its cemetery association has been throw into the slammer for embezzling payroll taxes withheld from Newchurch employees and pocketing the tax revenue instead of sending it to the U.S. Internal Revenue Service from 2004 to 2017. To perpetrate his crimes, he filed false tax returns in a scheme that eventually amounted to 2,700,000 USD.
On December 28, 2020, the United States District Court imprisoned David Franklin for a year on three counts of thievery and fraud, to which he pled guilty, and required him to pay full restitution. The Newdiocese forked over the money, including 1,000,000 USD in interest and penalties. [Some information for this Commentary was contributed by the Steubenville, Ohio Highland County Press.]
True Catholics, how is it that Newchurch became, to use Our Lord's words, "a den of thieves" (Matthew 21:13/DRV)? Because the Newchurch of the New Order, founded in 1964 at the Vatican II Anti-council (1962-1965) to replace the Catholic Church, is based upon fraud, heresy, and apostasy, it should be no surprise how corrupt it has become in the last sixty years. But what is a surprise is how clueless Newchurchers are in supporting this fraud and its fraudster leaders, like the Third Paedophile Newpope Francis-Bergoglio.
---
January 2, 2021 - Octave Day of St. Stephen, Proto-martyr
Ninth Day of Christmas
Simple Feast
Marcus Tullius Cicero Philosophus Romanus CVI Ante Christum Natus Est
Marcus Tullius Cicero Philosophus Romanus CVI Ante Christum Natus Est
Francis-Bergoglio Refuses to Abdicate because of Embezzlement
Instead He Rearranges the Deck Chairs on the Titanic of His Newcuria
From: The TRADITIO Fathers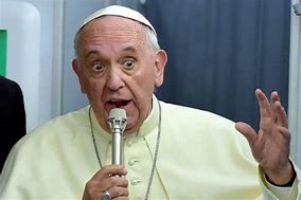 Caught in the Act
Francis-Bergoglio Has Rushed out a Reorganization
Of Newvatican's Finances
After His Regime Embezzled 425,000,000 USD
In a London Real-estate Scam
And 1,700,000,000 USD in an Australian
Money-laundering Scheme
The Reorganization Is just Another Bergoglian Cover-up
He Pulled the Same Ploy against Newchurch Paedophilia
And the Situation Merely Became Worse
In addition to the crimes of Francis-Bergoglio's regime in the area of sex crimes against children are crimes of embezzlement. In 2014, 425,000,000 USD of donations by Newchurchers for charitable purposes were illegally converted to pay off a disastrous loss in the London real-estate market engineered by Bergoglio and his Newsecretariate of State, headed by Newcardinal Pietro Parolin. Now 1,700,000,000 USD going from Bergoglio's Newvatican to Australia for charitable purposes was "lost in transfer." International regulators are investigating Bergoglio's regime for fraud.
So what is Bergoglio's response to these crimes? It should be abdication. At this point he is up to his eyeballs in two of the four worst crimes possible, what are called the Biblical Sins that Cry out to God for Retribution, namely, sodomy (the paedophile crimes) and defrauding the poor (the embezzlement crimes). Instead, it is the typical propaganda non-response to which Bergoglio always resorts, a bureaucratic reshuffling. That way, it looks as if something were being done while the situation actually worsens. Bergoglio tried the same tactic with his paedophile Newclergy, and the result was more crimes against children.
On December 28, 2020, Bergoglio moved financial transactions from his Secretariat of State to his Administration of the Patrimony of the Holy See (APSA). He is in charge of both corrupt organizations, so actually there is no change in ultimate responsibility. He could have involved independent outside financial directors, as required by law in many countries, but he did not. He is keeping his own palms greased with continued ownership of all funds, bank accounts, and investments, including real estate. He is desperate, after all. His Newchurch of the New Order is sinking into bankruptcy, so he needs to embezzle the funds to keep himself afloat., as more and more Newchurchers refuse to contribute to his phony charities, like Peter's Pence, which is being investigated for fraud in the United States, among other countries.
True Catholics, the situation was so dire that Bergoglio couldn't even issue his order (motu proprio) officially in Latin, but had to go with a draft Italian version. By February 4, 2020, "all liquid assets held in current accounts" at the Newvatican Bank and foreign banks must be transferred to APSA. Bergoglio has cleverly sneaked into his motu proprio a provision that he will have a new "sub-account" called "Holy [Sic] Father's Discretionary Fund," will be operated solely at Bergoglio's direction. In Newvatican, there is certainly "no honor among thieves"!
---
JANUARY 1, 2021 - CIRCUMCISION OF OUR LORD & OCTAVE DAY OF THE NATIVITY
HOLYDAY OF OBLIGATION
EIGHTH DAY OF CHRISTMAS
DOUBLE FEAST OF THE SECOND CLASS
Omnibus Lectoribus Internexus TRADITIONIS
BEATUM NOVUM ANNUM MMXXI
Ex: Patribus TRADITIONIS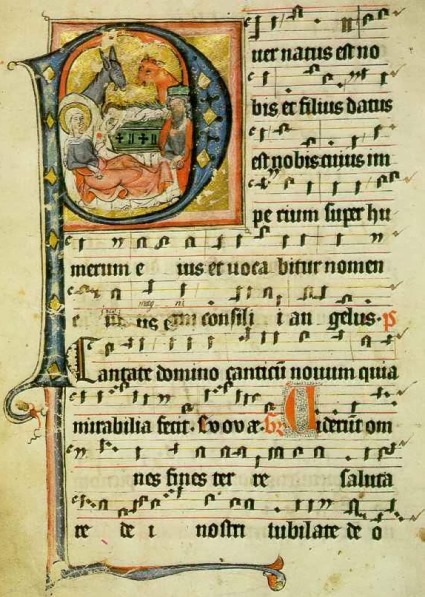 Introitus Cantandus ad Missam
In Circumcisione Domini et Octava Nativitatis
"Puer Natus Est Nobis"
Omnibus Lectoribus Internexus TRADITIONIS
Beatum Annum Novum MMXXI
---

Return to Daily Commentaries from the TRADITIO Fathers.