August 2020
| | |
| --- | --- |
| | For answers to many questions, consult the CURRENT MONTHLY REVISED EDITION of the Official Traditional Catholic Directory, Listing All Traditional Latin Masses and Traditional Resources for North America. For further information, click on the TRADITIO Network's Official Traditional Catholic Directory department, provided to the TRADITIO Network by the National Registry of Traditional Latin Masses. |
For information about the protocol for sending messages to the TRADITIO Fathers, click on Ask the Fathers. First, here are some ]hints for locating items that have already been covered. The TRADITIO Network has the most varied and extensive repository of traditional Catholicism, collected over the 20 years of our existence on the internet, the longest of any traditional site. (1) Check the 16 departments listed in the TRADITIO Network's Web Site Map on our home page, www.traditio.com. (2) Check the 14 FAQs in the TRADITIO Network's Library of Files (FAQs and Traditional Apologetics) department, which answers your most common questions. (3) Use the Search engine on the TRADITIO Network's home page, www.traditio.com.
| | |
| --- | --- |
| | If you have you have personally benefited from the services of the TRADITIO Network, please support the continuation of the TRADITIO Network's Apostolate by clicking on the box to the left to made a donation easily, securely, and confidentially by bank account or credit card through PayPal. Regular contributors become Benefactors of the TRADITIO Network, and their intentions are specially commemorated at Traditional Latin Masses offered. Using PayPal reduces our administrative burden considerably, but if need to use a paper check, click on FAQ01: "How Can I Help the TRADITIO Network's Apostolate?" We have always refused to display those annoying "click" ads to raise money. We hate those ads, and we think that you do too, so we have kept TRADITIO 100 per cent free of them and rely instead on you for voluntary donations. |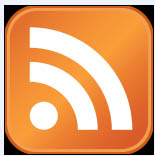 Subscribe to the Free TRADITIO RSS Feed
Enter "http://www.traditio.com/rssfeed.xml" into your Yahoo, Google, Microsoft, or Other Aggregator
---
NOW RELEASED: THE 25TH EDITION (2020)
OF THE OFFICIAL TRADITIONAL CATHOLIC DIRECTORY
THE 2020 ANNUAL USE FEE IS NOW DUE
FOR THOSE WHO WISH TO USE THE NEW EDITION
The TRADITIO Network has been informed by the National Registry of Traditional Latin Masses that the new August 2020 Revised Edition of the 25th Annual Edition (2020) of the Official Traditional Catholic Directory, Listing All Traditional Latin Masses and Traditional Resources for North America has been published. For further information, click on the Official Traditional Catholic Directory department, provided to the TRADITIO Network by the National Registry of Traditional Latin Masses. The annual use fee is now due for those who wish to use the new 2020 Original Edition and its monthly Revised Editions. Site representatives, be sure to check your traditional site's listing for correctness.
---
FEATURED GREGORIAN CHANT CD OF THE MONTH
The TRADITIO Network recommends the Gregorian chant recordings of the St. John Schola, which is recording a CD series consisting of live recordings of the type of chant pieces that may be used at traditional churches and chapels. It makes no pretense to being professional, but to what is achievable, with a little work, by the average small lay choir. The hope is that this series will serve as a practical guide for the wider use of Gregorian chant in the traditional Roman Catholic liturgy. For ordering and descriptive information on the CD series, click on A Traditional Chapel Sings Gregorian Chant. This month's featured Gregorian Chant CD is: 14TH SUNDAY AFTER PENTECOST (VOLUME V)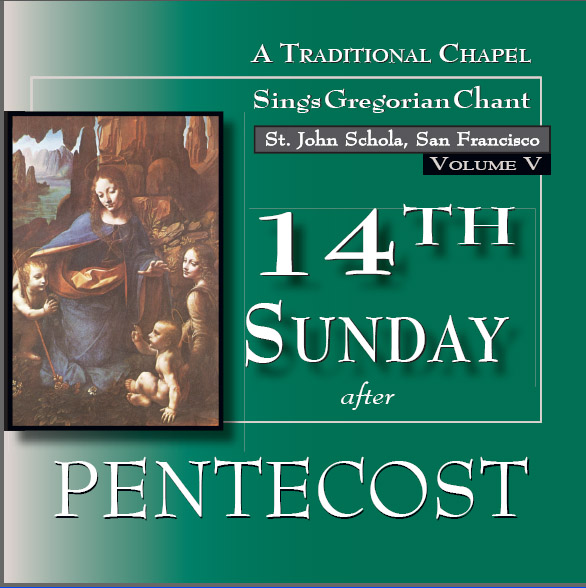 ---
---
August 12, 2020 - St. Clare, Virgin
Double Feast
A Reader Asks: "Am I Committing a Mortal Sin by Attending a Novus Ordo Mess
And by Thereby Associating Myself with Its Heresies?"
From: Rick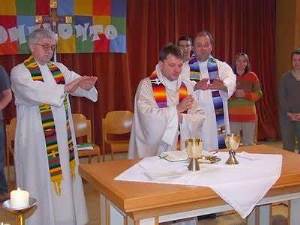 A Typical Newparish Novus Ordo Mess
Not a One True Priest
But Three Phony Novus Ordo "Officiants"
Donned in "Gay" Stoles
Lift Their Hands in Protestant Fashion
Over the Cookies and Kool-Aid
The Novus Ordo Is Not a Catholic Mass
But a Protestant-Masonic-Pagan Service
Anyone Who Participates in Such a Service
Is a Heretic or Apostate No Different
From a Protestant, a Freemason, or a Pagan
And Commits a Mortal Sin
Against the First Commandment of God
Dear TRADITIO Fathers:
Is it a Mortal Sin to attend a Novus Ordo Mess because the New Order sect does not adhere to the Roman Catholic Faith, doctrine, or liturgy? Is it permitted to go to a Novus Ordo presbyter-minister for "Confession"?
THE TRADITIO FATHERS REPLY.
It is a grave sin against the First Commandment of God, as the Novus Ordo (New Order) is a heretic, even apostate, sect, much worse in many ways, if possible, even than Protestant Lutheranism, Episcopalianism, Methodism, etc.
The 1969 Novus Ordo service is not a Mass, but an invalid Protestant-Masonic-Pagan service at best. There is no "eucharist" coming from it as there is no Mass and no priesthood to confect it. Priests were replaced in Newchurch in 1968 with presbyter-ministers when the invalid Protestantized New Ordinal was adopted to "install" (not "ordain" under the Sacrament of Holy Orders) these ministers. Newchurch does not have the Sacrament of Penance either. That was replaced in 1973 with an invalid Protestantized "Reconciliation."
For further information, click on FAQ03: Should I Ever Attend Newchurch's "Ordinary" or "Extraordinary" Messes? in the TRADITIO Network's Library of Files (FAQs and Traditional Apologetics) department, in the section "Five Practical Rules for Dealing with the New Order Sect."
---
August 11, 2020 - Sts. Tiburtius & Susanna, Virgins & Martyrs
Simple Feast
A Reader Asks: "Could You Provide Guidance on Advance Health Care Directives
And on Final Issues Like the Prohibition against Cremation and Traditional Catholic Funeral Instructions?"
From: Vanessa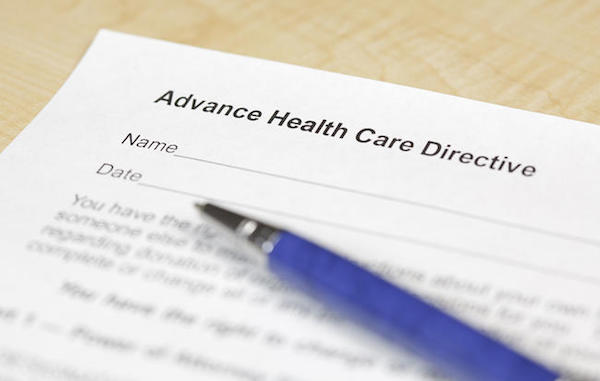 An Advance Health Care Directive
Is an Appropriate and Prudent Action
For End-of-Life Issues
A Catholic, Exercising the Virtue of Prudence
Plans for Such Exigencies
Traditional Catholic Moral Teachings
Must Be Kept in Mind
When an Individual Makes His Choices on the Form
Which Differs between Jurisdictions
Dear TRADITIO Fathers:
Could you provide guidance for an end-of-life Advance Health Care Directives that is aligned with traditional Catholic teachings? Is having an Advance Health Care Directive even appropriate? What about final issues like the prohibition against cremation and traditional Catholic funeral instructions?
THE TRADITIO FATHERS REPLY.
Yes, an end-of-life Advance Medical Directive is appropriate and prudent. No general form can be given because each jurisdiction has its own form. Moreover, there are a number of options under each category from which you may morally choose according to your own personal preferences. All you need to do is to keep in mind traditional Catholic moral teachings when you make your choices. If you have a moral question on any point, the person whom you should consult is your traditional Catholic confessor or pastor.
As to detailed information on the prohibition against cremation and on traditional Catholic funeral instructions, click on FAQ10: How Do You Explain These Traditional Catholic Beliefs? in the TRADITIO Network's Library of Files (FAQs and Traditional Apologetics) department, in the section "Cremation and Traditional Funeral Instructions."
---
AUGUST 10, 2020 - ST. LAWRENCE, MARTYR
DOUBLE FEAST OF THE SECOND CLASS
Newchurch Doctrinal Congregation Declares Most Novus Ordo Baptisms Phony
The Victims of These Phony Baptisms Will Have to Start All over Again
From: The TRADITIO Fathers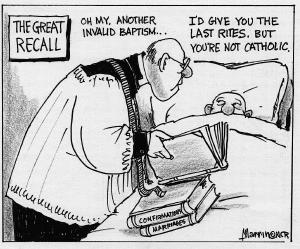 Newchurch Has Admitted
That Many of Its "Baptisms"
What It Likes to Call "Initiations"
Are Phony, i.e., Invalid, Null and Void
Newchurch Presbyters Have Been Using
A Variety of Non-Biblical Forms
The Newchurch Doctrinal Congregation Has Decreed
That the Victims of These Phony Baptisms
Will Have to Start All Over Again
On August 6, 2020, Newchurch admitted that many of its Baptisms have been phony. In a decree of that date, Newchurch's Congregation for the Doctrine of the [New Order] Faith unequivocally declared invalid a formula used in many Newparishes: "We baptize you...." The Congregation further declared that persons "baptized" with that form are in fact not baptized at all and have to start all over again. Presumably, corresponding baptismal records will have to be expunged.
Contrary to what many heretic Newchurch clergy have been pushing ever since the Vatican II Anti-council (1962-1965), the "community" (we) does not baptize, but the priest in persona Christi. (I). The valid form (even "translations" into vulgar tongues must be regarded with suspicion) in Latin is taken from Sacred Scripture: "[Nomen], ego te baptizo in nomine Pa + tris, et Fi + lii, et Spiritus + Sancti. Nomen here stands for the Baptismal name of the baptizand in Latin. Note that there is no "Amen" at the end of the form.
True Catholics, Newchurch has a real problem. It is quite possible that the majority of the "baptisms" performed in Newchurch over the last fifty years are phony, i.e., invalid, null and void. The invalid "we" form is not the only phony one in use at Newparishes. There are much worse forms, including one purporting to baptize -- or as Newchurch calls it, "initiate" -- "in the name of the Creator, the Redeemer, and the Sanctifier." It is bad enough that Newchurch has no valid Holy Eucharist, no confessional Absolution, no priestly ordination, but now it has almost lost even baptism, without which it is no Church at all.
---
August 9, 2020 - Tenth Sunday after Pentecost
Semidouble Sunday
Fellay-Pagliarani's Neo-SSPX Lawyers up against Paedophile Charges
As KBI Pursues the Neo-SSPX for Sex Crimes
From: The TRADITIO Fathers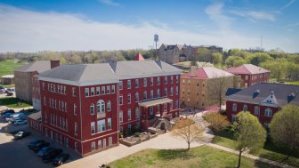 The Kansas Bureau of Investigation
Has Been Conducting a Formal Investigation
Into "Reports of Sex Crimes"
At the Neo-SSPX's
St. Mary's Chapel, Academy & College
In St. Marys, Kansas
NSSPX Officials Have Ordered
Its Priests, Staff, and Employees
Not to Cooperate with the KBI
Except in the Presence of NSSPX Attorneys
The Order Has Been Characterized by Some Victims
As a Familiar Attempt
To "Silence Witnesses" and "Stonewalling"
In a Continuing "Cover-up" of Sex Crimes
By the Highly-secretive Society
Now that the Kansas Bureau of Investigation (KBI) is conducting a formal investigation into "reports of sex" crimes at St. Mary's Chapel, Academy & College, and other Neo-SSPX sites in Kansas, the NSSPX's USA District Bursar, headquartered in Platte, Missouri, on August 4, 2020, ordered NSSPX priest-presbyters, staff, and employees not to cooperate with the KBI except with the presence of NSSPX attorneys. The NSSPX leadership has already warned the KBI "not to contact any priest, staff, or employee without our legal staff being present."
The order has been characterized by some victims as a familiar attempt to "silence witnesses," and "stonewalling," in a continuing "cover-up" of sex crimes by the highly-secretive Society. The order also seems to contradict an April 2020 statement claiming that the NSSPX is "committed to full transparency regarding recent allegations involving its current and former clergy, religious and employees." [Some information for this Commentary was contributed by the Kansas City Star.]
True Catholics, the KBI has requested that all individuals who have information related to potential NSSPX sex crimes to call its 1-800-KS-CRIME line. One individual publicly stated that she had gone to the KBI after she had made several reports about NSSPX priest-presbyters that were covered up and ignored by the NSSPX. She said that "if they were good men/priests they would want to work with the investigation openly to clean house." The Pellay-Pagliarani Neo-SSPX -- which since 1994 is clearly no longer the original traditional Catholic organization founded by Archbishop Marcel Lefebvre -- is notorious for its secrecy and for its lack of transparency and responsiveness.
---
August 8, 2020 - St. Cyriacus & Companions, Martyrs
Simple Feast
A Reader Asks: "Is a New Latin Mess of 1962 Celebrated
By a Newchurch Presbyter or Newbishop Valid or a Fake Simulation?"
From: Tim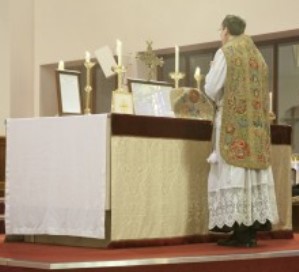 A Novus Ordo Presbyter Simulating
A New Latin Mess of 1962
On a Novus Ordo Dinner Table
Recently Presbyters and a Newbishops
Have Been Simulating Such Fake (Invalid) Messes
Under the Auspices of the Heretical Newchurch
Even though They Have Never Been Ordained
Under the Sacrament of Holy Orders
Merely "Installed" under the Invalid Protestantized
New Ordinal of 1968, Which Predated
Even the New Mess of 1969
True Catholics Must Beware of Such Fake Messes
Dear TRADITIO Fathers:
A certain Novus Ordo bishop in the United States is reported to have said the New Latin Mess of 1962. Was it a valid Mass or a simulation? The Newbishop in question was never ordained as a Catholic priest or consecrated as a Catholic bishop under the Sacrament of Holy Orders. He was merely "installed" as a presbyter and a Newbishop under the invalid Protestantized New Ordinal of 1968, which was introduced just after the Vatican II Anti-council. Or does his "sincerity" make the Mass valid?
THE TRADITIO FATHERS REPLY.
The "Mess" is a simulation, an invalid fake. You give the reason yourself. Without a priest there is no Mass, no Sacrament. "Sincerity" does not change objective reality. Many Protestant ministers are far more "sincere" than Newchurch presbyters and Newbishops, so if "sincerity" were the criterion for a valid Mass and Sacrament, you would have to admit, absurdly, that Protestant ministers say valid Masses and that Protestants have true "Communion."
What you are relating is the heresy of Modernism, or Subjectivism, which rejects objective reality and substitutes for it a person's (erroneous) subjective judgement: if I believe something is true, it is true, whether in reality it is true or not. This heresy is the foundation of Protestantism and the Modernist heresy that was so strongly condemned by Pope St. Pius X and his immediate predecessors. It is completely contrary to the theology of the Catholic Church, as so clearly explained by the Catholic's Church's Principal Theologian, St. Thomas Aquinas. Catholics are Realists.
---
August 8, 2020 - St. Cajetan, Confessor
Double Feast
The Latest Newchurch Sacrilege: "Wine-Cookies"
Now Newchurch "Communion" Is Triply Fake: in Form, Matter, and Minister
From: The TRADITIO Fathers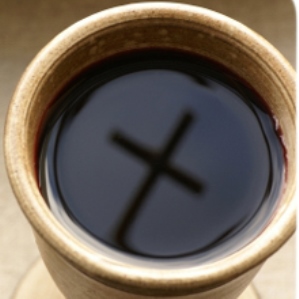 Newchurch's Latest Sacrilege: "Wine-Cookies"
Fake Novus Ordo "Communion" Cookies
Made from Wine and Cookies Together
Such "Wine-Cookies" Are of Course Totally Invalid
But then Newchurch Hasn't Had Valid Communion
Since It Stopped Ordaining Priests in 1968
And Stopped Celebrating Mass in 1969
Novus Ordo Cookies and Kool-Aid
And Now Wine Cookies
Add the Third Coffin to the New Order's Coffin
Newchurch must now wish that it had never violated Catholic tradition -- granted, Newchurch is not the Catholic Church -- by allowing its Newchurchers to "take the cup" like the Protestants. Drinking from a common Protestantized "cup" is a messy process, however you do it. Moreover, objection to everyone consuming alcohol has led to the substitution of (invalid) Kool-Aid. However, It is Catholic dogma that reception of Holy Communion (which is, of course, not: what Newchurch has, with its fake Mess and fake presbyter-ministers) is complete under the species of bread alone. (After all, doesn't the body include the blood?).
Although Newchurch has never feared spreading bacterial (e.g., "strep throat") and viral (e.g., the flu) infections through a common Protestant drinking "cup," now it has gone berserk over the China Virus. So it has come up with the patently invalid option of "wine-cookies," which are Novus Ordo "communion" cookies mixed with wine. It is no surprise that the idea came from heretic Protestant Evangelicals. However, it is Catholic dogma that valid Communion bread must be made from water and wheat flour only, as was the Passover bread at the Last Supper. [Some information for this Commentary was contributed by Katholische Net.]
True Catholics, Newchurch just gets crazier and crazier. It lost the Mass in 1968, when it adopted the Protestantized New Ordinal that no longer "ordained priests" under the Sacrament of Holy Orders, but merely "installed presbyters" like Protestant ministers. Thus, those "installed" as presbyters or Newbishops by Newchurch after 1968 are invalid and have no power to confect the Sacrament. Newchurch drove the second nail into its coffin by adopting the Protestantized New Mess, which has no more power to confect the Sacrament than a Protestant service. Since then it has driven the third nail into its coffin by replacing bread and wine with cookies and Kool-Aid, or, as in this case, "Wine-Cookies."
---
AUGUST 6, 2020 - TRANSFIGURATION OF OUR LORD JESUS CHRIST
DOUBLE FEAST OF THE SECOND CLASS
Benedict-Ratzinger's Own Biographer Reports that Ratzinger May Be Close to Death
Newvatican Admits that Ratzinger Is Gravely Ill
From: The TRADITIO Fathers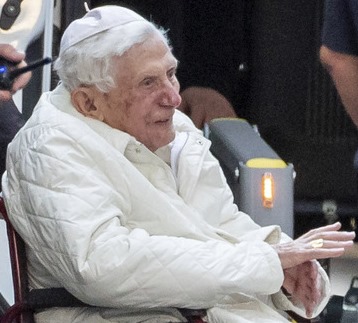 Benedict-Ratzinger's Biographer Reported
To a German Newspaper on August 1, 2020
That Ratzinger Was "Exceptionally Frail"
And "in Shaky Health"
His Voice Being Barely Audible
Ratzinger Wasn't even Expected to Return
From Germany, where He Visited Elder Brother
Who Died on July 1, 2020
Now even Newvatican's Press Service
Reports that Ratzinger Has a Grave Malady
Benedict-Ratzinger's biographer, Peter, Seewald, has reported to a German newspaper that the disgraced Newpope was "exceptionally frail" and "in shaky health" when he visited him on August 1, 2020. Seewald also reported that Ratzinger's voice was barely audible. Josef Ratzinger is 93 and recently returned from visiting his older brother, Newmonsignor Georg Ratzinger, who died a week after the visit, on July 1, 2020.
It was anticipated that Josef Ratzinger himself might die shortly thereafter and would remain in his hometown in Germany, but Francis-Bergoglio recalled him immediately to Newrome. Meanwhile, Newvatican's press service whistled through the graveyard and claimed that Ratzinger's condition is "not particularly worrying." The service did, however, admit that, inter alia, Ratzinger is now suffering from facial erysipelas, a painful and sometimes serious streptococcal infection .
Ratzinger had abdicated on February 28, 2013, leaving Newchurch in even worse condition than his predecessor, the "Unsaint" JPII-Wojtyla. He could no longer deal with the financial mismanagement and embezzlement, with the number of ever-increasing sex crimes by his Newchurch clergy, most notably Ratzinger's own Newcardinals and Newbishops, and finally with the leaking by his own longtime butler of documents incriminating Ratzinger himself in the crimes. [Some information for this Commentary was contributed by Reuters.]
True Catholics, you sometimes read in fanciful Neocon Newchurch publications that Benedict-Ratzinger is still the "real pope" (as if any heretic Newpope could be considered a "real pope"), is a "traditionalist" (as if the continuous leader of the Modernist heretics since the Vatican II Anti-council could be considered a "traditionalist"), and is going to reassume the Newpapacy from Francis-Bergoglio (as if a gravely ill man of 93 is going to lead some revolution). Those who hold to these fantasies must certainly be confounded today with the truth of the matter.
---
August 5, 2020 - Dedication of the Church of Our Lady of the Snows
Double Major Feast
The U.S. Newbishops Have Sold out to Francis-Bergoglio's "Climate Change"
They Are Now Spending Half a Million Dollars from Collections to Bolster Pseudoscience
From: The TRADITIO Fathers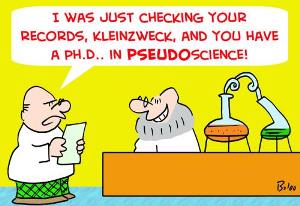 The True Catholic Church Comes down Hard
On Pseudoscience, Like Astrology
Yet the Newpopes Have Embraced Not only Extraterrestrials
But even Highly-disputed Anthropogenic Climate Change
The U.S. Newbishops, in Order to Play the Sycophants
To the Marxist/Modernist Newpope Francis-Bergoglio
Are Now Misappropriating Half a Million Dollars
From the Newchurchers' Collection Plate
To Fund "Community Organizing" for Pseudoscience
What in the World Does This Have to Do with Religion?
The true Catholic Church comes down hard on pseudo-science, like astrology. However, Newchurch's U.S. Conference of Catholic [Sic] Bishops and its Chief Newbishop, Francis-Bergoglio, are "all in" on the pseudoscience surrounding anthropogenic "climate change. Now, through its "Direct Action & Research Training Center," the U.S. Newbishops are turning in their miters to become political "community organizers."
The first grant from the Newbishops of half a million dollars goes from Newchurchers' collections to "organizations in campaigns to identify the local impact of environmental changes on their community." What does that, if it can even be proven, have to do with religion? [Some information for this Commentary was contributed by the Zenit News Service.]
True Catholics, the real purpose of the grant and the programme is actually quite different: to play the sycophant to Francis-Bergoglio, who was prouder than the father of a newborn when in 2015 he issued his lengthy Marxist political screed on highly-disputed anthropogenic global-warming, under cover of an encyclical letter entitled Laudato si. Newchurch in reality is a cesspool of politics and grasping for ecclesiastical perks from the Chief Marxist/Modernist Bergoglio. There is very little religion of any sort going on in Newchurch since the Vatican II Anti-council (1962-1965).
---
August 4, 2020 - St. Dominic, Confessor
Double Major Feast
The Newchurch of the New Order Is Sinking Fast even in France
Which Was Once Called the "Eldest Daughter of the Church"
From: The TRADITIO Fathers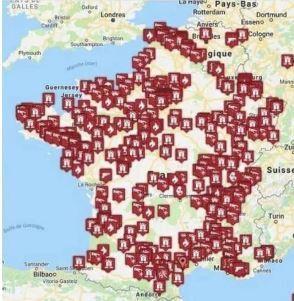 A Map Depicting Newchurches
And Other Protestant Churches
In France during 2017 and 2018
Some of Them Devastating Fires
Such as the Torching Of
Notre-Dame Cathedral
And Nantes Cathedral
Newchurch Is Sinking Fast in France
Because of the Peoples' Hatred
Of Newchurch's Support of Sex Crimes
By Its Top Newclergy
And because of Francis-Bergoglio's Support
Of Illegal Immigration into France
On April 15, 2019, Notre-Dame de Paris Cathedral was torched and seriously damaged. On July 18, 2020, Nantes Cathedral was torched and seriously damaged, the fire set by one of Newchurch's own "altar" servers. These are just two of the most significant attacks in just the last year, which has seen 1,052 hate crimes against Francis-Bergoglio's Newchurch and other Protestant churches -- almost twice the number of "anti-Semitic" crimes and ten times the number of crimes against Mohammedans.
"France" came into being in the year 843, when the Treaty of Verdun divided the empire of Charlemagne into independent kingdoms. France was thus Catholic from the beginning, called la fille aînée de l'Église (the eldest daughter of the Church). Although Newchurchers are said to make up 41 per cent of the French population, the number of them that practice the Protestantized New Order religion is estimated at 5 per cent.
When Notre-Dame Cathedral went up in flames on Monday of Holy Week 2019, Francis-Bergoglio, who has taken junkets all over the world to promote his Marxist/Modernist programme, couldn't even be bothered to take the short trip from Rome to Paris. He couldn't be bothered to make a donation for the cathedral's restoration or to undertake fundraising for such a purpose. To Newchurch, one of the world's once-greatest Catholic cathedrals wasn't worth the bother. [Some information for this Commentary was contributed by the Religious News Service.]
True Catholics, is there any question why Newchurch is sinking fast in France and is even under physical attack because of hatred Newchurch paedophile crimes committed by its presbyters, Newbishops, and Newcardinals with the support of the First Paedophile Newpope, the Unsaint JPII-Wojtyla; the Second Paedophile Newpope, the Nazi Benedict-Ratzinger; and the Third Paedophile Newpope, the Marxist Francis-Bergoglio? And Bergoglio has added insult to injury by publicly supporting illegal immigration into a country that is proudly nationalistic No wonder the French want to burn down Newchurch!
---
August 3, 2020 - Finding of the Body of St. Stephen, Pro-martyr
Semidouble feast
Another Benedict-Ratzinger/Francis-Bergoglio Appointee Bites the Dust
Their Ambassador to France Is on Trial for Sexual Assault of Four Young Men
From: The TRADITIO Fathers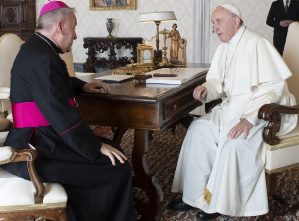 Newarchbishop Luigi Ventura (Left)
Francis-Bergoglio's (Right) Ambassador to France
Has Been Stripped of His Diplomatic Immunity
And Will Stand Trial in Paris on November 10, 2020
For Sexually Assaulting Four Young Men
He Was Charged with a Similar Offense
At His Previous Post as Ambassador to Canada
As Newchurch's Great Sex & Embezzlement Holocaust
Continues to Increase
So bad were the sexual-assault crimes of four young men that Newarchbishop Luigi Ventura, appointed by Benedict-Ratzinger and Francis-Bergoglio to be Newpapal Ambassador (Papal Nuncio) to France, on July 24, 2020, was stripped of his diplomatic immunity and slated for trial on November 10, 2020, in Paris. He had served from 2009-2019 in the post, and the crimes were said to have occurred in 2018-2019.
Before Benedict-Ratzinger appointed Ventura to be his ambassador to France, the "Unsaint" JPII-Wojtyla appointed him in 2001 to be ambassador to Canada. Ventura was also charged there in 2008 by an Ottawa man for sexual assault. [Some information for this Commentary was contributed by Agence France-Press.]
True Catholics, Newarchbishop Ventura's trial comes after the notorious presbyter Bernard Preynat had been sentenced in March 2020 to five years in prison for sexually assaulting boy scouts. Who knows but that Ventura may have been conducting his personal sex holocaust across all his postings under JPII-Wojtyla to the Ivory Coast, Burkina Faso, Niger, and Chile before he moved on to Canada and France. Just more evidence that Newchurch's Great Sex & Embezzlement Holocaust has not stopped, but has even increased from Newpope to Newpope: Wojtyla to Ratzinger to Bergoglio.
---
August 2, 2020 - Ninth Sunday after Pentecost
Semidouble Sunday
Francis-Bergoglio Effectively Prohibits Newchurchers the Novus Ordo Cookie on the Tongue
But Requires Cookies to Be Grabbed in the Hand Only
From: The TRADITIO Fathers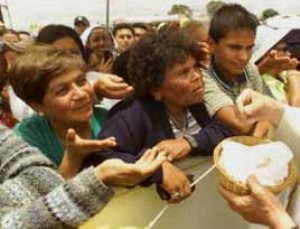 Francis-Bergoglio Has Effectively Changed
The Novus Ordo "Rules" Once Again
No Longer Do Newchurchers Have the Right
To Receive the Novus Ordo Cookie on the Tongue
They Must Grab Them in the Hand
A Sacrilegious and Modernist Practice
Condemned by the Church and Its Popes
Since the Second Century
On July 29, 2020, Francis-Bergoglio has refused to allow Newchurchers to take their Novus Ordo cookie kneeling and on the tongue, as is supposedly their right under Newchurch "rules." But Newchurch can never be trusted; it is not Catholic. Thus, Bergoglio has effectively changed the Novus Ordo "rules" once again. Of course, the Novus Ordo cookies are no more "communion" than the Protestant soda crackers, and Novus Ordo presbyters are no more priests than Protestant ministers.
But the consequences of Bergoglio's rules change has gone even farther than that. He has backed Eduardo Taussig, the Newbishop of San Rafael in Francis-Bergoglio's native Argentina, in dismissing the rector of his Newseminary there and then completely shutting down that largest Newseminary in Argentina because the presbyters there took a stand against the sacrilegious and Modernist practice of giving Novus Ordo cookies in the hand. This practice has been condemned by the Church and its popes since the second century. For further information on this topic, click on FAQ10: How Do You Explain These Traditional Catholic Beliefs? in the TRADITIO Network's Library of Files (FAQs and Traditional Apologetics) department, in the section "Communion in the Hand."
Bergoglio went further and had his Congregation for the [New]clergy proclaim that distributing cookies in on the tongue does not "conform to the [New]church's discipline." In the 2004 instruction Redemptionis sacramentum, Newchurch had decreed that a Newchurcher always has the right to receive the Novus Ordo cookie on the tongue. But in Newchurch even "rights" are taken away. [Some information for this Commentary was contributed by LS News.]
True Catholics, many of the 40 shut-out Newchurch seminarians, feed up with the fake Newchurch, are likely to go to independent traditional Catholic groups rather than to Newchurch "approved" groups like the Fraternity of St. Peter (FSSP). They thought that their Newseminary would remain conservative, but in Newchurch nothing can be counted on. The Newseminarians would then have a good outcome and strengthen the wave of Newchurchers who have abandoned Francis-Bergoglio and the Newchurch of the New Order. Newbishop Taussig is himself a product of the heretic Newchurch: he was co-installed by Bergoglio himself when he was Newarchbishop of Buenos Aires.
---
August 1, 2020 - St. Peter's Chains
Double Major Feast
Italian Leader of a Traditionalist Movement Denounces "False Bergoglian Church"
As even Newchurch Presbyters Are Defecting from Francis-Bergoglio to Traditional Catholicism
From: The TRADITIO Fathers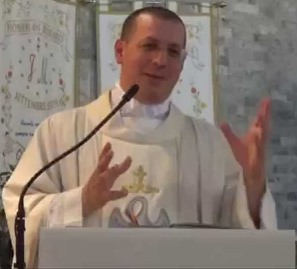 Don Alessandro Minutella, of Palermo, Sicily
Is Trying to Become the Next Archbishop Lefebvre
He Has Left Francis-Bergoglio and the New Order
And Aspires to Lead the "Catholic Resistance"
He Rejects the "False Bergoglian Church"
The Problem Is that He Is a Novus Ordo Presbyter
Who Has Never Been Validly Ordained as a Priest
And Is also a Heretic Excommunicate
He Must First Publicly and Formally
Recant His Heresy
Then, if He Is Judged to Have a Legitimate Vocation
To Become a Traditional Catholic Priest
He Must Test His Vocation by Entering Onto
A Course of Traditional Catholic Seminary Study
Could we be seeing the next Archbishop Lefebvre? On July 29, 2020, Don Alessandro Minutella, Novus Ordo presbyter, has left Francis-Bergoglio's Newchurch of the New Order and aspires to lead what he calls the "Catholic resistance" in Italy, forming a "small remnant" who spurn the "false Bergoglian Church" of Francis-Bergoglio.
However, a Novus Ordo presbyter cannot simply decide one day to become a traditional Catholic priest. Novus Ordo presbyters have never been ordained as valid Catholic priests, merely "installed" under the Protestantized New Ordinal of 1968. Moreover, Novus Ordo presbyters are formal heretics, having publicly adhered to the non-Catholic Newchurch of the New Order. An excommunicate presbyter must first publicly and formally recant his heresy according to the rite of the traditional Rituale Romanum.
This rite consists of the heretic excommunicate kneeling before the priest wearing only an undershirt and being struck lightly with a rod or a rope, while saying Psalm 50 (Miserere) [Have mercy on me, O God....]. The Psalm is followed by a series of versicles and responses, a prayer, and then a public absolution. This absolution in the public forum is followed by confession and absolution in the internal form (private confession). As the heretic has spread his heresy in public, he must repent in public. He cannot be absolved merely in private confession. If an absolved presbyter is judged to have a legitimate vocation to become a (traditional) Catholic priest, he must test his vocation by entering onto a course of traditional Catholic seminary study. Only then is it possible for him to be ordained as a (traditional) Catholic priest. [Some information for this Commentary was contributed by the Crux News Service.]
Presbyter Minutella has courageously said: "I am not afraid of Bergoglian contempt and the shame it merits, in order to make those souls who wish to be saved aware of the anti-Christian nature of this absurd messianism." He has provided a ten-point indictment of Francis-Bergoglio's heresies:
providing the (fake) Novus Ordo cookies and Kool-Aid for bigamists in his 2016 document "Amoris Laetitia"
implicitly denying Marian dogmata

preaching mercy to the exclusion of judgment
signing with the Grand Imam a document promoting syncretism (oecumenism)
denying Christ's Great Mission to convert all to the True Faith
teaching Neo-Arianism, effectively denying the divinity of Christ
rehabilitating the Arch-heretic Martin Luther and Judas Iscariot
implicitly denying Hell and Purgatory
implicitly denying Biblical celibacy for clergy via the Amazon Synod
installing the idol of the pagan Pachamama goddess in St. Peter's Archbasilica
True Catholics, Minutella has been celebrating the Traditional Latin Mass in Rome -- invalidly, to be sure, because he has not recanted his Novus Ordo heresy or been validly ordained after traditional Catholic study. Yet he has drawn crowds in the hundreds, of all ages and social classes, by word of mouth. He has encouraged his followers not to enter Novus Ordo churches. One can only hope that he, and other Novus Ordo presbyters, will formally and publicly renounce their Novus Ordo heresy, enter onto traditional Catholic seminary study, and one day be validly ordained as Catholic priests.
---

Return to Daily Commentaries from the TRADITIO Fathers.