July 2019
| | |
| --- | --- |
| | For answers to many questions, consult the CURRENT MONTHLY REVISED EDITION of the Official Traditional Catholic Directory, Listing All Traditional Latin Masses and Traditional Resources for North America. For further information, click on the TRADITIO Network's Official Traditional Catholic Directory department, provided to the TRADITIO Network by the National Registry of Traditional Latin Masses. |
For information about the protocol for sending messages to the TRADITIO Fathers, click on Ask the Fathers. First, here are some hints for locating items that have already been covered. The TRADITIO Network has the most varied and extensive repository of traditional Catholicism, collected over the 20 years of our existence on the internet, the longest of any traditional site. (1) Check the 16 departments listed in the TRADITIO Network's Web Site Map on our home page, www.traditio.com. (2) Check the 14 FAQs in the TRADITIO Network's Library of Files (FAQs and Traditional Apologetics) department, which answers your most common questions. (3) Use the Search engine on the TRADITIO Network's home page, www.traditio.com.
| | |
| --- | --- |
| | If you have you have personally benefited from the services of the TRADITIO Network, please support the continuation of the TRADITIO Network's Apostolate by clicking on the box to the left to made a donation easily, securely, and confidentially by bank account or credit card through PayPal. Regular contributors become Benefactors of the TRADITIO Network, and their intentions are specially commemorated at Traditional Latin Masses offered. Using PayPal reduces our administrative burden considerably, but if need to use a paper check, click on FAQ01: "How Can I Help the TRADITIO Network's Apostolate?" We have always refused to display those annoying "click" ads to raise money. We hate those ads, and we think that you do too, so we have kept TRADITIO 100 per cent free of them and rely instead on you for voluntary donations. |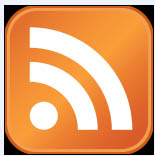 Subscribe to the Free TRADITIO RSS Feed
Enter "http://www.traditio.com/rssfeed.xml" into your Yahoo, Google, Microsoft, or Other Aggregator
---
NOW RELEASED: THE 24TH EDITION (2019)
OF THE OFFICIAL TRADITIONAL CATHOLIC DIRECTORY
THE 2019 ANNUAL USE FEE IS NOW DUE
FOR THOSE WHO WISH TO USE THE NEW EDITION
The TRADITIO Network has been informed by the National Registry of Traditional Latin Masses that the new July 2019 Revised Edition of the 24th Annual Edition (2019) of the Official Traditional Catholic Directory, Listing All Traditional Latin Masses and Traditional Resources for North America has been published. For further information, click on the Official Traditional Catholic Directory department, provided to the TRADITIO Network by the National Registry of Traditional Latin Masses. The annual use fee is now due for those who wish to use the new 2019 Original Edition and its monthly Revised Editions. Site representatives, be sure to check your traditional site's listing for correctness.
---
FEATURED GREGORIAN CHANT CD OF THE MONTH
The TRADITIO Network recommends the Gregorian chant recordings of the St. John Schola, which is recording a CD series consisting of live recordings of the type of chant pieces that may be used at traditional churches and chapels. It makes no pretense to being professional, but to what is achievable, with a little work, by the average small lay choir. The hope is that this series will serve as a practical guide for the wider use of Gregorian chant in the traditional Roman Catholic liturgy. For ordering and descriptive information on the CD series, click on A Traditional Chapel Sings Gregorian Chant. This month's featured Gregorian Chant CD is: FEAST OF THE PRECIOUS BLOOD (VOLUME X).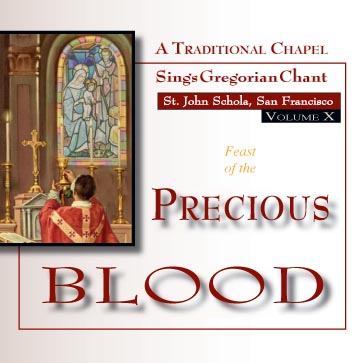 ---
---
July 31, 2019 - St. Ignatius Loyola, Confessor
Double Major Feast
Too Little, Too Late for a German Newbishop
Who Wants to Correct Crimes against Children by Benedict-Ratzinger's Brother
From: The TRADITIO Fathers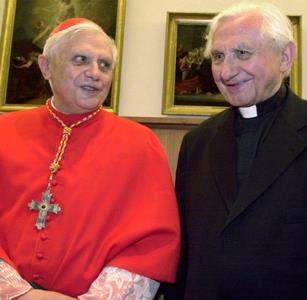 Two Peas in a Pod:
Newpope Benedict-Ratzinger (Left)
And His Elder Brother Newmonsignor Georg Ratzinger
Newpope Ratzinger Allowed Tens of Thousands of Children
To Be Sodomized, Raped, and Assaulted
By His Newcardinals, Newbishops, and Presbyters
Newmonsignor Ratzinger over a Period of Thirty Years
Acted as a Brutal Sadist against Boys in His Boys' School Choir
They Have Rightly Been Expelled
from Their Positions
And Have Now Become the Infamous
As the "Paedopile Brothers"
Newbishop Rudolf Voderholzer, of Regensburg, Germany, the home Newdiocese of Newpope Benedict-Ratzinger and his elder brother, Newmonsignor Georg Ratzinger, on July 22, 2019, pledged to apply "preventive measures" to reverse the crimes that the latter, still living, perpetrated when he was in charge of the Domspatzen boys' choir there for thirty years, from 1964, when the Newchurch of the New Order was founded,until 1994. He pledged "justice and satisfaction" to Ratzinger's child victims.
In July 2017, the Regensburg Newdiocese released a 440-page report confirming that 547 choir boys had suffered physical and emotional abuse over half a century, mostly under Georg Ratzinger's directorship. The report stated that 67 had suffered sexual violence, but that the real number could be closer to 700, because many child victims had declined to come forward during the two-year inquiry. 12.6 per cent of the boys suffered abuse under the employment of "sadistic methods." Georg Ratzinger was described in the report as "inclined to a hot temper and exaggerated severity" and resorting to "various forms of violence," including "hard bodily punishment and mental humiliation." [Some information for this Commentary was contributed by the Catholic News Service.]
True Catholics, was Newpope Benedict-Ratzinger any different from his elder brother, Newmonsignor Ratzinger, with whom he maintained a close relationship? The elder brother acted with rage and sadism against children. Benedict-Ratzinger acted far worse when he consistently sided with the paedophiles against tens of thousands of child victims. So despondent were many of the children that they committed suicide. Thank God, Benedict-Ratzinger was exposed by his aide and had to abdicate the Newpapacy. Sadly, Francis-Bergoglio is even worse and supports continued crimes against children because of his complicity, silence, and lying cover-ups.
---
July 20, 2019 - Sts. Abdon & Sennen, Martyrs
Simple Feast
Francis-Bergoglio Panders to Medjugorje Superstition to Get Tourist Money
With Donations to Newvatican Severely Sinking, New Sources of Revenue Are Necessary
From: The TRADITIO Fathers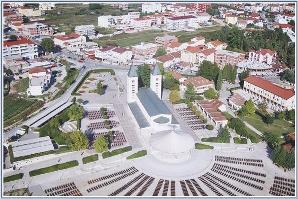 The Medjugorje Complex in Herzegovina
"Apparitionism" Has Become Big Business
So Francis-Bergoglio Has Overriden even the Newbishop There
To Give Apparent Assent to the Marian Fraud
And to Open the Floodgates to Tourist Cash
Already One Million Clueless Flood to Medjugorje Annually
Which Rakes in Tourist Money just behind Lourdes and Fatima
With Newchurch's Great Sex & Embezzlement Holocaust now overtly involving Francis-Bergoglio in complicity, donations to Newvatican have been severely compromised. Newchurch must find additional sources of revenue, one of these being tourism. The Novus Ordo "con-anization" of JPII-Wojtyla, the First Paedophile Newpope, was rushed in part because Polish tourism was supposed to bring large amounts of cash into the corrupt Newchurch. With the Polish documentary, "Tell No One," implicating the Polish Newhierarchy in paedophile crimes, that hope is now dashed.
So Francis-Bergoglio has turned to another fraud, the Medjugorje "apparitions," which have been renounced even by the Newbishop of Medjugorjge in Herzegovina himself. Newvatican itself acknowledges that the "apparitions" are dubious, once associating them with "dubious doctrine, manipulation of consciences, suspicious mysticism." But because Newvatican says that the devotees of the cult believe in their authenticity, Newvatican indicated on July 22, 2019, that it will look favorably on them in order that more tourist money can be connived out of the clueless. With the Modernist heresy recognizing the subjective lie over the objective truth, the arch-heretic Martin Luther should have a thriving cult in Newchurch!
The three most popular Newchurch tourist sites in Europe are Lourdes, France, which is considered likely authentic; Fatima, Portugal, which is suspect in many minds; and Medjugorje, which is an outright fraud. Some 1,000,000 clueless every year shell out money to go to Medjugorje since its inception in 1981. These are Newchurchers, and others, don't even know the Catholic Faith, don't even know what the Apostles Creed is, and have never read any of the Gospels. No wonder such ignoscenti fall prey to Newchurch frauds! [Some information for this Commentary was contributed by the Milan daily, Avvenire.]
True Catholics, in order to corrupt its youth, Newchurch will be holding the International Youth Festival at the fake site of Medjugorje on August 1, 2019, with the Vicar of Newrome, Newcardinal Angelo De Donatis, giving the inaugural address. We must not forget that the Newchurch holocaust involves not just crimes against the Sixth Commandment but also against the Eighth Commandment. With there being no doubt now that Newchurch is running a scam, to contribute money to Newchurch is clearly sinful, just as would contributions to La Cosa Nostra (the Mafia).
---
July 29, 2019 - St. Martha, Virgin
Semidouble Feast
A Reader Asks: "Can We Trust Any Newchurch [Un]Saints
Proposed by the Heretic Newpopes after the Vatican II Anti-council?"
From: Gerald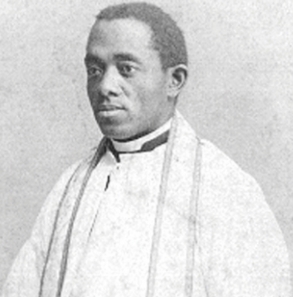 Is Newchurch Advancing Fr. Augustus Tolton, a Former Black Slave
To Novus Ordo Con-anization to Unsainthood
Out of "Political Correctness" in Race?
Francis-Bergoglio Has Already Con-anized a Fellow Marxist
And in 2000 JPII-Wojtyla Considered the Arch-heretic Martin Luther
Until the Traditional Catholic Process for True Sainthood Is Restored
We Must Suspend Judgment on Any Candidates
Until Then, There Are Thousands of Validly Canonized Saints
Whose Intercession Can Be Prayed For
Dear TRADITIO Fathers:
The heretic Newpope Francis-Bergoglio on June 11, 2019, claimed that Fr. Augustus Tolton (1854-1897), the first Black Catholic priest in the United States, born a slave, lived a life of "heroic virtue" so that he could because a Newchurch [Un]saint. Tolton wasn't the only Newchurch candidate for con-anization in the United States associated with racial issues. What is your take on this matter?
THE TRADITIO FATHERS REPLY.
There is no valid canonization in the Newchurch of the New Order, founded in 1964 to replace the Catholic Church. The millennium old process of canonization was corrupted into a ridiculous fraud, which we TRADITIO Fathers call "con-anization" (after a "con," a trick) because candidates are selected on criteria other than the objective traditional Catholic criteria.
These Newchurch "Unsaints" include Newarchbishop Oscar Romero, an outright Marxist. JPII-Wojtyla, an Unsaint himself, even seriously considered Martin Luther for Novus Ordo "sainthood" in Newchurch during the Jubilee Year of 2000. Thus, we TRADITIO Fathers suspend judgment until the objective, traditional Catholic process for true sainthood is restored. Until then, there are thousands of validly canonized Saints of the Church, whose intercession can be prayed for.
Fr. Tolton may be a Saint, but we have no way of knowing, given the corruption of the Newpopes and the invalid con-anization process of the Newchurch of the New Order. It appears that Newchurch may be considering Tolton because of "political correctness" in race. That is absolutely no basis for sainthood. St. Paul teaches that in Christianity, race is unimportant: "There is neither Jew nor Greek: there is neither bond nor free" (Galatians 3:28/DRV).
For further information on this topic, click on FAQ10: How Do You Explain These Traditional Catholic Beliefs? in the TRADITIO Network's Library of Files (FAQs and Traditional Apologetics) department, in the section "Canonizations" - New Order."
---
July 28, 2019 - Seventh Sunday after Pentecost
Semidouble Sunday
Presbyter Embezzles 100,000 Dollars from the Collection Plate
Of Five Newchurch Parishes under an Inept, if Not Corrupt, Newbishop
From: The TRADITIO Fathers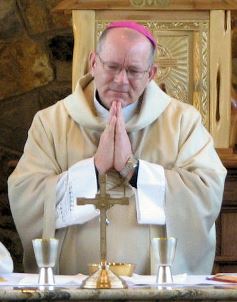 Just as Fake as the Invalid Novus Ordo Mess that He Simulates
Newbishop Robert Vasa, of Santa Rosa, California
Allowed a Presbyter in His Newdiocese
To Steal 100,000 Dollars from Newparish Collections
In a Money-laundering Operation
To Send Funds to Mexico
Vasa Claims that the Thief Was a "Close Confidante"
With Judgment So Egregiously Bad
Vasa Needs to Abdicate
And Newchurchers Need to Get out of the Phony Newchurch
We must not forget, as we TRADITIO Fathers have called it from the beginning, that Newchurch Great Sex & Embezzlement Holocaust does have its significant embezzlement side. Newchurch is robbing its Newparishioners blind, stealing from the collection plate, as one recent example reported has it, to go on a gambling spree to Las Vegas, with room, board, and gambling stakes paid out of the Sunday collection. Yet the clueless Newparishioners keep contributing to their Newclergy's crime sprees.
In the latest case, involving the Newdiocese of Santa Rosa, California, a presbyter was found with bags from the Sunday collection totaling almost 100,000 dollars. The money was discovered when the presbyter caused a multi-car accident, and the bags were discovered by police investigating the accident, which occurred on June 19, 2019. Newbishop Robert Vasa admitted that presbyter Oscar Diaz had a "career-long habit" of embezzling from Newchurch parishioners. More bags were found in his Newparish office, his home, and from five Newparishes to which he had been assigned. Presbyter Diaz deposited checks made out to different Newparishes and deposited them into his personal account. More bags are yet to be found. The presbyter has admitted to everything.
Newbishop Vasa stated that he regarded the embezzling presbyter as a "close confidente." Other corrupt Newclergy also regarded him highly. Meanwhile, the presbyter is being investigated for grand larceny while he is disabled from the car accident with a broken leg. [Some information for this Commentary was contributed by the Santa Rosa, California Press Democrat.]
True Catholics, were Newbishop Vasa and his Newclergy in on the embezzlement? Or were they just the embezzling presbyter's "useful idiots"? Vasa should immediately abdicate for his grossly bad judgment in employing and not auditing the presbyter. Newparishioners were duped, and their hard-earned money stolen from them by an agent of the corrupt Newchurch of the New Order. If they were moral people, every one of the Newparishioners should walk out of Newchurch and never come back. Newchurch is not Catholic; moreover, it is literally a "den of thieves."
---
July 27, 2019 - Our Lady's Saturday
Simple Feast
Francis-Bergoglio Is Going Full Bore against Celibacy
And for "Deaconesses," "Priestesses," and "Episcopettes"
From: Petrus Romanus, the TRADITIO Network's Roman Correspondent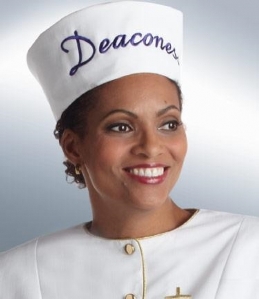 We Know for Sure Now that Newchurch Plans to End Celibacy
Gradually for Newchurch Presbyters, Starting in October 2019
Next on the Newchurch Programme Are "Deaconesses"
Followed in Short Order by "Priestesses" and "Episcopettes"
The Final Step Will Be Fake Marriages of Sexual Inverts
Francis-Bergoglio continues to replace bishops at a robust rate during this month of July 2019, when Newvatican used to shut down completely. Bergoglio is moving to replace all the Neocon Newchurch prelates so as to ensure the take-over of Newchurch by his party of pagans.
We know for sure now that Newchurch plans to end celibacy gradually for Newchurch presbyters, starting in October 2019. The Amazon and that spiritual desert, Germany, will ordain married presbyters first. The Pacific Islands and Northern Canada are also said to be on that risible agenda. After that, it will spread like wildfire all over the Western countries and thence, over time, to the rest of the world, where Newchurch can take its time to impose the inevitable.
The time it takes to implement this programme will give Newrome the opportunity to soften up the Neocon opposition for the next stage, which is fake Newchurch "deaconesses," followed in short order by fake Newchurch pagan priestesses and fake Newchurch episcopettes. Finally, Newchurch will go for the fake marriages of sexual inverts. Keep in mind that, even in Anglicanism, this process has not been completed. The Anglicans have it in the Episcopal "Church" of Scotland, but not yet in the "Church" of England or even the Anglican "Church" of Canada, where the proposal for it was narrowly defeated in early July 2019.
These things take time, but they are coming. Newchurch will just keep having votes for these disgusting abominations until Newchurch gets what it wants. By dragging out implementation of these abominations, the pagan party in Newchurch prevents a schism. Newchurch is the world's largest and richest real-estate empire and nothing more. It is certainly not a spiritual organization. The trick is to keep the Leftist ideologues breathless while they take their time to implement their anti-Christ policies. This gives the Neocons the time they need gradually to come to accept tomorrow what is unacceptable to them today. It's inevitable. >
This is the organization with which Bernie Fellay and his puppet, Davide Pagliarani, leaders of the Neo-SSPX are negotiating. They have betrayed Archbishop Lefebvre; they have betrayed Jesus Christ. But, by taking their time, they give their own moderates time to accommodate themselves to a deal that will look good at first, but soon sour. As for real Neo-SSPX traditionalists, how many of them can there be? Few real traditionalists would have stayed in the Neo-SSPX by this point. One would need to be willfully blind not to see what Fellay is hatching.
What are left withare the courageous independent traditional priests, bishops, and small groups of these. The shepherds have been struck. and the sheep are scattered. But miracles are easy for God.
---
JULY 26, 2019 - ST. ANNE, MOTHER OF THE BLESSED VIRGIN MARY
DOUBLE OF THE SECOND CLASS
Poland Takes on Newchurch Paedophile Crimes
There Will Be an Investigating Commission because of Don't Tell Anyone Documentary
From: The TRADITIO Fathers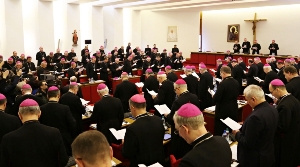 The Newchurch Bishops of Once-Catholic Poland
Are Now Going to Be Held Responsible for Their Criminal Acts
And Their Cover-up of Criminal Acts of Paedophilia
The Documentary Don't Tell Anyone
Now Seen by over Half of Poland
Has Shocked the Country to Its Foundation
There Is Continuing Talk of De-con-anizing JPII-Wojtyla
The Polish "Unsaint"
Who Did Nothing to Stop the Rampant Crimes
More than 90 per cent of Poles identify themselves as "Catholics," i.e., Newchurchers. Catholicism, now Newchurch, are for them part of their national identity. Even in the face of national investigations constituted in Ireland, the United States, and neighboring Germany, Poland has been slow to act against Newchurch.
All that changed with the documentary, Don't Tell Anyone, which exposed rampant corruption in Newchurch, which has now been viewed by a majority of Poles. The film documents the most grotesque crimes against children by Newchurch clergy, which even the once-vaunted "Unsaint" JPII-Wojtyla did nothing to stop. Eighty-seven per cent of Poles say that they no longer respect the "authority" of Newchurch. The victims say that they were "manipulated," sometimes in the context of fake Newchurch "sacraments."
A bill will be heard in the Polish parliament to enable victims to file claims against Newchurch clergy for past paedophile crimes. The bill will also create an independent national investigatory commission, modelled on those set up in Ireland, Germany and Australia. The Royal Commission in Australia notably bagged Francis-Bergoglio's Chief Financial Officer, Newcardinal George Pell. [Some information for this Commentary was contributed by BBC News.]
True Catholics, Newchurch now understands that the Poles are going to make its bishops responsible for their criminal acts and their cover-up of criminal acts of paedophilia. Thus, the once-Catholic country, which once boasted of a Polish Newpope has turned on Newchurch, just as occurred in once-Catholic Ireland, and other countries. No wonder there is talk now of de-con-anizing the "Unsaint" JPII-Wojtyla.
---
JULY 25, 2019 - ST. JAMES THE GREATER
DOUBLE FEAST OF THE SECOND CLASS
Josef Ratzinger and Jorge Bergoglio Are Revealed to Have Been in Cahoots
Ratzinger Wanted Bergoglio to Run Newvatican for Him while He Was Newpope
From: The TRADITIO Fathers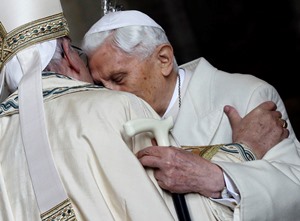 New Information Reveals that Benedict-Ratzinger (Right)
Was Actually Kissing up to the Marxist/Modernist Jorge Bergoglio
From the Day Ratzinger Was Elected Newpope in 2005
Ratzinger Wanted Bergoglio to Be His No. 2 as Secretary of State
To Run Newvatican for Him according to Modernist Principles
Bergoglio Turned down the Assignment so as Not to Lose the Newpapacy
In the Newpapal Election of 2013, Called when the Paedophile Holocaust
Ejected Ratzinger from the Newpapcy
Ratzinger Was Never a "Traditionalist," but a Modernist Like Bergoglio
"Abdicationists" -- those that ignorantly believe that the Second Paedophile Newpope, Benedict Ratzinger, is still the Newpope of Newchurch, have been dealt yet another blow to their ignorant and erroneous theory. Now a colleague of Jorge Bergoglio in Buenos Aires, Argentina, where Bergoglio was Newarchbishop from 1998 to 2013, when he was elected and became the Third Paedophile Newpope, has revealed that Ratzinger and Bergoglio were in cahoots all along.
In a July 22, 2019, interview, presbyter Fernando Miguens, who knew Jorge Bergoglio intimately when he was Newarchbishop of Buenos Aires, revealed that Benedict-Ratzinger, far from disliking Jorge Bergoglio's heretical Modernism -- after all, Ratzinger himself was a leader of the Modernists at the Vatican II Anti-council (1962-1965) and has remained to this day a Modernist heretic himself -- actually wanted to appoint the Marxist/Modernist Bergoglio as his Secretary of State to run the Newvatican for him according to Modernist principles. Ratzinger was elected Newpope in 2005 and at that time wanted Bergoglio to be his No. 2 as Secretary of State. Ratzinger was quoted as saying that he wanted as his No. 2 "someone who had the nails of a guitar player." Ironically, Ratzinger hated rock music.
Why did Bergoglio turn down the offer to be Benedict-Ratzinger's No. 2? Apparently, he had higher ambitions. In just eight years Ratzinger abdicated because the Italian press told him that if he didn't abdicate, the press would publish the documents provided by his long-time aide, Paolo Gabriele, that proved Ratzinger was personally involved in Newchurch's Great Sex and Embezzlement Holocaust. Gabriele, scandalized by Ratzinger's complicity, had copied the incriminating documents in secret and turned them over to the press. In 2013 Benedict-Ratzinger abdicated, and the Francis-Bergoglio became No. 1 at Newchurch without having to risk unpopularity serving as Ratzinger's No. 2. [Some information for this Commentary was contributed by the Crux News Service.]
True Catholics, it was also revealed by Jorge Bergoglio's colleague in Buenos Aires that, contrary to the abdicationists' fable, Ratzinger and Bergoglio were quite intimate. Bergoglio could walk into Benedict-Ratzinger's office without an appointment, and Ratzinger telephoned him regularly for advice. So, the abdicationists' notion that Ratzinger is a "traditionalist" and that Bergoglio is the Modernist is pure fake news. The two of them are in fact peas in the same heretical Modernist pod, with Bergoglio being a Marxist in addition, whereas Ratzinger leans toward the Nazi side, starting with his service in the Hitlerjugend.
---
July 24, 2019 - Vigil of St. James
After Francis-Bergoglio's Sellout to Communist China
Newchurchers Must Swear Allegiance to the Atheist Government
From: The TRADITIO Fathers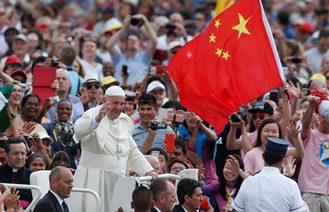 The Marxist Francis-Bergoglio Has Sold out His Newchurch
To Communist China in a Secret Deal
Instead of Getting Better, Things Have Gotten Far Worse
For Newchurchers in Red China
Religious Statues Are Being Smashed
Churches Are Being Razed to the Ground
Bergoglio Has Directed His Newchurch Clergy
To Swear Allegiance to the Chinese Communists
And His Newclergy Cannot Recognize Him as Newpope
Recently Communist China's attempted takeover of Hong Kong has been in the press, but little has been heard about China's outright persecution of Newchurch on the mainland after Francis-Bergoglio's secret September 2018 deal to sell out Newchurch there, which has been roundly condemned around the world, not least by Newcardinal Joseph Zen, of Hong Kong. Saints' statues are being smashed, churches are being razed to the ground, and anyone under 18 is prohibited from attending a church or even receiving religious instruction at home.
Curiously, this outright persecution of Newchurch occurred after Francis-Bergoglio's sellout deal. Newchurchers in Communist China were supposed to be better off after the deal, but just the opposite has occurred. Yet Bergoglio has now issued orders, so-called "Pastoral Guidlines of the Holy See [Sic] concerning the Civil Registration of Clergy in China") to Newchurch presbyters and bishops in China to sign oaths that they will conform to atheistic state policies. Ironically, among those policies that must be sworn to is one stating that Newclergy in China "cannot be governed by any entity outside, including Newvatican"! Nor can Newclergy accept money from outside China or engage in missionary work. The latter is not a problem because Bergoglio has already shut down missionary work -- what he calls "proselytizing" -- worldwide. [Some information for this Commentary was contributed by the U.K. Catholic Herald.]
True Catholics, at this point all Newchurch clergy should simply leave Communist China, abaondon Francis-Bergoglio, find a wife, and get a job doing something useful. They are not real clergy, after all. They have never been ordained, and their vow of celibacy is null and void. Newchurch is not the Catholic Church, so no tears need be shed, except for the poor Newchurch fools did exhibit a great deal of courage in resisting the Communist Chinese atheists.
---
July 23, 2019 - St. Apollinaris, Bishop & Martyr
Double Feast
A Reader Asks: "Where Did This Phony Notion of Married
'Lay Deacons' in Newchurch Come From?"
From: Gary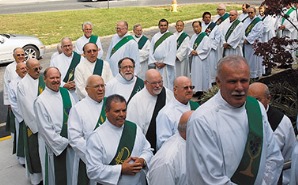 "Lay Deacons" Are Proliferating Like Vermin in Newchurch
With Newchurch's Invalid Mess
And Unordained Presbyters instead of Priests
Very Few Men Want to Waste Their Time
To Become Protestantized Presbyter-ministers
In the True Catholic Church
Deacons Are Ordained and Celibate
And Go on to Be Ordained as Priests
In Newchurch "Lay Deacons"
Are Merely "Installed" and Not Celibate
To Serve an Altar that Is a Dinner Table and a Mess
That Is Worse than Martin Luther's Lutheran Service
Dear TRADITIO Fathers:
I have a married nephew who is taking the five-year course to become a "lay deacon." I have always understood that in the true Catholic Church a deacon cannot be married, but takes a vow of celibacy like a priest. It seems that "lay deacons" are now overrunning Newchurch. Where did this phony notion of married "lay deacons" in Newchurch come from?
The TRADITIO Fathers Reply.
Like most of the anti-Catholic practices that one sees in Newchurch, it came from the poisoned fruit of the heretical Vatican II Anti-council (1962-1965), whose purpose was to destroy the Catholic Church and replace it with a fake "Newchurch of the New Order" based on the heresy of Modernism and secularism.
With an invalid priesthood since 1968 (when the New Ordinal replaced priests with Protestantized presbyter-ministers) and with an invalid Mess since 1969 (when the Protestantized "New Mess" replaced the Catholic Mass), very few men would be interested in going through a New Order seminary to become a presbyter-minister, so Newchurch in 1967 got ready the fabricated category of so-called married "lay deacons."
Traditionally, the Sacrament of Holy Orders consists of four Minor Orders (porter, lector, exorcist, acolyte) of celibate men and three Major Orders (subdeacon, deacon, priest). Priests have received all of the previous six Holy Orders. Once a man enters the first Major Order, the subdiaconate, he vows perpetual celibacy. Newchurch's married "lay deacons" are not true deacons; they are simply unordained servants of the false Newchurch of the New Order order, "installed" after a period of being taught the heresies of the New Order. Newchurch's next anti-Catholic step will be the installation of "lay deaconnesses."
It is sad that your nephew has wasted so much time in a Newchuch fraud that is certainly not Catholic.
---
July 22, 2019 - St. Mary Magdalen, Penitent
Double Feast
Newbishop Who Embezzled Ten Million Dollars and Bribed Newcardinals
Is Given a Mere Slap on the Hand by Francis-Bergoglio; No Restitution Required
From: The TRADITIO Fathers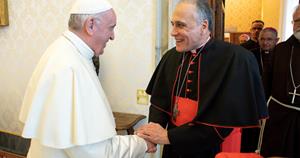 Michael Bransfield (Right)
Newbishop of Wheeling-Charleston, West Virginia
Schmoozes with His Accomplice
The Third Paedophile Newpope, Francis-Bergoglio
Bergoglio Quietly Let Bransfield off with Minor Penalties
But the Attorney General of West Virginia Hasn't
Bransfield, His Auxiliary Bishops, and His Entire Newdiocese
Have Been Charged by the West Virginia Attorney General
For Knowingly Employing Known Paedophile Presbyters
To Teach at Newdiocesan Schools and Camps
Newbishop Michael Bransfield, of Wheeling, West Virginia, one of the poorest Newdioceses in the United States, embezzled his own Newchurchers' money to pay hush-money to Newcardinals and Newbishops in the corrupt Newchurch in the United States and Newvatican. Bransfield also committed sex crimes against young men who worked for him in his chancery office. You would have thought that Bransfield's sex and money crimes, which are among the worst ever committed in Newchurch, would have been severely punished. Yet Francis-Bergoglio, who has already compiled a record of complicity in sex crimes by covering them up and knowingly letting paedophiles and sex criminals run rampant and unpunished in his Newchurch, gave Bransfield a mere slap on the wrist.
Francis-Bergoglio should have stripped Bransfield of every ecclesiastical office and benefice and turned him over to U.S. authorities to imprison him for the rest of his life. But Bergoglio is a hypocrite and let him off by requiring him only to live outside his Newdiocese, not say the New Order Mess in public (which is a fake Mess anyway), and "make personal amends for some of the harms he caused" -- mind you, not all of the harms he caused. Moreover, the minor penalty in this infamous case was announced in Newvatican's "news dump" on the afternoon of Friday, July 19, timed to ensure minimum publicity for this Newchurch criminal.
To keep his multitudinous crimes quiet, Newbishop Bransfield, according to Newarchbishop William Lori, Bergoglio's temporary administrator of the Newdiocese, paid out what amounted to hush-money, 350,000 dollars with 565 checks in cash bribes of as much as 15,000 dollars, to more than a dozen Newcardinals. In addition, Bransfield lived the life of a king on the backs of his Newchurchers, some of the poorest in the United States:
2,400,000 dollars on travel, much of it personal, in chartered jets and for luxury hotels
1,000 dollars per month on alcohol
4,600,000 dollars for his new episcopal palace
182,000 dollars on daily fresh flowers for himself
1,500 dollars each for two invalid Novus Ordo Messes
The corrupt Newchurch prelates who took these bribes included:
Donald Wuerl, Newcardinal of Washington, DC, who was removed from his archbishopric on account of sex crimes
Timothy Dolan, Newcardinal of New York, New York
Raymond Burke, a Newcardinal who claims to be "traditional" to extort money from clueless Neocon Newchurchers
Bernard Law, Newcardinal of Boston, Massachusetts, deposed for his complicity in paedophile crimes
William Lori, Newarchbishop of Baltimore, Maryland
Carlo Maria Vigano, Newarchbishop-Ambassador (Nuncio) to the United States
Kevin Farrell, a Newcardinal Prefect in Francis-Bergoglio's Newvatican
Even if Francis-Bergoglio let the criminal Bransfield off, the Attorney General of West Virginia has decidedly naught. He has charged in a large civil lawsuit under the Consumer Protection Fraud Act, Newbishop Bransfield, two auxiliary Newbishops, and their Newdiocese with knowingly employing paedophiles and with covering up the sex crimes of their presbyters against children at their Newdiocesan schools and camps. Some of the cases involved include:
The Newdiocese and its Newbishops hired a known pedophile, who had plead guilty to statutory rape, to teach at a Newdiocesan school.
The Newdiocese and its Newbishops covered up the sex crimes of its presbyters against children.
The Newdiocese and its Newbishops knowingly employed admitted sex criminals and presbyters credibly accused of sex crimes against children.
The Newdiocese and its Newbishops reassigned a self-admitted paedophile presbyter to a Newchurch elementary school.
The Newdiocese on paper required employees to consent to backgroundchecks, but the Newdiocese did not actually conduct the checks, even of presbyter applicants who admitted to paedophile accusations against them.
The Newbishop "installed" (under the invalid New Ordinal of 1968) to the Novus Ordo presbyterate a credibly-accused paedophile and later named him director of a children's camp. He was eventually imprisoned for sex crimes there. [Some information for this Commentary was contributed by Catholic World News.}
True Catholics, there is no justice in Francis-Bergoglio's corrupt Newchurch. This heretic and perverted Newpope essentially lets off the passel of paedophiles, embezzlers, and fraudsters that constitute his Newhierarchy. Bergoglio has often pled ignorance, but the Associated Press investigative reports have documented, under his own signature in many cases, that his protestations are lies. No wonder in the United States and around the world Newchurchers are refusing to contribute any more money to the Newchurch collection plate and have forever walked out of its phony New Order Messes.
---
March 24, 2019 - Third Sunday of Lent
Semidouble Sunday of the First Class
Violent European Invaders, Egged on by Francis-Bergoglio
Attack Salzburg's Newfranciscan Monastery; Newmonks Call It Quits
From: The TRADITIO Fathers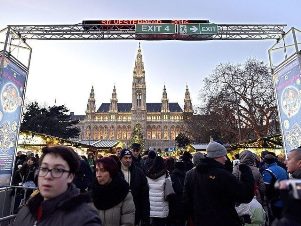 On New Year's Eve Salzburg Cathedral Was Violently Attacked
By Foreign Invaders from the Middle East Raping Women
And Attacking Salzburgers and Tourists in Front of the Cathedral
Now the Invaders Have Attacked a Newfranciscan Monastery There
And Assaulted One of Its Presbyters, Who Was Handing out Food
The Newfranciscans Have Called It Quits
Giving "Charity" to the Ungrateful Violent Invaders
Many Newchurch Leaders in Europe Have Broken with Francis-Bergoglio
On His Open-door Policy to Let Violent Invaders into Europe
Francis-Bergoglio has shot himself in the foot with his pro-invader policy that encourages European countries to admit invaders (aka illegal "migrants" or "asylum seekers") from hostile Middle East countries. This false "charity" has led to terrorist attacks, rape of women in front of the Cologne Cathedral, and a general degradation of European cities. In many cases, these invaders are no better than the vandals that sacked Rome in A.D. 455.

On March 17, 2019, Novus Ordo Franciscan monks from a monastery in Salzburg, Austria, which was assisting the invaders with food donations, were attacked. The invaders have started violent fights in front of Newchurch monastery. One of the Newmonks was personally attacked, kicked, and hit on the head. On another occasion one of the Newmonks' associates was assaulted and his tooth knocked out by one of the invaders. [Some information for this Commentary was contributed by Kronung Zeitung.]

True Catholics, Newchurch officials in the invaded European countries have publicly broken with Francis-Bergoglio on this issue. Of course, Bergoglio has no fears from violent invaders. He has the entire Swiss Guard to protect him. Several prominent Newcardinals, and many Newchurch laymen and presbyters have rejected Bergoglio's policy outright after bad experiences. Even the "charitable" Newchurch monks have learned their lesson for supporting the New Vandals. They have cut off service from their food kitchen service.

Catholic World News
---
July 21, 2019 - Sixth Sunday after Pentecost
Semidouble Sunday
Does Benedict-Ratzinger Have a "Secret"?
New Book by Italian Journalist Socci Says So

From: The TRADITIO Fathers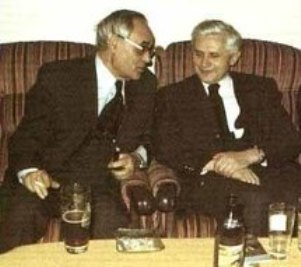 Could the Man on the Right Still Be "Pope"
As the Ultra-conservative Newchurchers Say?
Here Was Fr. Josef Ratzinger at the Vatican II Anti-council
Chatting in a Protestant Business Suit
With His Personal Theological Consultant
Karl Rahner (Left), Who Was Removed from His Teaching Position
And Silenced by the Holy Office for Suspicion of Heresy
The Newpopes, Who All Adhere to the Heresies of Vatican II
Many of Them Introduced by Ratzinger and Rahner
Cannot Be Considered Legitimate
Under the Principles Laid Down by, Among Others
St. Robert Bellarmine, Doctor of the Church
Italian author, journalist, and Newvaticanologist Antonio Socci brought out in 2019 his new book, Il Segreto di Benedict XVI: Perché è ancora papa, or, The Secret of Benedict XV: Why He Is Still Pope [Sic]. This notion must be one of the most mindless notions being hawked about these days by the Ignoscenti, that Benedict-Ratzinger is still pope, well, Newpope. This "urban myth" arises out of the frustrations that ultra-conservative Newchurchers have with Francis-Bergoglio, who has shown himself to be a Modernist heretic, so they are desperate to find an out. Ironically, their "favorite son" Ratzinger is to this day just as committed an adherent of the Modernist heresy, so strongly condemned by Pope Pius IX and every pope since then up to the Vatican II Anti-council (1962-1965), as is Francis-Bergoglio.
Ultra-conservative Newchurchers seem to be fooled by Ratzinger's more conservative haberdasherie -- however, it is not the traditional papal vesture by a long shot. In fact, previous abdicated popes were hustled off to silence in a monastic cell and certainly didn't prance around as if they were still the pope. Ratzinger was a, if not the, Modernist heretic leader at the Vatican II Anti-council. His coterie was a passel of heretics, like his bosom buddy the infamous Karl Rahner, who had been dismissed from his teaching position and silenced by the Holy Office for suspicion of heresy.
Ratzinger, Rahner, and their circle were responsible for injecting into the documents of the Anti-council almost every heretical notion of the past and present possible. Ratzinger's chief personal victory at the Anti-council was to introduce the Oecumenical Heresy: "We all worship the same god(s); All religions are equally true," No wonder, even as Newpope, Ratzinger couldn't pass up lighting menorahs at Jewish services, perhaps trying to dispel the fact that he had been an active member of the Hitlerjugend.
The notion that Ratzinger as Newpope was a traditionalist is pure myth. Ultra-conservatives like the Latin Mess of 1962. But whose Mess was that? Pope John XXIII's, whom the same ultra-conservatives hate. As to the Motu Proprio Summorum pontificum of 2007 that supposedly "permitted" the "Latin Mass," it wasn't the unadulterated Traditional Latin Mass of 1950 and before, but the Freemason presbyter Hannibal Bugnini's Half New Order Mess of 1962, which led directly to the full-blown invalid Novus Ordo Mess of 1969. Moreover, It is a fact that Ratzinger never once as Newpope simulated his own 1962 Mess. No, not once. He perpetrated a fraud on the ultra-conservatives.
St. Robert Bellarmine (1542-1621), Doctor of the Church, who propounded more theology on heretic popes than any other Doctor -- he lived in that heretical time known as the Protestant Revolution -- said it in simple and clear Latin: "Papa hereticus ipso facto depositus est," An heretical pope is by that fact deposed. He clearly wrote about the possibility of an individual pope falling into heresy and thereby losing the authority of the Catholic papacy. If the learned Saint had lived another four centuries, he would have seen his theological speculations confirmed in reality.
---
July 20, 2019 - St. Jerome Emilian, Confessor
Double Feast
Newcardinal of Doctrine Calls Francis-Bergoglio a Heretic
For Trying to Change Catholic Doctrine Like "Some Kind of Putty"
From: The TRADITIO Fathers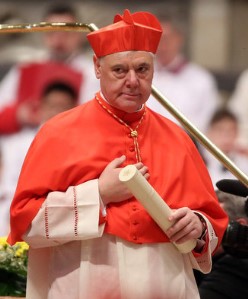 With This Document I Call Francis-Bergoglio a Heretic
Newcardinal Gerhard Mueller, Prefect Emeritus
Of the Congregation for the Doctrine of the [New Order] Faith
Issued a Stinging Rejection and Denunciation of Bergoglio
And His "Working Document" for the Amazon Synod
Mueller Reminds Bergoglio that He Is Not All Powerful
That by Dogma, Catholic Doctrine Is Based Solely
On Sacred Scripture and Sacred Tradition
No Pope Can Change Doctrine Like "Some Kind of Putty"
On July 16, 2019, Newcardinal Gerhard Muller, Prefect Emeritus of the Congregation for the Doctrine of the [New Order] Faith issued a stinging rejection and denunciation Francis-Bergoglio's Instrumentum Labors, or "working document," for the Amazon Synod at Newrome in October 2019.
Newcardinal Muller condemns as essentially heretical what in the document he terms "a radical U-turn" from the traditional interpretation of Catholic doctrine. He reminds Francis-Bergoglio that Christ did not put his Church into the hands of the pope and bishops as "some kind of putty," to be fashioned as they want, with secular goals thrown in too, like "global warming" and "illegal immigation."
No, Newcardinal Muller says. By dogma, Catholic doctrine is based solely on Sacred Scripture and Sacred Tradition; there are no new sources of revelation, and can never be. Not even a pope has the power to change Our Lord Jesus Christ's teaching. To hold otherwise (as Bergoglio apparently does) is heretical. [Some information for this Commentary was contributed by the Catholic News Agency.]
True Catholics, Newcardinal Muller had to give Francis-Bergoglio a make-up course in basic Catholic doctrine. At one time, any child of seven years would have known the basics of what the Newcardinal was saying. But now we even have a Newpope who is ignorant of, or rejects outright, basic Catholic doctrine. So far has Newchurch and its Newpopes fallen, "and great was the fall thereof" (Matthew 7:27/DRV).
---
July 19, 2019 - St. Vincent de Paul, Confessor
Double Feast
Was the Late Presbyter Gruner and His Fatima Crusade Traditional?
In Fact, He Remained a Member of the Heretical Newchurch of the New Order to the End
From: Ron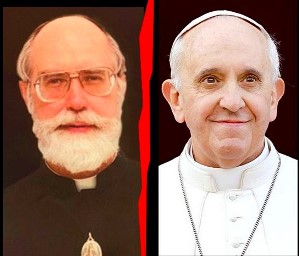 Presbyter Nicholas Gruner (Left) Remained Attached
And even Deepened his Attachment to the Newchurch
Of the Marxist/Modernist Newpope Francis-Bergoglio (Right)
And His Predecessor Newpopes
Unfortunately, Presbyter Gruner Bought Into
The Exaggerated and unCatholic Version of Fatima
Which Proclaimed the Heresy
That "Fatima" Is Equal in Authority to Sacred Scripture
Dear TRADITIO Fathers:
After the death of presbyter Nicholas Gruner in 2015, his "Fatima Crusade" has been carried on by others. I have always been uncertain about the status of Gruner and his crusade. I notice that the organization is now including the names of post-Vatican II Newsaints in its litanies. Was presbyter Gruner and those that succeed him traditionally Catholic or not?
The TRADITIO Fathers Reply.
The late presbyter Gruner remained a member of the Newchurch of the New Order to the end. He even fought to remain in it when Newchurch wanted to suspend him. Contrast Gruner's attitude to that of the courageous Archbishop Lefebvre, who, when purportedly "excommunicated" from Newchurch in 1988, essentially said, Fine; Newchurch is not Catholic anyway, and I want no part of it.
Moreover, it seemed that presbyter Gruner became cozier and cozier with the New Order heresy at the end, whereas at the beginning he railed against the phony "New Mess." That topic was hardly mentioned in the last editions of his Fatima Crusader. Thus, his ministry was tainted with the Newchurch heresy. Although he seems at first to have had a relatively sincere attachment to Fatima, he and his Fatima Crusade later became cozier and cozier with a brood of Newchurch cardinals, bishops, and presbyters, who became embroiled in Newchurch's Great Sex & Embezzlement Holocaust.
"Fatima" is an issue fraught with gross misconceptions and even heresies. As a private devotion, Fatima is one thing, and that is how it was regarded at first, as well as being subordinate to established Marian devotions such as those to Our Lady of Lourdes and Our Lady of Guadalupe. But after the heretical Vatican II Anti-council (1962-1965), Fatima took on a life of its own, obsessed with unCatholic notions about "end times" and "secrets." Shortly after the Anti-council, long-standing devotions to Our Lord, such as the Sacred Heart, the Precious Blood, the Holy Name, Corpus Christi, and Christ the King, were being displaced by an exaggerated "New Age" exaltation of Fatima above the dogmatic teaching of the Church. Moreover, at least by implication, Fatima extremists were making the Blessed Virgin Mary into a goddess -- and that is the outright heresy of idolatry: elevating a creature or object above God Himself, a grave sin against the First Commandment of God.
Unfortunately, presbyter Gruner also bought into this exaggerated and unCatholic version of Fatima and wrote that "Fatima" was equal in authority to Sacred Scripture. Such a belief is outright heresy, as no apparition after the Apostolic period has any part in the Public Revelation of the Church, which dogmatically consists only of Sacred Scripture ("the Bible") and Sacred Tradition (teaching handed down from Christ's Apostles).
For further information on this topic, click on FAQ10: How Do You Explain These Traditional Catholic Beliefs? in the TRADITIO Network's Library of Files (FAQs and Traditional Apologetics) department, in the section "Fatima."
---
July 18, 2019 - St. Camillus de Lellis, Confessor
Double Feast
A Reader Asks: "What Is the Traditional Length
Of the Eucharistic Fast before Receiving Holy Communion?"
From: John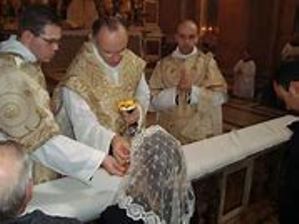 Because of the Heretical Vatican II Anti-Council (1962-1965)
And the Freemason Bugnini Commission's
Anti-Catholic "Reforms" of the 1950s
Even Many Traditional Catholics Are Confused
About What the Traditional Catholic
And Apostolic Eucharistic Fast Is
A Traditional Catholic Must Be Careful
When Consulting Sources
Even Those that May Slap "Traditional" on the Cover
Three Words Particularly to Beware:
"New," "Revised," "Reprinted"
Dear TRADITIO Fathers:
What is the traditional length of the Eucharistic fast before receiving Holy Communion? I've heard and read many different answers.
The TRADITIO Fathers Reply.
The traditional Eucharistic fast from Apostolic times has been since midnight, the beginning of the liturgical day. If you assist at an evening Mass, as on a Holyday of Obligation, the fast prescribed is four hours. If you travel some distance to assist at a fully Traditional Latin Mass or have medical issues. you should consult your traditional Catholic confessor for a dispensation.
The Novus Ordo Mess, which is not a Mass and does not use a valid priesthood or Communion, has a "joke" fast of 15 minutes from before reception of the cookie and Kool-Aid, not even from before the start of the Mess. In 1953, a three-hour "mini" fast was posited when the Freemason presbyter Hannibal Bugnini and his "Reform" Commission started to change the Mass and abolish Catholic practices. However, his changes are so tainted with the heresy of Modernism that they should be disregarded.
This question confirms how careful a traditional Catholic must be when consulting sources, even those that may slap "traditional" on the cover. It is safest to rely on works that were published before 1950, except in the case of later authors who are explicitly traditional. In cases of unknown authors, consult your traditional Catholic priest for guidance. Many books written after 1950 are infected with the errors of Modernism or of Papolatry (idolatry pertaining to the pope, contrary to the Roman Catholic dogma of Vatican Council I) and should be studiously avoided by traditional Catholics, as they contain particularly gross errors and even deliberate disinformation.
Three words particularly to beware: "new," "revised," "reprinted." "New" represents a product associated with the heretical Newchurch (think of "New" Mess, "New" Sacraments, "New" Doctrine, "New" Morality, "New" Bible, "New" Catechism, "New" Canon Law).
Also, one must be careful of books originally published before the heretical Vatican II Anti-council (1962-1965), but "reprinted" afterwards. Unless these are photographic reproductions of pre-Vatican II, they are not faithful reprints, but newly re-typeset editions that are "revised" to Newchurch specifications. Yet most editors do not clearly mark these editions as such.
That is why we give a prudent rule of thumb: if a book is "reprinted," it can be "revised" or "updated" to heretical post-Conciliar practices and beliefs. Sometimes you can discover this information on the reverse title page or in a new preface or in the end-matter. Many times you can't discover this information because the Novus Ordo and even "Indult" presses don't want you to know that they have tampered with the original, traditional text. When these books are re-titled with Novus Ordo terminology, such as "Extraordinary Rite" or "Mass of 1962," you can be certain that the content has been "revised" to post-Vatican II heretical standards.
For further information on this topic, click on FAQ05: What Traditional Catholic Resources Do You Recommend?" in the TRADITIO Network's Library of Files (FAQs and Traditional Apologetics) department.
---
July 17, 2019 - St. Alexius, Confessor
Semidouble Feast
U.S. Conference of Catholic [Sic] Bishops Funds Sodomite Group
Promoting Homosexuality and "Transgenderism" to Newchurch Children
From: The TRADITIO Fathers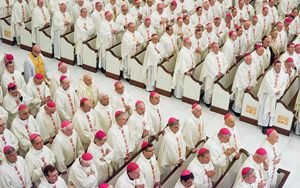 The U.S. Conference of Catholic Bishops Has Conspired
To Fund the Newjesuital Ignatian Family Teach-in
That Promotes Homosexuality and "Transgenderism"
To Newchurch Children
The Newbishops Purloined Almost One Million Dollars
From Newparish Collections for This Perverted Purpose
The Newbishops Defrauded Their Clueless Newchurchers
By Not Disclosing to Them
That Their Money Is Going to Support Sodomy
The U.S. Conference of Catholic [Sic] Bishops has granted three quarters of a million dollars to an organization that promotes sodomy and other grave sins. The organization is called the Ignatian Solidarity Network, which is associated with the Marxist/Modernist, even violent, Newjesuits. The ISN operates a programme called the "Ignatian Family Teach-in" to promote homosexuality and "trangenderism" to Newchurch children.
The U.S. Newbishops have purloined the dirty money from Newparish collections. The real question is whether the Newbishops have provided proper disclosure to their Newchurchers in the pews that their money is going to support sodomy. Obviously not. Newchurchers are again being defrauded, kept in the dark about how their contributions are being spent. In the same way, Newchurch has lied about its involvement in paedophile crimes, suborning its Newclergy in their perverted acts and not coming clean with its Newchurchers. In fact, Newchurch has covertly placed paedophile presbyters in its Newparishes without notifying the Newparishioners who are thereby endangered. [Some information for this Commentary was contributed by LS News.]
True Catholics, there is no doubt that with the election of Francis-Bergoglio in particular Newchurch has become "gay" friendly. Whatever weasel-words Newchurch officials use to cover up the truth -- and aren't they skilled in the art of the cover-up? -- they are succeeding in getting unnatural sexual perversion under the Newchurch tent and are making mostly children pay the price. Many Newparishes are now openly supporting sodomy and sodomite presbyters, Newbishops, and Newcardinals. Why should anyone have been surprised to hear that Newcardinal McCarrick, of the United States' capital city, was an out-and-out pervert, preying on children and young men? All this is Standard Operating Procedure for Newchurch and its corrupt officials. All one can reasonably do is: get out!
---
July 16, 2019 - Our Lady of Mount Carmel
Double Major
Italians Flood Newspaper with Criticism of Francis-Bergoglio's Leftist Teaching
And Praise for Their Conservative Interior Minister, Who Advocates the Rosary
From: The TRADITIO Fathers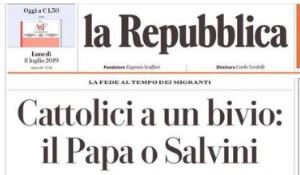 The Influential Italian Daily La Repubblica
Headlined Its July 8, 2019, Issue
"Catholics at a Crossroads: The Pope or Salvini?"
Newpope Francis-Bergoglio Is a Marxist/Modernist
Salvini Is Italy's Conservative Interior Minister
Who Openly Proclaims Himself a Catholic
And Prays the Rosary with the People at His Rallies
Many Italians Flooded the Paper with Criticism of Bergoglio
A Leftist Radical, Whose Newchurch Is Sinking
Because of Perverted Sex Crimes and His Heretical Teachings
Now Francis-Bergoglio has turned the Italian people against him. Many Italians believe that their conservative Interior Minister, Matteo Salvini, who publicly proclaims himself a Catholic and prays the Rosary with the people at His Rallies, is more "Catholic" than Newpope Francis-Bergoglio, who talks and acts like a Marxist/Modernist.
Francis-Bergoglio on July 8, 2019, gave out with a "homily" praising illegal aliens who were trying to invade Italy. The Italian daily La Repubblica issued a headline article on the subject and was inundated with responses from readers who said that Bergoglio "should spend more time talking about Jesus and other religious topics." Bergoglio has been consistently criticized for turning his Newchurch into a Leftist political organization and talking about secular matters in which he has no say.
The Italian government has recently turned strongly conservative and has been clamping down on illegal invaders into Italy. Interior Minister Matteo Salvini has earned praise from many Italians for standing up to illegal invaders. Recently, a boat of illegals tried to enter an Italian port and was denied entry. The boat captain actually rammed a police barge that was attempting to interdict the illegal entry. Salvini personally showed up at the dock and had the boat captain dragged off to jail in handcuffs and told the press that anyone who violated Italy's immigration laws would suffer a similar fate. Salvini has introduced laws that would lead to heavy penalties to that effect.
True Catholics, it is good to see a high Italian public official stand up for the law against the Leftist Francis-Bergoglio. Bergoglio, like all failed leaders, has tried to cover up the desperate situation in which his own organization has fallen and instead turn attention to secular matters. Meanwhile, in his own Newchurch, paedophile and other sex crimes on the part of his Newclergy are out of control, collections are dropping, and plummeting Mess attendance is forcing the shutdown of numerous Novus Ordo temples around the world.
---
July 15, 2019 - St. Henry II, Emperor of Germany, Confessor
Semidouble Feast
Fellay-Pagliarani's Neo-SSPX Has Abandoned Bombay
Is Closing Archbishop Lefebvrfe's Site Serving Bombay for 25 Years
From: Stephen (Bombay, India)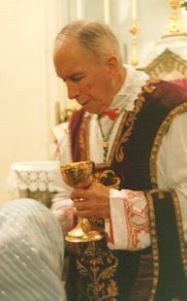 Archbishop Lefebvre Brought the True Blessed Sacrament
To the Traditional Catholics of Bombay, India
In Charity and Compassion
Now the Novus Ordo-bound Fellay-Pagliarani Neo-SSPX
Has Abandoned Serving the Bombay Area
The Archbishop Fought Local Newchurch Officials
To Establish the Seeds of a Traditional Catholic Mission
Apparently, Fellay-Pagliarani Have Acted to Spite
The Courageous Traditional Catholics There
Who Don't Want to Have Anything to Do with the Novus Ordo Sect
Dear TRADITIO Fathers:
We here in India have just heard the latest news that the Fellay-Pagliarani Neo-SSPX has abandoned serving the Bombay area, numbering over 12,000,000 souls. Archbishop Marcel Lefebvre's original traditional Catholic Society of St. Pius X (SSPX) founded the mission in Bombay, and that mission operated for some three decades before being shut down by Fellay-Pagliarani (Neo-SSPX). The reasons given to us (former!) Neo-SSPXers here appear tenuous at best.
Archbishop Lefebvre visited Bombay in the aftermath of his illegal suspension by the first Newpope of the Newchurch of the New Order, Paul VI-Montini. Despite efforts of Dr Fernandes, at one time the mayor of the city, the Archbishop was not able to celebrate Mass at any Newchurch in that city. As a result, he followed the example of the great Apostle of the Gentiles, St. Paul, and celebrated the Holy Sacrifice at the home of a prominent Catholic family in the suburb of Bandra. Thus was the seed for a future SSPX apostolate in that city planted.
Over the years, courageous traditional lay Catholics challenged the novelties and errors and heresies of Newchurch and earned the wrath of the New Order hierarchy. Archbishop Lefebvre, in charity and compassion, established the Bombay mission. But now the New Order-bound Fellay-Pagliarani New-SSPX has rejected the work of the SSPX's Founder-archbishop and, in spite against these traditional Catholics, tossed into the garbage can the quarter-century traditional Catholic mission. Fellay-Pagliarani and their Neo-SSPX are again exposed as CINOs (Catholics in Name Only).
The TRADITIO Fathers Reply.
The closing of the Bombay mission is clearly one more step down Fellay-Pagliarani's accelerating path toward a Neo-SSPX sellout to the Novus Order sect and an abandonment of traditional Catholicism. Within the last few years, the Neo-SSPX has already accepted the authority of Newchurch to control its Masses, its Confessions, and its Marriages. Now it is returning control of its once-traditional Catholic areas to Newchurch.
For all intents and purposes, the Neo-SSPX is no longer opening new Mass sites and "priories" for fear of offending the hierarchies of the Newchurch of the New Order, which it is more than desperate to join. One has to ask the question: of what further use is Fellay-Pagliariani's false organization, which has abandoned the original traditional Catholic principles of the great Archbishop? Better to wind up the Neo-SSPX and give its considerable corporate wealth to the poor. Better that than letting it fall into the hands of the false Marxist/Modernist Newchurch operating in Newrome.
---
July 14, 2019 - Fifth Sunday after Pentecost
Semidouble Sunday
Newchurch Simulates "Gay Pride" Mess
In Front of "Gay" Bar where Homosexual Riot First Occurred in 1969
From: The TRADITIO Fathers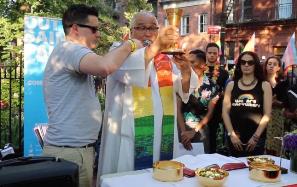 A Newchurch Presbyter Simulates
An (Invalid) Novus Ordo "Pride Mess"
Outside New York's Stonewall Inn "Gay" Bar
To Celebrate "Gay Pride" Month
Note the Blasphemous "Gay" Stole Being Used
And the "Minister" at the Grape Juice
Vested in a Sweat-stained T-shirt
New York's Newcardinal Timothy "Laughing Cow" Dolan
Refuses to Censure the Blasphemy
And Francis-Bergoglio Suborns It
In Biblical, and therefore Catholic, theology, sodomy is one of the Four Sins that Cry out to God for Retribution, but that fact doesn't stop Newchurch presbyters and bishops from simulating the invalid (fake) New Mess to support those who practice this grave sin. The latest to blaspheme was presbyter Gilbert Martinez, of New York City, who, to commemorate "Gay Pride" month, simulated a Mess on June 27, 2019, outside the Mafia-run Stonewall "gay" bar, in commemoration of the fiftieth anniversary of the riots against police that gave birth to the "gay rights" movement in violence.
Presbyter Martinez couldn't even be bothered to wear what remains of vestments in the Novus Ordo. He eschewed the Novus Ordo albo-chasuble and just threw on a rainbow "gay" stole. There was no altar, of course, just one of those rickety "eucharistic dinner tables," but plenty of "gay" rainbow flags, and homosexuals publicly smooching during the Mess. Martinez pontificated: "Pride is a moment of grace." No, it is not. It is the first of the Seven Deadly Sins. But Novus Ordo presbyters are not taught Catholic theology, so Martinez can almost be forgiven for his ignorance. [Some information for this Commentary was contributed by LS News.]
True Catholics, no censure from New York's Newcardinal Timothy "Laughing Cow" Dolan was forthcoming, nor would he reply to the press or his own irate Newchurchers. What can they do? Their Marxist/Modernist Newpope, Francis-Bergoglio, has been suborning sodomy in his Newchurch and essentially refuses to do anything about sex crimes committed by his Novus Ordo presbyters, mostly against boys and young men.
---
July 13, 2019 - St. Anacletus, Pope & Martyr
Semidouble
Francis-Bergoglio Has Suppressed Another Pseudo-traditionalist Group
Familia Christi Is Now Gone; the Fraternity of St. Peter May Be Next
From: Petrus Romanus, the TRADITIO Network's Roman Correspondent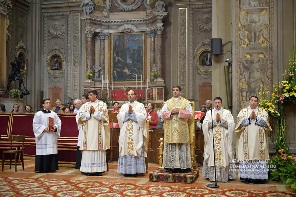 Familia Christi Is the Latest Pseudo-traditional Group
To Be Suppressed by Francis-Bergoglio
The Marxist/Modernist Newpope Is on a Tear to Expel
Every "Indult" (1962 Mess) Group in Newchurch
The Little Sisters, Trappists, Franciscans
Have Already Been Suppressed
Next in Line Is Likely to Be the Fraternity of St. Peter
And the Institute of Christ the King
Francis-Bergoglio has struck Newchurch's "Indult" (pseudo-traditionalist) groups again. On June 30, 2018, he completely shut down, suppressed, and destroyed the "Ecclesia Dei" (aka "Indult") group of presbyters of Italy known as Familia Christi. They are now gone, wiped out by another of Bergoglio's anti-traditionalist commissars. This suppression is a purely autocratic decision of Bergoglio's. No reasons have been given for the suppression. Not a word.
The presbyters of the "indult" Fraternity of St. Peter, the Institute of Christ the King Sovereign Priest, the Canons Regular of the Mother of God in France, or any one of the other thirty-some 1962/Extraordinary/Indult Mess groups under the control of the Newchurch "Ecclesia Dei" subcommission are now shaking in their boots. The subcommission was supposed to protect them, but now the subcommission's members are serving as Francis-Bergoglio's axe-men.
Who knows which "Indult" group will next get the axe? The Little Sisters of the Redeemer are gone. The Trappists of Aachen, liquidated. The Franciscans of the Immaculate, annihilated. The "Indult" groups have not even been given the option to go to the heretical Novus Ordo Mess of 1969. Even the pusillanimous "Indult" groups are too dangerous for him. They have been simply eradicated.
Fully traditional, independent Catholic priests and bishops are wondering why the Neo-SSPX's leader, Bernie Fellay, and his puppet Davide Pagliarani continue to "negotiate" with the anti-Catholic Newchurch, which is well aware that many Neo-SSPX priest-presbyters will break and run to go independent or to join independent traditional bishops. Newrome's motto seems to be: Divide et impera! But it is Bergoglio's own Newchurch that is being divided and conquered rapidly into oblivion, as the cold and hard statistics of the last years prove.
---
July 12, 2019 - Ferial Day
United Kingdom's Independent Investigation Denounces Newchurch
For Letting Its Newclergy Run Rampant Sodomizing Children
From: The TRADITIO Fathers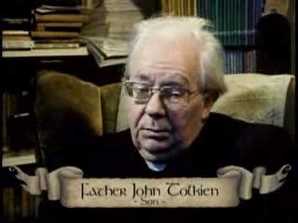 Presbyter John Tolkein, Son of the Famous J.R.R. Tolkein
Author of The Lord of the Rings
Has Been Outed by the United Kingdom's
Independent Inquiry into Child Sexual Abuse (IICSA)
As a Flagrant Paedophile, Known to Newchurch
Which Did Nothing to Prevent Children from Being Assaulted
The Inquiry Issued a Scathing Denunciation
Of Francis-Bergoglio's Newcardinal
Primate of England and Wales, Vincent Nichols
On June 20, 2019, the United Kingdom's Independent Inquiry into Child Sexual Abuse (IICSA) completed its investigation into Newchurch clergy's sex crimes against children and issued a scathing denunciation of Francis-Bergoglio's Newcardinal Primate of England and Wales, Vincent Nichols. The investigation determined that Nichols personally "was focused on protecting the [New]church's reputation over the welfare of the children."
The panel found that Newchurch had "repeatedly failed" to alert police to charges of paedophile sex crimes, going on to state that "in some cases, the lack of action by the [New]church meant that the abuser was free to continue to commit acts of child sexual abuse." Newchurch was found to have ignored charges of paedophile sex crimes for years while the criminal Newclergy were free to assault children.
One target of the panel's investigation was presbyter John Tolkien, son of the famous author of The Lord of the Rings. Tolkein was found to have been a flagrant paedophile. The panel's report found that Newchurch "was aware of the risk Father Tolkien posed to children, and yet the archdiocese took little or no steps to protect children from those risks."
Another target was presbyter James Robinson, a serial sex criminal, who was found guilty of 21 paedophile crimes. The panel found that Newchurch simply shifted him to a different Newparish and failed to report his crimes to police -- a pattern repeated again and again in country after country by Newchurch leaders from the Newpopes on down. [Some information for this Commentary was contributed by Sky News.]
True Catholics, Newchurch has beyond doubt now been established as a crime syndicate, with Newpopes and top Newchurch officials fully knowledgeable and complicit in running the enterprise. Yet Newchurchers havestill funded and obeyed these leaders like sheep. But more and more Newchurchers are fed up with the likes of JPII-Wojtyla, Benedict-Ratzinger, and Francis-Bergoglio. They are now leaving in droves and cutting off their corrupt leaders' main source of funds.
---
July 11, 2019 - St. Pius I, Pope & Martyr
Simple Feast
Neo-SSPX Imports Heretic New Order Theologian
To Indoctrinate Its Priest-presbyters in Modernist "Theology of the Body"
From: The TRADITIO Fathers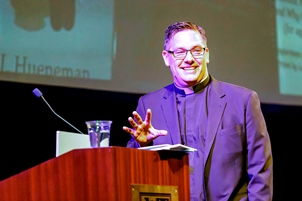 Fellay-Pagliarani Have Chosen a New Order Heretic
To Headline Their Neo-SSPX's October 2019 Conference
Presbyter Sean Kilcawley Hawks the "Unsaint" JPII-Wojtla's
"Theology of the Body," Which Is Based on Protestantism
And Holds that Good and Evil Cannot Be Objectively Known
But Can Be Changed at Any Time
No Wonder Wojtyla Became the First Paedophile Newpope
And First Presided over Newchurch's
Great Sex & Embezzlement Holocaust
Which Has Continued Unabated
More evidence that the Fellay-Pagliarani Neo-Society of St. Pius X is going Novus Ordo. The SSPX was originally a traditional Catholic organization under the leadership of traditional Archibshop Marcel Lefebvre, but when Bernie Fellay took over after the Archbishop's death, he turned the SSPX into the Neo-SSPX, whose goal was to become part of the heretical Newchurch of the New Order.
The Neo-SSPX has now announced that one of its featured speakers at its annual conference in October 2019 will come from the bowels of Modernism, presbyter Sean Kilcawley, a heretic of the New Order whom the Neo-SSPX scandalously terms "one of the best thinkers and speakers of the Catholic world." By "Catholic world" the Neo-SSPX is referring to the, in reality, anti-Catholic world of the Newchurch of the New Order.
The Modernist "Theology of the Body" was concocted the Newpope JPII-Wojtla, an heretical Unsaint of the New Order. Wojtyla was educated in the Modernist error known as "Phenomenology," whose founder was Edmund Husserl (1859-1938), a Jew who converted to the heresy of Lutheranism. At base, phenomenology teaches that morality is not objectively knowable. Therefore, one cannot say objectively that any act (murder, theft, perjury, sodomy, etc.) is immoral. Only the conventions of society (i.e., civil law) bind, and they can be changed at any time. This is the typical Protestant heresy of Subjectivism, whereas Catholicism teaches that good and evil can be objectively known and are under God's Natural Law unchangeable. For example, murder was, is, and will continue to be a moral evil.
For further information on this topic, click on FAQ10: How Do You Explain These Traditional Catholic Beliefs? in the TRADITIO Network's Library of Files (FAQs and Traditional Apologetics) department, in the section "Theology of the Body."
True Catholics, as a result of this heresy, Newpope JPII-Woytla chipped away at objective sexual morality ("the body") and laid the foundation for accepting abortion, artificial contraception, sodomy, paedophilia, and other moral evils. Francis-Bergoglio followed "phenomenology" in his 2016 document, Amoris laetitia ("The Joy of Sex"), which has been widely denounced even by his own Newchurch cardinals as heretical. It is not happenstance that the "Unsaint" Wojtyla became the First Paedophile Newpope, under whom tens of thousands of sex crimes against boys and girls, men and women, were committed by his presbyters and Newbishops. True Catholics have no place in either Newchurch or its handmaiden: Fellay, Pagliarani, and their Neo-SSPX.
---
July 10, 2019 - Seven Holy Brothers, Martyrs; Sts. Rufina & Secunda, Virgins & Martyrs
Semidouble Feast
In the War between Schismatic Eastern Orthodox
Marxist/Modernist Francis-Bergoglio Has Hitched Himself to the Losing Side
From: Petrus, the TRADITIO Network's Roman Correspondent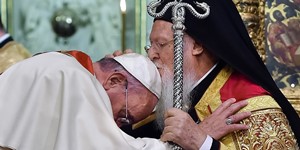 Francis-Bergoglio, Who Claims to Be Newpope of Newchurch
Does Obeisance to the Schismatic Patriarch, Bartholomew
Bergoglio Gave away the Priceless Relics of St. Peter
To Be Purloined from Newrome to Constantinople (Istanbul)
An All-out War Is Going on in Eastern Orthodoxy
Between the Conservative Russian Patriarch Kirill
And the Liberalist Bartholomew
Beloved of the Marxist/Modernist Bergoglio
Like Bergoglio, Bartholomew Is Losing Adherents
Who Are Going over to Conservative Christianity
There is even more to the surrender of the relics of St. Peter to the schismatics, as reported in a previous Daily Commentary. There has been, this year, a complete schism within Eastern Orthodoxy between Constantinople and Moscow. Schismatic Russian Patriarch Kirill, supported by Russian President Vladimir Putin, a practicing Eastern Orthodox Christian, has taken a morally and politically conservative position, whereas schismatic "Oecumenical" Patriarch Bartholomew of Constantinople (Istanbul), has taken an unheard-of liberalist position. In this war Bartholomew loves Francis-Bergoglio; and Bergoglio loves Bartholomew.
Most Eastern Orthodox patriarchs stay close to the Faith, but, like Francis-Bergoglio, Bartholomew's main concern these days seems to be political "global warming," whereas Kirill and Putin want to restore the might of Russia and lead the schismatic world of the East and restore Christianity to the Slavic East after having endured the seventy-year failure of atheistic Communism.
We also know that Bartholomew, despite his position as primus inter pares in the schismatic world, has very little authority there. His so-called canonical territory does not even embrace all of Greece, but only a small part of it: Thrace and the Aegean islands off the coat of Turkey, plus Mohammadan Turkey. Recently, the ultra-conservative monks of Mount Athos in Greece, which is the monastic and spiritual center of the Eastern Orthodox, declared its independence from Bartholomew, making his tiny territory even smaller. The monks there are with Kirill: they are schismatic conservatives.
In a coming realignment, the Serbian and Bulgarian schismatic structures will side with Russia, as always. Those of Montenegro and Greece will go with Bartholomew. Those of the Levant, along with Macedonia, will try to avoid taking sides. The Ukraine is split down the middle, which is the source of all the trouble. It's a real dog's breakfast, but the emerging power is Russia, not Bartholomew. Francis-Bergoglio is a liberalist, like Bartholomew. So Bergoglio is trying to help his schismatic friend Bartholomew in Istanbul, a Muslim place since 1453, by giving him the relics of the first pope. Peter's bones will now be surrounded by the infidel Saracens! Bergoglio, leader of the pagan party in Newchurch, needs support from Bartholomew because Bergoglio faces increasingly outspoken opposition from the Neocon Protestant party in Newchurch.
The Devil has been let off his leash. God allows all of this to occur because mankind has turned its back on God. Christ is with the remnant of those who remain Catholic, but Newchurch is not Catholic, Bartholomew is not Catholic, Kirill is not Catholic. All of these are inspired by the Devil. Every true Catholic must stay firm with the Traditional Roman Rite and the Traditional Latin Mass -- without compromise. That means a rejection of the 1962 Half Latin Mass (aka erroneously as "Extraordinary") and a return to what the fully traditional Catholic liturgy of 1950, after which year the Freemason presbyter Hannibal Bugnini made his first changes to revolutionize the Catholic Church into the anti-Catholic Newchurch of the New Order.
---
July 9, 2019 - Ferial Day
The Frankinsense Used at Traditional Latin High Masses
May Soon Be Snuffed Out
From: The TRADITIO Fathers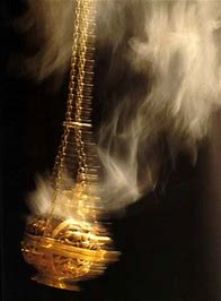 Production of Frankincense, Coming from the Biblical Lands
May Soon Be "Doomed" because of Heavy Demand
Frankincense Was One of the Three Precious Gifts of the Magi
To the Christ Child
Frankincense Symbolizes Christ as High Priest
Sacred Scripture Calls Frankincense the "Odor of Sweetness"
Blessed Are Those Traditional Catholics
Who Have a Gregorian Schola
And Can Assist at High Mass
Those traditional Catholics who have the blessing of a Gregorian schola and can assist at High Mass have experienced what the Psalms call odorem suiavitatis, the odor of sweetness, that issues from the Biblical resin called frankincense. The "frank" prefix comes from the Latin francus, meaning free and unreserved, used to describe the potency of this unique incense. Now we are learning that in fifty years, production of frankincense may be "doomed" because of heavy demand.
The ancient frankincense used at a traditional Catholic High Mass is not the awful, cloying sweet substance that is used in the Far East, among the pagan Buddhists, for example, but comes from the Biblical Lands. It is represented among the three precious gifts given to the Christ Child by the magi: aurum, thus, et myrrha, gold, frankincense, and myrrh, as reported by St. Matthew (2:11). Frankincense symbolizes Christ as High Priest.
Frankincense is an aromatic gum resin from various trees of the genus Boswellia, especially B. carteri, from Ethiopia, the lands that the ancient Egyptians called Kush adjoining the Blue Nile. The papery bark of Boswellia trees are stripped several times each year to get tears of the hardened resin to appear.
---
July 8, 2019 - St. Elizabeth, Queen of Portugal, Widow
Semidouble Feast
Francis-Bergoglio Exposed: He Ignored the Sex Crimes
Of the No. 3 Man at His Newvatican, a Fellow South American
From: Petrus Romanus, the TRADITIO Network's Roman Correspondent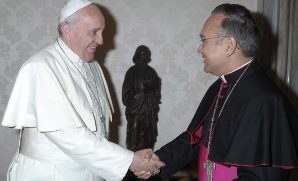 Francis-Bergoglio Beams at His Partner in Crime
Newarchbishop Edgar Pena Parra
Another Favored South American of the Argentinean Newpope
JPII-Wojtyla and Benedict-Ratzinger Ignored Parra's Crimes
But Bergoglio Did More: He Actually Promoted Parra
To Become the No. 3 Man at Newvatican
Since 2002 Newvatican Has Known that Parra Is a Sex Criminal
Who Plied His "Trade" at One of Newvatican's Own Newseminaries
But Bergoglio Wouldn't Even Open an Investigation
Fearing that He Himself Would Be Implicated in Parra's Crimes
At Newvatican it's the Newpope, then the Secretary of State, then the Assistant Secretary of State, who informally bears the title "Sostuto," or Substitute. And this No. 3 Man at Newvatican has now been outed as a sex criminal by the former Newpapal Nuncio (Ambassador) to the United States, Newarchbishop Carlo Vigano, who revealed on July 4, 2019, that a dossier on Newarchbishop Edgar Pea Parra had been submitted in 2002 to the "Unsaint" JPII-Wojtyla, who did nothing. To Benedict-Ratzinger, who did nothing. To Francis-Bergoglio, who did worse: he appointed Parra to be the No. 3 Man at his Newvatican. Parra regularly meets with Bergoglio and controls the daily work of Newvatican's most important bureaucracy.
Parra has been committing sex crimes in one of Newvatican's own Newseminaries. Yet he was advanced to the Novus Ordo presbyterate (Newchurch has not ordained priests in the Sacrament of Holy Orders since 1968, when it adopted the invalid Protestantized New Ordinal), whereas the seminarians who accused Parra of the crimes were dismissed.
Ambassador Vigano named some 25 sex-crime perpetrators, all top Newvatican men, and they include Bergoglio himself. Newarchbishop Pena Parra, he says, possibly even committed murder to cover up some of these crimes. the Newcardinal Secretary of State, Petro Parolin, and the President of the Bergoglio's Executive Committee, which is reorganizing Newvatican away from traditional responsibilities, Newcardinal Oscar Mariadiaga, is also named, along with some twenty more of Bergoglio's high officials, who have committed sex crimes or covered them up.
The narcissist Francis-Bergoglio has dismissed the crimes out of hand because he claims that they are really against him. Bergoglio's usual cover-up apparatus swung into action: the criminal Newprelate is promoted whereas the under-age victims are gotten rid of. There is no question that Newchurch's Great Sex & Embezzlement Holocaust percolates right up to the very top officials, including Bergoglio himself.
---
July 7, 2019 - Fourth Sunday after Pentecost
Semidouble Sunday
Francis-Bergoglio Gives away St. Peter's Relics to Schismatic Patriarch
Symbolically, Bergoglio Is Rejecting the Catholic Faith and His Office
From: The TRADITIO Fathers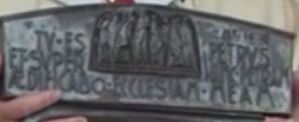 The Bronze Reliquary Containing Sacred Relics
Of St. Peter, Which Francis-Bergoglio Has Given
To Be Kept Permanently by a Schismatic Orthodox Patriarch
Symbolically, Bergoglio Is Telling the World
That He Rejects the Catholic Faith and His Office
One Newvatican Official Suggested
That St. Peter's Protection Has Left Newvatican
And that Bergoglio Would Next Give
The Relics of St. Paul to the Heretical Protestants
Francis-Bergoglio's latest religious crime is to abscond with First Class Relics of St. Peter, i.e., the remains of his bones, and hand them over to a schismatic Eastern Orthodox patriarch. At least the Eastern Orthodox will treat them with the respect due them, which the blasphemous Bergoglio has not. The nine bone fragments of St. Peter were discovered in the 1939 excavations of the Vatican necropolis by Pope Pius XI.
On June 29, 2019, the Feast of Sts. Peter & Paul, Francis-Bergoglio symbolically resigned from the office of Newpope as he gave the schismatic Orthodox "Oecumenical" Patriarch Bartholomew Sacred Relics of the first pope. Thenceforth, his act indicates, Jorge does not regard himself as a real pope; Bartholomew is. Bartholomew's representative at Rome, however, did not seem pleased with the transfer of St. Peter's relics. He said: "The Orthodox Church has never asked for them since they never belonged to the Church of Constantinople." At least the schismatic is an honest man, not Bergoglio.
Symbolically, Francis-Bergoglio is rejecting the Catholic Faith. Bergoglio's act is reminiscent of Paul VI-Montini giving away a papal tiara away in 1968, just after the Vatican II Anti-council ended. Both Montini and Bergoglio essentially told the world: "I am not a pope. I reject the papal office." The relics of the man whom Bergoglio claims to succeed are intimately associated to the papal office. The bronze reliquary in which the Petrine bone remnants repose is inscribed with Christ's original commission (Matthew 16:18/V): TU ES PETRUS, ET SUPER HANC PETRAM ÆDIFICABO ECCLESIAM MEAM. [Some information for this Commentary was contributed by the Zenit News Agency.]
True Catholics, it is hard to interpret Bergoglio's act as anything other than an essential renunciation of the Newpapacy and the Catholic Church. By his public defection from the Catholic Faith in numerous heresies since his election, Bergoglio has tacitly resigned from his office, as confirmed by Canon Law 188.4. The consequence from Catholic doctrine is clear: such an imposter cannot be followed by faithful Catholics, but rather must be shunned altogether.
---
July 6, 2019 - Octave Day of Sts. Peter & Paul, Apostles
Double Major Feast
Francis-Bergoglio Is Turning His Newchurch "Gay"
As a Mess Supporting Sodomites Is Openly Staged in the United States
From: The TRADITIO Fathers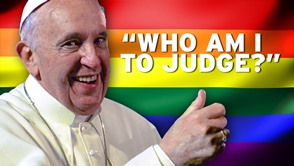 The Man Who Claims to Be a "Catholic Pope"
The Third Paedophile Newpope, Francis-Bergoglio
Flunked Basic Catholic Theology
He Is Gradually Turning His Newchurch "Gay"
While His Nuncio (Ambassador) to the United States
Revealed in June 2019
That a "Gay" Mafia among Newchurch Bishops
Seeking to Protect Themselves, Is Sabotaging All Attempts
To Purge Newchurch of Its Newclergy's Sex Crimes
From Francis-Bergoglio on Down
Is it any wonder that there are so many sodomites and paedophiles in Francis-Bergoglio's Newchurch? After all, he is commonly known (at least in the "gay" community) as the "Gay Pope." In Catholic theology, going back to Sacred Scripture (the Bible), sodomy is "One of the Four Sins that Cry out to God for Retribution," as is murder. Just as the Vatican II Anti-council introduced a phony "New Mess" little by little from 1951 to 1969, in order that clueless Catholics wouldn't know what was happening to them, so Bergoglio is homosexualizing his Newchurch, starting his regime in 2013 by pontificating that he couldn't judge whether sodomy is right or wrong. And he claims to be a "Catholic pope"?
In the United States, a Novus Ordo church dedicated to Our Lady of Grace blasphemously staged a second annual invalid (phony) Novus Ordo LGBTXYZ "Pride Mess" on June 30, 2019, in Hoboken, New Jersey, which the pastor publicly announced was staged to support homosexuals. The pastor went on to encourage the Newchurchers after the Mess to join the LGBTXYZ "Catholic" group that was going to march in the World Pride March in New York City.
In June 2019, the former Newvatican ambassador to the United States, Newarchbishop Carlo Vigano, revealed that a "gay" mafia among Newchurch bishops, seeking to protect themselves, is sabotaging all attempts to address the sex crimes perpetrated by Newclergy from Francis-Bergoglio on down. [Some information for this Commentary was contributed by Breitbart News.]
True Catholics, pride (superbia) is the first of the Seven Deadly Sins, yet that is the evil to which the Newchurch leaders and members are increasingly devoted. That includes the local Newarchbishop Thomas Tobin and Newpope Francis-Bergoglio. Even a former Newpope called this sin a "grave depravity" and went on to state: "Homosexual acts go against natural law. The Church [sic] cannot silence the truth because it would not live up to its faith in God the Creator and would not help discern what is good from what is evil." Yet that is exactly what Bergoglio and Tobin are now doing. Both of them have remained dead silent about this blasphemous sacrilege as they are at this point so suffused with sin and complicity in sin that their souls truly are dead.
---
July 5, 2019 - Octave Day of the Most Sacred Heart of Jesus
Double Major Feast
Francis-Bergoglio's Latest on the Invalid "Rite of Reconciliation" (Formerly Confession)
Confirms that Newchurch Is Perpetrating a Fraud on Newchurchers with This Unsacrament
From: The TRADITIO Fathers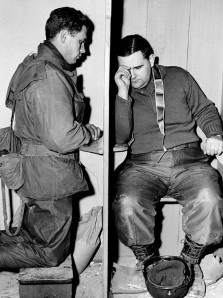 A Priest in World War II Lays Down His Helmet
Puts on His Stole, and Hears a Soldier's Confession
In 1973 Newchuch Abrogated the Sacrament of Penance for Itself
Newchurch Now Has No Sacramental Confession
But a Bastardized, Invalid, Non-sacramental "Rite of Reconciliation"
Simulated by Non-ordained Presbyters, Who Are Not Priests
The Take-away for Newchurchers about "Confession" Is This:
"Don't Waste Your Time!"
Only in the Non-Newchurch Catholic Church
With Traditional Priests Is the Sacrament Valid
The Newchurch of the New Order has not had a sacrament of "confession" since 1973, when that sacrament was replaced with an invalid, non-sacramental "Rite of Reconciliation." Thus, when the Newchurch Apostolic Penitentiary issued a "Note" on June 30, 2019, approved by Francis-Bergoglio, about the "secrecy of confession," it was talking about a fraud. There is no valid sacrament of "confession" in Newchurch, so there is no "secrecy."
In a remarkable amount of gobbledegook in his Note, Newcardinal Mauro Piacenza, Newchurch's Major Penitentiary, seems to suggest that Novus Ordo "Reconciliation" is merely "cultural" and "social," confirming the fact that in Newchurch it is not sacramental. The take-away for Newchurchers about "confession" is this: don't waste your time! [Some information for this Commentary was contributed by the Zenit News Service.]
True Catholics, the Sacrament of Penance, although it does not exist in Newchurch with its unordained presbyters, who are not priests, does exist in the true (traditional) Catholic Church, which does not have association with the errors, heresies, and heteropraxis of Newchurch and its officials. The Novus Ordo "Rite of Reconciliation" is fraud, even a joke. Thus, it is not surprising that the heretic Newpope Francis-Bergoglio seems to push it above all other Novus Ordo rites -- probably because it is there that he can implement more easily his destruction of the traditional moral teachings of the Catholic Church.
---
July 4, 2019 - Within the Octave of the Most Sacred Heart of Jesus
Semidouble Feast
Newchurch Bishop Associated with the Fellay-Pagliarani Neo-SSPX
Is Reported to Have a Facebook Page Replete with Homosexual Organizations and Individuals
From: Petrus, the TRADITIO Network's Roman Correspondent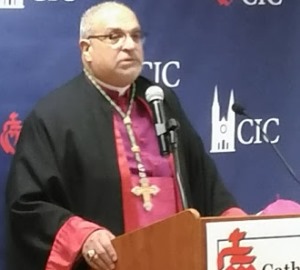 The Novus Ordo-leaning Neo-SSPX of Fellay-Pagliarani
Has Sidled up to Novus Ordo Maronite Chorbishop Anthony Spinosa
He Was even an Honored Guest at the June 2019 Ordinations of the Neo-SSPX
To Get the Neo-SSPXers Comfortable Operating under the Thumb of Newchurch
What the Neo-SSPX Failed to Check On
But Latin American Organization Did
Is the Fact that Spinosa's Facebook Page Is Replete
With References to Homosexual Organizations and Individuals
Newrome has been arranging with Davide Pagliarani, Bernie Fellay's puppet as the new Superior General of the Neo-SSPX, for Newbishops to be invited to various Neo-SSPX priories for ordinations and other events. A recent visit of a Newchurch bishop sponsored by Pagliarani to a Neo-SSPX school in England, as previously reported in these Commentaries, led the teachers to resign from the Neo-SSPX and find positions with independent traditional Catholic institutions. Apparently, this admixture of unconsecrated Newchurch bishops is yet another step along the way of getting the Neo-SSPXers comfortable operating under the thumb of invalid Newchurch officials.
A Latin American organization that supports independent traditional Catholic bishop Jean-Michel Faure, head of the traditional Catholic Society of the Apostles of Jesus and Mary, consecrated by independent traditional Catholic Bishop Richard Williamson in 2015, reports that Novus Ordo Maronite NewChorbishop Anthony Spinosa attended the ordinations held at the Neo-SSPX's St. Thomas Aquinas Seminary in Dillwyn, Virginia, on June 21, 2019. as an honored guest. In 2016 a Neo-SSPX representative had attended Spinosa's own "installation" and "Mess of Installation."
According to the reporting organization, what the Neo-SSPX officials didn't realize is that Spinosa's Facebook page included many links to homosexual persons and organizations. His published "Likes" included a "strip club with nude dancers" and a "gay icon" who has appeared on the cover of "gay" magazines. But, then, so has the leader of the Newchurch of the New Order, Jorge Bergoglio, now the Newchurch's Newpope. Spinosa's "Friends" included "Gay Foreign Men" who incorporate the "gay" rainbow flag into their personal logos.
The Fellay-Pagliarani Neo-SSPX needs to own up to the fact that loose connections can easily become become immoral entanglements. Also, this case provides additional proof that the Novus Ordo "Eastern Rites" are no safehaven for disaffected Newchurchers, but are just as corrupt as everything else in the Newchurch of the New Order.
---
July 3, 2019 - St. Leo II, Pope & Confessor
Semidouble Feast
President of Newroman Curia Calls Francis-Bergoglio's Document
For the Amazon Synod "Heretical" and "Perverted," the "Destruction of the Church"
From: The TRADITIO Fathers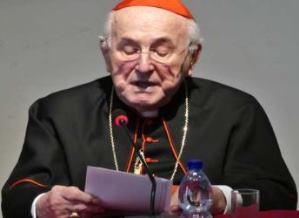 Newcardinal Walter Brandmuller
Former President of the Newroman Curia
Reads His June 27, 2019, Statement
Denouncing Francis-Bergoglio's Document for the Amazon Synod
As "Heretical" and an "Attack on the Foundations of the Faith"
It Calls for Deaconesses, Priestesses, and Non-celibate Prebyters
The Newcardinal Predicts that the Document Will Lead
To the "Auto-demolition" of Newchurch"
And Condemns the Document as a Screed on Secular Matters
Having "Little to Do with the Gospels and the Church"
On June 27, 2019, the former President of the Newroman Curia, the administrative body of Newchurch, Newcardinal Walter Brandmuller, has called Francis-Bergoglio's instrumentum laboris (working document) for the Amazon Synod "heretical" and an "attack on the foundations of the Faith." He went on to call it a "grave breach. of the deposit of Faith that will result in Newchurch's 'self-destruction,'" recalling the statement of Newpope Paul VI-Montini, who correctly stated that the Vatican II Anti-council caused the auto-distruzione (self-demolition) of the Church. The synod takes place in Newrome October 6-27, 2019.
Newcardinal Brandmuller also pointed to the "clandistine fashion" in which Francis-Bergoglio is trying to sneak in practices that are contrary to the Faith, such as deaconesses, priestesses, and non-celibate presbyters. He charged that three-quarters of the lengthy document has "very little to do with the Gospels and the Church," but is a secular statement on ecology, economy, and politics, which have nothing to do with the mandate and mission of the Church, and instead promotes a pantheistic idolatry of nature favored by the Marxists.
Newcardinal Brandmuller concluded that Francis-Bergoglio's document "intended a decisive breach with Apostolic Tradition," as if such a breach had not already occurred at the Vatican II Anti-council. He ascribed the many errors in the document to the heresy of Modernism, condemned by Pope Pius IX and Pope St. Pius X, now in an even more evil new form of Post-modernism:
It is to be emphatically stated that the instrumentum laboris contradicts the binding teaching of the Church on decisive points, and is therefore to be qualified as heretical. Inasmuch as even the fact of Divine Revelation is here being questioned, or misunderstood, one also now has to speak, additionally, of apostasy. [Some information for this Commentary was contributed by the National Catholic Register.]
True Catholics, four Newcardinals and some one hundred leading Newchurch theologians have now called Francis-Bergoglio a heretic. Yet Bergoglio continues to drive his heretical Newchurch down to its demise -- which appears to be exactly what he intends as the good Marxist/Modernist anti-Catholic heretic he is.
---
JULY 2, 2019 - VISITIATION OF THE BLESSED VIRGIN MARY
DOUBLE FEAST OF THE SECOND CLASS
A Reader Asks: "The Local Newchurch Uses Evangelical Rock Music
What Is Wrong with Classical Music from the True Church's Perspective?"
From: Kefir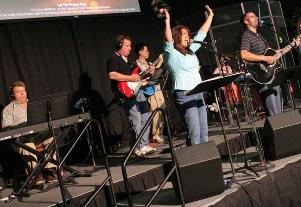 Protestant and New Order Churches
Have Gone over to Trash Music
Replacing the Organ with a Profane Keyboard
and Adding Drums and Electric Guitars
This Vulgar and Profane "Evangelical" Music
Lowers the Mind Created in God's Image
Rather than Elevating It
To What Is Morally and Aesthetically Good
Dear TRADITIO Fathers:
The local Newchurch around here is telling their people that they must listen instead to cheap "evangelical" rock music. They have replaced the organ with a profane keyboard and adding drums and electric guitars. What is wrong with classical music from the true Church's perspective?
The TRADITIO Fathers Reply.
Nothing at all. That is what you should be listening to. Music is not a matter of personal taste. There is morally and aethetically good music that engages the higher faculties of the mind and elevates the mind to God, and there is morally and aethetically bad music that lowers the mind away from God. The important thing is not to corrupt the mind that God created after His own image with vulgar, profane, trash music, which constitutes much of the music that we hear around us today.
If you want to focus on Catholic classical music, start with increasing your familiarity with Gregorian chant, the most sublime music there is, the Church's own proper music. Then move on to Sacred Polyphony, such as the works of Palestrina and his contemporaries, and then the Classicists, such as Mozart, Haydn, Beethoven, etc. And don't forget the most sublime religious work ever written in the opinion of most musicians: the High Mass in B Minor by Johann Sebastian Bach. Bach was possibly a closet Catholic, who with this magnum opus was trying to transfer to work in the cathedral of a Catholic monarch.
---
July 1, 2019 - MOST PRECIOUS BLOOD OF OUR LORD
DOUBLE FEAST OF THE FIRST CLASS
Archbishop Sheen's Corpse Is Sacrilegiously Disemtombed
And Stolen off from New York to Peoria, Illinois, under Cover of Night
From: The TRADITIO Fathers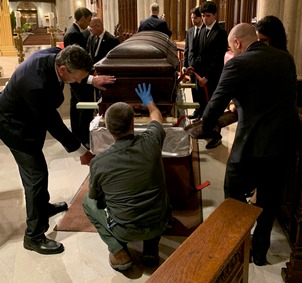 Profane Hands Manhandle Archbishop Fulton Sheen's Casket
As His Corpse Is Stolen from Its Resting Place in New York
To Become a Tourist Attraction in Peoria, Illinois
Soon Sheen, Who Was a Noted Catholic Bishop and Orator
But Later Succumbed to the New Order Heresy
And Lived to Regret It
Will Be Made into a Newchurch "Unsaint"
With a Fabricated "Miracle"
Just Like the "Unsaint" Polish Newpope JPII-Wojtyla
And the Hinduesque Mother Theresa
The corpse of Bishop Fulton Sheen, the United States's most famous Catholic orator and television preacher, was desecrated yet again. This whole unseemly, grotesque, and sacrilegious battle over the corpse for competing tourist interests in New York and Peoria, Illinois, near where Sheen was born, perfectly encapsulates just how anti-Catholic Newchurch is. Sheen himself directed that he be buried in Calvary Cemetery in Brooklyn, but no one paid any attention to his legal directions.
So, under cover of night, the time at which the perfidious Sanhedrin illegally acted to condemn Jesus Christ, Newchurch disemtombed Sheen's corpse from its crypt in St. Patrick's Cathedral and stolen off to Peoria on June 27, 2019. Peoria Newbishop Daniel Jenky couldn't wait to make the corpse available for "visitation" by Newchurchers and tourists in Peoria the very next day. Poor Sheen, who succumbed to the New Order heresy and lived to regret it, didn't even get a Novus Ordo service at his disentombing. New York's Newcardinal, Timothy "Laughing Cow" Dolan, absented himself to a baseball game. Then he went to his vacation home worth a cool three and a half million dollars at Newchurchers' expense. [Some information for this Commentary was contributed by the National Catholic Register.]
True Catholics, no wonder Newchurchers are so disgusted at the treatment of Sheen's corpse that "a lot" of them are not giving "anything to the [New]archdiocese anymore." As well they should be disgusted. Newcardinal Dolan is more interested in tourist money, baseball games, and his multimillion-dollar "spa palace." Newbishop Jensky is more interested in tourist money and couldn't wait to put the corpse on display. Neither Dolan nor Jensky act like Catholic bishops. They are no better than common grave robbers. Why should they? Neither of them was validly consecrated in the Sacrament of Holy Orders. For that matter, neither of them is even a Catholic priest. They are both presbyter-ministers, "installed" (not ordained) in the Protestantized New Ordinal of 1968, which is just as fake as the "New Mess" of 1969.
---

Return to Daily Commentaries from the TRADITIO Fathers.