August 2018
| | |
| --- | --- |
| | For answers to many questions, consult the CURRENT MONTHLY REVISED EDITION of the Official Traditional Catholic Directory, Listing All Traditional Latin Masses and Traditional Resources for North America. For further information, click on the TRADITIO Network's Official Traditional Catholic Directory department, provided to the TRADITIO Network by the National Registry of Traditional Latin Masses. |
For information about the protocol for sending messages to the TRADITIO Fathers, click on Ask the Fathers. First, here are some hints for locating items that have already been covered. The TRADITIO Network has the most varied and extensive repository of traditional Catholicism, collected over the 20 years of our existence on the internet, the longest of any traditional site. (1) Check the 16 departments listed in the TRADITIO Network's Web Site Map on our home page, www.traditio.com. (2) Check the 14 FAQs in the TRADITIO Network's Library of Files (FAQs and Traditional Apologetics) department, which answers your most common questions. (3) Use the Search engine on the TRADITIO Network's home page, www.traditio.com.
| | |
| --- | --- |
| | If you have you have personally benefited from the services of the TRADITIO Network, please support the continuation of the TRADITIO Network's Apostolate by clicking on the box to the left to made a donation easily, securely, and confidentially by bank account or credit card through PayPal. Regular contributors become Benefactors of the TRADITIO Network, and their intentions are specially commemorated at Traditional Latin Masses offered. Using PayPal reduces our administrative burden considerably, but if need to use a paper check, click on FAQ01: "How Can I Help the TRADITIO Network's Apostolate?" We have always refused to display those annoying "click" ads to raise money. We hate those ads, and we think that you do too, so we have kept TRADITIO 100 per cent free of them and rely instead on you for voluntary donations. |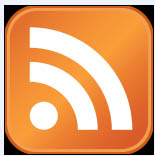 Subscribe to the Free TRADITIO RSS Feed
---
THE TRADITIO NETWORK HAS BEEN INFORMED BY THE NATIONAL REGISTRY OF TRADITIONAL LATIN MASSES THAT THE NEW AUGUST 2018 MONTHLY REVISED EDITION OF THE 23RD ANNUAL EDITION (2018) OF THE OFFICIAL TRADITIONAL CATHOLIC DIRECTORY, LISTING ALL TRADITIONAL LATIN MASSES AND TRADITIONAL RESOURCES FOR NORTH AMERICA HAS BEEN PUBLISHED. FOR FURTHER INFORMATION, CLICK ON THE OFFICIAL TRADITIONAL CATHOLIC DIRECTORY DEPARTMENT, PROVIDED TO THE TRADITIO NETWORK BY THE NATIONAL REGISTRY OF TRADITIONAL LATIN MASSES. THE 2018 ANNUAL USE FEE IS NOW DUE FOR THOSE WHO WISH TO USE THE NEW 2018 ORIGINAL EDITION AND ITS MONTHLY REVISED EDITIONS. BE SURE TO CHECK YOUR TRADITIONAL SITE'S LISTING FOR CORRECTNESS.
---
August 18, 2018 - Within the Octave of the Assumption of the Blessed Virgin Mary
Semidouble Feast
Newchurch "Nun" Arrested Smuggling 1,000 Grams of Cocaine
As a Willing Mule for Her Online Lover and Accomplice
From: The TRADITIO Fathers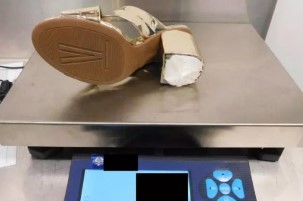 Australian Police Display the High Heels
In Which a Newchurch "Nun" from Missouri
Smuggled 1,000 Grams of Cocaine
She Had Been Conducting a Love Affair over the Internet
And Became a Willing Mule
For Her Accomplice "Cornelius"
Since the Vatican II Anti-council (1962-1965)
Newchurch Makes No Pretension of Having Any Control
Over Its Clergy and Religious
Who Have the Freedom to Engage in Crime around the World
Under the Protection of the Newpopes
Newchurch is getting so hard up for funds that its "nun" are now smuggling narcotics to make a living. A Newchurch "nun" from Missouri was arrested by the Australian Border Force on August 13, 2018, for smuggling 1,000 grams of cocaine in her high-heel shoes at Sydney, Australia's Airport.
The Newchurch "nun" was a willing mule for an online lover. She exchanged over 1,000 texts (sexts) with the individual, who used the pseudonym "Cornelius." [Some information for this Commentary was contributed by the Sydney Morning Herald.]
True Catholics, you must understand that Newchurch is a fake; it is not the Catholic Church. Since the Vatican II Anti-council, it has exerted no control over its clergy or religious. A significant percentage of its presbyters, Newbishops, and Newcardinals engage in sexual assaults, rapes, and sodomies on both children and adults. Its religious are completely secularized and have the freedom to engage in international crime. Francis-Bergoglio and his predecessor Newpopes have done nothing to stop these crimes, but remain silent and even attempt to cover them up, thus becoming criminals themselves as accomplices and accessories after the fact.
---
August 17, 2018 - St. Hyacinth, Confessor
Double Feast
Paedophile Presbyters Attempt to Hold up a Grand Jury Report
In Which over 300 of Them Are Named in Six Pennsylvania Newdioceses
From: The TRADITIO Fathers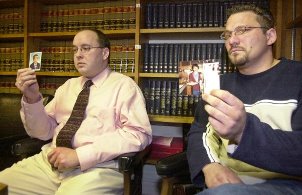 Two Victims of Newchurch Presbyters in Pennsylvania
Hold up Photographs of Themselves as Children when Sexually Assaulted
Now a Pennsylvania Grand Jury Is about to Release Its Report
On over 300 Paedophile Presbyters
Which Is Being Held up bBy the Presbyters
Who Are Afraid of Being Identified for Their Crimes
But the Pennsylvania Supreme Court and Attorney Gemeral
Are Determined to Make the Report Public
It Is Rumored that a Newchurch Cardinal Is among Those Named
UPDATE. Over the objections of the paedophile priests and Newchurch officials, and in the face a silence from Francis-Bergoglio, the Pennsylvania Attorney General's office on August 14, 2018, released the 1,356-page Grand Jury report involving over 300 paedophile presbyters who had sexually assaulted thousands of victims. There have been other reports about sexual assaults against children within Newchurch, but never on this scale. The report shows a consistent pattern of Newchurch bishops having prior knowledge of the actions of these predatory presbyters, reassigning them and not alerting law enforcement, making them accomplices and accessories after the fact in the most serious moral crimes possible.
Newchurch's paedophile presbyter are fighting like the Devil to prevent a Grand Jury report on sex crimes in eight Pennsylvania Newchurch dioceses (Allentown, Erie, Greensburg, Harrisburg, Pittsburgh, and Scranton) from being released that names over 300 of them. Crimes in the Philadelphia and Altoona-Johnstown Newdioceses have already been released. The Pennsylvania Supreme Court has ordered the release of the report. The Pennsylvania Attorney General is pushing for release of the report and even asked Francis-Bergoglio to support the release, but that Paedophile Newpope has remained silent.
The Grand Jury report is the result of a two-year investigation into sexual assaults by Newchurch against children, but 24 "anonymous" paedophile presbyters named in it have delayed its release until on or about August 14, 2018. The state Attorney General is publicly committed to a full release. Joshua Shipiro declared: "I?ve made it very clear all along that we want this report to come out to the fullest extent it can. The victims? truth will be heard, and the survivors will finally have their day. I?m confident, given the Supreme Court?s order, that it will be [released]." [Some information for this Commentary was contributed by the Philadelphia Inquirer.]
True Catholics, the Newchurch vipers from the top down are really squirming. There is a rumor that another Newchurch cardinal is among the names that will be revealed. Now information about over fifty years of unrestrained crimes that were set off by the Vatican II Anti-council are percolating to the top of what traditional Catholics in the United States call "the swamp." The three biggest swamp frogs are the Vatican II Newpopes: the "Unsaint" JPII-Wojtyla, Benedict-Ratzinger, Francis-Bergoglio -- and let us not forget the Newpope who signed all of the Vatican II Documents: the "Unblessed" Paul VI-Montini, who is slated to be made a fake Newchurch Unsaint on October 14, 2018.
---
AUGUST 16, 2018 - ST. JOACHIM, FATHER OF THE BLESSED VIRGIN MARY
DOUBLE FEAST OF THE SECOND CLASS
A Reader Asks: "Do You Recommend Reading Scott Hahn's Books
Or Are His Writings Questionable or Heretical?"
From: Joseph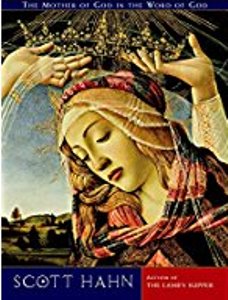 An Example of a Book by Scott Hahn
An Extremist Protestant Evangelical Heretic
Featured on the Anti-Catholic EWTN Cable Television Network
When Hahn Had Exhausted the Protestant Market for His Books
He "Converted" to the Equally Heretical Newchurch
And Deceitfully Rebranded His Protestant Books as "Catholic"
To Sell Them to the Newchurch Market
By Splashing a Picture of Mary or the Rosary onto the Cover
To Deceive the Clueless Newchurchers
Dear TRADITIO Fathers:

Do you recommend traditional Catholics reading any of Scott Hahn's books? I am wondering whether they are totally free of questionable or heretical material because he appears as a host on the anti-Catholic EWTN Cable Television Network, which is a hotbed of the New Order heresy.

The TRADITIO Fathers Reply.

Your Catholic sense is serving you well in this case. Scott Hahn's works are full of questionable and heretical material. Hahn was an extremist Evangelical Protestant heretic. When he had exhausted the Protestant market for his books, he "converted" to the equally heretical Newchurch and deceitfully rebranded his books as "Catholic" to sell them to Newchurch market.

You have to give the Devil his due. It is remarkable how many clueless Newchurchers are led astray to buy books with a picture of Mary or a Rosary splashed onto the cover, without the Newchurchers having a clue where the author comes from. Hahn is now an extremist Newchurch heretic. His books should be completely shunned by true Catholics.

For information on the topic of how traditional Catholics should judge whether a book is truly Catholic, click on FAQ10: What Traditional Catholic Resources Do You Recommend? in the TRADITIO Network's Library of Files: FAQs and Traditional Apologetics department, in the sections "General Note" and "Index Auctorum Prohibotorum."

For further information on Scott Hahn, click on the TRADITIO Network's Daily Commentaries from the TRADITIO Fathers department and use the Search engine on that page with the search term "Scott Hahn".
---
August 15, 2018 - ASSUMPTION OF THE BLESSED VIRGIN MARY
DOUBLE FEAST OF THE FIRST CLASS
A HOLYDAY OF OBLIGATION
Bishop Williamson Denounces the Neo-SSPX for "Another Defeat"
States that Neo-SSPX Is Clueless about What Is Going on in Newchurch
From: The TRADITIO Fathers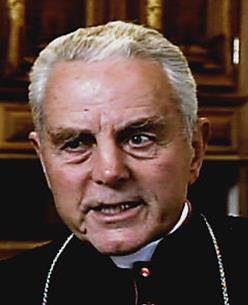 Bishop Richard Williamson Severely Censures the Neo-SSPX
He Characterized Its July 2018 General Chapter Meeting
As "Another Disguised Defeat for the Catholic Faith"
Bishop Williamson Was Formerly the Senior Bishop
Of Archbishop Lefebvre's Original Traditional Catholic SSPX
But Left in 2012 over Disagreements with the Neo-SSPX
Which Leans toward Becoming an Arm of the Anti-Catholic Newchurch
Which Bernie Fellay Established after the Archbishop's Death
Bishop Williamson, former senior bishop of Archbishop Marcel Lefebvre's original traditional Society of St. Pius X (SSPX), who left in 2012 over disagreement with the Neo-SSPX, which Bernie Fellay established after the Archbishop's death to become an arm of the anti-Catholic Newchurch. Williamson has come under criticism for his cerebral rather than passionate approach to the devastating changes that Fellay has made over the 24 years of his dictatorship.
However, after the Neo-SSPX's July 2018 General Chapter meeting, Bishop Williamson became more direct, calling out with severe censure in his August 4, 2014, communique the Neo-SSPX, which had elected an apparent Novus Ordo puppet, Davide Paglianari, as its new Superior General, while retaining Fellay on the Executive Committee. Williamson called the Neo-SSPX's General Chapter Meeting "yet another disguised defeat for the Catholic Faith. It is a shame if the 40 leading priests of what was once Archbishop Lefebvre's Society do not grasp the full dimension of the Church and world crisis in which we all find ourselves today, but that is the reality."
Bishop Williamson's advice to troubled Catholics is to shun "Masses that diminish your faith." Since Newchurch's Messes, whether "ordinary" (Novus Ordo) or "extraordinary" (New Latin), are not Catholic Masses celebrated by Catholic priests, Williamson must be recommending that it is Neo-SSPX Masses that must be shunned because they are, officially and unofficially, associated with the false Newchurch faith, which is not Catholic. Instead, whenever possible, fully Traditional Latin Masses celebrated by traditional Catholic priests who resist the anti-Catholic New Order and Neo-SSPX should be sought out. (For further information, click on the TRADITIO Network's Official Traditional Catholic directory department.)
True Catholics, Bishop Williamson reminds Neo-SSPXers that Archbishop Lefebvre and his original traditional Catholic SSPX were a "super-luxury." It is all too normal if in today's anti-Catholic times we lose it, he says. We must "gird our loins," he says, against false faith, whether in Newchurch or, for that matter, in the Novus Ordo-leaning Fellay-Paglianari Neo-SSPX.
---
August 14, 2018 - Vigil of the Assumption of the Blessed Virgin Mary
Newchurch Officials Are Openly Asking the Fearful Question:
"Is Newchurch Going to 'Empty Out'?"
From: The TRADITIO Fathers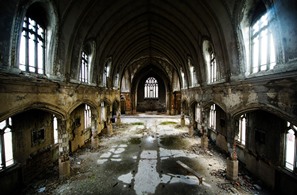 Newchurches Are Already 'Emptying Out'
Being Boarded up and Sold Off
Because Newchurchers Are Sick
Of Scandal, Heresy, and Fake Messes
Their Hopes for Newchurch's Correction Are in Vain
The Current Newpope So Flagrantly Violates
The Dogmatic Foundation of the Papacy
That Even His Own Newcardinals
Publicly Call Him a Heretic
With the corruption of Newchurch now stripped naked before the whole world, even the Newchurchers are finally wringing their hands. In fact, many of them are washing their hands of Newchurch as, for example, one Newchurch Benedictine Oblate on August 9, 2018, publicly asked the fearful question that every Newchurch official and member from Francis-Bergoglio on down dares not speak: "Is Newchurch going to 'empty out'?"
But any hope for Newchurch's correction is are in vain. It has only a fake Protestant-Masonic-Pagan New Mess that is invalid and thus is powerless to confect the Most Blessed Sacrament. All the Catholic Sacraments (except in some cases Baptism and Matrimony) have been invalidated by modifications issuing from the Vatican II Anti-council. Sacramental grace is thus absent in Newchurch. The current Newpope so flagrantly violates the dogmatic foundation of the papacy that even his own Newcardinals publicly call him a heretic. Thus, he is the last one who could ever "fix" Newchurch, as he himself is the cause of many of its problems.
Even now, according to its own statistics, the Newchurch of the New Order is "emptying out" of laypeople and Newclergy. Newchurches across the world are being shuttered up and sold off, and hardly any young men dares to risk his spiritual and physical life by entering the houses of sodomy that Newchurch seminaries have become. [Some information for this Commentary was contributed by WOF News.]
True Catholics, bad as the sinking Newchurch situation is now, it has up to this point been able to suppress most news reporting of its exposed corruption. Surely the sad state of affairs is not being admitted from the Novus Ordo pulpits. If more Newchurchers knew about the crimes of their presbyters, Newbishops, and Newcardinals -- as increasingly they are finding out -- many more would stop donating money to the fake Newchurch and dissociate themselves from Newchurch once and for all.
---
August 13, 2018 - Sts. Hippolytus & Cassian, Martyrs
Simple Feast
Newchurch's Own President of Child Protection Caught in Sex Holocaust
Newcardinal O'Malley's Own Newseminary Is the Latest to Be Accused of Harboring Sex Crimes
From: The TRADITIO Fathers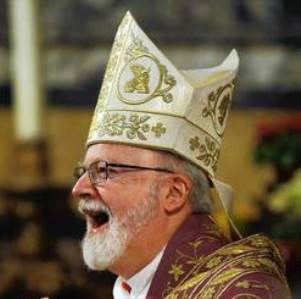 Now that Francis-Bergoglio's Executive Committee President
Has Been Implicated in a Sodomy Ring at His Newseminary
It Has Followed that Bergoglio's President of Child Protestion
Sean O'Malley, of Boston, Massachursetts (Pictured Above)
Is No Longer Giving Sodomy in Newchurch Seminaries the Horselaugh
As His Own Newseminary Has Now Been Implicated in a Sodomy Ring
These Crimes Are Not Being Investigated by a Non-biased Outside Group
But by O'Malley's Own Subordinates
So, We Have Another Newchurch Whitewash Coming
A new wing of Newchurch's Great Sex & Embezzlement Holocaust has been exposed in recent months. Not only are children being raped, sodomized, and sexually assaulted by Newchurch presbyters, Newbishops, and Newcardinals but also it turns out that Newbishops and Newcardinals have been using the young men in their Newseminaries as houses of sodomy, particularly to serve their own perverted sexual appetites.
St. Paul certainly hit the nail on the head when he wrote: "Nolite errare: Deus non inridetur" (Galatians 6:7/DRV). Moreover, God seems to have a pregnant sense of irony because now it is the Newcardinal President of Child Protection, Sean O'Malley, whose head is in the noose, joining four other Newcardianals, including the Chairman of Francis-Bergoglio's Executive Committee to run Newchurch, in being accused of involvement with sex crimes against young people.
It seems that Newcardinal O'Malley has been presiding over a sodomy ring at his St. John's Seminary in Brighton (outside Boston), Massachusetts. Two seminarians have charged crimes so "serious" that O'Malley refused to describe them to the press. But we know from the cases of Newcardinal Theodore McCarrick, of Washington, D.C., and Newcardinal Oscar Maradiaga, of Honduras, that the Newcardinals or their subordinates have been sodomizing Newseminarians. As of August 10, 2018, the rector of the Boston Newseminary has already been discharged. [Some information for this Commentary was contributed by Catholic World News.]
True Catholics, as the Roman satirist Juvenal famously asked: "Quis custodiet ipsos custodes?" These crimes at Newcardinal O'Malley's Boston Newseminary are not being investigated by a non-biased outside group, but by O'Malley's own subordinates. So, we have another Newchurch whitewash coming. Newchurch has learned nothing in the last twenty years, during which these crimes have been exposed again and again. The fake Newpopes seem unwilling and unable to do anything about the crimes. If Newchurch were a corporation, at this point the courts of justice would dissolve it. The Newchurch of the New Order is not the Catholic Church, and the sooner it goes, the faster the true Roman Catholic Church can be fully restored.
---
August 12, 2018 - Twelfth Sunday after Pentecost
Semidouble Sunday
A Reader Asks: "Is the Newchurch Practice Valid
Of Using Whole Wheat Bread and Grape Juice for Its Fake 'Communion'?"
From: Neil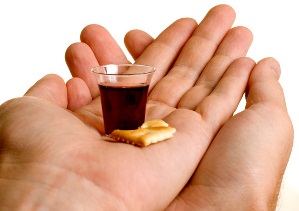 Newchurch, Being a Protestant Sect
Follows the Heretical Protestant Practice
Of Using Cookies and Grape Juice for Its Fake "Communion"
Newchurch Communion Is Invalid
Because of Wrong Form, Matter, and Intention
In the Roman Catholic Church, Following Sacred Scripture
The Host Can Be Made Only of Wheat Flour and Water
And the Wine Must Be the Fermented Juice of Grapes
But Anyone Other than the Celebrant of the Mass
Since Apostolic Times Is Prohibited from Receiving the Wine
Because of the Ease of Profanation and Contamination
Dear TRADITIO Fathers:
You have pointed out the great numbers of changes in doctrine, morals, and liturgy made by the Newchurch of the New Order that show it not to be the Catholic Church. Among other things, Newchurch went to the extreme of changing the matter of what used to be Holy Communion, but in Newchurch is simply an invalid Protestant service. Not only do the Newchurch presbyter-ministers serve wine, or even grape juice, to the congregation but also they have, in most places, changed to a whole-wheat wafer instead of a thin wafer. Could you comment on these matters?
The TRADITIO Fathers Reply.
In Catholic doctrine, the matter to be consecrated as the Most Holy Eucharist for the Body of Christ must be wheaten flour and water only. Thus, whole-wheat flower is valid, but not any added ingredients, such as the Protestantized Newchurch uses (the "Novus Ordo Cookie"): salt, sugar, cinnamon, baking soda, etc. If Newchurch "communion" were valid (which it isn't because of defect of form and intention as well as matter), the addition of such ingredients alone would make it invalid. The traditional matter is based upon Sacred Scripture.
In the Roman Catholic Church, distribution of the Most Holy Eucharist to anyone other than the celebrant of the Mass was prohibited after the Apostolic Age because of profanation of the Sacred Species, as a liquid is much easier to spill and contaminate than solid matter. In any case, the Blood is contained in the Body, as the dogmatic Council of Trent declared. The Vatican II Anti-council (1962-1965) brought back for the Newchurch of the New Order the Protestant practice. For Protestants, profanation was not a problem because Protestants are heretics and deny the Real Presence of Our Lord Jesus Christ in the Most Holy Eucharist.
For further information, click on FAQ10: How Do You Explain These Traditional Catholic Beliefs? in the TRADITIO Network's Library of Files: FAQs and Traditional Apologetics department, in the section "Communion under One Species."
---
August 11, 2018 - Our Lady's Saturday
Simple Feast
Another of Francis-Bergoglio's Newbishops Falls
Gallela Is Charged with Cohabitation, Bastardry, and Money-laundering
From: The TRADITIO Fathers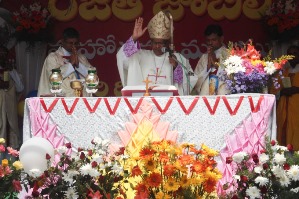 Newbishop Prasad Gallela behind His Fake
"Birthday Cake" Novus Ordo Dinner Table
Gallela Has Been Charged with Numerous Counts
Of Embezzlement, Money-laundering, Corruption, and Fraud
As the Latest to Fall
In Newchurch's Great Sex & Embezzlement Holocaust
Gallela Is Charged with Embezzling
Hundreds of Thousands of U.S. Dollars and Land
From Newdiocesan Funds for Widows and Orphans and the Poor
To Support His "Wife" and Bastard Son by Her
Not all of Francis-Bergoglio's criminal Newbishops are paedophiles. Some of them are natural sexual criminals.
It seems that Newbishop Prasad Gallela, of Cuddapah, India, was happy to commit perjury by breaking his vow of celibacy and "marrying" a woman and having a bastard son by her. He is facing numerous counts of embezzlement, money-laundering, corruption, and fraud as the latest to fall in Newchurch's Great Sex & Embezzlement Holocaust. He has been charged as "moral and corrupt," with embezzling hundreds of thousands in U.S. dollars and land from Newdiocesan social welfare funds for widows, orphans, and the poor, to support his "wife" and his bastard son by her. [Some information for this Commentary was contributed by UCA News.]
True Catholic, this Newbishop is thus charged with committing one of the worst sins possible, one of the biblical Four Sins that Cry out to Heaven for Retribution: defrauding widows and orphans. But this is par for corrupt Newchurch presbyters and Newprelates, all the way to the top Newprelate (Newpope), who is an accomplice and accessory to the crimes of his subordinates.
---
AUGUST 10, 2018 - ST. LAWRENCE, MARTYR
DOUBLE FEAST OF THE SECOND CLASS
Francis-Bergoglio Worships at Tomb of Catholic Church Destroyer
He Proposes to Make a Newchurch Unsaint of First Newpope Paul VI-Montini
From: The TRADITIO Fathers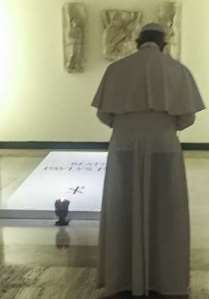 Francis-Bergoglio Worships the Modernist Heretic Newpope
Paul VI-Montini, Who Signed All Sixteen of the Documents
Of the Vatican II Anti-council
Which Replaced the Roman Catholic Church as the "Institutional" Church
With the Protestant-Masonic-Pagan Newchurch of the New Order
Bergoglio, Himself a Rank Modernist Heretic and Marxist
Would Naturally Worship Montini, Who Greatly Exceeded in Evil
The "Bad Pope" Alexander VI-Borgia
Most Catholics think that Pope John XXIII started the Newchurch of the New Order. They are dead wrong. John XXIII was a traditionalist on the Roman Catholic Liturgy in Latin and on Catholic doctrine and morals. In fact, he took vigorous steps to expel paedophile priests in his March 16, 1962, Instructio de Modo Procedendi in Casibus Sollicitationis, concerning the severe penalties to be applied to those who committed the "Crimen Pessimum" [The Worst Crime]. John XXIII took the extraordinary action of applying these penalties not just to the Roman Church, but "Etiam Ritus Orientalis," even to the Eastern Rites.
No, it was not Pope John XXIII, who cried on his deathbed, according to an international journalist, "Stop the Council! Stop the Council!" Although he had called the Second Vatican Council in 1959, it was taken over against his intentions by Modernist forces while the pope was battling stomach cancer.
Instead of the ninety-day "get acquainted" meeting of the Church's bishops that John XXIII had intended, the anti-council turned into a four-year destruction of the Roman Catholic Church, culminated on November 21, 1964, with the adoption of a new constitution entitled Lumen gentium, for the Church, at which time the Newchurch of the New Order was founded to replace the Roman Catholic Church as the "institutional" Church.
John XXIII signed not one document of what became, against his will, the Vatican II Anti-council. That abominable act was left to the first Modernist Newpope, Paul VI-Montini, who signed every one of the Anti-council's sixteen documents. Montini was known to be a Leftist agitator in Italy before he became a prelate, and also there were persist reports that he was a practical homosexual even during his Newpapacy.
Paul VI-Montini was not an ignoramus, but a sly Leftist and Modernist heretic, who would often issue contradictory documents, one for the Traditionalists and one for the Mondernists, to keep both sides happy while he plotted the destruction of the Roman Catholic Church. Montini's henchman in the destruction of the Roman Catholic Church was the infamous Chief Architect of the New Order Mess and Sacraments, the Freemason presbyter Hannibal Bugnini. Francis-Bergoglio admitted this fact when he dubbed Montini during his visit to his tomb "the pope [sic] of Modernism." This is the faker at whose tomb Francis-Bergoglio worshipped on August 6, 2018, the fortieth anniversary of his death. [Some information for this Commentary was contributed by the Catholic News Agency.]
True Catholics, this destroyer of the Church and apparent moral reprobate Paul VI-Montini, Francis-Bergoglio proposes to make a fake Unsaint of the Newchurch on October 14, 2018, together with the Marxist Oscar Romero, having just four years ago made Montini an Unblessed of the Newchurch. A more perverted fake Newpope cannot be conceived. Far from inhabiting the celestial sphere, there is every evidence that Montini actually exists near the pit of Hell, where the poet-theologian Dante Alighieri placed traitor popes.
---
August 9, 2018 - St. John Mary Vianney, Confessor
Double Feast
A Reader Asks: "Is It True that the Moral Corruption
Of the Renaissance Popes, not Martin Luther, Led to the Protestant Revolt?"
From: Neil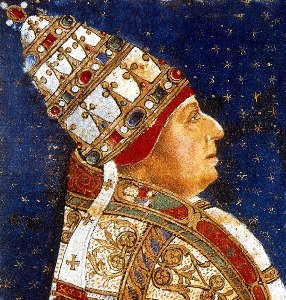 Pope Alexander VI, the "Bad Pope" (R. (1492-1503)
Together with the Arch-heretic Martin Luther
This Pope Brought about the Protestant Revolt
That Sent Half the Church into Heresy to This Day
But, though the Pope May Have Been Personally Immoral
He Did Not Dare to Change the Catholic Mass and Sacraments
Or Catholic Doctrine or Moral Teaching
Newpopes since the Vatican II Anti-council (1962-1965) Are Much Worse:
They Have Destroyed Not Only Themselves
But the Catholic Mass and Sacraments
Catholic Doctrine and Moral Teaching
Dear TRADITIO Fathers:
Do you agree with the condemnation spoken of in the following statement, which compares the sinfulness of the Modernists of our time to an earlier era in the Church? The author claims that deviance by the popes during the Renaissance and other prelates was a cause of the Protestant Revolt:
A cursory review of this horror gives us confirmation that we are living in an age of corruption comparable with the moral corruption of the Borgia Popes and the Renaissance papacy, whose blatant public displays of vice led to the Protestant Reformation [Sic], the most calamitous schism in the Church's history.
Is it true that the moral corruption of the Renaissance popes led to the Protestant Revolt? We are told today that Luther caused the whole thing.
The TRADITIO Fathers Reply.
There is no question that the moral corruption of the popes and other Church prelates in the period just before the Protestant Revolt was a significant contributing factor to that Revolt, as was also the Great Western Schism (1378-1417) that preceded it, involving many popes and anti-popes, when even the Saints of the time couldn't agree on who the real pope was.
Good people in the Church, such as St. Thomas More (1478-1535) and Venerable Erasmus of Rotterdam (1466-1536), the two leading Catholic lights at the time, were fighting very publicly against papal corruption, which came to a peak under the regime of the "bad Pope," Alexander VI (r. 1492-1503), who ruled in the period just after Christopher Columbus discovered the New World, and his two successors, Julius II-della Rovere (r, 1503-1513) and Leo X de' Medici (r. 1513-1521), though the latter was one of the greatest papal promoters of Greco-Roman learning and Sacred Music.
The difference, however, that makes the Newchurch of our time worse than the Church in the Renaissance is that Alexander VI (r. 1492-1503), though he may have been personally immoral, did not dare to change the Catholic Mass and Sacraments, or the doctrinal and moral teaching of the Church. Today, the Newpopes since the Vatican II Anti-council (1962-1965) are much worse: they have destroyed not only themselves, but the Catholic Mass and Sacraments, Catholic doctrine and moral teaching.
The Newchurch of the New Order was created by the Vatican II Anti-council on November 21, 1964, to replace the Catholic Church, which is to be found now not in Newchurch or Newrome or Newpopes, but in those churches, chapels, and oratories where traditional Catholic priests and bishops continue to work assiduously and courageously outside the fake Newchurch of the New Order.
---
August 8, 2018 - Sts. Cyriacus & Companions, Martyrs
Simple Feast
A Reader Asks: "What Advice Would You Give to a Former Catholic
Considering Becoming a Member of an Eastern Orthodox Sect?"
From: Benjamin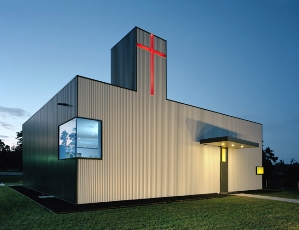 A Modernist Eastern Orthodox Church in Springdale, Arkansas
A Metal Shed Circumscribed with a Skirt of Black Manure
Many Orthodox Sects Are Not Even Valid
As They Have Deviated from "Catholic and Apostolic" Faith and Worship
And Have Vulgarized Themselves
The Eastern Orthodox Sects Have Been Formally Schismatic
For a Millennium
No True Catholic Can Become a Member
Without Subjecting Himself to the Historic Penalty of Excommunication
Dear TRADITIO Fathers:
I am considering joining the Eastern Orthodox sect because of the many problems coming out in Newchurch. I have been told that its sacraments are valid and that it has apostolic succession. Is that true? What advice would you give me?
The TRADITIO Fathers Reply.
You would just be jumping from the frying pan into the fire. You think that Newchurch is bad? It is, but the Eastern Orthodox sects are just as bad. The Eastern Orthodox sects have been formally schismatic for a millennium. Therefore, no true Catholic can become a member without subjecting himself to the historic Penalty of Excommunication.
Moreover, many Orthodox sects are not even valid, as they have deviated from the "catholic and apostolic" faith and worship and have vulgarized themselves. The liturgical scholar Fr. Adrian Fortescue once wrote: "The ruthless destruction of the ancient rites in favor of uniformity has been the work not of Rome but of the schismatical patriarchs of Constantinople. Since the thirteenth Century Constantinople in its attempt to make itself the one center of the Orthodox Church has driven out the far more venerable and ancient liturgies of Antioch and Alexandria and has compelled all the Orthodox to use its own late derived rite."
Those Orthodox sects that have retained the catholic and apostolic Eastern liturgies are these days few and far between. The Russian Orthodox are a good example of this fact. Theirs is not a catholic and apostolic liturgy, but something concocted many centuries thereafter.
A true Catholic will shun anything not Catholic. That certainly includes the invalid, anti-Catholic New Order sect, as you say, but it also includes the Eastern Orthodox schismatics.
---
August 7, 2018 - St. Cajetan, Confessor
Double Feast
Newchurch U.S. Governor Rejects Francis-Bergoglio's Fake Decree
Says that the Death Penalty Is Moral, and He Will Maintain It
From: The TRADITIO Fathers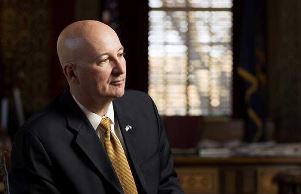 U.S. Governor Pete Ricketts, of Kentucky
A Prominent Member of Francis-Bergoglio's Newchurch Sect
Wasted No Time in Declaring
That Francis-Bergoglio's Fake Decree
Against Capital Punishment Would Be Ignored
Bergoglio's Decree Contradicts Sacred Scripture
And Roman Catholic Theology, even Natural Law
Even the Next Multiple Murderer on Death Row
Now Claiming to Be a Christian
Thinks that He Should Justly Die for His Sins
Just as we TRADITIO Fathers predicted, it took only one day after Francis-Bergoglio attempted to declare the death penalty immoral for even Newchurchers to call him out for his anti-Catholic decree. The first do do so, the day after the decree's publication, was the Governor of Nebraska, Pete Ricketts, a prominent member of Bergoglio's Newchurch sect, who wasted no time in declaring that Bergoglio's fake decree would be ignored, specifically in the next case, of Carey Dean Moore, convicted in 1980 of a pair of capital murders of two Omaha taxi drivers over a period of five days, slated to be executed for his capital crimes on August 14, 2014.
Governor Ricketts has rightly stated that his position on the death penalty is compatible with Catholicism. It is Francis-Bergoglio's position that is not compatible with Catholicism. Even the murderer, Moore, rejects Francis-Bergoglio's false doctrine. Moore says that he is now a Christian and wants to die for his sins, in accordance with the prescriptions of Sacred Scripture (Luke 23:40-41). [Some information for this Commentary was contributed by the New York Times.]
True Catholics, in an era, like some in the past, when the pope is not Catholic, true Catholics must stand up courageously for the Catholic Faith against heretics, of whatever position. In the fourth century, the people and a few true bishops publicly stood against the heretic popes of that time. As a result, the Church experienced some of her greatest Saints: St. Athanasius of Alexandria, the "Defender of the Faith"; St. Basil "the Great"; St. Augustine of Hippo, Great Doctor of the Church; St. Martin of Tours, the Founder of Western Monasticism, to name just a few. At that time it took more than a century to rid the Church of the heretical popes and bishops, but eventually the true Catholics won.
---
AUGUST 6, 2018 - TRANSFIGURATION OF OUR LORD JESUS CHRIST
DOUBLE FEAST OF THE SECOND CLASS
Heretic Newpope Francis-Bergoglio Denies Yet Another Teaching
Now He's Denying the Biblical Teaching on Capital Punishment
From: The TRADITIO Fathers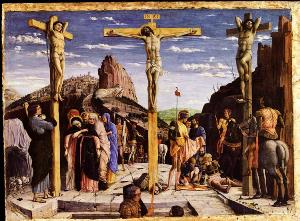 St. Zeno's Altarpiece (1459) Depicting Calvary
In Which the Good Thief, St. Dismas
Admits the Justice of Capital Punishment for Grievous Sinners
The Unsaint JPII-Wojtyla Tried to Change the Teaching
In His "New" Catechism of 1997
But Outcry Even from Newchurchers Forced Him to Recant
Now Francis-Bergoglio Is Trying to Impose the Same Fake Teaching
But It Won't Wash
The Dogma on the Papacy Makes Bergoglio's Action Null and Void
The Marxist Newpope Francis-Bergoglio is attempting once again to change doctrine and even Biblical teaching. On August 1, 2018, he changed the fake "New" Catholic Catechism (Rescriptum de novo Catechismo Catholicae Ecclesiae paragraphi 2267), purportedly to teach that the death penalty "cannot be allowed" (non posse admitti). In its haughtiness, the decree even admits the fact that he is changing doctrine, in spite of the fact that dogmatically the office of the papacy (if Bergoglio is in fact a true pope) is specifically prohibited from validly taking such actions. Newcardinal Blaise Cupich admitted the following day that Bergoglio's novel statement arose from outside the Roman Catholic Church, namely, from the heretical Vatican II Anti-council (1962-1965).
The Roman Catholic Church, to the contrary, has dogmatically defined that no pope has the power to change doctrine:
For the Holy Ghost was promised to the successors of Peter not so that they might, by His revelation, make known some new doctrine, but that, by His assistance, they might religiously guard and faithfully expound the revelation or Deposit of Faith transmitted by the Apostles.
(First Vatican Council, Constitutio Dogmatica Prima de Ecclesia Christi (Pastor Aeternus), chap. 4, De Romani Pontificis Infallibili Magisterio, July 18, 1870)
Jorge, your heresy won't wash. The Unsaint JPII-Wojtyla tried to pull the same denial of Catholic teaching when he published the "New" Catechism in 1997. The pushback against Wojtyla was intense. U.S. Supreme Court Justice Antonin Scalia and U.S. Presidential candidate Patrick Buchanan at the time took out a full-page advertisement in the New York Times demonstrating logically how Wojtyla's position was not Catholic and in fact denied the constant teaching of the Church.
As a result, Wojtyla recanted his false teaching when the authoritative Latin version of the "New" Catechism was published. (Of course, the "New" Catechism, like the "New" Mess, the "New" Sacraments, the "New" morality, and everything else "new" derived from the Vatican II Anti-council is null and void -- it isn't Catholic.)
The Roman Catholic Church's Universal Theologian, St. Thomas Aquinas teaches bluntly (Summa Theologica IIa IIae Q.64) the justice of capital punishment: "Therefore if a man be dangerous and infectious to the community, on account of some sin, it is praiseworthy and advantageous that he be killed in order to safeguard the common good, since "a little leaven corrupteth the whole lump" (1 Corinthians 5:6). Thus, the application of capital punishment is not required, but is "praiseworthy and advantageous." It most certainly can be allowed in Catholic morality, even in Natural Law, contrary to the false teaching of the heretic Newpope Francis-Bergoglio.
In Sacred Scripture the principle is also represented in many places, especially in the words of St. Dismas, the Good Thief on the cross beside Christ, who was being crucified for serious crimes and says to his fellow criminal on the other side of Christ:
Dost not even thou fear God, seeing that thou art under the same sentence? AND WE INDEED JUSTLY, FOR WE ARE RECEIVING WHAT OUR DEEDS DESERVED, but this man [Christ] has done nothing wrong" (Luke 23:40-41).
For further information, click on FAQ10: How Do You Explain These Traditional Catholic Beliefs? in the TRADITIO Network's Library of Files: FAQs and Traditional Apologetics department, in the section "Capital Punishment/Death Penalty." [Some information for this Commentary was contributed by the National Catholic Register.]
True Catholics, even most of Francis-Bergoglio's own Newchurchers will ignore this false teaching, as they did that of the Unsaint JPII-Wojtyla, who had the sense to recant. The original Protestant Revolt was engineered by Martin Luther essentially from outside the Catholic Church, which rejected his heretical teachings decisively at the dogmatic Council of Trent. The Second Protestant Revolt was engineered from inside the Church, so that on November 21, 1964, a new constitution was adopted at the Vatican II Anti-council and approved by the Unblessed Newpope Paul VI-Montini, which founded a Newchurch of the New Order, which is not Catholic. True Catholics, of course, reject everything that comes from the fruit of that poisonous tree.
---
August 5, 2018 - Eleventh Sunday after Pentecost
Semidouble Sunday
The Vatican II Anti-council's Fake "Lay Deacons"
Are Now Falling into Oblivion after Fifty Years
From: The TRADITIO Fathers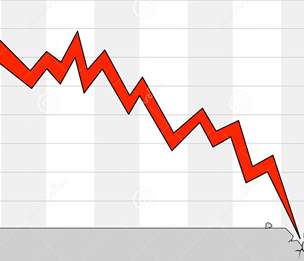 The Novelty Is Wearing off for the "Lay Deacons"
Concocted at the Vatican II Anti-council (1962-1965)
These Non-celibate Newchurch Clergymen Started in 1967
To Replace Hundreds of Thousands of Catholic Priests Refused
To Stay in the Institution that Had Become the Anti-Catholic
Newchurch of the New Order in 1964
In 1967 the Unblessed Newpope Paul VI-Montini, who was already suffering wholesale defections by Catholic clergy from his Newchurch of the New Order, instituted a fake new "order," that of "Lay Deacon," to replace hundreds of thousands of Catholic priests who left rather than become part of the authority of the anti-Catholic Newchurch. This wholesale defection of priests after Vatican II from Newchurch remains to this day a "dirty little secret," estimated by a secret study by the U.S. Newbishops to be upwards of one out of every three.
"Lay Deacons" don't have to have much instruction in religion and can be non-celibate with families. The ploy didn't work, however, so now the same argument is circulating in Newchurch circles that priestesses would bail out Newchurch because young men won't enter the paedophile Newchurch seminaries.
To take the United States as an example, where the fake order is most popular, the number of "Lay Deacons" rose from 1967, probably out of the enthusiasm for anything novel in Newchurch, but then started sinking in 2010, and has been falling for the last seven years. Apparently, like everything else in Newchurch, the novelty is wearing off. During the last forty years, the number of presbyters (Newchurch has not ordained priests since the New Ordinal of 1968, but simply "installs" presbyter-ministers) has fallen 37 per cent to the lowest number ever, 37,181, barely 100 for each Newdiocese. Female religious have sunk even further: 66 per cent to a record low of 45,605. [Some information for this Commentary was contributed by Catholic World News.]
True Catholics, most Newchurch clergy and religious are elderly, and are expected to retire or die within the next ten years, according to the 2017 statistics announced on August 2, 2018, by the Center for Applied Research in the Apostolate, a Newchurch-associated organization. That is why the fake Newchurch is panicking, and Newpope Francis-Bergoglio is using the crisis to install deaconesses and priestesses. It won't work in Newchurch. It didn't work with "Lay Deacons." It hasn't worked in the other Protestant sects either.
---
August 4, 2018 - St. Dominic, Confessor
Double Major Feast
Pennsylvania Supreme Court Sidelines Francis-Bergoglio
Without His Support the Court Releases the Names of 300 "Predator" Presbyters
From: The TRADITIO Fathers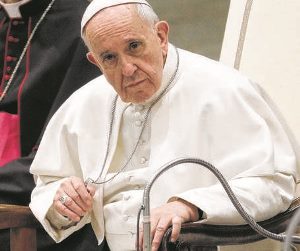 Francis-Bergoglio Falls out of His Seat
As the Pennsylvania Supreme Court Sidelines Him
And Rules that the Names of 300 of His Presbyters
In Six Newdioceses across Pennsylvania
Shall Be Released to the Public
The Court Noted that the Presbyters Are Charged
To Have Committed "Criminal or Morally Reprehensible Conduct"
When the State Attorney General Called upon Bergoglio Personally
To Support the Release of the Names
Bergoglio, Who Is Deaf and Dumb toward the Child Victims
Refused to Speak up against the Paedophile Crimes of HIs Newclergy
On July 27, 2018, the Pennsylvania Supreme Court sidelined Francis-Bergoglio, who was asked by the State Attorney General to support the release of the names of 300 of Bergoglio's "predator" presbyters in an investigative report by the Statewide Grand Jury. When Bergoglio remained deaf and dumb to the request, the Supreme Court sidelined the Newpope and proceeded to release the 300 names anyway. Dozens of criminal presbyters challenged the release of their names, but the Supreme Court rejected their argument.
The Grand Jury report itemizes sex crimes committed by Francis-Bergoglio's Newchurch clergy in six Newdioceses. The order by the Chief Justice to release the 300 names by August 14, 2018, comes in the wake of Newchurch's renewed Great Sex & Embezzlement Holocaust, which has now caught four of Bergoglio's Newcardinals in its dragnet. The court order indicated the scope of the crime that is ravaging Bergoglio's Newchurch not only in Pennsylvania but also in his Newchurch around the world. The court ordered that 300 names of "paedophile" presbyters shall be published of those charged to have committed "criminal or morally reprehensible conduct." [Some information for this Commentary was contributed by Pennsylvania Live.]
True Catholics, once again we find Francis-Bergoglio covering up for his paedophile Newclergy. His record is clear: he will turn a deaf ear even to the most piteous appeals to him to support the children victimized by his presbyters, Newbishops, and Newcardinals. This is no Newpope of "mercy," has his multi-million communications Newvatican communications enterprise spews out in its propaganda. Rather this is a Newpope who will, in every case, take the side of his criminal Newclergy over the cries of innocent children. This is no true pope. He is a criminal accomplice himself.
---
August 3, 2018 - Finding of the Body of St. Stephen, Protomartyr
Semidouble Feast
A Reader Writes: "I Have a New Name for Your List
Of the Hidden Characters in Malachi Martin's Windswept House"
From: Gib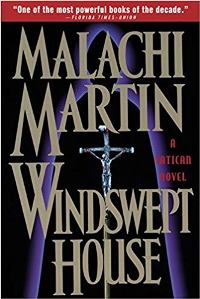 Fr. Malachi Martin's 1988 Novel Windswept House
Which Exposed the Corruption of Unsaint JPII-Wojtyla's Newchurch
The Book Became an Immediate Bestseller
Fr. Martin Wrote All of His Books as Novels
Publicly Stating that if He Had Written Them as Nonfiction
Newvatican Would Have Murdered Him
Thus, He Gave All of His Characters Pseudonyms in His Novels
Dear TRADITIO Fathers:
I would like to submit another name for your key of characters in Fr. Malachi Martin's novel Windswept House.:
Rodolfo Salvi - Roberto Calvi (1920-1982), banker of Banco Ambrosiano, found hung by the neck from a bridge over the Thames in a ritualized killing.
Thank you for providing this key. It is invaluable.
The TRADITIO Fathers Reply.
Fr. Malachi Martin, the noted Vaticanologist and confidant of pre-Vatican II popes, wrote his 1998 novel, Windswept House: A Vatican Novel, about corruption in Newvatican under the Unsaint JPII-Wojtyla. It became an immediate bestseller. His portrayal of Newvatican figures was unflinching:
These are men with nothing in common but immense power and a towering ambition for still more. With world unity and prosperity as their slogan -- and with betrayal, scandal, and murder as their ready weapons -- they have the means and the will to capture as their own the perfect global machinery for their plans: the oldest, wiliest, and most stable political chancery in the world -- the Vatican.
Fr. Martin had been a Jesuit, but was so scandalized by that order's adoption of violent Communist "Liberation Theology" that he got permission from Paul VI-Montini to leave the order at the inception of the Newchurch of the New Order in 1964. He then became a traditional Catholic priest and a best-selling author exposing the corruption of the Newvatican. He wrote all of his books as novels, as romans ? clef, publicly stating that if had written them as nonfiction, Newvatican would have murdered him. Even so, he died under mysterious circumstances. Thus, he gave all of his characters pseudonyms.
The TRADITIO Network has published a key proposed by one source, with further additions by TRADITIO readers, relating the fictional names used in Fr. Malachi Martin's Windswept House to the purported real persons involved. The TRADITIO Network takes no position on the accuracy of the proposed key. For further information, click on WIND: Who's Who in "Windswept House": A Key to the Characters in Fr. Malachi Martin's "Windswept House" in the TRADITIO Network's Library of Files: FAQs and Traditional Apologetics department.
---
August 2, 2018 - St. Mary Alphonsus de Liguori, Bishop, Confessor & Doctor
Double Feast
Paedophile Newcardinal McCarrick "Allowed" to Resign
Francis-Bergoglio Remains Silent about His Assaults against Children
From: The TRADITIO Fathers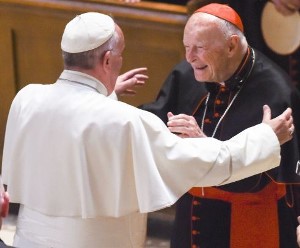 The Paedophile Newpope, Francis-Bergoglio
Embraces One of Four of His Paedoophile Newcardinals So Far Exposed
Theodore McCarrick, of Washington, D.C.
McCarrick Has Been Charged
With Sexually Assaulting an 11-Year-Old Boy
Has Been Accused by Another Boy
And Has Also Been Accused by over a Dozen Newseminarians
Who Were Raped at McCarrick's Beach Estate
Bergoglio Simply "Allowed" McCarrick to Resign
With No Denunciation Whatsoever for His Crimes
Some wonder whether Francis-Bergoglio is a pope. Some wonder whether he is a Catholic, or even a Christian. We should be wondering now whether he is even worthy of being called a human being in the wake of the Newcardinal Theodore McCarrick (Washington, D.C.) scandal. This living Newcardinal has now been accused by children as young as age 11 of sexually assaulting them for years.
McCarrick also stands accused by over a dozen Newseminarians of sexually assaulting them at late-night assignations at his Newchurch-paid-for beach estate. On July 24, 2018, it was revealed that that estate provided access to members of a religious order whose founder has faced charges of sex crimes. Presbyter Carlos Buela was determined in 2016 to have been sexually assaulting Newseminarians and was removed. McCarrick has now been found to have had sexual access to 41 Newseminarians there at the Institute of the Immaculate Word until his own removal on July 27, 2018.
And McCarrick is not the only Newcardinal caught with his cassock down. Two Chilean Newcardinals have been caught, as well as the Chairman of Francis-Bergoglio's own Executive Committee to run Newchurch. The count is now up to four Newcardinals caught in the Biblical Sin that Cries out to Heaven for Justice, or close to it.
On July 27, 2018, McCarrick was "allowed" to resign from the College of Newcardinals, the first to resign since 1927, and that previous case was for political reasons. Big deal. And what was Francis-Bergoglio's response? Nothing. The man who can't shut himself up in prudence, but spews out proven lies to every microphone, like the one claiming that he didn't know any children had publicly accused his paedophile Newbishops, "allowed" the paedophile McCarrick to resign. No Newpapal denunciation. No Newpapal warning of dire consequences for such crimes among his Newcardinals. No millstones around the head. Nothing.
The maxim of the law is: "Qui tacet, consentire videtur". Bergoglio is a criminal under Catholic and civil law as an accessory after, if not before, the acts. So what if Mccarrick can't simulate the Novus Ordo Mess publicly? It's invalid anyway, and he was never consecrated as a bishop. So what if McCarrick is supposed to stay (voluntarily) in one of his palaces where he is supposed to pray? That's not going to help the children and young men whom he deflowered.
And his fellow paedophile conspirators, the U.S. Conference of Catholic [Sic] [New]bishops, are just as vile. Its president didn't denounce his paedophile member, but actually -- this is almost unbelievable -- thanked Bergoglio for his leadership! What leadership? Further igniting Newchurch's Great Sex & Embezzlement Holocaust? [National Catholic Register.]
True Catholics, to use St. Paul's word (translated from the Greek), McCarrick is "vile." Francis-Bergoglio is "vile." The U.S. Newbishops, many of whom told the press that they knew about Newcardinal McCarrick's crimes all along, but remained silent from fear of losing their jobs, are "vile." Our Lord (Matthtew 18:6/DRV) prescribed the death penalty for these vile creatures. St. Paul also, following Our Lord, said that those who commit these vile crimes are "worthy of death" -- "and not only they that do them, but they also that consent to them that do them" (Romans 1:32/DRV).
---
August 1, 2018 - St. Peter's Chains
Double Major Feast
Francis-Bergoglio Has Now Replaced Half of the Newchurch Bishops
With His Marxist Fellow-travelers
From: Petrus Romanus, the TRADITIO Network's International Correspondent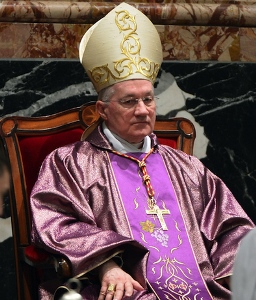 Pontificating over Nothing
Newcardinal Ouellet, Prefect of the Congregation of [New]bishops
A Darling Papabile of the Protestant Neocon Newcardinals
Is Being Largely Ignored in His Position
Instead, the "Black Pope" of the Newjesuits
And the Newjesuit Network of Marxist Presbyters
Of Whom Francis-Bergoglio Is a Card-carrying Member
Is Wiping out What Little of Catholicism Is Left in Newchurch
And Is Replacing Newprelates with Their Own Communist Friends
At a Very Brisk Pace Indeed
There is a tradition in the Church of having a quiet summer. After July 2, the Feast of the Visitation of the Blessed Virgin Mary, the prelates would pack their bags that same evening and then head to the cooler hills to escape the hot Roman summer. This practice continued in Newchurch. During July and August, there were very few appointments made by the Newpopes. It's hard to say whether Benedict-Ratzinger followed this practice, as he appointed very few Newbishops at any time of the year. He was too busy writing books about his "Modernist Jesus" to govern Newchurch.
Francis-Bergoglio has most certainly not followed this tradition, as he wants to waste no time filling the Newchurch episcopate with his Marxist fellow-travelers. Many errors and misdoings can be imputed to Bergoglio, but sloth is not one of them. He works hard, even feverishly, to destroy what little Catholicism is left in Newchurch. I can report that 2018 is no exception. He has been replacing Newbishops this summer hand over fist. On July 27, 2018, for example, he replaced two Italian Newbishops and appointed another one in Mexico. By July 2, 2018, he had already replaced about half of all the Newbishops in his five-year Newpontifical attack on Christianity.
By the end of this summer of 2018, we shall be able to say with certainty that Newchurch will be dead as the Protestant sect it was created to be in 1964. By the end of this summer, we shall be able to say with confidence that the pagan Newprelates will have outnumbered the Protestant Newprelates, the so-called Neocons (Neoconservatives). The Neocons who think that they can reverse Bergoglio will soon be out of rope. The unsacred College of paedophile Newcardinals is next. It will take Bergoglio a little longer to get firm control of it. The reason is that some of his own Newcardinals have been retired or will soon be retired. However, it will not take long before he overfills the College with fellow Communists.
As a peripheral note, Protestant Newcardinal Marc Ouellet, of Quebec City, Canada, a darling papabile of the Neocons, is being largely ignored in his position as Prefect for Newbishops. He is window-dressing, allowed to have little influence on the appointment of Newbishops, except in Canada. Instead, the "Black Pope" of the Newjesuits and the Newjesuit network of Marxist presbyters, of whom Francis-Bergoglio is a card-carrying member, decide for Bergoglio whom to appoint. They remove Neocon Protestant Newprelates even before they turn 75 and replace such men with their own Communist friends. Moreover, this replacement has been accomplished at a very brisk pace indeed.
It is over for the new Protestant Newchurch. Welcome to the new new Pagan Newchurch!
---

Return to Daily Commentaries from the TRADITIO Fathers.