January 2018
| | |
| --- | --- |
| | For answers to many questions, consult the CURRENT MONTHLY REVISED EDITION of the Official Traditional Catholic Directory, Listing All Traditional Latin Masses and Traditional Resources for North America. For further information, click on the TRADITIO Network's Official Traditional Catholic Directory department, provided to the TRADITIO Network by the National Registry of Traditional Latin Masses. |
For information about the protocol for sending messages to the TRADITIO Fathers, click on Ask the Fathers. First, here are some hints for locating items that have already been covered. The TRADITIO Network has the most varied and extensive repository of traditional Catholicism, collected over the 20 years of our existence on the internet, the longest of any traditional site. (1) Check the 16 departments listed in the TRADITIO Network's Web Site Map on our home page, www.traditio.com. (2) Check the 14 FAQs in the TRADITIO Network's Library of Files (FAQs and Traditional Apologetics) department, which answers your most common questions. (3) Use the Search engine on the TRADITIO Network's home page, www.traditio.com.
| | |
| --- | --- |
| | If you have you have personally benefited from the services of the TRADITIO Network, please support the continuation of the TRADITIO Network's Apostolate by clicking on the box to the left to made a donation easily, securely, and confidentially by bank account or credit card through PayPal. Regular contributors become Benefactors of the TRADITIO Network, and their intentions are specially commemorated at Traditional Latin Masses offered. Using PayPal reduces our administrative burden considerably, but if need to use a paper check, click on FAQ01: "How Can I Help the TRADITIO Network's Apostolate?" We have always refused to display those annoying "click" ads to raise money. We hate those ads, and we think that you do too, so we have kept TRADITIO 100 per cent free of them and rely instead on you for voluntary donations. |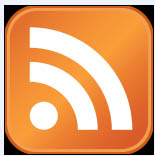 Subscribe to the Free TRADITIO RSS Feed
---
NOW RELEASED: THE 23RD EDITION (2018)
OF THE OFFICIAL TRADITIONAL CATHOLIC DIRECTORY
THE 2018 ANNUAL USE FEE IS NOW DUE
FOR THOSE WHO WISH TO USE THE NEW EDITION
THE TRADITIO NETWORK HAS BEEN INFORMED BY THE NATIONAL REGISTRY OF TRADITIONAL LATIN MASSES THAT THE NEW JANUARY 2018 ORIGINAL EDITION OF THE 23RD ANNUAL EDITION (2018) OF THE OFFICIAL TRADITIONAL CATHOLIC DIRECTORY, LISTING ALL TRADITIONAL LATIN MASSES AND TRADITIONAL RESOURCES FOR NORTH AMERICA HAS BEEN PUBLISHED. FOR FURTHER INFORMATION, CLICK ON THE OFFICIAL TRADITIONAL CATHOLIC DIRECTORY DEPARTMENT, PROVIDED TO THE TRADITIO NETWORK BY THE NATIONAL REGISTRY OF TRADITIONAL LATIN MASSES. THE 2018 ANNUAL USE FEE IS NOW DUE FOR THOSE WHO WISH TO USE THE NEW 2018 ORIGINAL EDITION AND ITS MONTHLY UPDATE EDITIONS. BE SURE TO CHECK YOUR TRADITIONAL SITE'S LISTING FOR CORRECTNESS.
---
January 31, 2018 - St. John Bosco, Confessor
Double Feast
A Reader Asks: "Why Did Newchurch Introduce a 'Concelebration'
Into Its Invalid New Order Service?"
From: John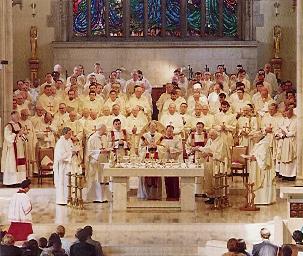 After the Words of the Protestant Hymn
Fake Newchurch Presbyters Gather around the Table
To "Concelebrate" the Invalid Novus Ordo Mess
"Concelebration," in Which a Carnivallike Troupe Celebrates
Modeling the Protestant Heresy that Rejects the Priesthood
And the Sacrament of Holy Orders
For the Protestants, Any Number of Toms, Dicks, and Harriets
Can "Preside" as "Ministers" over the "Assembly of the People"
Dear TRADITIO Fathers:
Why did Newchurch introduce a "concelebrated" Mess into its phony New Order service? Very often, it seems, the Novus Ordo Mess is "concelebrated" by not one, but by a carnivallike troupe of presbyters. Is this an Anglican-Episcopalian thing or a Lutheran thing, perhaps?
The TRADITIO Fathers Reply.
"Concelebration" was introduced into the New Mess of 1969 because the purpose of that invalid New Mess was to introduce Protestant heresies and forms. "Concelebration," in which more than one priest celebrates, models the Protestant heresy that rejects the priesthood and the Sacrament of Holy Orders conferred upon individual priests "to offer the Sacrifice of the Mass for the living and the dead." For the Protestants, however, any number of Toms, Dicks, and Harriets can "preside" as "ministers" over the "assembly of the people." Even the Jews of the Old Testament rejected that notion!
Pope Pius XII, in his document Mediator Dei of 1947, specifically condemned "concelebration" as repudiating the sacrificial intent of the Holy Mass and denying the office of the priest acting in the person of Christ in the Holy Mass. In fact, the Modernist heretics and the Vatican II Anti-council (1962-1965) didn't even wait until their invalid "New Mess" of 1969 to introduce Protestant "concelebration." In 1965, a "New Missal" was quickly issued (so it must have been prepared even in advance of the Anti-council) to include a new rite for the "concelebration" of Mess. The rationale of "concelebration" is Protestant. All of the heretical Protestant sects deny the Sacramental priesthood instituted by Christ.
Traditionally, there are only two exceptional instances in which the Holy Sacrifice of the Mass is truly concelebrated. Newly-ordained priests celebrate with their ordaining bishop on the day of their ordination, and newly-consecrated bishops celebrate with their consecrating bishop on the day of their consecration. Exceptio probat regulam. These exceptions actually model the true nature of the Catholic priesthood and mark its handing down (traditio).
Yet even these exceptions do not apply to Newchurch, which no longer even recognizes the traditional Sacrament of Holy Orders. Since its Protestantized New Ordinal of 1968, Newchurch does not ordain priests "to offer the Sacrifice of the Mass for the living and the dead," but merely "installs presbyters (ministers) to preside over the assembly of the people." Newchurch does not consecrate bishops, but merely "installs" them as administrative officers to oversee the Newdioceses.
Nor is the Half Novus Ordo Vatican II "New Latin Mess" of 1962 (erroneously termed "Extraordinary" by the heretical Benedict-Ratzinger) exempt from the Protestant practice of "concelebration." In 2016, Francis-Bergoglio revised the so-called "Extraordinary" Mess to be concelebrated, starting first in a monastic community, then to be spread to such Newchurch organizations as the Fraternity of St. Peter (FSSP). Bergoglio doesn't like presbyters "always having their back toward the people." He fancies that if "Extraordinary" Messes are concelebrated, at least some presbyters canmake eye contact with the congregation.
---
January 30, 2018 - St. Martina, Virgin & Martyr
Double Feast
On February 14 Novus Ordo Sectarians Must Choose:
Candy or Catholicism - They'll Choose Candy
From: The TRADITIO Fathers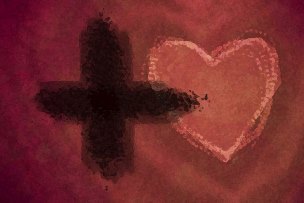 In 2018 Newchurchers Are Really Being Put to the Test
We Know that They Are No Longer Catholic
But They Try to Persuade Themselves that They Are
They Are Supposed to Fast and Abstain on Ash Wednesday
But That Day Falls on Secular "Valentine's Day" in 2018
Saint Valentine's Day Was Stricken from Newchurch's Calendar in 1969
Along with 200 Other Saints Venerated since the Early Catholic Church
Traditional Catholics Will Keep the Lent in Saint VaLENTine's Day
On February 14 in the year 2018 a rare occurrence will take place. St. Valentine's feastday falls on Ash Wednesday, the first day of penitential season of Lent, a day of strict fast and abstinence. Because Ash Wednesday rotates from year to year, from February 4 to March 10 based on the date of Easter, and because February 14 falls on a Wednesday only about once every seven years or so, it is rare that St. Valentine's feastday falls on Ash Wednesday.
But if the Newchurchers are going to give up Ash Wednesday or St. Valentine, according to their own fabricated calendar they should give up candy because the Martyr-Priest St. Valentine isn't really a Saint for them any longer; February 14 is merely secular "Valentine's" Day. In his "St. Valentine's Day Massacre," Newpope Paul VI-Montini imposed upon Newchurch February 14, 1969, a new, anti-Catholic calendar to go along with his anti-Catholic and invalid "New Mess." The Fourteen Auxiliary Saints, including St. Christopher, St. Blase, St. George, St. Barbara, and St. Catherine, so highly venerated from the early Catholic Church for their assistance to those who prayed to them, were stricken from the Novus Ordo calendar, along with St. Philomena, St. Valentine, and 200 other Saints.
St. Valentine is not some silly lovey-dovey fantasy. He was a priest and martyr in the early Catholic Church, which was suffering periods of great persecution from the Roman government. St. Valentine was also a physician and was beaten with clubs and finally beheaded for giving aid to Christians in Rome. Far from representing mere sentimentalism, the red color and the hearts that are so prevalent this day recall the fact that Saint Valentine gave his body's red heart and his life's red blood as a Martyr for his Catholic Faith. The Newchurchers, if they were Catholic, should be on their knees asking for the Martyr-Priest's intercession.
So now Newchurchers are in a quandry. Like the Protestants that they are, they don't observe the Lenten fast or abstinence any longer -- except supposedly on Ash Wednesday, the start of Lent, and Good Friday. One year the opening of the American baseball season fell on Good Friday, and the Newchurchers had the temerity to ask for a "dispensation," so that could stuff their faces with hot dogs and peanuts rather than recognize the day upon which Christ died to save them from their sins. Ironic, but that is how corrupt Newchurchers have become. They and their sect are certainly not Catholic.
---
January 29, 2018 - St. Francis de Sales, Bishop, Confessor & Doctor
Double Feast
And Then there Were None
Major Newchurch Archdiocese Closes Half Its Newparishes
From: The TRADITIO Fathers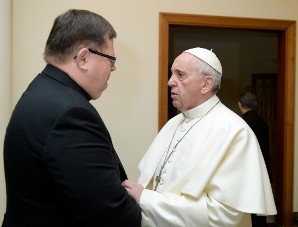 Francis-Bergoglio Looks Shocked
Quebec's Newarchbishop Had to Deliver the Bad News
That as of 2018, Quebec's Newparishes Had Been Reduced by Half
By 2020 the Number Will Be Reduced to a Quarter of That Figure
In Newchurch, the Mass and Sacraments Are Dead
The Newpope's Doctrine Is Marxist
And the Newchurch Clergy Are Consumed with Paedophile and Financial Crimes
Quebec's Story Is Being Repeated in Newchurch Dioceses throughout the World
In traditional times, in 1950, the Archdiocese of Quebec, Canada, grew to 285 parishes, when almost 99 per cent of its population was Catholic. But then Newchurch replaced the "institutional" Catholic Church in 1964, and the numbers started to fall. When Quebec's new Newchurch archbishop, Gerald Lacroix, took over in 2011, that number had already fallen to 216. So bad was the fall that as of 2018, the number of Newparishes was reduced to 130. As of 2020, the number of Newparishes is slated to fall to just 37.
The mendacious Newchurch claims that now about 85 per cent of the Quebec population is Catholic. In their dreams! If so, why has the number of Newparishes fallen by 87 per cent since traditional times? You'd think that Lacroix would have a good explanation for this precipitous drop. It is obvious that the causes are Newchurch's Great Sex & Embezzlement Holocaust, the loss of the Catholic Faith, the substitution of an invalid and graceless Mess and "sacraments," and the changing of Catholic to Marxist doctrine. Lacroix, however, puts a ridiculous positive "spin" on the decline: the downturn "is essential to bring together the parochial forces and promote evangelism," he says Well, that's certainly an attempt to turn lemons into lemonade! [Some information for this Commentary was contributed by Catholic World News.]
True Catholics, even Newpope Paul VI-Montini (r. 1963-1978) admitted six years before his death that the Newchurch had been overwhelmed by the "smoke of Satan." What was clear in 1972, and was ignored then, is now like a blast of ice-water to the face. In Newchurch, the Mass and Sacraments are dead, the Newpope's doctrine is Marxist, and the Newchurch clergy is consumed with criminal paedophile and financial crimes. Quebec's story is being repeated in Newchurch dioceses throughout the world. In fact, Newchurch is Great Fraud, and Providence is blowing it down in a stormy wind, just as in Our Lord's parable of the house built on sand (Matthew 7:24-27).
---
January 28, 2018 - Septuagesima Sunday
Semidouble Sunday of the Second Class
Marxist Newpope Capitulates to Marxist Chinese Government
Francis-Bergoglio Asks His Newchurch Bishops to Abdicate to the Reds
Reported by Petrus Romanus, the TRADITIO Network's International Correspondent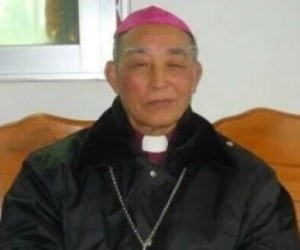 Newchurch Bishop, Zhuang Jianjian, Was Forced by Francis-Bergoglio
To Abdicate His Position in Favor of a Communist-affililated Bishop
Under Francis-Bergoglio's Red China Sellout, Seven Communist Bishops
Are to Be Recognized by Newchurch
And Installed to Head Newchurch Dioceses in Red China
They Will Replace "Underground" Newchurch Bishops
Who, though Invalid and No Better than Protestants
Have Often Been Viciously Persecuted by China's Red Government
The international press is abuzz about the sell-out on January 24, 2018, of Francis-Bergoglio's sellout of his Newchurch in Red China to the out-and-out Communist Patriotic Association (CPA). Bergoglio's Marxist policy in China is being overseen by his shadowy Secretary of State, Pietro Parolin. First, a summary of the historical situation in Communist China. There are two groups using the term "Catholic," neither of which is Catholic:
The Communist Patriotic Association (CPA). This group was once traditional, handing down the Catholic Faith and the Mass as it was received from Chinese missionaries before Newchurch came on the scene in 1964. Recently, reports indicate that the CPA has lapsed in many places since about the year 2000 from the Traditional Latin Mass and Sacraments and moved toward the invalid Novus Ordo. In 1957 the Catholics in the CPA capitulated to the Communist government established by the virulent Marxist Mao-tse Tung, who turned China communist in 1949. Because the CPA answers to the Communist government, particularly in the appointment of bishops, Pope Pius XII excommunicated all future bishops of the CPA. However, the priests and bishops of the CPA are valid, having been ordained and consecrated in the valid traditional Catholic rite by other valid traditional Catholic bishops (although it is unclear whether that situation still continues since about the year 2000).


The Newchurch organization in China, informally called the "Underground" Church. It is viciously persecuted by the Chinese government like the Protestants. Although the "Underground" Newchurch presbyters and bishops are not valid, because they have not been ordained and consecrated in the traditional Catholic Sacrament of Holy Orders, but merely "installed" under the invalid Protestantized New Ordinal of 1968, they, like the Protestants, have suffered persecution.
For about two decades, particularly under Benedict-Ratzinger and Francis-Bergoglio, Newchurch has been trying to sell out its own persecuted "Underground" bishops in order to be recognized by the Communist government. What makes the January 24 news different is that it reveals a new policy: Bergoglio's Red China Sellout.
Bergoglio forced "Underground" Newchurch bishop Zhuang Jianjian go to Peking to abdicate in favor of CPA (communist-affiliated) bishop Joseph Juang Bingzhang. At the same time another "Underground" Newchurch bishop was asked to abdicate in favor of a CPA bishop in the Fujian Province. In addition, the Communist government has been bribing persecuted Newchurchers with food if they take down their holy pictures and replace them with pictures of the Communist Dictator of China, Xi Jinping. Bergoglio tried to keep secret these deals with the Communist government, but when they came to light, Newchurch presbyters in China indicated that they would abandon their ministries before they served a Communist bishop.
Under Francis-Bergoglio's Red China Sellout, seven CPA Communist bishops are to be recognized by Newchurch and installed to head Newchurch dioceses. They will replace "Underground" Newchurch bishops, who will be forced to abdicate. So, the "Underground" Newchurch clergy in China, who co-operated with the anti-Catholic Newchurch organization, which was taken over in 2013 by the Bergoglio, should not be surprised that it has been sold out by the Marxist Bergoglio to the Marxist President of Red China, Xi Jinping. One Marxist wolf in sheep's clothing has sold out his own people to the avowed Marxist wolf of Red China.
---
January 27, 2018 - St. John Chrysostom, Bishop, Confessor & Doctor
Double Feast
Francis-Bergoglio Moving to Install Married Protestantized Presbyters
Using the Same Deceptive Techniques Used at the Vatican II Anti-council
From: The TRADITIO Fathers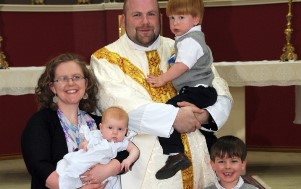 The Anti-Catholic Future of the Newchurch of the New Order
Married Presbyters with Mistresses and Bastardized Children
Another Blow for Protestantism in the Already-Protestantized Newchurch
The Heretic Newpope Francis-Bergoglio Is Defrauding Newchurch
By Using the Same Modus Operandi as the Vatican II Anticouncil Did
The Result Was the Loss of the True Mass in Newchurch
Invalid Sacraments in Newchurch
And False Doctrine and Morality Sweeping Newchurch
Having invalidated the Sacrament of Holy Orders, so that there have been no priests ordained or bishops consecrated in Newchurch since the adoption of the Protestantized New Ordinal of 1968, Newvatican has taken the first step toward the "installation" of a married Newclergy. And the way that this latest anti-Catholic move will be perpetrated is the same way that the Vatican II Anti-council (1962-1965) used. Newchurch has learned nothing. In fact, Benedict-Ratzinger had already started importing Anglican-Episcoplanian presbyters into Newchurch in 2009 with document Anglicanorum coetibus. (Any notion that Ratzinger was "traditional" is a complete figment.)
The first bomb is the announcement, on January 22, 2018, by Newcardinal Beniamino Stella, Prefect of the Congregation for the [Newchurch] Clergy. Married Protestantized presbyters will be an "exception," starting with the Amazon and remote Pacific Islands. This was exactly the same fraud used to destroy the Traditional Latin Mass and Sacraments in Newchurch. In its Constitution Sacrosanctum concilium, Section 36.1, the Anti-council decreed: "Linguae latinae usus ... in Ritibus latinis servetur" [The use of the Latin language in the Latin rites shall be retained]. Yet everyone with eyes to see and ears to hear knows that this clause has been signally ignored.
So, with this clear statement, how was every vulgar tongue in the world injected into the New Mess? Through the "exception" clauses of Sections 36.2-4. Within five years the Catholic Mass was replaced with a New Mess, completely revised to accord with Protestant services and completely in the vulgar tongues. Benedict-Ratzinger used the same technique in 2007 to shoehorn in an occasional New Latin Mess of 1962, which was the very same Mess used at the Anti-council. Ratzinger used for his phony Mess the synonym for "exceptional," that is, similar non-Catholic term "extraordinary."
Newcardinal Stella then dropped the second bomb. Nothing is being actually done, but the issue is framed a "just a discussion." Yet, anyone who stands for Christ's prescription, for the Catholic and Apostolic Tradition of a celibate celibacy, is already denounced, even before the "discussion," as "closed or rigid." These are two of the 27 derogatory terms that have already been used by Francis-Bergoglio of traditional Catholics. It is just his effort to relegate traditional Catholicism to the outer darkness.
No "discussion" is needed to determine what is truly Catholic. We have 2000 years of Scripture and Tradition to tell us. But framing heresy as "discussion" is just what the Vatican II Anti-council did. That is what the heretic Newpopes "Gay" Paul VI-Montini, "Unsaint" JPII-Wojtyla, "Nazi" Benedict-Ratzinger, and "Fraud" Francis-Bergoglio have done.
The third bomb is that the topic will be placed on the agenda of the 2019 Synod of Bishops. These "synods" come right out of the Protestants' playbook. Protestants vote on doctrine. That is how the heretical Anglican-Episcopalian sect now has a married clergy, priestesses, bishopesses, sodomite bishops, divorce, and abortion. These positions have torn apart the Anglican-Episcopalian sect, and as a result the number of these sectarians has sunk so low that the Church of England is expected to be disestablished upon the imminent death of Queen Elizabeth II.
The fourth bomb is Newvatican's propaganda programme. All of this nonsense is justified in the Newchurch of the New Order because, it claims, of the "people's real hunger for the Eucharist." Really? In spite of the fact that Newchurch membership is rapidly sinking, and the "eucharist" has become a Protestant shivaree of invalid cookies and Kool-Aid? [Some information for this Commentary was contributed by the Catholic News Service.]
True Catholics, the handwriting is on the wall. If Newchurchers fall for this ploy after fifty years of the exposure of Newchurch's fraudulent modus operandi, they are as ignorant of the true Faith as we have been portraying them. It is interesting that several articles have recently been published in Newchurch publications that acknowledge that Newchurchers are blind and dumb as the stones of which Our Lord spoke. For further information, click on FAQ10: How Do You Explain These Traditional Catholic Beliefs? in the TRADITIO Network's Library of Files: FAQs and Traditional Apologetics department, in the section "Priestly Celibacy."
---
January 26, 2018 - St. Polycarp, Bishop & Martyr
Double Feast
A Reader Writes: The Novus Ordo Dog "Mess"
Should Be Now Added to Your Novus Ordo Service Photo Gallery
From: Cory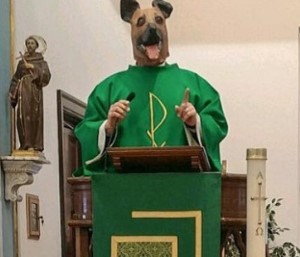 The "Dog" Mess Was Performed at Eddystone, Pennsylvania
The Novus Ordo Mess Is the "Ordinary" Mess of Newchurch
As Officially Declared by Benedict-Ratzinger in 2007
No Wonder Newchurches Are Being Closed Right and Left
Because Even Few Newchurchers Want to Come
To These Newchurch Farces
If Even Newchurch Doesn't Think
That Its Invalid "Mess" Is Serious
Why Should Anybody Else?
I was horrified to see the sacrilege committed at the St. Rose of Lima Newparish Mess in Eddystone, Pennsylvania, in which the deacon "homilist" donned a dog mask, apparently to worship the local "underdog" football team. It was farces like this that got me running away from Newchurch as far and fast as my legs could carry me.
Obviously, even Newchurch doesn't think that its "Mess" is serious, so why should I? I am a happy traditional Catholic now, with the fully traditional Latin Mass and Sacraments. Our priest wears a biretta. He wouldn't be caught dead in a dog mask at the Holy Sacrifice of the Mass.
---
January 25, 2018 - The Conversion of St. Paul, Apostle
Double Major Feast
Francis-Bergoglio Causes Outrage in Peru
By Calling Peruvian Contemplative Newnuns "Terrorists" and "Bombers"
From: The TRADITIO Fathers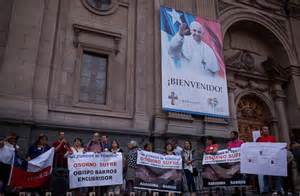 Protesters Riot in Osorno, Chile, Rail against Francis-Bergoglio
Under a Poster of His Newpapal Junket There
Bergoglio Took the Side of a Notorious Paedophile Presbyter
And Called the Child Victims that Reported His Crimes "Slanderers"
Bergoglio's Four-mouthed Statement Caused Such a Scandal
That He Was Forced to Walk It Back -- but Only a Little
Then He Outraged Peru by Calling a Group of Its Contemplative Newnuns
He Claims (with No Proof) "Terrorists" and "Bombers"
Simply because They Allegedly "Gossip"
Having defamed children who were the victims of his paedophile Newclergy in Chile, now Francis-Bergoglio has gone on to call a group of his Peruvian Novus Ordo contemplative Newnuns "terrorists" and "bombers" because at times he claims (with no proof) that they allegedly "gossip." That is what this Marxist Newpope, who is known for his foul mouth, told the Newnuns of Peru's capital, Lima, on January 21, 2018, during his Newpapal junket to Chile and Peru.
He proclaimed that the Newnuns were "worse than the terrorists of Ayacucho." The Marxist Bergoglio should know. Ayacucho was the center of the Marxist-inspired terrorist uprising that fought Peru and left 69,000 people dead or missing in the 1980s and 1990s. These terrorists still operate in Peru and are now deep into drug trafficking and attacks against Peru's military and police that are trying to interdict the drugs.
You see, Francis-Bergoglio is obsessed with "gossiping" rather than outright paedophile sodomy, rape, and sexual assaults by his Newclergy upon children. Why? Because a good deal of the "gossip," if it exists in reality rather than his demented mind, is probably not gossip at all, but honest discussion of news events that, undoubtedly, have has their focus Bergoglio's heretical pronouncements, proclaimed with his foul mouth and nasty Narcissistic temperament.
If Francis-Bergoglio is not one thing, he is not funny. After having caused outrage and schism in Chile just days before, when he blamed the child victims for Newchurch's paedophilia holocaust in Chile, now he has outraged Peruvians by comparing his Newchurch nuns to terrorists. Bergoglio is supposed to be in Chile and Peru to unify his divided Newchurch in those (and many other) countries, but his trip has only served to widen the chasm and provoke schism from his Newchurch regime. [Some information for this Commentary was contributed by Reuters.]
True Catholics, Chile and Peru's children, as it so many other countries, have been truly terrorized by Francis-Bergoglio's presbyters and Newbishops in Newchurch's continuing Great Sex & Embezzlement Holocaust. Bergoglio, Newchurch's head, and his Newclergy are far more terrorists against the lives of innocent children than a few (allegedly) gossiping contemplative Newnuns!
---
January 24, 2018 - St. Timothy, Bishop & Martyr
Double Feast
Francis-Bergoglio's Closing Mess in Chile Was a Bomb
Chileans Boycotted His Phony Mess in Anger against His Support of Paedophilia
From: The TRADITIO Fathers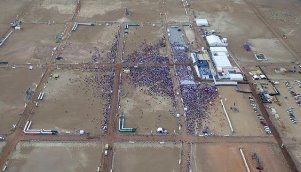 Chileans Are Boycotting Francis-Bergoglio's Messes
Because of His Unwavering Support for the Paedophile Newbishop
Whom He Appointed for Osorno, Chile
At His Closing Mess the Turnout Was Barely 30 per Cent of Expectations
Chileans Have Set Ablaze Eleven of His Novus Ordo Temples
One Could Have Hoped that Chileans Would Have Boycotted
Bergoglio's Messes for the Right Reason:
They Are Not Catholic Masses At All
But Invalid Protestant-Masonic-Pagan Heretical Services
Chileans and his own Newchurchers are boycotting Francis-Bergoglio's Messes in protest against his refusal to dethrone and terminate the paedophile Newbishop whom he appointed for Osorno, Juan Barros. Turnouts have been abysmal. In his closing Mess, in Iquique, 300,000 were expected and prepared for. The turnout was barely 30 per cent of that number.
The large demonstrations planned against Bergoglio for his support of the paedophile Newbishop were interdicted by Newvatican officials. But the people of Chile, not to be denied, made their point against the Third Paedoophile Newpope in another way. They set ablaze with a Molotov cocktail the Novus Ordo chapel in the village of Arequipa, Peru, which he was supposed to visit for four days starting January 18, 2018. The Chileans who are ablaze with anger at Bergoglio's unwavering support of a paedophile as one of their bishops that they have already set ablaze eleven other Newchurches in Chile. [Some information for this Commentary was contributed by CNN.]
True Catholics, one could have hoped that the Latin Americans would have boycotted Bergoglio's Messes for the right reason: they are not Catholic Masses at all, but invalid Protestant-Masonic-Pagan heretical services. Instead, the Chileans are now stuck with both a fraudster Newpope and a fraudulent Mess, which is devoid of Divine grace. Thus, schism against Bergoglio has already broken out in Chile, Nigeria, and elsewhere.
---
January 23, 2018 - St. Raymond of Pennafort
Semidouble Feast
Francis-Bergoglio Eradicates Last Pseudo-traditionalist Monastery
Now Newchurch Has No True Trappist Monasteries
Reported by Petrus Romanus, the TRADITIO Network's International Correspondent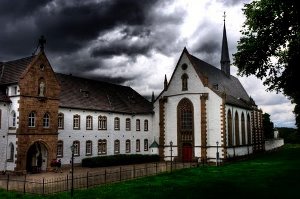 The Dark Storm Clouds of Francis-Bergoglio's Newchurch
Have Eradicated the Venerable Mariawald Trappist Abbey
In the 1960s the Trappist Abbey Became Novus Ordo
But Later Changed to the Half Novus Ordo Mess of 1962
In 2016 Bergoglio Degraded It to a Priory
And in 2018 Bergoglio Has Eradicated It Entirely
The Same Fate Awaits Bernie Fellay's Neo-SSPX
Once It Accepts the Poisonous Bergoglio Personal Prelature
Word has come from Germany that Francis-Bergoglio has now dissolved the last pseudo-traditionalist Trappist abbey in the Newchurch of the New Order. The Trappist Abbey of Mariawald in the Newdiocese of of Aix-la-Chapelle (Aachen), once the headquarters of the whole Holy Roman Empire, is now eradicated. The abbot and monks were persecuted by the Leftists in Newchurch since the regime of Benedict-Ratzinger. Under Bergoglio in 2016 the abbey was degraded to a priory. Now Bergoglio has eradicated this last pseudo-traditional abbey-then-priory. The monks have been disbursed into Novus Ordo abbeys or forced to quit, and Bergoglio has taken over their property.
This is the end of Newchurch "Ecclesia Dei" (pseudo-traditional) societies and communities: eradication. The attack has now spread to the first of them, after Bergoglio worked to destroy the Neocon Franciscans of the Immaculate and the venerable Knights of Malta. Soon, the Fraternity of St. Peter (FSSP) and the Institute of Christ the King (ICRSS) and the Canons Regular of the Mother of God in France will be placed on the auction block. The smaller pseudotraditional groups as well will be picked off one by one by the Bergoglian Marxist regime. Soon, they and the once "indult" presbyters will all be forced into the New Mess calendar and lectionary, imposed by Francis through Newcardinal Robert Sarah, Head of New Order Liturgy.
One could say that the end of pseudo-traditionalism (the Half Novus Ordo "Mess of 1962") is near. The same fate awaits Bernie Fellay's Neo-SSPX once it accepts the poisonous Bergoglian personal prelature. Those clerics and religious, as well as their lay supporters, who want to save their souls must immediately fly away from Newchurch to fully-traditional independent priests and groups. Francis-Bergoglio and his Marxist Newchurch mean death to their souls.
---
January 22, 2018 - Sts. Vincent & Anastasius, Martyrs
Semidouble Feast
Newchurchers Are Wondering whether Bergoglio Has Gone Mad
As He Causes a Schism in Newchurch in Chile during His Newpapal Junket
From: The TRADITIO Fathers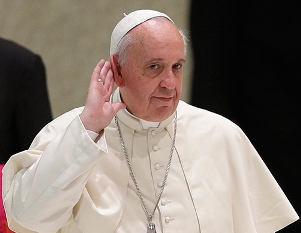 Francis-Bergoglio, the Third Paedophile Newpope
Cannot Hear the Cries of the Children Sexually Assaulted by His Newclergy
He Calls Them Scandal-mongers for Telling the World
That They Were Assaulted while Bergoglio's Newbishop Barros Watched
Instead of Dethroning and Terminating the Newbishop
Bergoglio Knowingly Appointed Him to a New Bishopric
In Consequence, Chile's President, First Lady, and Congress
All Denounced Bergoglio as a Paedophile Facilitator
Now that U.S. President Donald Trump has gotten a clean bill of health in his annual physical, including a 100% score on the Montreal Cognitive Assessment test, Newchurchers, if not the world, are beginning to wonder whether Newpope Francis-Bergoglio has cross the line into madness. In Chile, on January 18, 2018, where Bergoglio was on another one of his Newpapal junkets, he insanely railed against not his Newchurch presbyters and Newbishops, but against the child victims of their crimes!
Francis-Bergoglio was met with protests from his arrival in Chile, where he has been officially censured by the President, First Lady, and the Congress for appointing a known paedophile, Juan Barros, as his Newbishop of Osorno, although Bergoglio had received numerous reports of the man's paedophilia before the appointment, in accounts that Barros personally witnessed one of his presbyters, the notorious paedophile Fernando Karadima, sexually assaulting a child and did nothing about it.
The sexually-assaulted children, Bergoglio stated, were committing slander against his paedophile Newbishop by even bringing up the subject! If Bergoglio wanted to bring peace to Newchurch in Chile and begin to restore its credibility (if that were even possible), his conclusing statement blew Newchurch in Chile right to Hell. Bergoglio's junket was supposed to bring peace to Newchurch in Chile. Instead, he has brought hatred upon himself and his Newchurch of the New Order and caused a national uproar against him and his Newchurch.
Francis-Bergoglio refuses to admit that his presbyter, Karadima, and his Newbishop, Barros, are criminal paedophiles, even though Newvatican itself sentenced Karadima in 2011 to a "lifetime of penance and prayer." The child victims had gone public in 2010 because the Second Paedophile Newpope, Benedict-Ratzinger, had done nothing to the presbyter who had been sexually assaulting children since 2002. The sentence was immediately denounced by Newchurchers as a slap on the hand for a crime that on the spiritual plane is worthy of Hell. One of the child victims was quick to denounce Bergoglio as a phony:
[Presbyter] Karadima abused me and others, and Juan Barros stood by watching it all. These people are truly crazy, and the pontiff [Bergoglio] talks about atonement to the victims. Nothing has changed, and his [Bergoglio's] plea for forgiveness is empty.
Just days before Francis-Bergoglio set off on his Newpapal junket, the Associated Press had released a 2015 letter from Bergoglio to the Executive Committee of the Chilean Bishops' Conference, in which a plan to remove the paedophile bishop Barros was proposed, but the plan fell apart. Instead, Bergoglio reassigned Barros to the Newdiocese of Osorno.
In consequence of Bergoglio's actions, Osorno has gone into schism from Bergoglio because the Newchurch clergy and laity in Osorno refuse to recognize his appointment of Barros. Their actions parallel those of Newchurchers in Boston, Massachusetts, who forced the removal of the infamous and now late Newcardinal Bernard Law, the notorious paedophile facilitator, whom the First Paedohphile Newpope "Unsaint" JPII-Wojytla, refused to dethrone and terminate. Also in consequence of Bergoglio's immoral statement, yet another Newcardinal has come out against him: his own top advisor on Newchurch's paedophile crimes, Sean O'Malley of Boston, Massachusetts, who succeeded Bernard Law. O'Malley "rebuked" Bergoglio "as a source of great pain" and intimated that he was out of his mind. [Some information for this Commentary was contributed by the Canadian Globe and Mail.]
True Catholics, the Marxist Newpope Francis-Bergoglio is finally getting his due. Newchurchers are protesting against Bergoglio and against his paedophile clergy. It is reported that in the typical Chilean family, parents now think twice before sending their kids to Newchurch school "because you never know what is going to happen." Is Bergoglio slipping into madness, or is he deliberately trying to destroy Newchurch? There is growing evidence that Bergoglio may not be as stupid as he seems, but that the Marxist Newpope is in fact deliberately trying to destroy Newchurch in particular and religion in general.
---
January 21, 2018 - Third Sunday after the Epiphany
Semidouble Sunday
Francis-Bergoglio Sheds Crocodile Tears in Chile
Over Sodomized Children, but Does Nothing to Purge His Paedophile Newchurch Clergy
From: The TRADITIO Fathers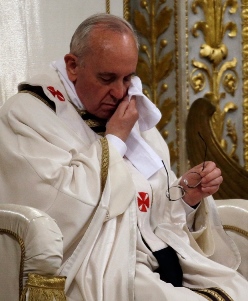 Francis-Bergoglio Sheds Crocodile Tears
While Meeting Very Privately with a Handful of Child Victims
Of His Paedophile Presbyters and Newbishops
Bergoglio Claims that He Wants to Prevent
These Crimes from Happening Again
But the Buck Stops with Him
In Five Years He Has Done Nothing
To Purge His Paedophile Newchurch Clergy
In a carefully staged and very private event on January 16, 2018, during his Newpapal junket to Chile, Francis-Bergoglio, under severe criticism for appointing as Newbishop of Osorno, Chile, a man implicated in paedophilia, met alone (in order that there would be no public record) with a handful of child victims raped, sodomized, and otherwise sexually assaulted by Newchurch presbyters and Newbishops.
This Newbishop, Juan Barros, who is accused of gawking at one of his presbyters sexually assaulting a child and doing nothing about it then or since, is not the only paedophile in Bergoglio's Newchurch by far. Chile, as so many countries, is scarred by numerous Newchurch crimes. The Chileans are hopping mad and staged protests through Chile against Bergoglio. Bergoglio is no longer popular, to say the least, in the country that borders his native Argentina.
Newvatican Press Office propaganda was careful to point out that Bergoglio "cried" (crocodile tears) with the children. It was all for effect. His paedophile Newbishop remains in office even though the Chilean President and Congress have condemned him. Francis "The Fraudster" has become a past-master in these deceptions. [Some information for this Commentary was contributed by the Zenit News Service.]
True Catholics, Francis-Bergoglio had the gall to appeal that "every effort" be made to help the child victims and to ensure that "such things do not happen again," as if someone else were responsible. Yet he himself, who claims to be Newpope, is the one responsible. He has done nothing to purge his criminal Newchurch clergy. He has failed in five years to set into operation his vaunted Child Protection Commission. Two preliminary members, who were victims themselves, resigned from the half-formed commission and publicly denounced Bergoglio for perpetrating a fraud, in that he has no intention of doing anything but talk to stem Newchurch's continuing Great Sex & Embezzlement Holocaust.
---
January 20, 2018 - Sts. Fabian, Pope & Sebastian, Martyrs
Double Feast
Francis-Bergoglio Scandalously Appoints Pro-abortion Promoter
As Commander of the Formerly Traditional Newpapal Knights
Reported by Petrus Romanus, the TRADITIO Network's International Correspondent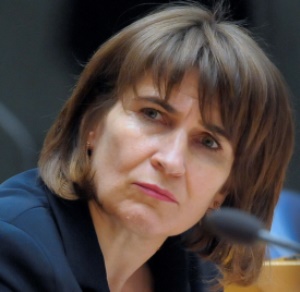 Lilianne Plouman, Pro-abortion Activist
Whom the Marxist Newpope Francis-Bergoglio Has Just Appointed
As Commander of the Formerly Traditional
Equestrian Order of Pope St. Gregory the Great
The Dutchwoman Is Known Especially for Her Work
To Promote and Fund Abortions around the World
Once Again Francis-Bergoglio Has Confirmed the Fact
The Newchurch Is Heretical, even Criminal
And Certainly Not the Catholic Church
The Equestrian Order of Pope St. Gregory the Great (I) was founded in 1831 by Pope Gregory XVI to award to those who have made substantial contributions to the Catholic Church. Gregory XVI (r. 1831-1846) was one of the most traditional popes of the last several centuries, ranking with Pope St. Pius V and Pope St. Pius X in that regard. But it has been clear for fifty years that the Catholic Church does not exist in the Newchurch of the New Order, which replaced the Catholic Church as the "institutional" Church by the decree Lumen gentium of November 21, 1964.
Once again Francis-Bergoglio has confirmed the fact that Newchurch is heretical, even criminal, and certainly not the Catholic Church, by appointing on January 15, 2018, as the Commander of the Equestian Order of Pope St. Gregory the Great one Lilianne Ploumen, a former minister in the Dutch Government. Ploumen is known especially for her international work to promote and fund abortions around the world. She ensures funding for, among others, the infamous pro-abortion organization Planned Parenthood and Marie Stopes International, an organization that provides contraception, vasectomy, and abortion services in 37 countries around the world, and lobbies for the same.
It's breath-taking. Francis-Bergoglio's appointment is a direct slap in the face not only to true Catholics but also to Neocon Newchurchers, who at least mouth anti-abortion talk. Meanwhile, the Newcardinals twiddle their thumbs, taking no action against the Marxist Newpope. At this point the Newchurch hierarchy is so corrupt that you should not be surprised if tomorrow Bergoglio's newly-funded propaganda machine, now "rebranded" Vatican Information Services, announces that Bergoglio has issued the decree to open an abortuary in the Vatican Gardens!
---
January 19, 2018 - St. Marius & Companions, Martyrs
Simple Feast
A Reader Asks: "Can a Presbyter of a Pseudo-traditional Organization
Like the FSSP Be Forced by His Newbishop to Simulate the Novus Ordo Mess?"
From: Matt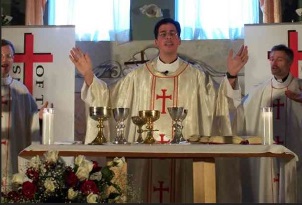 Pseudo-traditional Presbyters, Like Those in the Fraternity of St. Peter
Are Required by Newchurch Protocol 1411 of 1999 to Simulate the Novus Ordo Mess
No Newchurch Presbyter Can Simulate the New Latin Mess of 1962 Exclusively
He Must Also Simulate the Invalid Novus Ordo Service
That Is One of Many Ways by Which the Newchurch of the New Order
Prevents Any Traditional Catholicism Whatsoever among Its Ranks
Dear TRADITIO Fathers:
St. X's Church has been given into the hands of a Fraternity of St. Peter (FSSP) presbyter. He has redone the church to offer the New Latin service of 1962, in addition to the Novus Ordo service because the Newbishop of the Newdiocese requires him to do so. Fr. Z. claims that he rejects Vatican II and says that the New Mass is the ugly work of human hands. Can a presbyter of a pseudo-traditional organization like the FSSP be forced to simulate the Novus Ordo Mess?
The TRADITIO Fathers Reply.
The Fraternity of St. Peter is a Newchurch organization that answers entirely to the heretical and anti-Catholic Novus Ordo establishment. By Protocol 1411 of 1999, no Newchurch presbyter can simulate the New Latin Mess of 1962 exclusively. He must also simulate the invalid Novus Ordo service. That is one of many ways by which Newchurch prevents any traditional Catholicism whatsoever among its ranks. If the presbyter you mention publicly states the he rejects the Vatican II Anti-council, he will be exiled from Newchurch, pure and simple. Bergoglio has confirmed that the heretical Anti-council is the touchstone to which Newchurch presbyters and Newbishop will held.
First of all, there are no valid priests and no valid Masses in Newchurch. Since 1968 an invalid, Protestantized New Ordinal has been used, which merely "installs" presbyters and "installs" Newbishops. Newchurch for fifty years now has not ordained priests or consecrated bishops in the Catholic Sacrament of Holy Orders. The New Latin Mess of 1962 is a half New Order Vatican II service, not the Traditional Latin Mass.
All services associated with Newchurch dioceses (Newdioceses), whether in Latin or in the vulgar tongues, are invalid. Since the invalid Protestantized New Ordinal of 1968, Newchurch has not ordained priests in the Sacrament of Holy Orders "to offer the sacrifice of the Mass for the living and the dead," but has merely "installed presbyters to preside over the assembly of the people." Even when the not-fully-traditional ordination rite of 1962 is used by Newchurch, the consecrating bishop has not been validly consecrated as a bishop under the traditional Sacrament of Holy Orders, but merely "installed" in the Protestantized rite of 1968.
It really sounds as if your service will be short-lived. Newchurch has quietly been canceling Latin Messes of 1962 (aka erroneously as "Extraordinary") throughout the world. The Fraternity of St. Peter, as well as other pseudo-traditional organizations like the Institute of Christ the King (ICRSS), has been curtailed. For every New Latin Mess of 1962 that it opens, it shuts down one somewhere else. It has made essentially no headway in twenty years.
---
January 18, 2018 - St. Peter's Chair at Rome
Double Major Feast
The New Superior-general of the Neo-SSPX Will Submit to Newrome
Plans Are Already Being Made to Send Him to Newrome for "Ratification"
Reported by Petrus Romanus, the TRADITIO Network's International Correspondent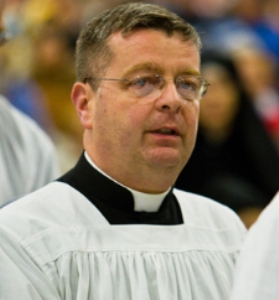 Fr. Christian Bouchacourt, Bernie Fellay's Puppet in France
Has Let the Cat out of the Bag
The New Superior-general to Be Elected for the Neo-SSPX in July 2018
Who Is Fully Expected to Be Fellay Again for a Dictatorship of 36 Years
Will Be Sent to Newrome for "Ratification"
The Neo-SSPX Has Never Bent the Knee to Newrome in This Way
This Is Yet Another Step toward an Official Sellout of the Neo-SSPX
To the Heretical Newchurch of the New Order
Fr. Christian Bouchacourt, District Superior of Bernie Fellay's Neo-SSPX for France, reveals that, once a Superior-general is elected for the Neo-SSPX n July 2018, the name of the electee will be sent to the Roman authorities for ratification, as is required of Newchurch groups under the 1983 Newcode of Newcanon Law. The Neo-SSPX has never bent the knee to Newrome in this way ever before. Is Fellay not legitimately Superior-general at present in his own eyes? If he is not, why should any of his priests obey him?
Fellay's desire to get Newrome's "ratification" appears to be yet another step toward an official sellout of the Neo-SSPX to the heretical Newchurch of the New Order. In Newchurch's eyes, such a gesture would result in "regularization." If Newrome ratifies the election of a Neo-SSPX Superior-general, it obviously recognizes the Society as a part of Newchurch; it recognizes the Neo-SSPXers as Newchurchers! After this maneuver, the grant of the poisonous personal prelature would be a mere formality.
The cat is now out of the bag. Where did this idea come from, I wonder? It obviously came from "Ecclesia Dei" Newarchbishop Pozzo and his superiors, including Francis-Bergoglio. It also leads us to another question: has Fellay already altered the statutes of the Neo-SSPX to make this Newroman recognition mandatory? Of course, if Fellay does not win re-election in July 2018, Newrome could veto the election of a real traditionalist as Superior-general. This ploy will undoubtedly be used to deter real traditionalists from running against Fellay in that election! The only hope for the Neo-SSPX is that Fellay will be ousted in the July 2018 election, and then the new Superior-general will refuse to seek ratification from Newrome. But is this hope even a possibility now? By what means can Fellay impose this new requirement unless he has already made a secret change to the Neo-SSPX statutes?
Bergoglio needs to neutralize the Neo-SSPX before any challenge comes to his own leadership as Newpope. The Neo-SSPX has a network of churches and chapels scattered throughout the world. It would be horrible for Bergoglio if he were declared to be an antipope by some of his own Newcardinals, who would then be able to subject the Neo-SSPX churches and chapels to a rival Neocon Newpope. Bergoglio is determined that all the real estate will go over to him should such a challenge arise. If there is to be a schism, Bergoglio will make sure that the real property of the Neo-SSPX goes to himself and not to a rival Neocon Newpope.
Newchurch is determined to engulf and devour (traditional) Catholicism, and Fellay will co-operate with Newchurch so that he can become Baron Fellay of Castle Menzingen, ruler of a vast bailiwick of clerics and properties for the half Novus Ordo Vatican II Mess of 1962. Should the remaining traditionalists in the Neo-SSPX not stop Fellay -- and right now --, they will suddenly find themselves in the bowels of the Newchurch Titanic. Now is the time to act, before it is too late. Those who abandon ship will have to swim over to the lifeboats of the traditional Catholic independent priests and traditional Catholic organizations sans life-jackets, sans supplies, sans money, sans lodging, sans everything. The smarter Neo-SSPX clergy have already left the Newchurch Titanic.
God will not be defeated by Leftist heretics, however. The Church will live on in the independent priests and groups of priests who resist this Newchurch descent from Protestantism into outright paganism. Newchurch has never been Catholic, and soon it will not even qualify as borderline Christian.
---
January 17, 2018 - St. Anthony, Abbot
Double Feast
Chileans Bomb Three of Bergoglio's Newchurches
May Be Supporters of Sodomized Children Ignored by Bergoglio
From: The TRADITIO Fathers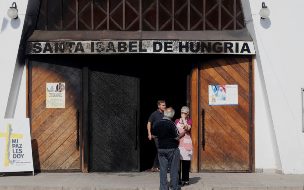 Blackened Santa Isabel de Hungaria Was One of the Newchurches Bombed
By Chileans, Possibly Newchurchers Who Are Fed up with Francis-Bergoglio's
Support of Paedophilia among His Newprelates
He Recently Appointed a Known Paedophile as Newbishop of Osorno, Chile
And Called "Stupid" Those Chilean Newchurchers Who Protested the Appointment
Bergoglio Is Making Another of His Expensive Newpapal Junkets
To Chile on January 15-18, 2018
Our Lord Jesus Christ condemned to death those who would "scandalize one of these little ones that believe in me" (Matthew 18:6/DRV). Now Chileans, perhaps members of Francis-Bergoglio's own Newchurch fed up with his support of paedophile Newprelates, especially Juan Barros, whom he knowingly appointed as Newbishop of Osorno, Chile, have bombed three of Bergoglio's Newchurches in Chile's capital, Santiago, just three days before he was to arrive in Chile for a Newpapal junket.
The disaffected Chileans, who have had just about as much from the paedophile-supporting Newpope as they can stomach, detonated bombs in the three Newchurches and left a death threat against Bergoglio himself, stating that they planned to bomb him "in his cassock." A fourth bomb was defused. Chile's president noted that the bombs were not the work of "one specific group," but suggested widespread hostility to Bergoglio. The Newchurchers said they would attack Bergoglio's "disgusting morals" with the "fire of combat." [Some information for this Commentary was contributed by the Catholic Herald.]
True Catholics, Nigerian Newchurchers have broken with Francis-Bergoglio over an unacceptable Newbishop, a fifth of Chileans have already left Newchurch, and several Newchurch prelates have publicly called Bergoglio a heretic. Still in the fourth year of his Newpapacy, Bergoglio is rapidly becoming persona non grata around the world, as his Newchurch of the New Order continues to collapse in immorality and corruption.
---
January 16, 2018 - St. Marcellus, Pope & Martyr
Double Feast
Francis-Bergoglio's Secret Letter Reveals He Had Known All Along
That His Appointee for Chilean Bishop Was Implicated in Paedophilia
From: The TRADITIO Fathers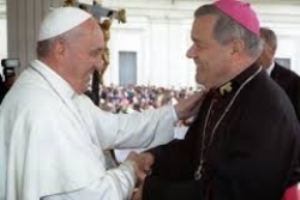 Two Conspirators against the Lives of Children
Francis-Bergoglio, the Third Paedophile Newpope
And Juan Barros, His Appointee as Newbishop of Osorno
Who Was Fingered as an Eyewitness to His Presbyter Sodomizing a Boy
It Has Now Come out in a Secret Letter that Bergoglio Wrote
That He Was Well Aware that His Appointee Was Implicated in Paedophilia
And Called "Stupid" the Chilean Newchurchers Who Protested the Appointment
The Newchurchers Rioted at the Installation in the Newcathedral
And Barros Had to Be Scuttled out via a Side Exit
In these days of the internet and hacking, nothing is secret. Francis-Bergoglio discovered that reality on January 11, 2018, when a secret letter that he wrote to Newchurch bishops in Chile was published by the Associated Press. In it, Bergoglio indicates that he knew full well how implicated Juan Barros was in paedophilia before Bergoglio appointed him Newbishop of Osorno, Chile, 900 kilometrres south of Santiago, and caused a scandal against Newchurch that led Chile's president, congress, and first lady to denounce Bergoglio.
Barros was reported by several victims to have been an eyewitness to the sodomizing of boys by the notorious paedophile presbyter Fernando Karadima, who was Barros's mentor. Chile's Newbishops implored Bergoglio not to appoint the paedophile Barros, but Bergoglio did so anyway, leading Newchurchers in Osorno to riot and prevent the installation of Barros as Newbishop. Emotions against Barros ran so high that he was pelted with dung and had to be scuttled by police out a side exit.
Francis-Bergoglio will be met with large protests when he touches down in Chile on January 15, 2018, on yet another one of his expensive Newpapal junkets. Bergoglio has refused to meet with the victims or anyone else on the matter. Presbyter Karadima was exposed as a serial paedophile as long ago as 2010, when Newparishioners publicly accused him of sexually assaulting them when they were children. Previously, Newchurch had ignored their charges, so the children, now adults, went public. Bergoglio's reputation has been irreparably stained by his appointment of Barros and other paedophiles as Newbishops, although, for public consumption, Bergoglio's propaganda portrays him has having a "zero tolerance" policy, a lie to which members of Bergoglio's own Child Protection Commission have attested.
In his January 31, 2015, letter, written in response to Chilean Newbishops' complaints about Bergoglio's appointment of Barros as Osorno's Newbishop, Bergoglio revealed that he was well aware of Barros's involvement with and support of the paedophile presbyter. Bergoglio recommended only that Barros take a sabbatical before undertaking his Newbishop duties, a recommendation that Barros spurned with impunity. Bergoglio called those Newchurchers "stupid" who rejected a paedophile as a Newbishop. [Some information for this Commentary was contributed by the Washington Post.
True Catholics, Francis-Bergoglio is getting the Divine retribution for his immorality. This Bergoglian scandal has contributed to a severe crisis in the Chilean Newchurch, provoking 20 per cent of Chilean Newchurchers to leave leaving Bergoglio's sect and large numbers of Newseminarians to walk out. Crime and sin have their dire consequences -- even for Narcissistic Newpopes.
---
January 15, 2018 - St. Paul, Proto-hermit, Confessor
Double Feast
Head of Newchurch Order Exposed as a Serial Criminal
Francis-Bergoglio Did Nothing until Two Italian Journalists Exposed the Truth
From: The TRADITIO Fathers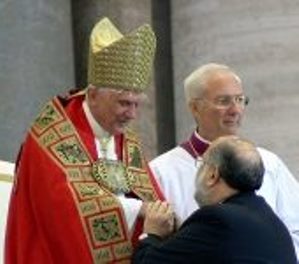 The Second Paedophile Newpope, Benedict-Ratzinger
Now Ex-Newpope, Having Been Forced to Abdicate
Because of His Support for His Newchurch Officials and Clergy
Who Sodomized, Raped, and Otherwise Sexually Assaulted Children
Is Caught Here Blessing Luis Figari (Kneeling), Head of the Sodalitium
Figari and His Lieutenants Committed Crimes of Conspiracy, Kidnapping
And Serious Assaults against Children
Bergoglio Failed to Do Anything to Protect that Child Victims
Until Two Italian Journalists Exposed Bergoglio and His Official
Any notion that Newchurch's Great Sex & Embezzlement Holocaust has ended is sorely mistaken. Under Francis-Bergoglio it has actually gained new life. On January 10, 2018, the Francis-Bergoglio regime admitted that the head of its Sodalitium Christianae Vitae, a lay organization headed by one Luis Fernando Figari, had been engaged in the name of "Christian life" in serial crimes against children, including conspiracy, kidnapping, and assaults. Figari's lieutenants were engaged in the same crimes. The Prosecutor's Office in Lima, Peru, announced its criminal investigation on May 12, 2016, but Bergoglio dragged his feet for a year and a half before taking any action, which was simply to appoint an overseer Newbishop.
Figari was an "insider" at Benedict-Ratzinger's and Francis-Bergoglio's Newvatican, serving as consultant to Bergoglio's officials. He was permitted by the Newpopes to spread his criminal activities from Peru into Argentina, Brazil, Colombia, Costa Rica, Chile, Ecuador, the United States, and Italy. Francis-Bergoglio wouldn't lift a finger against the criminal Figari, but thank God for a free press. After the publication of a book in by two Italian journalists that chronicled years of sexual, physical, and psychological crimes by the Newchurch organization, the jig was up, and Bergoglio was caught complicit.
Figari and other former leaders of the community remain the subject of criminal investigations in Peru. In February 2017, a team of independent investigators reported that "Figari sexually assaulted at least one child, manipulated, sexually assaulted, or harmed several other young people; and physically or psychologically assaulted dozens of others."
The Figari case was redolent of the case of the perverted Marciel Maciel, head of the Legionaries of Christ, who was personally blessed and elevated by the First Paedophile Newpope, the "Unsaint" JPII-Wojtyla. Maciel was exposed as a serial sodomist of children, including his own illegitimate children, and of numerous women, including his own "mistresses." For Maciel's rampant crimes, ruining the life of scores of clueless Newchurch, the ex-Newpope Benedict-Ratzinger gave him a slap on the wrist. He was not tried, but was allowed to retire with impunity. [Some information for this Commentary was contributed by the National Catholic Register.]
True Catholics, the Newpopes' criminal Figari and his lieutenants had great examples for how to run an organization rife with crime. JPII-Wojtyla, the First Paedophile Newpope; Benedict-Ratzinger, the Second Paedophile Newpope; and now the worst of the lot, Francis-Bergoglio, the Third Paedophile Newpope, have all shown by their example that Newchurch leaders can commit the worst sins in the book and get away with it. The Sodalitium subsequently issued a statement that said, despite the corruption of Bergoglio's regime, that it would "absolutely obey" Bergoglio. Thus, nothing will change in Newchurch as its gutless Newchurchers pander to its criminal leaders. By God, parents and children have a moral obligation to get out of the anti-Catholic Newchurch. Otherwise, they commit grave sin by becoming accomplices in its crimes.
---
January 14, 2018 - Second Sunday after the Epiphany
Semidouble Sunday
Francis-Bergoglio Is Continuing His War against Traditional Catholicism
He Has Hired a Secular P.R. Firm to "Rebrand" His Newchurch to Secularism
From: The TRADITIO Fathers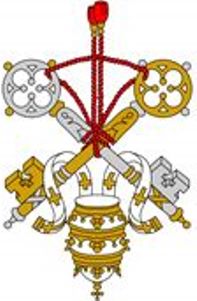 Francis-Bergoglio Is Overturning Everything Traditional Catholic
The Marxist Newpope Has Hired a Silicon Valley Firm
Fitting Called the "Liquid Agency"
To "Rebrand" His Newchurch as "Contemporary" and "Streamlined"
He Has Already Done away with the Catholic Mass, Doctrine, and Morality
Now He Is Propagating His Heretical, Marxist Propaganda
Through a New Secularized "Secretariat of Communications"
On Which He Is Spending Millions
Bernie Fellay, Superior-Dictator of the Neo-SSPX, has hired a secular public-relations firm to change the image of his Neo-SSPX from the traditional approach of the original traditional Catholic SSPX's founder, Archbishop Marcel Lefebvre to a more New Order look. Now Francis-Bergoglio is following suit, changing the image of his Newchurch to a modern, secular institution in what has been termed a "rebranding" by a Silicon Valley P.R. firm. The firm is called the "Liquid Agency," a perfect match for the anti-Catholic Newchurch organization, whose dogmata, morality, and "Mess" change from day to day and from place to place.
Francis-Bergoglio is hiring the Liquid Agency to update his Newvatican's "marketing strategy," using the same type of marketing principles that are used to sell Coca-Cola and condoms. Bergoglio doesn't want to be Catholic, or even religious, for that matter. He wants to be "contemporary" and "streamlined." He wants to reject the identification of his Newchurch with the Newvatican established at the founding of the Vatican with the signing of the Lateran Concordat on February 11, 1929. Bergoglio also eschews about traditional symbols such as clerical clothing and the trappings of Newpapal elections: no more smoke from the Sistine Chapel!
And who was behind the selection of the Liquid Agency but the besotted Newarchbishop of Silicon Valley (San Francisco, California), Salvatore Cordileone, ridiculed by locals as Sal Corleone, the name of a Mafia figure. Cordileone earned his monicker "The Drunkard" because he was arrested in 2012, just before he was "installed" as Newarchbishop, for being some two times over the alcoholic limit while risking the lives of his own mother and a presbyter in his car. He didn't even have enough shame to turn down being "installed" as Newarchbishop after his grossly immoral behavior. [Some information for this Commentary was contributed by Ad Week.]
Bergoglio's Prefect of Communications, Newcardinal Carlo Vigano, on January 6, 2018, stated: "[We must] focus on the human person, on relationships, the culture of encounter and, only in the last instance, on technology." What is interesting about this mission statement is that it omits any mention of Our Lord Jesus Christ Himself and everything Catholic, including a valid Mass and Sacraments.
True Catholics, without Christ, Bergoglio's vaunted new "communications" Tower of Babel is worthless. The heretic Newpope is spending millions on his new "Secretariat for Communications" in order that his Marxist doctrine can be broadcast over radio, television, newspapers, and the internet. Meanwhile, his churches are closing all over the world because of lack of funds and lack of followers. The New Order is clearly moribund. All the studies confirm it. And no secularist "rebranding" of it is going to save it.
---
January 13, 2018 - Octave Day of the Epiphany of Our Lord
Double Major Feast
A Reader Ask: "Should the Priest Remove His Maniple and Biretta
Before He Begins to Preach a Sermon?"
From: Rob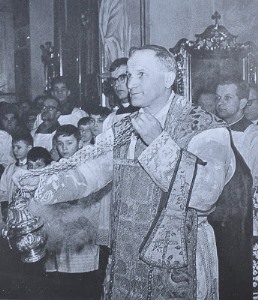 The Maniple Is a Mass Vestment
Now an Embroidered Band of Silk
Worn Hanging from the Left Arm of the Priest
Of the Same Color as the Other Liturgical Vestments
Appropriate to the Particular Mass Being Said or Sung
In the Old Testament Priesthood
The Maniple Was Used as a Kind of Handkerchief
The Latin Vesting Prayer Indicates that the Maniple Is Symbolic
Of the Tears of Penance, the Burden of Sin
And the Fatigue of the Priestly Office
Dear TRADITIO Fathers:
I often see traditional Catholic priests remove their maniple when departing the altar to begin their sermon. Others don't. I also see some preach with their biretta on. Most don't. What is the proper practice that should be followed?
The TRADITIO Fathers Reply.
The maniple (manipulum), together with the chasuble (casula), are strictly Mass vestments. Therefore, when the celebrant is to preach a sermon, he removes his maniple, because -- even many traditional Catholics are surprised to hear this -- the sermon is actually not part of the Mass, but an interruption in the Mass. It is for this reason that the sermon is permitted to be delivered in a vulgar tongue instead of Latin from a pulpit outside the area of the altar. Otherwise, only Latin may properly be used for prayers within the sanctuary. Technically, the celebrant should remove his chasuble because it too is strictly a Mass vestment. However, because of the practical difficulty of removing the chasuble -- whereas it is easy to remove the maniple -- the chasuble may be, and usually is, left on while the celebrant delivers a sermon.
The biretta (biretum), the priest's head-covering, is a square cap with three peaks or horns, sometimes surmounted by a tuft, perhaps deriving from mediaeval academic practice. Its use is optional while a priest delivers a sermon. Many dispense with the biretta on that occasion because it would restrict appropriate gestures that the priest might make during the sermon according to the principles of classical rhetoric.
---
January 12, 2018 - Within the Octave of the Epiphany of Our Lord
Semidouble Feast
A Reader Asks: "I Am a Recent Convert to Traditional Catholicism
And Now Wonder: What Traditional Catholic Practices Should I Follow?"
From: Toni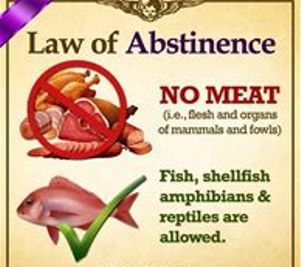 From Apostolic Times Catholics Have Abstained
From Fleshmeat on Fridays
In Recognition of Our Lord's Sacrifice for Us on Calvary
Under the Second Precept of the Church
This Grave Obligation Binds Those Age Seven and Older
And There Are Only Rare Dispensations
From This Grave Obligation of All Catholics
And, no, Office and Birthday Parties
Are Not Valid Causes for a Dispensation!
Dear TRADITIO Fathers:
I am a recent convert to traditional Catholicism from the Protestantized Novus Ordo sect. Naturally, my head has been filled by the Newchurchers with practices that are not Catholic. Now I am wondering what traditional Catholic practices I should follow. Specifically, should I abstain from fleshmeat on all Fridays? What Eucharistic fast should I follow?
The TRADITIO Fathers Reply.
We strongly advise that you and everyone who reads these Daily Commentaries to obtain a copy of the fully-traditional (1950) "Roman Catholic Calendar," published by the Immaculate Heart of Mary Church. For further information on how to obtain this excellent resource, click on the TRADITIO Network's Traditional Liturgical Calendar department, available from the main menu of the TRADITIO Network's home page, www.traditio.com. This is best and most complete annual full-color calendar, both in the calendar's daily boxes and in the religious art that accompanies each month. It contains full information about all feasts, commemorations, votive Masses, fasts and abstinence, Ember Days, and more. In the back matter, there is excellently-summarized information about indulgences, fast and abstinence, and other practical matters. This is unquestionably the best and most complete traditional calendar available.
From Apostolic times Catholics have abstained from fleshmeat on all Fridays as a penitential practice in recognition of Our Lord's sacrifice for us on Calvary. Under the Second Precept of the Church, this grave obligation binds those seven years of age and older, and there are only rare dispensations from this grave obligation of all Catholics. To answer a frequent inquiry, no, office and birthday parties are not valid causes for a dispensation! The only exceptions are in the case of the High Feast of a Holyday of Obligation falling on a Friday or in the case of such serious illness as may require the nourishment of fleshmeat or its by-products. For further information, click on FAQ11: How Do You Explain These Traditional Catholic Practices? in the TRADITIO Network's Library of Files: FAQs and Traditional Apologetics department, in the section "Friday Abstinence."
The proper traditional Eucharistic fast consists of complete abstinence from food and liquids, including water, from Sunday midnight when one intends to receive Holy Communion. Some cases may require a dispensation from fully implementing this Eucharistic fast, such as those involving health (e.g., diabetics who need to maintain a steady glucose level, those prone to renal calculi and need to consume a constant amount of liquid), long distance to travel to a Mass site, exceptional physical labor required on a Sunday from necessity, an evening Holyday Mass, danger of death). In such cases, one's confessor should be consulted for a dispensation and advice on the appropriate degree of Eucharistic fast to maintain before Holy Communion.)
---
January 11, 2018 - Within the Octave of the Epiphany of Our Lord
Semidouble Feast
Newchurch Temporarily Suspends Swilling the Kool-Aid
Newchurchers Are Afraid that the Grape Juice Is Contaminated
From: The TRADITIO Fathers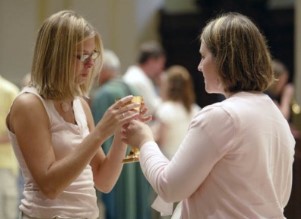 A Novus Ordo Ministress Hands the Protestant Kool-Aid Cup
Sacrilegiously to a Novus Ordo Woman
Now Newchurch Has Suspended the Cup in Several Newdioceses
Because of Fear of Contamination
Newchurch Introduced Protestant "Cup" Communion in 1969
In Reality, Newchurch Has Not Had Valid "Communion" since 1968-1969
When It Lost the Priesthood and the True Mass
After the Vatican II Anti-council
There Is No "Communion" in Newchurch
Undoubtedly, Newchurch rues the day that it sacrilegiously turned its back on the tradition of the Church that the Most Precious Blood not be consumed by any but the celebrant of the Mass. Yet another one of the grave errors introduced after the Vatican II Anti-council (1962-1965) was letting everybody swell the liquid, which the Catholic Church had been so reverently protecting throughout the centuries.
"God is not mocked." Our Lord prevented the profanation of His true Sacrament by the New Order sect by seeing to it that in 1968 the Protestantized Newchurch lost the priesthood and in 1969 lost the true Mass. With the loss of these, Newchurch lost the power to confect a valid Sacrament It was at the same time that Newchurch introduced cookies in place of bread and allowed the cookies to be grabbed into Newchurchers' filthy hands. So Newchurchers are swilling merely common grape juice (not even wine) and eating cookies. There is no "communion" in Newchurch. For further information, click on FAQ10: How Do You Explain These Traditional Catholic Beliefs? in the TRADITIO Network's Library of Files: FAQs and Traditional Apologetics department, in the section "Communion under One Species."
Now two Newchurch dioceses in Northern Ireland are suspending the drinking of the Kool-Aid during its phony "communion" because of a "surge in flu cases," and other Newdioceses around the world are expected to join in the suspension. Moreover, several Newchurch dioceses are suspending the exchange of the "sign of peace," which was introduced into the Protestantized "New" Mess in 1969, at which Newchurchers glad-hand each another like a Kumbaya camping moment. In Stockton, California, in the United States, the Newbishop told Newchurchers just to nod and smile, and certainly not to "join hands" during the Pater Noster, now recited in common in Newchurch in the vulgar tongue. [Some information for this Commentary was contributed by the U.K. Catholic Herald.]
True Catholics, thank the Lord that you don't have to experience the Novus Ordo nonsense of cookies and Kool-Aid, but have the true Sacrament of the Most Holy Eucharist as Christ Himself established it. Newchurch keeps shooting itself in the foot. It has already lost its Sacraments and the Sacramental graces that derive from them. No wonder so many around the world are simply walking out on Newchurch as a graceless institution, just as graceless as the Protestant sect upon which it is based.
---
January 10, 2018 - Within the Octave of the Epiphany of Our Lord
Semidouble Feast
37 Anti-abortion Newchurch Leaders Separate from Francis-Bergoglio
Publicly Pledging that They Will Not Follow Him into Heresy
From: The TRADITIO Fathers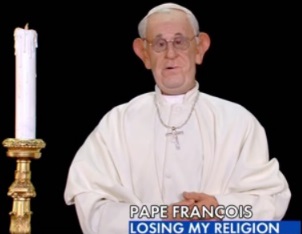 Francis-Bergoglio Is Depicted as a Heretic
In This French Cartoon from an Anti-abortion Group
As 37 Newchurch Leaders of Anti-abortion Organizations
From 13 Countries around the World
In a Pledge of Fidelity to Traditional Catholic Doctrine
Declare that They Will Not Follow Francis-Bergoglio into Heresy
Francis-Bergoglio's grip on Newchurch in the face of his heresies is continuing to crumble as 37 leaders of anti-abortion organizations from 13 countries around the world on December 12, 2017, separated themselves from his heresies and declared that they will be "faithful to true doctrine, not to erring pastors." This action was taken at the same time that three more Newbishops have come out against Bergoglio for his heretical positions, particularly on bigamy, divorce/remarriage, homosexuality, contraception, and sacrilege.
In the Newchurch leaders' Pledge of Fidelity to the "immutable teaching of the Catholic Church" against the "chaos and uncertainty" that Francis-Bergoglio's himself caused, condemn this Newpope for:
statements and actions that contradict the Church's teaching on the intrinsic evil of contraceptive acts
statements and actions that contradict the Church's teaching on the nature of marriage and the intrinsic evil of sexual acts outside the union of marriage
the approval of the United Nations Sustainable Development Goals, which effectively call for member states to achieve universal access to abortion, contraception, and sex education by 2030
the approach adopted towards sex education, particularly in chapter 7 of Amoris Laetitia (The Joy of Sex) [Bergoglio's heretical March 19, 2017, document] and in The Meeting Point programme produced by the Pontifical Council for the Family
The Newchurch leaders confront Francis-Bergoglio's heresies directly by concluding:
Nothing will ever persuade us, or compel us, to abandon or contradict any article of the Catholic faith or any truth definitively established. If there is any conflict between the words and acts of any member of the hierarchy, even the [New]pope, and the doctrine that the Church has always taught, we will remain faithful to the perennial teaching of the Church.
True Catholics, the actions of these Newchurch leaders and Newbishops are much too little and much too late. In 1964 and afterward, they embraced the replacement of the Catholic Church by the anti-Catholic Newchurch as the "Institutional" Church of the New Order fabricated by the Vatican II Anti-council (1962-1965). They embraced a "New Mass," "New Sacraments," "New Doctrine," and "New Morality." Now these Newchurch leaders are paying the price for swallowing the Newchurch poison. Nor, even now, are they repentant, but still bend their knee to the Marxist Newpope and his Protestant-Freemasonic-Pagan Newchurch of the New Order. In God's justice they deserve to see their evil organizations falling apart around them, just as Our Lord Himself taught in the parable about "a foolish man who built his house upon the sand. And the rain fell and the floods came and the winds blew: and they beat upon that house. And it fell: and great was the fall thereof" (Matthew 7:26-27/DRV).
---
January 9, 2018 - Within the Octave of the Epiphany of Our Lord
Semidouble Feast
A Reader Asks: "Is There More then One
'Authorized' Version of the Bible?"
From: John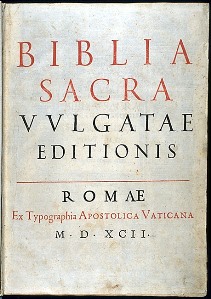 St. Jerome's Latin Vulgate Bible
Is the Only Version Officially Confirmed by the Catholic Church
As Being without Error in Faith and Morals
The Newchurch of the New Order that Replaced the Catholic Church
As the "Institutional" Church in 1964 after the Vatican II Anti-council
Hated the Traditional Bible of Two Millennia
The "Unsaint" JPII-Wojtyla Replaced It
With a Manufactured "New Vulgate" in 1979
Which Is Not even Based upon the Saint's Accurate Version
Dear TRADITIO Fathers:
I had a conversation with someone who oxymoronically calls himself a "conservative traditional Catholic" recently, who adamantly states that there is more than one "authorized" version of the Bible. Is this true? I was taught and have always believed that the only authorized version of the Bible is the Douay-Rheims version.
The TRADITIO Fathers Reply.
You are both wrong. The only version officially confirmed by the Catholic Church, at the dogmatic Council of Trent, as being without error in faith and morals is St. Jerome's Latin Vulgate. We TRADITIO Fathers don't like to use the word "translation," because no language can truly be "translated" into another, as each language reflects its own way of looking at the world.
As to English renditions, for further information, click on FAQ05: What Traditional Catholic Resources Do You Recommend? in the TRADITIO Network's Library of Files: FAQs and Traditional Apologetics department, in the section "Bible."
---
January 8, 2018 - Within the Octave of the Epiphany of Our Lord
Semidouble Feast
A Reader Asks: "Does Watching a Broadcast of a Traditional Latin Mass
Bestow Sacramental Grace, or Is In-person Attendance Always Required?"
From: George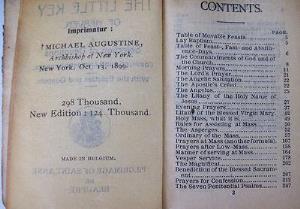 The Key of Heaven
A Traditional Catholic Devotional Book Shown Here in Its 1899 Edition
Offers Devotional Prayers for Times
When One Is Seriously Impeded from Attending Holy Mass
As in Cases of Serious Illness or Impassible Weather
However, Sacramental Grace Is Bestowed only from Personal Attendance
At the Holy Sacrifice of the Mass, as It Is a Personal Encounter with Christ
Watching a Broadcast of a Traditional Latin Mass
Bestows Absolutely No Sacramental Grace
But Is Merely a Devotional Act Like Many Others
Dear TRADITIO Fathers:
Does watching a broadcast of a Traditional Latin Mass bestow Sacramental grace (1) in all situations (2) in specific situations, e.g., weather, illness, incapacitation, etc., or (3) never. Is in-person attendance always required?
The TRADITIO Fathers Reply.
The teaching of the Church is clear: watching a broadcast of a Mass bestows absolutely no Sacramental grace. The Mass and Sacraments are Christ's personal encounter with the faithful and must be experienced in person for any Sacramental grace to result.
If you are legitimately prevented from attending Mass on any occasion (e.g. because of significant illness or impassible weather), you are dispensed from your obligation -- actually, for a true Catholic, attendance at Holy Mass is a longed-for blessing, not an obligation -- of attendance at the Holy Sacrifice of the Mass. You may keep the Lord's day holy to the degree that you are able by any devout prayers or almsworks that you choose. You may look at a Mass broadcast as a devotional act, but it does not provide any Sacramental grace.
For further information, click on ABSENT: Method of Hearing Mass Spiritually for the Absent (Adapted from The Key of Heaven).
---
January 7, 2018 - The Holy Family
Double Major Feast
Modernist Benedict-Ratzinger Deceives Neocon Newchurchers
By Speaking Positively of His Fellow Modernist Newcardinal Muller
Reported by Petrus Romanus, the TRADITIO Network's International Correspondent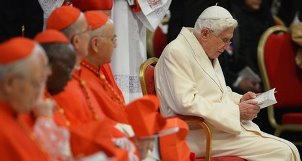 Ex-Newpope Benedict-Ratzinger Sits Alone
Ostracized by the Newcardinals that Served under Him
Now the Ex-Newpope Who Remains under House Arrest in the Vatican Gardens
Has Made a Rare Statement, Speaking Positively of Newcardinal Gerhard Muller
Who Was Fired by Francis-Bergoglio as Head of Novus Ordo Doctrine
Ratzinger and Muller Are Both out-and-out Purveyors of the Modernist Heresy
But Bergoglio Has Exiled Them for Not Being Modernist Enough!
The terms "liberal" (better: leftist) and "conservative" are relative and subjective by definition. The term "traditional" is not relative, but based upon an objective standard. Yesterday's wild revolutionary is today's so-called "conservative" -- what the TRADITIO Fathers term "Neocon" (Neoconservative) because they are not even truly conservative, but corrupted by the Newchurch of the New Order. Traditional Catholics are correct according to Catholic theology not only because the Catholic Church is by dogma based upon Sacred Tradition but also because Truth is an absolute; one cannot be merely "conservative" about Truth. One either accords with Truth, or one engages in falsity.
It is because the Neocon Newchurchers have compromised with the Truth that they have associated themselves with the heresy of the Newchurch of the New Order. They are buffeted as by the winds of Hell that the poet Dante describes, flitting from one "hero" to another, only to see their heroes scatter like leaves. Yet they never become traditional Catholics; they simply find another temporary false "hero."
A case in point making the rounds of Neocon "blogs" is ex-Newpope Josef Ratzinger, the former Benedict, a purveyor of the Heresy of Modernism, who has lately broken his silence in his state of house arrest and made a rare statement, speaking positively of another purveyor of the Heresy of Modernism, Newcardinal Gerhard Muller, fired as head of New Order doctrine. On December 28, 2017, Ratzinger wrote of Modernist Muller: " You have defended the clear traditions of the faith." One can only wonder what "faith" it is to which Ratzinger refers. It is certainly not the Catholic Faith. Ratzinger and Muller are Modernist birds of an heretical feather: the one a former Nazi and paedophile supporter in office for some thirty years, the other a New Order advocate heading Novus Ordo doctrinal propaganda for five years, until he was fired on July 1, 2017, by Francis-Bergoglio for not being Modernist enough!
Why do the Neocon Newchurchers support Modernist heretics in positions of power in Newchurch? Because the Neocons are not Catholic; they are only Leftists in slow motion. This fact becomes ever surer. Ratzinger praises to the skies such heretics as his comrades at the Vatican II Anti-council, Karl Rahner (declared under suspicion of heresy by the Holy Office and silenced by Pope John XXIII) and Hans Urs von Balthasar (also declared under suspicion of heresy by the Holy Office). Ratzinger and his Modernist friends wanted to present a revolutionary new approach for dogma, so that they could undermine all parts of Holy Church simultaneously: the the Mass and Divine Office, Catholic Moral Theology, the Bible, and everything else Catholic.
Had Ratzinger and Muller and their Modernist friends appeared in the reign of Pope St. Pius X, they would all -- every single one of them -- have all been thrust right onto the streets, defrocked, and excommunicated for heresy. Only the mindless Neocon victims of internet fraud could possibly think of Pius X in the same way as Ratzinger, Rahner, and the others. They were not just different from the Pope-Saint, but polar antipodes.
Ratzinger now is making a desperate attempt to prop up his fellow Modernist Muller, recast as a Neocon, in order to protect him from the malice of today's leftists, led by -- of course, Ratzinger can't admit this fact --Bergoglio. It won't work. Francis-Bergoglio has fired Muller, just as Ratzinger was fired (but behind the scenes). These two have departed the stage. Perhaps some of the Neocons will now wake up and realize that one cannot compromise with the Truth. Either one embraces it or else one is drowned in falsity. It is the self-deluded Neocon Newchurchers who cannot see the obvious Truth.
---
JANUARY 6, 2018 - THE EPIPHANY OF OUR LORD JESUS CHRIST
DOUBLE FEAST OF THE FIRST CLASS - HOLYDAY OF OBLIGATION (IN MANY COUNTRIES)
"THE CHRISTMAS OF THE MAGI"
Omnibus Lectoribus Internexus TRADITIONIS
BEATAM EPIPHANIAM!
Ex: Patribus TRADITIONIS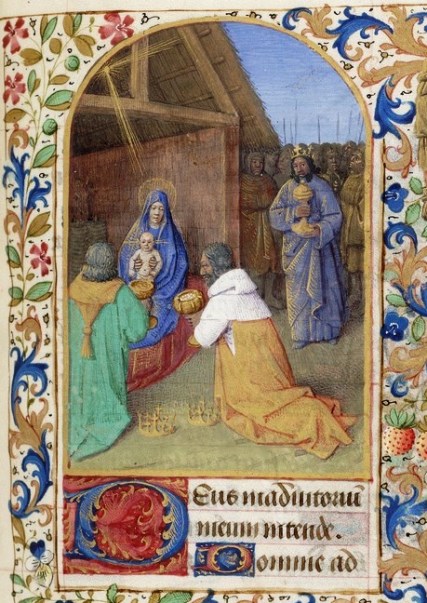 Initium Officii Divine in Epiphania
"Deus in Adiutorium Meum Intende"
Today is the Feast of the Epiphany of Our Lord Jesus Christ, a Holyday of Obligation in many countries, Epiphany was ranked among the greatest solemnities of the Church at least a century before Christmas began to be celebrated. It marks the end of the Christmas period, so now Catholics can put away their Christmas trees and decorations.
When the Jews failed as a nation to accept their Messias, God opened salvation to "all nations," that is, to the Gentile (non-Jewish) nations. The Messias was described in the Canticle of Zacharias as "lumen ad revelationem gentium" [a light to the revelation of the gentiles] (Luke 2:32/DRV). The Magi, coming from the East (Babylon) represent those Gentile nations. They, unlike the Jews, recognize the Messias and give him their gifts of gold (for His kingship), frankincense (for His priesthood), and myrrh (for his Passion).

---

January 5, 2018 - Vigil of the Epiphany of Our Lord
Twelfth Day of Christmas A Reader Asks: "Is It Acceptable for Women to Wear Pants
In a Traditional Catholic Chapel?" From: Marnie

In This Traditional Catholic Church in the Philippines
Women Wear Head Coverings, as Prescribed by St. Paul
But the Men Are Wearing Simple Shirts without Ties
The Apostle Paul Advises Us to Accord with Local Custom
Of Whatever Church, Chapel, or Oratory You Attend to Hear Holy Mass
For Some Prideful People to Make "Rules" about Dress
More Important than the Most Important Thing in This Universe
The Holy Sacrifice of the Mass
Smacks of the Very Pharisaisim that Our Lord Condemned
Dear TRADITIO Fathers:
Is it ever acceptable for women to wear pants in a traditional chapel? I have been to two different a traditional Catholic chapels. One has strict rules about women not wearing pants in the chapel. The other chapel allows women to wear pants, as long as they are modest.
The TRADITIO Fathers Reply.
In accordance with the advice of St. Paul to accord to local custom in church, you, as a practical matter, should follow the local custom of whatever church, chapel, or oratory you attend to hear Holy Mass. Look at what the other good women (mulieres bonae) around you are wearing and wear something similar. In the end, what people are wearing should be of much less concern than the devotion with which they hear Holy Mass.
Should tourists in a tourist area skip Holy Mass because they are not "properly" attired? Should working men dressed for work skip Holy Mass because they are not "properly" attired? Such attire was not condemned before the Vatican II Anti-council, when attendance at Holy Mass was the most important thing. In colder areas some men might more likely wear suits. In warmer areas they might more likely wear shirts without ties. Even the (traditional) Dominicans in Africa traded their dark habits for light ones; otherwise, they would suffer heat exhaustion.
In such matters that even the Apostle Paul says should be left to local custom, one should rationally balance ends and means. The primary end is devout attendance at Holy Mass. What one wears is secondary. For some prideful people to make "rules" about dress more important than the most important thing in this universe, the Holy Sacrifice of the Mass, smacks of the very Pharisaism that Our Lord condemned.
---
January 4, 2018 - Octave Day of the Holy Innocents, Martyrs
Simple Feast
Eleventh Day of Christmas
Worldwise Outcry Prevents Discontinuance of Latin
In a Thirty-year-old Worldwide News Broadcast from Finnish Public Radio
From: The TRADITIO Fathers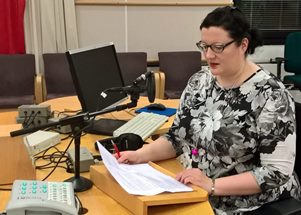 A Newscaster Reads the News in the Latin Language
For Broadcast around the World as "Nuntii Latini"
Not from Newvatican, Which Is Not Catholic
But from Finnish National Radio (YLE)
When It Was Proposed by the Station to Discontinue the Broadcast
Many Thousands of Irate Listeners from All over the World
Persuaded the Station to Continue the Broadcast
Broadcasting the news in the Latin language since 1999 to the world at large, Finnish National Radio (YLE) proposed to discontinue its weekly broadcast entitled "Nuntii Latini." YLE had no idea of the firestorm that it would stir up. Thousands of irate communications from all over the world, from China and Vietnam all the way to Belgium and the United States, even from a remote island off the Pacific coast of Canada, persuaded the station to continue the broadcast. Children as young as four have been taught the Latin language and listen to the broadcast.
Finland, although Scandinavian, speaks a language which is not even Indo-European. It is not linguistically related to the Germanic languages of Norwegian and Swedish, but is related to Mongolian and Hungarian. Therefore, Finland has wholeheartedly embraced the Latin language as a universal tongue, broadcasting a full-scale opera and Elvis Presley songs being broadcast in the Latin language.
Not even the Vatican has accomplished what the Finns have for the Catholic Church's proper language. In the 1930s the Vatican briefly carried Latin news broadcasts from Vatican Radio. Francis-Bergoglios Newvatican doesn't use Latin as one of the 39 vulgar tongues that Vatican Radio regularly uses.
The Finnish station was completely surprised by the passionate international outcry against discontinuing the program. It turns out that many thousands of listeners rely on the program for a straightforward broadcast of the news, which is not available in countries and languages that are larded with political biases. The station confirmed that it is "a question of the perspective that is brought to issues by expressing them in Latin. And it's very much about culture and education." [Some information for this Commentary was contributed by the Associated Press.]
---
January 3, 2018 - Octave Day of St. John, Apostle & Evangelist
Tenth Day of Christmas
Simple Feast
Francis-Bergoglio's Own Official Newspaper
Describes His Behavior as Displaying the Characteristics the Modernist Heresy
From: The TRADITIO Fathers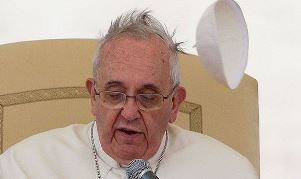 Even God Unhats the "Mad Hatter" Francis-Bergoglio
His Own Newspaper Recently Condemned the Heresy of Modernism
That Bergoglio Himself Preaches Daily
Pope St. Pius X Strongly Condemned the Heresy of Modernism
The Heresy that Denies that there Is No Objective Truth
But Falsely Preaches that All Things Are Relative
The Pope-Saint Excommunicated and Excommunicated
The Proponents of This Heresy, Firmly Held by All the Newpopes
Since the "Unblessed" Paul VI-Montini (1963)
In a front-page article, Francis-Bergoglio's own official newspaper, L'Osservatore Romano, condemns "Relativism," which is another name for the heresy of Modernism so strongly condemned by Pope St. Pius X (r. 1903-1914). Apparently, Bergoglio is reeling from exposure in the international press that he is a "progressive and permissive," an "ever more revolutionary and unpredictable" Newpope. In fact, Bergoglio is an outright Modernist, a proponent of the heresy that Pope St. Pius X condemned and whose proponents the Pope-Saint excommunicated.
Meanwhile, Francis-Bergoglio confirmed that he is one of the Modernists that his own newspaper condemns when he told the Italian Theological Association on December 29, 2017: "It is noteworthy that the Italian Theological Association was born, as stated in the first article of your Statute, 'in the spirit of service and communion indicated by the Vatican Oecumenical Council II.' The Church must always refer to that event." [Some information for this Commentary was contributed by L'Osservatore Romano.]
True Catholics, thus does this heretic Newpope admit that the cornerstone of his beliefs is the heretical Vatican II Anti-council. It could not be clearer to those who have eyes to see and ears to hear. Yet the spiritually deaf and blind, like the Superior-dictator of the Neo-SSPX, Bernie Fellay, nevertheless covet association with the heretic Newpope and the heretical Anti-council, which even the founder of the original, traditional Catholic SSPX, Archbishop Lefebvre condemned, as "not Catholic."
---
JANUARY 2, 2018 - MOST HOLY NAME OF JESUS
NINTH DAY OF CHRISTMAS
DOUBLE FEAST OF THE SECOND CLASS
IV Non. Ian.: Philosophus Romanus Marcus Tullius Cicero Natus Est
A Reader Asks: "Does My Hairstyle Used to Draw Attention to Myself
Constitute the Capital Sin of Vainglory?"
From: Mason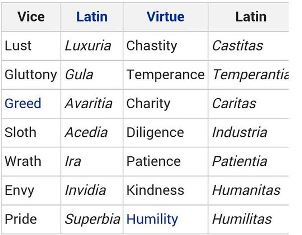 The Seven Capital Sins and Their Corresponding Virtues
Also Known as the Seven Deadly Sins or the Seven Cardinal Sins
As Specified by Pope St. Gregory the Great
Vainglory, or Pride, Is the First of These and Sent Lucifer to Hell
The Others Are Wrath, Greed, Sloth, Lust, Envy, and Gluttony
Our Reader Wonders whether He Is Committing the Sin of Vainglory
By Drawing Attention to Himself by His Hairstyle
Dear TRADITIO Fathers:
Because I have recently learned in greater detail about the capital vice of vainglory and wish to ensure that this sin does not appear in my own life (and if it has, to confess it), I was wondering if you could provide some moral clarification as to what exactly would fall under this sin. Is a 16- year-old male styling his hair with gel in such a way that could draw attention to himself a sin of vainglory? I ask because in the recent past I would obsess over such physical vanities. Now that I recognize this as an issue, is it sinful to keep the hairstyle?
The TRADITIO Fathers Reply.
In such a case, one would want to subject the capital vice of vainglory (superbia) to the capital moral virtue, prudence (prudentia), or practical judgment. One makes such practical judgments every day in life, balancing extremes against the mean. In the case you mention, you should really consider just what your motives are and just what the results of your actions are upon yourself and others, remembering that among the daughters of vainglory is, among others, the fault of love of novelties (St. Thomas Aquinas, Summa Theologica, Pars Secunda Partis Secundae, Question 132, Article 5).
---
JANUARY 1, 2018 - CIRCUMCISION OF OUR LORD
HOLYDAY OF OBLIGATION
EIGHTH DAY OF CHRISTMAS
DOUBLE FEAST OF THE SECOND CLASS
Newchurch Takes Another Step Toward "Gay" Presbyters
Milwaukee Newarchbishop Approves and Supports Radical Self-outed "Gay" Presbyter
From: The TRADITIO Fathers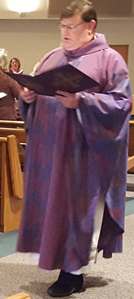 No Singing from the Catholic Hymnbook
Gregory Greitan, a "Gay" Radical
"Came out" in His Sunday "Homily"
With the Approval and Support of Newarchbishop Listecki
Who Is No Stranger to "Gay" Corruption
In "Gay-friendly" Francis-Bergoglio's Newchurch
Listecki Shared a Vacation Condominium with a Man
Who Pled Guilty to Stealing Money
From the Newchurch Collection Plate
With the approval and support of his Newarchbishop (who was never consecrated in the Sacrament of Holy Orders, but only "installed" as a Protestantized bishop under the New Ordinal of 1968), Gregory Greitan "came out," claiming that he was "gay." The Newchurchers present at the invalid "New Mess" of 1969, had to listen to this sacrilege during his Sunday "homily" of December 17, 2017 (Protestantized presbyter/ministers don't give sermons). Catholics, of course, know that Greitan is neither Roman Catholic nor a priest (he was never ordained in the Sacrament of Holy Orders, but only "installed" like a Protestant minister under the New Ordinal of 1968).
Newarchbishop Jerome Listecki, of Milwaukee, Wisconsin, is not a stranger to "gay" corruption in "gay-friendly" Newpope Francis-Bergoglio's Newchurch. In 2004 it was revealed that Listecki had earlier purchased a vacation condominium with friends, one of whom was Dr. Dennis Composto, who pled guilty in 2006 of stealing money from the Newchurch archdiocese of Chicago, Illinois, headed by Francis George, who himself had been publicly identified as housing at his own residence a known sex offender and then appointing that sex offender to be principal of a Newchurch school. Draw your own conclusions about Listecki's personal interest in Greitan.
Listecki did not forbid or counsel against Greitan's homily, but in fact issued a statement backing his announcement: "We support Father Greiten in his own, personal journey and telling his story of coming to understand and live with his sexual orientation." Listecki replaced Rembert Weakland, despot of the Milwaukee Newarchdiocese from 1977 to 2002, and was finally forced out only when he was exposed as an active homosexual with a catamite. When that catamite threatened to expose Weakland, the Newarchbishop stole from Newchurch collection plates half a million U.S. dollars to pay him off for his silence. The catamite "outed" Weakland anyway and, since Weakland didn't get full value from his theft, he never returned the stolen money to the Newchurch collection plate. This is not mere gossip: Weakland admitted to all these crimes in a book that he published in 2009. [Some information for this Commentary was contributed by LS News.]
True Catholics, pseudo-Newarchbishop Listecki did not take the opportunity to teach the Natural Law and Catholic moral doctrine against sodomy, which is One of the Four Sins that Cry out to Heaven for Justice. Why should he? After all, sodomy, especially sodomy by Newchurch clergy against children, has the encouragement of the Newpopes, especially the "Gay-friendly" Newpope Francis-Bergoglio, and so has reached a state of quiet acceptability in Bergoglio's Newchurch. Did not Our Lord Himself warn: "I will strike the shepherd, and the sheep of the flock shall be dispersed" (Matthew 26:31)?
---

Return to Daily Commentaries from the TRADITIO Fathers.