July 2017
| | |
| --- | --- |
| | For answers to many questions, consult the CURRENT MONTHLY REVISED EDITION of the Official Traditional Catholic Directory, Listing All Traditional Latin Masses and Traditional Resources for North America. For further information, click on the TRADITIO Network's Official Traditional Catholic Directory department, provided to the TRADITIO Network by the National Registry of Traditional Latin Masses. |
For information about the protocol for sending messages to the TRADITIO Fathers, click on Ask the Fathers. First, here are some hints for locating items that have already been covered. The TRADITIO Network has the most varied and extensive repository of traditional Catholicism, collected over the 20 years of our existence on the internet, the longest of any traditional site. (1) Check the 16 departments listed in the TRADITIO Network's Web Site Map on our home page, www.traditio.com. (2) Check the 14 FAQs in the TRADITIO Network's Library of Files (FAQs and Traditional Apologetics) department, which answers your most common questions. (3) Use the Search engine on the TRADITIO Network's home page, www.traditio.com.
| | |
| --- | --- |
| | If you have you have personally benefited from the services of the TRADITIO Network, please support the continuation of the TRADITIO Network's Apostolate by clicking on the box to the left to made a donation easily, securely, and confidentially by bank account or credit card through PayPal. Regular contributors become Benefactors of the TRADITIO Network, and their intentions are specially commemorated at Traditional Latin Masses offered. Using PayPal reduces our administrative burden considerably, but if need to use a paper check, click on FAQ01: "How Can I Help the TRADITIO Network's Apostolate?" We have always refused to display those annoying "click" ads to raise money. We hate those ads, and we think that you do too, so we have kept TRADITIO 100 per cent free of them and rely instead on you for voluntary donations. |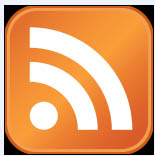 Subscribe to the Free TRADITIO RSS Feed
---
THE TRADITIO NETWORK HAS BEEN INFORMED BY THE NATIONAL REGISTRY OF TRADITIONAL LATIN MASSES THAT THE NEW JULY 2017 MONTHLY REVISED EDITION OF THE 22ND ANNUAL EDITION (2017) OF THE OFFICIAL TRADITIONAL CATHOLIC DIRECTORY, LISTING ALL TRADITIONAL LATIN MASSES AND TRADITIONAL RESOURCES FOR NORTH AMERICA HAS BEEN PUBLISHED. FOR FURTHER INFORMATION, CLICK ON THE OFFICIAL TRADITIONAL CATHOLIC DIRECTORY DEPARTMENT, PROVIDED TO THE TRADITIO NETWORK BY THE NATIONAL REGISTRY OF TRADITIONAL LATIN MASSES. THE 2017 ANNUAL USE FEE IS NOW DUE FOR THOSE WHO WISH TO USE THE NEW 2017 ORIGINAL EDITION AND ITS MONTHLY UPDATE EDITIONS. BE SURE TO CHECK YOUR TRADITIONAL SITE'S LISTING FOR CORRECTNESS.

---

July 31, 2017 - St. Ignatius of Loyola, Confessor
Semidouble Feast A Reader Asks: "When Exactly Did the Newchurch of the New Order
Replace the Catholic Church as the "Institutional" Church?" From: Joseph

With a Stroke of the Pen, the Heretical Newpope Paul VI-Montini
Abolished the Catholic Church as the "Institutional" Church
On November 21, 1964
And Substituted the Protestantized Newchurch of the New Order
When He Promulgated the Vatican II Anti-council's Heretical Document Lumen Gentium
That Document Taught that the Catholic Church Was Not the Only True Church
A Heresy that Had Been Condemned Explicitly by Many Previous Popes
But that the Catholic Church Was Just One of Many Churches
In Which the Truth "Subsisted"
Including the Sects of the Protestant Heretics, the Jewish and Mohammedan Infidels
And Even the Atheist Buddhist Pagans
Dear TRADITIO Fathers:
When exactly did the Newchurch of the New Order begin and replace the true Catholic Church as the "institutional" Church? I argue that the critical date was November 19, 1969. It was on this day that "Unblessed" Newpope Paul VI-Montini ignored the Sacred Tradition of the Catholic Church, as ably summarized by the Cardinals and Fathers in the document entitled Short Critical Study of the New Order of Mass [Sic], generally known as the "Ottaviani Intervention," and attempted to substitute for the true Mass an invalid Protestantized fraud known as the "New Mess." It was then that Archbishop Lefebvre rejected the power of any Newpope to bind heresy and formed the original, traditional Society of St. Pius X (which was restructured into an anti-traditional Neo-SSPX organization by Bernie Fellay in 1994).
The TRADITIO Fathers Reply.
Although November 19, 1969, is a critical date, we would place the date earlier: November 21, 1964. This is the date on which the Constitution of the Catholic Church was illegally and invalidly changed to make the Newchurch of the New Order (which is not Catholic) the "institutional" Church, through Paul VI-Montini's promulgation of the Vatican II Anti-council's document, Luman Gentium. That document, heavily influenced by the lifelong Modernist Josef Ratzinger (who later assumed the name Benedict), taught that the Catholic Church was not the only Church teaching the true Faith (the Oecumenist Heresy, which had been condemned explicitly by many previous popes), but that the Catholic Church was just one of many churches in which the truth "subsisted," including the sects of the Protestant heretics, the Jewish and Mohammedan infidels, and even the atheist Buddhist pagans.
---
July 30, 2017 - Eighth Sunday after Pentecost
Semidouble Sunday
Francis-Bergoglio's Five Point Plan to Suppress "Traditionalism"
And the 1962 "Latin Mess" inside Newchurch Once and For All
From: The TRADITIO Fathers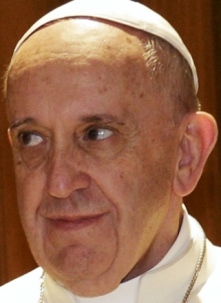 Newrome Is Abuzz with Reports Indicating that a Cunning Francis-Bergoglio
Is Engineering a Five Point Plan
To Destroy Every "Traditionalist" Vestige inside Newchurch
Central to His Plan Would Be the Rescission of the 1962 "Latin Mess" Indult
And the Complete Control and Isolation of Bernie Fellay's Neo-SSPX
One Thing Awaits the Implementation of Bergoglio's Plan:
The Death of the Ex-Nazi, Ex-Newpope Benedict-Ratzinger
But the Great Exodus of Priest-presbyters from Fellay's Neo-SSPX
May Effectively Kill the Neo-SSPX (which Is Not the Original SSPX) First
On July 26, 2017, sources inside Newvatican have revealed a Five Point Plan that Francis-Bergoglio, who hates "traditionalists" with a passion, wants to implement in order to destroy once and for all every "traditionalist" vestige inside Newchurch:
Make Bernie Fellay and his Neo-SSPX an arm of the Newchurch of the New Order by constraining them in a "personal prelature" that would make the Fellayites merely an arm of the New Order sect. Fellay & Co. are essentially part of the New Order sect already, but Bergoglio's action would make it official. He has recently ensnared Fellay into recognizing the authority of Newchurch to control the administration of the Sacraments of the Neo-SSPX, particularly Penance and Matrimony.


Rescind Newchurch's permission for the "Latin Mass, aka erroneously as the "Extraordinary Mess", that is, the Half Novus Ordo 1962 Vatican II fraud that Ex-Newpope Benedict-Ratzinger perpetrated on Newchurch with his July 7, 2007, Motu Proprio Summorum pontificum. This Ratzingerian fraud was perpetrated to stem the tide of defections from Newchurch to traditional Roman Catholic churches, chapels, and oratories.


Restrict the Half Novus Ordo "1962 Mess" in Newchurch to Fellayite sites only and forbid Newchurch presbyter-ministers, Newparishes, and Newreligious organizations to simulate that Mess. In 2009 we TRADITIO Fathers had already revealed that Fellay was angling to get Newvatican to proclaim him "Tyrant of Traditionalists," i.e., head of all "traditionalists" and traditionalist organizations in Newchurch. Francis-Bergoglio already in 2016 set up a "secret" committee to replace the current New Order Mess of 1969 and to formulate a Newest Order Mess that can be used by both Newchurch presbyter-ministers and Protestants ministers (Anglican/Episcopalian, Lutheran, etc.).


Fire Newcardinal Gerhard Mueller as Prefect of the Congregation for the Doctrine of the [New Order] Faith and replace him with a henchman loyal to Bergoglio. Bergoglio did just that on July 1, 2017, with the firing of Muller and the appointment of Newarchbishop Luis Ladaria, a Bergoglio loyalist, fellow Marxist-bent Newjesuit, and a Newchurch representative on the 2009 "negotiating" team with Fellay.


Implement the plan when the ex-Nazi, ex-Newpope Benedict-Ratzinger, now ailing at age 90, who was just implicated in suborning the scandal at his Newmonsignor brother's boys school, goes on to his eternal judgment. At that time prohibit further expansion of Fellay's Neo-SSPX in order that the 1962 Mess dries up from lack of priest-presbyters and sites.
Such a plan, or parts of it, may indeed be in the works, but it is complex and relies on a number of unpredictable elements. First of all, Neo-SSPX priest-presbyters are leaving Fellay in numbers well exceeding one hundred. the plan could trigger a hundred or hundreds of Neo-SSPX clergy to abandon Fellay, especially in view of the recent French Scandal, in which Fellay fired seven of his most respected priest-pastors in that Neo-SSPX homeland on the charge of resisting the New Order, and Neo-SSPXers walked out of the largest Neo-SSPX church in France.
In that case Bergoglio would not allow Fellay to replace departing priest-presbyters. Moreover, Fellay will have an uphill battle winning re-election as Superior-dictator in the summer 2018 Neo-SSPX elections. In fact, he may decide finally to throw in the towel and not stand for re-election.
True Catholics, if such a Five Point Plan were effected by Francis-Bergoglio, traditional Catholics could rejoice. There would still be many independent traditional Catholic priests, bishops, churches, chapels, and oratories and several independent traditional Catholic religious orders -- and probably even more from Fellay's defecting clergy. The innate anti-Catholicism of Fellay and his followers -- that much-reduced percentage that stay with him -- would finally be exposed.
---
July 29, 2017 - St. Martha, Virgin
Semidouble Feast
A Reader Writes: "I Was Dumbfounded by the Parallels
Between the Revolt of the Traditional Machabees and the Church Today"
From: Matthew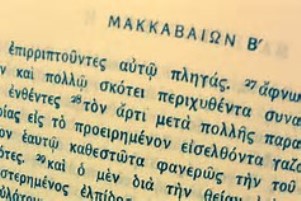 The Second Book of Machabees of the Old Testament Tells the History
Of the Traditional Machabees, Who Took back the Temple from the Pagans
There Are Obvious Parallels between That History and the Crisis in the Church Today
When Traditional Catholics Are Contesting the Modernist Heretics in Newchurch
Machabees Reads Like a Prefiguration of the Recent Crisis in the Church
The Arch-heretic Martin Luther Expurgated This Book from the Bible
Because It Described Praying and Offering Sacrifice for the Dead in Purgatory
And Other Christian Doctrines that He Hated as a Heretic
Producer-director Mel Gibson Is Considering a Major Motion Picture on the Machabees
Dear TRADITIO Fathers:
I was reading the Second Book of Maccabees in the Old Testament and was dumbfounded by the parallels between that history and the crisis in the Church today. Essentially, the Modernists of that time took over the religious functions and "ordained" priests in an invalid rite (according to Bishop Challoner's notes), whereas the traditionalist Machabees maintained valid orders, and by their courageous fighting for the faith, restored the Temple from the pagans. Second Maccabees definitely reads like a prefiguration of what was to happen to the Church in the latter half of the twentieth century.
Why is it that this Holy Scripture is not much talked about, but there is a fixation on the private revelation of Fatima in connection with the crisis in the Church? We traditional Catholics really need (myself included) to become more familiar with the basics like Holy Scripture and less familiar with private revelations.
The TRADITIO Fathers Reply.
We TRADITIO Fathers have may times talked in these Commentaries about the prophetic nature of the Second Book of Machabees in the Old Testament. For 25 years now, we have tried to focus our vast readership (now totaling some 30,000,000 over those years) away from, as you say, "private revelations" -- which the Church has consistently warned against as not being part of the Catholic Faith, and which the popes and Saints have warned lead people astray from the essential truths of the Catholic Faith.
We TRADITIO Fathers have here focused our readership first and foremost on Our Lord Jesus Christ, the true Mass and Sacraments, as well as Sacred Scripture. Although the Church Fathers based all of their sermons and writings upon Scripture, even traditional Catholics are woefully ignorant of Our Lord's words and his full message in the Holy Gospels. Instead, they rely upon the little dribs and drabs that they hear on Sunday and don't even study them. They just go in one ear and out the other.
The books of Machabees are historical books, and many today are so ignorant of history. They are also books that have appeared in the Bible, that is, the Catholic Bible (and Eastern Orthodox Bible), from the beginning, but many versions of the Protestant Bibles omit these books. Like the New Testament, they were transmitted in Greek, not Hebrew, and Martin Luther expurgated them because they described praying and making offerings for the dead in Purgatory (in the New Covenant, the Holy Sacrifice of the Mass) and other Christian doctrines that he hated as a heretic.
More recently, many Protestants are accepting the Catholic and Apostolic Tradition and including these books in their Bibles. They provide much excellent perspective for our understanding of what is going on in the Church now. Traditional Catholics can be hopeful: it has all happened before! Last we heard, producer-director Mel Gibson is considering a major motion picture on the historical theme of the Machabees fighting for their faith against the pagans.
---
July 25, 2017 - St. Nazarius & Companions, Martyrs
Semidouble Feast
Anti-Roman Bergoglio and His Newvatican Run out of Water
The Fountains that Ran Copiously in Ancient Rome Are Now Dry
From: The TRADITIO Fathers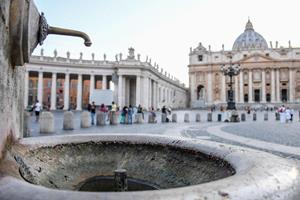 Just Like the Faith in Newrome
Newvatican's Fountains Have Run Dry for the First Time in Vatican History
Maybe God Is Chastising the Marxist Newpope
Anti-Roman Francis-Bergoglio, Who Is Quoted as Saying that He "Hates Rome"
Hates the Ancient Romans as Being "Too Traditional"
But These Founders of Modern Western Society Didn't Have This Problem
Many of Their Aqueducts, Miracles of Engineering, Are Still in Use
But God Has Now Forced Bergoglio to Drink out of Green-condemned Plastic Bottles!
Maybe God is chastising the Marxist Newpope Francis-Bergoglio. For the first time in Vatican history, the fountains have run dry. Everyone knows of the miracle of engineering that the ancient Romans achieved in their construction of aqueducts around their wide Empire, many of which are still in use. But now there is no water for Newvatican. Bergoglio has to drink -- horror of horrors! -- from green-condemned plastic bottles.
You see, God has turned off Bergoglio's water. One hundred fountains in Newvatican are dry, including two Baroque masterpieces right in the middle of St. Peter's Square, fashioned by 17th-century sculptors Carlo Maderno and Gian Lorenzo Bernini. Heaven has sent suffocating summer heat and a two-year drought affecting the tiny city-state. [Some information for this Commentary was contributed by Reuters News Service.]
True Catholics, Francis-Bergoglio's week has been the worst since he became Newpope over four years ago. After his Chief Financial Officer-Newcardinal was charged with sex crimes, his official property was exposed as the locus of "gay" orgies, and his Children's Hospital revealed as killing children, "green" Bergoglio's contorted countenance is now turning to puke -- sorry, puce.
---
July 27, 2017 - St. Pantaleon, Martyr
Simple Feast
Resistance to Francis-Bergoglio Is Growing, His Spokesman Admits
His Anti-catholic Programme Has Been "Thwarted" by His Own Newclergy
From: The TRADITIO Fathers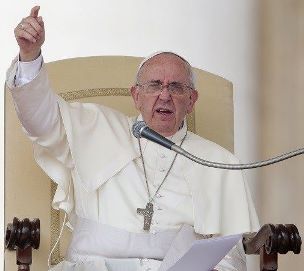 In Francis-Bergoglio's Own Official Newspaper
His Spokesman Says that Bergoglio Is Irate against His Own Newclergy
The Majority of His Newchurch Bishops and Presbyters Are "Hostile" to Him
And Are "Thwarting" His Anti-catholic, Modernist, Marxist Programme
Because Bergoglio Presumes to Play God in His Destruction of Everything Catholic
His House of Cards Is Now Falling down upon Him in Just Four Years
As Even He Himself Now Admits
Three Newdioceses -- in Chile, in Nigeria, and in Singapore -- are in schism from Francis-Bergoglio. A July 21, 2017, official report acknowledged that another 162,093 Germans left Newchurch in 2016, after 181,925 had already left in 2015. The most influential country in Europe has lost 15 per cent of its Newchurchers in just the last two decades. Barely one in even claim to be Newchurchers. 537 Newparishes closed in 2016 alone. Much of the decline in Germany, and elsewhere, has come from a rejection of the immoral and heretical Newpopes and particularly the latest one, Marxist francis-Bergoglio.
Francis-Bergoglio's star, once seemingly rising, has been plummeting in a cesspool of paedophilia, "gay" orgies on his official properties, and rampant infection in his Children's Hospital. It is long past time for the Marxist Newpope to admit his culpability and join the Ex-Nezi Newpope Benedict-Ratzinger in the Vatican Gardens's Ex-Newpopes' Home.
But Bergoglio doesn't see himself as the problem. No, in the July 23, 2017, issue of his official newspaper, L'Osservatore Romano, he blames through his spokesman the majority of his own Newclergy "at levels both high and low," from senior Newbishops to Newparish presbyters, for "thwarting" him and his anti-Catholic, Modernist, Marxist programme and for their "hostility" to him. A week earlier, his Newjesuit newspaper L'Civilitá Cattolica charged his "traditionalist" and "Neocon" Newchurchers for joining with conservative Evangelicals in an "oecumenism of hate" against him. [Some information for this Commentary was contributed by the German Crux Religious News Service.]
True Catholics, Francis-Bergoglio has increased his open dissing of the Catholic Counter-reformation and the dogmatic Council of Trent as "an old theology." In his 2014 address to the Roman Newcuria, he charged those with any remaining Catholicism as having "spiritual Alzheimer's." The Catholic Church teaches that no pope -- let alone a Newpope -- can contravene the teaching of God and the dogmata formulated in accordance with Sacred Scripture and Sacred Tradition in dogmatic Councils of the Church, from Nicaea to Vatican I. Because Bergoglio presumes to play God and to do just that, his house of cards is now falling down upon him in just four years -- as even he himself now admits.
---
JULY 26, 2017 - ST. ANNE, MOTHER OF THE BLESSED VIRGIN MARY
DOUBLE FEAST OF THE SECOND CLASS
Fox Network's Judge Napolitano Sends Prayers IN LATIN
The No-nonsense Judge Is Very Publicly an Independent Traditional Catholic
From: The TRADITIO Fathers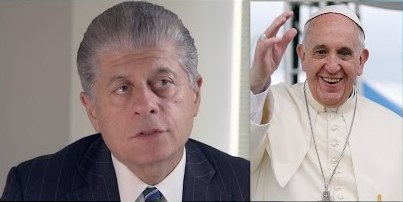 Judge Andrew Napolitano, a Publicly Traditional Catholic (Left)
Told Fox News Audiences that He Is Sending Several Hail Marys
To Ailing U.S. Senator John McCain
IN LATIN
The Judge Has Publicly Denounced Francis-Bergoglio as a Fake Pope
Bergoglio, He Proclaimed, Is a "Communist and a Marxist"
Who Has "Assaulted Matrimony" in a "Rejection of His Papal Role"
In other words, Said Napolitano, in an Era of "Fake News"
Bergoglio is a Fake Pope
Newchurch viewers of Fox News's popular "Outnumbered" program were undoubtedly surprised to hear from a real Catholic. This was not the collared presbyter dandy who is rolled out on Sundays to comment on political, not religious, matters. No, it was the no nonsense Judge Andrew Napolitano, a self-described "traditional Catholic," who doesn't go along with the Newchurch nonsense.
On July 20, 2017, Napolitano appeared as the guest on Fox New's "Outnumbered" program. This was the morning after it was announced that U.S. Senator John McCain had been diagnosed with glioblastoma, a cerebral carcinoma that advances rapidly and almost always takes its victims within a year after diagnosis. The four regulars on the program expressed their best wishes to the ailing Senator.
Then it was Judge Napolitano's turn. The Judge said: "I will be sending several Hail Marys the Senator's way." Then he paused and emphasized: IN LATIN." The four regulars were so stunned that they were mute for a few seconds, and then went on to another topic.
On the eve of Francis-Bergoglio's 2015 junket to the United States, Judge Napolitano proclaimed: Bergoglio is a "Communist and a Marxist," who has "assaulted matrimony" in a "rejection of his papal role." In other words, said the straight-talking Napolitano, in an era of "fake news," Bergoglio is a fake pope.
True Catholics, never forget that the true Catholic Church -- to be distinguished from the heretical "institutional" Newchurch of the New Order currently headed by Francis-Bergoglio -- has allies in many high places. Many of these true Catholics we may not know of, but they are there, nevertheless, ready for the return of the true Church to the Eternal City, the seat consecrated by the martyrdom of the Holy Apostles Peter and Paul -- ROMA.
---
JULY 25, 2017 - ST. JAMES THE GREATER, APOSTLE
DOUBLE FEAST OF THE SECOND CLASS
Newchurch Wants to Excuse Newmonsignor Georg Ratzinger
Ex-Newpope's Brother, Who Ran a Boys School for Newchurch Sodomites
From: The TRADITIO Fathers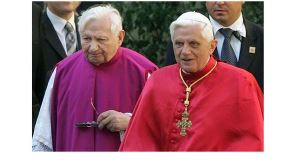 The Paedophiliac Newmonsignor Georg Ratzinger (Left)
Elder Brother of the Second Paedophile Newpope, Josef Ratzinger (Right)
A 440-page Investigative Report Has Been Released
Showing that Georg Ratzinger for Thirty Years
Ran a School for Boys Aged 6 to 10
Over 500 of Whom Were Sodomized and Physically Assaulted
Yet Francis-Bergoglio, Benedict-Ratzinger, and All of Newchurch
Want to Turn a Blind Eye to Such Crimes
Which, according to Independent Reports, Are Continuing Unabated Worldwide
Newchurch has learned nothing from the last sixteen years since its Great Sex & Embezzlement Holocaust burst out into the public in 2001. The degree of vile corruption of the Newchurch, the subject of numerous articles and documentaries, cannot be denied. But Newchurch continues to deny. That is why Newchurch will never be rid of the continuing stench of its vile paedophile crimes, nor will those crimes end. Independent investigators have reported that it continues unabated worldwide under the Third Paedophile Newpope, Francis-Berboglio.
Running Newchurch's paedophile shop since 1981 was none other than Josef Ratzinger, who was eventually to become the Second Paedophile Newpope, handpicked by the First Paedophile Newpope, the "Unsaint" JPII-Wojtyla. Ratzinger was head of Newchurch's department of sex crimes. The tens of thousands of dossiers of criminal presbyters, Newbishops, and Newcardinals, came across Josef Ratzinger's personal desk. His orders in each case were to cover up and allow the Newclergy criminals to continue their predations against children -- deaf chuldren, blind children, orphans, altar boys -- you name it.
One would think that any Catholic, let alone a Newcardinal and a Newpope like Josef Ratzinger, then Benedict-Ratzinger, would get so sick after seeing the first few cases that he would exile each and every Newchurch criminal clergyman and turn him over to the civil authorities for punishment, as did Pope St. Pius V. But no. So deep was Ratzinger's complicity in paedophilia that even his own butler couldn't stand it any longer and turned over to the Italian press evidence of Ratzinger's cover-up. Those in the know finally threatened that if Ratzinger didn't get out, the evidence would be released to the world. Ratzinger, by that time the Capo di Capo as Newpope Benedict-Ratzinger, wasted no time abdicating, the first in 600 years to do so. Ratzinger, the Ex-Nazi Newpope, now resides within the Vatican Gardens under house arrest.
Apparently, moral corruption runs in the family. Josef's elder brother, Newmonsignor Georg Ratzinger, has been fingered in a July 18, 2017, investigation as heading a school in Germany from 1964 to 1994 for boys aged 6 to 10, at which over 500 sex crimes and other physical violence were committed against the boys, possibly by Georg himself. Georg professes ignorance, of course. What kind of a head is that? His own school is a cesspool of crime, and he doesn't have even an inkling? It is patently unbelievable.
But Newchurch never gives up trying to excuse its crimes against children, let alone against the Catholic Faith. Newchurch authorities in a July 22, 2017, statement in Francis-Bergoglio's own official newspaper, L'Osservatore Romano, are trying to claim that Newmonsignor Ratzinger's crimes "had nothing to do with him." That claim has as much reality as one that elephants fly! Newmonsignor Georg Ratzinger is silent. Younger brother and Ex-Newpope Benedict-Raztinger is silent. Newpope Francis-Bergoglio is silent. Only the child victims of Newchurch clergy's sodomy and physical assault are screaming. The excuse that many of the boys were merely beaten or "disciplined" conveniently ignores the hundred or so who were undeniably sodomized under Georg Ratzinger's thirty-year regime. [Some information for this Commentary was contributed by the Zenit News Service.]
True Catholics, Aristotle famously warned us to call no many happy until he is dead. Newchurch proves The Philosopher's dictum. It is only in later years that many of these perverted Newchurch leaders have been exposed for the vile criminals that they are. No matter how old they are, they cannot be excused. The voices of their child victims, many of whom have gone on to commit suicide because of the violence committed against them, scream from the grave. We are reminded of a Latin epitaph found on a number of graves in cemeteries: "Dum silet clamat" (Although he is silent he cries out). A more apt motto for these violated children would be hard to find. They scream out against Newchurch and its filthy (to use St. Paul's term for it) leaders. God willing, the leaders of Newchurch from the Newpopes on down will be driven out of God's Church, and the Catholic Faith one day will restored to the "institutional" Church with such leaders as Pope St. Pius V, the bane of sodomites and paedophile criminals.
---
July 24, 2017 - Vigil of St. James, Apostle
Newchurch's First Priestess, Nancy Ledins, Dies
Under the New Order in 1979 Ledins Switched from Priest to Priestess
From: The TRADITIO Fathers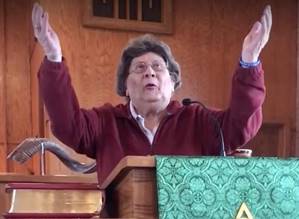 Nancy Ledins, the First Priestess of the Newchurch of the New Order
Under the New Order in 1979, Ledins Switched from Priest to Priestess
Eventually, S/he Left Newchurch to Become an LGBTXYZ Protestant Pastor
Fr./Mr./Ms. William Griglak alias Nancy Ledins Is Just One Casualty
Of the Many Immoralities, Perversions, and Heresies
That Resulted when, as even "Unblessed" Paul VI-Montini Admitted
Just Three Years after the Close of the Vatican II Anti-council:
Newchurch Has Found Itself in "a Period of Self-destruction"
On July 20, 2017, Newchurcher's first female presbyter, Nancy Ledins, died. His/Her route to that ignominy was a circuitous one. S/he was originally ordained as a man, William Griglak. Then, after the Vatican II Anti-council replaced the Catholic Church with the Newchurch of the New Order on November 21, 1964, as the "institutional" Church and "all Hell broke loose," as the saying goes, s/he left the priesthood.
Like the Arch-heretic Martin Luther, Giglak went south to "marry" an ex-nun. That "marriage" ended in "divorce." Having failed as a priest and then as a husband, Griglak decided to desecrate his body, the "temple of the Holy Ghost (1 Corinthians 6:19/DRV) and in 1979 purported to undergo a "sex-change" operation to become a "woman."
S/he then to perverted her/himself further by turning to heresy and became a Protestant minister, joining the Wedgewood United Church of Christ as its pastor, half of whose congregation are LGBTQ, and probably XYZ as well. Nevertheless, hypocritical Neocon Newchurchers will be assuaged by the fact that s/he, like the phony Novus Ordo "Extraordinary Latin" presbyters, still simulated blessings in Latin among the heretics. [Some information for this Commentary was contributed by the Charlotte (North Carolina) Observer.]
True Catholics, the Modernist Newpope Paul VI-Montini didn't fully understand the scope of the truth that he proclaimed just three years after the close of the Vatican II Anti-council, that the Newchurch has found itself in "a period of self-destruction (auto-distruzione)." Fr./Mr./Ms. Griglak alias Nancy Ledins is just one casualty of the many immoralities, perversions, and heresies that resulted when, as that same Newpope proclaimed, the "smoke of Satan (fumus Satanae) has entered the temple of God." The real victims are the clueless Newchurchers who worship an heretical god in their Novus Ordo "assemblies of the people."
---
July 23, 2017 - Seventh Sunday after Pentecost
Semidouble Sunday
A Reader Asks: "Is Our Attendance at Holy Mass on Sunday
A Matter of Divine Law or of Church Precept?"
From: Andrew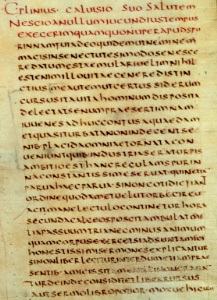 Preserved from the Time of St. John the Apostle
Is the Confirmation of the Catholic and Apostolic Tradition
That on Sunday Christians Joined Together
For the Holy Sacrifice of the Mass and Holy Communion
This Source Is a Non-Christian Historian
Who Lived Contemporaneously with St. John the Apostle
Pliny's Account Confirms What St. Matthew Writes in His Gospel
True Christians Have Worshipped Their Creator on Sunday for 2,000 Years
And Will Continue to Do So Every Sunday until the End of Time
Dear TRADITIO Fathers:
Is our attendance at the Holy Sacrifice of the Mass on Sunday a matter of Divine Law or of Church precept?
The TRADITIO Fathers Reply.
Like many Catholic practices, the worshipping of Our Creator on the day that He established for the New Covenant, as related in St. Matthew's Gospel (28:1), which you heard chanted last Holy Saturday at the First Mass of Easter, partakes of both Divine Law and Church precept based upon it. Confirming this Catholic and Apostolic Tradition is a surprising source: a non-Christian historian, who lived contemporaneously with St. John the Apostle.
Pliny the Younger (Gaius Plinius Secundus) was a Roman governor in a Middle Eastern province under the reign of the emperor Trajan. In official correspondence, dating to around A.D. 111-113 -- within less than a century after Christ's crucifixion -- Pliny writes:
Essent soliti stato die ante lucem convenire, carmenque Christo quasi deo dicere secum invicem seque sacramento non in scelus aliquod obstringere, sed ne furta ne latrocinia ne adulteria committerent, ne fidem fallerent, ne depositum appellati abnegarent. Quibus peractis morem sibi discedendi fuisse rursusque coeundi ad capiendum cibum, promiscuum tamen et innoxium
They had been accustomed to meeting on a prescribed day [Sunday] before dawn, and to sing antiphonally among themselves [i.e., in psalmody] a hymn to Christ as God, and to bind themselves by a holy oath against any crime; that they would not commit theft, robbery, or adultery; that they would not fail on a promise; that they would not default on a loan when asked for repayment. When they finished all these things (on Sunday), they had the custom of departing to their own homes and of coming together again to take unblemished food together [Holy Communion]
In this remarkable witness preserved from Gospel times, we find that what Pliny is describing here is Sunday Mass and Holy Communion. Any true Catholic who respects not only God's Word but also the earliest Catholic and Apostolic Tradition understands what an ancient obligation -- or, rather, privilege -- worshipping his Creator on Sunday is, as Christians for 2,000 years have done -- and will continue to do so every Sunday until the end of time.
---
July 22, 2017 - St. Mary Magdalen, Penitent
Double Feast
Francis-Bergoglio Is Stacking the Decks for His Successor
So that His College of Newcardinals Will Elect a Radical Heretic
From: Peter, the TRADITIO Network's Canadian Correspondent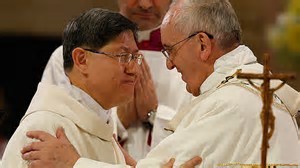 Is Francis-Bergoglio Stacking the College of Newcardinals
To Get Luis Tagle (Left), Described as a True Leftist "Nut"
After the Manner of Francis-Bergoglio (Right)
Elected to Be His Successor as Newpope?
Francis-Bergoglio Is Elevating Arch-leftists to the College of Newcardinals
But Benedict-Ratzinger Had Actually Elevated More Outright Leftists
There Is Nothing to Stop Bergoglio
From Adding an Extra Twenty Voting Newcardinals
He Wants a Successor Who Is as Evil and Heretical as He Is
He Wants to Crush the Possibility of even a "Conservative" Newpope
As Anti-Catholic as even They Are
Dear TRADITIO Fathers:
By looking at the names and ages and dates of elevation of the present troupe of Newcardinal-electors, we can see that, in less than two years, the majority of these electors will be Bergoglians -- Newcardinals elevated by the Marxist Newpope Francis-Bergoglio.
But we must also take into account the fact that many of the Newcardinals who were elevated by the previous two Newpopes, JPII-Woytyla and Benedict-Ratzinger, are also Arch-leftists. In a previous report I presented the statistics that Ratzinger had actually elevated more outright Leftists to the College of Newcardinals than has even Bergoglio. Examples of Ratzinger's heretical appointees include Newcardinals Marx of Germany, Wuerl of the USA, Braz de Aviz of Brazil (who suppressed the Neocon Franciscans of the Immaculate and the Heralds of the Gospel), Coccopalmerio of Italy (whose private secretary, now in jail, is at the center of the "Gay Orgy" scandal, conducted on Newvatican property), and Tagle of the Philippines, a true Leftist "nut," who is expected by many to become Bergoglio's successor.
Among the appointees of JPII-Wojtyla still among the Newcardinal-electors is Schonborn of Austria. Many of the appointees of Wojtyla and Ratzinger have been radicals of the most extreme variety. If you combine them with Bergoglio's Newcardinals, these Arch-leftists already constitute a majority. These will elect another Bergoglio, someone like Tagle, not even a Neocon such as Ouellet of Canada, as anti-Catholic as even they are.
We must also take into account the fact that Bergoglio can overfill the College because JPII-Wojtyla set a precedent for that. Wojtyla, on one occasion, overfilled the College by about twenty Newcardinals. Bergoglio has already overfilled it recently by one. There is nothing to stop Bergoglio from adding an extra twenty voting Newcardinals. He'll likely string everyone along and then do this in, say, a year from now. After all, he wants a successor who is as evil and heretical as he is, and that is no easy thing to achieve.
The Neocon bishops get to stand by and watch as they are driven completely out of power and their Leftist Protestant congregation of sing-along imbeciles is converted into an outright pagan and communist organization. They will get what they deserve. In 1964, the Newchurch of the New Order parted company from the Catholic Church when it became the "institutional" Church. As time wears on, the bifurcation will become more and more obvious until it cannot be denied by even the most naive or the spiritually blind that the Catholic Church and the Newchurch that pretends to be Catholic are polar opposites.
Benedict-Ratzinger himself now admits that Newchurch is capsizing. As a disciple of the heretic professor Karl Rahner, he ought to know. Ratzinger is among those who filled Newchurch to the gunwales with water at the Vatican II Anti-council. The true Catholic Church today consists of those who have long ago boarded life rafts and are paddling away from Newchurch as fast as they can.
---
July 21, 2017 - St. Praxedes, Virgin
Simple Feast
Investigative Report Implicates Brother of Benedict-Ratzinger
And Perhaps even the Nazi Newpope Himself, in Rampant Sex Crimes
From: The TRADITIO Fathers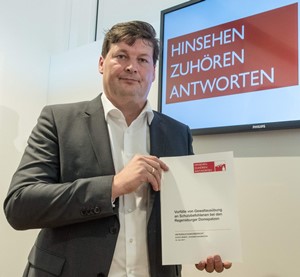 Independent Investigator Ulrich Weber Holds up the "Ratzinger Report"
Which Determined that the Brother of the Nazi Ex-Newpope Benedict-Ratzinger
Presided over the Regensburg School when Over 500 Sex Crimes
Were Perpetrated against the Children
The Obvious Conclusion Is that Newmonsignor Ratzinger
Knew about at Least Some of These Crimes and Did Nothing
Josef Ratzinger (later Benedict XVI) Head of Sex Crimes for JPII-Wojtyla
Certainly Saw the Secret Documentation that Came through His Office
Newchurch has been shocked by the July 18, 2017, 440-page report of an independent investigator into sex crimes against children in the school where the Ex-Nazi Newpope Benedict-Ratzinger's brother, Newmonsignor Georg Ratzinger, was Director for thirty years from 1964-1994. The report found that at least 547 former members of Germany's Domspatzen Choir in Regensberg, Germany, the home area of Josef (later Benedict XVI) and Georg Ratzinger, were sodomized and physically attacked at the school run by Georg Ratzinger.
The crimes were carried out by presbyters under Georg Ratzinger's charge. According to the independent investigator who prepared the 440-page report, the crimes peach peaked in the 1960s and 1970s when the Newpope's brother was in charge of the school. Josef Ratzinger himself at the time was nearby as Newarchbishop of Munich from 1977 to 1982. Later he was transferred to Newrome by the "Unsaint" JPII-Wojtyla and placed in charge of investigating sex crimes by Newchurch presbyters, Newbishops, and Newcardinals against children. There is no evidence that either Georg or Josef lifted a finger to protect the children in their charge.
True Catholics, it is unimaginable that Georg Ratzinger knew nothing about these crimes. In fact, Benedict-Ratzinger's brother might have been involved in them. It previously had come out that Georg Ratzinger would physically abuse members of the choir when they sang off key. In one instance Ratzinger threw a chair at one of the boys so hard that Ratzinger's false teeth fell out! Josef too must have known of the crimes, as he had complete access to the secret records of sex cases when he served as JPII-Wojtyla's point-man. Such cases of sex crimes against children were part of the background that led Benedict-Ratzinger suddenly to abdicate from the Newpapacy on February 28, 2013.
---
July 20, 2017 - St. Jerome, Emilian, Confessor
Double Feast
A Reader Asks: "Could You Explain What Newchurch Presbyters Are?
Does Newchurch Have Valid Priests?"
From: Linda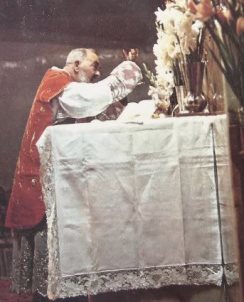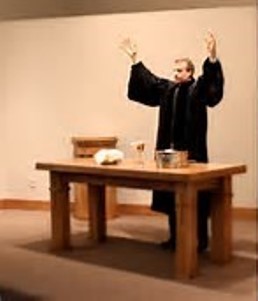 Left: A Valid Catholic Priest
Ordained in the Sacrament of Holy Orders
"To Offer the Sacrifice of the Mass for the Living and the Dead
To Bless, and to Forgive Sins"
Right: An Invalid Newchurch Presbyter
Not Ordained, but Merely "Installed"
"To Preside over the Assembly of the People"
It May Astonish Many Who Think Themselves Catholic
To Find out that the Newchurch Has Not Ordained Priests since 1968
(Some People Continue to Call Them by that Term out of an Ignorant Habit)
Presbyters Are, in Essence, Protestant Ministers
Who Have No Power to Offer a Valid Mass, to Bless Anything
Or to Hear Confessions, Any More than a Protestant Minister Has
Dear TRADITIO Fathers:
Can you explain what Newchurch presbyters are? Are they even Catholic priests? Does Newchurch have valid priests?
The TRADITIO Fathers Reply.
It may astonish many who think themselves Catholic to find out that the Newchurch of the New Order, currently headed by Francis-Bergoglio, has not ordained priests since 1968. (Some people continue to call them by that term only out of an ignorant habit.) In 1968 Newchurch adopted a Protestanized New Ordinal that merely "installs" presbyters with the power only "to preside over the assembly of the people," as do Protestant ministers. "Presbyter" -- which is the term Newchurch officially uses, not "priest" since 1968 -- comes from the Greek meaning "elder," a term that is used in the Mormon and certain Protestant sects.
Catholic priests, on the other hand, are still ordained outside the anti-Catholic Newchurch in the Sacrament of Holy Orders by traditional Catholic bishops, "to offer the Sacrifice of the Mass for the living and the dead ... to bless ... and to forgive sins."
In short, presbyters are not Catholic priests. They are, in essence, Protestant ministers, who have no power to offer a valid Mass, to bless anything, or to hear Confessions, any more than a Protestant minister does. Thus, it follows that when anyone attends a "New Mess" or even the New Order's so-called "Extraordinary Mass" -- which is most certainly not the Traditional Latin Mass -- he is not attending Mass at all, but a Protestant service, in which he does not receive Holy Communion, but a common cookie and Kool-Aid, just as he would from a Protestant minister. He has not fulfilled his Sunday obligation, nor has he received any Sacramental grace. Anyone who has confessed to a New Order presbyter has not received absolution of his sins, any more than he would from a Protestant minister. Anyone who has had an item "blessed" by a New Order presbyter has not received any blessing at all.
---
July 19, 2017 - St. Vincent de Paul, Confessor
Double Feast
Francis-Bergoglio Aims to Impose "Concelebration"
In Yet Another Gutting of the Priesthood, Which Does Not Exist in Newchurch
From: The TRADITIO Fathers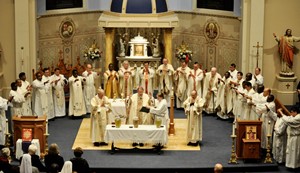 Francis-Bergoglio Aims to Do Away With Single-presbyter Messes
And Require Hoards of Presbyters around the Novus Ordo Dinner Table
Bergoglio Is Working to Impose Condemned "Concelebration"
Which Is Yet Another Move toward Protestantism
Promoted by the Vatican II Anti-council
Novus Ordo Presbyters Are Regarded as Incapable of Simulating Mess on Their Own
Not Only Do They Need Eucharistic Ministresses and a Cacophony of Lectoresses
But Also Hoards of Presbyters
Now coming in: more evidence that Newchurch is worse than Protestant. Already the Vatican II Anti-council (1962-1965) eliminated priests and replaced them with Protestantized presbyters (ministers). Under the 1968 New Ordinal, there is no ordination of valid priests in the Sacrament of Holy Orders to "offer the Sacrifice of the Mass for the living and the dead," but merely the "installation" of unordained and invalid presbyters to "preside over the assembly of the people."
In line with the elimination of priests in Newchurch, the Anti-council opened up the so-called "concelebration" of the New Mess by hoards of presbybters, as now one presbyter seems incapable of simulating Mess on his own. Not only does he need eucharistic ministresses and a cacophony of lectoresses, but also other presbyters.
Now Francis-Bergoglio is imposing this condemned "concelebration" in the colleges and seminaries of Newrome. The Congregation for the [New]clergy is working secretly on a document that will impose "concelebration" under the Protestant doctrine that "the celebration in community must always be preferred to individual celebration." Francis-Bergoglio in an April Fools' Day 2017 address, stated the purpose of such an imposition: "to overcome individualism." Tyrant Stalin couldn't have put it better! [Some information for this Commentary was contributed by the Newvatican Press Office.]
True Catholics, the phony New Order "Mess" isn't even a Mass. Newchurch defines it as an "assembly of the people," like a Mormon meeting. Thus, not even a presbyter is needed. Condemned "concelebration" simply degrades the situation that much more. Presbyters aren't even individuals any longer. Rather, they are a Communist "collective," who can function only with other presbyters and laypeople. That is the pure Protestantism!
---
July 18, 2017 - St. Camillus de Lellis, Confessor
Double Feast
Beleaguered Francis-Bergoglio Has Posted a Sign on His Door:
Don't Complain -- about Paedophilia, Heresy, and the Fake Mess
From: The TRADITIO Fathers

Francis-Bergoglio Has Been So Lambasted for Corruption
Involving Children, Heresy, and the New Order Mess and Sakruments
That He Has Posted a Sign outside His Hiltonesque Apartment
Prohibiting Complaints against His Corrupt Practices
He Is Reportedly Now Eating Alone
In a Corner of the Newpapal Dining Room
Because He Is Being Besieged by Opposition
From Within the Highest Ranks of Newchurch
Francis-Bergoglio, who has been lambasted in the international press for harboring a paedophiliac as his No. 3 Man (Newcardinal George Pell), for turning his Newpapal paediatric hospital into a "death camp" of infection for its child patients, and for allowing his Newpontifical Secretary to host sex orgies on Newvatican property, fears to leave Newrome for the summer. Yet even in his own backyard, he is being besieged by opposition from the highest ranks of Newchurch.
In desperation Francis-Bergoglio has ensconsed himself in his Newpapal apartment and cried, Basta! (Enough!). He posted a warning sign there proclaiming: "Vientato lamentarsi (It is forbidden to complain). Forbidden by the corrupt Newpope are complaints that he has harbored a paedophiliac as his No. 3 Man, who is now in Australia facing charges of involvement in sexual assaults upon ten children. Complaints that he has turned his Newpapal Bambino Gesu Paediatric Hospital into a "death camp" of deadly infection for its child patients, as a recent external audit discovered. Complaints that he has allowed his Newpontifical Secretary, now detained by the police, to host "gay orgies" in a Newvatican apartment. [Some information for this Commentary was contributed by the Italian dialy newspaper La Stampa.]
True Catholics, Francis-Bergoglio's grave public sins of suborning paedophila, preaching heresy, and simulating an invalid Protestantized "New Mess" are finally getting to the offender. Reports from Newvatican indicate that Bergoglio eats in a corner of his Hiltonesque Executive Dining Room with his back to everyone. Newchurch had better hope that he quickly joins his predecessor, the Ex-Nazi Benedict-Ratzinger in the Old Newpopes' Retirement Home before he completely destroys Newchurch. For a certainty, he has already destroyed any vestige of the Catholic Church in his New Order sect.
---
July 17, 2017 - St. Alexius, Confessor
Semidouble Feast
Francis-Bergoglio's Paediatric Hospital Executives Indicted
They Embezzled Funds and Turned the Hospital into a "Death Camp" for Children
From: The TRADITIO Fathers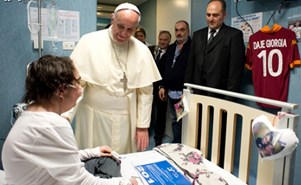 Francis-Bergoglio Covers with a False Smile
More Newvatican Criminality against Children
When He Visited Newvatican's Bambino Gesu Paediatric Hospital
Where His Administrators, Now Indicted, Were Found
To Have Embezzled Nearly Half a Million U.S. Dollars
To Renovate that Luxury Quarters of a Newcardinal
As a Result the Hospital Was Turned into a "Death Camp" of Infection
And Caused the Deaths of Several Child Patients
The TRADITIO Network previously reported that Francis-Bergoglio's Bambino Gesu Paediatric Hospital had been turned into a "death camp" of infection for its child patients in order to maximize profits. Now we know why. On July 13, 2017, two of Bergoglio's executives, who had been embezzling the money that was needed to ensure the cleanliness of the hospital, Giuseppe Profiti and Massimo Spina, President and Treasurer of the hospital, were indicted for embezzling nearly half a million U.S. dollars on renovating a luxury apartment for Newcardinal Tarcisio Bertone, who was Ex-Newpope Benedict-Ratzinger's Secretary of State.
The indictment comes just a week after an Associated Press investigative report revealed gross mismanagement at the Newpopes' paediatric hospital. The degree of that mismanagement, which resulted in the deaths of several child patients, was denied by Francis-Bergoglio's spokesmen. [Some information for this Commentary was contributed by the National Catholic Reporter.]
True Catholics, we TRADITIO Fathers been the only international news source to connect from its first public exposure in 2001 Newchurch's rampant sex crimes against children, using embezzlement to fund them. From the beginning we e have called it Newchurch's Great Sex & Embezzlement Holocaust. And now, once again, we have been proven dead right But it has taken an outside investigation to force Francis-Bergoglio fess up to the crimes. Once again Newchurch and its Newpopes have been exposed to be running a criminal apparatus. It should make any true Catholic sick to his stomach and force him to recognize the reality that Newchurch is not the Catholic Church and stands condemned as a "den of thieves" (Luke 19:46/DRV), the words with which Our Lord Himself condemned the leaders of the corrupt Church of His Own time.
---
July 12, 2017 - Sixth Sunday after Pentecost
Semidouble Sunday
Changes Are in the Offing to Allow Presbyters
To Wear Casual Clothes while Simulating the Invalid Novus Ordo Mess
From: The TRADITIO Fathers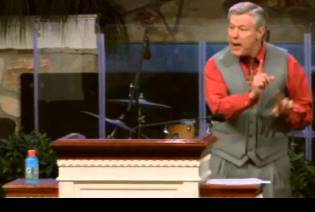 The Newest Mess (Novissimus Ordo) of the Future
At Which the Presbyter Will Have the Choice
To Wear Casual Clothes, including Jeans and Running Shoes
(Complete with Kool-Aid on the Altar)
This Policy Has Already Passed the Anglican General Synod
And Newchurch Synods Regularly Follow the Anglicans
The "New Mess" (Novus Ordo) of 1969
Used in Virtually Every Newchurch Parish Now
Is Substantially the Protestant Anglican/Episcopalian Service
As the Anglicans go, so goes the Newchurch of the New Order. In 2009, Ex-Newpope Benedict-Ratzinger by his Apostolic Constitution Anglicanorum coetibus admitted Anglican priests (ministers) into Newchurch and approved their simulating Anglican-based services for their congregations as Newchurch parishes. In virtually every Newparish, the "New Mess" (Novus Ordo) of 1969, based substantially upon the Protestant Anglican/Episcopalian service, is used.
On July 10, 2017, the General Synod gave its priests the go-ahead to ditch vestments and dress down for services. "Priests should be allowed flexibility to wear what they want, to make the Church more accessible and relevant to the modern world ... by reflecting the way society has gone in the way of informality." Clergy are now officially allowed to lead services in casual clothing such as jeans and running shoes.
Some were concerned that the new garb could mean that priests would be pressured into "foolishness." Priests who wish to wear traditional vestments are expected to be pressured into wearing casual clothing, just as in the post-Vatican II Newchurch, nuns were forced to give up their habits, in spite of the fact each nun was supposed to have free choice. [Some information for this Commentary was contributed by the U.K. Telegraph News.]
True Catholics, the great Roman philosopher and orator Marcus Tullius Cicero wrote: "To be ignorant of what occurred before you were born is to remain always a child." It seems that some have forgotten how quickly the Catholic Church -- its Mass and Sacraments, its doctrine, its morality -- just as Pope Pius XII predicted, were forced into the catacombs in 1964, in spite of the fact that traditional practices were supposed to be an "option." But the Leftist Modernists, after a short time of transition, in practice prohibited any traditional choice. Now Francis-Bergoglio is taking a giant leap farther: persecuting those who stand by the traditional Mass and priesthood, Catholic doctrine, and Catholic morality. History repeats itself.
---
July 15, 2017 - St. Henry II, Emperor of Germany
Semidouble Feast
Francis-Bergoglio Is Appointing Marxist Modernist Newbishops
At a Rate Ensuring that No "Traditionalist" Will Ever Become Newpope
From: Peter, the TRADITIO Network's Canadian Correspondent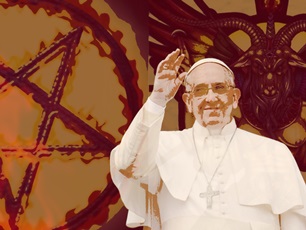 Francis-Bergoglio Is Not Taking a Vacation This Summer
But Is Racing to Appoint Modernist Marxists
To Fill All Newbishops' Vacancies
At This Rate Not Even a "Conservative" Will Become Newpope
The Leftist Protestant Newchurch Denomination Is Being Converted
Into a Fully Marxist and Pagan Counter-church
Neocon Newprelates Are Now Concerned only to Serve out Their Terms
In Order that They Can Retire in Comfort on the Pennies of the Poor before 1960
By Selling off Traditional Catholic Churches to Be Made into Beer Halls
Dear TRADITIO Fathers:
There is a long-standing custom in the Catholic Church that little is done during the "hot Roman summer," which begins on July 3, just after the Feast of the Visitation, and continues well into September. During this time the prelates of old headed to their villas in the countryside to escape the heat of the Eternal City, just as had their predecessors, the ancient Romans. Even in Newchurch times Benedict-Ratzinger did almost nothing in the summer. He somehow managed to do even less in the summer than he was doing the rest of the time!
Francis-Bergoglio has broken this custom in spades! In his determination to replace all the Neocon Newprelates, he takes full advantage of the summer months. On July 12, 2017, for example, he forcibly retired three men, two of whom had just turned 75, and replaced them with his Marxist fellow-travelers. The appointments, as a rule, by-pass Newcardinal Ouellet, the Neocon Newprefect for Newbishops. Their names are supplied by Bergoglio's Newjesuit network of Marxist Modernists. Ouellet, once considered a Neocon papabile, is being phased out into oblivion.
On July 11, 2017, Francis-Bergoglio named an auxiliary Newbishop for the Diocese of Bangassou in the Central African Republic. Bangassou has never had an auxiliary bishop before. That's because it's in the middle of nowhere, in one of the poorest and most backward countries on earth. Auxiliaries have customarily been appointed only for huge archdioceses so as to assist the ordinary in his sacramental duties. But this is not the first time that Bergolio has named an auxiliary bishop for a small Newdiocese in an out-of-the-way place -- and he's making such appointments more and more. There is then financial pressure to make the auxiliary a diocesan bishop in the future because poor African Newdioceses cannot easily afford to support more than one bishop per Newdiocese.
At the rate Francis-Bergoglio is moving, it is already too late to reverse him in getting even some future Neocon in the Newpapacy -- a traditional pope is now out of the question. Meanwhile, the remaining Neocon newprelates watch their leftist Protestant Newchurch denomination being converted into a fully Marxist and pagan counter-church. They have no courage and no resolve, so they stand by mute as the change happens before their eyes, burying their heads in the sand or look the other way.
There is no point for the Newchurch bureaucrats fighting against the inevitable, eh? They are now concerned only to serve out the remainder of their terms so that they can retire in comfort. The money for their privileged retirement is more and more achieved by selling traditional Catholic churches that were built by the pennies of the poor before 1960.
Newchurch is not the Catholic Church. Real Catholics need to avoid it and begin the process of rebuilding the Catholic Church from the Gospels up. This rebuilding will be accomplished by independent traditional Catholic priests and small groups of such priests. It will be achieved by a new generation of Apostles. Already, there are several traditional Catholic bishops consecrated to ensure the future, and more will arise. True Catholics need to remove themselves completely from Newchurch parishes. There is absolutely no moral argument for staying in such places of anti-Catholic sacrilege, heresy, and immorality. Already there is nothing at all Catholic left in Newchurch parishes except the lying word "Catholic" on the front door.
---
July 14, 2017 - St. Bonaventure, Bishop, Confessor & Doctor
Double Feast
Francis-Bergoglio Guts the Requirements for "Con-anization"
So that the Likes of Martin Luther Can Become Newsaints
From: The TRADITIO Fathers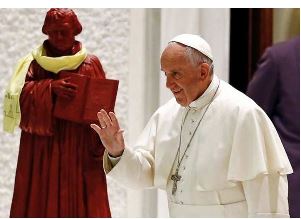 Francis-Bergoglio Blesses a Statue of the Arch-heretic Martin Luther
Recently Erected by Him in Newvatican
Bergoglio Has Issued a New Motu Proprio, Maiorem Hac Dilectionem
That Has Gutted the Requirements for Sainthood
Now Any Tom, Dick, or Harry -- or Nancy or Martin Luther
Can Become Newsaints of Bergoglio's Anti-Catholic Newchurch
Having destroyed Catholic teaching on sodomy, marriage, and atheism, Francis-Bergoglio has now attacked Heaven itself: sainthood. In 1983 the "Unsaint" JPII-Wojtyla so corrupted the process of canonization in Newchurch as to make it a "con"; thus, it is derisively termed by traditional Catholics "con-anization," and no Novus Ordo "con-anizations" since the Newchurch of the New Order replaced the Catholic Church as the "institutional" Church on September 21, 1964, can be trusted. For further information, click on FAQ10: How Do You Explain These Traditional Catholic Beliefs? in the TRADITIO Network's Library of Files: FAQs and Traditional Apologetics department, in the section 'Canonizations' - New Order."
On July 11, 2017, Francis-Bergoglio in a new Motu Proprio, Maiorem hac dilectionem, has further watered down Newchurch's criteria for proclaiming Newsaints, so that it will be easier to con-anize Protestants, Jews, and Muslims. Already in 2000 JPII-Wojtyla seriously proposed adding the Arch-heretic Martin Luther to the catalog! No longer will "heroic virtue" (a prolonged exercise of Catholic virtue) be required, nor martyrdom, but merely an "offering of life" (oblatio vitae). As opposed to martyrdom, the "con-anized" would not have to endure death for the faith. As opposed to one displaying heroic virtues, the "con-anized" would not have to exhibit a prolonged exercise of Catholic virtues. [Some information for this Commentary was contributed by the Newvatican Press Office.]
True Catholics, it seems that every day that goes by, Heaven confirms that Newchurch is not the Catholic Church. Newchurch has lost the Mass and the Sacraments. Newchurch is sinking into a cesspool of immorality, including the sodomizing of children and "gay" orgies occurring next to the Newpope's own bedroom. Newchurch is openly heretical, changing so many significant Catholic dogmata that it is impossible now to catalog all the heresies. Suffice it to say that Newchurch and the Newpopes are not Catholic, and the immoral teaching of Sacred Scripture and of the Church is that no true Catholic can have anything to do with their ilk. Newpopes, Newbishops, presbyters, and the like are no better than the Anglican Archbishops of Canterbury, the Jewish rabbis, the Mohammedan imams, and the Buddhist "priests."
---
July 13, 2017 - St. Anacletus, Pope & Martyr
Semidouble Feast
Neo-SSPX's Fellay Admits that He Was Hoodwinked by Newchurch
Fellay Is in a Panic over his Priests and Laypeople Now in Open Schism
From: The TRADITIO Fathers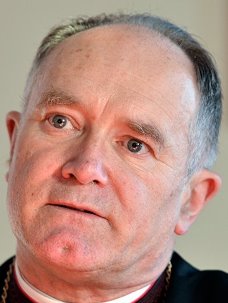 The Neo-SSPX's Bernie Fellay Looks Vacant
After Announcing that He Had Been Hoodwinked by Newrome
Which Rescinded All Previous Accommodations for His Sellout to Newchurch
He Panicked when Seven Priest-Presbyters Rejected Him
And He Fired Seven of His Most Popular French Priors
Now over a Thousand Neo-SSPXers Have Signed a Letter Rejecting Fellay
The Schism against Fellay Grows, as the 2018 Neo-SSPX Elections Loom
On June 29, 2017, Bernie Fellay, the Superior-Dictator of the Neo-SSPX, announced that he had been hoodwinked by Newrome. He summarized the situation as follows: "We almost reached the end, and we have fallen from the box. Behold, everything has come down." The May 20, 2017, protocol signed by Francis-Bergoglio rescinded all of the concessions that Newrome had previously made to enable Fellay's sellout to Newchurch. On May 11, 2017, seven priors of Neo-SSPX parishes and of three monastic organizations in France, where Fellay's group is founded, publicly separated themselves from Fellay's sellout stratagem and formally informed Newrome of their decision.
Fellay must now sign off on his acceptance the invalid "New Mess" and "sacraments" and the heretical teachings of the Vatican II Anti-council. Moreover, he must swear an oath that he accepts the Vatican II religion. As a result, Fellay's priest-presbyters, over 100 of his total of 600, have abandoned him, are fed up with his sellout stratagem, and large numbers of his lay membership have joined in the growing schism. Fellay, in a panic at the growing schism within his ranks, has lashed back and fired the recalcitrant priest-presbyters, who are some of the most popular in the Neo-SSPX. In a panic at the growing schism within his ranks, Fellay fired the seven priors, some of his most popular, and set off another firestorm. Over a thousand Neo-SSPX members signed the letter rejecting Fellay, and that was just the first group of signatories.
After at least three feigned "Rosary Crusades" and 23 years of wasting the Neo-SSPX's vast financial and personnel holdings in what Fellay himself called a "goose chase," one would think that the man would see the chastisement of Heaven, stop his sellout stratagem, and resign. But not Fellay. His behavior is redolent of Francis-Bergoglio's unfaltering Marxism. Fellay is going to sell out or be damned! He announced: "It is necessary to start from scratch. " [Some information for this Commentary was contributed by sources within the Neo-SSPX.]
True Catholics, Bernie Fellay, after over twenty years of dancing to the tune of the Newchurch that the original traditional Catholic Society of St. Pius X's founder, Archbishop Lefebvre, called heretical, many of Fellay's priest-presbyters and his lay members have come to detest him. Francis-Bergoglio and Newchurch detest him. If he had listened to the advice of us TRADITIO Fathers for the last 23 years, he would have avoided his downfall. Now, if he had any honor left, he would resign and get out of the way, so that the original traditional Catholic Society of St. Pius X of Archbishop Lefebvre SSPX can be restored.
---
July 12, 2017 - St. John Gualbert, Abbot
Semidouble Feast
Newchurch Rolls out Its Presbyter of the Future
Robo-presbyter Is Bisexual, Emits Blessings, and May Simulate a Novus Ordo Mess
From: The TRADITIO Fathers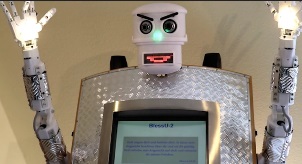 A Desperate Newchurch, Which Cannot Attract Men
To Its Newseminaries to Study for the Newpresbyterate
Has Unveiled a Possible Solution: Robo-presbyter, aka BlessU-2
The Robot Can Perform Blessings in a Bisexual Mode
Plans Are Probably Already underway in Newchurch
To Develop Robo-Presbyter to Stimulate an Invalid Novus Ordo Mess
As The Ranks Of The Newchurch Clergy Are Rapidly Dying Off
With Only a Few Men Interested in Subjecting Themselves
To The Sodomies and Heresies Going on in Newchurch Seminaries
The Newchurch of the New Order, which is so despised that it can attract only a handful of men who want to become invalid presbyters, has come up with a possible solution -- we kid you not -- robo-presbyters! On May 31, 2017, Robo-presbyter, also known as BlessU-2, was unveiled in Wittenberg, Germany. The robot hands out blessings via a touchscreen and delivers words "inspired by God" in five different languages, in a male or female voice. Thus, Newchurch has overcome the problem of presbyteresses (priestesses): Robo-presbyter is bisexual.
The Newchurcher simply selects the blessing that he wants on Robo-presbyter's touch screen, and the machine will raise its hands in blessing, emit light from its hands as it asks God's face to "shine upon you" and "show you mercy," while its mouth moves and its eyes rotate. After the blessing is completed, the Newchurcher has the option to print a receipt of the blessing his personal records. [Some information for this Commentary was contributed by the U.K. Sun.]
True Catholics, weird as this sounds, there have been Newchurch apps issue already for the Novus Ordo unsacrament of "reconciliation." Plans are probably already underway in Newchurch to develop Robo-presbyter to stimulate an invalid Novus Ordo Mess. Lord knows, Newchurch is going to need something like this, as the ranks of the Newchurch clergy are rapidly dying off with only a few men interested in subjecting themselves to the sodomies and heresies going on in Newchurch seminaries.
---
July 11, 2017 - St. Pius I, Pope & Martyr
Simple Feast
The Schism against Francis-Bergoglio Continues to Grow
Newdiocesan Laypeople Revolt against His Incompetent Newbishop
From: The TRADITIO Fathers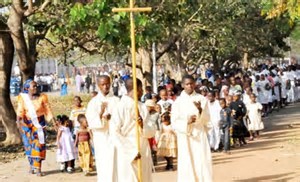 Thousands of Irate Newchurchers
From the Ahiara, Nigeria, Newdiocese
And Its 163 Newparishes
Revolted against Francis-Bergoglio
And Stormed the Newcathedral, Shutting It Down
And Preventing Bergoglio's Newbishop from Assuming Office
They Want a Competent Newbishop
Not a Stooge for the Marxist Newpope
After Francis-Bergoglio threatened the presbyters of Ahiara, Nigeria, with shutting down their Newdiocese if they didn't swear an oath of allegiance to his incompetent Newbishop there, the presbyters capitulated to the intimidation -- but not the laypeople! In their entirely, they revolted against Bergoglio. The laity have shut down Maria Mater Ecclesiae Newcathedral and prevented Peter Okpalaeke from assuming office, objecting that Francis-Bergoglio failed to follow due process for selecting and appointing a competent Newbishop.
On July 8, 2017, one day before Francis-Bergoglio's deadline for signing the oath, thousands of Newchurchers from the 163 Newparishes in the embattled Bergoglian Newdiocese, many dressed in black mourning clothes, stormed the Newcathedral to protest Bergoglio's failure to appoint a competent Newbishop to replace Okpalaeke. [Some information for this Commentary was contributed by Catholic World News.]
True Catholics, the schisms from Francis-Bergoglio are continuing to grow -- Chile, Singapore, and now Nigeria. It isn't just traditional Catholics who can't stomach Bergoglio's heresies, but even Newchurchers find him incompetent. The way things are going these days with scandal after scandal staining the Marxist Newpope, Benedict-Ratzinger may soon have a companion in the Ex-Newpopes' Retirement Home in Newvatican!
---
July 10, 2017 - Seven Holy Brothers, Martyrs; Sts. Rufina & Secunda, Virgins & Martyrs
Semidouble Feast
Francis-Bergoglio's "Mercy" Stops Short of Sick Children
As Audit Shows Newpope's Paediatric Hospital Mistreats Children to Maximize Profit
From: The TRADITIO Fathers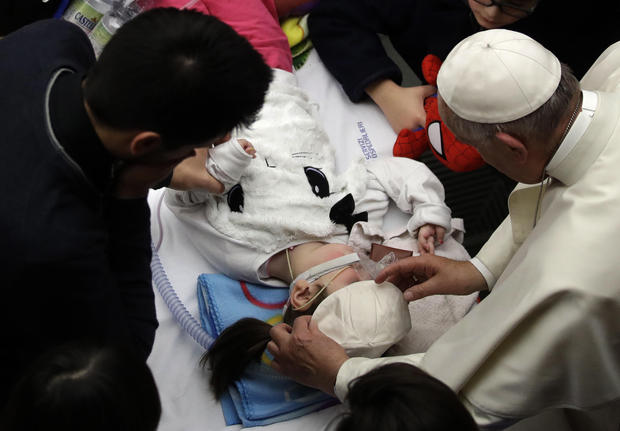 Newvatican Secretary of State Admits
That Newchurch Is Mistreating Children
At the Newpope's Own Bambino Gesu Hospital
An External Audit Reveals that the Hospital
Has Become a "Death Camp"
Overcrowded, Dripping with Infection, and Filthy
Since 2008 under Benedict-Ratzinger through Francis-Bergoglio
With Newclergy's Paedophilia Running Rampant with Impunity
It All Fits: Bergoglio Has No Mercy for Children
When it rains, it pours. It seems that finally the world is seeing just how corrupt the regime of Francis-Bergoglio and his predecessor Newpopes really is. On July 2, 2017, Bergoglio's Newcardinal Chief Financial Office was charged in Australia with numerous sex crimes against children. On July 5, 2017, one of Bergoglio's Pontifical Secretaries and Newbishop candidate was hauled off by police for hosting a sex and drugs "orgy" in his Newchurch-owned apartment.
On July 4, 2017, the Newvatican Secretary of State admitted to the press that the Newpope's Paediatric Hospital, the Bambino Gesu [Baby Jesus] Paediatric Hospital, was mistreating children in order to increase profits. An external investigation revealed "serious problems of substandard medical care," that from 2008 to 2015 both Benedict-Ratzinger and Francis-Bergoglio had been putting children at risk from overcrowding, infection, sloppy procedures, unsterilized equipment, rushed surgery, experimental procedures, forced hospital admissions, and filthy facilities. [Some information for this Commentary was contributed by the Associated Press.]
True Catholics, Benedict-Ratzinger for over thirty years signed off on the sex crimes of Newchurch presbyters, Newbishops, and Newcardinals. Francis-Bergoglio in four years has done essentially nothing to stop Newchurch's Great Sex & Embezzlement Holocaust. Now we find out that Bergoglio "the Merciful" has been running a paediatric hospital to maximize profits and endanger the health of children. It all fits. The pieces of the story of the corrupt Newchurch of the New Order is finally coming to worldwide public attention. And its stinks to High Heaven.
---
July 9, 2017 - Fifth Sunday after Pentecost
Semidouble Sunday
What Is the Future of the Neo-SSPX's Bernie Fellay
Now that Francis-Bergoglio Is Embroiled in a Sex Orgy?
From: Peter, the TRADITIO Network's Canadian Correspondent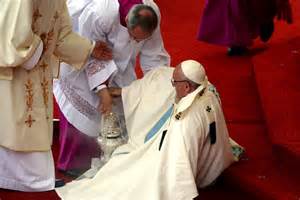 As Francis-Bergoglio's Marxist Regime
Falls under the Weight of a Sex Orgy and Paedophiac Newcardinal
Which Have Captured the Ire of the World
The Neo-SSPX's Fellay-fly Is Still Angling to Sell out to the Bergoglian Spider
Nothing Will Stop Fellay from Wearing Novus Ordo Socks and a Payoff
In Order to Possess Such a Plum, Fellay Will Have to Agree
To Control by the Marxist Newpope over All Its Bishops
But the Way Things Are Going
Fellay May Well Be Thrown out of Office in the 2018 Elections
And Bergoglio Become Ex-Newpope No. 2 in the Old Newpopes' Home
Dear TRADITIO Fathers:
Looking at the now-revealed conditions for the "regularization" into Newchurch of Bernie Fellay's Neo-SSPX, one might be tempted to believe that it's all over. Not so, of course. Nothing will stop Fellay from gaining his desire to serve to 75 and become Baron Fellay of Castle Menzingen, running his own little empire (really a bailiwick) of Neo-SSPX baronets (priors) and knights very errant (priest-presbyters). He wants the Novus Ordo purple socks complete with "official" recognition and titles, and he wants a substantial payoff to an off-shore account.
Nor will anything stop the Bergoglian spider from making a deal. The now-fired Newcardinal Mueller's job was to make the conditions impossible in order that Bergoglio, posing as Mr. Mercy, could come to the "rescue." It's like being rescued from a bomb threat by a terrorist. Bergoglio recently alluded to a "new document" which must come "slowly." Neo-SSPX bishop Alfonso de Galarreta also predicted this outcome in January 2017: the Meo-SSPX would fail to qualify for "regularization," but then "Mr. Mercy" would "rescue" it. The "new document" will perhaps declare that Neo-SSPX priest-presbyters are indeed Newchurchers and that their Half New Order Vatican II "1962 Messes" do fulfil the Newchurch purported "Sunday obligation," with the proviso that no good Newchurcher "should" attend them until full "regularization" has been achieved. It will be something like that.
In order to possess such a plum, Fellay will have to agree to something like a written agreement that all new Neo-SSPX bishops must be approved by Newrome. Fellay needs a deal, or else he now has no future left in a divided Neo-SSPX. He may even be thrown out of office in the 2018 elections. So Newrome now has him by the testicula, just where the Bergoglian spider wants him.
Once Fellay-fly agrees to this "recognition" in place of "regularization" as a personal prelature, he will be allowed to rule his roost for a few years, eventually accepting the personal-prelature poison. If the Neo-SSPX ever sinks to become a personal prelature of the Newpopes, Fellay will be "allowed" to superintend it under Newvatican "guidance" for two or three more years, until he is viciously replaced by an anti-Catholic, unconsecrated, Newchurch prelate. Play with the bull, and you get the horns! As for Bergoglio's own successor, the Marxist has now already stacked the decks for a succession of Marxist Newpopes.
Mueller, a semi-Neocon heretic, was kept on board for as long as he was useful to the Bergoglian spider. He is no longer useful; hence he has been axed. In Hell, each superior demon tortures and betrays the demons who are under him. They all hate each other, just as they hate the souls in Hell and in Purgatory and on earth, as well as the just in Heaven. It is the same in the "institutional" Counter-church. Other Newcardinals will be tolerated until they become a hindrance to Bergoglio's policy, which is to turn Newchurch from a liberal Protestant institution into a fully-pagan Marxist Counter-church.
---
July 8, 2017 - St. Elizabeth, Queen of Portugal, Widow
Semidouble
Francis-Bergoglio's Pontifical Secretary Has Been Arrested
He Was Caught in a Newchurch Apartment Hosting a Sex and Drugs "Orgy"
From: The TRADITIO Fathers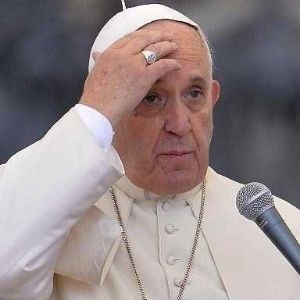 Francis-Bergoglio Is Stricken with Yet Another Scandal
Police Have Arrested his Pontifical Secretary for Hosting a "Sex Orgy"
Complete with Drugs, in an Apartment Belonging to His Doctrinal Congregation
The Head of That Congregation Had Left under a Cloud Just Three Days Earlier
When He Was Charged with Sex Crimes against Ten Children in Australia
The Bergoglio Regime Is Now Falling Apart
With Four Newcardinals Calling Him a Heretic
And Three Newdioceses Going into Schism from the Marxist Newpope
The International Media Are Reporting that Bergoglio Has Lost All Credibility
On July 5, 2017, Newrome is abuzz with the news that the apartment occupied by the secretary of the Francis-Bergoglio's Pontifical Council for the Interpretation of Legislative Texts, headed by Newcardinal Franecesco Coccopalmerio, a key advisor to Bergoglio, has been raided by police to break up a "gay" orgy. When police showed up at the apartment, they found drugs and a group of men engaged in orgiastic sex. The presbyter was then arrested and taken in for interrogation. This presbyter had been on Bergoglio's list for promotion to Newbishop. Such is the filth that Bergoglio appoints to the Newchurch episcopacy.
The apartment belongs to the Congregation for the Doctrine of the [New Order] Faith, whose Prefect, Newcardinal Gerhard Mueller, the No. 3 Man at Newvatican, left office under a cloud just three days earlier. The irony is that the Congregation is responsible for investigation and punishing the sex crimes of the Newclergy, which continue unabated in Newchurch's Great Sex & Embezzlement Holocaust. One cannot help but think in this regard of the ancient Roman satirist Juvenal's famous phrase: "Quis custodiet ipsos custodes?"
Newvatican still hasn't gotten over the fact that Newcardinal George Pell, Francis-Bergoglio's Economic Prefect (Chief Financial Officer) was charged in Australia on July 2, 2017, for sex crimes against ten children. Pell has now left his office in Newvatican to answer charges in Australia. The likelihood is that he will never return to the bosom of his patron, Bergoglio.
Three Newdioceses -- in Nigeria, Singapore, and Chile -- have now gone into schism from the Marxist Newpope Francis-Bergoglio, and resistance to Bergoglio is growing. Four Newcardinals has called his teaching on marriage in his Encyclical Letter Amoris laetitia of March 19, 2016, essentially heretical. [Some information for this Commentary was contributed by the Roman daily newspaper Il Fatto Quotidiano.]
True Catholics, in just four years, the Marxist Newpope Francis-Bergoglio's regime has been rocked by conflict, scandal, and schism of his own making. With this latest episode, news media around the world are now reporting that Bergoglio has lost all credibility, even in the eyes of Newchurchers. He may soon join his predecessor, the "Ex-Nazi" Benedict-Ratzinger in ignominy in the Ex-Newpopes' Retirement Home in Newvatican. Before all others, from March 13, 2015, the day on which he was elected Newpope of Newchurch of the New Order, we TRADITIO Fathers have publicly called the Marxist Newpope out for the vile fraud that he is.
---
July 7, 2017 - Sts. Cyril & Methodius, Bishops & Confessor
Double Feast
Francis-Bergoglio Has Rescinded All Concessions to Fellay's Neo-SSPX
New Document that Must Be Signed Requires NSSPX Fidelity to the Novus Ordo
From: The TRADITIO Fathers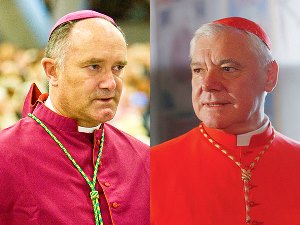 Newchurch's No. 3 Man, Newcardinal Mueller (Right)
Shafts the Neo-SSPX's Bernie Fellay (Left)
Mueller Got Francis-Bergoglio to Sign on May 20, 2017
A Document that Rescinds All Concessions to Fellay's Neo-SSPX
And Requires All NSSPX Priest-presbyters to Sign a New "Doctrinal Declaration"
That Explicitly Recognizes the Invalid Novus Ordo Mess and Sacraments
And Declares Their Allegiance to the Heresies of the Vatican II Anti-council
The SSPX's Erstwhile Bookkeeper, Fellay, Is Now, in the Vernacular, Screwed
Archbishop Marcel Lefebvre, who founded the original, traditional Catholic Society of St. Pius X (SSPX) was a brilliantly practical man. By 1988 he realized that the "Unsaint" JPII-Wojtyla was just stringing him along and had no intention of keeping any of his promises. Therefore, in that year the Archbishop proceeded with the consecration of four traditional Catholic bishops against the Newchurch of the New Order and thereby changed the future of the Catholic Church.
When the Archbishop died in 1991, the SSPX had the misfortune of seeing the great Archbishop succeeded by his eye-shaded bookkeeper, Bernie Fellay, who clearly does not have the wisdom, let alone the practical judgment, of the Archbishop. Thus, Fellay reorganized the SSPX as a Neo-SSPX, whose goal was to sell out the organization to the anti-Catholic Newchurch of the New Order, together with is invalid Novus Ordo Mess and fake Sacraments. For almost 25 years now, Fellay has squandered the huge personnel and financial resources of the organization, held in financial corporations over which he and his accomplice, the Jewish fund-raiser, Maximilian Krah, have complete control, unbeknowst to the clueless Neo-SSPX donors.
Fellay long ago decided to trust the "brood of vipers" (Matthew 3:7/DRV) that is Newchurch and its false Newpopes. Now Fellay is reaping the consequences of that sellout plan. Newcardinal Gerard Mueller, before he was forcibly retired on July 2, 2017, from his office as Prefect of the Newchurch Congregation for the Doctrine of the [New Order] Faith, convened a meeting of that Congregation on May 10, 2017, got it to pass, unanimously, a rescission of the "deal," known as the Doctrinal Declaration," which Newchurch had previously offered Fellay, and forced Fellay back to square one.
This new "deal" requires all Neo-SSPX priest-presbyters to:
swear allegiance not to the more traditional 1962 version of the Profession of [New Order] Faith, but to the 1988 anti-traditional version of 1988, which includes adherence to the heresies of the Vatican II Anti-council.
declare explicity their allegiance not only to the heresies of the Vatican II Anti-Council but also to the even more heretical teachings of the Newpopes thereafter, up to and including the current Marxist Francis-Bergoglio.
recognize not only the validity but also the liceity of the invalid Novus Ordo Mess and sacraments of the New Order
Mueller was no dummie, unlike Fellay. Ten days later Mueller had Francis-Bergoglio officially approve the anti-traditional "Doctrinal Declaration" and thus wrapped the noose around Fellay's plans for a sellout. The new Declaration makes it clear that Newchurch and Fellay are not just dickering about technicalities of organization, but about doctrine itself. Fellay must forswear his episcopal consecration oath and his priest-presbyters must forswear their Anti-Modernist ordination oaths. [Some information for this Commentary was contributed by Medias-Presse.]
True Catholics, now that the truth is out, Fellay is seeing more defections from his ranks. Fr. Patrice de la Rocque, pastor of the Neo-SSPX's largest parish in Paris, France, St. Nicholas of Chardonnet, refused to go to Fellay's de-facto headquarters in Econe, Switzerland, to celebrate the 25th anniversary of his priesthood. If Fellay were smart, he would, like Archbishop Lefebvre, cut off all ties to the anti-Catholic Newchurch of the New Order and its Newpope Francis-Bergoglio. But, as the last 25 years have shown, Fellay is not smart. He will persist in squandering the personnel and finances of the Neo-SSPX into the ground, until he finally destroys the organization altogether. Unless the priest-presbyters and laity themselves get smart and throw Fellay out of office in the 2018 elections.
---
July 6, 2017 - Octave Day of Sts. Peter & Paul, Apostles
Double Major Feast
Neo-SSPX's Bernie Fellay Is in Trouble Again
Francis-Bergoglio Appoints a Leftist to Head the "Ecclesia Dei" Commission
From: The TRADITIO Fathers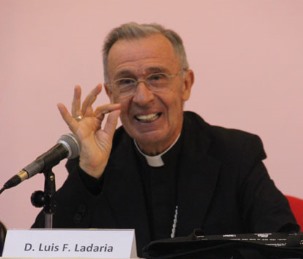 Now I've Got You, Bernie, Gestures Luis Ladaria
Is Francis-Bergoglio's New Leftist Appointee
To Head the "Ecclesia Dei" Commission
Which Has Nominally Been Overseeing Newchurch's Relationship
With Fellay's Novus Ordo-leaning Neo-SSPX
Ladaria Is on Record as Not Liking "Extremists"
A Category into Which Fellay and His Neo-SSPX Fall
In the Eyes of Bergoglio & Co.
Bernie Fellay, Superior-Dictator of the Neo-SSPX has received yet another blow to his plans to sell out the NSSPX to the Newchurch of the New Order and its Marxist Newpope, Francis-Bergoglio.
On July 1, 2017, Francis-Bergoglio ordered Newcardinal Gerhard Mueller, Prefect of the Congregation for the Doctrine of the [New Order] Faith and No. 3 Man at Newvatican, into retirement, apparently because he opposed Bergoglio's attempt to allow the Novus Ordo cookie and Kool-Aid to bigamist Newchurchers who live in sin because they civilly remarried after securing a civil divorce -- an act of rejecting Christ's teaching that traditionally carries with it the penalty of excommunication. Bergoglio's attempt to introduce this anti-Catholic teaching into Newchurch has met a wall of resistance, particularly from a group of four Newcardinals, who Bergoglio has been persecuting for openly challenging his anti-Catholic teaching.
Mueller's replacement is not good news for Fellay. He is Newarchbishop Luis Ladaria, a Spaniard from the Leftist Newjesuit society, the same Marxist society of which Francis-Bergoglio is himself a member. Ladaria is on record as not liking "extremists," a category into which Fellay and his Neo-SSPX fall in the eyes of Bergoglio & Co. Adding a further sting to Fellay, Ladaria becomes ex officio the President of the "Ecclesia Dei" Commission, which has been overseeing Newchurch's relationship with Fellay's Neo-SSPX.
Recently, seven of Fellay's priors in France and three heads of Neo-SSPX monasteries wrote the Commission to reject Bergoglio's attempts to take over Neo-SSPX marriages and were summarily canned by Fellay, who brooks no opposition to his mania to become a part of the anti-Catholic New Order sect. [Some information for this Commentary was contributed by the Catholic News Agency.]
True Catholics, when Benedict-Ratzinger appointed Ladaria Secretary of the Doctrinal Congregation in 2008, his appointment was openly criticized because of Ladaria's heterodox (lege heretical) teachings on Original Sin and Grace. Mueller was bad enough, but Ladaria promises to be worse. There is no Catholic prelate left in Newchurch, no, not one.
---
July 5, 2017 - St. Anthony Mary Zaccaria, Confessor
Double Feast
Newchurch Conservative Group Reports on an Exorcism
In Which Satan Called Francis-Bergoglio "My Man"
From: The TRADITIO Fathers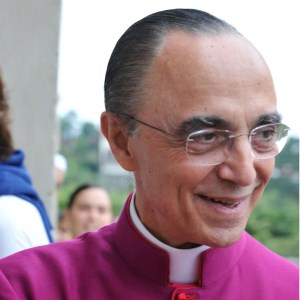 Newmonsignor Joao Scognamiglio Cla Dias
Head of the Newchurch Conservative Group Known as the Heralds of the Gospel
Has Resigned after Relaying the Results of an Exorcism
In Which Satan Said that Francis-Bergoglio
Is "My Man," Is "Stupid," and "Does Everything I Want"
Although the Group Was Approved by Both JPII-Wojytla and Benedict-Ratzinger
Bergoglio Has Sent in His Inquisitors to Investigate the Group
Satan Has a Point about the Third Paedophile Newpope Bergoglio
Newmonsignor Joao Scognamiglio Cla Dias, the leader of a recognized Brazilian Newchurch "conservative" group, the Heralds of the Gospel, relayed publicly on June 2, 2017, the results of an "exorcism" by one of the Heralds' presbyters, in which Satan told the presbyter that Bergoglio is "my man," is "stupid," and "does everything I want." Cla Dias has since been forced to resign, and Bergoglio has sent Inquisitors to investigate the group, which was praised by the "Unsaint" JPII-Wojtyla and the "Ex-Nazi" Benedict-Ratzinger.
The Heralds of the Gospel were founded in 1998 and received Newpontifical approval in 2001 under JPII-Wojytla. The group numbers 200 presbyters and 2,820 members throughout the world. These presbyters have no power of exorcism, however, as Newchurch did away with the Minor Order of Exorcist and has ordained no one in that Order since August 15, 1972. [Some information for this Commentary was contributed by The Tablet: International Catholic News Weekly.]
True Catholics, Satan, if that is the actor here, has a point about the Third Paedophile Newpope, Francis-Bergoglio. The contretemps with the Heralds of the Gospel occurred just a few weeks before Bergoglio's No. 3 man, Newcardinal George Pell, was charged in his native Australia in the case of ten children whom he was said to have sexually assaulted. Bergoglio knew all about it -- the charges have been pending for several years now -- and yet sequestered Pell within the safety of Newvatican. The truth is the truth -- even if Satan tells it!
---
July 4, 2017 - Within the Octave of Sts. Peter & Paul
Semidouble
Here's How a True Pope Exterminated Paedophile Priests
He "Unpriested" Them and Then Turned Them over to Harsh Civil Punishments
From: The TRADITIO Fathers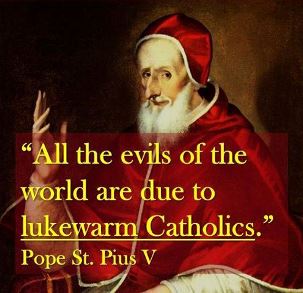 Pope St. Pius V Was Faced with the Same Sodomy and Paedophilia
In the Clergy of the Morally-lax Renaissance
As the Post Vatican II Anti-council Newpopes Have Been
Yet Pius V Knew How to Deal with Sodomy and Paedophilia
In Direct Language in Three Short Paragraphs of His Papal Bull
Entitled Horrendum illud scelus (That Ghastly Crime)
First, He "Unpriested" the Criminals
Second, He Turned Them over to the Civil Authorities for Harsh Penalties
All the Craven Newpopes Have to Do Is to Follow Their Saintly Predecessor
But These False Leaders Are Too Corrupt and Too Cowardly to Do So
The nature of man, whom God created, has not changed across the millennia. All mankind exists under the shadow of the Original Sin. Thus, it is not surprising that sodomy, and especially paedophile sodomy, have always existed. But they cannot be allowed to infect the Church. A true pope, and a Saint at that, had to face this problem: Pope St. Pius V, the same who codified into dogma the Catholic and Apostolic Traditional Latin Mass in perpetuity as the only recognized Mass of the Catholic Church. The anti-Catholic Newpopes, lacking the grace of the true Sacraments, "Unblessed" Paul VI-Montini; "Unsaint" JPII-Woytla; the First Paedophiliac Newpope; the Ex-Nazi Benedict-Ratzinger, the Second Paedophiliac Newpope; and Francis-Bergoglio, the Third Paedophiliac Newpope don't have a clue about the right thing to do.
This is how a real pope, Pope St. Pius V, handled sodomy in the clergy in his time, calling it "the ruin of the soul." In direct language that anyone could understand, in three short paragraphs, the Pope-Saint (1) expelled sodomites from the priesthood and (2) turned their secularized selves over to the civil authorities for penalties that were quite harsh. Newchurch still hasn't been able to get this point, but instead tries to shield the sodomites in its Newclergy within ecclesiastical proteections.
Pius V issued on August 30, 1568, during the very first year of his reign, his Papal Bull Horrendum illud scelus (That Ghastly Crime) against the sodomite and paedophile crimes that were becoming more frequent in the morally-lax Renaissance:
CONTRA QUOSCUMQUE CLERICOS, TAM SAECULARES QUAM REGULARES, NEFANDI CRIMINIS REOS
PIUS [V] EPISCOPUS, SERYUS SERVORUM DEI
AD PERPETUAM REI MEMORIAM.


Horrendum illud scelus, quo pollutae foederatae Civitates a tremendo Dei judicio coflagrarunt, acerbissimum Nobis dolorem inurit, graviterque animum nostrum commovet, ut ad illud, quantum potest, comprimendum, studia nostra conferamus.

#1. Sane Lateranensi Concilio dignoscitur constitutum, ut quicumque Clerici, illa incontinentia, quae contra naturam est, propter quam ira Dei venit in filios diffidentiae, deprehensi fuerint laborare, a Clero dejiciantur, vel ad agendum in Monasteriis poenitentiam detrudantur.

#2. Verum ne tanti flagitii contagium, impunitatis spe, quae maxima peccandi illecebra est, fidentius invalescat, Clericos hujus nefarii criminis reos, gravius ulciscendos deliberavimus, ut qui animae interitum non horrescunt, hos certe deterreat civilium legum vindex gladius saecularis.

#3. Itaque quod Nos iam in ipso Pontificatus nostri principio hac de re decrevimus, plenius nunc, fortiusque persequi intendentes, omnes, & quoscumque Presbyteros, & alios Clericos saeculares, & regulares cujuscumque gradus, & dignitatis, tam dirum nefas exercentes, omni privilegio clericali, omnique officio, dignitate, & beneficio Ecc1esiastico praesentis Canonis auctoritate privamus. Ita quod per Judicem Ecclesiasticum degradati, potestati statim saeculari tradantur, qui de eis illud idem capiat supplicium, quod in laicos hoc in exitio devolutos, legitimis reperitur sanctionibus constitutum.

AGAINST WHATEVER CLERICS, BOTH SECULAR AND REGULAR, GUILTY OF THE UNSPEAKABLE CRIME
PIUS [V], BISHOP, SERVANT OF THE SERVANTS OF GOD
FOR A PERPETUAL MEMORIAL OF THE MATTER


That ghastly crime, by which the polluted federated [papal] States burn by God's fearful judgment, enflames the bitterest sorrow in Us, and gravely moves Our soul so that we give Our attentions to repress it as much as possible.

#1. It was properly recognized by the Lateran Council that whatever Clerics will have been discovered to suffer from that incontinence which is against nature [sodomy], because of which the wrath of God falls upon the sons of disobedience, are to be ejected from the clergy, or be forced to do penance in a Monastery.

#2. But lest the contagion of so great a scourge, from the hope of impunity, which is the greatest lure of sinning, more confidently grow, We determine that clerics guilty of this ghastly crime are to be quite gravely punished, in order that with certainty the avenging sword of the civil laws deter those who do not abhor the ruin of the soul.

#3. Therefore, because We have made a decree on this matter at the very beginning of Our Pontificate, now intending to follow up more fully and more boldly, We deprive all priests whoever, and all secular Clerics, and regular Clerics of whatsoever grade and dignity, participating in such a dire crime, monstrosity, of every clerical privilege, and every office, dignity, and Ecclesiastical benefice, by the authority of this Canon: that thus when they are degraded by the Ecclesiastical Judge, they be handed over immediately to the secular power, who shall exact from them that same penalty which is which is found enacted by legitimate sanctions upon laymen who have slide down into this ruin.
True Catholics, the mind of the Catholic Church is clear, and Pope St. Pius V expressed it exactly and carried it out to the letter. All the craven Newpopes of the modern day have to do is follow their saintly predecessor. But these false leaders, having lost the grace of the true Sacraments, are too corrupt and too cowardly to do so.
---
July 3, 2017 - St. Leo II, Pope & Confessor
Semidouble Feast
Marxist Author Reveals that Newchurch Is the "New Communism"
And that the Marxist Francis-Bergoglio Is Its Agent of Change
From: The TRADITIO Fathers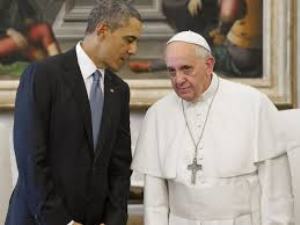 A Cuban Political Prisoner and a Marxist Author
Finger the U.S.'s Barack Obama (Left) and Newpope Francis-Bergoglio
As Having Conspired to Promote Marxist Ideology around the World
Revealing that Leftist Forces Have Captured Newvatican
And that the Marxist Newpope Is Conducting a "Purge"
Of Traditional Catholic Elements
For Bergoglio, Newchurch Is Merely the Vehicle for Making the World Marxist
A Reprehensible Ideology Condemned by the Catholic Church
It isn't surprising that those who know Communism firsthand recognize in the Newchurch of the New Order, and particularly its current head, Francis-Bergoglio, a "New Communism." Armando Valladares, Fidel Castro's political prisoner for 22 years, said that his Catholic Faith was strengthened behind bars by hearing young Catholics shouting the traditional cry, "Viva Cristo Rey" (Long Live Christ the King) and "down with Communism!" as they faced the firing squad.
Now the truth is out about the Marxist Newpope Francis-Bergoglio, who, says Valladares, "objectively favor[s] the political and ecclesiastical left in Latin America" and is undermining the "Christian future of the Americas." Marxist author Richard Greeman in the June 2017 issue of New Politics agreed in his article entitled "Catholicism: The New Communism?," in which he points out that Leftist forces have captured Newvatican and that the Marxist Newpope is conducting a "purge" of traditional Catholic elements. Greeman is affiliated with the Democratic Socialists of America.
Valladares has written that Francis-Bergoglio was the "architect and mediator" with the United States's Barack Obama to establish diplomatic ties Communist Cuba and to provide the Communist regime there with "rivers of money and favorable publicity." He says that the Bergoglio-Obama "axis" in foreign affairs benefits Marxist governments throughout Latin America. This Obama-Bergoglio deal with the Communists U.S. President Donald Trump substantially rescinded on June 17, 2017.
Valladares notes that Francis-Bergoglio personally attended something called the World Meeting of Popular Movements, stage by Newvatican in October 2016, which "gathered 100 revolutionary world leaders, including well-known Latin American professional agitators.... The meeting turned out to be a kind of marketing 'beatification' of these Marxist-inspired revolutionary figures." One of the participants in the Newvatican event was Evo Morales, the Marxist President of Bolivia, a bosom buddy of the Marxist Newpope.
True Catholics, it is remarkable how ignorant Newchurchers are of Francis-Bergoglio's deep Marxist roots. He hails from Buenos Aires, Argentina, a hotbed of Marxists, and from the Newjesuits, another hotbed of Marxism. Bergoglio's statements reek of 1960's/1970's "Liberation Theology," under which Newjesuits took up arms and murdered conservative Latin American leaders in the name of "progress." Liberation Theology is known to have been manufactured by the Communist KGB to dupe Christians into supporting Marxism. Is it any wonder that Bergoglio never talks deeply about Our Lord Jesus Christ, Our Lady and the Saints, or the Holy Angels? No, for Bergoglio, Newchurch is merely the vehicle for making the world Marxist, a reprehensible ideology condemned by the Catholic Church and numerous of its true popes.
---
JULY 2, 2017 - VISITATION OF THE BLESSED VIRGIN MARY
DOUBLE FEAST OF THE SECOND CLASS
Newcardinal Pell Is Officially Charged with Sex Crimes
The Viper Had Been Hidden in Francis-Bergoglio's Bosom for Four Years
From: The TRADITIO Fathers
Australians Throw the Book at Newcardinal Pell
Beloved of Neocon Newchurchers and Pseudo-traditionalists
Because of His Supposedly Conservative Tendencies
Now He Is Exposed for What He Is
For Four Years Francis-Bergoglio Has Embraced Him
Behind the Walls of Newvatican
As One of His Highest Officials
Even though Testimony before an Australian Royal Commission
Made It Clear that Something Was Rotten in the State of Pell
While the rest of the world may have been stunned to hear that Newcardinal George Pell, Francis-Bergoglio's Chief Financial Officer (Prefect of the Economy) in Newrome was charged on June 29, 2017, in Melbourne, Australia, where he previously was Newarchbishop from 1996 to 2001, with sex crimes against ten children, readers of these Daily Commentaries certainly will not be.
While most other outlets were only too happy to sweep Newchurch's and Francis-Bergoglio's crimes under the table and pretend that they were over, we TRADITIO Fathers have consistently warned that Newchurch's Great Sex & Embezzlement Holocaust had simply gone underground, supported by Newchurch cardinals, bishops, presbyters, and especially by its Newpope Bergoglio, a cunning man who has covered over the corruption of his corrupt regime with a mendacious smile, meanwhile having taken no substantive action against the corruption of the Newchurch clergy, but instead actively concealing it.
Thousands of Newchurch bishops and presbyters have been charged with sex crimes, involving hundreds of thousands of children, but Pell is the first in a Newpope's intimate circle to have been so charged. Pell is both Francis-Bergoglio's CFO and a member of his Executive Committee that run Newchurch, the third highest official in Newvatican after Bergoglio, who took no action when charges against Pell for paedophile crimes and complicity in cover-ups were heard before Australia's Royal Commission into Institutional Responses to Child Sexual Abuse 2013–2017. Now that the whole seamy matter has become public, Bergoglio had no choice but to fire Pell under the cover of a "leave of absence."
The ten children involved were sexually attacked, according to authorities, by "both grooming and opportunity." The charged crimes were so recent that some of the child victims are still in their 20s. [Some information for this Commentary was contributed by the Associated Press.]
True Catholics, the worm has certainly turned. Francis-Bergoglio, the Marxist Newpope, who at first was lionized as a revolutionary against the true Catholic Church, is now exposed as having taken no interest in what really needed to be revolutionized in the Newchurch of the New Order: its ongoing Great Sex & Embezzlement Holocaust. It is entirely within the criminal modus operandi of Bergoglio, as well as his two Paedophiliac Newpope predecessors, the "Ex-Nazi" Benedict-Ratzinger and the "Unsaint" JPII-Wojytla, that high Newchurch criminals of all stripes would be whisked off to the borders of Newvatican and given a diplomatic passport to protect them. Such action was taken in the case of Newcardinal Bernie Law, of Boston, Massachusetts, and Newcardinal Ray "Bully" Burke, of St. Louis, Missouri.
---
JULY 1, 2017 - MOST PRECIOUS BLOOD OF OUR LORD JESUS CHRIST
DOUBLE FEAST OF THE FIRST CLASS
A Reader Writes: "I Find Deeply Disturbing
The Organization 'Fatima Movement'"
From: Mateo (South America)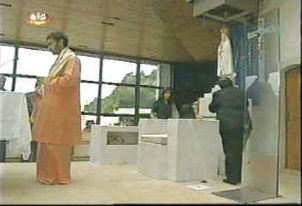 A Hindu Priest in the Sanctuary of the Fatima Shrine in October 2003
Where Prayers Are Offered to the Pagan God Vishnu
Since the Vatican II Anti-council, Extremist Fatimism Has Become a Cult
Corrupted by Paganism and the Heresy of Oecumenism
Under Which "We All Worship the Same God," and "All Religions Are Equal"
Our Reader Urges to Catholics Rather to Reject Extremist Fatimism
And Instead to Study the Sacred Scriptures
And Equip Themselves for Apologetics to Bring More People
Into the True Catholic Faith
Dear TRADITIO Fathers:
You may have heard of the organization called "Fatima Movement," which is affiliated with the anti-Catholic New Order sect. I find it deeply disturbing. I'm afraid that it might be the natural, inevitable result of emphasizing Fatima too much. I believe that efforts will be much better spent studying the Sacred Scriptures and being well equipped for apologetics to bring more people into the true Catholic Faith.
I'm afraid that this exaggeration borders on idolatry and scares away potential converts. Protestants may legitimately be scared away and never come to the true Catholic Faith. This exaggeration leads to poor catechesis and may make children, God forbid, consider the Blessed Virgin as a goddess. This exaggerated "Fatimism" is likely the devil trying to destroy the Traditional Catholic Movement.
I'm very young, but I doubt that before the Vatican II Anti-council Catholic churches were emphasizing Fatima this much. I believe that emphasis needs to be placed on studying Scripture to give people context and the best Catholic apologists. Protestants will not be converted by someone saying that Our Lady said such and such at Fatima; they'll say that it's a deceit of the devil. Protestants will be converted, however, if you can bring out the many verses in Scripture that prove the Catholic Faith.
Protestants are scared away by un-Catholic Fatimism, and in this age the true Catholic faithful can't be ignorant sheep. If they're knowledgeable, they'll bring in converts.
The TRADITIO Fathers Reply.
You are quite perceptive for a very young man. Before the Vatican II Anti-council, Fatima was not the focus of devotion and was not that frequently mentioned, in contrast, for example, to Lourdes. But even more so was there an intense focus on the Holy Sacrifice of the Mass and the Divine Office, which many laypeople undertook to pray. That is where traditional Catholics' focus should always be, but nowadays few traditional Catholics have a knowledgeable devotion to the Holy Mass, much less the official public prayer of the Church, the Divine Office. of which many traditional Catholics are quite ignorant.
---

Return to Daily Commentaries from the TRADITIO Fathers.