October 2014
| | |
| --- | --- |
| | For answers to many questions, consult the CURRENT MONTHLY REVISED EDITION of the Official Traditional Catholic Directory, Listing All Traditional Latin Masses and Traditional Resources for North America. For further information, click on the TRADITIO Network's Official Traditional Catholic Directory department, provided to the TRADITIO Network by the National Registry of Traditional Latin Masses. |
For information about the protocol for sending messages to the TRADITIO Fathers, click on Ask the Fathers.
| | |
| --- | --- |
| | If you have you have personally benefited from the services of the TRADITIO Network, please support the continuation of the TRADITIO Network's Apostolate by clicking on the box to the left to made a donation easily, securely, and confidentially by bank account or credit card through PayPal. Regular contributors become Benefactors of the TRADITIO Network, and their intentions are specially commemorated at Traditional Latin Masses offered. Using PayPal reduces our administrative burden considerably, but if need to use a paper check, click on FAQ01: "How Can I Help the TRADITIO Network's Apostolate?" |
---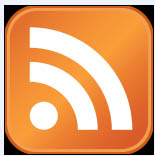 Subscribe to the Free TRADITIO RSS Feed
THE TRADITIO NETWORK HAS BEEN INFORMED BY THE NATIONAL REGISTRY OF TRADITIONAL LATIN MASSES THAT THE NEW OCTOBER 2014 MONTHLY REVISED EDITION OF THE 19TH ANNUAL EDITION (2014) OF THE OFFICIAL TRADITIONAL CATHOLIC DIRECTORY, LISTING ALL TRADITIONAL LATIN MASSES AND TRADITIONAL RESOURCES FOR NORTH AMERICA HAS BEEN PUBLISHED. FOR FURTHER INFORMATION, CLICK ON THE OFFICIAL TRADITIONAL CATHOLIC DIRECTORY DEPARTMENT, PROVIDED TO THE TRADITIO NETWORK BY THE NATIONAL REGISTRY OF TRADITIONAL LATIN MASSES. THE 2014 ANNUAL USE FEE IS NOW DUE FOR THOSE WHO WISH TO USE THE 2014 EDITION AND ITS MONTHLY UPDATE EDITIONS. BE SURE TO CHECK YOUR LOCAL SITE'S LISTING FOR CORRECTNESS.
---
October 31, 2014 - Vigil of All Saints - All Hallows Eve - Hallowe'en
A Reader Writes: "Fellay's Neo-SSPX Resorting to Apparitions
To Justify Its Every Move Is an Obvious Ruse"
From: Yani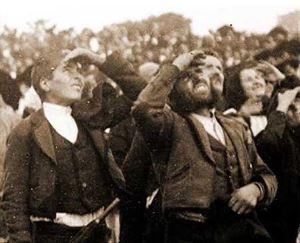 The People Present at the So-called "Miracle of the Sun" at Fatima
Saw Many Different Things, and Many Saw Nothing at All
One Lady Present at the Purported Miracle of the Sun
Who Saw Nothing, Asked the Personal Next to Her, "Did You See Anything?"
Is That the Kind of Question to Ask if the Sun Was in Fact Spinning in the Sky
And Coming down as if to Crash on the Earth?
Dear TRADITIO Fathers
Thank God someone like you TRADITIO Fathers has the gumption to say something against this incessant resorting by Fellay's Neo-SSPX to apparitions to justify its every move. It's an obvious ruse.
I, for one, do not believe in the Fatima apparition. I did once, until Sr. Lucia was reported by in the press to be acting "bizarre." I then decided that for reasons of Sr. Lucia's mental instability and others that disturbed me, to look back as far as I could and obtain all the oldest books on Fatima. In reviewing them all, I concluded that Fatima was not believable at all -- not believable at the time it happened and more unbelievable as time went on. Sr. Lucia kept coming up with more and more "stories" about what the apparition supposedly said.
As far as the so-called "miracle of the sun" is concerned, people should know that the people present there saw many different things, and many saw nothing at all. Is this what Fatima propagates? "Subjective truth" condemned in Catholic theology? One lady present, who claimed to see the purported miracle, asked the person next to her, "Did you see anything?" Is that the kind of question to ask the person standing next to you if the sun was in fact spinning in the sky and coming down as if to crash on the earth? If an elephant is standing in a room with two people present, would one ask the other, "Do you see anything?"
I really do not see why the Church gets involved in giving its "approval" or "disapproval" of these apparitions. What is the point of it if we are not required to believe in any of them anyway? What is this modern-day need by Catholics for "signs and wonders," which Christ specifically condemns in the Holy Gospels (John 4:48). The ancient church treated alleged seers as mental cases and sent them off to do penance.
When the Holy Inquisition was in place, anyone who said that God was speaking to him got a whipping and a warning. There are a lot of Catholics today who, in my opinion need both -- including Bernie Fellay and his Neo-SSPXers.
---
October 30, 2014 - Ferial Day
Bernie Fellay's Ongoing Betrayal of Archbishop Lefebvre:
Fellay Lied When He Said that Negotiations with the New Order Sect Were Ended
From: Peter, the TRADITIO Network's Canadian Correspondent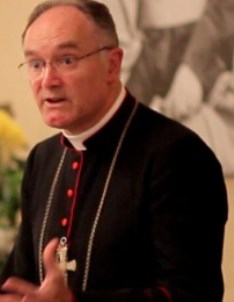 Clueless Bernie Fellay, Superior-Dictator of the Neo-SSPX
Newarchbishop Pozzo, Secretary of the Ecclesia Dei Commission
Has Revealed that Fellay and Newrome Have Been Scheming a Deal Together All Along
Fellay Lied when He Said that Negotiations with the New Order Sect Were Ended
A "Personal Prelature" from Newrome Would Be a Disaster for the Society
And a Sell-out of Archbishop Lefebvre's Mission
The Italian daily La Stampa has published the text of an interview of Newarchbishop Guido "Bozo" Pozzo (everyone is Rome is a Newarchbishop these days, even members of the cleaning staff), Secretary of the Pontifical Commission Ecclesia Dei, the body charged with trying to divide and conquer the Neo-SSPX. In the interview Pozzo revealed that there never was an interruption in negotiations between Fellay and Newrome. They`ve been scheming a deal together all along. This proves that Fellay lied when he said that negotiations with the New Order sect were ended. Pozzo also revealed that, while the two sides are still far apart on doctrine, he`s fairly confident that a solution will be found in the end -- when Fellay accepts the Vatican II "living magisterium" of Newchurch.
In the meantime, Pozzo is hinting that Newrome might "do" something for "pastoral" reasons. In other words, should Fellay make certain concessions to the now-ultimate Leftist and Modernist Newpope Francis-Bergoglio, Newrome might actually deign to recognize Novus Ordo "faculties" for Society priests to administer "sacraments." Bozo didn't dare specify what he had in mind, but that is likely to be it, since there is little else he can offer Fellay in the shorter term. Fellay will do anything for such a recognition. He wants in. He wants to be a recognized part of this Marxist Newchurch.
Pozzo, however, went back on a recent expression. He's no longer only saying that the Society is unreconciled, but it's back to the nonsense about the Society being in "partial" communion. There is no such thing as "partial" communion because communion, by definition, is a unity in faith and discipline and jurisdiction. It's like pregnancy or death: you either have this unity or you don't. Before the Modernist Vatican II Council (1962-1965), you were either Catholic or you weren't. This carping about "communion" came from Anglican discourse, specifically from the heretical "branch" theory, in which Anglicans thought themselves to be in "partial communion" with the Roman pope and with the Eastern Orthodox. It was a mere bagatelle -- a fancy, a wisp of smoke, having no substance.
The most revealing part of the interview was Pozzo's claim that Fellay's Neo-SSPX has already accepted the "juridical" solution of a "personal prelature." This arrangement would be a disaster for the Society and a sell-out of Archbishop Lefebvre's mission. In 2012, Neo-SSPX bishop Alfonso de Galarreta revealed that Newrome was prepared to offer the Society any juridical proposal it requested, provided that the Society would cave in on doctrine. If so, why would Fellay accept the one structure that would sink the Society and divide it for conquest?
Let's take a look at the Novus Ordo 1983 "Canon Law" on personal prelatures, which Fellay accepts, contrary to the tradition Catholic Code of Canon Law promulgated by Pope St. Pius X in 1917. Under 1983 Canon 297, if the Personal Prelate (presumably Fellay) wants to open a chapel or apostolate in the territory of a Newdiocese, he needs "the prior consent of the diocesan Bishop." This provision would destroy the main advantage had by the Society over these past forty years: the ability to establish apostolates wherever doing so is affordable or useful or advantageous to souls. Gone! Zap! The whole point of the Society would be wiped out. The Society would have to go hat in hand like the Fraternity of St. Peter (FSSP), begging entry to dioceses. And the local liberal Newbishops would make the Neo-SSPX wait for a decision and then say, um, ... NO!
Under Novus Ordo Canon 294, a personal prelature is not equivalent in law to a Newdiocese; rather, it is composed only of clerics. So, lay supporters do not belong to it. They become real subjects of the local Newbishop! What does this mean? Well, let us take a case in which a past bishop has admitted a Society chapel (or where Newrome allowed it to continue at the time a deal is struck). Now lay supporters of the Society want to have its priest-presbyters baptize and/or confirm their children, or they want to marry, or they want to bury their parents. They need permission from the local Newbishop. Should he withhold it, they must have these Sacraments and burial administered or done in the Novus Disordo trainwreck Rite. Gotcha! Pseudo-traditionalists lose!
Under the 1983 "Canon Law," Newrome could grant the Society in effect an international diocese. It would be essentially the Campos, Brazil, structure writ large. There is even a precedent. Newrome granted it for the Campos incomers to the New Order sect in 2002. It's a paradise on earth, juridically speaking, if you want to be associated in any way with the corrupt New Order sect. But to keep it irrelevant, Newrome restricted it to the territory of just one Newdiocese out of 263 in Brazil. So, it exists at present only in a tiny gilded cage. They effect is to restrict and control the pseudo-traditionalist Campos priests. To work outside it, they need the permission of the local Bishop! Wheehee! It always comes back to the local Marxist Newbishops. However, under Section 2 of Novus Ordo Canon 372, it could be granted on an international basis. In theory. So why isn't Fellay demanding this? Why not? It would mean that his Society could go wherever it wishes to go and its lay supporters would be its juridical subjects. At least in juridical terms, it really would be a paradise on earth.
Given Bishop Galarreta's admission of 2012, the only explanation is that Bernie Fellay has already sold out to Newrome. Newrome has all the property, all the cash, and can therefore buy almost anyone -- anyone except a lion of the Faith such as Archbishop Marcel Lefebvre. The older Society priests don't want to go back to the poor old days of the 1970s, when they had to live in supporters' houses on rotation and offer Mass in hotels and funeral chapels. They like their spacious new rectories and their pay and pension packets. As for the younger Society priests, they have never known those old days and don't want them either. They want comfort; they want luxury; they want security; they want pensions and dental plans; they want access to cathedrals and impressive churches. Sure, some liberal Newbishops will keep them out, but there are plenty of Neo-con Newbishops around who will let them expand. There, they can have it all. They can luxuriate, but what about faithful who are living in Liberalist Newbishops' dioceses and need spiritual care? To Hell with them! As for Fellay and his henchmen, Nicolas Pfluger and Marc-Alain Nely, and inferior superiors such as Yves Rostand, they will strut like princes in Novus Ordo episcopal purple -- which is no purple at all! They will get control and prestige and ample remuneration. They will hope to serve both God and Mammon.
First will come a half-way measure: a little Newroman recognition for Society "sacraments." This will be a gift to lure the Neo-SSPX in. But Newrome will also say that no Newchurcher can go near Society chapels until it is reconciled to the Freemasonic evil spirit of Vatican II, the spirit of Rousseau, the spirit of the Revolution, the spirit of Communist "Liberation Theology," the spirit of Stalin, the spirit of Francis and his Newchurch's con-anized models of error, such as John Paul "the Small" and Paul "the Sick." Newrome can still use the "Motu" aka "Extraordinary" Messes to restrict and marginalize the Neo-SSPX until it is fully "reconciled" to the anti-Catholic New Order sect. Newome has the money and means and the motu to do it. This tactic happened recently in Singapore, Poland, and the Czech Republic: the Society was expanding, so the "Motu" moved in and wiped out its advances by putting "Messes of 1962" right across the street here, there and everywhere. Control is Newchurch's middle name.
Once a deal is struck, a few Neo-SSPX members will defect. This will weaken the Society. Liberals in Newrome will dance in glee: divide and conquer. Some Society priests will go to support Bishop Williamson; others will just go independent. The effect will be to neutralize the Society. Then the libs will send saboteurs into the new "Personal Prelature." These saboteurs will demand a right to say the New Mess and another Protocol 1411-99 will be hatched requiring them to do so. Meanwhile, Pozzo and his team will have been busy "updating" the "Mess of 1962" into something quite different and much closer to the full-blown New Order Mess of 1969. In the end, they'll get the New Mass in Latin facing the east, with some smells and bells and an endless series of reforms, as altar boyettes demand to serve, and buggerers demand to be wed at the High Altar. It's the "abomination of desolation" in the holy places.
Fellay has chosen comfort and riches and has rejected honor and truth. He needs to be ejected; he needs to be forced out. The other two Neo-SSPX bishops and other Society leaders should work assiduously to remove him. Failing that, they should join Williamson and mount a real opposition. As St. Basil said, it's the Faith or the buildings. Those who love the Faith will once again need to sacrifice everything else to keep it.
---
October 29, 2014 - Ferial Day
A Reader Asks: "Was Martin Luther Correct
In Any of His Criticisms of the Catholic Church of His Day?"
From: Al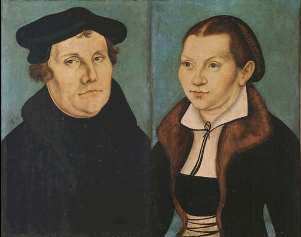 Martin Luther and His "Wife," a "Nun," Who Violated Her Vow of Chastity
Luther, Who Himself Violated His Vow of Celibacy, Married the Tart
Luther May Have Gotten Some Things Right about the Corruption of the Church
But He Carried It Too Far, to Become the Arch-heretic
There Were Catholics in Luther's Time Railing against the Corrupt Church
Including the Two Greatest Catholics of the Time
St. Thomas More, Martyred for the Faith, and Venerable Erasmus
Neither of Whom Went over the Edge into Heresy
Dear TRADITIO Fathers:
Was Martin Luther correct in any of his criticisms of the Catholic Church of his day, whether it be from his 95 Theses or his other writings?
The TRADITIO Fathers Reply.
Yes, but then he took it way too far. The two great Catholic lights of the time, St. Thomas More and Venerable Erasmus, were both criticizing the Church as much as was Luther, but they didn't go over the edge into heresy, with such crazy notions as the following:
Luther rejected the sacramental nature of Matrimony. "There is no difference between the married state and whoredom," he said. Nevertheless, he broke his sacred vow of celibacy and married a "nun" who also broke her sacred vows.
Luther approved of adultery and expressed his approval of divorce, polygamy, and concubinage, in direct contradiction of Jesus Christ's teaching in the Holy Gospels.
Luther's sola fides (faith alone) and sola scriptura (Scripture alone) was the basis for him to deny guilt for sin. His aim was to establish a "guilt-free" philosophy, which is seen today rampant in the Protestant sects.
St. Thomas More and Venerable Erasmusopenly criticized the conduct of the Church, which at that time was lead by the "Bad Pope" Alexander VI-Borgia (1492-1503), a morally corrupt individual, who most likely used murder and payoffs to maintain his power. Because of the pope's simony, bribery, and public lechery (he publicly kept a mistress), Giuliano Cardinal della Rovere, later Pope Julius II, endeavored to instigate the convocation of a council to depose Alexander VI. The Council of Constance had already deposed Antipope John XXIII in 1417 for simony, bribery, and public lechery.
Venerable Erasmus, after a week staying with More in England, published Stultitiae Laus (In Praise of Folly), a satire in which Folly chastises corrupt practices in parts of the Church under the Borgia popes. The essay ends with a straightforward statement of Christian ideals. Erasmus and More remained faithful to the Church while vehemently criticizing the corruption of the recent popes. Luther, to the contrary, became a heretic from the Church.
---
OCTOBER 28, 2014 - STS. SIMON & JUDE, APOSTLES
DOUBLE FEAST OF THE SECOND CLASS
Francis-Bergoglio Stands in Support of Criminals
Who Commit Heinous Crimes against Children and Innocent Victims
From: The TRADITIO Fathers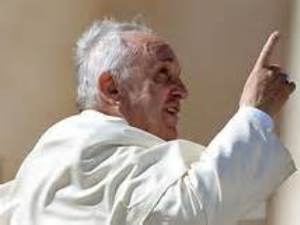 Francis-Bergoglio, the Mad Newpope, sans Biretta with Hair Disheveled
Is Now Rejecting His Lord Jesus Christ
And Christ's Explicit Teaching at Least Twice in the Holy Gospels
That Criminals Who Commit Heinous Crimes against Children and the Innocent
Are Justly Put to Death
The Marxist/Liberalist Bergoglio's Opinions Hold No Authority Whatsoever
As Not Based on Sacred Scripture, Sacred Tradition, Catholic Doctrine or Morality
On October 23, 2014, Francis-Bergoglio told the Association of Penal Law: "Corruption is like bad breath. It is hard for the one who has it to realize it; others realize it and have to tell him. Very well, Bergoglio. We'll do as you say and tell you outright: You stink with corruption. You are corrupt in your invalid New Mess service, you are corrupt in your rejection of many Catholic and Christian doctrines, and you are certainly corrupt in excusing and covering up what Our Lord Jesus Christ called one of the most vile crimes on earth, the sodomy of children, for which He Himself provided the death penalty in the Sermon on the Mount (Matthew 18:6).
Francis-Bergoglio, we won't repeat your financial and paedophiliac corruptions, which have been documented numerous times in these Daily Commentaries. Today we will point out how you are wigging out against Catholic, even Biblical, doctrine yet again. As a Marxist/Liberalist, you are fraudulently trying to pass off your personal political views as "religion." We have seen this type of corruption over and over from you and the other Newpopes since the Modernist Vatican II Council. Your personal notions hold no authority whatsoever, as nothing you say is specifically based on Sacred Scripture, Sacred Tradition, Catholic doctrine or morality -- only your own corrupt notions.
Now, Bergoglio, you have come out absolutely against the death penalty for heinous criminals, and even your own Newchurch Catechism cannot absolutely reject it. You show no mercy or charity for the victims of capital crimes, the children and the innocent, only for the criminals. You reject Jesus Christ's approval of the death penalty for capital crimes (Luke 23:40-41), you who claim to be His representative on earth, but you are not representing Him but only yourself. You are not Catholic; you are not even a follower of Christ. That is corruption. [Some information for this Commentary was contributed by Agence France-Presse.]
Good Catholics, Francis-Bergoglio has now gone even further to express not Christ's teaching, but his own corrupt personal notions, which is neither Catholic nor Christian. He has equated even a sentence of life in prison for the most heinous crimes as "a hidden death sentence." He's on quite an anti-Catholic, anti-Christian roll, rejecting the teaching of his Lord Jesus Christ and the Universal Doctor of the Church, St. Thomas Aquinas. This is no "vicar of Christ." A vicar, by definition, must represent his principal. Bergoglio pays no attention to Christ. He just makes it up as he goes along.
---
October 27, 2014 - Vigil of Sts. Simon & Jude
Francis-Bergoglio, Now Bashed on All Sides for His Synod
Is Futilely Trying to Defend His Cover-up of Synod Speeches
From: The TRADITIO Fathers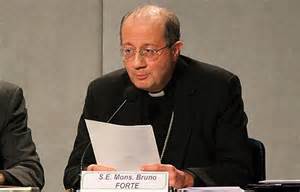 Francis-Bergoglio's Synod Appointee Was Beaten Back
Newarchbishop Bruno Forte Falsified the Synod Minutes
To Promote Homosexuality, Divorce/Remarriage, and Fornication
So Many of the Actual Synod Speeches Rejected Bergoglio's Stratagem
To Introduce These Immoralities in the Name of Newchurch Doctrine
That It Was a Great Embarrassment to Bergoglio
Thus, Bergoglio Didn't Want the Speeches against Him to Become Public
Forte, However, Admitted to La Stampa that He Had Been Whipped
Francis-Bergoglio is now ruing the day that he convoked his spurious "Extraordinary Synod on the Family" (October 5-19, 2014). His intention had been to change Newchurch moral doctrine to embrace homosexuals, the divorced and remarried, and fornicators. He had planned for his Synod to demand these changes, and he would then "charitably" acquiesce in his Synod's desire to promote an unBiblical, unCatholic, unChristian morality. But Bergoglio's stratagem went badly awry.
Bergoglio is being slammed from all sides now, chiefly because he refused to published the speeches of the Newcardinals and Newbishops at the Synod. Why? Because most of them bashed Bergoglio's brazen attempt to hijack God's moral law -- which no pope has the power to do. One Newcardinal even said that very specifically and very publicly.
There were some seventy interventions each day at the Synod, many of them expressing rejection of Bergoglio's Marxist stratagem to implement immoral doctrines in his Newchurch of the New Order. This was the Freemasonic stragatem attempted by Paul VI-Montini and his henchman, Hannibal Bugnini, in 1969 to implement a Protestantized service in place of the Catholic Mass. Monitini/Bugnini's stratagem, however, was successful, and Newchurch how has an invalid Protestantized Mess.
Good Catholics, in the end, even Francis-Bergoglio's conspirator in publishing false minutes of the Synod, Newarchbishop Bruno Forte, Bergoglio's Special Secretary appointed for the Synod, admitted to the Italian daily, La Stampa, that the Synod's final document, which rejected homosexuality, divorce and remarriage, and fornication, received "widespread consensus." Forte was the principal author of the falsified Interim Report on October 20, 2014, which was voted down by the Synod, as it welcomed, as does Bergoglio, homosexuality, divorce and remarriage, and fornication. [Some of the information for this Commentary was contributed by Catholic World News.]
---
October 26, 2014 - KINGSHIP OF JESUS CHRIST
DOUBLE FEAST OF THE FIRST CLASS
Dilettanti of "Extraordinary" Mess Move off Christ the King
In Order to Join with the New Order Sect's False "Oecumenism"
From: The TRADITIO Fathers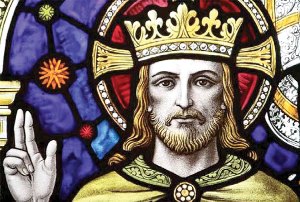 Christ the King
Dilettanti of "Extraordinary" Mess Move off Christ the King
To Join with the New Order Sect's False "Oecumenism"
Moving His Feastday from the Last Sunday of October, Protestant "Reformation" Day
To the Last Sunday of November, to Embrace Vatican II's Condemned "Oecumenism"
Yet Pope Pius XI Specifically Put the Feast on the Last Sunday of October
To Combat the Heresy of Protestant "Reformation" Day
Pope Pius XI established the Feast of Our Lord Jesus Christ the King in 1931 as a Catholic counter-feast to combat the heresy of Protestantism, which denied the worldwide kingly authority of Christ's Church. The pope deliberately set this feast on the last Sunday of October to butt heads directly with the heresy of Protestant "Reformation" Day, which the Protestants had established on that day.
For the New Order sect, of course, such a notion was intolerable. After the Modernist Vatican II Council (1962-1965), Protestants were not "heretics"; they became our "brothers." Thus, Newchurch in the invalid "New Mess" of 1969 moved the Feast of Christ the King to the last Sunday of November, so as not to compete with Protestant "Reformation" Day on that date. Even dilettanti of the "Extraordinary" Mess, that is, the untraditional "Mess of 1962" fomented by Benedict-Ratzinger and the New Order sect, but now deprecated by Francis-Bergoglio, have joined the great wimp-Out and moved off Christ the King to the last Sunday of November in order to join with the New Order sect's condemned "oecumenism." This is yet another reason to reject the Half Novus Ordo "Mess of 1962," which became Ex-Newpope Benedict-Ratzinger's "Motu" aka "Extraordinary" Mess of 2007.
But the "Unblessed" Paul VI-Montini didn't just change the date. He bowdlerized the Divine Office, in particular the beautiful traditional Hymn at First Vespers of the Feast. He expurgated in the Novus Ordo the following traditional verses, together with others, which accurately reflect the Biblical teaching of Christ's supremacy over all eartly governments and over the moral law, which the homunculus Francis-Bergoglio is purporting to change:
Scelesta turba clamitat:
Regnare Christum nolumus:
Te nos ovantes omnium
Regem supremum dicimus.

Te nationum Praesides
Honore tollant publico,
Colant magistri, iudices,
Leges et artes exprimant.

The criminal mob screams out:
"We don't want Christ as our king!"
But we, hailing Thee,
Declare Thee the supreme king of all.

May the rulers of the nations
Extol Thee with public honor
May teachers and judges worship Thee;
May the laws and arts reflect Thee.
Good Catholics, on the Feast of Christ the King, you should make it a particular point to remind your Motarians/Extraordinarian acquaintances who have sold out to the New Order, its phony Vatican II "Extrordinary" Mess (of 1962), and its unordained presbyters who purport to celebrate it that they have, knowingly or unknowingly, become slaves to the unCatholic, anti-Christian New Order.
---
October 25, 2014 - Our Lady's Saturday
Simple Feast
No Wonder Fellay's Neo-SSPX Is in Big Trouble
It Is Now Trying to Cover up Mismanagement with a Phony "Apparition"!
From: The TRADITIO Fathers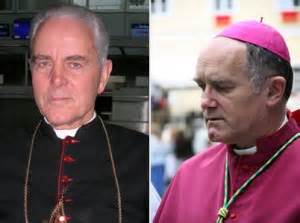 Both Richard Williamson (Left) and Bernie Fellay's Neo-SSPX
Are Straying from the Moral Virtue of Prudence (Practical Wisdom)
There Has Now Been Concocted a Story about a Neo-SSPX Apparition
By Which the Hackneyed "Consecration of Russia"
Is Supposed to Take Priority over Worship of the Lord Jesus Christ
The True Catholic Faith Is Eminently Practical, not Based on Phony "Apparitions"
Against Which the Church's Greatest Mystic, St. John of the Cross, Severely Warned
Fellay loves to play games with the Catholic Faith. He presumes to engineer "Rosary Crusades" to serve his own interest. Now his Neo-SSPX is engaged in a controversy about an "apparition." It seems that an attempt to hide his downright mismanagement and expressed desire to sell out to the unCatholic New Order sect under the guise of an "apparition." And one of his accomplices in this is none other than the former senior bishop of the SSPX, Richard Williamson, who usually has better sense.
It seems that there has been concocted a story, reported in Williamson's October 18, 2014, bulletin, that "Mary" appeared to some layman in 2004 and gave a message to be delivered to Fellay for yet another "Rosary Crusade" for the "consecration of Russia." One has to wonder how much longer this "consecration of Russia" line will be played out. Already a presbyter named Nicholas Gruner, who one day claims to be "traditionalist" and the next day is seen playing the sycophant to the unCatholic New Order sect, has already been using the "consecration of Russia" for self-promotion and financial gain. Just like the phony "apparition" of Medjugorje. Just like the phony "apparition" of Bayside.
This contemptible self-serving and confused propaganda about "apparitions" violates the traditional Catholic virtue of Prudence. It is not without great Catholic sense that St. John of the Cross (1542-1591), the Church's greatest mystic, warned:
The desire for private revelations deprives faith of its purity, develops a dangerous curiosity that becomes a source of illusions, fills the mind with vain fancies, and often proves the want of humility, and of submission to Our Lord, Who, through His public revelation, has given all that is needed for salvation. We must suspect those apparitions that lack dignity or proper reserve, and above all, those that are ridiculous. This last characteristic is a mark of human or diabolical machination. STAY AWAY FROM VISIONS, APPARITIONS, AND MIRACLES AS MUCH AS YOU CAN. BE CAREFUL OF VISIONS, EVEN WHEN THEY ARE AUTHENTIC.
The true Catholic Church is now under persecution. Phony Messes, whether New Order or "Extraordinary," are promoted widely. Catholic doctrine on homosexuality, marriage, and fornication is being re-engineered. Traditional Catholic morality is spurned in Newchurch and elsewhere, especially by the Newclergy. Russia, to the contrary, seems much better off these days than the phony New Order religion and its acolytes. Russia has officially spurned atheistic Communism and has allowed complete freedom to the Orthodox Church, which, though formally schismatic, is at least Christian, which the Newchurch of the New Order and its Marxist Newpope Francis-Bergoglio are not. The Blessed Virgin Mary's message in Sacred Scripture is clear: follow my Son. These pretended "apparitions" of "Mary" don't even seem to be concerned with the true worship of Christ the Lord, nor with His doctrinal and moral teaching.
Good Catholics, no wonder Fellay's Neo-SSPX is in big trouble. Instead of following the Church's principal theologian, St. Thomas Aquinas, it is getting wrapped up in purported apparitions, private revelations, and visions instead of dogmatic Sacred Scripture and Sacred Tradition. The true Catholic Faith is, after all, eminently practical, reflecting the highest of the four Cardinal Moral Virtues: Prudence [prudentia, phronesis], that is, Practical Wisdom. Just so, with miracles, we must apply prudence and a rational balance, not succumbing to the excess of superstition that is not worthy of a follower of Christ.
---
October 24, 2014 - St. Raphael the Archangel
Double Major Feast
As Francis-Bergoglio Deviates Farther from Catholicism
Newchurch Is Publicly Trying to Defend Him against Charges of Sede-vacantists
From: The TRADITIO Fathers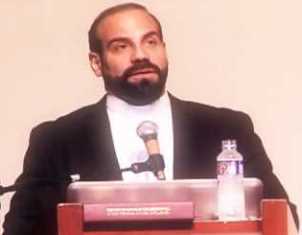 Joseph Iannuzzi Is Newvatican's Hit-man to Answer Public Charges
Which even the International Press Is Now Reporting On
That Francis-Bergoglio Is Not a True Pope because of His Anti-Catholicism
Newvatican Is Taking the Public Charges Seriously Enough To Send Out
Its New Order Hit-man Iannuzzi to Undermine the Teaching of the Church
As Explicated by the Great Catholic Doctors and Popes
For many years after the Modernist Vatican II Council (1962-1965), Catholics looked for some theological explanation for the sorry condition of the Newpopes who embraced Modernist principles condemned by their predecessors: Paul VI-Montini, JPII-Wojtyla, Benedict-Ratzinger, and now Francis-Bergoglio. Bad as the first three were, Bergoglio has sunk to such a nadir that even the international press is beginning to address the possibility that, in some way, Bergoglio is not a real pope. There are a number of shades of the hypothesis called "sede-vacatism," i.e., the hypothesis that the office of pope is vacant because of formal, material, or technical reasons.
We TRADITIO Fathers are not here trying to enter into this debate. For our summary of the teaching of the Church through its principal Fathers, Doctors, and Saints, click on FAQ10: How Do You Explain These Traditional Catholic Beliefs? in the section "Sede-vacantism" and on Limitations of Papal Authority to Change Sacred Tradition, from the Writings of Roman Catholic Popes, Councils, Saints, and Theologians."
Our point here is that the possibility that, in some way, Francis-Bergoglio is not a true pope has now become a public issue. No purported pope can fall so far from Catholic teaching, regarding the immorality of sodomy, particularly against children, the evil of Marxism, the Traditional Latin Mass and the priesthood, Sacred Scripture (the Bible) and Tradition and not have his status as a pope, or more fundamentally as a Catholic, questioned.
The best proof that Newvatican is shaking in its boots about whether Francis-Bergoglio is a true pope is that Newvatican is now taking the public charges seriously enough to send out a New Order hit-man to attempt to undermine the teaching of the Catholic Church, as explicated by great Catholic doctors of the Church as St. Augustine, Pope St. Gregory the Great, St. Thomas Aquinas, St. Robert Bellarmine, Pope St. Pius X, and others. Against these authoritative Doctors and Saints, Newchurch has shoved forward the comparative pipsqueak Joseph Iannuzzi, who purports to be a graduate of the Gregorian University in 1991, which is under the control of the Newpopes. In law, this would be considered a conflict of interest, and Ianuzzi would be forced to recuse himself. Iannuzzi's defense reeks of popolatry, the sin of worshipping the pope as a god.
Good Catholics, Newchurchers tried the same ploy after the Modernist Vatican II Council, trying to cover over the Council's obvious anti-Catholicism with verbose explanations that were all proven false in due course. Unfortunately, all too many Catholics of the time believed the false arguments and, as a result, lost the valid Mass, were subjected to anti-Catholic doctrinal changes, and were drowned in immorality by their Newclergy. Learn from the past, good Catholics, and don't fall into the pernicious errors that the Catholics of the 1960s did, for which they paid the ultimate price with a phony, invalid, sacrament-less, and immoral anti-Catholic Newchurch of the New Order.
---
October 3, 2014 - Ferial Day
Next Step for Newchurch after "Accepting" Homosexuality
South African Cardinal Speaks of Approving Polygamy
From: The TRADITIO Fathers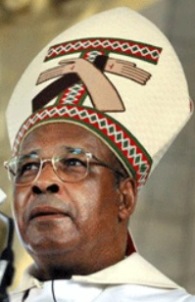 Wilfred Napier, Who Said that Newchurch Paedophiles
Were "Sick," Not "Criminals"
Is Now Speaking of Approving Polygamy
After Francis-Bergoglio Gets Approval of Homosexuality and Adultery
Through the 2015 Final Session of His "Extraordinary Synod on the Family"
It Is Clear that We Must Expect More Despicable Anti-Catholic Doctrine
Coming out of Francis-Bergoglio's Newchurch
At least it's more Biblical. Polygamy, that is, rather than "gay marriage." Polygamy is what South African Newcardinal Wilfrid Napier is bringing to the "debate" in Newchurch to change Christ's doctrine into Modernist/Liberalistic immorality. Francis-Bergoglio's "Extraordinary Synod on the Family" is not a "mistranslation." It is not "pastoral." It is a brazen attempt on Bergoglio's part to change doctrine in his unCatholic Newchurch using any subterfuge possible.
Napier already made a name for himself in 2013, when he stated that paedophilia on the part of Newchurch clergy is an "illness and not a crime." Now Napier is asking: "Why not Communion for polygamists? If someone in Germany who is divorced and civilly remarried can receive Communion [sic] without being expected to change his lifestyle, why can't someone in Africa who is married to two women do so as well? So there's no conflict of conscience about accepting Christ and living in polygamy at the same time." Napier said that the logic should be applied to the question of polygamy, a practice that is common throughout Africa. [Some information for this Commentary was contributed by the Catholic News Service.]
Good Catholics, even though Newcardinal Napier may have been speaking rhetorically, the fact that the man defended paedophile Newclergy makes everything that he says suspect. In any case, it is clear that we must expect more despicable anti-Catholic doctrine coming out of Francis-Bergoglio and his corrupt Newchurch.
---
October 22, 2014 - Ferial Day
Even Newchurch Can't Accept Newpope's Marxist/Liberalism
Francis-Bergoglio's Synod Has Dealt a Blow to His Plans to Change Doctrine
From: The TRADITIO Fathers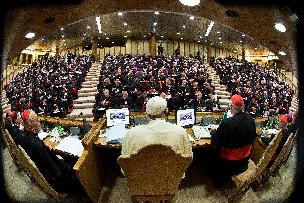 Francis-Bergoglio -- No Longer King of the Hill
His Newchurch Leaders, in a Stunning "Blow" to Newpope
Voted Down Every Attempt Bergoglio Made to Change Newchurch Doctrine
But the Head of the Communist-bend Newjesuits, Which Includes Bergoglio
Says that Newpope Is Planning a "Revolution" in 2015
If He Has Not Abdicated or Died by That Time
The 2014 session of Francis-Bergoglio's own Extraordinary Synod on the Family adjourned on October 19 and ended up rebuffing the "Mr. Marxist" Newpope for going way beyond his authority in trying to admit divorced and married adulterers/adulteresses to being handed the (invalid) Novus Ordo cookie, in contravention of Christ's statements in Sacred Scripture, and in trying to "accept and esteem" homosexual orientation. The international press is describing the Synod's actions as "a blow" to Bergoglio's plans to change Newchurch doctrine.
In a final vote after two weeks of fierce debate, three paragraphs touching on the hot-button issues of "accepting and esteeming" homosexuals and of allowing divorced and remarried adulterers/adulteresses to be handed the (invalid) Novus Ordo cookie, did not get the two-thirds majority needed from the 183 bishops present. The vote closed his Extraordinary Synod of Newbishops from around the world, at which Bergoglio's attempts to soften Biblical condemnation of women pregnant as a result of fornication, of remarried adulterers/adulteresses, and of sodomites were beat back, and Bergoglio given a slap in the face for his lifelong anti-Catholic, Marxist proclivities, which have become only two obvious since his election as Newpope a year and a half ago.
One Newcardinal accurately stated the position of the Catholic Church on the limitation on the power of the papacy, as pronounced at the Vatican I Council (1870): "The pope is not free to change the Church's teachings with regard to the immorality of homosexual acts or the indissolubility of marriage or any other doctrine of the faith."
But Francis-Bergoglio's attempts to corrupt further what little of the Catholic Faith remains in Newrome are not at an end. This 2014 Synod will be followed by a year of "consultations," and another controversial follow-up questionnaire will be sent out to Newdioceses around the world. A second, larger Synod will then be held in October 2015. [Some information for this Commentary was contributed by Agence France-Presse.]
Good Catholics, the fix may already be in. Adolfo Nicolas, Superior General of the Newjesuits, a Communist-bent order to which Bergoglio belongs, told a religious news agency to watch for a possible "revolution" in 2015. This is, if Francis-Bergoglio isn't an unNewpope, or dead, by that time, as he himself has indicated could well be the case.
---
October 21, 2014 - St. Hilarius, Abbot
Simple Feast
A Reader Asks: "How Is a Traditional Pope to Be Elected Now?
Does It Matter in the End Who the Pope Is?"
From: Greg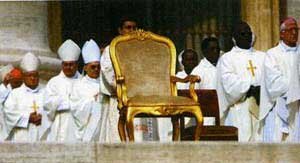 All Too Much Emphasis Has Been Placed since Vatican II on the Pope
Until The Mid Twentieth Century
Most Catholics Did Not even Know Who the Pope Was
Whoever He Was, He Couldn't Change The Mass, The Sacraments
Catholic Doctrine, Or Catholic Morality
There Are a Number of Pseudo-Traditionalists around These Days
Who Think that if Only the Right Pope Were Elected, All Will Be Well
No Pope Can Solve the Nadir into Which The Church Has Sunk
Now Only God Can
Dear TRADITIO Fathers:
With the corruption of the institutional organization since the Vatican II Council (1962-1965), how is a traditional pope to be elected now? The majority of churchmen have become corrupt and have abandoned the Catholic Faith. How is a traditional pope going to be elected to restore order in the Church? It seems as though the corruption is accelerating with the Synod of the Family that is now taking place. Does it matter in the end who the pope is?
The TRADITIO Fathers Reply.
All too much emphasis has been placed since the Modernist Vatican II Council on the person of the pope. Until the mid twentieth century, most Catholics did not even know who the pope was. Whoever he was, he had no authority to change the Mass, the Sacraments, Catholic doctrine, or Catholic morality. One pope died, another was elected, and nothing would change. Nothing could change.
The Catholic Church does not depend upon the pope. It should not even matter who the pope is. There have been almost three hundred times in the history of the Church when there was no pope, extending from a period of days to a period of years. This is in accordance with the decree of the dogmatic Vatican I Council in its Constitutio Dogmatica Prima de Ecclesia Christi (Pastor Aeternus), cap. IV, De Romani Pontificis Infallibili Magisterio, of July 18, 1870:
Neque enim Petri successoribus Spiritus sanctus promissus est, ut eo revelante novam doctrinam patefacerent, sed ut eo assistente traditam per apostolos revelationem seu fidei depositum sancte custodirent et fideliter exponerent.
For the Holy Ghost was promised to the successors of Peter not so that they might, by His revelation, make known some new doctrine, but that, by His assistance, they might religiously guard and faithfully expound the revelation or Deposit of Faith transmitted by the Apostles.
All that changed after the Modernist Vatican II Council came along and started the substitution of the Catholic Church by the Newchurch of the New Order, which is not the Catholic Church any more than the Anglican Synod is. This is not what John XXIII had intended with the Council that he had convoked. Contrary to the propaganda that you read in the uninformed religious and secular press, John XXIII was actually quite traditional. He wanted no change in the Mass. He wanted no change in the Sacraments. He wanted no change in Catholic theology. He wanted no change in Catholic morality. He simply wanted the bishops to get together in the century after Vatican I and discuss some practical issues. John XXIII never signed a single document of the Council. On his deathbed, according to a peritus who was there, John XXIII repeated: "Stop the Council. Stop the Council."
It was through the connivance of John XXIII's successor, Paul VI-Montini, and his henchman, the Freemason presbyter Hannibal Bugnini, that by 1969 in Newrome the Catholic Church was replaced by the Newchurch of the New Order. The Catholic Mass was suppressed; a Protestantized invalid "New Mess" was substituted. The Sacrament of Holy Orders was suppressed, so that Catholic priests were no longer ordained nor Catholic bishops consecrated, but presbyters and Newbishops were merely "installed to preside over the assembly of the people."
There are a number of pseudo-traditionalists around these days who want to play God. They want to hold some phony council, declare some phony pope. They think that if only the right pope were elected, all will be well. They are gravely mistaken, and they are not Catholic in their minds. No pope can solve the nadir into which the Church has sunk in the Modernist period. Only God can. Of this fact, we are reminded in the Scriptures:
Bonum est confidere in Domino, quam confidere in homine. Bonum est sperare in Domino quam sperare in principibus.
It is good to confide in the Lord, rather than to have confidence in man. It is good to trust in the Lord, rather than to trust in princes (Psalm 117:8/DRV).
And again:
Nolite confidere in principibus. Put not your trust in princes (Psalms 145:2/DRV).
So, what are we to do? Scripture gives us the answer. It is the same answer that St. Paul gave to the Thessalonians of his time:
State et tenete traditiones, quas didicistis sive per semonem sive per epistulam nostram.
Therefore, brethren, stand fast: and hold the traditions that you have learned, whether by word or by our epistle (2 Thessalonians 2:14/DRV).
Thus, Scripture tells us that it is our responsibility to hold to the Traditions that we were taught. The rest is God's business. It is his Church. He will do with it as He pleases, when He pleases. Any correction may take a decade, a century, or even until the Second Coming. If only we had followed St. Paul's command, starting around the 1960s, the Church would not be in the sad state in which it finds itself today. Instead, most of those who called themselves "Catholics" then rejected the truths of the Bible and rejected the Catholic and Apostolic Tradition and instead, to their infamy, were all too ready to embrace an unCatholic New Order sect, with its invalid and unCatholic Mess and "Sacraments. "
Good Catholics, we need to have trust in God and let Him do His work as He pleases. We, on the other hand, need to do our work of standing by Scripture and Tradition. If we do this, the situation will be corrected in due time, whether years, decades, or centuries. If we do not do this, the Church has not a prayer of correcting itself.
---
October 20, 2014 - St. John Cantius, Confessor
Double Feast
Francis-Bergoglio Rents out Sistine Chapel for Corporate Dinner
His New Order Sect Is Losing Members so Fast that He Is Now Desperate for Money
From: The TRADITIO Fathers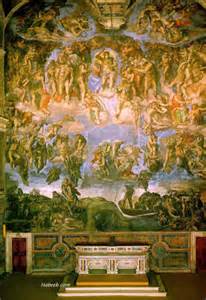 Michelangelo's Fresco of the Last Judgement
Towers over the Sistine Chapel
Which Francis-Bergoglio, for the First Time in History
Has Rented out as a "Commercial Space" for a Corporate Dinner
Forty Porschisti Will Pig out and Liquor up at a "Gala Dinner"
So Many Newchurchers Are Abandoning His New Order Sect
That Bergoglio Is Now Desperate for Money
Is nothing sacred? Certainly not for Francis-Bergoglio and his Newchurch of the New Order. Bergoglio has hired out the venerable Sistine Chapel for a corporate dinner of Porsche executives for a corporate dinner. So many Newchurchers are now abandoning his unCatholic New Order sect that Bergoglio is now desperate for money. Thus, he has turned to renting out perhaps the world's most famous artistic religious "space" like a commercial enterprise. We can only wonder what the Porschistsi will be thinking about when confronted with Michelangelo's towering Last Judgment, before which elections of popes have taken place for many centuries. What's next: renting out his palace for a brothel, as Bergoglio's predecessor, the Roman emperor Caligula, did?
Bergoglio is too embarrassed about this crass commercial deal for the rich to reveal how much this moneychanger in the Temple is charging Porsche, but other sources indicate that the forty Porschisti will pay 6,400 U.S. dollars apiece for pigging out and liquoring up at a "gala dinner" in the Sistine Chapel (nor is this one of those infamous Novus Ordo "eucharistic banquets").
There is no mention of any prayer, of course. The Porschisti probably won't even say grace. The Newpope says that it's all for "charity" -- Jorge Bergoglio, Incorporated, that is! Bergoglio, who claimed that his sect would be "a poor Church for the poor," who is accommodating the commercial greed of the Porschisti, is at the same time going to cut the poor out of the Sistine Chapel by limiting the number of the regular poor visitors. [Some information for this Commentary was contributed by The Inquisitor.
Good Catholics, Francis-Bergoglio, hypocritical to the end, rails against the world for its "idolatry of money," its "excessive greed," and its failure to follow the principles of Marxist socialism, but then he sells out religion and art for the first time in history -- for filthy lucre.
---
October 19, 2014 - Nineteenth Sunday after Pentecost
Semidouble Sunday
Francis-Bergoglio Now Rues the Day that He Dropped Latin
His Synod's Vulgar Italian Has Led to a Major Doctrinal Error
From: The TRADITIO Fathers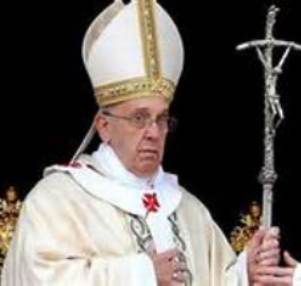 Francis-Bergoglio Carries the "Twisted-Serpent" Crucifix
Now He Has Told Yet Another Lie, Claiming that His Pro-homosexual Policy
Is Merely a "Translation Error"
This Was a Common Ploy Used by the Modernist at the Vatican II Council
Which Deliberately Wrote Documents that Could Be Interpreted in Contradictory Ways
If there Was Too Much Push-back to Their Desired Modernist Interpretation
They Could Always Claim that They Meant The Opposite
That It Was just a Misunderstanding, a "Translation" Error
After all Hell broke loose when the Relatio post Disceptationem, the interim report of at Francis-Bergoglio's "Extraordinary Synod" on the Family was released on October 13, 2014, containing the phrase in the English version that Newchurch should "accept and value" homosexual orientation, Bergoglio immediately swung into damage-control mode and claimed that it was all a "translation error." But whose fault is that? It was the anti-Catholic Bergoglio himself who had dumped the authentic Latin language, esteemed for its precision and lack of ambiguity, for his Synod and selected vulgar Italian instead.
A day after the interim report was released, Bergoglio's henchmen were claiming that valutando meant "evaluate," not "value." In English too, the verb "to value" is ambiguous. It can mean "to esteem" or "to place a price upon." Because Bergoglio has been caught in so many lies already, one has to wonder whether the ambiguity was deliberate, yet another case of trying to foist unCatholic doctrine on Newchurchers, but one that could be retreated from because of deliberate linguistic "plausible deniability." Bergoglio also tried to extricate himself from the noose that he had created for himself by claiming that the English "translation" was "unofficial." With Latin, no "translations" are necessary; Catholic prelates are supposed to speak, read, and write Latin fluently. That was how the Vatican II Council was conducted.
To the contrary, Newcardinal Gerhard Mueller, Francis-Bergoglio's personal appointee as No. 3 man at Newvatican, Prefect of the Doctrine of the [New Order] Faith, indicated that there was nothing wrong with the original "translation." He maintained -- quite falsely -- that "pastoral care for homosexuals has always been part of the Church's teaching, and the Church has never gotten rid of or dismissed homosexual from her pastoral programs." Up until the Newpopes took over in the Newchurch of the New Order, which they had substituted after Vatican II to replace the Catholic Church, homosexuals were excluded from the traditional priesthood and sodomy was taught, according tot he Bible, as being one of the Four Sins that Cry out to Heaven for Vengeance. The "Unsaint" JPII-Wojtyla and Benedict-Ratzinger were the major conspirators against Catholic doctrine in this matter. [Some information for this Commentary was contributed by the Catholic News Agency.]
Good Catholics, those of you who have studied the mendacious Vatican II Council, know that this was a common ploy used by the Moderists then, to create documents capable of being interpreted in opposite ways. If there was too much push-back to their desired Modernist interpretation, they could always claim that they meant the opposite, that it was just a misunderstanding, a "translation" error. Now Francis-Bergoglio is merely emulating the lying characters of his unCatholic predecessors. Don't you believe them!
---
October 18, 2014 - ST. LUKE, EVANGELIST
DOUBLE FEAST OF THE SECOND CLASS
Close Associate Admits that Bugnini Was a "Contemptible" Liar
The Chief Architect of the New Mess Lied Both to the Concilium and the Newpope
From: The TRADITIO Fathers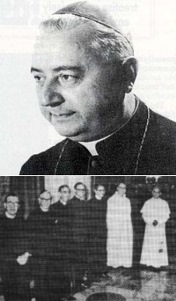 Hannibal Bugnini, the Chief Architect of the Invalid New Order Mess
And His Commission of Six Protestant Ministers with Paul VI-Montini
Who Fabricated the Invalid "New Mess" with the Freemason Presbyter
Bugnini Has Now Been Outed by One of His Closest Associates
As "Contemptible" and "As Devoid of Learning as He Was of Honesty"
Bugnini Regularly Lied to Both the Liturgical Consilium and Newpope Paul VI
He Also Lied to Catholics Worldwide about the "New Mess"
In Order to Get Them to Follow Him into an Invalid New Order
The TRADITIO Network has been telling the truth for twenty years now about the Chief Architect of the New Order "Liturgy," the Freemason presbyter Hannibal Bugnini. Many, however, even conservatives in Newchurch, didn't want to admit the truth. Now the TRADITIO Network's reporting has been validated by one of Bugnini's close associates in the work of turning the Traditional Latin Mass into an (invalid) Protestant-Masonic-Pagan New Order service, starting in the 1950s.
Presbyter Louis Bouyer was known as a top progressivist French "liturgist," who later wrote, in one day at a coffee shop in Rome, one of the four invalid Eucharistic Prayers for the New Mess and who served on the post Vatican II Consilium to turn the Traditional Latin Mass into an invalid New Order service. In his Memoires, published in French in October 2014 posthumously after his death in 2004, Bouyer characterized his associate as "contemptible" and "as devoid of learning as he was of honesty."
Bugnini sold the invalid New Order Mess, which in 2007 Benedict-Ratzinger officially declared to be the "Ordinary Rite" of Newchurch, on the basis of a pack of lies, all of which have been thoroughly discredited. These lies included Bugnini's statements:
that Aramean, the purported language of Christ, did not have separate words for "many" and "all," pertaining to the fact that the Traditional Latin Mass, as well as Apostolic Eastern Rites, use the word for "many," not "all," in the form for consecrating the wine into the Most Precious Blood of Christ; in fact, Aramean scholars state that it most certainly did have two separate words
that the priest celebrated Mass facing the congregation; in fact, the priest celebrated Mass facing the East
that Mass was celebrated "in the round"; in fact, Catholic churches were designed upon the rectangular basilica form
that the Sacred Canon of Mass should take the form given by Hippolytus, which now is the form in the most common invalid "Ordinary Form" used in Newchurch, called "Eucharistic Prayer No. 2," the so-called "Presto Prayer" because of its extreme brevity; in fact, Hippolytus was declared by the early Church a heretic, and the text of his "eucharistic prayer" is still highly debated by scholars
Bouyer served with Bugnini on the Consilium [Council], the group originally charged with turning the Traditional Latin Mass into an (invalid) vernacularized New Order service. The Concilium was presided over, in theory, by Newcardianl Giacomo Lercaro, who, Bouyer writes, was "incapable of resisting the maneuvers of the criminal and unctuous" Bugnini. In 1969, when the full-blown invalid New Order Mess came in to Newchurch, no longer the Catholic Church, Paul VI-Montini appointed Bugnini a Newarchbishop and Secretary of the Congregation for Divine [New Order] Worship.
Bouyer states that Bugnini regularly lied to the Consilium, introducing radical changes while claiming that Paul VI-Montini "wants it so." At the same time Bugnini was telling Montini that the Consilium was unanimous in wanting the radical changes. The Freemason Bugnini was thus an out-and-out liar, playing both ends against the middle, lying to the Consilium and lying to Newpope Montini to serve his end of destroying the Catholic Mass.
In 1976, when Bugnini's membership in the Freemasons became public, Montini could no longer ignore the truth about the Hannibal, who had destroyed the Mass, and transferred Bugnini into exile in the Ayatollah's Iran. Bugnini died in disrepute in 1982. [Some information for this Commentary was contributed by the Catholic News Agency.]
Good Catholics, the New Order Mess was engineered by a man who was an excommunicate Freemason and a "dishonest and contemptible liar," who had little understanding of the Traditional Latin Mass and Divine Office. Benedict-Ratzinger was just as dishonest and contemptible a liar as Bugnini when he declared the invalid fake "New Mess" as the Ordinary Rite of his Newchurch of the New Order. You good Catholics know that the morality of Newchurch popes and prelates is a sewer. Just so is their fabricating and imposing a phony, invalid "New Mess" upon ignorant Newchurchers. It seems only divine justice that has caused the faithless Newchurchers to be deprived of a valid Mass and valid Sacraments for the last fifty years, just as were the Jews for two hundred years before the Machabean Revolution.
---
October 17, 2014 - St. Margaret Mary Alacoque, Virgin
Double Major
Synod Says that Sodomites Have a Role to Play in Vatican III
But Traditional Catholics Are Excluded
From: The TRADITIO Fathers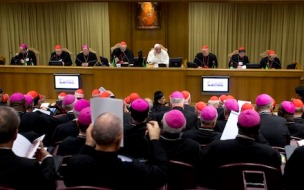 Francis-Bergoglio Presides over the Demise of Newchurch
At His "Extraordinary Synod on the Family"
It Is Clear that Bergoglio Means This Synod to Function as a Post-Modernist Vatican III
To Destroy What Little Is Left of Catholic Morality in Newchurch
Bergoglio Is Set to Welcome into His New Order Sect
Homosexuals, Lesbians, Sodomites, Paedophiles, and Transsexuals
Who, Unlike "Doctrinaire, Ideologue, Pelagian" Traditional Catholics
Have "Gifts and Qualities" to Offer to His Uncatholic New Order Sect
Benedict-Ratzinger was a sly creature. He was an out-and-out Modernist all his life, being responsible for some of the most unCatholic theology at the Vatican II Council, but he foxily hid his Modernism behind a little Novus Ordo Latin and a Santa Claus hat. The Newchurch pseudo-traditionalists actually bought the ruse and thought that the Modernist Ratzinger was a traditonalist! Like Ratzinger, Francis-Bergoglio is perverted both religiously and morally, but at least Bergoglio doesn't cover it up. What you see from Bergoglio is what you get: pure, unadulterated anti-Catholicism, anti-Christianity.
It is becoming clearer and clear that Bergoglio's "Extraordinary Synod on the Family" (October 5-19, 2014) is actually a Post-Modernist Vatican III in the area of morals. It is intended to gut from Newchurch what little is left in it of Catholic morality. Bergoglio goes so far as not just to reject Catholic doctrine, but to reject Natural Law, which pertains to all creatures of God, Newpopes and Newchurchers included!
The Synod declared that homosexual orientation should be "accepted and valued," and that homosexuals (as homosexuals) have "gifts and qualities" to offer Newchurch parishes. On the other hand, traditional Catholics do not. They are doctrinaire ideologues steeped in the Pelagianism heresy. The Relatio post Disceptationem, drafted after the Third Extraordinary General Assembly of the Synod of Bishops [Sic], an interim summary document issued October 13, 2014, will form a framework for the rest of the synod and its decisions in October 2015. The shockingly immoral, anti-Catholic, and even anti-Christian document was drafted by seven Newcardinals known to represent Francis-Bergoglio's personal views.
Bergoglio is set to welcome into his New Order sect homosexuals, lesbians, sodomites, paedophiles, and transsexuals, who, unlike traditional Cathholics, have "gifts and qualities" to offer his New Order sect. The Relatio prescribes that the "doors always [be] wide open" to such unrepentant perverts, but the door is slammed shut to traditional Catholics, who are doctrinaire, Pelagian, and just too Catholic for Bergoglio's New Order sect. Also, to allow that divorced and remarried, whom Jesus Christ calls "adulterers," to receive the invalid Novus Ordo cookie and Kool-Aid is not, according to Bergoglio and his Anti-Christians, a "weakening of its [the New Order's] faith," but an "exercise of charity."
That is exactly the same phony line that the Modernist Vatican II Council (1962-1965) used to gut the Catholic Church and replace it with a Newchurch of the New Order. The great "aggiornamento" (modernization) of Paul VI-Montini has clearly failed, with far more Catholics leaving the Newchurch than wanting to join it. Some predictions are that the New Order sect, together with its "nuns" and presbyters, will be essentially dead in a decade or two, just like the Anglican sect, which it apes.
The Synod openly admits that it is following exactly the same method of "graduality" that was used at Vatican II to foist upon Catholics of the time a false faith and an invalid Mess. The idea is that if you introduce unCatholic, condemned changes gradually, people will not resist as much as if you introduced them all at once. What would have happened in 1963 if one Sunday you attended the Traditional Latin Mass and the very Sunday you were exposed to the full-blown invalid New Mess of 1969 without having been "softened up" by gradual changes in 1951, 1956, 1960, 1962, 1964, 1965, 1967, and 1968? [Some information for this Commentary was contributed by the U.K. Catholic Herald.]
Good Catholics, here we have a repeat of Modernist Vatican II at this Post-Modernist"Vatican III." What are the pseudo-traditionalists today, fifty years later, doing, like those wo hold those incessant "traditional conferences" for two dozen people, like Bernie Fellay and his anti-traditional Neo-SSPX. Oh, they'll huff and puff a bit, but they still won't break their ties with Francis "The Phony" Bergoglio and the Anti-Catholic Newchurch of the New Order. Heavens no! Fellay might have to give up his ambition to wear Novus Ordo purple, and the other pseudo presbyters might have to give up their personally-lucrative conference and tour businesses!
---
October 16, 2014 - St. Hedwig, Widow
Semidouble Feast
Blasphemous Presbyter Tells Newparishioner to Stop Praying
Then Attacks Her when She Asks Him to Keep His Voice Down in Church
From: The TRADITIO Fathers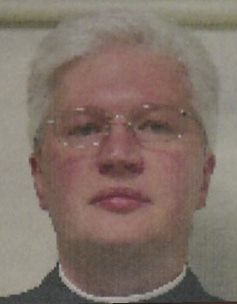 Presbyter-pastor Robert Lanterman, Up on Charges of Assault
He Was Arraigned for Assaulting One of His Newparishioners
When She Politely Asked Him to Lower His Voice in Church
Because Several Ladies Were Trying to Pray
In Response, Lanterman Blasphemed and Screamed at the Lady in Church
Lanterman Then Grabbed the Lady by the Arm and Threw Her against a Pew
Clear on the Other Side of the Aisle
Criminal Behavior Is Not Uncommon for "Loving" Newchurch Presbyters
Especially as Newchurch Sheeple Defend Their Corrupt Presbyters
No Wonder the Newchurch of the New Order is Fast Disintegrating
Newchurch is now telling its members that they are praying too much! Three Newparish ladies were praying at Assumption of the Blessed Virgin Mary Novus Ordo temple in Geneva, Ohio, on September 16, 2014, when the presbyter-pastor walked in and began speaking in a loud voice to another group of Newparishioners. One of the ladies politely asked the presbyter, Robert Lanterman, please to take his conversation elsewhere. Instead of correcting his sacrilegious behavior, Lanterman started screaming at the lady in the church and blasphemed: "You can leave or find the door if you don't like it ... so help me God."
When another Newparishioner lady tried to intervene to calm the presbyter down, Lanterman told her: "Shut up! This is my church!" He then grabbed the lady by the arm and threw her against a pew clear on the other side of the aisle. At least the lady and two other witnesses had the guts to stand up to the blasphemous presbyter and had him charged with assault and disorderly conduct. The woman also notified Newbishop of Youngstown of the incident, but told press that she was being given "the run-around." Newparishioners who were not present at the incident defended the assaulting presbyter, saying essentially that the lady deserved what she got from the presbyter and that he should have roughed her up some more for asking him to keep his voice down in church. Lanterman has been incommunicado since the incident. [Some information for this Commentary was contributed by the Ashtabula Star Beacon.]
Good Catholics, it all figures. This presbyter's behavior is not at all unusual in Newchurch. We TRADITIO Fathers have received many complaints about similar instances not only in Newchurch but also in Bernie Fellay's Newchurch-bent Neo-SSPX. Newchurch in its P.R. portrays itself as so "loving" as to accept sodomy and sacrilege, but the truth is that many Newchurch clergy have been shown to be hateful malefactors. This example indicates why the Newchurch of the New Order is fast disintegrating: not only is its Newclergy an immoral "brood of vipers," but its members are even more viperous. The Newparishioners of Assumption Newparish should do what so many others have written us that they have done: left Newchurch, its corrupt clergy, and its Novus Ordo temples entirely and found a truly Traditional Latin Mass outside the anti-Catholic Newchurch of the New Order.
---
October 15, 2014 - St. Teresa of Avila
Double Feast
A Reader Asks: "How Do I Know whether a Newparish Mess
Is Truly the Traditional Latin Mass?"
From: David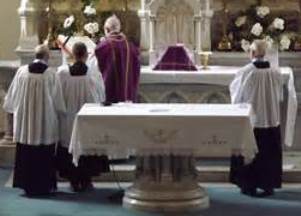 A Newparish Mess Is Never Valid
The Mess of John XXIII of 1962 Is Not the Traditional Latin Mass
The 1962 Missal Was Released in the Same Year as the Modernist Vatican II Council
And Had Already Been Substantially Protestantized by Hannibal Bugnini
The Freemason Presbyter in Charge of the New Order "Liturgy"
In Two Great Waves of Changes in 1956 and 1960
These Changes Entailed Some 450 Pages of Explanation
Dear TRADITIO Fathers:
When a Newparish does what they call the "Tridentine Mass," how do I know whether the Mass is truly the Traditional Latin Mass or whether it's Novus Ordo theology dressed up in Latin? How would I know either way? I had asked the Newparish presbyter the same question. He answered: "All our Masses are done with the Missal of John XXIII of 1962. I understand that it's a bit of an historical accident that this Missal in particular is used for the 'Extraordinary Form' [sic], but it seems that outside of Holy Week there is very little difference from the editions immediately preceding it."
The TRADITIO Fathers Reply.
A Newparish Mess using the "Missal of John XXIII of 1962" is never the Traditional Latin Mass. The 1962 Missal was released in the same year as the Modernist Vatican II Council, in 1962, and had already been substantially Protestantized by Hannibal Bugnini, the Freemason presbyter in charge of the New Order "Liturgy," in two great waves of changes in 1956 and 1960. These changes entailed some 450 pages of explanation, hardly what can truthfully be called a "little difference"! And isn't it just like a Newchurch presbyter to write off the most sacred week of the year, Holy Week, as if it were of little consequence?
But the untraditional 1962 Missal is only half of the problem. In 1968 Newchurch introduced a New Ordinal based on Protestant models. No longer were priests to be ordained in the Sacrament of Holy Orders, but "presbyters" were to be "installed," after the fashion of Protestant ministers. The New Ordinal's rite of "installation" specifically omits the traditional references to the power "to offer Mass for the living and the dead" and the power "to forgive sin." Newchurch presbyters are instead "installed" to "preside over the assembly of the people," which is the invalid Newchurch substitute ("New Mess") for the valid Traditional Latin Mass.
It follows that any presbyter installed after 1968 in the New Order is not a priest, but essentially a Protestant minister. Even if the presbyter was installed in the traditional rite of ordination, he is not a priest because his installing Newbishop was never himself consecrated as a bishop in the valid Sacrament of Holy Orders, but merely installed as a New Order "overseer" (episocopos).
In any case, no Newchurch parish is allowed to offer the valid Traditional Latin Mass, only the half New Order Vatican II Mess of 1962+, sometimes erroneously called the "Extraordinary" Mess. Newchurch is not the Catholic Church, so you should regard all of its services as essentially Protestant and instead find a site in the Official Traditional Catholic Directory where the Missal of 1955 or earlier (before the Protestantizing changes) is used. For further information, click on FAQ03: "Should I Ever Attend Newchurch's 'Ordinary' or 'Extraordinary' Messes?" in the section "Five Practical Rules for Dealing with the New Order Sect."
---
October 14, 2014 - St. Callistus I, Pope & Martyr
Double Feast
Francis-Bergoglio's Henchman Announces the Impending Destruction
Of Marriage in Newchurch, Just as Newchurch Destroyed Canonization
From: The TRADITIO Fathers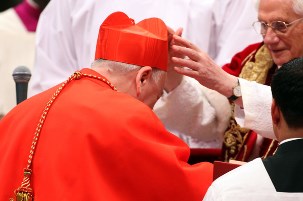 Benedict-Ratzinger Installs the Destroyer of Catholic Marriage
Newcardinal Francesco Coccopalmiero, Francis-Bergoglio's Personal Appointee
Has Been Tasked by Bergoglio to Destroy the Sacrament of Marriage in Newchurch
(If the Sacrament of Matrimony Still Exists in Newchurch)
Coccopalmiero Has Announced that He Wants to Implement Divorce in Newchurch
As the Protestants Have Done in Their Heretical Sects
In a way reminiscent of how the "Unsaint" JPII-Wojtyla in 1983 destroyed the process of canonization in Newchurch, Francis-Bergoglio's appointee as President of the Pontifical Council for Legislative Texts, has announced the impending destruction of the Sacrament of Matrimony in Bergoglio's Newchurch of the New Order. Newcardinal Francesco Coccopalmiero was personally appointed by Francis-Bergoglio two weeks after he became Newpope and gave him the instruction to turn the "annulment" procedure into what amounts to divorce. Coccopalmiero announced that he wants to see a "major change" in the annulment process to make it easier to get a Newchurch "divorce."
Here's how it would work, according to what he told journalists at Francis-Bergoglio's "Extraordinary Synod" on the Family. The Roman Rota, the Newvatican court that reviews all cases to protect the Sacrament of Marriage, will be stripped of that responsibility, and individual Newdiocesan bishops, who amount to political hacks appointed directly by the Modernist Newpopes, would be given the power to dissolve marriages. To the contrary, infallible Catholic doctrine is clear that no one, including the pope, has any authority to declare a sacramental marriage invalid. It is all a scam on the part of Bergoglio and his henchmen to introduce Protestant heresy further into the "sacraments" of Newchurch.
Moreover, Coccopalmiero would deprive the marriage partner trying to preserve the marriage from the automatic right to appeal a decision to "dissolve" the marriage. Coccopalmiero also wants to reduce the number of marriage judges at the Newdiocesan level from three to one, so that it will be all the easier to run a Newchurch "divorce mill." [Some information for this Commentary was contributed by The Tablet.]
Good Catholics, it is no surprise that Francis-Bergoglio's "Extraordinary Synod" has become essentially Vatican III. Paul VI-Montini's Vatican II (1962-1965) destroyed the Catholic priesthood in Newchurch. Francis-Bergoglio's Vatican III (2014-2015) will destroy the Sacrament of Matrimony -- and who knows what else?
---
October 13, 2014 - St. Edward, King of England, Confessor
Semidouble Feast
Another Newdiocese to Fall in Newchurch's Great Sex Holocaust
Winona's Impending Bankruptcy Shows that It's Going on Worse Than Ever
From: The TRADITIO Fathers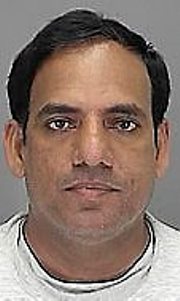 Presbyter Charles Koppala Pled Guilty to Sex Crimes
He Was One of More than Fourteen Presbyters Implicated
In a Sex-crime Rampage in the Newdiocese of Winona, Minnesota
Site of Bernie Fellay's Neo-SSPX Seminary in the United States
Winona Is Expected to Go Bankrupt as a Result
As Francis-Bergoglio's Newchurch Stinks Worse of His Newclergy's
Sex Crimes against Children than Ever Before
The Newdiocese of Winona, Minnesota, is going bankrupt because of ongoing sex crimes in Newchurch's Great Sex & Embezzlement Holocaust. Any notion that Newchurch has "fixed" its rampage of sex crimes against children by its Newcardinals, Newbishops, and presbyters is patently false. According to outside studies, it's going on worse than ever, and Winona is the next Newdiocese to fall. Newbishop John Quinn released documents on October 7, 2014, showing that the Newchurch diocese of Winona expects to file for bankruptcy because of sex crimes committed by his Newclergy. Already back on March 25, 2014, he had sent a secret letter to Francis-Bergoglio predicting the bankruptcy.
It is ironic that Winona is the site of Bernie Fellay's Neo-SSPX seminary in the United States, and Fellay is still aching to join the Newchurch of the New Order, together with its ongoing Great Sex and Embezzlement Holocaust, and to become Newchurch's Czar of Pseudo-traditionalism.
Fourteen child victims have filed lawsuits, and more lawsuits are still being filed. Nor are these historic cases. Some documents are as recent as May 2014. One of the documents released shows that Newbishop Quinn helped a presbyter fight criminal charges of sex abuse against a child. On June 8, 2013, police arrested the presbyter on suspicion of second-degree criminal sexual conduct for sexually assaulting a girl under the age of 13. (These Newchurch presbyters really like them young!) The presbyter pled guilty in March 2014. Quinn's P.R. agent admitted to the Newdiocesan attorney: "This current example shines a bright spotlight into how it [Newchurch clergy crimes against children] is not [an "historic" problem], and abuse is still happening."
Newbishop Quinn, true to the immoral code of Newchurch, would not take responsibility for the crimes of his Newclergy, but dumped them on everyone but himself and his criminal presbyters, whining: "Both attorneys and elements within the public media have exhibited unwavering resolve in their efforts to further defame alleged offenders, foster discredit in church officials, and instill common anger and mistrust toward the Universal Church." No, Quinn, it is you, Karol Wojtyla, Josef Ratzinger, and Jorge Bergoglio, who have instilled the anger and mistrust by their immoral, corrupt, and criminal actions.
The Survivors Network of Those Abused by Pr[esbyters], a national advocacy group for the child victims, castigated Quinn's planned bankruptcy. "It's about protecting the power and reputations of powerful church officials who desperately want to keep their complicity in child sex cases under wraps."
Good Catholics, Francis-Bergoglio's Newchurch stinks worse of his Newclergy's crimes against children than ever before. The 2,000 pages of documents show how Newbishop Quinn and his deputies worked over the past year to protect Newchurch rather than the child victims as the crime wave widened. Quinn, who now claims that he's bankrupt and can't pay the child victims, nevertheless found the money to hire a public-relations firm to develop "talking points" to exonerate Newchurch from its crimes.
---
October 12, 2014 - Eighteenth Sunday after Pentecost
Semidouble Sunday
More Proof Reveals that Newchurch Is Being Run by Freemasons
Newchurch Communications Director Has Been Inducted as a Master Mason
From: The TRADITIO Fathers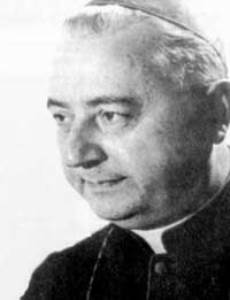 Hannibal Bugnini, Chief Architect of the Invalid New Mess
Which He Fabricated with a Committee of Six Protestant Ministers
Bugnini Was Inducted into the Masonic Lodge of Rome in 1963
And Was Was Highly Praised, in Writing, by the Masonic Grandmaster of Rome
For His Work in Destroying the Catholic Mass by Concocting an Invalid "New Mess"
Now Another Freemason Has Been Outed as Communications Director
Of Newchurch's Crystal Cathedral
The Newchurch diocese of Orange, California, bought Protestant televangelist Robert Schuller's Crystal Cathedral in 2012 for 60,000,000 dollars and is spending millions more "refurbishing" it to become the Newdiocese's extravagant Newcathedral, reminiscent of the infamous Newcardinal Roger "Rogue" Mahony's "Taj Mahony" Newcathedral in Los Angeles, and Newbishops John Cummins's & Allen Vigneron's unCatholic monstrosity in Oakland, contemptuously termed by the locals the "Ice Palace," and a waste of a good parking lot.
Central to the Novus Ordoizing project is Orange Newdiocese Communications Director Ryan Lilyengren, who drips with Newchurch's heresy of "oecumenism," concocted at the Modernist Vatican II Council (1962-1965). "We see ourselves as a center point for many faiths to come together and engage." "Many faiths?" In fact, Catholic doctrine teaches that there is one, only one, true faith. But Lilyengren should know all about "oecumenism." He has been inducted as a Master Mason. Freemasonry is not only a secret society to the detriment of religion but also a non-Catholic sect, having its own doctrines and its own secret rituals.
Freemasonry systematically promotes syncretism, also called Oecumenism, Indifferentism, and the One-world Religion, which falsely teaches that "all religions are equal." Freemasonry's ultimate purpose is, according to its own Universal Manual of Freemasonry, "the overthrow of the whole religious, political, and social order based on Christian institutions and the establishment of a new state of things according to its own ideas and based in its principles and laws on pure Naturalism." It is for this reason that anyone joining a Masonic Lodge is automatically excommunicated from the Catholic Church. A Catholic cannot be a Freemason any more than he may be a member of a Protestant sect. By a 1983 Declaration, even Newchurch confirmed that the excommunication was still incurred. [Some information for this Commentary was contributed by CCD.]
Good Catholics, it is no surprise, therefore, that the Modernist Vatican II Council was to a significant degree controlled by Freemasons and Freemasonry. The Chief Architect of the New Order "Mess," Hannibal Bugnini, was a Freemason presbyter, inducted into the Roman Lodge in 1963 and was highly praised, in writing, by the Masonic Grandmaster of Rome for his work in destroying the Catholic Mass by concocting an invalid "New Mess."
---
October 11, 2014 - MATERNITY OF THE BLESSED VIRGIN MARY
DOUBLE FEAST OF THE SECOND CLASS
Newchurch Prepares to Do away with Sin
Francis-Bergoglio's Synod Doesn't Want to Call Those Who Sin "Sinners"
From: The TRADITIO Fathers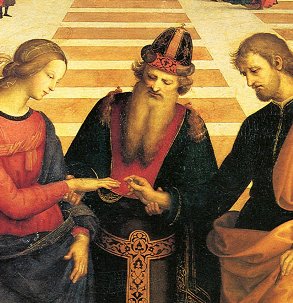 Raphael's "Marriage of the Virgin" (1504)
The Sacrament of Matrimony Was Instituted by Christ
And It Is as Christ Defined It; No Pope Can Change It
Nevertheless, Francis-Bergoglio Wants to "Reform" Marriage
Those "Living in Sin" Are Not to be Called "Sinners"
After the "Extraordinary Synod" He Convoked for His Newchurch
"I came ... to call sinners to penance" (Luke 5:32/DRV). These words of Our Lord Jesus Christ are now being rejected at Francis-Bergoglio's "Extraordinary Synod" at Newrome, October 5-19, 2014. A Newcardinal declared there on October 7, 2014, to the contrary: "To label people is not helpful." This unCatholic Newcardinal may not like the truth, but Our Lord Jesus Christ did not hesitate to call sin "sin" and those who committed sin "sinners." The Newchurch of the New Order is certainly not the Catholic Church.
Fornicators cohabiting with benefit of marriage are said to be "living in sin," but this Newcardinal doesn't like that. He disputes the Apostle Paul, who said in no uncertain terms: "Do not be deceived: fornicators will not inherit the kingdom of God" (1 Corinthians 6:9). The Newchurch of the New Order is certainly not the Catholic Church.
Francis-Bergoglio himself, on October 5, 2014, "issued a strong signal of support for reform of the approach to marriage, cohabitation, and divorce." The Newchurch of the New Order is certainly not the Catholic Church. [Some information for this Commentary was contributed by Agence France-Presse.]
Good Catholics, marriage cannot be "reformed." The Sacrament of Matrimony was instituted by Christ, and it is as He defined it. No pope can change it. The Newchurch of the New Order is certainly not the Catholic Church.
---
October 10, 2014 - St. Francis Borgia, Confessor
Double Feast
Partners in Crime against the Catholic Church
Benedict-Ratzinger to Attend the Novus Ordo "Unbeatification" of Paul VI-Montini
From: The TRADITIO Fathers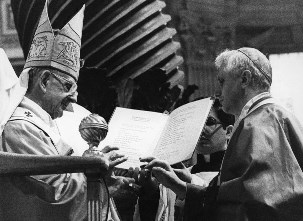 Paul VI-Montini (1963-1978) and Benedict-Ratzinger (2005-2013)
Conspired to Destroy the Catholic Church
Replacing It with the Anti-Catholic Newchurch of the New Order
Ratzinger, Who Abdicated from the Newpapacy in Disgrace
Because of His Complicity in Rampant Paedophilia as the Second Paedophile Newpope
May Come out of Hiding to Attend the Novus Ordo Unbeatification
Of Montini by Francis-Bergoglio, the Third Paedophile Newpope
The ecclesiastical criminal Newpope of the Modernist Vatican II Council, Paul VI-Montini, who in 1964-1969 destroyed the valid Traditional Latin Mass and replaced it with a Protestant New Order Service and who in 1968 destroyed the Catholic priesthood and replaced it with a "presbyterate" (equivalent to a Protestant minister), is to be Novus Ordo "beatified" on October 19, the final day of Francis-Bergoglio's "Extraordinary Synod" on the Family. Word is that Montini's protege, Benedict-Ratzinger, the Second Paedophile Newpope, may come out of hiding to attend the Novus Ordo "unbeatification" of his mentor.
The two, Montini and Ratzinger, have much in common in their New Order conspiracy to destroy the Catholic Church and replace it with a Protestantized Newchurch of the New Order. In addition, Francis "Mr. Marxist" Bergoglio has publicly stated that the Paul VI "the Catholic Church Destroyer" Montini was "one of his models." Like Bergoglio, Montini was suspected of being a Marxist sympathizer -- and a Freemason to boot.
Paul VI-Montini appointed Josef Ratzinger as Newarchbishop of Munich, Germany, in 1977 and, a few months later, a Newcardinal. A few months after that Montini died. Montini particularly liked Ratzinger's Introduction to Christianity, the same book that Stefan Cardinal Wyszynski, Primate of Poland, banned because of heresy. Montini reciprocated by praising Montini's "almost superhuman" efforts in supporting the work of the Modernist Vatican II Council to replace the Catholic Church with the Newchurch of the New Order. [Some information for this Commentary was contributed by the Catholic News Agency.]
Good Catholics, the post Vatican II Newchurch was created by the anti-Catholic Paul VI-Montini, who should be crowned "The Condemned" rather than the "Novus Ordo Blessed." Montini conspired with the Chief Architect of the New Order, Hannibal Bugnini, to substitute an invalid, Protestantized "New Mess" for the Catholic Traditional Latin Mass, leaving the New Order sect with only an invalid service featuring cookies and Kool-Aid. Truly, the Anti-Catholics Montini, Ratzinger, and Bergoglio deserve the term that Our Lord Jesus Christ used of the Church leaders of his time: a "brood of vipers" (Matthew 3:7/DRV).
---
October 9, 2014 - St. John Leonard, Confessor
Double Feast
Francis-Bergoglio Hates Catholicism and Its Latin Language
He Has Dumped Biblical, Sacred, and Catholic Latin at His "Extraordinary Synod"
From: The TRADITIO Fathers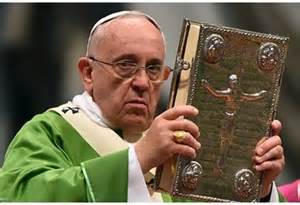 Francis-Bergoglio Is Widely Rumored to Be About to Throw out the Bible
At His "Extraordinary Synod" on the Family
Giving a Wink of Approval to Fornication and Divorce/Remarriage
In Order to Accomplish Anti-Catholic Goal More Easily
He Has Dumped the Universality of the Latin Language at the Synod
So that Every Newparish Can Interpret Doctrine Helter-Skelter --
Just as the Protestants Do!
In separating himself from the Roman Catholic Church, Francis-Bergoglio has decided that Latin will not be the official language of the Extraordinary Synod on the Family October 5-12, 2014. This was the same ploy that the Modernist Vatican II Council used with its Novus Order Mess. After the universality of the Latin language was dumped in favor of vulgar tongues that could be more easily manipulated, more than two-thirds of the Mass was rewritten to Protestant specifications, and Newchurch ended up without a valid Mass to this day.
In favor of the Biblical, Sacred, and Catholic Latin language, vulgar tongues will be substituted at the synod. Bergoglio's lying justification is that dumping Latin will "streamline the proceedings." Just the opposite is the truth. Instead of one authentic document in universal Latin, which everyone would be able to understand in the same way, the documents to emanate will represent a virtual Tower of Babel to encompass the babble that will go on at the synod in an effort to fool Newchurchers into an anti-Christian dissolution of Christian marriage, complete with Biblically-condemned fornication, divorce/remarriage, and handing out the (invalid) Novus Ordo cookie to public sinners engaged in such anti-Christian activities condemned by Jesus Christ and His Apostles. [Some information for this Commentary was contributed by Reuters.]
Good Catholics, if Francis-Bergoglio ever claimed to be a Roman Catholic, he surely isn't now. Instead, this is yet another step in the direction of Bergoglio's Anti-Catholic Church, which is not one, holy, Catholic, and Apostolic, but will be different for every language group and every country, nay, for every city and Newparish -- just like the Protestant heretics.
---
October 8, 2014 - St. Bridget, Widow
Double Feast
Presbyter Groeschel, Fired from the EWTN Cable Network
Once Said that Paedophile Presbyters Were "Seduced" by Their Child Victims
From: The TRADITIO Fathers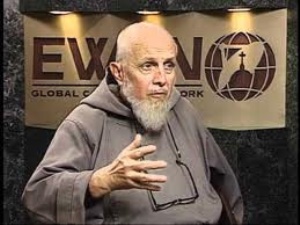 Presbyter Benedict Groeschel Dead at 81
He Once Headed a Sunday Evening Talk Fest on the EWTN Cable Network
Which Claims to Be "Catholic," but Is Populated by Protestants and Paedophiles
Groeschel Was Paranoid about Defending the Corruption of Newchurch
His Contemptible Statements Finally Got Him Fired from EWTN
His Stint on EWTN Associated Him with Criminal Hosts
Who Hide behind "Catholic"-looking Stage Sets and a Little Latin
On October 3, 2014, a presbyter's sad life came to an end. Benedict Groeschel had a long-running program on the Newchurch EWTN Cable Network until he was implicated in a sex scandal. He was not the only one. Presbyter John Corapi, who had quite a clueless Newchurch following, turned out to be a dipsomaniac, an illegal drug user, and a customer of prostitutes. He also violated his personal oath of poverty as a religious by racking up over 1,000,000 dollars of personal possessions.
EWTN is no "Catholic" network, but a corrupt and immoral New Order vehicle, which throws on a few Catholic stage sets and a few words of Latin to deceive the Newchurch sheeple. In addition to presbyters Groeschel and Corapi, another bizarre unCatholic denizen of the station is the Protestant preacher Scott Hahn, who pretends to be a "convert" to Newchurch in order to get a new market for his Protestant books among Newchurchers.
Groeschel hosted EWTN's talkfest "Sunday Night Prime" and ran the Office for Spiritual Development for the Newchurch archdiocese of New York. Groeschel had a persistent paranoid complex. He thought that it was anti-Catholic bigotry that called Newchurch presbyters paedophiles. Then Groeschel was exposed for his false statements when in 2001 Newchurch's Great Sex & Embezzlement Holocaust was brought out into the open by the Boston Globe, and tens of thousands of immoral presbyters were exposed all over the world as the most vile criminals, preying upon children and committing one of the Four Sins that Cry out to Heaven for Retribution.
Groeschel also claimed that Benedict-Ratzinger was being "abused" in the press. Then Groeschel was exposed for his false statements when it came out publicly that Ratzinger was personally involved in covering up the worst sex crimes against children for some 25 years before he became Newpope and then continued to let paedophile Newcardinals, Newbishops, and presbyters off, even when their crimes were especially filthy and they themselves publicly boasted of them. It was most likely the threat of further exposes of Ratzinger's complicity in paedophilia that led to his abdication as Newpope in February 2013.
Groeschel was finally done in when, in a 2012 interview with the National Catholic Register, he claimed that in the thousands and thousands of cases of presbyteral sex crimes, it was the child victims who were the "seducers" of the adult presbyters. Groeschel's religious order tried to excuse his statements against the child victims by claiming that he was sick and had spoken out of character. But that excuse was specious. Groeschel always stated that the New Order sect was never wrong. The statements that the child victims were wrong, not the adult presbyters, fit exactly into his mindset going back many years, an attitude that excused the corrupt leadership of Newchurch for the most vile crimes. In 2012 EWTN fired Groeschel from the network.
Good Catholics, Groeschel in many ways was not the worst presbyter. At least he didn't think so. He thought that he was defending the Church, but we know that it was not the true Church he was defending, but the corrupt, Protestant, Masonic, pagan Newchurch of the New Order, which has attempted to suppress the Catholic Church and substitute its unCatholic self in its place. But St. Paul teaches otherwise. In discussing the role of accomplices in the vicious acts that Groeschel had tried to defend and excuse, the Apostle wrote in his Epistle to the Romans: "They who do such things are worthy of death: and not only they that do them, but they also that consent to them that do them" (1:32/DRV).
---
OCTOBER 7, 2014 - THE MOST HOLY ROSARY
DOUBLE FEAST OF THE SECOND CLASS
Neo-SSPX's Fellay Again Shows Himself to Be a Simpleton
After His Meeting with the Anti-Traditionalist Head of Newchurch Doctrine
From: The TRADITIO Fathers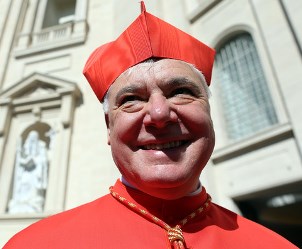 Newvatican's No. 3 Man Grins after Getting the Better of Bernie Fellay
Superior-Dictator of the Neo-Society of St. Pius X
Fellay Went Running off to Newrome on September 23, 2014
At the Bidding of His Newchurch Master, Muller
Who Is an Avowed Enemy of Anything Traditionalist
And Attempted to Shut Down Fellay's Neo-SSPX in Germany
Fellay Went Home So Embarrassed that He Had to Lie to His Followers
Bernie Fellay, Superior-Dictator of the Neo-SSPX, published on October 3, 2014, a canned and scripted "interview" after his September 23, 2014, meeting with Gerhard Mueller, the Prefect of the Congregation for the Doctrine of the [New Order] Faith. Muller is an avowed enemy of anything traditionalist and attempted to shut down Fellay's Neo-SSPX in Germany when Muller was Newbishop of Regensburg, the area whence Josef Ratzinger hailed.
Once again Fellay showed himself to be a simpleton, who after twenty years (!) as Archbishop Lefebvre's successor still seems as clueless as when he started. How else could he make such a statement as the following: "Neither they [Muller and Francis-Bergoglio] nor we want a break in our relations. Both parties insist that it is necessary to clarify the doctrinal questions before there is any canonical recognition." Oh, maybe Bergoglio will give Fellay a handshake after a snack in the cafeteria, or Muller will summon Fellay to yet another a pointless meeting in Newrome, but any real relations are broken. Bergoglio has called Fellay and his type "ideologue, Pelagian, and recalcitrant." Muller has called Fellay and his type "schismatic." That pretty much closes the issue of doctrinal questions!
Actually, Fellay's "doctrinal questions" are pointless for another reason, of which he seems to be aware, but impotent to act upon. Under Francis-Bergoglio Newchurch doctrine is not to be found in theology texts or encyclical letters, as they were in the past. Bergoglio is hard pressed to come up with even a written Sunday sermon. Instead, the Janus-faced Newpope out of one side of his mouth reaffirms Newchurch doctrine, but out of the other side of his mouth reverses it in broadly-indicated pastoral policies, what have rightly been termed "encyclicals of gesture." You've heard these: We can't judge sodomites, Communists are better than Christians, and the rest. In the face of all this nonsense, which led the SSPX's Archbishop-Founder Marcel Lefebvre to reject Newchurch as not Catholic, but "Modernist Rome" as opposed to the Catholic "Eternal Rome," Fellay persists in playing the sycophant to Protestant Marxists like Bergoglio.
Good Catholics, you are probably wondering, What's the point to pointless "negotiations" with the New Order sect? Fellay gives an answer in the interview, but it is a baldfaced lie. He says that he is "following the example of Archbishop Lefebvre, who never refused to go to Rome at the invitation of the Roman authorities." Everyone knows that that statement is nonsense. Lefebvre in fact cut himself off from the false Newchurch of the New Order in 1988 and never went to "Modernist Rome" after that. He also refused to meet with Card. Ratzinger, JPII-Wojytla's point-man, whom Lefebvre called "not a Catholic." Fellay is no Lefebvre. In fact, he is said to hate Lefebvre because the Archbishop took a "too traditional" uncompromising stand against the New Order sect, Ratzinger, and his Modernist progeny, like Francis "Mr. Marxist" Bergoglio.
---
October 6, 2014 - St. Bruno, Abbot
Double Feast
Newchurch Presbyter Declares His Gay Lover a "Charity"
The Presbyter Robbed the Poor Box to Help His Lover Live the "Gay" Life
From: The TRADITIO Fathers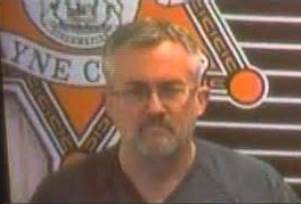 Presbyter Timothy Kane Is Held in Wayne County Jail
On Trial for Robbing the "Angel Fund" Poor Box of Thousands
To Gift the Money to His Homosexual Lover to Live the "Gay" Life
The Presbyter's Paramour Is Violent Felon to Boot
Kane Apparently "Swings Both Ways," as His Accomplice Was a Young Female
Where Does Newchurch Find These Filthy Presbyters?
Just when you think that Newchurch clergy couldn't become more corrupt, Francis-Bergoglio's New Order sect belches forth with more sewage. Now a presbyter from the Newarchdiocese of Detroit, Michigan, has been caught robbing the poor box, in this case the "Angel Fund" for the poor, in order to gift the money to his homosexual lover of four years to live the "gay" life. In effect, the presbyter declared his paramour to be a "charity"! Presbyter Timothy Kane's homosexual lover is a multiple felon to boot, having served sentences for manslaughter and other violent crimes. Maybe presbyter Kane is a masochist in additional to all his other vices.
Presbyter Kane's excuse is a new one for Newchurch's immoral clergy: My diabetes made me do it, he told the investigator. In the United States, one out of ten people have diabetes, and these 30,000,000 aren't stealing from the poor box to support their homosexual lovers! Kane's young female accomplice (apparently the presbyter "swings both ways") pled guilty in September 2014 to perjury and embezzlement. According to prosecutors, the homosexual presbyter and his female accomplice pocketed thousands of dollars over four years. [Some information for this Commentary was contributed by the Associated Press.]
Good Catholics, where does Newchurch find these filthy presbyters? This one is a homosexual, bisexual masochist who hooked up with an equally immoral woman to bilk the needy and poor. This presbyter certainly seems headed for Hades, as he has committed not one, but two of the Four Sins that Cry out to Heaven for Retribution: sodomy and defrauding widows and orphans. The presbyter wouldn't know about this because the Bible is not taught in Newchurch "seminaries," which have been exposed now as merely seedbeds for homosexual crimes of all sorts.
---
October 5, 2014 - Seventeenth Sunday after Pentecost
Semidouble Sunday
Newchurch in Los Angeles Attempts to Steal from the Dead
Mortuaries Sue Newarchbishop Jose Gomez for 250,000,000 Dollars
From: The TRADITIO Fathers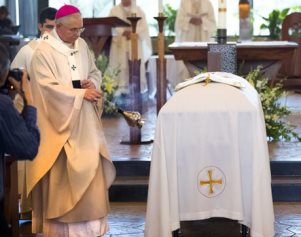 Newarchbishop Jose Gomez, of Los Angeles, Does a "White" Funeral
Gomez Has Been Sued for Running a Funeral Scam
Funeral Homes of California Claim that He Cheated Them out of 250,000,000 Dollars
Former Newcardinal Roger "Rogue" Mahony, of Los Angeles, Did the Same
Mahony's Was Featured on the Cover of Newsweek
For a Similar Scam of Cheating Newchurch Mortuaries in California and Arizona
Nothing Has Changed under Francis-Bergoglio's Corrupt Regime
The Newarchdiocese of Los Angeles, California, has been caught in another funeral scandal. Some years ago Roger "Rogue" Mahony was featured in a U.S. News & World Report cover story for running a 100,000,000-dollar kickback scheme involving extortion of money from mortuaries and bereaved families in their time of grief. Mahony wanted to control the "death money" only for himself!
Now Newarchbishop Jose Gomez has been sued on September 29, 2014, by Funeral Homes of California for at least 250,000,000 dollars for cheating six Newchurch cemeteries in a scheme of "breach of contract, bad faith, and unjust enrichment." Relying on promises from the Newarchdiocese, the funeral homes spent 37,000,000 dollars to build funeral homes, offices, flower shops, chapels, mausolea and pre-sold about 190,000,000 dollars worth of services before Newchurch pulled the rug out from under them.
Gomez is charged with "making a trumped-up allegation in order to seize the company's lucrative business." Gomez, like "Rogue" Mahony, wants the money for himself! [Some information for this Commentary was contributed by the Associated Press.]
Good Catholics, nothing has changed in Francis-Bergoglio's Newchurch. It is just as corrupt as it was under Paul VI-Montini, the "Unsaint" JPII-Wojtyla, and Benedict-Ratzinger. All Newchurch and Bergoglio's Newprelate henchmen care about is money and power. And they will even cheat the dead to get it!
---
October 4, 2014 - St. Francis of Assisi, Confessor
Double Major Feast
Francis-Bergoglio's Henchman Has Called Traditionalists
"Fundamentalists Who Are Not Catholic"
From: The TRADITIO Fathers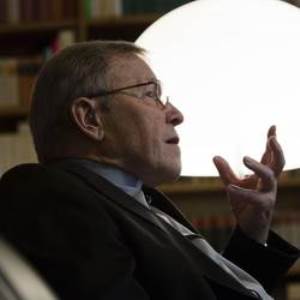 "Cardinal" Walter Kasper, Here Suited up in Secular Togs
Is Conspiring with Newpope Francis-Bergoglio to Destroy Traditional Marriage
At the Extraordinary Synod Starting October 5-12, 2014, in Newrome
He Calls Those Conservative Newchurchers Who Hold to Christ's Biblical Teaching
"Fundamentalists Who Are Not Catholic"
Actually, It Is Heretic Kasper Who Has Never Been Catholic
Francis-Bergoglio hates traditional Catholicism and has called its adherents every name in the book: Pelagians, idealogues, recalcitants, etc. Now he has added "Fundamentalists." Bergoglio, or, in this case, his personally-appointed henchman, Newcardinal Walter Kasper, Head of his Pontifical Council for Christian Unity, has attacked those traditionalist Newchurchers who stand behind Christ's Biblical teaching on marriage by the term "Fundamentalists." Although there is nothing intrinsically wrong with the term, as traditionalists do hold to Christ's fundamental doctrines, "fundamentalist" to Modernist/Liberalists like Kasper has overtones of hated ultra-conservatism.
Kasper has published a proposal for Bergoglio's October 5-12, 2014, Extraordinary Synod on the Family that would allow the sacrilegious and immoral practice of handing out the (invalid) Novus Ordo cookie to divorced and remarried Newchurchers. Our Lord Jesus Christ, Who is supposed to be the Head of the Church, in no uncertain terms called such practice adultery, the penalty for which in His time was death. Of course, the Newchurch of the New Order is not the Catholic Church.
Kasper contended that his critics are afraid that "if you change one point, all would collapse" in a kind of "domino effect." He has that exactly right. But, according to Kasper, his critics are displaying "a theological fundamentalism that is not Catholic." Kasper has that 180 degrees wrong. According to Catholic theology, it doesn't matter whether you deviate from one fundamental heresy or more than one, one heresy alone is enough to make you a heretic.
Kasper made his anti-Catholic proposal in a September 30, 2014, interview with the radical Newjesuit magazine America. The Newjesuits, to which order Francis-Bergoglio himself belongs, are proponents of Marxist "Liberation Theology," which advocates and engages in violence against conservative governments in Latin America. [Some information for this Commentary was contributed by Catholic World News.]
Good Catholics, Kasper's anti-Catholic proposal was too much even for four of the other top Newcardinals. However, these four are not bosom-buddies of Bergoglio, as Kasper is. There is really no doubt left that Bergoglio wants to engineer a destruction of traditional Christian marriage in violation of the explicit teaching of Christ, whose "vice" (vicar) he is supposed to be.
---
October 3, 2014 - St. Theresa of the Child Jesus, Virgin
Double Feast
And You Thought that the "Twisted Serpent" Crucifix Was Bad
Now Francis-Bergoglio Has Introduced the "Phallic" Cross!
From: The TRADITIO Fathers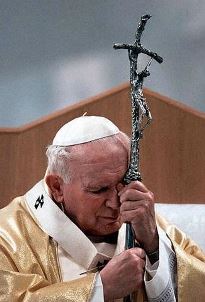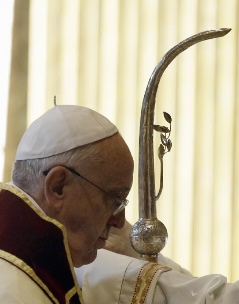 The Post Vatican II Newpopes Have Rejected the Traditional Catholic Papal Crozier
Substituting for It the "Bent" or "Twisted Serpent" Crucifix
Now Francis-Bergoglio Has Done His Predecessors One Better
He Has Introduced the "Phallic" Cross, Complete with "Cache-sexe"!
Paul VI-Montini scandalized even the Newchurch world when he introduced on December 8, 1965, the Feast of the Immaculate Conception of the Blessed Virgin Mary, in place of the traditional papal crozier, a rough-hewn staff fabricated by Lello Scorzelli, after which JP I-Luciani, JPII-Wojtyla, and Benedict-Ratzinger all used it.
In fact, Benedict-Ratzinger, who sometimes was falsely called "traditionalist," used it at his Newpapal "installation" on April 25, 2005 (Ratzinger was never crowned as pope). Some claim that the new Newpapal crozier is modeled after the "Bent Crucifix," or, as some call it, the "Twisted Serpent," which has Satanic associations. It consists of a bent, or broken, crucifix with a distorted figure of the Christ. For further information, click on FAQ10: "How Do You Explain These Traditional Catholic Beliefs?" in the section "Papal Crucifix."
Now Francis-Bergoglio has done his Newpope predecessors one better: he introduced his "Phallic" Cross on September 28, 2014, when he "presided over" Novus Ordo Vespers at the Newjesuit Church of the Gesł in Rome. This phallic, Cross-less monstrosity is adorned with something suggestive of a cache-sexe. How thoroughly perverted this anti-Catholic Newpope is! [Some information for this Commentary was contributed by Catholic World News.]
The occasion for Bergoglio's introduction of the Phallic Cross was the bicentennial of the restoration of the Society of Jesus, commonly known as the Jesuits. The Jesuits had become so corrupted by and immersed in secular politics by 1773 that even the pope couldn't tolerate them any longer. Pope Clement XIV suppressed the order in June 8, 1773, by his Brief of Abolition entitled Dominus ac Redemptor. The Society remained abolished for 41 years. Since the Modernist Vatican II Council (1962-1965), Newchurch Society of Jesus has become even more anti-Catholic and politicized, to the point of embracing Marxist "Liberation Theology."
Good Catholics, instead of celebrating the restoration of this corrupt order, Francis-Bergoglio should have abolished it completely. But, then, why would he? Bergoglio is a Newjesuit and a Marxist himself!
---
October 2, 2014 - Holy Guardian Angels
Double Major Feast
Newchurch Knew about Newbishop Multiple Adulterer
One of the Aggrieved Husbands Is Going to Sue Newchurch in High Court
From: The TRADITIO Fathers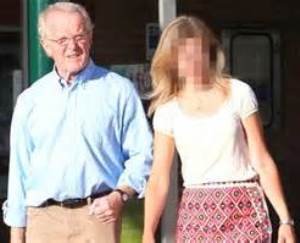 Caught in the Act! Newbishop Kieran Conry and His Adulteress
Conry Was Conjugating with at Least Two Women
Now One of the Aggrieved Husbands Is Suing Francis-Bergoglio's Newchurch
For Breaking up His Family
England's Newcardinal Primates Undoubtedly Knew about Conry
But They Kept Secret His Adulteries
Just as Francis-Bergoglio Secrets His Paedophile Newprelates in Newvatican
Newbishop Kieran Conry, of Arundel and Brighton, one of England's most influential Newchurch bishops, has abruptly resigned. He was caught with his cassock down conjugating with not just one woman, but at least two, while all the time Newchurch knew that he had "left the farm." The aggrieved husband of one of the women is going to take Francis-Bergoglio's Newchurch to High Court in England because Newchurch has "known for years that the bishop has been having affairs, and if they'd taken action, he almost certainly would not have lost his marriage, and his children would not be having to be brought up in a broken family."
Newbishop Conry has admitted being "unfaithful to my promises" by adulterous affairs with at least two married women. He also admitted that these adulterous affairs "went back several years." He didn't merely fornicate; he adulterized and broke up two families.
It is not surprising that Modernist/Liberalist Newbishop Conry was in lock step with Marxist Newpope Francis-Bergoglio against the "Mess of 1962," sometimes erroneously termed "Extraordinary." He got on the case of a Newparish that was using an (invalid) New Order Mess with a bit of Latin in it. He then persecuted any presbyters attempting to use the Half New Order Vatican II "Mess of 1962."
Undoubtedly Newcardinal Primates Murphy-O'Connor and Vincent Nichols knew about Conry, as his adulteries were widely suspected. But the [New]bishops' Conference of England and Wales is Newchurch's Old Boy's Club that looks after its own, just as the Newpopes routinely hide their paedophile Newprelates from the arm of the law. [Some information for this Commentary was contributed by the U.K. Spectator.]
Good Catholics, Francis-Bergoglio October 5-19, 2014 is sponsoring a Extraordinary Synod on the Family in Newrome. This is a front for more Modernist/Liberalist doctrines, such as giving Novus Ordo cookies for couples living in sin. Bergoglio should cancel the synod and clean up the sewer in his own Newchurch first!
---
October 1, 2014 - St. Remigius, Bishop & Confessor
Simple Feast
Francis-Bergoglio Whines that He's Misunderstood
He Excuses Himself from Paedophilia Complicity by a Technicality
From: The TRADITIO Fathers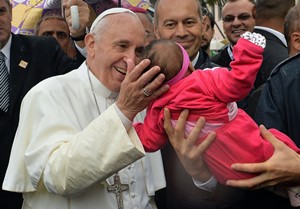 A Million-dollar Newvatican P.R. Photo that Belies the Reality
Francis-Bergoglio Officially Denies Responsibility
When His Newcardinals, Newbishops, and Presbyters
Rape and Sodomize Children as Young as Six Months
Bergoglio Has Made the Laughable Claim
To the U.N. Commission on the Rights of the Child
That He Does Not Hold Sway over His Newchurch, just Vatican City
Francis-Bergoglio has spent millions of Newchurch dollars in P.R. trying to paint a false picture of himself as "Mr. Humble." In fact, he is just the opposite: Mr. Narcissist. Even when it comes to children being sodomized by his corrupt clergy, the problem is not the sodomy and the wrecked lives of the children, but the fact that he is "misunderstood."
In February 2014, after an extensive public hearing by the United Nations Commission on the Rights of the Child, the Commission placed the blame squarely on Francis-Bergoglio and his Newchurch for a virtual holocaust of sex crimes against children, or complicity in such crimes, by Newpopes, Newcardinals, Newbishops, and presbyters. Bergoglio says, It ain't so; I'm misunderstood!
Bergoglio reiterated his laughable position, now in a formal written document released on September 26, 2014, to the U.N. Commission, that he has no control over Newchurch officials, except within the narrow, one-half square kilometre area of Vatican City. Bergoglio's statement elicited ridicule from the international press when he maintained: "The Holy See does not have the capacity or legal obligation to impose the abovementioned principles upon the local Catholic churches and institutions present on the territory of other States and whose activities abide with national laws." Apparently, even Bergoglio doesn't think he's pope!
Bergoglio has not canceled Canon Law. He has not stopped appointing Newbishops and Newcardinals. He has not stopped collecting his "cut" from the donations given to local Newparishes. Oh, no. More than that, he has attempted to thwart national laws by secreting within Vatican City boundaries his Newclergy criminals wanted by national police. For example, he has given his paedophile Newpapal Nuncio to the Dominican Republic, Newarchbishop Josef Wesolowski, immunity behind Vatican City walls although Wesolowski is wanted on numerous crimes, including storage of 100,000 videos of child pornography and the hiring of "rent boys," by both the Dominican Republic and his native Poland.
Bergoglio, who has almost from the inception of his Newpapacy in 2013, acquired the eponym "Third Paedophile Newpope" because he has followed in the footsteps of the "Unsaint" JPII-Wojtyla and Benedict-Ratzinger in doing everything possible to cover up crimes by his Newclergy against children and to secret those criminals behind Vatican City walls so that they cannot be prosecuted in the national criminal courts, under whose jurisdiction they perpetrated their foul deeds. [Some information for this Commentary was contributed by Catholic World News.]
Good Catholics, Francis-Bergoglio is morally incorrigible. He has not one drop of Christian compassion for sodomized children, but cares only for his own power. "Mr. Humble" reacts harshly whenever his corrupt motives are questioned. That is not humble, that is not Catholic, that is not Christian. Nothing has changed from the Paedophile Newpopes JPII-Wojtyla and Benedict-Ratzinger. Francis-Bergoglio simply carries on their despicable moral principles, to the children's harm and to the perpetuation of the moral sewer that is the Newchurch of the New Order.
---

Return to Daily Commentaries from the TRADITIO Fathers.