September 2005
For answers to many questions, consult the Official Traditional Catholic Directory, Listing All Traditional Latin Masses and Traditional Resources for the United States and Canada (11th Annual Edition - 2006). To order the full 147-page paperback edition, click on the button below: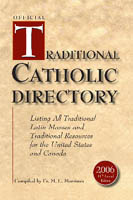 Buy the 2006 Traditional Directory.
For information about the protocol for sending messages to Fr. Moderator, see Ask Fr. Moderator.
| | |
| --- | --- |
| | If you wish to support the work of TRADITIO, click on the box to the left to made a donation easily, securely, and confidentially by bank account or credit card through PayPal. Regular contributors become Benefactors of TRADITIO, and their intentions are specially commemorated at Traditional Latin Masses offered. Indicate in the Message section of your payment "For TRADITIO." For other methods, see FAQ01: How Do I Help to Offset Expenses? |
---
September 30 - St. Jerome, Confessor & Doctor (Double Feast)
Pope Meets with SSPX Fellay's Antipode: Newpope Makes No Distinction
From: Fr. Moderator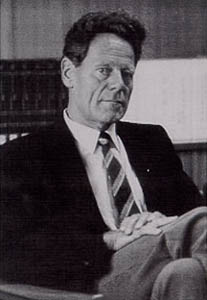 Hans Kueng, Mentor of Joseph Ratzinger
The Two Modernists Conspired at Vatican II
But Kung Was Too Modernist a Theologian even for Paul VI, Who Silenced Him
Now Benedict-Ratzinger Yacks with His Old Mentor in a Parody of the Fellay "Beheading" Meeting
It is becoming clear and clear that Benedict-Ratzinger's meeting with Bernard Fellay, Superior General of the SSPX, is just another ruse, as TRADITIO claimed from the beginning. Having met with the "traditionalist," Newpope met with the opposite end of the spectrum, the Modernist theologian Hans Kung, who was suspended by Paul VI. The meeting with Kung was reportedly longer than that with Fellay.
Apparently, Newpope will meet with anybody from "dissident" traditional bishops to Modernist theological wackos. It's all P.R. for "Sa Santité Grise," the Modernist Benedict-Ratzinger, one of the Great Fathers of Vatican II. Kung publicly denies the Catholic dogma of papal infallibility as defined at Vatican I and is therefore a professed heretic. Contrarily, the "dissident" Fellay recognizes the dogma. Isn't that irony for you?
And why shouldn't the Modernist Benedict-Ratzinger have a soft spot in his heart for the heretic? Kung and Ratzinger had been colleagues at Tuebingen university, and it was Kung who had urged the university's theology department to hire the young Ratzinger. The two also were Modernist operatives at the Second Vatican Council 1962-1965, where they joined to support the Modernist takeover of Pope John's Council, when the pope was dying of stomach cancer.
---
From: John (TRADITIO's SSPX Correspondent from India)
Dear Fr. Moderator:
Your Commentaries on the Fellay meetings with Benedict-Ratzinger are to be highly commended for their perceptions. I give my observations from my close observations of the SSPX here in India.
Fellay's pet call is that the Traditional Latin Mass (or at least the "Modernized" Mass of 1962) should be freed for all priests. But what about the freeing of traditional Catholic theology, the scholastic teachings of the Doctors of the Church, and the teachings of the holy popes before Vatican II, all of which have been banished from Newchurch schools, universities, and seminaries? Does any Newchurch presbyter even know what Transubstantiation means? In the United Kingdom, for example, 93 percent of school children in Newchurch schools lose the Catholic Faith by the time they are out of school.
There is no visible evidence that Fellay has ever addressed the problem of the erosion of Catholic teachings in schools and houses of priestly formation. In fact, should Fellay sign a pact with Rome, Benedict-Ratzinger may allow him the True Mass but undermine the SSPX from below the belt by appointing Modernist professors to SSPX seminaries in order to impart, at grass-roots level, the "spirit of Vatican II."
Worse still, Benedict-Ratzinger may make Schmidberger, the former SSPX Superior General, a bishop in Newchurch and "ordain" him personally and then jockey him into the chair of the Superior General by the time Fellay's term expires in 2006 in a re-play of the Rifan betrayal at Campos.
Fellay may be the current SSPX Superior, but he is third in order of seniority of the SSPX bishops. Has he taken his fellow bishops into confidence before planning his meeting with Benedict Ratzinger? The answer is doubtful [though some public statements have been made to give this impression].
---
September 29 - Dedication of St. Michael the Archangel (Double Feast of the First Class)
Eleventh Anniversary of the TRADITIO Traditional Roman Catholic Internet Site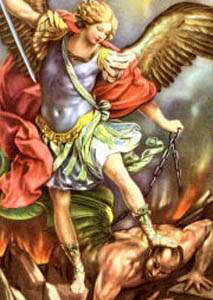 St. Michael the Archangel
Heavenly Patron of the TRADITIO Traditional Roman Catholic Internet Site
Sacred Scripture and Tradition Hold that It Is St. Michael
To Whom God Will Give the Final Victory over Satan
Today, the Feastday of St. Michael the Archangel, TRADITIO's heavenly patron, is the eleventh anniversary of the TRADITIO Traditional Roman Catholic Internet Site. We have well passed reaching 2,500,000 participants in that time. TRADITIO is the most popular traditional Roman Catholic Internet Site on the internet, as determined in a statistical survey performed by an Amazon.com search subsidiary.
TRADITIO was also the first traditional Roman Catholic site to appear on the internet. We appeared on September 29, 1994 -- even before the Newvatican web site appeared. Originally, our apostolate focused on an E-mail list, with the web page supplementing that. Now our focus is the web site, with E-mail being converted to it as our daily Commentaries from the Mailbox department. In addition, TRADITIO has expanded over the years to include:
Ask Fr. Moderator
Booksales
Confraternity of Saint Michael
Holy Cards, California Missions & Stations of the Cross
Library of Files (FAQs and Traditional Apologetics)
NATIONAL REGISTRY OF TRADITIONAL LATIN MASSES
Novus Ordo Service Photo Gallery
Papal Photo Gallery
Prayers for the Living and Deceased
Special Features
Traditional Catholic Priests Wanted and Available
Traditional Latin Mass, Office, Sacraments & Chant
Traditional Liturgical Calendar
What we did not understand when we started was the vast number of traditional Catholics who were cut off from the Traditional Latin Mass, but discovered the Traditional Catholic Movement through the TRADITIO web site. It is humbling to realize that we have now touched well over two and a half million souls, many of whom would never have learned about Traditional Catholic Movement except from TRADITIO. Our file bulges with thousands of messages from participants who have found the true Roman Catholic Faith, or have re-found it, because of TRADITIO. From time to time we have shared their stories with you.
During our eleven years here, we have tried to focus on the "big picture" of what is going on in the Church, eschewing the modern fixation on personalities (except those who are acting publicly in their official capacities), focusing on what is said rather than who is doing the speaking. Our subtitle tells our mission: "An independent, balanced voice of traditional Catholicism, avoiding heresy on the left and schism on the right." There are some differences of opinion in the movement, mostly matters of mechanics, but these pale in comparison with the Big Three on which we are truly traditional Roman Catholics all unified: the Traditional Latin Mass, the Traditional Latin Sacraments, and the Traditional Roman Catholic Faith and Morals.
We thank the Lord for our correspondents all over the world, who keep us current on everything going on in the bowels of Newvatican, in the inner sancta of various traditional organizations such as SSPX, and at the many Traditional Latin Mass sites. To this raw data, TRADITIO gives what no other side does, not the perspective of some lay armchair theologian, but decades of analysis and perspective extending to before Vatican II. The truth is not to be found in mere "facts" or "data" or "sources," but in the seasoned and sagacious analysis and interpretation of the raw material from long experience and observation. That is what TRADITIO alone presents: the classical Catholic approach, not modern caricatures on either side.
If TRADITIO has been of assistance to you over these many years, please remember us on this our anniversary date, and say a prayer for the intercession of our powerful patron St. Michael, for all the traditional clergy, for the true Church as a whole, and for our Roman Catholic civilization:
Sancte Michael Archangele, defende nos in praelio. Contra nequitiam et insidias diaboli esto praesidium. Imperet illi Deus, supplices deprecamur. Tuque princeps militiae caelestis, Satanam aliosque spiritus malignos, qui ad perditionem animarum pervagantur in mundo divina virtute in infernum detrude. Amen.
---
An Enchiridion of Novus Ordo Messes: The "Afro" Mess
From: Fr. Moderator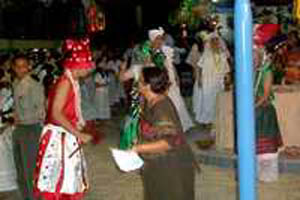 The "Afro" Mess
In Which the People Dress as Pagan African Gods and Goddesses
While a Pagan Priestess Serves as an Acolyte of the Presbyter
While the Novus Ordinarians of the United States think that they can sometimes hide in more "conservative" Counterfeit Messes, they stick their heads in the sand like ostriches about what is going on elsewhere in the name of their New Order.
Here we have the "Afro" Mess (Missa Afro), during which people dressed as African "gods" and "goddesses", while a pagan priestess acted as an acolyte of the presbyter. This latest Mess occurred in the Archdiocese of Sao Luis do Maranhao, Brazil, on November 17, 2001, during the VIIIth Encounter of schools associated to the United Nations organ UNESCO.
Next on the agenda, as recommended by a African Newchurch archbishop, is the sacrifice of chickens and the drinking of chicken blood instead of the usual Novus Ordo grape juice. Such practices already exist in the Caribbean. (For other examples of Novus Ordo Messes, see Novus Ordo Service Photo Gallery.)
---
September 28 - St. Wenceslaus, Martyr (Semidouble Feast)
Is Newvatican Planning to "Merge" the "Indult" Mass with the Novus Ordo Service?
From: Roderick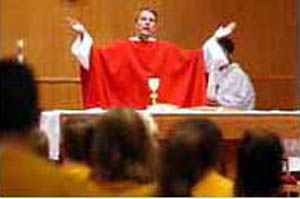 Is a Semi-Novus Ordo Mess in the Offing for the Indultarians?
An EWTN Cable Network Presbyter Reveals that Newvatican
Is Now Working on "Upping" the "Indult" Mass
To the New Order Version of 1964, 1965, or even 1967
Dear Fr. Moderator:
What disturbs me is that two days before Presbyter Levis gave the honest answer on the Charismatic Newchurch EWTN Cable Network that the Novus Ordo service is a "complete fabrication," he wrote the following in response to another question:
I also have read in good, reasonable sources that this union of the two Masses [the Traditional Latin Mass and the Novus Ordo Service] may well be in the works. I think this action far more reasonable than two rites since, after all, they are identical in many ways. So, does Presbyter Levis suffer of schizophrenia or something? We may never know. So much for his "expertise" though.
Fr. Moderator Replies.
The deceit thickens, doesn't it? Actually, Presbyter Levis might have unknowingly spilled the beans again. It is no secret that Newvatican does not want the "indult" to remain even at the Modernized Missal of 1962. There have been several efforts to push that date to the 1964 or 1965 version, then the 1967 version (which has the invalid consecration). For example, before the "indult" Society of St. John the Evangelist of Scranton (to be distinguished from the fully traditional Society of St. John the Apostle on the West Coast) was suppressed for immorality, its Superior was frequently quoted as wanting to go to the 1965 Mess -- and as actually doing so at several sites.
The 1962 Modernized Missal is bad enough. Archbishop Lefebvre had serious problems with it, but chose not to press this issue because there were so many other serious issues in the fire. He rightly objected to the wholesale changes engineered by the Freemason Hannibal Bugnini in very ancient Roman rites of Holy Week, part of the Missale Romanum decreed by the dogmatic Council of Trent and Pope St. Pius V.
The archbishop also objected on theological grounds to the elimination of the second Confiteor before Communion, if any in the congregation received. He also objected to the implicit change on Catholic teaching concerning those Jews who remained unfaithful when the adjective perfidis was eliminated from the Litanical Prayers of Good Friday.
The "1962 Missal" changed the ranking of liturgical days so that the Mass of a Saint, even one of the Apostles, would never be celebrated on a Sunday. Nor would the Mass of a Roman Arcbasilica (such as St. Peter's). The fully traditional rite allows for the precedence of the feastdays of Apostles, Archbasilicas, and certain other high feasts, should they happen to fall on a Sunday.
Newchurch is extremely cunning. It has developed the "loss-leader" methodology to perfection. It gets the Indultarians into the Novus Ordo temples with the empty promise that they can have the "1962 Missal," but at the same time Newchurch engineers taking even the "Indult" Mass away from them. All the more reason to stay away from "indult" Masses (most of which have imported features of the New Order, to one degree or another) if there is any other option available, even if that option is less convenient in any given area. Generally, one is safest in preferring independent, SSPV or CMRI, then SSPX sites, in that order.
---
September 27 - Sts. Cosmas & Damian, Martyrs (Semidouble Feast)
It's Official: EWTN Cable Network Admits that Its Mass Is a "Complete Fabrication"
From: Fr. Moderator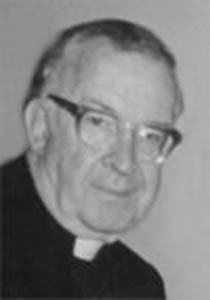 Presbyter Robert Levis, an Employee of the Charismatic EWTN Cable Network
Stuns the World by Fessing up to the Traditional Catholic Position:
The Novus Ordo Service Is a "Complete Fabrication"
UPDATE. Within 24 hours of the time TRADITIO published Presbyter Levis's statement below to its worldwide network of participants, now numbering some 2,500,000 million, the Newchurch Charismatic EWTN Cable Network expunged its response and replaced it with the standard "false obedience" line: "In America at present, no priest [presbyter] is to celebrate the Tridentine Mass without permission of his bishop, without an Indult from the Ecclesia Dei Commission of Rome." Even for those who missed the originally-published response, it is clear that something deceptive went on, as the currently-published response no longer answers the question posed (which was left)!
Our correspondent Timothy reports as follows: "I'm sure that you won't be shocked to learn that EWTN, that 'Catholic' bastion of duplicity, has amended Presbyter Levis's response calling the Novus Ordo service a "complete fabrication." Suddenly, the "fabrication" comment has been wiped clean from the response. I've always said that there are liars, and then there are damned liars. EWTN fits nicely into the latter category!"
Magna est veritas, et praevalet [Great is the truth, and it prevails] (1 Esdras 4:41).
Those of you who have so bombarded that Charismatic Newchurch EWTN Cable Network with the Catholic facts about the Novus Ordo Protestant-Masonic-Pagan service have finally gotten through. EWTN (and remember that it is officially "recognized" but the U.S. Conference of [Newchurch] Catholic Bishops) has admitted that the Novus Ordo, even in Latin, "is a complete fabrication or product of its creators, a point of contention within the Church since it has few if any roots in the Tridentine [Traditional] Mass."
So there you have it. You can quote this statement as "official" to all your unbelieving Novus Ordo acquaintances. It is directly out of the mouth of Newchurch itself, in this case, one Presbyter Robert Levis, an employee of EWTN, whose statement was published by EWTN on September 9 urbi et orbi.
So then the question becomes: why does EWTN continue to televise a fake "Mess" in an effort to deceive millions around the world that it is "Catholic"? Neither EWTN nor its Mess is Catholic. At least Presbyter Levis was caught off guard to state the obvious. Now, EWTN's only moral course is to cease broadcasting its counterfeit Novus Ordo Mess and fire all of its Protestant Charismatic personnel.
Mother Angelica, you took an oath to remain Roman Catholic and forswore yourself to enter the false New Order Church. It's not too late for you to convert to traditional Roman Catholicism and stop scandalizing the world with your counterfeit Newfaith.
---
Here in France, the SSPX and Fellay Are on Notice from Their Membership
From: Francois (France)
David is absolutely correct when he wrote: "I believe that it may well have been TRADITIO's own photos that Fellay presented to Benedict." I know it because I'm one of the numerous TRADITIO faithful participants who brought your Novus Ordo Service Photo Gallery to the attention of SSPX authorities so that they cannot look the other way or claim nobody ever told them. (For further information, see Novus Ordo Service Photo Gallery.)
Besides, quite a few of us have recently written to our Newchurch bishops in order to warn them that we would simply leave the Society if Bishop Fellay were to schmooze with "Ratz," as he seemed bent to do. After the Fatima reparation pilgrimage, I wrote to Bishop Williamson, because he seems to be the most traditionally-committed of the four bishops within the Society. I'm not naive: my letter did not do the trick. But the great number of such letters and the prayers of the SSPX faithful may have had some impact. It is much to be hoped, since an SSPX collapse would give a terrible blow to Catholic Tradition all over the world.
---
Is the "Inspection" of U.S Seminaries a Fraud?
From: Maria
Dear Fr. Moderator:
I was wondering whether you have any comments on the supposed inspection of U.S. seminaries, i.e., the current hullabaloo about homosexuals being kicked out. I thought that the Newvatican document that is alleged to be coming out in October is to be quite watered down. How is such a document, if issued, likely to be applied? This sounds like more propaganda from the Newvatican.
Fr. Moderator Replies.
You have hit the nail on the head. That principle of Catholic sacramental theology has already been in effect throughout the centuries, and even specifically confirmed in 1961 by Pope John XXIII. Of course, we all know that this is just another Newchurch ruse. It is not a matter of documents and "rules," but the moral failure of Newchurch and its leaders. And that is not changing. Newchurch can pass all the "rules" it wants, but until it becomes truly Catholic in its practice, such "rules" may as well be written on sand.
Isn't it a rule in Newchurch that its presbyters shouldn't be raping children? Yet, this abomination has been rampant with the full collusion of the Newchurch bishops, cardinals, and even popes. In such contexts we are wont to quote the ageless comment of the Roman satirist Juvenal: "Quis custodiet ipsos custodes?" If the pope is participating in the abominations himself, and he is the one setting "rules," what good are the "rules"? Our Lord condemned the Pharisees and even the High Priest himself for exactly the same corruption.
We have said it many times before. We don't believe Newchurch. We don't believe its officials because they have essentially lost the Catholic Faith. They don't preach it, and they certainly don't practice it. If Newpope gets up on the balcony of St. Peter's and pleads guilty to his own participation in and concealment of crimes, waives "immunity," and turns himself over to the scales of justice, then there may be some hope of true repentance from his Newchurch partners in crime: his cardinals, bishops, and presbyters. A Catholic pope would do that, as it would save many souls. Until then, it is all smoke and mirrors "insomuch as to deceive (if possible) even the elect" (Matthew 24:24/DRV).
Anyway, who cares about these Newchurch "seminaries"? They don't teach Catholicism. They are turning out not Catholic priests, but New Order presbyters -- Protestant ministers in effect -- to serve a false god. They are the seedbed (that is what seminarium means in Latin, after all) for the New Order counterfeit religion.
The only solution is the conversion of Newchurch to Catholicism. Without that, no "rules" are going to fix anything. Newchurch is the Titanic. Christ, the Iceburg, has hit it, and it is sinking fast. Requiescat in pace.
---
September 26 - Sts. Cyprian & Justina, Virgin & Martyrs (Simple Feast)
Newchurch Mexican Bishop Launders Drug Money
From: Fr. Moderator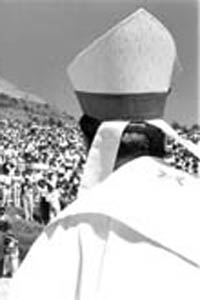 Newchurch Mexican Bishop Ramon Godinez Flores
Turns His Back on Catholic Moral Theology
Admits Illegally Receiving and Laundering Drug Money
The Great Sex & Embezzlement Scandal Is Worldwide in Newchurch
You might think that the Great Sex & Embezzlement Scandal of Newchurch is limited to the bishops of the United States. But you would be wrong. It is rampant through Newchurch.
One of the first principles that a seminarian learns in Catholic Moral Theology is one that everyone, including laymen, knows: "The end does not justify the means." It comes from Sacred Scripture, where St. Paul teaches that anyone who believes this principle is justly damned.
Now the UK Guardian has revealed that Newchurch Mexican Bishop Ramon Godinez, of Aguascalientes, Mexico, has admitted to the crime of receipt of stolen goods, in that he welcomes the proceeds of drug-trafficking into Newchurch coffers. He claims that such money is "purified" when it is used for good means. Really?! Where did Godinez learn his Catholic Moral Theology -- in a sewer? Mexican government officials take exception to the bishop's suborning of crime. They have said that receiving illicit money is illegal.
The proper course would be for Benedict-Ratzinger to degrade this bishop, who has perjured himself by preaching a Gospel other than that of Our Lord Jesus Christ. But the word from Newvatican and Newpope: silence. Qui tacet consentit.
---
September 25 - Nineteenth Sunday after Pentecost (Semidouble Sunday)
Grand Jury Reports: "The evidence is clear; this reaches the top -- the very top"
From: Fr. Moderator

Newchurch Cardinals Bevilacqua (Above) and Krol Cited in Hundreds of Sex Crimes
Newchurch Crimes Reach to the Top, Says Grand Jury
The Time Has Come to Ride Newchurch Bishops out of Town on a Rail
They Represent Nothing "Roman Catholic"
Following the nation's longest-running grand jury probe into the Newchurch Sex & Embezzlement Scandal, the Philadelphia Grand Jury on September 22 issued a scathing report, charging that Newchurch cardinals/archbishops Anthony Bevilacqua and John Krol covered up hundreds of sex crimes perpetrated by at least 63 of their presbyters. "To protect themselves from negative publicity or expensive lawsuits -- while keeping abusive priests [meaning Newchurch presbyters] active -- the cardinals and their aides hid the priests' crimes from parishioners, police, and the general public," the report stated. The grand jury found that Newchurch leaders had engaged in a "deliberate and all-encompassing strategy to avoid revealing their knowledge of crimes."
Cardinal Bevilacqua engaged in the most immoral behavior. He was trained as an attorney and played games to avoid evidence that would implicate either him or the archdiocese, the report said. But he also went a step further, introducing new polices designed to avoid both negative publicity and the newer threat of expensive lawsuits. For his part, the report also said, Bevilacqua used his knowledge about paedophilia to shield the archdiocese from liability. Bevilacqua continued to try to hide all that he knew about the abuse in Philadelphia, and even came close to perjuring himself in his ten days of being examined before the grand jury.
The grand jury found that Krol and Bevilacqua knew that their presbyters were molesting and raping children, but conducted bogus "non-investigations" designed to avoid uncovering abuse. Worst of all, the grand jury said, is that hundreds of children were molested, raped, and subjected to a lifetime of despair because of the archdiocese's "purposeful decisions, carefully implemented policies, and calculated indifference."
Good Catholics, as you all know, Newchurch is all propaganda. In it, right and wrong don't matter. Sin doesn't matter. All that matters is "publicity." Such a record have these Newchurch bishops and cardinals established that one can no longer trust a thing they say. They have surrounded themselves in a web of lies on every aspect of Catholicism. Newchurch is not religion; it is politics -- evil politics.
These deceitful Newchurch persecutors of true Catholicism are now so degrading themselves that they are playing "poor persecuted me!" These criminals, who have done everything they can to close traditional churches and to persecute traditional Catholics; these criminals who have suborned every kind of sexual perversion -- and continue to suborn it -- have the gall to claim that they are being persecuted. These bishops, who claim to be "Roman Catholic," are nothing of the kind. They are apostates from the Roman Catholic Faith.
One TRADITIO correspondent hit the nail on the head here in commenting upon the report by the grand jury of Philadelphia that it found evidence of rampant crimes against children by Newchurch presbyters and a systematic cover-up by Cardinals Krol and Bevilacqua and that Newchurch archdiocese officials howled that they were being persecuted just as in the days of rampant Know-Nothingism in the 1840s, a time of strong anti Catholic sentiment.
Our correspondent says it occurs to him that, in those early days, anti-Catholic slurs were based on lies and confusion, whereas now, loathing of (what pretends to be) the Catholic Church by non-Catholic Americans of good will has every basis in fact. "We could hardly blame them," he writes, "if they launched a persecution of the Newchurch hierarchy in this country. At least, there is bound to be a long-term revulsion against all Newchurchers."
---
Did Pope Benedict Himself View TRADITIO's Novus Ordo "Mess" Photo Gallery?
From: David
SSPX's Superior General Bernard Fellay said that before the August 29 "Beheading" Meeting, he had given Benedict a note giving a description of Newchurch, quoting "silent apostasy" from John-Paul II, "the boat which is taking in water from every side," and "the dictatorship of relativism" from Joseph Cardinal Ratzinger, "and we had appended photos of certain very scandalous Masses."
Fellay's "appended photos of certain very scandalous Masses" sounds very much like the Novus Ordo Service Photo Gallery that has for several years been growing on the TRADITIO Internet Site. (For further information, see Novus Ordo Service Photo Gallery.) Could it be that TRADITIO's own photo gallery of these ridiculous "Messes" (Beach Mess, Buddha Mess, Cheesehead Mess, Cowboy Mess, Gay Mess, etc.) could have been sent to the pope himself, and discussed with the pope himself by Fellay? Did Benedict XVI see these very photos of Messes from TRADITIO?
It is well known that many SSPX priests and faithful read TRADITIO. I believe that it may well have been TRADITIO's own photos that Fellay presented to Benedict. Even if Fellay did not use the exact photos from TRADITIO, the very idea for these "appended photos of certain very scandalous Masses" almost certainly was at least borrowed from TRADITIO by Fellay.
You are certainly correct: It is deplorable that John Paul and Benedict choose to play "ostrich" and "keep the church together" (i.e. compromise with error, schism, heresy, and immorality), rather than stand up for the truth, as Pope St. Pius V did.
---
September 24 - Our Lady of Ransom (Semidouble Feast)
Ember Saturday - Fast & Partial Abstinence
Benedict-Ratzinger Tries to Squirm out of His Personal Role in the Great Scandal
From: Fr. Moderator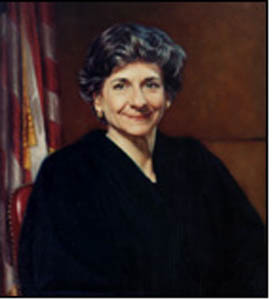 U.S. District Court Judge Lee Rosenthal
To Rule on Whether the Pope Should Legally Answer
To Being an Accomplice in Sex-Crimes Case
If anything has become clear in the last years of the Great Sex and Embezzlement Scandal, it is this. Nothing will improve until the pope takes personal responsibility. Benedict-Ratzinger, just as his predecessor JPII, had personal involvement in shielding his bishops from the criminal law and bears a mortal responsibility for allowing these crimes to be committed by his bishops and presbyters without a word of strong, public censure and punishment.
Thus, he has created a climate in which the most mortal of sins can be perpetuated by his prelates. The Latin aphorism is: Qui parcit nocentibus innocentes punit [He who spares the guilty punishes the innocent]. JPII and Benedict-Ratzinger are the poster boys confirming the truth of this dictum, as the crimes of their prelates have spiraled proportionally to the popes' silence.
Benedict-Ratzinger has been personally charged in a case now being heard in a U.S. Federal District Court in Houston court as a named accomplice concerning sex crimes by a Newchurch cleric against three boys. The pope has not claimed innocence, but has instead tried to squirm out of his responsibility by claiming "immunity," just as his creature, William Levada, tried to do -- Levada whom he appointed to head the Sex Crimes Congregation of Newvatican, in spite of the fact that Levada himself has been implicated in sex-crime cover-ups. In fact, the court has more of the "goods" on Benedict-Ratzinger than on JPII. A cover-up document signed by Ratzinger himself in 2001 has been introduced as evidence in court.
TRADITIO reported some months ago that when newly-appointed U.S. Secretary of State Condolezza Rice stopped off at Newvatican on a courtesy visit, Newvatican Secretary of State Angelo Cardinal Sodano tried to twist her arm to get the pope off. Rice rejected Sodano's venal political effort and -- very diplomatically -- said that he would have to address the court directly to get the pope off. That was the U.S. law. It seems that the Bush administration has not stood behind Rice's sage position, but has caved in to Newvatican pressure to "let the pope off." The judge didn't immediately buy the argument, just as a court in Portland, Oregon, didn't by the argument of William Levada, though it is likely that because of U.S. law Benedict-Ratzinger will escape the legal -- but not the moral condemnation -- of his actions.
Good Catholics, don't get lost in legalities. That is what the Pharisees did and were harshly condemned for it by Our Lord Jesus Christ. One must go right for the heart of the matter. Benedict-Ratzinger, just as his predecessor, is personally guilty from a moral perspective. Res ipsa loquitur. Newpope can try to squirm out of his legal responsibility, but he cannot squirm out of his moral responsibility, from which he has no "immunity." It is Christ the Lord Who will judge him -- harshly. And how do we know that? Because the Lord said so Himself: "Every one to whom much is given, of him will much be required" (Luke 12:48/DRV).
The Great Sex and Embezzlement Scandal is still out of control -- and getting worse. That is what two chairmen of the U.S. Bishops' own Sex Crimes Commission have stated. God is closing the pincers on these Newchurch popes and prelates in an effort to give them the opportunity to save their souls in the only way possible -- by repenting. If they don't do that, they are in mortal danger of joining what St. John Chrysostom tells us is "the skulls of rotten bishops with which the floor of Hell is paved."
---
September 23 - St. Linus, Pope & Martyr (Semidouble Feast)
Ember Friday - Complete Friday Abstinence
SSPX's Fellay Breaks Silence: "Pope Wimped Out; He's under the Thumb of the 'Progressives'"
From: Fr. Moderator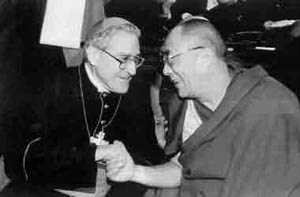 Cardinal Lustiger of Paris, Here Pictured with the Dalai Lama
Threatened the Pope in 2000 that if Any Accommodations Were Made with "Traditionalists"
He and Other European Bishops Would Go into Open Schism
It's taken three weeks, but finally the SSPX's Superior General, Bernard Fellay, has admitted the worst about Benedict-Ratzinger and the prevalent disinformation that he is sympathetic in any practical way to "traditionalists." This is exactly how TRADITIO had described the situation from the beginning, but "conservatives" and "semi-traditionalists" kept pushing the disinformation that Benedict-Ratzinger was "sympathetic" and would take some action. Fellay himself and the SSPX's Liberal Wing touted that line -- until, that is, the "Beheading" Meeting of August 29, the feastday of the Beheading of St. John the Baptist.
In the transcript of an interview just released, Fellay (and we have to give him credit for his honesty because the information is personally embarrassing to himself and his Liberal Wing of the SSPX), admitted the following points:
Benedict-Ratzinger demanded that the SSPX capitulate to the authority of the pope, even when that pope is violating his papal oath and furthering an unCatholic agenda (as TRADITIO has said, what is important to Newchurch first and foremost is power)
Benedict-Ratzinger demanded that the SSPX embrace "the spirit of Vatican II" (Fellay admitted that this statement frightened him)
Benedict-Ratzinger refused any protection of the SSPX from the requirement to adopt "the spirit of the Council"
No wonder Fellay scuttled out of a side exit from the meeting with his tail between his legs and refused to talk to the press until a full three weeks later. Fellay is like not a malevolent man, but simply ignorant from a practical perspective. He is not the first to have put on rose-colored glasses and tried to fabricate a "reality" of his own invention. In this jaundiced approach, Fellay has demonstrated himself not to be Roman. The Roman character looks at reality dead on, honestly. They don't play games. Julius Caesar soundly conquered Fellay's Swiss homeland, then called Helvetia.
Moreover, Fellay revealed that in 2000, when there were rumors that JPII might in some way capitulate to "traditionalists," Newchurch Archbishop Jean-Pierre Richard of Bordeaux, Jean-Marie Cardinal Lustiger of Paris, and Archbishop Louis-Marie Billé of Lyon rushed to Rome to block a proposition made to the Society, threatening that they would go into open schism if JPII went through with any accommodation. The German bishops threatened Benedict-Ratzinger in the same way at the time of the August World Youth Conference in Cologne, telling him: "It is us or them. If "traditionalists" are recognized, then we will leave the Church and go into schism."
This situation is a repetition of what happened in 1986 when the Cardinalatial Commission appointed by JPII voted unanimously that (1) the Traditional Latin Mass had never, and could never, be suppressed and that (2) priests could not be prohibited from celebrating the Traditional Latin Mass at will, no permission of anyone being required. Just as JPII was going to promulgate the decision of his Commission, bishops from Germany swept into Rome and threatened the pope that if should release the Commission's decision, they would go into public schism. JPII capitulated to the treat of the Modernists, and the decision was never officially published. (For further information, see ECCLESIA.TXT: Ecclesia Dei - Before and After the "Indult" in the TRADITIO Library of Files (FAQs and Traditional Apologetics).)
Fellay has now concluded that Benedict-Ratzinger is in the pocket of the Modernists (whom he terms "Progressives"). Benedict-Ratzinger fears that if he should be seen to give in in any way to the feared "traditionalists," the Modernists would rise up against him and go into open schism. This pope, no better than his predecessor, will not risk open schism and secession by the Modernists in order to conform to his oath to God. He shares the fatal flaw (hamartia) of all the Conciliar popes: cowardice. This is a flaw that certainly Popes St. Pius V and X did not share!
So, Fellay seems to be now a man beaten into reality. He is now admitting what TRADITIO has said from the beginning, that Benedict-Ratzinger is simply smooth talking "traditionalists" for political reasons -- and not even doing much of that since his accession. At best, Benedict-Ratzinger will make only some token gesture, which will not change the commitment of Newchurch to the heretical and schismatic New Order. In any case, what Catholic would want to have any connection to a Counterfeit Church that is not Catholic?
Fellay should now do what is right. Start promoting traditional Catholicism, start winning over the souls of Catholics. Let the New Order stew in its own juices. Why waste time with pusillanimous popes who are too afraid to follow Christ and instead chose to follow the vagaries of men. The time could much more fruitfully be spent taking the traditional Catholic message out to the public so that the Church can the more readily be rebuilt when the New Order disintegrates.
Once again the wisdom of Scripture is proven: Nolite confidere in principibus [Put not your trust in princes] (Psalm 145:2/DRV).
---
A Catholic Bishop
From: Fr. Moderator
The heresy of Arianism, a denial of the divinity of Christ, swept the Church in the fourth century and, according to St. Jerome, numbered in its ranks most of the clergy, including the vast majority of priests, bishops, and, some say, even the pope. It so happened that a group of Arian bishops went to Alexandria to enlist the bishop Basil in their heretical cause.
Basil, however rejected their overtures. When they asked why he would not side with the vast majority of bishops, Basil replied: "Apparently, you have not met a Catholic bishop before." You see, to Basil, whom the Church now exalts and calls St. Basil the Great, "Catholic" did not mean siding with any human being, even the pope, if that individual was not acting in a Catholic way. To Basil, being a bishop meant standing unhesitatingly with his episcopal oath to Our Lord Jesus Christ to defend the Catholic Faith founded by Our Lord Jesus Christ.
Later, St. Augustine, the Prince of Theologians, who himself took a public oath against the pope that had strayed from the teachings of the Faith, stated the Catholic principle for all time thus: "Wrong is wrong even if everybody is doing it, and right is right even if nobody is doing it."
---
September 22 - St. Thomas of Villanova, Bishop & Confessor (Double Feast)
New Order's Life Teen Program Accused of Sex Crimes
From: Fr. Moderator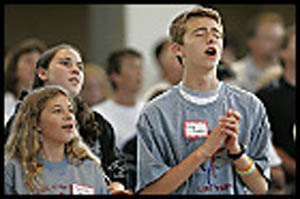 Novus Ordo Life Teens in a Charismatic Trance
The Modernist Life Teen Program, Pushed by Such Newchurch Shills as EWTN
Ensnare 120,000 Teenagers a Year
One of the Newchurch's most diabolical programs is Life Teen. This program attempts to ensnare teenagers into the most bizarre aspects of the New Order and is thoroughly based in the Protestant-Pagan heresy of Charismaticism. It is no surprise that the Charismatic EWTN cable network, which poses as Catholic, features Life Teen programs on its schedule.
Rocky Mountain News has exposed the vicious nature of this program, which is found all across the United States. Entrapping teenagers in Novus Ordoism is a multi-million-dollar industry. Life Teen listed $8,400,000 in assets two years ago. Life Teen's youth programs ensnare, by its own count, more than 120,000 teens, who attend its weekly Novus Ordo/Charismatic services in 19 countries.
Now Life Teen's founder, Newchurch's Msgr. Dale Fusek, is the subject of a probe into sex crimes. Fushek is the subject of a lawsuit filed in January in Arizona, which also involves the Newchurch diocese of Phoenix and its bishop. You remember Phoenix's erstwhile Bishop Thomas O'Brien, don't you? He's the bishop who killed a man with his car and then tried to cover up the evidence. He was convicted of a felony by a Phoenix court.
When are parents going to get wise to Newchurch? Parents who are involved with the New Order, its prelates, and its temples might just as well be dropping off their children in a red-light district with no dime to call home.
---
How Did We Get to This Point?
From: Fr. Moderator
The best traditional periodical around these days is Catholic Voice, produced by the Society of Traditional Roman Catholics. Its articles are topical, religion-centered, and to the point. Its perspective is focused and fresh. (For information about subscriptions, see your copy of the Official Traditional Catholic Directory.) The recent issue treats a subject that the "conservative" or "neo" periodicals out have been too afraid to touch. Here are a few excerpts from the article, which we believe makes a lot of sense.
Is it enough merely to have the [Traditional] Latin Mass said more publicly and in an "approved" manner? Should not our first concern be to combat the errors of the Modernists, helping Catholics see just how much they have been duped all these years? How can such Catholics tolerate the notion that the false worship of the Novus Ordo Missae in their churches will still exist side by side with the "approved" Latin [not always Traditional] Masses as if one were equal to the other?...
No, a thousand times No. Catholics can never grow tolerant of the evils of Modernism in their midst lest they succumb to them themselves. Benedict XVI has clearly demonstrated that the "new traditions" of Vatican II will not go away under his regime. If this is the case, why do so many Catholics "wait and see" for his sympathetic approval of the "old Mass" in our midst, while he whole-heartedly promotes so many doctrinal errors that cancel out any potential for spiritual good that can come from the [Traditional] Latin Mass?
But how did we get to this point? What took us off track in the battle against the Novus Ordo Missae and for the Roman [Traditional] Latin Mass? In part, this happened because we grew weary in the battle. What is more, it happened when a compromise with the Novus Ordo Missae was settled on because some "leaders" among the "traditionalists" (both clergy and lay) started looking upon this act of blasphemy and sacrilege as an "alternative" form of Catholic worship, sinful and evil though it is.
Instead of seeing in the Novus Ordo Missae an act of false worship, and something that was already condemned centuries before, they chose the path of least resistance. "All we seek is the Latin [not always Traditional] Mass," they say, and you can keep your silly Novus Ordo. Such an attitude has brought a sinful compromise in its wake. Catholics of old did not tolerate such things in the manner that we see "traditional" Catholics willing to do with the Modernists.
Wow! That directly hits the nail on the head and even 1addresses the turmoil that is going on within the Society of St. Pius X. The rest of the article is well worth reading, together with the other articles in Catholic Voice.
---
September 21 - St. Matthew, Apostle & Evangelist (Double Feast of the Second Class)
Ember Wednesday - Fast & Partial Abstinence)
Benedict-Ratzinger Won't Accept Resignation of Newchurch Cardinal Who Converted to Islam
From: Fr. Moderator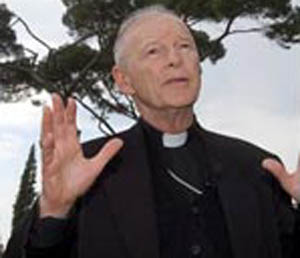 Theodore McCarrick, Newchurch Cardinal of Washington, D.C.
Newchurch Reels as Cardinal Apostatizes
And Publicly Raises His Hand to Bless Students at the Catholic University of America
Not in the Name of Christ, but in the Name of Allah
One of TRADITIO's correspondences, a Professor of Law at the Catholic University of America, has confirmed other reports that Theodore Cardinal McCarrick, of Washington, D.C., publicly converted to Islam on September 13, 2005. On that date, McCarrick publicly invoked not Our Lord Jesus Christ, but the false god of the Mohammedans, "Allah, the compassionate and merciful Lord of all the world," to bless Mohammedan King Abdullah II, of Jordan. To confirm his apostasy, McCarrick later concluded his address with a public prayer "in the name of Allah, the merciful and compassionate God."
That's no problem, you say. The man crossed the line. The pope will sack him. Wrong! McCarrick had even submitted his resignation (as he is 75), but Benedict-Ratzinger wouldn't accept it. Just another to add to the already numerous indications that Benedict-Ratzinger is no better than his predecessor -- worse, because he can talk "traditional" to you face while covertly stabbing you in the back. He just does it with a polished knife!
Don't all those "conservative" columnists look silly now -- they who waxed so sanguine about the "traditional revolution" that Benedict would bring. Once again, practically only TRADITIO called it from the start. Benedict-Ratzinger has acted point by point exactly as TRADITIO laid it out. He is a Modernist pope, worse than JPII. Benedict just has a little more gray hair and gives the appearance of culture. Yet he is a Modernist deconstructor, just like his conciliar predecessors.
Good Catholics, what more proof do we need that Newchurch and its prelates publicly reject the Catholic Faith that they took an episcopal oath to defend to the death? What's next, prayers and blessings in the name of Vishnu or Buddha? The Novus Ordinarians who write me to defend Newchurch have got to be deaf and blind -- surely dumb.
TRADITIO is like the boy in Hans Christian Anderson's The Emperor's New Clothes who is the only one to have the honesty to tell the truth: the emperor is naked. Let's face it. The evidence of our eyes and ears is clear: Newchurch prelates are not Catholic (neither is the "Catholic" University of America, for that matter). In most cases, they're not even Christian. Like McCarrick, they publicly worship false gods such as Allah. And it's not because TRADITIO says so. It's because these non-Catholic prelates are convicted out of their own mouths and actions.
Forget deceitful Newchurch documents. Forget fancy clothes and titles. Look at reality with the realistic gaze of a classical Roman. Only then can you presume to be "Roman" Catholic.
---
September 20 - St. Eustace & Companions, Martyrs (Double Feast)
Pretend that You Were a Bishop at Vatican II
From: Nicholas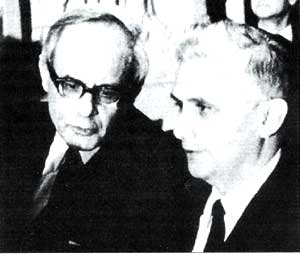 Father Ratzinger, Pictured Here in Street Attire at Vatican II
Together with His Mentor, Karl Rahner, a Jesuit Theologian
Who Was Silenced by Paul VI for Reeking of the Odor of Heresy
Ratzinger Then, as Now, Remains Wedded to Modernistic Tenets
Dear Fr. Moderator:
Since the pope and many of the senior cardinals were ordained before Vatican II, how are we to explain or understand the process by which apparently learned and intelligent men allowed themselves to contribute to the great damage done to the Church? If we laymen are able to understand that the Novus Ordo regime is wholly different from the Roman Catholic Church, why do they not see it?
Fr. Moderator Replies.
First of all, it turns out that, on the whole, they were not learned or intelligent, particularly the United States bishops at the Council. Many writers at the time have commented that a significant number of bishops were so oriented to their administrative duties that they handed over the intricacies of doctrinal and liturgical matters to their lieutenants, many of whom became periti ("experts") at the Council, like Fr. Ratzinger.
Many of the periti were steeped in Modernism and took control of the Council, having planned it for several years. It is well accepted now by historians that they deliberately planted "timebombs" in the Council documents, which would pass scrutiny at the time, but left "wiggle room" after the Council for the Modernists, who controlled all the post-conciliar implementation committees, such as Hannibal Bugnini did on the Concilium ad Exsequendam Constitutionem de Sacra Liturgia [Council to Carry out the Constitution on the Sacred Liturgy], through which the Novus Ordo service was imposed on Newchurch.
Pretend that you were a bishop at Vatican II and saw the following text:
36. § 1. Linguae latinae usus, salvo particulari iure, in Ritibus latinis servetur
[The use of the Latin language, excepting for particular law, shall be preserved in the Latin Rites.]
Now that sounds pretty traditional doesn't it? If you were a bishop, would you have caught the timebomb: "excepting for particular law?" Yet, it is that little ablative absolute through which Bugnini and his Modernists drove their Masonic truck through the Traditional Latin Mass and justified the "legality" of the Novus Ordo service.
Moreover, the Modernists had been working underground since the strictures of Pope St. Pius X against Modernism. They started coming out into the open bit by bit during the later years of Pope Pius XII's reign. The evidence is clear that part of the movement to impose Modernism upon the Church, of which Fr. Ratzinger was a part, was engineered by the Communists, who were in fact executing a plan to infiltrate the Catholic Church for their own secularist purposes. (Modernism and Communism are related by their origins in the same unCatholic, subjectivist philosophies that began to take hold in the 19th century.) This fact came out in testimony before the U.S. Congress and was summarized in the famous book, AA-1025: The Memoirs of an Anti-Apostle.
In a broader perspective, the degree of the society-wide Modernist revolution of the 1960s has not yet been fully appreciated. In the revolutionary milieu that arose in the 1960s (the date of the assassination of President John Kennedy, November, 22, 1963, is a convenient date for the transition between the traditional and Modernist orders), Modernists unleashed a revolution against Church, family, and state simultaneously. Thus, we got Vatican II and its aftermath, rampant divorce and public sexual perversions, and the liberalist Johnson administration to kick off a powerful Modernist revolution across society that we are just beginning to turn back some forty years later.
It is hard to find historical precedents for such a broad attack upon all three foundations of society. Perhaps the French Revolution of 1789 is the closest analogue. Social scientist Robert Nisbet put the cultural side of it this way:
I think it would be difficult to find a single decade in the history of Western culture when so much barbarism -- so much calculated onslaught against culture and convention in any form, and so much sheer degradation of both culture and the individual -- passed into print, into music, into art and onto the American stage as the decade of the Nineteen Sixties [1960s].
He certainly got that right! In the 1950's, it was the works of Shakespeare that formed the core of English-literature classes. Now Shakespeare is replaced with light-weight pieces like J.D. Salinger's Catcher in the Rye. In the In the 1950s, "good" music was Bach, Beethoven, and Brahms. Other music was not taken as serious. Now fewer and fewer people appreciate "good" music, but ruin their hearing with heavy metal, rap, and other disgusting perversions. In the 1950s, great art was still that of the Renaissance and the "Enlightenment," such as Michelango and Rembrandt. Now art is the perversions of Robert Mapplethorpe or whoever made that Virgin Mary & the Cowdung "icon" for the Brooklyn Museum of "Art." In the 1950s, the great American playwrights such as Eugene O'Neill thoughtfully probed serious issues in society. Now we have to put up with Vagina Monologues.
Regrettably, there were few in Church or society that stood up then for what we now call "traditional values." Catholics were taught to trust their bishops and the pope. Unfortunately, these capitulated and sold out Church, family, and state to the Modernists -- or they became Modernists themselves. It is only now that most Catholics are really beginning to wake up to the fact that these prelates stole from them their most precious possession: the Catholic and Apostolic Faith of two millennia.
---
September 19 - St. Januarius & Companions, Bishops & Martyrs (Double Feast)
Your Next "Confessor" Could be a Laywoman
From: Fr. Moderator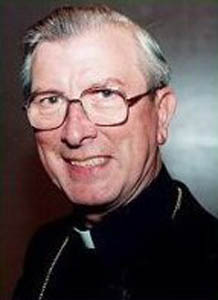 Newchurch Bishop Vincent Malone, of Liverpool
His New Order Scribblings Raise the Question for Novus Ordinarians:
Is a Laywoman "Confessor" in Your Future?
Can the Novus Ordinarians really be so dense? Can they not see that they are now enslaved to a sect that is not Catholic? Are they so blind that they cannot see the clear handwriting on the wall? First, the Newchurch duped them into accepting a Counterfeit Service that was composed by a Freemason and six Protestants. (Martin Luther would have been proud of them!) Then Newchurch taught them the oecumenical falsehood that "we all worship the same god" (or "gods," as the case may be)." Then Newchurch told them to be "tolerant" of "gay marriage" and pro-abortion politicians.
Now Newchurch Bishop Vincent Malone, of Liverpool, has published a plan in Healing Priesthood: Women's Voices Worldwide for laywomen to "hear confessions and grant absolution." Gee, just a laywoman; don't they even get a priestess? He said that the Church should consider choosing laywomen to be confessors because some people might prefer disclosing their sins to a woman rather than a man (just as some sick people prefer that their mother be a man). He also proposes that the "anointing of the sick" be done by laypeople. [CN]
Obviously, this man has no concept of Catholic theology or Scripture. Does not St. James state: "Is any man sick among you? Let him bring in the priests of the church and let them pray over him, anointing him with oil in the name of the Lord" (5:14/DRV). What will Newpope do about his bishop? TRADITIO is betting: nothing. Just as JPII was the "Clown Pope," who played with circus clowns while his bishops and presbyters were going about their sex crimes and embezzlement, Newpope is the "Poodle Pope." He's not going to take his bishops on. (The Indultarians and Conservatives and Fellayites must having quite a feast eating their sanguine words after his election now.)
It's all a tempest in a teapot, of course. Just as Newchurch lost the Sacrament of Extreme Unction and replaced it with a "death blessing," so it has lost the Sacrament of Penance and has replaced it with a "psycho "reconciliation." If the Novus Ordinarians can't see that Newchurch is a fraud, a total counterfeit, it's pointless to argue with them. They, like the people of the Old Testament, are "walking in darkness." Only if they accept God's grace will they ever "see the great light" of Christ and His Church. It's not hard; they just have to clear their mind and open their eyes and ears!
---
Is Oecumenism a Cover for Terrorism?
From: Fr. Moderator
You've heard it before: "we all worship the same god." "One religion is as good as another." "Islam means peace." Well, we don't all worship the same God. There is only one true religion. Islam means submission, obedience (isn't false obedience what the Novus Ordinarians always hawking?).
Now, in an exposé for Front Page Magazine, Lee Kaplan exposes Newchurch's "oecumenism" as a fraud. Mohammedans, its seems, are getting smart about the West. They have been joining "interfaith" groups right and left, then taking them over so that they can spew terroristic propaganda out in the name of "oecumenism." They have even concocted the concept of a "Muslim Jesus" so that Christians will swallow Mohammedan propaganda. Under the umbrella of these "interfaith" groups, Mohammedan imams and mullahs have been placed in colleges and universities around the United States to preach death to the West from the pulpit of "oecumenism."
And we have the New Order and its Newpopes, including recently Benedict-Ratzinger, to thank for it. They are quite happy to schmooze with terrorists, while their Catholic predecessors would have thrown them out as heretics for embracing, as Pope Pius XI put it, "the darkness of Islamism."
---
September 18 - Eighteenth Sunday after Pentecost (Semidouble Sunday)
Just Published...
Official Traditional Catholic Directory
Listing All Traditional Latin Masses and Traditional Resources for the United States and Canada
FROM THE BACK COVER:
More and more Catholics, tiring of the "New Mass" in the vernacular with contemporary music, are seeking the Traditional Latin Mass, the Roman Catholic Mass of 2000 years, as it existed before the introduction of a radically-changed "New Order" service after the Second Vatican Council (1963-1965). The Traditional Latin Mass never disappeared, and is more popular today than ever, spurred on by such energetic supporters as film star Mel Gibson and Pope Benedict XVI.
This Eleventh Annual Edition (2006) of the Official Traditional Catholic Directory provides the only comprehensive listing of the over 600 Traditional Latin Masses regularly and publicly celebrated in the United States and Canada.
The Official Traditional Catholic Directory also provides extensive lists of traditional resources, including traditional Catholic organizations, seminaries, religious orders, lay societies, periodicals, suppliers, retreats, and schooling, as well as contacts for Traditional Latin Masses outside the United States and Canada. It also includes information on traditional practices, such as the Friday abstinence from meat.
Devout Catholics everywhere will want to have on their bookshelf the storehouse of information contained in this new 11th edition, which includes significant updates to the listings from the previous annual edition.