July 2005
For answers to many questions, click on TRADITIO's Home Page about how to order the 10th Annual Edition (2005) of the Traditional Directory or consult the Library of Files (FAQs and Traditional Apologetics). For information about the protocol for sending messages to Fr. Moderator, see Ask Fr. Moderator.
| | |
| --- | --- |
| | If you wish to support the work of TRADITIO, click on the box to the left to made a donation easily, securely, and confidentially by bank account or credit card through PayPal. Regular contributors become Benefactors of TRADITIO, and their intentions are specially commemorated at Traditional Latin Masses offered. Indicate in the Message section of your payment "For TRADITIO." For other methods, see FAQ01: How Do I Help to Offset Expenses? |
---
July 31 - Eleventh Sunday after Pentecost (Semidouble Feast)
Novus Ordo Presbyters and Bishops Continue to Rob Newchurch Blind
From: Fr. Moderator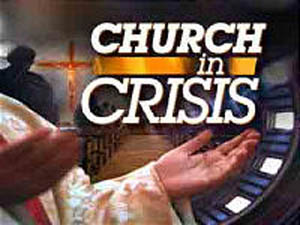 Newchurch Has Far More to Deal with than Sex Crimes
Presbyters and Bishops Are Stealing Millions and Millions in Collections
For Prostitutes, Hush-money, and Drugs
While Benedict-Ratzinger and His Hierarchy Continue JPII's Silence
A million dollars here, a million dollars there. Newchurch doesn't seem to care. Newchurch parishes, dioceses, and Newvatican sit on their hands while presbyters and even bishops are robbing their Newchurch of staggering sums. Newpope can't be bothered to express indignation and exact penalties from his criminal presbyters and bishops.
Well, if Benedict-Ratzinger can't bothered, the civil police are plenty bothered. On July 27, for example, the pastor of a Chicago church was sentenced to four years in prison for stealing $1,600,000 from his parish. He had been charged with felony money-laundering and theft from a school or place of worship.
According to prosecutors, in 1999 the presbyter secretly installed a safe in a bedroom wall of the church's rectory, separate from the main church safe, and skimmed $2,500 to $3,000 a week from weekend Novus Ordo service collections. He tried to cover his tracks by making false entries in the parish's accounting books. Over five years the felon made trips to the bank at least once a week, depositing the stolen money into several checking and money-market accounts. He was known to have consorted with prostitutes and gave a "close female friend" $262,000. [Chicago Tribune]
No doubt the befuddled Novus Ordo parishioners, if asked, would say that the criminal was "the best pastor they ever had," just as the Phoenix Novus Ordinarians called their convicted bishop-killer Thomas O'Brien "the 1best bishop they ever had." Isn't that what Jeffrey Dahlmer's neighbors said of the mass murderer?
And the bemused Novus Ordinarians will continue to plunk their hard-earned money into the Newchurch collection plates, knowing that the funds are going to support sex crimes, obstruction of justice, prostitution, racketeering, and, most importantly, the destruction of the Roman Catholic Mass and Faith. The more they fork over, the worse the thefts get. Don't you think that they would have wised up by this point about the New Order?
---
Mel Gibson to Shoot Another Historical Epic
From: Fr. Moderator
Not on Fatima. Not on the Maccabees. But on Columban Central America. And with the success of The Passion of the Christ being shot in Latin and Armaean, the new epic, called Apocalypto, will be shot this October in ancient Mayan. Although Gibson is keeping the plot close to his vest at this point, perhaps he will be gutsy enough to show the Europeans bringing Western civilization to an people that during the Renaissance was still hunting down virgins for human sacrifice.
---
Novus Ordo Knights of Columbus Harbor Pro-Abortion Politicians
From: Fr. Moderator
"Catholic" politicians want the votes that association with "Catholic" organizations like the Knights of Columbus provide. But they don't want to embrace Catholic morality and teaching. For their part, "Catholic" organizations like the Knights of Columbus want politicians as members for the prestige they add to the organization, but they give only lip service to Catholic morality and teaching.
A case in point. At their 2003 convention held in Washington, D.C., the Supreme Council of the Knights of Columbus passed a resolution banning pro-abortion Catholic politicians from their organization, functions, and facilities. However, this resolution has not been enforced, so a lay group, Concerned Roman Catholics of America, is going to demonstrate outside the Knights' 2005 convention in Chicago this August 2.
Too bad these "Roman Catholics" -- actually a misnomer for New Order sectarians -- weren't so concerned when the Roman Catholic Faith, Mass, and Sacraments was taken away from them forty years ago. They are now simply hoist by their own petard, as the immorality of the New Order is the direct result of the destruction of the graces that used to be provided by the Mass and Sacraments that they have abandoned.
---
San Diegans Vote Overwhelmingly to Keep the Cross
From: Fr. Moderator
The courts have done everything in their power to force the removal of a 14-metre concrete cross atop Mt. Soledad, which is the center of a public war memorial. In December 2004 the U.S. Congress even passed as special bill to declare the cross and memorial as a National War Memorial and to authorize the federal government to receive a donation of the land on which the cross and memorial stands. The President signed the bill.
When a state judge last week required a two-thirds vote rather than a simple majority in the upcoming election, supporters were pessimistic. They needn't have been. Over 75% of the voters voted to keep the cross and war memorial.
The San Diego City Council, entirely out of touch with the voters, refused to donate the cross and memorial to the federal government. So outraged was the general public that it took only 23 days to gather the 105,000 signatures needed to place a referendum on the ballot.
Yet the overwhelming vote of the people will not matter to the courts. In a state where one liberalist ACLU-affiliated judge overturned the overwhelming vote of the people to prevent illegal aliens from stealing money and services from citizens, a federal judge and a state judge have both scheduled yet more hearings on the "constitutionality" of the cross. Makes you wonder why the United States has elections at all.
---
July 30 - Our Lady's Saturday (Simple Feast)
SSPX's Chief Bishop Shows His Na´vetÚ
From: Fr. Moderator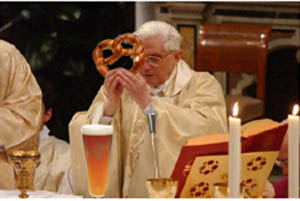 The Novus Ordo Is So Kooky
That even a Papal Prezel & Beer Mess Seems Possible One Day
Yet Bernard Fellay, Superior of the SSPX until February 2006
Wants to "Negotiate" with This Newrome?
The Achilles Heel in the Society of St. Pius X is the unfortunate choice it made of its Superior General for the current term ending February 2006. In selecting SSPX Bishop Fellay, the Society violated the constitution established by Archbishop Lefebvre, which provided that none of its bishops should ever be Superior General of the Society. They were not to have authority, but be the dispensers of episcopal Sacraments when necessary. Once again the Archbishop has been shown to be a wise and prudent man.
Fellay, once elected Superior General, took upon himself the authority to "negotiate" with New Rome and its New Order. His na´vetÚ and indiscretions finally forced powerful elements in the SSPX to clip his wings. Even the Archbishop had his difficulties dealing with Newvatican, though he was a very experienced prelate of the Church, the head of one of the largest religious congregations.
When Benedict-Ratzinger was elected, Fellay practically kissed his feet, in spite of the fact that Benedict has a far worse record of Modernism than even JPII did. But to deceive the na´ve, Benedict artfully covers his shrewdness with the facade of a gray-haired old gentleman. Gee, how can you not like a guy who plays Beethoven's Moonlight Sonata and likes Roman spaghetti? That fox will eat Fellay alive, but Fellay exhibits a fatal flaw: pride. His actions indicate that he thinks he, by his own efforts, can overcome Newrome and Newpope. The Archbishop had the character and ability to treat with popes; Fellay does not.
A case in point. Fellay recently gave an interview to DICI in which he stated: "The very simple solution to this crisis could be a new pope who would put things in order." A more na´ve statement can hardly be imagined. The Archbishop would not have been so bemused. The reality is that since Vatican II, the papacy has virtually no power; the post-conciliar popes have given it away. Paul VI, JPII, and Benedict-Ratzinger have all given away their authority to local bishops. That is the Vatican II way. The post-conciliar popes are all sworn to uphold Vatican II above all. Vatican II is their Bible, their god.
Benedict said exactly that in his First Message, the day after he was elected. JPII had previously indicated in his Encyclical Letter Ut Unum Sint (On Commitment to Oecumenism) of May 25, 1995, that he was willing to accept a new definition of the papacy. No pope since Vatican II has invoked outright papal authority. They suggest. They persuade. But JPII couldn't even issue a proper document with the full authority of the Ordinary and Extraordinary Magisterium condemning for all time the unCatholic and unApostolic notion of ordaining priestesses. All he could come up with was a couple of paragraphs of debatable authority. Pius IX was crystal clear about the Immaculate Conception. Pius XII was crystal clear about the Assumption. JPII wasn't when it came to his papal test. He flunked.
After forty years of Novus Ordoism, if Benedict ever were to issue a decree that abolished the Novus Ordo, the bishops would simply laugh in his face. They would say that he could do what he wanted to do at his own services in Rome, but that they are the top dogs in their own local dioceses and would bloody well continue the Novus Ordo services that they want. In the name of Vatican II "collegiality," the post-conciliar popes are in reality popes no longer -- by their own choosing. They have at last become the figureheads that the heretical Protestants and schismatic Eastern Orthodox have been asking for all along. And they have done it to themselves in the name of Vatican II.
In the interview Fellay seems to be surprised that Benedict "remains attached to the Council" three months after his election. Fellay's na´vetÚ shows itself again. Benedict quite clearly confirmed his attachment to the Council in his First Message. Did Fellay think that Benedict was a liar? TRADITIO, on the contrary, has said all along that, if you listen closely, the Vatican II Modernists are quite open about their intentions and goals. It is only cock-eyed optimists like Fellay that blind themselves to the cold, hard truth revealed in the public record. Churchmen like Fellay do not have Roman hearts. Romans were about the most practical, hard-headed realists that have existed in history. They eschewed fantasy and make-believe. Because of their RomanitÓ, they had a republic and an empire that lasted over 1200 years.
It seems, however, that Fellay has been reading TRADITIO (our sources in the Society indicate that a number of highly-placed SSPX churchmen read TRADITIO's analyses religiously) and is gradually changing his opinion -- but we wouldn't count on it. His statements still sound more and more like post-conciliar papal documents. He has trouble saying "yea, yea: no, no" and, as Our Lord preached, "that which is over and above these, is of evil" (Matthew 5:37/DRV).
---
July 29 - St. Martha, Virgin (Double Feast)
New Study Shows Novus Ordinarians only Slightly More Moral than Atheists
From: Fr. Moderator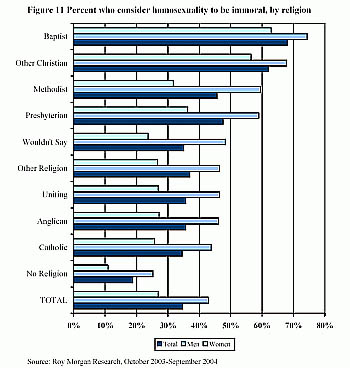 Morality Chart from a New Australian Study
Showing Novus Ordinarians near the Bottom of the Moral Spectrum
Coming only Barely Ahead of Atheists
A new Australia Institute study has found that Novus Ordinarians are more immoral than Protestants, and even than non-Christians. In the study, Novus Ordinarians were found to be twice as approving of homosexual perversion as Baptists, and even more perverted than Methodists, Presbyterians, Anglicans, and other Protestant sect members. Novus Ordinarians are more perverted even than those of non-Christian religions. They are only slightly more moral than athiests.
Given the financial support of Novus Ordinarians to the perversions and sex crimes of the Newchurch bishops and presbyters, the findings of this study should be no surprise. Newchurch is immoral and perverted, and over the last forty years it has simply rubbed off onto the Novus Ordinarians in the pews.
---
July 28 - Sts. Nazarius & Companions, Martyrs (Semidouble Feast)
Newchurch Diocese up to Old Bait-and-Switch "Indult" Tactic
From: Fr. Moderator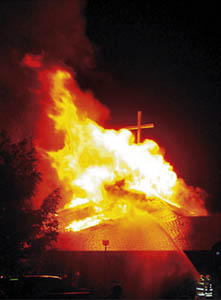 "Indult" Mass Goes up in Smoke in Boston
Just as Immaculate Conception Church near Bangor, Maine
Burned to the Ground on July 23
Those who rely on the Ecclesia Dei "indult" must be getting pretty tired of the whole scheme. Newchurch dioceses, which don't want the "Indult" Mass except when necessary to skim the pockets of die-hard Indultarians, have refined their tactics over the years to give just half a loaf. One of the most common tactics is to keep moving the "Indult" Mass around and keep changing the time so that no one can keep track of the time or the place.
That's exactly what's going on in Boston now. Holy Trinity Church, site of the only "Indult" Mass in the Boston archdiocese, is being closed by Newchurch Archbishop Sean O'Malley. Protesting parishioners claim that Holy Trinity was specifically included in the closure list because it had the "Indult" Mass, and the archdiocesan decision appears to be an attempt to get rid of that single "Indult" Mass in the archdiocese.
But O'Malley is going to be generous. "The Latin Mass is going to continue at another church," an archdiocesan spokesman said. Notice: he didn't say Traditional Latin Mass, so it may end up being one of those Novus Ordo Protestant-Masonic-Pagan services spiced up with a little Latin. Moreover, the replacement site is supposed to be all the way over at St. James the Greater. A number of the attendees at Holy Trinity commute in from a distance, and St. James the Greater has limited parking.
Most of attendees at Holy Trinity say that they won't make the trip to St. James the Greater. "If they move us down to St. James, that's the end of Latin Mass," said one parishioner. "We're second-class citizens." A handful of Holy Trinity parishioners protested. They marched outside Boston's Cathedral of the Holy Cross in a small circle, sang hymns, and prayed the rosary, claiming that the archdiocese wanted to "bust and decimate" them. [Boston Globe]
We'll they're right. The some 425 U.S. bishops have never supported the "Indult" Mass. Half of them since 1988, when Ecclesia Dei was issued, haven't had a single "Indult" Mass. Most of those that "permit" the "Indult" Mass schedule it only on a few Sundays a month at usually no more than one location for the entire diocese. The "indult" is far from a blueprint for success. In fact, it was concocted by Newchurch specifically to kill real Traditional Latin Masses.
One of these days the Indultarians will wake up, leave all the Newchurch "politics" to the episcopal criminals that run the Newchurch establishment and pour their time and money into setting up independent chapels, where they can't be touched. That way, too, they can have not the semi-traditional "Indult" Mass with the Modernized Missal of 1962, but a real Traditional Latin Mass, and not a presbyter shared with the Novus Ordo, but a real traditional priest who does not have to dance to the pipe of the local bishop playing his New Order tune.
---
July 27 - St. Pantaleon, Martyr (Simple Feast)
Is Darwin's Theory of Evolution PassÚ Already?
From: Fr. Moderator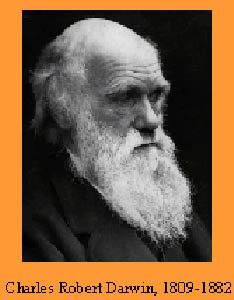 Charles Darwin
His Theory of Evolution Is Failing
Religion Has Nothing to Fear from Science
Like all scientific hypotheses, Darwin's Theory of Evolution is just that: an hypothesis to explain observed phenomena. No scientific theory gives us absolute truth. Ptolemy's astronomical theory lasted more than a millennium, then was replaced by Newton's theory, and more recently by Einstein's theory, which in due course will be found wanting and replaced. Each theory, however, does have pieces of the truth, which are amplified in subsequent theories.
The Church has nothing to fear from science. Science and religion are by nature compatible. As Pope St. Pius X put it: true religion and true science can never be at odds, as both are based in truth. The problem arises when science is pushed beyond its limits and worshipped as a god, an error known as scientism. There is these days a vocal group of atheists who try to replace God by the god of science. It isn't working. For further information, see FAQ10: How Do You Explain These Traditional Beliefs? in the TRADITIO Library of Files (Traditional Apologetics), in the article "Evolution."
In response to statements made in the PBS Evolution series, which claimed that no scientists diagreed with the Darwinian theory of evolution, more than 400 scientists from all disciplines have signed onto a growing list of skeptics of claims for the ability of random mutation and natural selection to account for the complexity of life. "Darwin's theory of evolution is the great white elephant of contemporary thought," said David Berlinski, a mathematician and philosopher of science with Discovery Institute's Center for Science and Culture. "It is large, almost completely useless, and the object of superstitious awe."
"The fact is that a significant number of scientists are extremely skeptical that Darwinian evolution can explain the origins of life," said John G. West, associate director of the CSC. "We expect that as scientists engage in the wider debate over materialist evolutionary theories, this list will continue to grow, and grow at an even more rapid pace than we've seen this past year." West says that the talk in media about "science vs. religion" is misleading. "This list is a witness to the growing group of scientists who challenge Darwinian theory on scientific grounds," he said.
The Institute says that in just the past three months, 29 scientists, including eight biologists, have signed the statement, which includes more than 70 biologists. [WorldNet Daily]
---
July 26 - St. Anne, Mother of the Blessed Virgin Mary (Double Feast of the Second Class)
Sex, Embezzlement -- Now Murder!
From: Fr. Moderator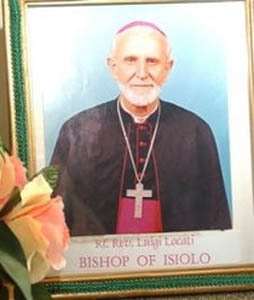 Kenyan Newchurch Bishop Luigi Locati
Killed by his Presbyters for "Personnel Actions"
As Newchurch Gets More and More Immoral -- and Just Plain Crazy
On July 19-20 two Novus Ordo presbyters were arrested in Kenya for the July 14 murder of Newchurch Bishop Luigi Locati. It seems that the presbyters were unhappy with the bishop's personnel decisions. One had been forced out of a parish assignment because of complaints that he was squandering funds. The other had been involved in a dispute over the management of two schools that eventually were closed down on the bishop's orders. [CWN]
Do you get the idea that Newchurch is out of control? You'd be right!
---
July 25 - St. James the Greater, Apostle (Double Feast of the Second Class)
Newchurch Bishop up for Perjury
From: Fr. Moderator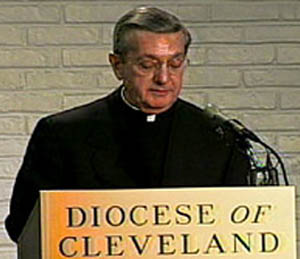 Looking as if in a Police Mug Shot
Newchurch Bishop Anthony Pilla
May Face the Grand Jury on Perjury Charges
The Diocese Is Already Attempting to Defend Itself
In a Defamation Suit by a Parishioner
Sex crimes, embezzlement, obstruction of justice, conspiracy, racketeering. Now to the catalog of crimes perpetrated by Newchurch bishops, we may shortly be adding defamation and perjury.
Newchurch Bishop Anthony Pilla is already testifying as a corporate defendant in a defamation case against the Cleveland Newchurch diocese by a parishioner. Now Pilla may personally face a grand jury over charges of perjury. The Cuyahoga County prosecutor was provided with letters that allegedly show that Pilla perjured himself during his testimony July 19 in the defamation case.
And the robotic Novus Ordinarians keep ponying up money to the Newchurch collection plates to support this crime wave. No wonder the Benedictine ship of Newchurch is sinking under the waves of immorality!
---
July 24 - Tenth Sunday after Pentecost (Semidouble Sunday)
No "Mass Obligation" to the Novus Ordo Service
From: Nancy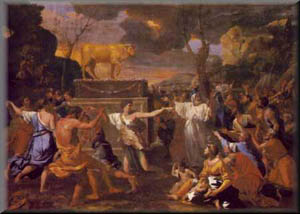 Nicolas Poussin's Adoration of the Golden Calf (1633-36)
Just as the Jews Violated the First Commandment by Worshipping the Golden Calf
Novus Ordinarians Violate First Commandment by Worshipping
At the Spurious Novus Ordo Protestant-Masonic-Pagan Service
Dear Fr. Moderator:
I have stopped attending the Novus Ordo service regularly because I do not want to fund or be party to the criminal activity of Newchurch bishops and presbyters, but on the other hand, if one does not attend Mass, he is committing a mortal sin. So, I am in a state of mortal sin.
Fr. Moderator Replies.
You have it all backwards. You have not stopped attending Mass, nor are you in a state of mortal sin. Quite the contrary. You have stopped attending the Protestant-Masonic-Pagan Novus Ordo service, which is not a Mass. In fact, you have an obligation not to attend a counterfeit Novus Ordo service, just as you have an obligation not to attend an heretical Protestant service or a schismatic Eastern Orthodox service. The mortal sin (against the First Commandment) would be actually to attend an unCatholic service.
Your ecclesiastical obligation related to the Third Commandment is not to attend just any service, but the right one, the one that Our Lord prescribed. Many Novus Ordinarians seem to miss this basic point. They seem to think of the "Mass obligation" as some empty obligation that obliges them to attend a phony, unCatholic service. They don't consider the basic purpose of the law, which is right worship of the Creator, in the way that He prescribed. Otherwise, you may as well participate in a Voodoo service and call it fulfilling your "obligation" to worship the Creator!
---
July 23 - St. Apollinaris, Bishop & Martyr (Double Feast)
Is the Fraternity of St. Peter Going Novus Ordo?
From: Nancy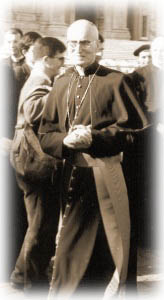 A Lot Has Changed in the Fraternity of St. Peter
Since Augustin Cardinal Mayer Supervised It in 1988
Newvatican's Protocol 1411 of 1999 Requires All "Indult" Organizations
To Perform the Novus Ordo Service when Requested by a Newchurch Bishop
The diocesan newspaper of a western diocese has announced that an FSSP priest will serve as the pastor of both a parish using the Novus Ordo and a second parish that has recently started an "Indult" Mass. Does the FSSP now perform the Novus Ordo service too?
Fr. Moderator Replies.
In 1999 Newvatican reneged on its promise to the Fraternity that it could use exclusively the Modernized Missal of 1962. Since then, FSSP priests must be prepared to perform the Novus Ordo service. The same is true of all other "indult" priests. Newvatican's Protocol 1411 of 1999 provides that "indult" priests must say the Novus Ordo service when so requested by their Newchurch bishops. Several of these cases have occurred already, and what you are describing sounds like yet another one. As reported previously in the TRADITIO Commentaries, even an "indult" bishop from Brazil was recently forced to concelebrate a Novus Ordo service.
The "indult" situation, as TRADITIO has stated from the first, is becoming more and more tenuous. Many "indult" Masses are being phased into Novus Ordo services by gradually importing Novus Ordo features. Cookies in the tabernacle from the Novus Ordo service are being mixed with Hosts from the "Indult" Mass. This is done specifically so that the Indultarians cannot be certain of receiving the Corpus Christi and are forced to accept publicly the New Order.
Remember, JPII didn't issue the "indult" because he wanted the Traditional Latin Mass. He issued it on the same day that Archbishop Lefebvre consecrated four bishops to continue the traditional Apostolic succession on June 30, 1988. JPII reacted in panic when it became undeniably clear that traditional Catholicism would survive in the traditional priesthood and the episcopacy. Thus, the "indult" and the FSSP were created on the same day -- to butt heads with traditional Catholicism.
Now that the "indult" has served its purpose, it is gradually being dismantled. To be fair, Newvatican always said categorically that it would be dismantling the "indult" after a few years, so it is simply carrying out its announced intention.
---
July 22 - St. Mary Magdalen, Penitent (Double Feast)
Complete Friday Abstinence
Pope's Personal Representative Pushes Paganism at Assisi Meeting
From: Fr. Moderator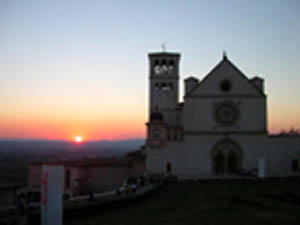 Assisi, Once Known as the Birthplace of St. Francis
Now a Hotbed of Paganism
Sponsored by Benedict-Ratzinger and His Personal Representative
Assisi, once known as the birthplace of St. Francis, has now been turned into a sewer for "oecumenical" gatherings sponsored by Newvatican and its minions. These are not just gatherings of Christians even, but include the rankest of pagans: Buddhists (who are technically athiests), Hindus (pagans of the hundred-armed goddesses), and Mohammedanism offshoots called Sufis. You remember the sacrileges of the Assisi Conference in which JPII personally participated, among which was the placing of the image of Buddha atop the Catholic tabernacle. Well, that was just the beginning.
This paganism is being fully endorsed by Newvatican in the person of the pope's own head of Interreligious Dialogue (just another example of Benedict-Ratzinger's departures from Catholicism). The "line" that Newvatican is now giving out is that "all that is good in any religion is the work of the spirit of God." (Sounds familiarly like the "we all worship the same god" line, doesn't it?) Notice that Newvatican isn't claiming any longer that this idiocy has a connection with the Third Person of the Most Blessed Trinity, as it used to. This is just some non-descript, uncapitalized "spirit." Well, at least Newvatican has got that right. This relativistic paganism has nothing to do with the Holy Ghost!
Archbishop Michael Fitzgerald shoveled out this offal to a July 13-17 meeting of Novus Ordinarians, Hindus, and Mohammedans. He tried to equate the contemplation of God in traditional Benedictine monasticism to Hinduism and Sufism. Fitzgerald maintained that "the action of God ... is in the tradition, customs, and rites of the various religions." In other words, the worship of a hundred-handed animal goddess is the action of God. The jihad that has murdered thousands of Americans, Londoners, Spaniards, and Turks is the action of God. [CNS]
This personal representative of the pope preaches nothing short of blasphemy. Just another example to substantiate why TRADITIO has consistently recommended that true Catholics have absolutely nothing to do with the unCatholic New Order.
---
July 21 - St. Praxedes, Virgin (Simple Feast)
Argentineans Slip Back to Paganism
From: Fr. Moderator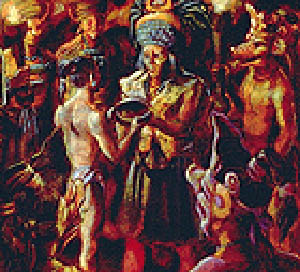 A Mayan Priest Prepares a Human Sacrifice
The Spanish Brought Enlightened Catholicism to Latin America
To Replace the Pagan Barbarism Previously Existing There
With the Advent of the New Order Religion
Latin America Is Returning to Its Pagan Roots
When the Spaniards brought Catholicism to Latin America, they were able to root out the vicious paganism that existed there. Both the Mayans and the Aztecs practiced human sacrifice, which, of course, was intolerable to the Catholic Faith. For 500 years the Latin Americans were imbued with the graces of Catholicism. However, it is clear now that the native paganism was still seething under the surface and has been released again now that the New Order has perverted the Catholic Church. We have seen the same return to paganism occurring in Africa, where a Newchurch archbishop is advocating a return to animal sacrifice as part of the Novus Ordo service there. Animal sacrifice is already being practiced the Caribbean as Catholic Santeria.
Now the Argentine Newchurch bishops at their Congress ending July 16 are admitting that New Ageism has been replacing even Novus Ordoism (not to speak of true Catholicism). An expert of the Congress stated that "a fundamental element of New Ageism is man's self-divinization, explained as follows: 'God is within me; God and I are one same conscience; I am God.'" Funny, that notion is closely associated with the unCatholic errors of "phenomenology" and "theology of the body" hawked by JPII, and liturgized by the "New Mess."
The expert reported to the Congress that Novus Ordo presbyters and nuns are practicing the mind control that is typically practiced by New Ageists. He added that often this New Ageism is concealed in "politically correct" liberalist causes such as "pacifism, universal brotherhood, and ecology."
The situation in Newchurch is getting even worse. Students in Newchurch high schools have assimilated pagan (we might even say "wacko") beliefs in place of even the New Order Religion. Over 50% of the Novus Ordo students now believe in such New Age tenets as:
UFOs
extraterrestrials
black magic
witchcraft
astrology
necromancy (communication with the dead)
divination
reincarnation
The expert concluded: "New Age gains followers day by day with the final objective, they say, of erasing universal borders to achieve the creation of a supra-religion where man is the alpha and omega, the beginning and end of all things, thus achieving a caricature of religion. It is no longer man who is created in the image and likeness of God but God who is created in the image and likeness of man." [Zenit]
But isn't that the exact philosophy that underlies the New Order in Newchurch?!
---
July 20 - St. Jerome Emilian, Confessor (Double Feast)
What about the Old Catholics?
From: Richard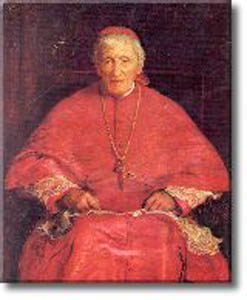 John Henry Cardinal Newman (1801-1890)
In His 1876 Work Certain Difficulties
Wrote the Best, Most Balanced Explanation
Of the Dogma of Papal Infallibility Yet Penned
Dear Fr. Moderator:
Sunday I attended a Traditional Latin Mass, but I learned that it was celebrated by a priest who was a member of the Old Catholic organization and who was married. Was this a valid Mass? Was the priest properly ordained? What is the Old Catholic organization?
Fr. Moderator Replies.
The Old Catholics are in the same situation as the Eastern Orthodox. They are valid, but formally schismatic, as they reject the dogma of the papacy as defined by Vatican I. Some of the Old Catholic groups have a married clergy, just as Newchurch is now starting to introduce this practice.
Vatican I was a contentious council. Pope Pius IX did not want to put the issue of the papacy on the agenda, but was eventually pressured by the French Ultramontanists to do so, a group that wanted to see the papacy restored to its old glory, not only religious, but temporal. Many bishops at the council were troubled about the debate. It seemed to them that the Ultramontanists, because of their secular political motivations, were going beyond the Tradition of the Church in the power that they want to ascribe to the pope, much like the Papolators of our own post-Vatican II era. For further information on these terms, see FAQ06: What Do These Traditional Terms Mean? in the TRADITIO Library of Files (Traditional Apologetics).
It was an difficult time. The ideas of the Roman Church were under attack. Revolutionary Italy had confiscated lands long controlled by the popes under their temporal power. Because the Church could no longer assert its supremacy in political matters, the Ultramontanists wanted to throw down the gauntlet in the spiritual realm. The Italian revolutionaries were about to take control of Rome, and it would have been an embarrassment for the Council to have undercut the pope once the issue had been placed on the agenda. Rather than vote no and embarrass the pope, many bishops simply left the council and returned to their dioceses. Among those who had reservations about the language used on papal infallibility was John Henry Cardinal Newman, the greatest theologian of his time, tantamount to a Doctor of the Church.
Because of the intervention of bishops such as Cardinal Newman, the Council's final definition was carefully balanced. On the one hand, the Council in its First Dogmatic Constitution on the Church of Christ (Pastor Aeternus) "On the "Infallible Magisterium of the Roman Pontiff" (the Council had specifically rejected the misleading title "On the Infallibility of the Roman Pontiff") stated:
The Roman Pontiff, when he speaks ex cathedra, that is, when in discharge of the office of pastor and teacher of all Christians, by virtue of his supreme apostolic authority he defines a doctrine regarding faith or morals to be held by the universal Church, is possessed of that infallibility with which the divine Redeemer willed that his Church should be endowed.
The post-Vatican II Papolators incessantly quote this passage from the Council, but never quote the balancing context in which the Council specifically placed it:
Neque enim Petri successoribus Spiritus sanctus promissus est, ut eo revelante novam doctrinam patefacerent, sed ut eo assistente traditam per apostolos revelationem seu fidei depositum sancte custodirent et fideliter exponerent. [For the Holy Ghost was promised to the successors of Peter not so that they might, by His revelation, make known some new doctrine, but that, by His assistance, they might religiously guard and faithfully expound the revelation or Deposit of Faith transmitted by the Apostles.]
Unfortunately, Vatican I was never finished. Had it been, there might not have been the incorrect notions about papal infallibility that survive to our day. The Italian revolutionaries invaded Rome, and even the pope was forced to flee for a time. To this day, the Vatican I Council has never been closed, not even with the intervening Vatican II.
Cardinal Newman did accept the final definition, with its limitation on the authority of the Roman pontiff, and in 1876 in his book, Certain Difficulties, wrote probably the best, most balanced explanation of the dogma of papal infallibility ever penned. Pope St. Pius X, in his 1908 Letter to the Bishop of Limerick [Acta Apostolicae Sedis XLI], "emphatically approved" the writings of Cardinal Newman as being "very much in harmony" with his Encyclical Letter Pascendi against Modernism.
Several prominent Catholics and about 60,000 laymen left the Church over this issue, and their leaving was greatly lamented at the time. They called themselves "Old Catholic." Their validity was never in question, of course, but in that they formally denied a dogma of the Faith, they fell into the same condition as the Eastern Orthodox. At their Council of Utrecht in 1889, the Old Catholics laid out the guidelines of their theology. They agreed that the pope was primus inter pares, but rejected the decrees of Vatican I concerning the infallibility and the universal episcopate of the Bishop of Rome, which they held to be "in contradiction with the faith of the ancient Church and which destroy its ancient canonical constitution by attributing to the pope the plenitude of ecclesiastical powers over all dioceses and over all the faithful."
It is an irony of history that the Newchurch, the Church of the New Order, has essentialy come to agree with the errors of the Old Catholics against traditional Catholicism. In his 1995 Encyclical Letter Ut Unum Sint [On the Commitment to Oecumenism] spoke of changing the constitution of the Roman papacy to "a new situation" to "acknowledge the oecumenical aspirations of the majority of the Christian Communities." This was the same Encyclical Letter in which JPII called for the creation of a "common martyrology" containing "saints" from the Catholic, schismatic Orthodox, and heretical Protestant religions and rejected "the outdated ecclesiology of [heretics'] return to the Catholic Church."
Thus, it is the Novus Ordinarians who have abandoned Catholic Dogma and Tradition and have tried to cover their abandonment of the Catholic Faith, like the Modernists whom Pope St. Pius X condemned in Pascendi, by equating traditional Catholicism with the schismatic Old Catholics. The two are, of course, quite different. Traditional Catholics, who are true Catholics, accept the Vatican I dogma on the papacy -- the full dogma, that is, not the caricature of it promoted by the post-Vatican II Papolators. Even the sede-vacantists accept that doctrine, whatever their personal opinions on the factual condition of individual post-conciliar popes may be. The Novus Ordinarians, on the other hand, de facto reject the dogma on papal infallibility and consider the pope a figurehead.
Thus, traditional Roman Catholics should treat those associated with the Old Catholic organization and publicly professing that they are Old Catholics in the same way as they would treat the Eastern Orthodox. As formally schismatic, although fully valid, their services should be avoided.
---
July 19 - St. Vincent de Paul, Confessor (Double Feast)
U.S. Newchurch to Move Ash Wednesday and Christmas to Sunday?
From: Fr. Moderator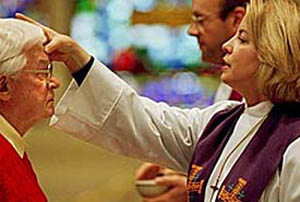 If U.S. Newchurch Bishops Had Their Druthers
Ash Wednesday and Christmas Would Be Moved to Sunday
And Ashes Would Be Imposed by Priestesses
Press Release from the United States Conference of Catholic Bishops

The USCCB has requested the Vatican to move the observance of Ash Wednesday to the following First Sunday of Lent, as well as to combine Holy Thursday and Good Friday and move their observance to the Saturday before Easter -- for various practical reasons such as the inability of some people to remember on which weekday those feasts occur. The bishops have also requested that Christmas be observed on the nearest Sunday so that travel plans for winter vacations will not be upset and for other reasons.
Now admit it. You might be a little surprised by this press release, but you accepted it as within the range of possibility for what is happening in Newchurch. Don't be relieved when we tell you that this excerpt from a recently-published satire -- in a Novus Ordo periodical! -- cuts to the truth that Newchurch is not Catholic. And your instincts immediately knew that.
But don't doubt that one day such a press release will actually be issued, when you consider the U.S. Newchurch has done to Ascension Thursday (now Ascension Sunday) and Corpus Christi Thursday, and to the other "holydays of obligation" when they fall on an inconvenient Saturday or Monday. God knows: no one should be expected to assist at Mass two days in a row!
Newchurch claims to "simplify" the liturgy. But now you need a ouija board to determine when such feasts occur in the Counterfeit Church.
---
July 18 - St. Camillus de Lellis, Confessor (Double Feast)
Newchurch Falls for Old Heresy
From: Fr. Moderator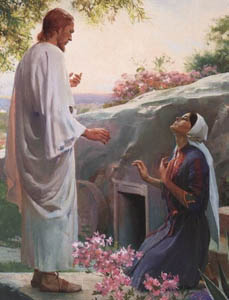 The Woman Caught in Adultery
The Church Calls Mary Magdalene a Penitent
New Order Gnostics Call Her a Goddess
In the Latest Assault on Orthodox Belief
It has been said that there are no new heresies, simply variations of earlier heresies. It is certainly clear that in the second half of the twentieth century the Church was attacked by a resuscitation of the Arian Heresy, which gripped the Church in the fourth century and swept into its error most of the bishops and popes of the time. So said St. Jerome.
Newchurch is also tainted significantly by the early heresy of Gnosticism. This heresy denied the fact that Christ's teachings were for "all nations." It held, rather, to a notion that some were privileged with secret knowledge (Greek: gnosis). Gnosticism was a cultish heresy and took hold especially in Africa, affected greatly by the importance of the long-standing pagan cults of Egypt. Protestantism can be seen to have arisen especially from the heresy of Gnosticism. Is it any wonder that there is so much paganism rampant in Newchurch? Enneagrams based in Hinduism, yoga taught and practiced in church basements, American Indian "spirituality" incorporated into the New Order service (as by Newchurch Archbishop Charles Chaput, of Denver), and many other pagan teachings and practices.
The modern Gnostic heresy has been popularized by the fiction of Dan Brown's works, The DaVinci Code and Angels and Demons, and has taken on a new life most recently with its fable that Mary Magdalene was the secret wife of Christ. This incarnation of the heresy arose first in Protestant sects, then spread to the Newchurch via "oecumenical" meetings. One fanatic spilled the beans: "I have committed my life to following the path of the Divine Feminine," she said. In fact, the modern Gnostic movement in the New Order and elsewhere is being propagated primarily by radical feminists, who freely admit what they are doing to destroy the Church.
Early Gnosticism has a rich literature, primary in which are the "Gnostic Gospels." The so-called "Gospel of Thomas" is the best known of these. It is really a quite silly work, having the young Christ do magic tricks. The early Church knew that it was a fraud and, of course, did not incorporate it into the canon of Sacred Scripture. But the modern Gnostics, who are consumed in the heresy of secret doctrines, like the "marriage" of Christ and Mary Magdelene, see some kind of conspiracy in the fact that "their" gospel wasn't included!
One religion professor has publicly called a spade a spade. "It's tragic that modern attempts ... use absurd crank 'theories' that no reputable scholar will take seriously, such as 'pagan priestess' or 'bride of Jesus,' or else we have more serious works that are massively over-optimistic in what can be recovered from very late and tainted texts like the [Gnostic] Gospel of Mary."
Christ's teaching, on the contrary, is for all nations, not for a select few people, and is open, not secret. As he responded to the High Priest, who was trying to discover secret teachings during Christ's trial before the Sanhedrin: "Jesus answered him: I have spoken openly to the world. I have always taught in the synagogue and in the temple, whither all the Jews resort: and in secret I have spoken nothing (John 18:20/DRV).
---
July 17 - Ninth Sunday after Pentecost (Semidouble Feast)
Do Episcopalians Just Have More Guts?
From: Fr. Moderator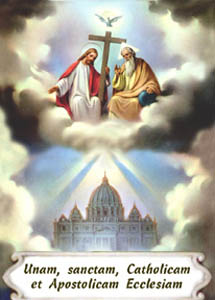 The Four Marks of the True Church:
One, Holy, Catholic, Apostolic
"In the name of an ideology of radical inclusivity, the Church has moved significantly away from the Apostolic and Catholic faith of Jesus Christ. I, as a priest, have had to reassess my understanding of the Church from the ground up. I must be in the Church founded by Christ Jesus. It is thus my intention to enter into full communion with the Roman Catholic Church."
It sounds like the statement of a Novus Ordo presbyter finding the true Catholic Faith, doesn't it? In fact, it is the statement of an Episcopalian priest, who is leaving Protestantism in view of the unChristian doctrines being accepted by the Anglican Church. Episcopalian priests are leaving the Anglican Church by the hundreds, even thousands. Bishops too. They are calling a spade a spade. A Christian cannot countenance the immorality of homosexual advocacy, "gay marriage," priestesses, and bishopesses. A Christian cannot be part of a Counterfeit Church, a Great Facade.
How is it that so many Episcopalian priests can see into the heart of the matter when Novus Ordo presbyters still, with few exceptions, remain in the Counterfeit Church with is destructive New Theology, New Morality, New Service and Sacraments? Are Episcopalian priests just more honest and open to the truth, whereas Novus Ordo presbyters have shut their minds to Christ -- except the caricature of him held up by the New Order? Maybe the Episcopalian priests just have more guts at least to try to seek what is right!
---
July 16 - Our Lady of Mt. Carmel (Double Major Feast)
Newchurch Bishop Tells Traditional Anglican Priests: Don't Convert to Newchurch
From: Fr. Moderator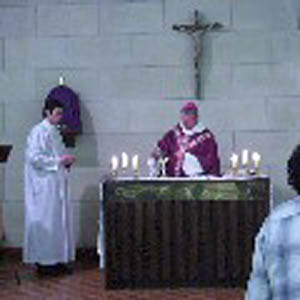 Newchurch Bishop Declan Lang Plays Novus Ordo Mess
This "Oecumenist" Tells Traditional Anglican Priests:
"Don't Convert to Newchurch; It Wouldn't Be Oecumenical"
No wonder Newchurch is dying. Among other things, it doesn't want the "priests" it desperately needs.
Mass defections from Henry VIII's and Cranmer's Church of England have been announced since the recent "vote" for bishopesses. You'd think that Newchurch, if it had an jot or tittle of Catholicism remaining in it, would welcome the traditional Anglican priests back into the "fold."
Not on your life! It wouldn't be "oecumenical," says Newchurch Bishop Declan Lang, of Clifton, one of the UK's leading Catholic oecumenists. He announced that traditional Anglican priests opposed to the consecration of bishopesses should not be received into the Newchurch for "negative reasons." Is rejection of heresy now a "negative reason" in Newchurch? Or is it just that Newchurch doesn't like traditional people, whether Catholic or Protestant?
When the Church of England "voted" to "ordain" priestesses in 1992, 4000 Anglican priests converted to Newchurch. With the recent "vote" for Anglican bishopesses, Anglican Bishop Andrew Burnham, of Ebbsfleet, announced that he was going to join Newchurch and take along with 800 Anglican priests with him. [London Telegraph]
As TRADITIO has consistently predicted, the Anglican Church will be dead in our generation. The Novus Ordo sect is similarly dying, but will take yet another generation -- about a total of one hundred years, as has been the historical norm for heresies in the Catholic Church to be rooted out. The end of the Novus Ordo, however, is definitely in sight. Make no mistake about it.
---
July 15 - St. Henry II of Germany, Confessor (Semidouble Feast)
Get Ready for More Newchurch Propaganda
From: Fr. Moderator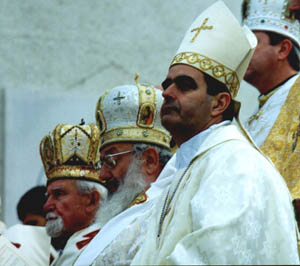 Archbishop Nicola Eterovych and His Eastern Comrades
This Secretary General of the Next Newchurch Synod Told the Press:
"Novelties will be introduced."
"The proposals will not repeat the traditional doctrine of the Church."
The Eleventh Ordinary General Assembly of the Synod of Newchurch Bishops, to be held in Newvatican October 2-23, is going to discuss the topic "The Eucharist: Source and Summit of the Life and Mission of the Church." (These Synods, by the way, were introduced after Vatican II to dilute any remaining papal authority in favor of the Modernist notion of "collegiality.") Traditional Catholics know that the term "Eucharist" in Newchurch is a code name for the Novus Ordo cookie, which even Newvatican has admitted is invalid in many cases. For further information, see FAQ03: Should I Attend the New Mass? in the TRADITIO Library of Files (Traditional Apologetics).
Already there has been a good deal of misleading information circulating about this Synod. Undoubtedly, the Newchurch propaganda will rev up further as the date of the Synod approaches. You will hear words like "traditional" applied to what obviously is anything but traditional, as Newchurch has recently learned to apply the word "traditional" to Modernist theology to deceive the "conservatives." The advance propaganda fits exactly the Conciliar mode; that is, it uses a veneer of "traditional" vocabulary, while in reality what is going on is further implementation of the Modernist revolution.
What do we know about this upcoming Synod? Well, first of all, it appears that Benedict-Ratzinger is behind the staging of it, in order to include another giant step down the path of Modernism. He already indicated this path in his First Message. Archbishop Nikola Eterovych, Apostolic Delegate to the Ukraine, and Secretary General of the Synod, frankly admitted at a press conference on July 7 that "novelties will be introduced." He went on to say: "It is hoped that the proposals will not repeat the traditional doctrine of the Church." What clearer statements could be made to indicate that this Synod is not the doing of the Roman Catholic Church, but some kind of Modernistic coup d'etat that has taken over Newrome?
Nor does the Synod have any standing as a "Catholic" body, since it will include significant numbers of schismatics (Eastern Orthodox) and heretics (Protestants). Those who had the silly presumption that Benedict-Ratzinger would be more "Catholic" than his predecessor should be properly chastened to reality by this fact, as it was Benedict himself who introduced the schismatics and heretics -- on the question of the Catholic "Eucharist" of all topics!
With all the recent folderol of the pope wanting the Novus Ordinarians to learn their prayers in Latin, in yet another example of the rank hypocrisy of Newchurch, Latin has been eliminated as a language of the Synod. In the past, a number of bishops addressed the Synod in Latin. How can any bishops who claim to be Roman Catholic actually be so when they cannot discuss important theological issues in the language of the Church for 2000 years, in which the Fathers, Doctors, Popes, and Councils have discussed them? No wonder their "Eucharist" is invalid! We have certainly learned for a certainty these last forty years the truth of the Italian proverb: traduttore, traditore, [the translator is a traitor].
Why should we be surprised? Benedict-Ratzinger is an out-and-out Modernist. He was one of the leading revolutionaries at Vatican II, and he has never recanted his errors. Oh, sure, he will deceive some gullible "conservatives" because he is a consummate politician. He will sugarcoat the Modernist documents by sprinkling some traditional terms into them like a pinch of arsenic into lethal tea.
---
July 14 - St. Bonaventure, Bishop, Confessor & Doctor (Double Feast)
Has the "Church of Love" Died?
From: Fr. Moderator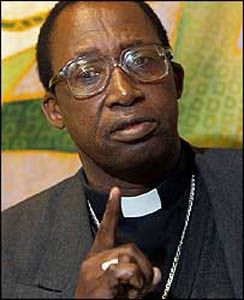 Newchurch Bishop Pius Ncube Achieves Another Newchurch First
This Bishop of the "Church or Love" Publicly Prayed for the Death of a Man
You know the propaganda that Newchurch shovels out. It is the "New Springtime," the "New Pentecost," the "Church of Love." Some Church of Love! It has hatefully destroyed the Roman Catholic Church and substituted a counterfeit "New Order." It has, at all levels, hatefully conspired to deflower youth in the most disgusting ways. It has hatefully targeted true Catholics, traditional Roman Catholics, and subjected them to "dry" martyrdom for standing up for the True Faith in opposition to the unCatholic New Order.
Now Newchurch is openly praying for the death of a man. The Newchurch archbishop of Bulawayo, Pius Ncube, publicly prayed for the death of Zimbawe's President Robert Mugabe. Like the Newchurch bishops, who function as bishops no longer, but as wanna-be political hacks, Ncube is hardly free from political involvement himself. According to a Los Angeles Times report, he sits in his Bulawayo office beneath posters of the Rev. Martin Luther King Jr. and former South African President Nelson Mandela.
This hypocritical bishop has said: "People must be ready to lay down their lives for the truth, because at present this government can bully them." Excuse us! Does that sound like a Catholic bishop or a politician? We thought that bishops were supposed to lay their lives down for Christ, not for some political goal. We repeat: these Newchurch bishops are bishops in name only. Having lost the Roman Catholic Faith, they have become, at best, secular politicians or, at worst, criminals.
---
July 13 - St. Anacletus, Pope & Martyr (Semidouble Feast)
Catholic Bodies May Literally Be Dug up as Diocese Folds
From: Fr. Moderator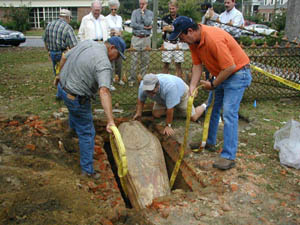 This May Be the Scene Throughout the Diocese of Spokane
As Bodies Are Dug up and Removed from Diocesan Cemeteries
Because the Newchurch Bishop and His Presbyters
Have Brought the Diocese to Bankruptcy for Rampant Sex Crimes
The Newchurch Diocese of Spokane is in bankruptcy proceedings, and there are early indications that all of the 82 parishes could be sold to pay victims of crimes by New Order clergy. All Novus Ordo schools may close. Even the dead are not safe from the predations of the New Order: Catholic cemeteries may be sold, and the bodies disinterred.
One Novus Ordinarian leader asks, "Do 90,000 innocent people deserve to be punished for the sins of those few?" The answer is yes. The Novus Ordinarians are guilty as accomplices for these crimes. For forty years they have been sponsoring an unCatholic fraud, the New Order, with its New Morality. No more Purgatory, no more Hell, no more priestly celibacy, no more Mortal Sin, no more Confession. These Novus Ordinarians knew darn well that their Church was being corrupted, and yet they still ponied up into the collection plate to fund it. Even when the Great Scandal came out of the bag in the 1990s, they still contributed to the crimes of the New Order.
Plaintiffs want Spokane Bishop William Skylstad to be fired because of his complicity in the crime cover-up. Well now, this is a problem, as the errant Newchurch bishops have elected Skylstad president of their Bishops Conference! (And you wonder about the complicity of all the Newchurch bishops in these crimes?)
The bishops haven't got their story straight, though. In Boston, the bishop is asserting that he is the sole owner of the parishes. In Spokane, the bishop claims that he doesn't own them (undoubtedly to slip out of paying out full liability). What a lie! The bishop is legal fiction called a Corporation Sole. He doesn't even have to answer to a non-profit Board of Directors! [King County Journal]
Of course, the civil courts are just beginning to find out what we traditional Catholics have known all along: the New Order is bankrupt. The sooner it is dismantled, and the traditional Faith restored in many more locales around the United States, the better. It is ironic that Spokane is the headquarters of one of the leading traditional Catholic organizations, the Congregation of Mary Immaculate Queen. So if any Spokane Novus Ordinarian has any remainder of the true Catholic Faith, he has a home where he can practice the true Faith.
---
Newchurch Is Three Times More Immoral than Previously Reported
From: Fr. Moderator
The degree of corruption in Newchurch is staggering. It involves not only sex crimes, but embezzlement, obstruction of justice, and accessory complicity of Newchurch officials both before and after the fact. It involves not only presbyters, but bishops, cardinals, and popes. It is beyond belief that any moral person could be putting money into Newchurch collection plates to support this corruption. But the plague of the New Order has caused its adherents to become delusional and irrational. It is hard to think of any other explanation for the actions of Novus Ordo sectarians.
Now Illinois Appellate Court Justice Anne Burke, of Chicago, who once was chairman of the U.S. Newchurch Bishops Investigating Committee, but was fired when she publicly stated that she had simply been made a front for the bishops P.R. campaign and that the bishops had no intention of serious rooting out the crime problem, announced on July 9 that the crimes of the U.S. Newchurch bishops and their charges would reach not just $1,000,000,000, but as much as three times that much: $3,000,000,000.
In June, Justice Burke was highly critical of the U.S. Newchurch bishops, who were meeting then in Chicago. She said that already the bishops wanted to backslide and soften the standards of accountability they had adopted in 2002. "Some of them found it was time to roll back the clock," she said, so that they could one again engage in crime without it becoming so public.
The Newchurch Archdiocese of Portland, Oregon, whose former archbishop, William Levad, was selected by Benedict-Ratzinger to become Doctrine Czar and administer the handling of clergy crimes, has been bankrupted by payouts for crimes by Newchurch clergy. Two more dioceses are in the bankruptcy pipeline -- and they will be far from the last. [The Washington Post]
---
July 12 - St. John Gualbert, Abbot (Double Feast)
At Least Somebody Got It Right
From: Fr. Moderator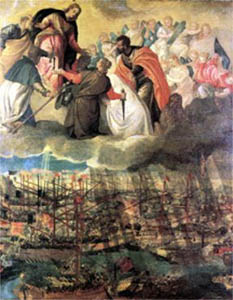 The Battle of Lepanto by Paolo Veronese
Without Heavenly Intercession, Prayed for by Pope Pius V
And the Confraternities of the Most Holy Rosary
The Mohammendans Would Have Invaded Europe Again in 1571
After the terrorist attack on London by the Mohammedans, only one person seemed to get it right: "Make no mistake: this was an attack on Western Civilization." That was conservative commentator Rush Limbaugh's lead comment on his July 7 syndicated radio program. And, as we Catholics know, Western Civilization is Roman Civilization, first classical Roman Civilization, then Roman Catholic Civilization, as the Christians preserved and carried classical Roman Civilization to the world in a Christianized form. That is, after all, why we are described as Roman Catholics.
Even U.S. President George W. Bush seemed to put a somewhat "politically correct" face on this event when he stated: "We will find them, we will bring them to justice, and at the same time we will spread an ideology of hope and compassion that will overwhelm their ideology of hate." British Prime Minister Tony Blair got it dead right. He simply called the attack "barbaric." He sees clearly that this is a war between civilization and barbarism. Although, of course, it is not politically correct to say so, five principal times in history the Mohammedans have tried to conquer Catholic Europe by force and to impose their cult upon Catholics:
A.D. 711. The Saracens invaded Spain under Tarik ben Ziyad, which was not expelled until 1492 by the Catholic monarchs Ferdinand and Isabella in the Reconquista.
A.D. 732. The Mohammedans invaded Palestine, Syria, Persia, Asia Minor, Northern Africa, and Spain, and reduced the Christian population to the lowest condition of poverty and oppression. The Mohammedans would have conquered Western Europe, had not the Franks under Charles Martel beaten their immense army in the battle of Tours.
A.D. 1565. The Great Siege of Malta occurred when the Ottomans tried to conquer Malta, then under the Knights of St. John, with the help of North African Mohammedans. Following Christianity's victory, Pope St. Pius V financially helped the Order of St. John to build a new city, today's Maltese capital Valletta.
A.D. 1571. The Mohammedan Turk Ali Pascha attempted to invade Europe, but was defeated by the smaller Catholic forces in the Bay of Lepanto under Don Juan, commissioned by Pope St. Pius V.
A.D. 1683. The Mohammedan Turk Kara Mustapha besieged Vienna, but was defeated after many months by Poland's John Sobieski, supported by Pope Innocent XI.
All too soon the New Order has forgotten the prayer of Pope Pius XI, repeated annually as the Consecration of the Human Race to the Sacred Heart of Jesus on the Feast of Our Lord Jesus Christ the King: "Be Thou King of all those who are still involved in the darkness of idolatry or of Islamism, and refuse not to drawn them all into the light and Kingdom of God." The pope's words were so stark in their meaning that Pope John XXIII had them stricken from the prayer. Thus, traditional Roman Catholics maintain them, but the semi-traditional 1962 "indultarians" have stricken them in accordance with false oecumenical principles of Modernism.
One is reminded that in 1964 another powerful prayer was suppressed: the Sancte Michael Archangele, which was ordered by Pope Leo XIII to be said after all Low Masses (with some exceptions). Every Sunday this prayer starkly reminded Catholics that (1) we are in a spiritual "war," (2) we are fighting the "malice and snares of Satan and the other evil spirits who prowl about the world seeking the ruin of souls," and (3) Scripture and Tradition tell us that it is St. Michael whom the "Divine Power" has chosen to "thrust into Hell" these malign forces.
The Saint to whom we must particularly repair in our times is that Saint specifically chosen by God to preserve the Church and, in the end, to defeat Satan. And that Saint is St. Michael the Archangel, the Prince of the Heavenly Host, the highest of the Seraphim attending directly in the divine presence, who, when given the choice, was the most loyal of all the Angelic Choirs to Almighty God.
That is why TRADITIO, from its founding over eleven years ago, entrusted itself to this greatest of Saints, second in dignity among God's creatures only to the Blessed Virgin, the Queen of Angels. And that is why we have, from the beginning, made available to all TRADITIO participants the assistance of the Confraternity of St. Michael. For further information, see Confraternity of St. Michael.
---
Church History Shows How the Novus Ordo Cookie Can Be Invalid
From: Fr. Andrew
Dear Fr. Moderator:
I'm wondering how it could have happened that Novus Ordo doesn't confect the Real Presence. Why would Our Lord allow that to happen to His Church? I love the Traditional Latin Mass and try to go to it as often as possible, but sometimes the Novus Ordo is all I have.
Fr. Moderator Replies.
If you do not have real food, would you eat poison instead? Of course not. But, spiritually, that is what you do when you substitute, under any pretext, the Novus Ordo Protestant-Masonic-Pagan service (it is not a Mass) for the true Mass.
You ask how it can happen that Our Lord would allow a counterfeit service to replace the true Mass in so many places currently. You might just as well ask: how did God allow Martin Luther to take half the Church into heresy? How did God allow the majority of the Eastern Church to defect into schism? It is really the same question: How did God allow many Catholics to fall into the heresy of the New Order?
The true Church will always be there, of course; that is the dogma of indefectibility, but Our Lord did not promise that the Church would be in every place at every time. In fact, quite the contrary. The Gospels teach us that the Church may well be reduced to a remnant by the time of the Second Coming: "But yet the Son of Man, when he cometh, shall he find, think you, faith on earth?" (Luke 18:8/DRV).
The Gospels also teach clearly that the pope can err, in his personal capacity. Peter is constantly being rebuked by Our Lord, as in St. Matthew's Gospel (16:23/DRV): "Who [Christ] turning, said to Peter: Go behind me, Satan, thou art a scandal unto me." Peter even failed to adhere to Catholic doctrine at one point, so that St. Paul had to rebuke him publicly before the Apostolic Council of Jerusalem: "But when Cephas [Peter] was come to Antioch, I withstood him to his face because he was to be blamed" (Galatians 2:11/DRV). Even in the Old Testament, we read in the Book of Daniel and the First Book of the Maccabees that God took away the sacrifice of the altar from the Jews, who, on the whole, had abandoned Him to become secularists, just as they have in our time.
St. Paul was absolutely right. The Faith is a fight. It is not intended to be peaceful. Our Lord Himself said: "Do not think that I have come to send peace upon earth: I came not to send peace, but the sword" (Matthew 10:34/DRV). We are in one of those many times in the history of the Church when God is testing us to stand up for our Faith, even against errant hierarchs, just as Our Lord stood up against the hierarchs of His own time, railing against them with the most vicious language. Faith is not supposed to be easy. The early Church teaches us that, with 11,000,000 Christians perishing at the hands of the pagans to stand up for the true Faith. In the face of that, are we supposed to take it easy?
As TRADITIO has pointed out here in the past, an understanding of what is going on in the Church today depends upon an understanding of ecclesiastical history. You need to read about the century when the popes were corrupt, and one was excommunicated. You need to read about the century when the popes abandoned the Holy See and moved out of Rome. You need to read about the century when there were three popes, and even the Saints didn't know which one was the true one. For further information, see FAQ05: What Traditional Books Do You Recommend? in the TRADITIO Library of Files (Traditional Apologetics).
---
July 11 - St. Pius I, Pope & Martyr (Simple Feast)
400 per Hour Leaving Novus Ordo in Latin America
From: Fr. Moderator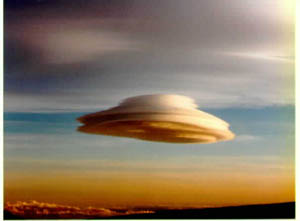 Newchurch Bishops' Representative Admits It
More Latin Americans Believe in UFOs than Newchurch!
Supposedly the most "Catholic" continent, Latin America, is losing believers at a rate of 400 per hour, admits Miguel Angel Pastorino, member of the Newchurch Bishops' National Commission of Oecumenism and Interreligious Dialogue. These Novus Ordinarians are exiting to different Gnostic and esoteric sects, Afro-American cults, para-Christian sects, spiritualism, and "platillista" sects (those that believe in UFOs), but there is also a silent turn to religious indifference and advanced secularization. The most extreme fringe of Protestantism, the so-called Pentecostal and Charismatic sects, are the ones that have grown the most -- and continue to grow wildly. Already 400,000,000 former Novus Ordinarians have gone Pentecostal or Charismatic.
Pastorino even admitted what TRADITIO has long argued, that statistics on the number of "Catholics" are grossly inflated by Newchurch in an effort to retain its political power. For example, the notion that there are 65,000,000 "Catholics" in the United States is patently ridiculous by any reasonable definition of the term. Pastorino admitted that "there is a Catholic self-deception when it comes to the numbers, in the most allegedly Catholic continent, which isn't so Catholic. Given that [New]church counts the number of persons baptized and does not take into account that the majority of them do not persevere in Catholicism, there is already talk among the social analysts of an evangelical majority in Latin America."
Already in 2000 there was talk of 26% of Pentecostals in Chile, 16% in Brazil, 34% in Guatemala. At the financial level, the evangelical market moves just over $1,000,000,000 annually and generates some 2,000,000 million jobs. According to a recent study, since 1960 the evangelicals doubled their percentage presence in Paraguay, Venezuela, Panama, and Haiti; they tripled their proportion in Argentina, Nicaragua, and the Dominican Republic, and quadrupled in Brazil and Puerto Rico. They grew sixfold in Colombia and Ecuador, and grew sevenfold in Guatemala. Newchurch is in big trouble!
In Uruguay, only 2.3% of Novus Ordinarians attend the Novus Ordo service -- that's just 1 in 50; and of those who attend the service, not all are committed to the faith of the Church and its mission. In contrast, every converted Pentecostal is a militant in the sect, and this is a real disadvantage for the mainline churches.
Pastorino honestly ascribes the blame to the Newchurch and its "lack of committed spiritual care and solid doctrinal formation on the part." In other words, Newchurch is not teaching and practicing Catholicism -- and the Latin Americans know it. "After the Second Vatican Council, in our context ordinary pastoral activity favored personal processes and the social dimension, neglecting two fundamental aspects of religious experience: the spiritual and doctrinal dimensions, thus leaving a vacuum for 'alternative' answers to proliferate," stated Pastorino. "While the Church amalgamated itself with modernity and its faith in reason and progress, the modern world with all its myths and secular gods was falling." [Zenit]
Pastorino's statements are a rare acknowledgment of a Newchurch official that the New Order since the Second Vatican Council is built on sand. It has sold out to the secular world and Modernism, and the Latin Americans know it. Thus, they are easily pulled to cultish, fringe groups, like Pentecostals, Charismatics, and even UFO zealots!
---
Forgiveness Does Not Require Forgetfulness
From: Lois
Dear Fr. Moderator:
It was found out not too long ago that my father-in-law molested two of my nieces over a period of years. My husband called the proper authorities, but his father has not been prosecuted, and may not ever be. My question is: how do I know when I have forgiven this person? We have decided to not visit him anymore, and he is not welcome at our house. We have many children and feel that it would be dangerous for them if he were near them. Other members of the family say that they have forgiven him, act as if he had done nothing wrong, and allow him to be near their children! I truly want to forgive, but am confused. It is very hurtful, even though it didn't happen to any of my children (thank God for that!).
Fr. Moderator Replies.
Forgiveness is a very confused topic these days because the New Order has tried to do away with the responsibility for sin and its consequences, but the teaching of Our Lord is quite clear from the Gospels.
First, the individual must demonstrate contrition for the sin. True forgiveness cannot take place without contrition, or at least ignorance. You know this from the requirements for the Sacrament of Penance. The Parable of the Prodigal Son teaches us this truth. The father did not forgive the Prodigal Son until the son acknowledged his sin and showed contrition. This moral teaching does not, however, permit personal vengeance, and we must still hope for the eventual salvation of our neighbor (this is what "love of one's enemies" means).
Secondly, forgiveness does not mean forgetfulness. The episode of the Good Thief teaches us this truth. The Good Thief repented, but himself stated that his execution was a just punishment and did not ask to be "let off." The bad thief was not contrite, yet demanded to escape punishment.
When someone commits such a sin as your father-in-law did, he forfeits trust. If he is contrite, he deserves forgiveness, but the Queen of the Moral Virtues, Prudence, prevents the possibility of his being left alone with children ever again. If your relatives are so addlebrained that they would risk their children to this man, the sin of imprudence is theirs, and in this case it would be a Mortal Sin, since the consequences would be so grave. We all know the severe punishment that Our Lord provided for those who would defile children.
Your husband has taken exactly the right course in dealing with this matter. Support him and your children. Your relatives are the ones who are confused. Don't let them interfere with the prudent action that you and your husband have taken for the security of your children. Your first obligation is to your children and to your husband.
---
July 10 - Eight Sunday after Pentecost (Semidouble Sunday)
New Order Counterattacks
From: Fr. Moderator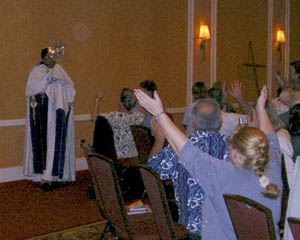 A Presbyter Elevates the Invalid Novus Ordo "Cookie"
At a 2004 Charismatic Soiree Sponsored by the Orlando Newchurch Diocese
The Pagan Charismatics Swing and Sway with Arms Raised like Pagans
It Won't Work: The Novus Ordo Cookie Is a Cookie, Is a Cookie, Is a Cookie
New Order proponents have been battered about the head so much in recent years that some of them have actually come to realize that their "revolution" is failing. A July 7 communique from Newvatican admitted that "in some countries, only 5 percent attend." Therefore, you will see an increasing attempt on the part of Newchurch dioceses to deceive the Novus Ordinarians by using seemingly traditional forms on the exterior, while the interior is pure New Order nonsense. Here are a few examples of this technique that could fool some.
"Traditional" Papal Ceremonies. TRADITIO has covered this ploy in past Commentaries. Several ignorant press reports indicated that Benedict-Ratzinger was going to restore papal ceremonies to a more "traditional" form. Some "conservatives" got excited, not realizing that to Newchurch, even at Newrome, "traditional" means just fewer clowns and a little more Latin and Gregorian chant (but only when the world is watching on TV). Such "suggestions" are said to be contained in a first-draft document, amusingly titled "The Eucharist: Source and Summit of the Life and Mission of the Church" that will be debated by the upcoming Newchurch bishops synod on October 2-23. Yet it is still the New Order Protestant-Masonic-Pagan service, not a Mass, with or without clowns, with or without Latin.


"Latin Mass," but not the Traditional Latin Mass. We have observed this ploy increasingly across the United States. Because Newchurch dioceses are constantly losing attendance to independent, CMRI, SSPV, and SSPX Traditional Latin Mass sites, more "Latin Masses" are being advertised by the dioceses. Of course, these are not Traditional Latin Masses. They are Novus Ordo services clothed in a little Latin. Some ignorant Novus Ordinarians are deceived by this ploy because they think that any "Latin Mass" is a Traditional Latin Mass. Not so. A Novus Ordo service in Latin is just as invalid as in some vulgar tongue.


"Eucharistic Adoration" of the Invalid Novus Ordo Cookie. Newchurch bishops for decades have been telling the Novus Ordinarians in Protestant fashion that to worship the Blessed Sacrament is idolatry. But even the Novus Ordinarians are instinctively feeling deprived since the reduction of the traditional Blessed Sacrament to a mere cookie. Therefore, more and more "adorations" of the cookie are being held. Of course, this is outright idolatry, a grievous sin against the First Commandment, because the poor Novus Ordinarians are worshipping merely a cookie, not the Corpus Christi. If you don't have a valid Mass, you don't confect the Blessed Sacrament. It's that simple.
Traditional Catholics, particularly borderline "indultarians" and "conservatives," should never be deceived by these ploys. Chickens lay eggs; they don't lay gold ingots. It's not their nature. The Novus Ordo has its own nature too: unCatholic, invalid. Don't expect to get anything golden from it, just rotten eggs.
---
July 9 - Our Lady's Saturday (Simple Feast)
Another Newchurch Bishop Bites the Dust
From: Fr. Moderator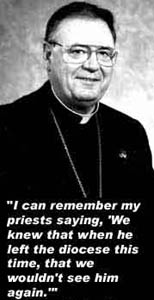 Newchurch Bishop Eugene LaRocque of Windor, Canada
True to the Prediction, It Seems that LaRocque
Might Not See the Outside of a Prison
The message that so many Novus Ordinarians haven't gotten yet about the Great Sex & Embezzlement Scandal is not that many of their presbyters are guilty, but a significant number of their bishops are guilty. (Of course, all the Newchurch bishops are guilty as accessories before and after the fact and/or conspiracy and/or obstruction of justice, but here we are talking about direct participation in the activities themselves.)
The latest addition to the list is Windsor, Ontario, Newchurch bishop Eugene LaRocque, who is said to have played an "instrumental" role in a paedophile ring that has "swirled" in Cornwall, Ontario. "LaRocque was instrumental in forming the clan," reads the charges. Cornwall police twice probed complaints of long-standing and widespread sexual abuse in the Ontario diocese, but the crimes were said to have been covered up by the diocese. 115 charges were laid against 15 high-profile individuals.
Since the pope is said to have been an accessory to the crimes, the Vatican, the College of Cardinals, Aloysius Cardinal Ambrozic of Toronto, and two Newchurch dioceses have been charged as well. One of the attorneys hit the nail on the head when he stated: "The authorities that run the church in Rome have never done anything that I know of to deal with the problem of sexual abuse in the clergy." [West Canada Star]
True. The "conservatives" keep up the mantra that the pope has universal jurisdiction over the Church. That being the case, JPII and Benedict-Ratzinger bear the ultimate responsibility for the rampant immorality amongst his Newchurch presbyters, bishops, and cardinals. If they were not able to hide behind the protections of international law and diplomatic immunity, we would have the sorry sight of a pope being dragged off to prison. It wouldn't be all that exceptional. We've already had the sight of Newchurch bishops being dragged off to prison.
---
The Greatest Abuse of All
From: Fr. Moderator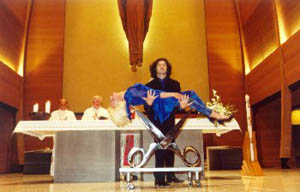 The Novus Ordo Service Is Not a Mass, but Cheap Entertainment
The Protestant-Masonic-Pagan Service Is Itself the Abuse
There Is No Point in Trying to "Fix" It or "Retranslate" It
This Baby Must Be Thrown out with Its Filthy Bathwater!
We must thank the Novus Ordinarians for providing us copious amusement. Would you believe that the Adoremeans are still trying to contend that if only the Novus Ordo Protestant-Masonic-Pagan service could be "fixed," all would be well with the Catholic Church again? Well, folks, some people are just so na´ve that they wouldn't know a lightening bolt if it struck them in the head!
The Adoremeans are playing the "tell Newrome" game once again. You see, if the pope only knew how bad things were in the Novus Ordo, he'd fix them. These Adoremeans must think that the pope is an idiot. He knows exactly what's going on and wants to feed it. In his First Message, the day after his election, he pledged fidelity to Vatican II, not the Catholicism of 2000 years. A few years ago he told the Italian press that he had no intention of doing anything to restore the Traditional Latin Mass and to dump the phony Novus Ordo.
Sure, he'll spruce up the Newvatican services for television. He'll throw more Latin into the Novus Ordo to deceive the ignorant into thinking that it's "traditional." He'll invite the SSPX in -- yet again -- to accept the Novus Ordo if they get some crumb of "Indultism" and "recognition" from Newchurch. Benedict-Ratzinger's record is clear. He was a leading Modernist at Vatican II. He was a Modernist under JPII. He's a Modernist now. This fact has been documented over and over again. The German leopard is not going to change his spots.
These Adoremeans simply contribute to making the situation worse. By failing to recognize the real problem, they play up to the New Order apparatus, which is pledged to destroy the Roman Catholic Faith of two millennia. The facts of the matter are clear. You can't make a silk purse out of a sow's ear. The Novus Ordo itself is the abuse. Sometimes the right solution is to throw out the baby and the bathwater!
---
July 8 - St. Elizabeth, Queen of Portugal (Semidouble Feast)
The Truth Newchurch Doesn't Tell You about the "Indult" Mass
From: Fr. Moderator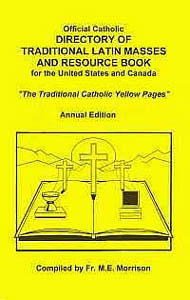 The National Registry of Traditional Latin Masses
Has Released Statistics Showing that Almost Half of the "Indult" Mass Sites
Are Discontinued from Year to Year
If you listened to the Newchurch dioceses and its "indult" sources, you would be led to think that the "indult" was growing and healthy. There is even an "indult" organization that lists new "Indult" Masses and fawns all over the Newchurch bishops for the smallest crumb of the "indult."
But the National Registry of Traditional Latin Masses has released statistics that show a very different side of the story. The National Registry publishes annually the Official Catholic Directory of Traditional Latin Masses and Sourcebook for the United States and Canada. This directory is the only source that lists all Traditional Latin Masses and indicates under whose auspices these Masses are celebrated, whether Congregation of Mary Immaculate Queen, Diocese, Independent, Society of St. Pius X, or Society of St. Pius V. For further information, see Description of the National Registry of Traditional Latin Masses in the TRADITIO Library of Files (Traditional Apologetics). In preparation for the 11th Annual Edition (2006), the National Registry has released statistics that will be quite surprising to many.
In the United States, during the one-and-a-half-year period between January 1, 2003, and June 30, 2005, 127 "Indult" Masses were canceled or converted to Novus Ordo services. Given the fact that as of June 30, 2005, there were 205 "Indult" Masses, the annual rate of cancellation or conversion of "Indult" Masses sites in the United States is over 41.4%, almost one out of two!
The National Registry released another interesting statistic. Over that same period, 39 "Indult" Masses were relocated. Thus, of the 59% of "Indult" Masses that remain from one year to the next, 12.7%, or a little over one out of eight, will be relocated to another church, possibly on the other side of the diocese. It seems that these relocations are often intended either to butt head with existing Traditional Latin Masses held outside of Newchurch auspices or to prevent indultarians getting a permanent foothold in the dioceses.
The moral of this story is that those who put there faith in Newchurch bishops to provide them with "Indult" Masses should rethink their false assumptions. There is almost a 50-50 change that any given "Indult" Mass site will not continue from one year to the next. Therefore, when choosing a site to attend the Traditional Latin Mass and Sacraments, normally you should make a choice in the following order of preference:
Independent. A site that is not associated with the Novus Ordo apparatus or any other organization (e.g., Society of St. Pius X). In this situation, you are most likely to get the traditional Roman Catholic Faith without organizational politics.


Society of St. Pius V, Congregation of Mary Immaculate Queen. These organizations tend to be most traditional. Although they hypothetically hold out the possibility of sede-vacantism as a factual explanation of the current state of the Church, that does not affect the integrity of the traditional Mass, Sacraments, and Faith offered.


Society of St. Pius X. Some SSPX sites have good traditional priests, although other sites are reportedly "on the edge" or "cultish." The best thing is to check out very carefully the site you are contemplating.


Indult. The least attractive choice is an "indult" Mass held under the Novus Ordo apparatus and thus beholden to all the evils of the New Order. Some of these remain relatively traditional, but more and more of them are being "accommodated" to various practices of the Novus Ordo and are therefore "pseudo-traditional" Masses, which must be avoided, just like the New Order service. For further information, refer to your Traditional Directory in the article on "Pseudo-Traditional Masses," to know what kinds of things to be on the lookout for.
Eastern Rites are not a viable option for Latin Rite Catholics. Not only are they not one's proper rite, but truly Catholic and Apostolic Eastern rite sites are very few and far between, much harder to find the Traditional Latin Masses. Many of them have been corrupted by the Novus Ordo or have otherwise abandoned their Apostolic form, particularly in the United States.
---
July 7 - Sts. Cyril & Methodius, Bishops & Confessors (Double Feast)
Watch Your Language!
From: Fr. Moderator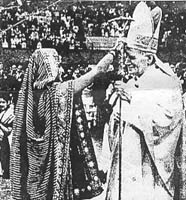 JPII Lowers Himself to Be Anointed with Cow Dung by a Hindu Priestess
Priestesses Are for Pagans
For Catholics, They Are and Always Will Be Not Just "Unlawful"
But Null and Void
One has to be so careful about watching the terminology that the secular and Novus Ordo press (which isn't much better) use in published stories. That is why TRADITIO doesn't just take information off the wires uncritically like so many others. In all honesty, we know a lot more than those ignorant scribblers, so we apply our own experience and knowledge of some fifty years to ferret out the real story.
Let's take an example of suspicious language that has recently occurred in the press. "A married French Catholic woman was ordained a priest overnight in an unlawful step condemned by one of the country's top Roman Catholic clerics."
What is wrong with this story? We will pass over the fact that the woman is not Catholic, she is a member of the New Order Sect, as is the cleric. The first error is that she was not "ordained." At best one might say that she was "allegedly" ordained or "purportedly" ordained.
There is a second error. The act was called an "unlawful" step. Now, any cleric that knows the least bit of sacramental theology knows that there is a difference between something that is "unlawful" (or "illicit") and something that is "invalid" ("null and void"). Such a purported act of "ordination" is not "unlawful"; it is "invalid. It is null and void.
Was this an error of ignorance on the part of the Novus Ordo cleric, or was this a subtle indication of the New Order that that for now, the ordination was not lawful, but that at some point in the future the law could be changed to make it lawful? No, the ordination of priestesses in the Catholic Church (as in the schismatic Eastern Orthodox Church) is far more than unlawful. It is null and void, non-existent. There is no authority for it in the Tradition and doctrine of the Church. Not even a pope can change that, any more than the pope can declare Our Lord Jesus Christ a woman.
The moral of this story is to read all news accounts critically. Chances are that you know more theology than the uneducated writers that are thrown at these stories, or even than Novus Ordo clerics. Certainly TRADITIO knows a lot more. That is why we offer you the benefit of our knowledge and experience here -- so that we can help you identify errors and put them in their proper context.
---
Newchurch Is Corrupt All over the World, Not Just in Rome and the United States
From: Fr. Moderator
Archdiocese of Birmingham -- not Alabama, but England -- has been ordered by a British court to pay over $1,000,000 in damages in a sex-abuse case. The presbyter had fled the country to avoid prosecution and died in exile in Australia in 1998.
This case is just the tip of the iceberg in Britain and is expected to encourage the revelation of more sex-abuse crimes in that country. [CWNews]
---
And You Thought the Novus Ordo Was Bad!
From: Fr. Moderator
On July 4, the United Church of Christ's rule-making body voted overwhelmingly to approve a resolution that endorses same-sex marriage, making it the largest Christian denomination to do so. The vote is not binding on individual churches and is expected cause these churches to leave the "United" sect.
The UCC has already accepted openly "gay" ministers, has endorsed homosexuality and lesbianism, has sponsored television ads featuring "gay couples," and stands for the "rights" of "bisexuals" and "transgendered persons" (read: bodily mutilators).
1,000 clergy or seminarians of the UCC are said to be "gay." The denomination has 10,323 ministers and 1.3 million sectarians. And you thought the Novus Ordo was bad!
It is amazing how these "Protestants" can keep a straight face. Even though they're wallowing in the vaunted Bible-only heresy, the Bible itself condemns this kind of immorality over and over again. Let's face it, folks. Just like the New Order sect, they're making up their religion as they go along. They're certainly not Christian, and they won't remain united either.
---
July 6 - Octave Day of Sts. Peter & Paul, Apostles (Double Major Feast)
Pro-Lifer Calls for Firing of Arch-heretic Cardinal
From: Fr. Moderator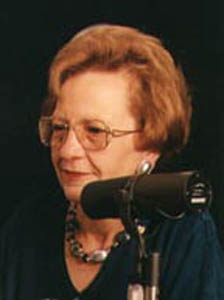 Judie Brown, President of the American Life League
Calls for Cardinal Mahony, of Los Angeles, to Be Fired
For Turning His Cathedral over to an Pro-abortion Politician
"If You Sleep with Dogs, You Get Fleas"
The Novus Ordinarians gave a pass to Los Angeles' Cardinal Mahony when he preached heresy about the "eucharist." They gave him a pass when a U.S. News & Word Report exposed his confidence game with the mortuaries in his archdiocese.
Now some Novus Ordinarians are calling for Benedict-Ratzinger to fire this poor excuse for a bishop because he wanted to arrest a group of Novus Ordo students protesting his turning over the Taj Mahony (Los Angeles' new pagan cathedral) to a pro-abortion politician. The students were peacefully protesting with shirts and signs that read: "You can't be Catholic and pro-abortion."
Mahony sicked his temple security guard on the students, seeking to arrest them for protesting at inauguration ceremonies being held there for Mayor Antonio Villaraigosa. Apparently, Mahony already sold out to the State by allowing a supposedly religious building to be used for State purposes. (Wouldn't Adolf Hitler have loved this?)
"It is an outrage that an event honoring a pro-abortion Catholic public figure that openly supports the killing of the preborn would occur at Our Lady of the Angels Cathedral," said American Life League President Judie Brown. "It is even more shameful that Cardinal Mahony and others would attempt to censor faithful Catholic students from proclaiming the truth."
The students are part of American Life League's 2005 Crusade for Life walks. The students are trekking from San Diego to Sacramento to spread their message of the incompatibility of being a Catholic and supporting abortion. American Life League is calling for the immediate resignation of Mahony "in light of his continued defiance of Church teaching. His coddling of pro-abortion Catholic public figures in California is beyond reproach [sic: she means "beneath contempt"] and should not be tolerated by the hierarchy of the Catholic Church," said Brown.
And guess who protected the Novus Ordo students? Certainly not Caiphas Mahony. It was the State, in the persons of the Los Angeles Police Department. They couldn't figure out why the students' constitutional right of free speech and freedom to assemble were being denied by Mahony. "How ironic that the cathedral security guards wanted to arrest the students, and the LAPD had to step in and point out that such an act would be unconstitutional," said Brown. "The truths of the Church will always stand strong, regardless of who attempts to stifle them. Even a cardinal."
If only Brown had fought as hard for the True Mass and Sacraments, she might not have to deal with the moral abyss that is Mahony. But she accepted the New Order, and now she and the students are paying the price for their myopia. If you sleep with dogs, you get fleas, they say. But, then, the Novus Ordinarians are only getting the bishop they deserve.
Now we'll see whether "God's rottweiler," Pope Benedict-Ratzinger, will put his disciplinary rod where his mouth is. We will see whether he is a Catholic pope or not. He is on record against abortion, but will he have the guts to can Mahony? Actions speak louder than words, they say. Our bet is that Benedict-Ratzinger will hide in the bowels of Newvatican and won't touch Mahony, just as JPII wouldn't touch his archbishop of Milwaukee, Rembert Weakland, who maintained a homosexual lover and paid him off with half a million dollars of stolen Church money.
---
July 5 - St. Anthony Mary Zaccaria (Double Feast)
Killer Bishop Slithers back into the Slime
From: Fr. Moderator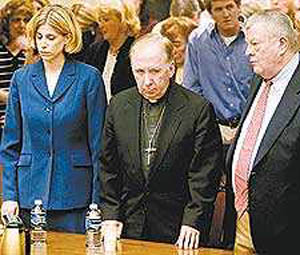 Picture of a Newchurch Killer Bishop
Thomas O'Brien, Ex Newchurch Bishop of Phoenix
Convicted Felon Stands between His Hired Mouthpieces
This Unrepentant Killer Is the Poster Boy for Newchurch
JPII Wanted the Killer to Stay on as Phoenix Bishop
No bishop seems better to represent the corrupt state of Newchurch than Thomas O'Brien, of Phoenix. He is one of several Newchurch bishops that are convicted felons. And, no, this wasn't a sex crime. Far worse.
O'Brien killed a man in cold blood and lied to police about it. Late one night he was going back to his episcopal mansion and killed a man with his car. He left this man, in the prime of his life, to die alone on the street. So little was O'Brien a "Catholic bishop" that he didn't even stop to give the man last rites -- or whatever now passes for that in the Novus Ordo. Later, O'Brien was to tell police that he thought he had hit a dog! Apparently, O'Brien was so sloshed that he couldn't tell the difference between a dog and a man. (Even it if had been a dog, wouldn't a "loving" Newchurch bishop have stopped to tend to the poor animal?)
The next morning, in the cold light of day, O'Brien didn't recognize and repent for the grave sin he had committed, leaving a grieving mother and sister, a widow, and orphaned children. No, he had a subordinate try to wipe out the evidence of the crime by having his heavily-damaged car fixed. The whole side of his windshield was caved in. Pretty big dog, eh?
The police tracked him down and prosecuted him. During the trial O'Brien never emitted one word of compunction for his crime. He never once turned around to offer the bereaved family sitting behind him his condolences. The judge, instead of giving him the due sentence of 49 months in prison with his fellow criminals, let him off with "community service." A number of Phoenix Novus Ordinarians who attended the trial stated to the press: "he's the best bishop we've ever had." Aren't Novus Ordinarians are truly demented? This was not O'Brien's first hit and run. Nor was it his only crime. He was saturated with involvement in sex crimes and was himself the subject of a police investigation for rampant sex crimes.
Now a real pope would have been outraged that one of his lieutenants would commit such a crime. Not JPII. He wanted to keep O'Brien on as bishop! Smarter heads prevailed in Phoenix, which has a significant population of traditional Catholics, who were not affiliated with O'Brien's counterfeit Newchurch. The community besieged the Apostolic Delegate in Washington, D.C., and told him in no uncertain terms that if O'Brien were not fired by the pope, Newvatican might just as well close down the Catholic churches in Phoenix because they would be deserted. Only under threats did "saint" JPII cave in and do the right thing.
To avoid facing the music for his sins and crime, O'Brien reached a secret settlement with the family. He has just now finished his "community service" and has slithered back into the slime from which he came. Sounds just like a replay of the modus operandi of the Great Sex & Embezzlement Scandal, doesn't it? These Newchurch bishops are rotten to the core morally, and Newvatican, whether represented by JPII the Small or Benedict-Ratzinger, adds its own criminal complicity.
Novus Ordinarians should be outraged. However, their own consciences have become so dead that they could call this criminal a "good bishop." No wonder Newchurch is sinking every day faster and faster into the bottomless pit.
---
July 4 - Within the Octave of Sts. Peter & Paul (Semidouble Feast)
Something Is Rotten in the City of Rome
From: Fr. Moderator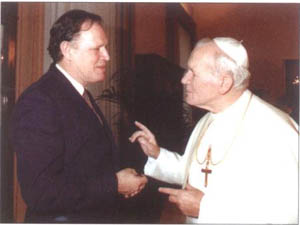 John Cornwell with JPII
In The Pope In Winter: The Dark Face of John Paul II's Papacy Cornwell Documents that JPII Left the Church Worse than He Found It
JPII was one of the greatest deconstructors of the Roman Catholic Church in history. So, of course, Newchurch wants to make him a Saint. Not only a Saint, but a Sudden Saint. Not only a Sudden Saint, but a Great Saint. We've heard all this nonsense before, but now Newchurch wants to make him a Martyr Saint! The Great Martyr Saints of early Rome must be rising up from their graves, all eleven million of them, sword in hand, to cut down the interloper!
Why so? Apparently, because Newchurch needs to "grease the track" for him, so that they get him in before the truth comes out. And it is easier to rush through a martyr-saint. Are you beginning to get the idea that "something is rotten in the city of Rome"?
Yes, the fix is in. Under the wisdom of Sixtus V in 1588, the already traditional meticulously careful process was canonized, with an aggressive opponent to ensure a scrupulous verdict, much as in an Anglo-American court. In 1984 JPII purported to turn "canonization" into a political game by abolishing the Advocatus Diaboli [Devil's Advocate] in the investigation of purported Saints. Was he laying the groundwork to squeak through his own dicey elevation? He wouldn't be the first Roman "emperor" to do so. In fact, in the early years of the Roman empire, when the Church was being established, the emperors looked to their deification by the Senate in order that they would not have to pay the price in Hades for their gross sins.
In this case, a watered-down church bureaucrat, now in typical Newchurch duplicitous fashion termed "Promoter of Justice," Giuseppe D'Alanzo, who is supposed to ensure that the negative side is heard, has revealed himself as biased toward JPII! It is as if a judge said before trial, "I'm already biased for the plaintiff, but let's go through the motions for form's sake"!
Yet some voices are daring to speak out against this phony process. Surprisingly, the sharpest is a liberalist, not a conservative. John Cornwell, who otherwise seems to have a defamatory fixation against Pius XII and an investigatory instinct in death of John Paul I, seems to have hit at least a few nails on the head vis Ó JPII vis in his recent The Pope in Winter: The Dark Face of John Paul II's Papacy (Viking UK, 2004). In the text Cornwell attempts to bolster his claim that JPII left the Catholic Church worse than he found it.
Cornwell catalogues JPII's production-line of dodgy saints and his total failure to deal with the Great Sex and Embezzlement Scandal that is bankrupting Newchurch, as well as covering it in shame and derision, from which it will not arise for decades when until the true Catholic Church is unquestionably restored. Cornwell documents that, time and again, JPII protected (and sometimes promoted) presbyters who should have been instantly defrocked, that his instinct has been not to seek Catholic justice, but to cover up.
Stay tuned, folks, as this fable plays itself out. Every crackpot having E-mail will send in a purported "miracle." The spectacle will be worse than that of Mother Theresa, in whose case, according to her doctors, a miracle was concocted, and Newvatican didn't want to hear the opposing medical testimony.
---
Try This New Catholic Password on Your Novus Ordo Detractors!
From: Fr. Moderator
On June 28 it seems that Benedict-Ratzinger, in obiter dicta on the issuance of a 200-page "compendium" of that unCatholic 1992 Newcatechism, has urged Novus Ordinarians to memorize the most common Catholic prayers in Latin, such as the Signum Crucis, Gloria, Ave Maria, and Veni, Sancte Spiritus. Then he proceeds to issue the compendium -- in Italian! Curious, isn't it, since the language of the Church is Latin, and, to this day, the best-selling books at the Vatican Press are those in Latin, not Italian, Spanish, French, or German.
In any case, Benedict-Ratzinger has given us traditional Catholics a great comeback to any Novus Ordinarian who questions our "obedience" to the pope. Just say, "All right, let's test your obedience. The pope has ordered that Catholics learn common prayers in Latin. To test your obedience, I want to hear you recite the Veni, Sancte Spiritus in Latin." Then with a wry smile as the individual falls all over himself, say curtly, "That's the last time I'll allow you to question my obedience to the pope!" (Of course, you need to have memorized the Latin prayers yourself, in case you are questioned!)
---
July 3 - Seventh Sunday after Pentecost (Semidouble Sunday)
Newchurch Impotent in Previously Catholic Spain
From: Fr. Moderator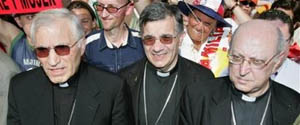 Madrid Archbishop Antonio Maria Rouco Varela (Left)
Was Powerless to Stop "Gay Marriage" in Spain
Newchurch Has Lost Its Moral Pulpit and Has Become a Laughing-Stock
Spain. It is hard to think of a country more identified with bedrock Catholicism. No more. Newchurch has destroyed that relationship. In fact, Newchurch has become so impotent even in formerly Catholic Spain that it could not stop the legalization of "gay marriage," even though it publicly endorsed a June 18 rally in which hundreds of thousands, including twenty Newchurch bishops marched through Madrid in opposition to the bill, which subsequently passed 187 to 147.
Newchurch has lost its moral pulpit. Recently, when a U.S. bishop was chiding a Novus Ordo congressman about his support of a similar bill, the congressman snapped back: "Bishop, you're hardly in a position to lecture me about morality!" Of course not. These bishops themselves have been involved in the most slimy immoralities and have turned their backs on Roman Catholicism to serve a New Order.
---
July 2 - Visitation of the Blessed Virgin Mary (Double Feast of the Second Class)
Denver Archdiocese Admits that Traditional Catholics Are Leaving the Novus Ordo;
Denver Archbishop Conducts Pagan Indian Service instead of Mass
From: Fr. Moderator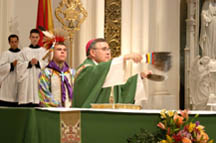 Denver's Newchurch Bishop Charlie Chaput
At His Infamous "Indian Feather" Mess
His Vice Chancellor Has Publicly Admitted that Parishes are Suffering
Because Catholics Are Leaving the Novus Ordo for Traditional Catholic Sites
In a rare public revelation, the Denver Newchurch archdiocese has admitted that parishes are suffering because Catholics are leaving the Novus Ordo for traditional Catholic sites. Timothy McCarthy, vice chancellor, stated that "these churches have drawn away some Catholics from attending parish churches." Apparently, "some" is a significant number; otherwise, the archdiocese would not have panicked.
As usual, the panicked dioceses resort to lies to attempt to reign in the "defectors" to the true Roman Catholic Faith. We've heard it all before: they're "schismatic" and "unapproved." What these Newchurch officials never tell you is that they are the schismatics, adhering to the Roman Schism of 1964. What these Newchurch officials never tell you is that they are violating the statements of their own Vatican and their own conciliar popes, who have never stated that traditional Catholic are "schismatic." How could they be? If Newrome ever stated such a thing, it would look like a bigger counterfeit than it is now. How could an institution deny its own constitution and remain valid? For further information, see FAQ09: Am I Obliged to Attend the New Mass and Sacraments? in the TRADITIO Library of Files (Traditional Apologetics).
It is amusing to note that in the four-paragraph statement the words Rome or Roman appeared no less than four times. Now you know that McCarthy & Newchurch are really panicked. U.S. dioceses never mention their supposed subordination to Newrome unless they're trying to battle traditional Roman Catholics!
Make no mistake about it, folks. All this huffing and puffing by Newchurch bishops and their minions happened because they are panicked. They have been shown up even by the secular press to be thieves and liars. Their Tower of Power is crumbling. So they make unfounded threats like whining children. They tried the same technique once on a Saint of the Church, Thomas More. They called him a "schismatic" too because he didn't adhere to King Henry VIII's new religion. His answer to these "bishops" was: "My Lords, these are nightmares for children." In other words, an adult pays no heed to unfounded threats.
And to whom does this McCarthy answer? Why, Charlie Chaput, Newchurch archbishop of Denver, who was laughed to scorn when he performed a Pagan Mess complete with Indian feathers and tom-toms! For further information, see Novus Ordo Service Photo Gallery.
And lest you think this just a passing fluke, Chaput has institutionalized Indian Paganism into his archdiocese. On June 19 the St. Bernadette Convent was converted into an Indian chapel, complete with Indian tom-toms (again!), a "smudging rite" (in which Indian herbs were fanned over each person with an eagle feather), and smoking up the "altar" not with incense, but with sage and cedar, also fanned with an eagle feather. It is time for Chaput to fess up and declare himself what he is -- not a Catholic of any breed, but an Indian wedded to the pagan rites of his forefathers. Chaput has got to rank with Fabian Bruskewitz of Lincoln for the dishonor of "Phoniest Bishop of Newchurch."
Hang in there, you traditional Catholics. You're winning back your Church. Even the New Order is now admitting it! To apply President Reagan's words about the Soviet Union on March 8, 1983: "I believe that [Newchurch] is another sad, bizarre chapter in human history, whose last pages even now are being written."
---
A New Boon for Failing Newchurch Dioceses: Inflatable Church!
From: Fr. Moderator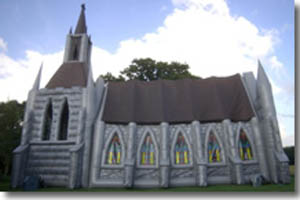 The Inflatable Church
Dioceses Can Now Destroy All Their Churches
Don't Need Church Buildings Any More
Since the Newchurch bishops are destroying traditional church buildings around the United States, here is the answer to their prayers: the Inflatable Church!
A British company is offering for a mere 80 L. rental a fantastic air-filled building 50 metres long by 10 metres wide by 50 metres high. The attention to detail is said to be "heavenly" complete with plastic "stained glass" windows and airbrush artwork that replicates a traditional church. Inside it has an inflatable organ, altar, pulpit, pews, candles, and a gold cross. Even the doors are flanked by air-filled angels. The church can be built in three hours and disassembled in less than two hours.
With Newchurch losing members like a sieve, this Inflatable Church is perfect. The bishops could simply put plastic figurines inside to replace the lost members, so that the presbyter in the big chair, the eucharistic ministress, and the lay deacons with their wives and kids milling around wouldn't be embarrassed to be all alone. The only thing is: the inflatable church needs plenty of hot air to keep it going. But that's no problem for the Novus Ordo; it's built on hot air!
---
July 1 - Most Precious Blood of Our Lord (Double Feast of the First Class)
Complete Friday Abstinence
Newvatican Official Says U.S. Sex Scandal Is Growing Larger, Not Smaller
From: Fr. Moderator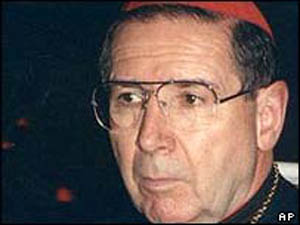 Newchurch's Arch-heretic Roger Cardinal Mahony, of Los Angeles
Will Not Be Able to Hide Behind His Scarlet Much Longer
A Newvatican Official Has Revealed:
"When Los Angeles Bursts, It Will Make Boston Look Like an Altar Boys' Picnic!"
The Newchurch bishops would dearly love the Great Sex and Embezzlement Scandal to go away. They've done everything to hide it, to lie that it is under control and to involve JPII and Benedict-Ratzinger in their lies, but the Novus Ordo is so thoroughly corrupt that the slime is rising to the top at an ever increasing rate. The full extent of the degree to which these bishops have corrupted their offices, and have engaged both actively and passively in the foulest crimes that cry out to High Heaven for vengeance hasn't even begun yet.
Thomas Doyle, a Novus Ordo presbyter who was part of the Newvatican diplomatic corps 20 years ago when he warned the Catholic hierarchy that it needed to deal promptly with what was to become the Great Sex and Embezzlement Scandal, revealed on June 26 that the scandal is far from over. "The epicenter is California," Doyle said. "When Los Angeles bursts, it will make Boston look like an altar boys' picnic."
Mahony, who is generally considered the Arch-heretic of Newchurch because of his public denials of Catholic doctrine, has consistently refused to go public about the rampant sex crimes in his diocese and has lashed out at anyone who pressures him. It was Mahony who got Governor Frank Keating, a former FBI investigator against the Mafia, fired as chairman of the Sex Crimes Investigating Committee of the U.S. Newchurch bishops, because Keating publicly stated that the bishops were acting as criminally as the Mafia. Keating warned that some of the bishops should be prosecuted and sent to jail. He later called on Novus Ordinarians to withhold donations. This is the same Mahony, by the way, who was exposed in a U.S. News & World Report article as playing a confidence game with mortuaries in his diocese.
Doyle, a Newdominican, said that he was originally sure the Newchurch bishops would deal with the Great Scandal promptly. He now admits that the reaction of the bishops stunned him. In a P.R. conspiracy originating from the U.S. Conference of [Newchurch] Catholic Bishops, the media that reported on the abuse and the lawyers who sued Newchurch were labeled as anti-Catholic, he said. This ploy is very similar to the P.R. disinformation campaign of Newchurch bishops against traditional Catholics, who are lied about as "schismatic," when even Newrome doesn't hold this position. "I was in a courtroom when a judge told a bishop to answer questions or go to jail," Doyle said. "Their exalted position is being threatened, even their tax-exempt status." [Wisconsin Journal Sentinel]
In fact, victims of the New Order termed the measures adopted at the Newchurch bishops' recent June 2005 biannual meeting "backpedaling," saying that the bishops were failing to live up to the commitments they made at their 2002 meeting. "Time and time again since Dallas, bishops have moved backward toward the failed policies of the past, not forward toward real prevention in the future," said the president of one of the Novus Ordo abuse organizations.
The scoreboard. Two chairmen of the National Review Board, one a governor and FBI agent, the other an appellate court judge, have denounced the bishops as simply setting up a smokescreen for P.R. purposes and acting like Mafia criminals. Victims organizations have denounced the bishops as hypocrites (didn't Christ use the same word of the Church hierarchy of His time?). And the Novus Ordinarians continue pusillanimously to attempt to justify an invalid Mess, often phony Sakraments, heretical doctrine, and a criminal morality. Will they ever wake up and smell the coffee?
The U.S. Newchurch bishops, without exception, have conspired to destroy the Roman Catholic Faith and its morality. There is not a single one of them who is not involved, either "through what they have done or what they have failed to do," as their New Confession puts it. Not a single bishop has resigned in protest from the organization known as the "U.S. Conference of [Newchurch] Catholic Bishops" headquartered at Washington, D.C. This is the same organization that is being investigated by various police agencies for possible RICO (organized crime) felonies.
The Tower of Power maintained by Newchurch bishops is built on sand, and now everyone knows it. One sometimes can only hope that the feds will once and for all indict the USCCB and all the Newchurch bishops in it for crimes committed against young and old and put the Novus Ordo Tower of Power out of business once and for all. Then maybe truly Catholic bishops could be found for at least some of the 425-odd vacancies.
---
It's the Same in Norway
From: Herve (Norway)
Dear Fr. Moderator:
Concerning the ordination of married former Protestant ministers, not just Episcopalians, it is the same story here in Bergen. Oddvar Moi, a married former Lutheran minister for eight years, was ordained a Novus Ordo presbyter in 2000. The order came directly from Ratzinger and JPII.
---

Return to Commentaries from the Mailbox.