February 2005
For answers to many questions, click on TRADITIO's Home Page about how to order the 10th Annual Edition (2005) of the Traditional Directory or consult the Library of Files (FAQs and Traditional Apologetics). For information about the protocol for sending messages to Fr. Moderator, click on Ask Fr. Moderator.
---
February 28 - Ferial Day of Lent
Lenten Fast Day
St. Louis Novus Ordiniarians Break with Archbishop
From: Fr. Moderator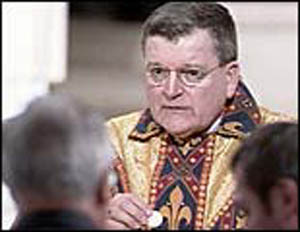 The Least Reverend "Bully" Burke Hands out Cookies
But His Flock Is Telling This Newchurch Bishop, Embroiled in Sex Scandals:
"Keep Your Cookies; We're Keeping Our Catholic Faith Independent of You"
The parishioners of St. Stanislaus Kosta Church in St. Louis, Missouri, are showing a practical understanding that is remarkable for Novus Ordinarians. This is the church that was independently endowed for 124 years and in 1891 was deeded the property as a civic corporation by the then archbishop. Now Newchurch Archbishop Raymond Burke is trying to wrest control of the church to pillage its $10,000,000 in assets. Local talk is that Burke needs the ten million to pay off the consequences of rampant sexual escapades in his archdiocese.
In the past, Novus Ordinarians and Indultarians would lend legitimacy to the corrupt Newchurch regime by playing its game, involving "appeals" to the Newvatican's kangaroo court, which would stymie the aggrieved for many years. This was the route of the Una Vocans, who lost. The route of Fr. Gruner, who lost. The route of many individuals seeking justice against the New Order, who lost. Since Vatican II, Newvatican is not known for its justice, but for its politics.
The Kostans, it turns out, are remarkably smarter than their predecessors. They've shown that they've learned by hard knocks some important lessons about Newchurch. First of all, the Kostan Board declared on February 23 that it will not appeal to Newvatican, saying that the appeals process "basically takes away all our power, and there's no negotiation. We'd be just sitting there stagnant, and it could take years. I think that's a dead end." Perceptive.
Secondly, the Kostans have officially recognized the reality that their relationship with the Newchurch archdiocese "is finished." This declaration has allowed them to abandon time-wasting games with "Bully" Burke and to get on with their new lives as Catholics. And they're united against Burke. The last vote of the parishioners was 299-5.
Thirdly, the Kostans have voted to seek a priest "outside the authority of the Archbishop of St. Louis." Let's just pray that they go the right way. Now that they have full freedom of action, let them revert to the traditional Roman Catholic Faith, the Faith of their ancestors who founded the church over 125 years ago.
And what does the Church of Love say? The archbishop's office spoke only of "authority," not of "love." In the same breath "Bully" Burke's office threatened the Newchurch bishops of the United States, his supposed "colleagues" in Vatican II-speak. "Those people [the other bishops]," his representative blustered, "don't have any authority over the Archdiocese of St. Louis."
Would you believe that in Newchurch circles, Burke is considered "conservative"? He is a typical Newchurch bishop, steeped in hypocrisy. In public, he tits with Liberal Catholic politicians. He objects to "gay marriage." Yet, in private, he received the final vows of a "he-nun," a biological male. Back in Wausau, Wisconsin, whence Burke departed before everything was about to explode in his face, Burke turned St. Mary's Church over to an indultiarian order, whose superior was sentenced in the criminal courts for violent sex crimes, and one of whose clerics was caught red-handed in a daring daylight robbery. (It turns out that these "indult" organizations are no better than the Novus Ordinarian ones.)
And what does the Pope of Love say? In a ruling published on November 17, 2004, already the Newvatican's Congregation for the Clergy sided with -- surprise! -- "Bully" Burke. Papolators can take comfort in the fact that there is a predictable unity among Newchurch thieves. Newvatican's version of justice is for the thief to be the judge against the robbed. The Inquisition of the Middle Ages was remarkably fairer to defendants than JPII's Newchurch ecclesiocrats.
If they continue as well as they have started and go all the way to traditional Catholicism, the Kostans may be the pioneers of Stage II of the independent Traditional Roman Catholic Movement. The Novus Ordo natives are getting very restless. The Los Angeleans have pulled financial support from their Newchurch archbishop "Mad" Mahony. Novus Ordiniarians are "sitting in" their churches to prevent their being destroyed by the New Barbarian Bishops. Lay organizations all over the country have formed to hold Newchurch bishops' feet to the fire over the Sex and Embezzlement Scandal.
After some forty years, the Church of the New Order is crumbling before our eyes. And it couldn't happen to a more deserving institution.
---
February 27 - Third Sunday of Lent (Semidouble Sunday)
"Miracles" Come from the Devil Too
From: Luis (Brazil)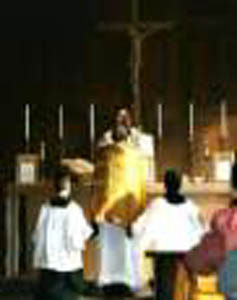 The True Miracle
Our Lord Jesus Christ
Body and Blood, Soul and Divinity
Dear Fr. Moderator:
How are we to take the so-called Eucharistic miracles that some allege to have occurred at Novus Ordo services?
Fr. Moderator Replies.
Remember that the devil can perform miracles to deceive the faithful. Scripture is very clear about that. Latter-day "miracles" are not what the Roman Catholic Faith is based upon. In any case there are alleged "miracles" both for an against the Novus Ordo.
Rather, the Roman Catholic Faith is based upon the teaching of Our Lord Jesus Christ, handed down to us in Sacred Scripture and Sacred Tradition. There is no question that the "New Order" was fabricated by a Freemason archbishop (whom Pope Paul VI exiled to Iran) and six Protestant ministers. It is a published fact, admitted by the Vatican. It was deliberately conceived to make the Novus Ordo "service" acceptable to the heretical Protestant sects, and some of these do now in fact use it, as TRADITIO has covered in previous Commentaries from the Mailbox.
No alleged latter-day "miracle" can contradict the facts and confirm what Sacred Scripture and Sacred Tradition, along with 260 popes and 20 dogmatic councils have condemned.
---
February 26 - Ferial Day of Lent
Lenten Fast Day & Complete Friday Abstinence
America's Most Heretical Cardinal Attacked
From: Fr. Moderator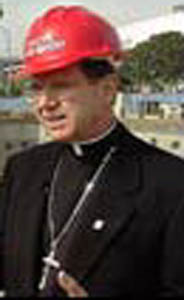 Newchurch Roger Cardinal Mahony Dons Hard Hat
To Protect Himself against Attacks by His Fed-up Novus Ordinarians
They're Pulling the Financial Plug on His Anti-Catholic Antics
TRADITIO has pointed out before that all Catholics had to do to derail the Novus Ordo Mess and Religion would be to say: "No false obedience, no money." Instead, the Novus Ordinarians ended up by kowtowing to a false religion and immorally supporting it financially for some thirty years.
Now, it seems, the Novus Ordinarians of Los Angeles have had it. They have attacked the Newchurch cardinal of Los Angeles, "Mad" Mahony, right where it hurts -- in the pocketbook. "We urge all Catholics to stop giving money to the world's most scandalous cardinal," says Kenneth Fisher, Founder and Chairman of Concerned Roman Catholics of America, Inc. (CRCOA), which is launching a "collection basket strike" aimed at pressuring Mahony out of office. "For years the cardinal has turned a deaf ear to anguished complaints from lay people and even priests," Fisher stated. "So the people in the pews are now talking in a language he understands -- MONEY."
The group will distribute tens of thousands of small cards for people of the Los Angeles archdiocese to drop in church collection baskets. The cards, which say "My money returns when Mahony leaves," list 13 of the worst scandals Mahony has been guilty of since he became Archbishop of Los Angeles in 1985.
The group also picketed Mahony's huge Religious Education Congress, which they call "the world's largest dissent-fest." "The Cardinal is bringing in speakers who openly trample on official Catholic teachings," Fisher observed. "He's subjecting Catholics to talks by advocates of abortion, sodomy, homosexual 'marriage,' fornication, ordaining priestesses and homosexuals, occult 'New Age' practices, 'dismantling' the Church, defying the Vatican's authority, redefining God, and more. He should stop thumbing his nose at Pope John Paul II and leave office."
Better late than never? The unfortunately thing is that the past thirty years have dulled the Catholic sense of these Novus Ordinarians. They make the same mistake that others make about the pope. The New Order Religion goes far beyond one man, or even several men. It's like the snake that lives on after its head is cut off. It can grow another head, but the body remains the same. Ultimately, it is of little consequence whether Mahony goes or not. So what if the Los Angeleans get another Novus Ordo snake to lead them?
What the Novus Ordinarians really need to do is get out of the Novus Ordo snake pit and back to the (traditional) Roman Catholic Faith. They may not be putting money in the collection basket, but they're still hypocritically pandering to the unCatholic, sacrilegious, irreverent, scandalous, blasphemous, idolatrous, and invalid Novus Ordo Mess.
Just think what all that money could do. Why, they could build a new cathedral, a traditional cathedral, a bigger cathedral. The Novus Ordo could no longer sustain itself and would be forced to shut down. The handwriting is already on the wall. Novus Ordo churches are closing right and left across the United States. If the Novus Ordinarians pulled the money plug now, the "experiment" of the New Order would naturally be sucked down into the sewer -- where it belongs.
---
Traditional Priest Excommunicated by Modernist Bishop
From: Fr. Moderator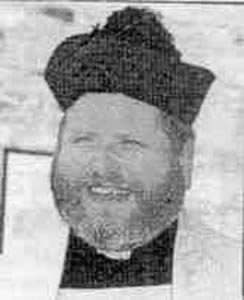 Fr. David Chislett
Excommunicated by Bp. Peter Carnley
For Publicly Rejecting Priestesses for the Church

A bishop who supports the ordination of priestesses has excommunicated a traditional priest who publicly opposes the practice. This upside-down situation took place when Australian bishop Peter Carnley excommunicated Fr. David Chislett, who was consecrated by a traditional bishop and promised to hold to the Church's traditional teaching against ordaining priestesses.
Carnley has already ordained several ministresses. Father, now Bishop, Chislett has been a vocal critic of the ordination of priestesses and plans to travel around Australia pastoring to churches that refuse to accept the untraditional ministrations of ministresses.
You're probably perplexed at this point, aren't you? It will all become clear when we tell you that this contretemps is all going on in the Australian Anglican Church. But if we hadn't told you, you would still think that we were talking about the Novus Ordo Church. Just goes to show that there isn't any real difference between Novus Ordinarians and Anglicans any longer. They're all Protestants, virulently hostile to Tradition and its defenders.
---
February 25 - Ferial Day of Lent
Lenten Fast Day & Complete Friday Abstinence
As the Anglican Church Crumbles, Is the Novus Ordo Next?
From: Fr. Moderator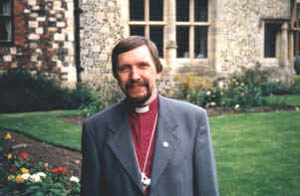 Anglican Bishop Graham Cray
Headed Church of England Commission that Proposes
Doing away with Sunday Worship
In Favor of Informal Weekday Drink and Snack "Bars"
As Anglican Service Attendance Falls below Ten
There is an expression, Ut Roma cadit, sic omnis terra. Well, in this case, it seems to be: "As the Anglican Church falls, so does the Novus Ordo."
The Church of England, which once called itself the third arm of the Catholic Church, is considering dropping Sunday services because not enough Anglicans (Episcopalians in the United States) want to worship on weekends. This is the shocking, but not surprising result, of a study commissioned by the Church of England. The Church report concludes that "Britain is no longer a Christian nation" and that most people prefer to use Sundays for couch-potatoing and watching professional sports on the boob tube.
The situation has gotten so desperate that the number of people attending Anglican services has fallen to under a million. That is far lower than the estimate of Traditional Catholics in the United States alone. The report commission, chaired by the Graham Cray, Bishop of Maidstone, recommends that the Church stop trying to bring people into Sunday services and substitute informal "bar" meetings during the week, where drinks and snacks would be served. (Sounds like the Beer Catechisms that a number of Newchurch bishops in the United States have held in local bars. Or the "cocktail" held on church grounds in Pittsburgh by a presbyter, in which a minor died after falling through the church ceiling while drunk on eight glasses of rum and Coke.)
You probably think we're joking. Not at all! This comes from the Evening Standard. TRADITIO has previously reported that church attendance in Europe has fallen in many countries to the low single digits, with the average Anglican service drawing fewer than ten people. The Novus Ordo is hardly doing better. Moreover, TRADITIO has previously predicted the disestablishment of the Church of England within the current generation.
We have also predicted that the Church of the New Order will shortly get to the point when Sunday worship will become optional, as with the Protestants. Why not? Newchurch has done away with virtually every other Apostolic practice that is Catholic. Why shouldn't it do way with the Sunday "service" as well? The answer is simple: money. If the "rule" were changed, studies indicate that no more Novus Ordinarians would worship God on Sunday than Anglicans.
Most people go to the Novus Ordo because they think that they "have" to, not because they really want to. as traditional Catholic want to worship at the True Mass. Thus, Novus Ordo collections would dry up, virtually all Novus Ordo temples would close, and the Novus Ordinarians would give up worshipping the God of Creation and instead worship the God of TV. The idea of weekday "bars" is mindless, since who will want to go out to a Novus Ordo rec room after a hard day at the job?
Every Protestantized innovation that has been introduced into the New Order has started with the Anglicans: a vernacularized service instead of a Mass, divorce (called "annulment" in Novus Ordo circles), ministresses, politicized versions of Sacred Scripture, the supper "table" -- all of these came from the Anglicans and associated sects. Can the Novus Ordo be far behind?
---
Kommunion in the Hand Admitted to Be a Significant Source of Disease
From: Rob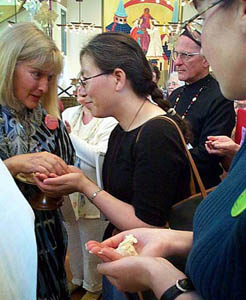 A Novus Ordo Ministress Passes Infection with Kommunion in the Hand
Admitted by Newchurch to Be a Significant Source of Disease
The Millennial Practice of the Traditional Communion on the Tongue Proven Wise
Dear Fr. Moderator:
I am a traditional Catholic, but my wife is still possessed by the Novus Ordo. See goes with me to a traditional chapel once or twice a month, but she will not take Holy Communion there on the tongue, because a presbyter some years ago told her it was an unsanitary practice. And yet she brings up the Novus Ordo "cup," which would appear to me to be teeming with germs!
Fr. Moderator Replies.
Communion on the tongue is an unsanitary practice?! The traditional priest washes his hands no less than three times before distributing Holy Communion: once with soap and water before vesting, once at the Da, Domine just before vesting with the amice, and once at the Lavabo. When he distributes Holy Communion, he does not touch any part of the body with his fingers.
In the Novus Ordo Mess (which is only a piece of bread anyway, not even "communion"), not only does the presbyter touch the bread, but your wife puts it into her filthy hands, which have shaken hands with others' germs, rubbed the dirty pews where infants have licked on their disease week after week, touched her nose and face (maybe even picked a pussy pimple without thinking), and then used her thus germ-ridden fingers to put the bread into her mouth.
She really has this upside down, doesn't she? It is the Novus Ordo with its "kommunion in the hand" that is outrageously germ bearing. We won't even start about the grape-juice "cup" and the disease that it transfers via the shared spit of the Novus Ordo kommunicants on the "common cup." (Even the Easterners don't give Communion that way, but via intinction by the priest.) The Novus Ordo bishops have recognized how germ-bearing its kommunion is. That is why they stopped giving the "cup" during the recent influenza outbreak. Yet the disease on the kommunicants' hands is just as bad when they serve themselves the bread.
Yes, Novus Ordo "kommunion" in the hand is a significant source of disease: medically and, more important, spiritually. Stay away from it. It will kill your soul, if not your body.
---
February 24 - St. Matthias, Apostle (Double Feast of the Second Class)
Lenten Fast Day
JPII Runs Afoul of Zionists
From: Fr. Moderator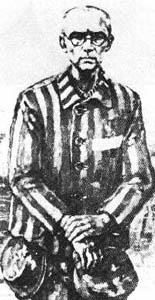 Fr. Maximilian Kolbe
Victim of Anti-Catholic Holocaust, Which Included Thousands of Priests
Liberalist Zionists Support Holocaust of Innocents against Pope
JPII should learn from the Person Whose Vicar he is supposed to be and not be such a "respecter of persons," in order words, playing to "oecumenical" hacks. As to so many anti-Catholic groups, he has kowtowed to the Zionists in the name of "oecumenism." He trips all over himself to apologize for the true Faith, and yet these anti-Catholic groups never give anything in return. Remember how Abraham Foxman and his crowd so horribly spoke against Our Lord Jesus Christ when director Mel Gibson was making a Christian film of the The Passion of the Christ? We all worship the same god? Hardly.
Well, the "oecumenical pope" has committed the Zionist sin of comparing the "holocaust" to the much more numerous destruction of human life by abortions. The holocaust numbered some five million (which has since been inflated to twelve million for political purposes). Abortions worldwide now number over thirty million. The pope's latest book, Memory and Identity, includes the statement by the pope that "anti-Gospel is the new form of totalitarianism" and that this new totalitarianism is "insidiously hidden behind the appearance of democracy."
The Zionist groups claim that the Catholic Church "doesn't understand." Actually, it understands all too well. It understands that Zionists do not even want to admit that Catholics suffered under the Nazi regime just as the Jews did. It understands that thousands of Catholic priests were murdered in the Anti-Catholic Holocaust, including Fr. Maximilian Kolbe. It understands that the Zionists, who wail so much about their personal "holocaust," are perfectly willing to stand by -- and even encourage by their Liberalist philosophy -- the murder of millions of innocent lives.
Remember, Zionists are not Mosaic Jews, sometimes called "Observant Jews." They are secular Liberalists with a political agenda, who probably wouldn't know bacon from a bagel!
---
Even the Eastern Orthodox Reject JPII's False Oecumenism
From: Fr. Moderator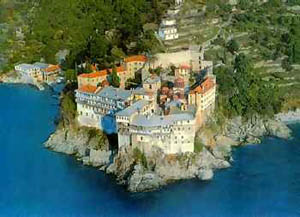 Mount Athos, Hágios Óros, the "Holy Mountain"
Accuse Their Patriarch of Oecumenical Heresy
And Refuse His Intimidation to Force Them to Leave the Mountain
Lost in all the oecumenical schmoozing between JPII and the Eastern Orthodox is that "traditional" factions of the Orthodox reject the oecumenical posturing of their patriarchs. "Oecumenism" is thus shown to be just another New Order ruse.
And, just as with the persecutions of the Novus Ordinarians against traditional Catholics, so the oecumenical Orthodox leaders are persecuting their own traditional Orthodox. More than 100 Greek Orthodox monks have accused Patriarch Bartholomew of heresy over his links with Newchurch and JPII. For thirty years they have refused to leave their monastery on Mount Athos in northeastern Greece despite being ordered out by the authorities. The monks say that they have enough supplies to hold out for several years. Their motto is Orthodoxy or death. The head of the monastery, Abbot Methodios, said that it was a joy to be persecuted for what he called the true faith given to them by Jesus Christ.
The monks say that their communications and food supplies have already been cut off, but they have managed to stop the eviction order being enforced by appealing to the supreme court. The monks say the reason given for evicting them does not have any legal basis. Bartholomew accuses them of creating a "schism" within the Greek Orthodox Church by refusing to recognize his authority. Now doesn't that sound just like Newvatican trying to suppress the Traditional Latin Mass, canonized in perpetuity, by resorting to the old, discredited "false obedience" argument?!
Meanwhile numerous Eastern Orthodox bishops have been caught in the vilest corruption (see previous TRADITIO Commentaries from the Mailbox). It seems that the traditional monks now have the high ground -- both literally and spiritually.
---
February 23 - St. Peter Damien, Bishop, Confessor & Doctor (Double Feast)
Lenten Fast Day
Real Catholic School Succeeds by Teaching Latin
From: Fr. Moderator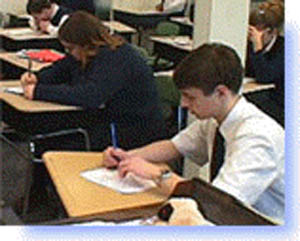 Students Study Latin at Independent Traditional Catholic High School
As New Order Diocesan Schools Are Closing Right and Left
Traditional Catholic Schools Thrive
While New Order schools are closing in dioceses all over the United States, an independent traditional Catholic school in New York state has found a unique solution for a school that claims to be Catholic: teach Catholicism. This school protects itself by maintaining no connection with the local diocese. As the New Order diocesan schools have become bastions of the Modernist "We All Worship the Same God" nonsense, this independent traditional high school has gone Catholic, traditional Catholic.
The school boasts rigorous academics, including a required two years of Latin language and traditional Catholic theology class four days a week. The school is drawing students from distant cities despite other New Order options closer to home like the formerly "Christian" Brothers school and the diocese's own schools.
The school is attractive to retired public school teachers who are not ready to give up teaching. They are often willing to work for less money and are willing to take a pay cut to be part of a traditional Catholic academic atmosphere. When is the last time you heard a public-school teachers' union volunteer for a pay cut?!
---
The Eastern Church Is Sinking Too
From: Fr. Moderator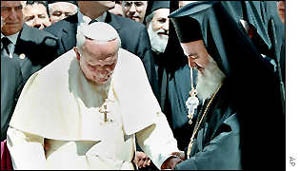 JPII and Greek Archbishop Christodoulos
Both Patriarchs Are Involved in Deep Scandal
The Eastern Church Has now Surpassed the West in Scandal
The Church of the New Order, corrupt as it is, is not the only sect sinking in a moral morass. What the media commonly identify as "Catholic" [New Order] simply takes the spotlight because the media are anti-Catholic. Studies, however, have indicated that improprieties are as bad, or worse, among the Protestant and Jewish clergy. Protestant leaders are openly acknowledging the problem, but the media, of course, ignore it to further their anti-Catholic agenda. Yet here is what the honest Rt. Rev. William Persell, Bishop of the Episcopal Diocese of Chicago, acknowledged in his Good Friday Sermon of 2002:
We would be naïve and dishonest were we to say this is a Roman Catholic problem and has nothing to do with us because we have married and female priests in our church. Sin and abusive behavior know no ecclesial or other boundaries.
The Protestants even have lay organizations to monitor the situation, just as do the Novus Ordinarians. The findings of one of these documents sexual abuse in Protestant denominations so far as follows:
All Protestant denominations: 838 Ministers
147 Baptist Ministers
251 "Bible" Church Ministers (Fundamentalist/Evangelical)
140 Anglican/Episcopalian Ministers
38 Lutheran Ministers
46 Methodist Ministers
19 Presbyterian Ministers
197 various Church Ministers
Now it appears that the Eastern Church is sinking more deeply into scandal than the Western Church. TRADITIO has consistently pointed out that the Eastern Church is not some bastion of pristine perfection, but has been subject to even more corruption in doctrine, liturgy, and now morality than the Western Church. Westerners can't escape to hide in some Eastern closet. The Modernist bogeyman hides in that closet too.
The Eastern Church has of late been buffeted by a sex and embezzlement scandal of its own that makes the western scandal pale by comparison. Archbishop Christodoulos, the leader of the 102-bishop "Holy" Synod, sputtered to explain the rampant corruption in the Greek Church, which includes jury-rigging, drug-trafficking, and sexual debauchery among the Easterns. (So much for the phony argument about celibacy causing the problems, as the Eastern Church generally disregards Apostolic Tradition regarding clerical celibacy.)
Bishop Christodoulos (the Greek meaning, ironically, "servant of Christ") has himself been accused of procuring the services of a convicted heroin smuggler for jury-tampering. Earlier this month, Archimandrite Iakovos Giosakis was charged with antiquities-smuggling following the disappearance of valuable icons from his former diocese. Metropolitan Bishop Theoklitos has already been arrested on suspicion of drug-dealing in a police raid on a notorious nightclub in Athens. Metropolitan Bishop Panteleimon was accused of homosexual liaisons and embezzlement of Church funds for private use. Panteleimon threatened that if he were prosecuted, he would create an "earthquake" by ratting on numerous others of his 102 Eastern bishop colleagues.
The latest shock was newspapers publishing photographs of a 91-year-old Eastern bishop naked in bed young girl. [The Guardian, Athens News]
---
February 22 - St. Peter's Chair at Antioch (Double Major Feast)
Lenten Fast Day
Is Hollywood Getting Religion?
From: Fr. Moderator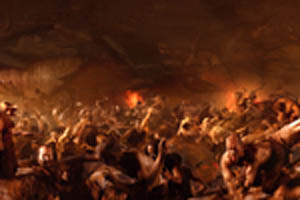 The Traditionally Dantesque View of Hell in Constantine
New Hollywood Entry Features a Traditional Hell and a Latin Exorcism
Movie-goers are getting tired of the anti-religion movies that Hollywood has been dishing out since the late 1960s. Mel Gibson's The Passion of the Christ proved that. Without Hollywood's support -- in fact, with Hollywood's most vicious public hostility--, Gibson's film became one of the top-ten grossing films of all time.
Hollywood is nothing if not greedy. Ultimately, it will subordinate its anti-religious views if it can make money. A new film, Constantine (not about the Roman emperor who established Christianity in the empire -- now there would be a story!), stars the forty-year-old actor Keanu Reeves as "an exorcist who is condemned to Hell for the life he took, which was his own. He committed suicide in despair because he was born with what he calls a curse that he can see the world behind the world. He can see this kind of half angel, half demons influencing people in a negotiation that is happening between God and the devil. They have a standing bet for the souls of mankind. So John Constantine, when we find him, is dying from a terminal illness and he is condemned to Hell because of the rules of the film, because if you take your own life, it is a mortal sin."
Constantine is said to draw from many of the standard sources -- superhero films, horror flicks, pulp fiction, and metaphysical thrillers. But it uses computer graphics to create a graphic vision of Hell that is quite traditionally Dantesque. The movie is filled with demons and angels. Hell includes screeching, relentless demons; humans being torn apart piece by piece; high heat; and humidity. Granted the film is somewhat campy, but the approach is remarkable, considering that the New Order Religion doesn't even want to admit that Hell exists!
Constantine has even thrown over those effete English "exorcisms" that populated the Exorcist sequels and so many other Hollywood exorcist films since the late 1960s. (Interesting, they didn't seem to work very well did they?) Reeves performs the exorcisms depicted in the traditional Latin, which is not new for the actor. He said in an interview, "We were doing the Latin right," learning "the different Latin phrases and Scriptures used in an exorcism." He was actually fortunate enough to have studied the language in high school. Actually, he said to an interviewer, "I was hopeless at high school - I failed everything but Latin."
---
How to Escape the New Order
From: Mary Ann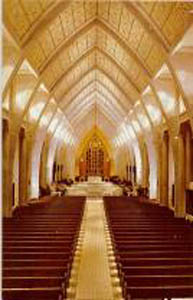 What if You Performed a Novus Ordo Mess, and Nobody Came?
Novus Ordo Temples Are Becoming Increasingly Deserted and Shut Down
The People Have Spoken with Their Feet over the Last 35 Years
85% Have Abandoned Any Active Association with the Novus Ordo Service
Dear Fr. Moderator:
My children started going to the Traditional Latin Mass about a year ago, and now they have referred me to the TRADITIO site. I am so confused, as I joined the Catholic Church when the changes after Vatican II were just coming into effect. I went to a Traditional Latin Mass last week and confessed to the priest that I had been going to Novus Ordo for years. He told me that God had lead me to the real Catholic Church. My question is: is every Catholic as gullible as I was?
Fr. Moderator Replies.
Attendance at the Novus Ordo service has dropped from 79% before to around 15% after the Novus Ordo service was instituted. The figures are closer to 5% or less in most of Europe. So, you can say that the vast majority of Catholics smelled a rat and abandoned the New Order. Unfortunately, most of these just "dropped out" rather than seeking out one of the many locales available for the True Faith, Mass, and Sacraments.
The solution is for every true Catholic troubled by the Church of the New Order is to do just that. Make a fresh beginning: find a traditional site, worship there, learn the True Faith there, and support that site. The Novus Ordo temples will continue, just as the Protestant churches have for 400 years, but mainline Protestantism is sinking fast too, slightly faster than Novus Ordoism.
---
February 21 - Ferial Day of Lent
Lenten Fast Day
Not Churches, but Temples to the New Order
From: Fr. Moderator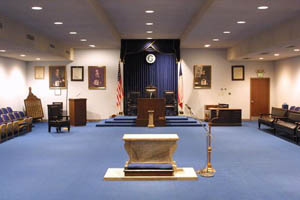 Masonic Temple or Novus Ordo Temple?
Since Vatican II You Can't Tell the Difference
(This One Is a Masonic Temple)
Novus Ordo Temples Are now Involved in Profane Uses like Drug-Manufacturing
You may wonder why we don't call the buildings of the New Order churches but rather temples. Any more than we call the ministers of the New Order priests but rather presbyters (the term that the New Order itself officially uses for them). First of all, we have documented in previous Commentaries from the Mailbox how the buildings of the New Order are constructed around the principles of the Masonic meeting hall, with lectern, giant chair for the Worshipful Master, and Protestant mini-altar-table in front.
But there are other reasons. The temples of the New Order have become desecrated. What goes on in them is unCatholic, sacrilegious, irreverent, scandalous, blasphemous, idolatrous, and conclusively invalid. This has led to the most bizarre uses of these Novus Ordo buildings. We're not even talking about concerts of music that are unsuitable to the sacred and dance recitals. We're taking about really pagan temples.
A case in point. And this is not the only such case reported. The Johannesburg Star reports that police arrested the organist and his assistant at Christ the King "Catholic" Cathedral in Berea for the possession of 1.5 litres of a chemical liquid and a container of ephedrine powder for the manufacturing of illegal drugs. The cathedral administrator claimed that the organist came to the cathedral "highly qualified." He declined to say, however, in what he was qualified.
---
Bread Is Bread Is Bread
From: Rick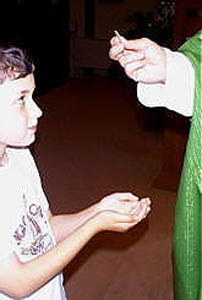 Novus Ordo Kommunion in the Hand
"Gimme, Gimme," Gestures a T-shirt-Clad Youth, Standing
Not to Worry: It's only a Piece of Bread
Dear Fr. Moderator:
Am I wrong to choose not to receive communion unless it is given to me by a priest? I was raised to believe that only a priest and no other may touch the Body of Christ. I feel such an anger rise up in me at church. I feel that I shouldn't even be there with those types of thoughts bouncing around in my head. How should I handle this?
Fr. Moderator Replies.
We infer from your question that you are not attending the True Mass, that is, the Traditional Latin Mass, but the Protestant-Masonic-Pagan New Order service that was fabricated by a Freemason archbishop and six Protestant ministers after Vatican II. There you are not actually receiving Communion, nor is a priest present. You are referring to a Novus Ordo presbyter, equivalent to a Protestant minister.
The Novus Ordinarians, who claim to be so "obedient" to the pope, are simply bald-faced liars, or culpably ignorant. John Paul II condemned communion in the hand, but the practice is rampant throughout the world. "It is not permitted that the faithful should themselves pick up the consecrated bread and the sacred chalice, still less that they should hand them from one to another" (Inaestimabile Donum, April 17, 1980, sec. 9).
But not to worry. It is hard to deny any longer that the Novus Ordo service, in any version, is unCatholic, sacrilegious, irreverent, scandalous, blasphemous, idolatrous, and conclusively invalid. It is not a Catholic Mass, but a deception, which no pope, council, or Saint would have recognized as Catholic until Modernism swept the Church after Vatican II.
The problem you have would not even come up at a True Mass. No one but the priest would dare to touch the Sacred Species. The fact that in your situation others are is an indication that what you are attending is not a valid Mass, but something more akin to the Protestant "supper."
So, in your situation, it hardly matters who hands you a piece of bread. Your solution is to get out of that place immediately and find a True Mass, the Traditional Latin Mass. You knew that already when you said, "I shouldn't even be there." Most people know that the Novus Ordo service is a fraud. The problem is that they have difficulty overcoming their lethargy or cowardice to make a beeline for the True Mass, exclusively.
---
February 20 - Second Sunday of Lent (Semidouble Sunday)
No Doubt Remains: Newchurch Is Protestant -- or Pagan
From: Fr. Moderator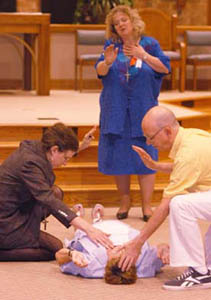 A Novus Ordo Ministress Incants over a Charismatic
Who Is Writhing on the Floor in Imitation of a Snake
While a Franciscan Monkess and a Tennis-Shoe Clad Acolyte Assist
Don't you just love those articles about Newchurch activities that are described as "Catholic" or even "Roman Catholic," in which there is nothing Catholic about them. Just think of all the Novus Ordinarians who walk around calling themselves "Catholic," or even "Roman Catholic," whereas they are actually Protestants.
And not infrequently the Protestantism is not even that of Martin Luther or the Church of England, but a kid of "gutter" Protestantism, which has its adherents writhe on the floor like mindless snakes. We have covered this Newchurch phenomenon before in the Commentaries from the Mailbox, for example, at the "Catholic" University of Steubenville, which is associated with such New Order Charismatic fanatical leaders as Scott Hahn.
Now this Protestant nonsense has spread to the New Order in the Bible belt. The Tennessee Register reports that more than 200 people gathered at Our Lady of the Lake Church in Hendersonville on July 23-24, 2004, for the 21st Annual Mid-South Regional "Catholic" Charismatic Conference, where fanatics writhed on the floor, babbled in nonsense syllables, and flailed their arms around like banshees.
This travesty was led by a Redemptorist presbyter affiliated with the U.S. [Newchurch] Catholic Bishops Conference's program called Evangelization 2000. Would you believe that these benighted people are calling this "the new springtime in the Church"? Well perhaps it is: the Church of Satan.
But the Protestantized Church of the New Order is not stopping at even this. It is going all the way to paganism. According to the Boston News, in Lynn (Massachusetts)'s St. Pius V School, named ironically for the pope who canonized the Traditional Latin Mass, repulsed an invasion of the Mohammedans into Europe, and excommunicated the heretic Elizabeth I, first-graders are being taught Buddhism. They are told to shut their eyes, fold their hands, and listen intently as they get in touch with their souls, while a Novus Ordo "nun" chants a mantra. "Find your center," she intones. One has to wonder where the parents are.
When Our Lord promised that the gates of hell would not prevail against His Church, He did not promise that His Church would survive in any given place. Indeed, as St. John Bosco is reported to have seen in a vision of the Church in crisis, there may come a time when all the Catholic faithful of the world will barely be enough to fill St. Peter's Square. Today, perhaps more than any other time in history, traditional Catholics can appreciate the significance of Our Lord's question: "But yet the Son of man, when he cometh, shall he find, think you, faith on earth?" (Luke 18:8/DRV).
---
Clerical Celibacy -- Merely a Matter of "Discipline"?
From: Thomas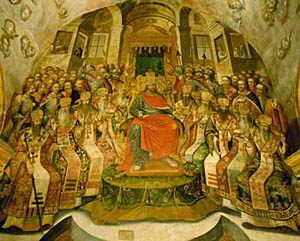 The First Oecumenical Council of Nicaea, A.D. 325
Unanimously Confirmed the Practice of Clerical Celibacy
As Apostolic in Origin
Dear Fr. Moderator:
What is your opinion of a married clergy? Don't Eastern rites have a married clergy?
Fr. Moderator Replies.
Opinion is unimportant. What is important is the Catholic and Apostolic Tradition and teaching. We daresay that more ridiculous "opinions" and errors have been spread about this issue in recent years than about practically any other topic.
First of all, let's deal with this matter of "discipline." The Novus Ordinarians are always reducing the traditional teachings of the Church to matters of mere "discipline," by which they mean "devoid of doctrine," "subject to being changed at any time by the whim of a pope or bishop." These are the same people who would wipe away as mere "discipline" the traditional Friday abstinence from fleshmeat, even though its origins are Apostolic. There are even intimations of it in Sacred Scripture.
These are the same people who would wipe away as mere "discipline" the distribution of Holy Communion by the priest only on the tongue, which has been condemned from Apostolic times through and including the present pope (of course, when he speaks traditionally, the Novus Ordinarians totally ignore him).
These are the same people who would consign to mere "discipline" even the Holy Sacrifice of the Mass, founded by Our Lord Jesus Christ, taught to his Apostles, and perfected by the Great Fathers and Doctors of the Church, and finally canonized in perpetuity. Yet, if everything else of the Faith were wiped away, and only the Holy Sacrifice of the Mass remained, all the doctrine necessary for salvation would be contained in the Holy Mass. Yet, the Novus Ordinarians scream "discipline." They are perfectly comfortable with the substitution of a new service fabricated by a Freemason archbishop and six Protestant ministers wiping away the Mass of Christ, St. Peter, 260 popes, and 20 dogmatic councils, and thousands of Saints.
The same Modernist trick is pulled concerning the Church's requirement of clerical celibacy. It too, according to the Novus Ordinarians, is mere "discipline," able to be swept away in an instant by the Modernistic Establishment. But what is the real story here? Is clerical celibacy merely a matter of "discipline," or is it an integral part of the Church's practice and an established mark of Sacred Tradition?
Clerical celibacy has its Biblical basis in the evangelical counsel of Our Lord as relayed in St. Matthew's Gospel (19:12), also taken up by St. Paul in his First Epistle to the Corinthians (7:8-9, 25-26, and especially 32-35), and confirmed by St. John in the Apocalypse (14:4-5). It is clear that once the Apostles received the call, they did not lead a married life.
The tradition of clerical celibacy was solemnly proclaimed by the Council of Nicaea, the First Ecumenical Council, in 325. Canon No. 3, unanimously approved by the Fathers, admitted of no exceptions whatsoever. The Council considered that the prohibition imposed thereby on all bishops, priests, and deacons against having a wife absolute. All subsequent councils that have addressed the subject have renewed this interdiction.
Not only would it be a violation of Sacred Tradition to blot out a custom decreed for 2,000 years to be absolutely obligatory, but also one must recognize that clerical celibacy is to be seen not merely as of ecclesiastical institution, but mixed with what is more broadly known in Catholic moral theology as "divine positive law," initiated by Christ and His Apostles. That is, it is not merely disciplinary in nature.
The Council of Carthage in 390 stated that celibacy of is Apostolic origin. St. Epiphanius of Salamis (ca. 315-403): "It is the Apostles themselves who decreed this law." St. Jerome (ca. 342-420): "Priests and deacons must be either virgins or widowers before being ordained, or at least observe perpetual continence after their ordination.... If married men find this difficult to endure, they should not turn against me, but rather against Holy Writ and the entire ecclesiastical order." Pope St. Innocent I (401-417): "This is not a matter of imposing upon the clergy new and arbitrary obligations, but rather of reminding them of those which the tradition of the Apostles and the Fathers has transmitted to us." St. Peter Damian (1007-1072) wrote: "No one can be ignorant of the fact that all the Fathers of the Catholic Church unanimously imposed the inviolable rule of continence on clerics in major orders."
There is a reason for this Tradition. The cleric in major orders, by virtue of his ordination, contracts a marriage with the Church, and he cannot be a bigamist. St. Jerome in his treatise Adversus Jovinianum bases clerical celibacy on the virginity of Christ.
Now what about that old chestnut that the Eastern rites permit a married clergy? This is, in reality, a half truth, or a quarter truth. The universal law of clerical celibacy confirmed by the Council of Nicaea applied, and still applies, to the Eastern Church as well as the Western. It is noteworthy that at that Council, the Easterns (Greeks) made up the overwhelming majority. Previously, the Council of Neo-Caesarea (314) had reminded all Eastern clerics in major orders of the inviolability of this law under pain of deposition.
The Eastern Church began at a late date to violate its own law of celibacy. The Quinisext Council of 692, which St. Bede the Venerable (673-735) called "a reprobate synod," breached the Apostolic Tradition concerning the celibacy of clerics by declaring that "all clerics except bishops may continue in wedlock." The popes refused to endorse the conclusions of the Council in the matter of celibacy, and the Eastern Church planted the seeds of its schism.
The German scholar, Stefan Heid, in his book, Celibacy in the Early Church, demonstrates that continence-celibacy after ordination to the priesthood was the absolute norm from the start -- even for the separated married ordinand -- a triumph of grace over nature, so to speak. The Eastern practice we now see was a mitigation of the rule, not, as the Modernists like to claim, the original practice from which the Roman Catholic Church diverged.
---
February 19 - Ember Saturday of Lent
Lenten Fast Day & Partial Abstinence
Where Did Malachi Martin Stand?
From: John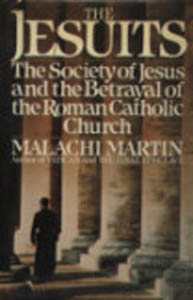 The Jesuits, Malachi Martin's 1987 Devastating Critique
Of the Jesuit Order, to Which He once Belonged
He Argued that the Post-Conciliar Jesuits
Had Betrayed the Roman Catholic Church
Dear Fr. Moderator:
I read this statement of Malachi Martin's some years ago when he was still living, and I have always been curious about it. I'm interested to know what you think of his statement:
Besides, there is a small army of problems waiting for the papacy and the Church just around the corner of the third millennium, for instance, the troublesome existence of trans-galactic intelligent beings, the near-future cloning of human beings purely for medical purposes, the criminalization by secular powers of several basic moral Catholic teachings.
Fr. Moderator Replies.
Two out of three isn't bad! Malachi Martin had something of the P.T. Barnum about him. He knew just how to raise topics to sell more of his books. He was a regular on the Art Bell late-night radio program, which focused on oddities, like extra-terrestrial life. Martin talked on those topics that he knew would incite curiosity, like exorcisms. Our suspicion is that Martin was too sensible to believe in "weirdo" things himself, but he knew that others would be titillated and would buy his books if he titillated them.
Even now, a few years after his death, we still get questions about him. Some people ask about his status and whether he was a traditional Catholic. The evidence is that he was secularized by Paul VI, that is, at his request, removed from the Jesuit order (which he claimed had gone berserk after Vatican II) to the secular priesthood, which he exercised fairly independently of the local diocese, mainly living alone and writing his books.
It is said that he offered the Traditional Latin Mass every day, privately, and his last tape-recorded commentary series would indicate that his view of the Church and its modern-day problems was very much in accordance with traditional Catholic thinking. His Requiem Mass and other exequies were offered by the well-known independent traditional priest, Fr. Paul Wickens, of West Orange, New Jersey.
---
Newvatican Gives Official "Approval" for Protestants to Receive Novus Ordo Cookie
From: Fr. Moderator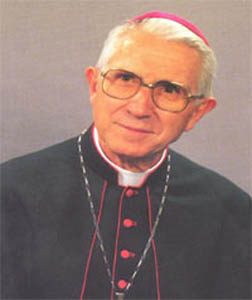 Bishop Amédéé Grab, of Switzerland
President of the Council of European Newchurch Bishops' Conferences
Announces that the Novus Ordo Cookie Will Be Given to Protestants
And that "Homilies" Will Be Given By Laypeople with Newvatican Approval
It was only a matter of time. Newvatican has approved Protestants receiving the Novus Ordo cookie. At first this is being allowed at Swiss weddings, but in the way Newchurch always operates, once the camel's nose is under the tent, the tent will come crashing down! Look for "kommunion" to be given to Protestants at your neighborhood Novus Ordo temple soon. At the same time, Newvatican approved laypeople to give "homilies" at the Swiss Novus Ordo service.
The general secretary of the Swiss Newchurch bishops' conference, Agnell Rickenmann, said that the two declarations are a reflection of the Swiss Church's "independence." Accusations abounded that the declarations were against "canon law." But Newchurch "canon law" is a joke. It can be manipulated and rewritten on a whim by Newvatican at any time. Just last year Newvatican said that only priests could give "homilies." What a difference one year makes! Newchurch is a lawless anarchy. [UK Tablet]
One "conservative" Catholic group claimed that the Swiss bishops were determined to "present the Vatican with a fait accompli." That was exactly the ruse that was perpetrated with "communion in the hand." Popes since the second century had consistently condemned the practice as the gravest sacrilege. Even Paul VI did so, but the Modernist bishops claimed that they couldn't go back, and Paul VI, being the spineless individual he was, caved in to the pressure. No Pope St. Pius X he. JPII already gave in on altar-servettes and Freemasons.
---
February 18 - Ember Friday of Lent
Lenten Fast Day & Complete Friday Abstinence
An Enchiridion of Novus Ordo Messes: The "Pancake Mess"
From: Fr. Moderator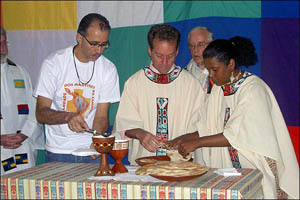 The "Pancake Mess"
Betty Crocker Runs Amuck as Newchurch Bishop Looks On
We haven't shown you a good Novus Ordo "Mess" in a while, so here is one, from Goiania, Brazil. A vested priestess cuts the pancake "species," assisted by a presbyter, while a T-shirted acolyte uses an ice-cream scoop in the clay "chalice," all this taking place on a table covered with a multicolored party tablecloth. Outraged, the "conservative" Novus Ordinarians will say, "The bishop couldn't possibly have approved of this!" Wrong! Newchurch bishop Pedro Casaldaliga is standing behind the priestess, looking on. This Mess took place in Goiania, Brazil, in the Jesuit Youth House. Well, no surprise there. No Modernist order is flakier than the Newchurch Jesuits!
---
Chinese New Year Trumps Ash Wednesday
From: Fr. Moderator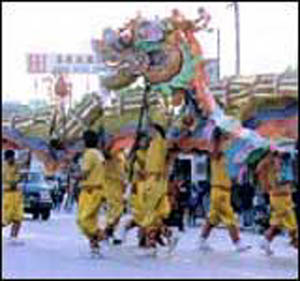 Novus Ordinarians of Los Angeles Were Permitted to Throw Over
Ash Wednesday in Favor of Chinese New Year
With the Full Approval of Newchurch Archbishop "Rebel Roger"
Do you have the feeling that in Newchurch, everything is more important than what is truly Catholic? An example of this Newchurch operating principle occurred on Ash Wednesday 2005 in the Newchurch archdiocese of Los Angeles, run by the most unCatholic of all New Order bishops, Roger Mahony.
Ash Wednesday, the first day of Lent, one of the most solemn holydays in the Church calendar, the day on which Catholic faithful present themselves to be signed by the ashes of the palms burned from the previous Palm Sunday while the priest pronounces the words of the Old Testament: Memento, homo, quia pulvis es, et in pulverem reverteris. Newchurch has already vitiated any sense of this ancient sacramental. Now every Tom, Dick, and Harry -- sorry -- every Suzy, Patty, and Mary -- distributes the ashes with totally changed words.
A funny thing happened in this year's calendar, however. Chinese New Year fell on Ash Wednesday. So a rather pagan, or at least secular, day of celebration knocked heads with one of the most penitential days for Catholics. Newchurch came face to face with a choice. Which is to take precedence: Chinese New Year or Catholic Ash Wednesday? "Rebel Roger" choice Chinese and made Ash Wednesday into Ash Saturday. Curiously, the Newchurch archdiocese of San Francisco, which hosts a world-famous Chinese New Year Parade, did not do so.
The 2005 calendar boasts another rarity later this year: Hanukkah will fall on Christmas. Does anyone want to take bets as to which holyday Newchurch will give precedence? Are you sure?
One recalls a few years ago that professional baseball took over Good Friday. This is a very modern abomination that is becoming more and more prevalent: professional sports competing with holydays. At any rate, the Novus Ordinarians of supposedly "Catholic" Boston harangued their Newchurch bishop to waive Good Friday. Waive Good Friday, for heaven's sake! (You see why we don't call such people "Catholics.") The bishop said no, but he should have gone much further and harangued those phonies who made the choice to spend Good Friday in a sports stadium eating hotdogs.
We can only hope that for such people there will be professional sports running 365/24/7 in Hades!
---
February 17 - Ferial Day of Lent
Lenten Fast Day
Sister Lucia of Fatima Dies
From: Fr. Moderator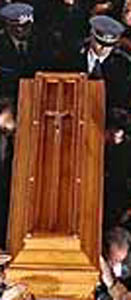 Sister Lucia de Jesus dos Santos of Fatima
Dies at 97 on the First Sunday of Lent, February 13, 2005
Sister Lucia of Fatima died today, February 13, 2005, aged 97, at her Newchurch Carmelite convent in Coimbra, central Portugal, as reported by the Portuguese Lusa News Agency. She had been ill for several weeks.

No longer will she be able to be manipulated by the Church of the New Order. Maybe now it will be possible for Fatima to take its proper place, not, of course, as a substitute for the Public Revelation of Catholic and Apostolic Sacred Scripture and Sacred Tradition, as some of the so-called "Fatimists" (the extreme fringe) virtually teach, but, secondarily, as one of many presumed apparitions of the Blessed Virgin Mary, like Lourdes, Guadalupe, and LaSalette, which the faithful may follow in a balanced private devotion among many possible private devotions.

Fatimism is defined as an erroneous belief, or vice of excess, which arose in the 20th century and finds a new basis of faith in private revelations, latter-day prophecies, visions, secrets, and "signs and wonders." The term does not refer to balanced private devotion, but is a catch-all term for extremist, off-balance devotions of all kinds, such as those that would elevate Fatima to the level of a dogma or subordinate Catholic and Apostolic teaching to Fatima or make a virtual "goddess" out of the Blessed Virgin Mary. This error is closely associated with the error of "Catholic Charismaticism." Our Lord Himself, popes, and the Saints, such as St. John of the Cross, perhaps the Church's greatest mystic, warned against such excesses. In fact, the Fatimists are disobeying Christ Himself, Who said to His Apostles: "It is not for you to know the times or moments, which the Father hath put in his own power" (Acts 1:7/DRV).

In all too many quarters Fatima has been pushed to a ridiculous extreme that can hardly be identified with Catholicism. If one listened to this extreme Fatimism, one would believe that the Catholic Faith is based not upon Our Lord Jesus Christ and His Public Revelation (Sacred Scripture and Sacred Tradition), but is a mindless faith based on something tantamount to the occult or soothsaying from "visions" and "apparitions" and "secrets."

This extremism is very much like the heresy of Gnosticism, which arose during the early years of the Church. Gnosticism taught that salvation depended upon the knowledge of "secrets" that are not revealed to everyone. Even today, Gnosticism survives in such sects as the Rosicrucians (a branch of the Freemasons, who look to "secret knowledge" from ancient Egypt), not to say the "charismaticism" of the Church of the New Order itself. In fact, the Fatimists are disobeying Christ Himself, Who said: "I have spoken openly to the world. I have always taught in the synagogue and in the temple, whither all the Jews resort: and in secret I have spoken nothing" (John 18:20/DRV).

Nor do the Fatimismists really pay much attention to what the true message of Fatima is supposed to be. The Fatimists are so consumed in "end-times" predictions and "secrets" that they have missed the real point of Fatima. Sister Lucia often said, "My mission is to indicate to everyone the imminent danger we are in of losing our souls for all eternity if we remain obstinate in sin." The true message of Fatima concerns personal sin and the salvation of one's soul, with the Public Revelation and the traditional Mass and Sacraments of the Church that Christ founded.

Even the "visions" have been distorted by the Fatimists. One hears about suns spinning in the sky and predictions of natural disasters, but very little talk about how the visions started: with the appearance of one of the Holy Angels, perhaps St. Michael the Archangel himself. In the vision, the Angel brought with him a chalice and, suspended above it, a Sacred Host. The Angel lifted the Host before his eyes and said: "Take and drink the Body and the Blood of Jesus Christ, horribly insulted by ungrateful men. Make reparation for their crimes and console your God."

Obviously, the whole context for the vision was Our Lord in the Most Blessed Sacrament. And how do the Fatimists respond? Many of them attend not the True Mass, the Traditional Latin Mass, but a invalid, worthless "Novus Ordo" service, fabricated in the 1960s by a Freemason and six Protestant ministers. Others absent themselves from Holy Mass entirely and pray the rosary at home, in circumstances in which they have the opportunity assist at the True Mass. Many of them have sold out their Catholic Faith and the Catholic Sacraments for a belief in Novus Ordoism or Charismaticism or Gnosticism or End-times-ism.

This is not Catholic. This is a cruel perversion of the Faith, which is particularly characteristic of our times. One hopes that once the present attention to Sister Lucia's death passes, the place of Fatima can be restored entirely to one of Catholicism -- and reason.
---
Dog Performs Office at Holy Matrimony
From: Fr. Moderator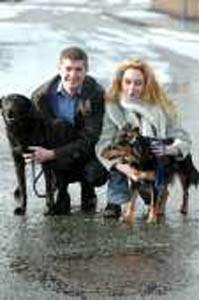 Dog to Perform Office of Bridesmaid
In Sanctuary of St. Matthew's Church
Is Nothing too Bizarre in a Time when Marriage Can Be Defined
As Polygamy, Polyandry, Ménage à Trois, "Gay," or Bestial?
Now that animals are said to have "rights" (they don't), and "marriage" is defined as any "love connection," St. Matthew's Church has taken yet another step downward by permitting a dog to serve as bridesmaid. Yes, folks, Lucy, of the canine persuasion, will walk down the aisle in a special pink frilly dress sporting a bonnet and stand with the bride and groom in the sanctuary to witness their vows.
The more shocking aspect is that this will occur in a normally staid Anglican Church in Britain, which is far more "reverent" than a Novus Ordo temple. Undoubtedly, the Novus Ordo will be licking its chops to ape this one, as Newchurch follows the Protestants in anything bizarre, just as Newchurch accepted a Protestant Novus Ordo as its own "Mess" in place of the Roman Catholic Mass of two millennia.
Actually, given the catalog of "Messes," the Novus Ordo has undoubtedly already had a "Dog" Wedding!
---
February 16 - Ember Wednesday of Lent
Lenten Fast Day & Partial Abstinence
Recently In the News
From: Fr. Moderator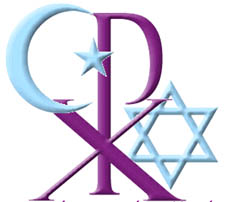 Emblem of the New unRoman, unCatholic One-World Religion
Representing the Newvatican Commission for Religious Relations
Note that the Star of Mohammed Literally Overwrites Christ
No Surprise Here: Newvatican Has Been Promoting "Oecumenism" since Vatican II
Now an Arch-Oecumaniac Is Apparently to Be Named Cardinal
Here is a collection of revealing tidbits from recent news reports.
Oecumeniac Fitzgerald to Be Cardinal? Probably the worst aspect of JPII's papacy is his incompetence in selecting cardinals and bishops. His pontificate "boasts" the worst collection of rouges, scoundrels, and perverts in the history of the Church (as there are numerically more of them than before). And now we are apparently going to have another round of cardinals appointed in June from the New, One World Religion's "finest." Principal among these is Archbishop Michael Fitzgerald, head of the Council for Inter-religious Dialogue, who, together with Walter Cardinal Kaspar "the Oecumenical-Friendly Ghost," leads Newvatican's "We All Worship the Same God" program, whose goal seems to be to dismantle the Roman Catholic Faith entirely and move Novus Ordinarians into the New, One-world Religion. [London Times]



"Mad" Mahony in New Cover-up. New Order Card. "Mad" Roger Mahony, head of Newchurch in Los Angeles, has used an old ploy to take the heat away from himself and his diocese, which is mired in sex and embezzlement scandals: misdirection -- turn the spotlight elsewhere. In his Lenten message, Mahony mixes up his diocese's scandals with that old chestnut the "Holocaust." Now, Mahony has a lot of penance to do for his role in the Sex and Embezzlement Scandal and for shamelessly promoting the New Order Counterfeit Religion, but we don't think that his diocese is responsible for the "Holocaust"! In the meantime, Mahony is facing lawsuits from nearly 500 plaintiffs in the Sex and Embezzlement Scandal and has been denounced for ordering two of his presbyters accused of child molestation to evade prosecution by leaving the country when he was bishop of Stockton before he was foisted off on Los Angeles. [NBC TV News]



Newvatican Covers up Legionnaires of Christ Scandal. In the 1960s seven men approached bishops to investigate Presbyter Marciel Maciel, until January 2005 head of the Legionnaires of Christ, for numerous crimes and morphine addiction. The bishops rebuffed them. In 1988 the group lodged formal charges with Newvatican and were told that the case had been shelved. The outcry has been mounting so high that Newvatican has now almost been pushed into a formal investigation. The problem is that none of the other scandals has as yet involved someone so close to the pope. The Legionnaires of Christ is said to be a closed, secretive organization with lots of money that offers the Pope unconditional service. In power and influence, it is second only to Opus Dei, whose founder, Josemaria Escriva, was "canonized" by one of those quickie JPII "canonizations." Is the corrupted Novus Ordo "canonization" process being used to cover up crimes close to the pope? [UK Observer]



U.S. Newchurch Bishops' "Zero-Tolerance" Policy a Sham. Aren't those Newchurch bishops great propagandists? To hear them, you would think that the Sex and Embezzlement Scandal was over. Far from it. Two chairmen of the bishops' investigating committee, one a former governor and FBI agent, the other an appellate court justice, have publicly charged the bishops with having no intention to change, but simply to slop a P.R. veneer over the scandal. Now, in Dallas, the proof of the pudding has come out. The Dallas County District Attorney is investigating whether the Newchurch Diocese of Dallas has failed to report allegations of clergy sexual abuse to law enforcement officials. These cases involve presbyters "who were on duty after U.S. bishops adopted their national 'zero tolerance' reforms in 2002." Two presbyters have already been prosecuted and sent to prison by the DA's office. The Novus Ordo Sex and Embezzlement Scandal continues full bore. The corruption is endemic to Newchurch, which has lost its Catholic morality. Its scandals are not going to go away soon, if ever. [Seattle Post-Intelligencer]



Neo-Arian Jesuit Slapped by Newvatican. Another case of too little, too late? Newvatican and its gauleiter Card. Ratzinger have issued a "notification" against Jesuit Presbyter Roger Haight, who for years has been teaching heresy, now Newvatican admits, at a Jesuit school of theology in Massachusetts and at a Protestant (sorry -- "oecumenical") seminary in New York. Among other heresies cited, Haight denies the divinity of Christ in much the same way the Arian heretics of the fourth century did. Remember, that virulent heresy, according to St. Jerome, ensnared four out of five bishops in the world at that time and even involved the pope. Well, folks, "it's ba-a-a-ck."



Calumny against Pope Pius XII Found to be Forged. Since the 1960s Zionists have been trying to blacken the name and reputation of Pope Pius XII, who had been lauded in his time as a savior of the Jews during World War II by such Jewish greats as the Chief Rabbi of Rome, Israel Zolli (who converted to Catholicism) and Israeli Premier Golda Mair (who didn't). On December 28, 2004, Italian historian Alberto Melloni published an October 1946 document, alleging that Pius XII had blocked the re-unification of Jewish children rescued by the Church during the Holocaust, with their surviving families, after the war. On January 11, 2005, Italian journalist Andrea Tornielli and historian Matteo Luigi Napolitano published a devastating expose of Melloni's claims, revealing that the 1946 document Melloni was presenting as a papal document, ordering French officials not to hand over Jewish children to their families, was not, in fact a papal letter, but an unsigned, mistranslated French memo, written by an unknown French official, misrepresenting an authentic directive of Pius XII, written one month earlier, clearly directing Church officials to return Jewish children to their relatives. Papal experts William Doino Jr. and Professor Ronaald Rychlak have demonstrated that the latest allegations, repeated by a prejudiced and uninformed media, constitute yet "another anti-papal hoax." Be careful what you take as "history." A lot of it has been "revised" to fit Modernist propaganda. [Inside the Vatican]



Austrians Create the Next Novus Ordo Liturgy. Not content with the unCatholic, sacrilegious, irreverent, scandalous, blasphemous, idolatrous, and conclusively invalid Novus Ordo Protestant-Masonic-Pagan service concocted after Vatican II, the diocese of Linz, Austria, has now taken the Novus Ordo sham another step. In twenty parishes already, laywomen (soon to be priestesses, undoubtedly) are giving sermons using an "alternative lectionary" with "women's Bible readings." One of these womyn's sermons stated: "God is mankind´s good shepherdess; her wisdom is larger than this world´s; nobody can take from her those whom she has adopted in love. God and me, we are one, in our love, in our devotion to love every person in this world. We are fire and flame for mankind, we follow and protect them on all their ways -- be they straight or not.". In a womyn's prayer, the "priestess" invokes the Holy Ghost using an artificial German word Geistin, denoting the non-existent feminine form for Ghost. [Catholic News Agency, Germany]



Brooklyn Diocese Imposes Penance on Novus Ordinarians. On the first day of the penitential season of Lent, Ash Wednesday, the Brooklyn diocese announced that it was shutting down 26 Newchurch schools and throwing out 4100 pupils and 250 teachers. Well, not to lament. These schools long ago stopped teaching Catholicism. The pupils are better off in the public-school system where they can learn paganism directly instead of being taught that it is "Catholic." Less confusing that way! [New York Post]



Newchurch Bishop Marches in Lewd Parade. Bishop Dom Mauro Morelli, 69, from Duque de Caxias, Brazil, is the first bishop to march in a Mardi Gras carnival parade. The Sao Paulo parade featured angels and devils, semi-naked women, and mock orgies. Newvatican's comment? The usual no comment. What do you expect? The pope himself performs "Clown Messes." No wonder Newchurch is corrupt from its bottom to its top, and the Newchurch hierarchy is out of control. The Novus Ordinarians will have to be prepared for scandal after scandal. Maybe Our Lord is trying to make Newchurch so vile that the Novus Ordinarians -- some of them at least -- will wake up to the fact that they are victims of a Counterfeit Church. [Ananova]
NOTE. We are pleased to report that a letter from Fr. Gommar DePauw, Founder of the Catholic Traditionalist Movement, indicates that he has been able again to provide his congregation with the Traditional Latin Mass on Sundays and other services, such as the Blessing of Candles and Throats for St. Blase Day. He is still receiving some therapy as part of his recovery and is not able to answer all the letters that he has received, though he still handwrites many replies.
---
The Date of Easter
From: Frank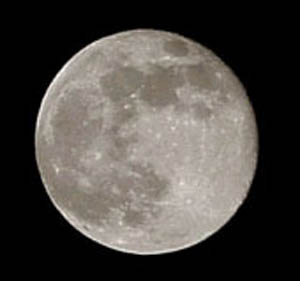 The Date of Easter Is Determined by a Lunar Calendar
Related Originally to the Date of Passover
As the Sunday Following the First Full Moon
After the Vernal Equinox
Dear Fr. Moderator:
Why does Easter fall so early this year when last year it fell in mid April?
Fr. Moderator Replies.
There is a long and complex history regarding the date of the setting of Easter, which started in the early Church. It has had some relationship to the date of Passover, which is determined by the Jews on a lunar calendar.
The date is set according to a "calendar" moon (not exactly the same as the astronomical moon, but very close). Easter Sunday, since the Gregorian reform of the late 16th century, is defined as the first Sunday which occurs after the first full moon following the nominal vernal equinox (21st of March). As a result, the earliest possible date of Easter is March 22, the latest April 25. As a result there are either more or fewer Sundays after Epiphany. When Easter is early, the later Sundays of Epiphany are forgone and inserted after the 23rd Sunday of Pentecost.
Perhaps you have not noticed the fullish moon each Easter. Unfortunately, we moderns are woefully out of touch with the heavens.
---
February 15 - Ferial Day of Lent
Lenten Fast Day
"We All Worship the Same God"
From: Fr. Moderator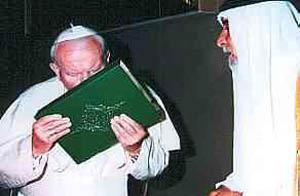 JPII Kisses the Mohammedan Koran as Imam Looks On
"One who does not call the Jews and the Christians unbelievers is himself an unbeliever."
Even the Mohammedans Don't Fall for the "We All Worship the Same God" Nonsense
It seems that Newchurch wants to push that idea that "we all worship the same god." The pope models this "theology" by publicly consorting with the religions pagans, heretics, and infidels. He kisses the false "holy books" of other religions. One has to wonder just how "Catholic" the pope is.
Well, although we are said to worship the same god, Newvatican doesn't ever tell us who that god is. Let us take, for example, what the Mohammedans teach:
Everyone who does not embrace Mohammedanism is an unbeliever and must be called an unbeliever.... One who does not call the Jews and the Christians unbelievers is himself an unbeliever.
Whoever believes that churches are houses of God... or that what Jews and Christians do constitutes the worship of God .. is an infidel.
Jews "are worse than donkeys." They are the corrupting force "behind materialism, bestiality, the destruction of the family, and the dissolution of society."
Mohammedans who convert to another religion "should be killed because [they] have denied the Koran.
Democracy is "responsible for all the horrible wars" of the 20th century and for spreading "ignorance, moral decadence, and drugs."
These are just some of the teachings of Wahhabist Mohammedanism, prevalent in Saudi Arabia, which is now being spread worldwide and is now found throughout the United States. Between November 2003 and December 2004, researchers at Freedom House, a human-rights group, assembled more than 200 such publications from 15 mosques and Mohammedan centers in Illinois, Texas, California, New York, New Jersey, Virginia, and Washington, D.C. Fifteen of the nineteen terrorist hijackers on September 11, 2001, were of this persuasion.
So, Newvatican says that "we all worship the same god." Sure, and the moon is made of green cheese.
---
Scripture and Tradition
From: John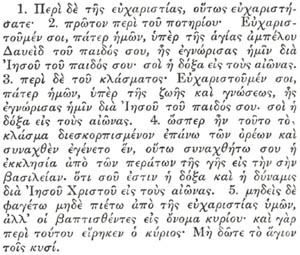 He Didachê (Doctrina Apostolorum)
A Work of Apostolic Tradition Discovered in 1873 near Constantinople
The Greek Document from ca. A.D. 80, Whose Title Means Teaching or Doctrine
Is the Oldest Christian Document in Existence outside the Bible
The Passage Above, Perì tês eucharistías [Concerning the Eucharist]
Describes the Holy Mass within a Generation after Christ
Dear Fr. Moderator:
What are some doctrines of oral tradition that are not contained in the New Testament? This is a question that is frequently asked by non-Catholics.
Fr. Moderator Replies:
That's an odd way to put the question and indicates that they really don't understand the nature of Scripture, let alone Tradition. What "doctrines" are there in Scripture? They are both representations of the teaching of Christ.
Scripture (the Bible) specifically says that it is incomplete. Protestants seem oblivious to the fact that Christ never once mentioned that He intended to give the world a book. He never said: "If you want to understand and follow my teachings, read my book." Other religious leaders did, but He did not. Rather, he founded a Church and hand picked Apostles to lead and teach His Faith, whose office was to hand down (tradere in the Latin) His teachings generation to generation.
Thus, it is the height of hypocrisy (though usually in ignorance, we presume) that Protestants turn their back on Christ's Church and instead cleave to a book, which they themselves presume to interpret personally in their ignorance rather than looking to the Apostolic Tradition that Christ began to help them understand it.
Eventually, much of the Apostolic Tradition was written down, in the works of what are called the Apostolic Fathers (of the second century) and the Great Doctors of the Church thereafter (St. Augustine, St. Ambrose, etc.). If we really want to understand what Christ meant, wouldn't we go first to His hand-picked Apostles, who studied with Him and followed Him daily for three years, and those that were closest to them?
And, while we are on the subject, we should point out that it is not appropriate for Catholics to be doing "bible study" with Protestants. This practice has long been condemned by the Church as danger to the Faith. Most Protestants know little about the Bible, and nothing about Tradition. Most Catholics are even more ignorant of Scripture. So, you put a group of ignorant people together, and you have a situation, as the Bible itself describes it, of the "blind leading the blind." And, as any good Protestant knows, the result of that is that they both "fall into the pit."
For a Catholic, the reading of Scripture is to be an informed process, within the context of the Church, which Christ founded to guide them. In the usual situation, this guidance is provided in a significant way through the hearing of the teaching of the Faith, in sermons at Holy Mass. If one wanted to study medicine, he would not read a textbook and then try an operation. He would place attach himself to one or more physicians, who would guide and teach him from the medical tradition.
---
February 14 - Ferial Day of Lent
Lenten Fast Day
Catholic No Longer
From: Fr. Moderator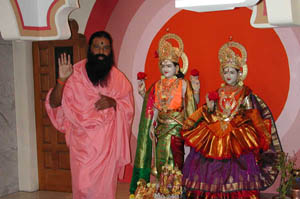 Hindu Activist to Lecture Novus Ordinarians on Lent
At St. Blase Church of the New Order in Sterling Heights, Michigan
One of the shrewdest ruses that Newchurch plays upon Catholics is to portray itself as Catholic. In fact, neither what it is or what it does is Catholic. Newchurch expects Catholics to go along with it simply by inertia and ignorance because the word "Catholic" is on the door, or the clerical personnel call themselves Catholic while peddling a New Religion.
Let's turn to one of many examples of just what is happening out there in Newchurch for Lent. First of all, it must be realized that Newchurch doesn't like Lent. After all, it is a penitential season, and Newchurch doesn't believe in penance, sin, confession, or anything of that sort.
St. Blase Church of the New Order in Sterling Heights, Michigan, has decided this year that it is not Christian, let alone Catholic. Eschewing penitential practices, it has decided to opt for "peace," since "over the centuries, Lent often has been a season that highlights religious differences." So, St. Blase of the New Order is going to bring heretics, infidels, and even pagans -- Hindu, Buddhist, Jewish, Muslim and American Indian shamans -- into its church to lecture Novus Ordinarians on "peace."
They don't like that fact that last year Mel Gibson released a controversial movie on The Passion of the Christ, which "led to religious friction." So, St. Blaise is going to have a rabbi in to lecture Novus Ordinarians on how they should accept Judaism, which is clearly rejected as false by the Apostles and documented in the New Testament.
Rather than exposing themselves deliberately to propaganda by false religions, these Novus Ordinarians, if they were Catholic, would be attempting to highlight and teach the differences in the True Faith. That is what St. Paul and the Apostles did.
---
Novus Ordinarians Give the Flip to Newchurch Archbishop
From: Fr. Moderator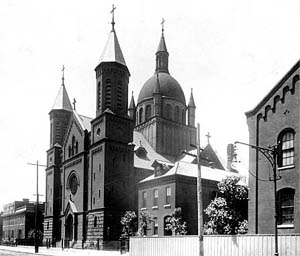 St. Stanislaus Kosta Church of St. Louis, Founded 1880
Archbishop "Bully" Burke "Interdicts" Faithful Catholics
Parish Tells Bishop to Take a Hike
Its Next Step Is to Secure a Traditional Priest to Make the Parish Catholic Again
Here's an update on the status of St. Stanislaus Kosta parish in St. Louis, Missouri. You remember that this parish has been self-endowed and self-governing, with the approval of Archbishop Kendrik "in perpetuity" over 125 years ago. In the many decades when St. Stanislaus was in financial peril, the archdiocese would not assist -- no loans were ever given. But now the current Newchurch Archbishop Raymond "Bully" Burke lawlessly wants to wrest control of the parish's $10,000,000 church, land, and assets, so the rumor goes, to pay off sex lawsuits. (Remember that Burke was the bishop who admitted a transvestite as a "nun.")
Well, the parishioners of St. Stanislaus are "mad as hell, and they're not going to take this anymore." Bully Burke, when he couldn't intimidate the parishioners with his phony authority and threats, has "interdicted" them. In return, the courageous elected Board of Directors of the parish "unanimously and with clear consciences, refuse to recognize any validity to such an immoral, unjust and inequitable sanction." They further charge:
Archbishop Burke's harsh act exceeds the ecclesiastical penalties imposed by him against the many accused and convicted priest [presbyter] paedophiles who violated the laws of God and man, and instead hid and denied those crimes helping bring the American [Novus Ordo] Catholic Church to the brink of financial and moral ruin.... It is about raw power and greed, and not about the teachings of Jesus Christ. While the Archdiocese will no doubt attempt to continue to disparage the Directors and Parishioners of St. Stanislaus as disobedient and rebellious against his decrees and his selective interpretation and use of "Church law," it is in fact Archbishop Burke who repudiates his vows to serve the people, in favor of satisfying his own demands for power.
We agree. If we were back in the first millennium of the Roman Catholic Church, the people of Rome would have thrown such a perverted bishop into the Tiber river for good riddance! You see, our Roman Catholic predecessors were not "girlie men," to use the term of Governor Schwarzenegger of California, but determined Roman Catholics who didn't take offal from bishops who pervered the Faith that they were sworn to uphold to their dying breath.
The Board of Directors has publicly stated that "while always open to discuss the reinstatement of St. Stanislaus Directors and the Parish into the Archdiocese, will not accept the Archbishop's demands to extort property and autonomous control from the Parish in exchange for the Sacraments of our Holy Catholic Church.
So far, so good. But now the Directors and the Parish need to go the final step. They need to tell Bully Burke that he has forfeited the powers of his office. That he is an acolyte of a New Order religion, not the Roman Catholic religion. Let the Directors and Parish cut off their ties from this Newchurch counterfeit and secure a traditional Catholic priest to come in and restore their parish to the Roman Catholic Faith. Now they've got a God-given chance to return to the Faith. They have no alternative now but to go all the way for Christ -- and they will be hailed as pioneers in the restoration of the Roman Catholic Faith.
---
February 13 - First Sunday of Lent (Semidouble Sunday)
The Holy Estate
From: John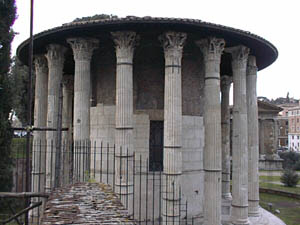 Temple of Vesta, Home to Rome's Vestal Virgins
Revered Virgins, Equivalent to the Later Catholic Religious
Dear Fr. Moderator:
Why does St. Paul say several times in his Epistles to the Corinthians that it is not always good to look for a wife and be married? I thought marriage that was a very important sacrament.
Fr. Moderator Replies.
The Church holds, in accordance with Apostolic teaching, that virginity is a holier state than matrimony. Therefore, the Church recognizes three state of life, in order of sanctity: religious, single, married. Not all are called to the Sacrament of Matrimony, just as not all are called to the Sacrament of Holy Orders.
Even the ancient Romans recognized this natural law, as it were. The Vestal Virgins were very highly revered in Rome. They took a vow of virginity and served for 30 years, for which they were rewarded for their sacrifice with the reverence and honor of the people and senate of Rome. Newchurch could learn from the Romans how to handle their sex-and-embezzlement scandal. If a Vestal Virgin were ever found to have violated her oath (and there were a few in Roman history), she was buried alive amid solemn ritual. The Vestal was brought to steps leading down to a room with food, a bed, and a lamp. After her descent, the steps were removed and dirt heaped on the entrance to the room. There she was left to die.
---
That Old Vernacularist Heresy Again
From: Kurt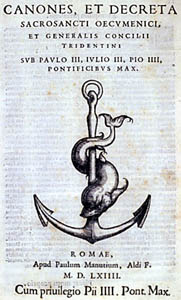 Canons and Decrees of the Council of Trent
"If anyone should say that the Mass ought to be celebrated
in the vernacular only, ... let him be anathema." --Dogmatic Council of Trent
Dear Fr. Moderator:
I attend an "Indult" Mass. I love the Traditional Latin Mass with all my heart. The Novus Ordo is so bland and graceless by comparison. While I have learned to follow along quite easily in my missal, it pains me that so many deprive themselves of this Mass because of the old "why should I go to a service where I don't understand the language" argument. Do you think it would be an acceptable compromise, sometime in the future when the Church returns to Tradition, to offer the mass according to the 1962 Missal, translated into the vernacular? Then all would be able to see the beauty and orthodoxy of the True Mass.
Fr. Moderator Replies:
Absolutely not! That would be like saying that everyone would be able to see the beauty of the Mona Lisa better if we had an artist paint over the original in black and white. Remember what "vernacular" means -- "pertaining to a slave." A vernaculus was a household slave in Rome, not a free man.
The vernacular is the first essential problem with the "New Mass" and the "New Sacraments" and the "New Religion." The vernacular has been and continues to be the Trojan Horse that has allowed, and continues to allow, Catholic doctrine to be manipulated, changed, and reinvented. You wouldn't have the New Order today if the Mass were in Latin, the Sacraments in Latin, and the teachings of the Faith in Latin in their first, authentic form. The Latin would have enforced the traditional theological understanding. Recent Commentaries from the Mailbox have shown how even the Bible itself is being changed by means of vernacular "translations." It's the same with the Mass, the Sacraments, and the very Faith itself.
Latin isn't just any other language. It is -- or should be to Catholics -- what Hebrew is to the Jews, classical Arabic to the Mohammedans, Sanskrit to the Hindus, and classical Chinese to the Buddhists. None of the ecclesiastical and liturgical languages of the great religions of the world are vernaculars. The one exception is the Protestants; perhaps that says it all. The Jews teach Hebrew in Saturday school. The Mohammedans do the same, teaching the Koran in the original classical Arabic and do not allow the Koran to be translated into vernaculars. Certainly, the Mohammedans' abhorrence of the vernacular has not compromised the growth of Mohammedanism. It now boasts the largest number of adherents for any religion in the world!
Catholic Saints and popes have written that Latin is the language that Providence determined for the Roman Catholic Faith. It is the vehicle by which the true Faith was propagated and by which it is guarded uncorrupted for all time. Arguably, a central reason why the Church of the New Order has lost the Roman Faith is that it is no longer Roman. It has spurned divine Providence and given away (for all intents and purposes) its Roman language.
Moreover, it was the heresy of Vernacularism that played a major part in the ascendancy of Protestantism. Thus it was that the dogmatic Council of Trent condemned such a notion. Pope Pius XI wrote in Mediator Dei: "The use of the Latin language, customary in a considerable section of the Church, is a manifest and beautiful sign of unity, as well as an effective antidote for any corruption of doctrinal truth.... The day the Church abandons her universal tongue [Latin] is the day before she returns to the catacombs." We have seen his prophecy come true in our own times for the Church of the New Order. Or, as another author answered the vernacularist idea:
The complaint that the use of the Latin language by the Church is an obstacle to the devotion of "everyman"... -- let us make no mistake about the origin of this centuries old [Protestant] complaint; let us recognize it for what it is: a very subtle and dangerous weapon skillfully wielded by the enemy of Christian civilization [Satan]. For the unity of the Church is so bound up with the unity of liturgical language that any attack against the latter is directly aimed at the former.
One cannot insist too strongly on this truth. Today it is possible to see more clearly whither such tendencies lead. We are witnessing a vast revolt against Christian traditions, morals and culture, and unless we Catholics of the West strengthen all bonds that bind us together we shall not be able to prevent the whole ... [world] from reverting to worse than paganism. It is therefore a duty, both religious and patriotic, steadfastly to oppose all such insidious anti-Latin propaganda and to cultivate by all possible means this bond of a common tongue to express the worship of a common Faith.
Does that ever hit the nail on the head!
---
February 12 - Seven Holy Founders of the Servites (Double Feast)
Lenten Fast Day
Is the Traditional Latin Mass merely a Matter of Choice?
From: Mary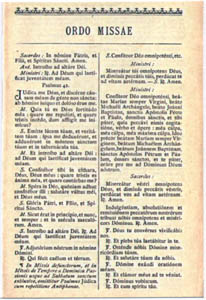 The Traditional Order of Mass
The Traditional Latin Mass Is not just a Matter of Choice
It Is True Worship, Whereas the Novus Ordo is False Worship
Dear Fr. Moderator:
I attended private Catholic school in the 1950's for eight years. The Mass was in Latin. Then the mass went to English. Recently, I have attended a Traditional Latin Mass with a friend (who attends religiously). He says that the Novus Ordo services I also attend don't count. I would like to go to both Masses while I sort things out. What do you think?
Fr. Moderator Replies:
The worship of God is not a Chinese menu: choose one from column A and one from column B. There is true worship, and there is false worship. Period. The Traditional Latin Mass is the true Mass; the Novus Ordo service is not even a Mass, but merely a Protestant-Masonic-Pagan service. So you are not choosing between the Traditional Latin Mass and an English "Mass." You are choosing between a Mass and a counterfeit, which deviates from Roman Catholicism in far more than language, important as that is.
It is hard to deny any longer that the Novus Ordo service, in any version, is unCatholic, sacrilegious, irreverent, scandalous, blasphemous, idolatrous, and conclusively invalid, because it fails to meet one or more of the three criteria established in Catholic dogmatic and sacramental theology for a valid Mass and most cogently in Pope Leo XIII's Apostolicae Curae.
You cannot keep a foot on both sides of the fence. The Traditional Latin Mass is the true worship of the Church. It has been so for the better part of 2000 years. The Novus Ordo service is a proven Protestant-Masonic-Pagan counterfeit of only the last thirty or so years and is a grave danger to your Catholic Faith.
For the safety of your soul, you should immediately abandon the counterfeit Novus Ordo service and assist only at the true Mass. Even if you are in doubt, you can't ever go wrong with the true Mass, but you go very wrong indeed with the latter-day counterfeit. So, logic, if not your Faith, would tell you to take the safe course and assist at the Traditional Latin Mass exclusively.
---
Content to Coexist with the Novus Ordo?
From: David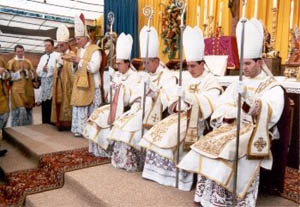 The Episcopal Consecrations at Econe, July 29, 1988
By Archbishop Marcel Lefebvre
SSPX Must Not Waver in a Demand for a Total Return of Catholicism
Dear Fr. Moderator:
I frequent a chapel of the SSPX. I support the SSPX and am grateful for what it does. However, this quotation from a recent letter from Bishop Fellay, SSPX Superior General, to Cardinal Hoyos somewhat disturbs me:
Must one recall that what we are attached to is the common patrimony of the Roman Catholic Church? We do not ask nor do we seek a special status as a mark of singularity, but we want a "normal" place in the Church. So long as the Tridentine [Traditional Latin] Mass is considered a particular concession, we remain marginalized, in a precarious and suspect position. It is in this perspective that we claim a right that has never been lost: that of the Mass for everyone. To reduce this right to an indult (which certain Roman voices hold to be provisory) is already to diminish it.
What Bp. Fellay is saying, apparently, is that he rejects the concept of the "indult" and sees the Traditional Latin Mass as the proper right of every priest to celebrate. Good. But, the disturbing part is that he does not call for a total return to the Traditional Latin Mass. He would be content to "coexist" with the Novus Ordo, if Newrome would just grant a "universal indult" to any priest who chooses to celebrate the Traditional Latin Mass.
But wouldn't the proper thing to say to Newrome be: "Drop the Novus Ordo immediately. Return to the Traditional Roman Mass. It is completely unacceptable, not only for us to celebrate, but for any Catholic to take part in, the Novus Ordo." It would appear that TRADITIO has been correct in its past warnings. With all respect due to Bp. Fellay for his fidelity to Tradition, he may indeed be weak when it comes to dealing with the Vatican.
---
February 11 - Apparition of Our Lady of Lourdes (Double Major Feast)
Lenten Fast Day & Complete Friday Abstinence
Does Newvatican Believe in Martians?
From: Fr. Moderator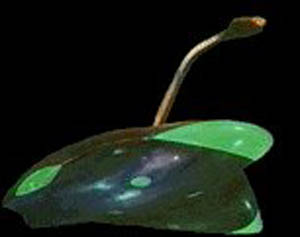 H.G. Wells' Concept of a Martian from the 1953 Film War of the Worlds
Is the Newvatican Curia now Seeking out UFOs and Extraterrestrials?
"For, professing themselves to be wise, they became fools" (Romans 1:22/DRV). St. Paul's words certainly describe Newvatican and its New Religion to a "T." After 35 years of pushing a nonsense religion, the New Order, or the New Springtime, or whatever they're calling it this year, after Papal Clown Messes and Papal Sugar Cookie Messes, and a New Religion that a smart child would laugh at, Newvatican has forged ahead into yet new realms -- UFOs and extraterrestrials!
It seems that one Msgr. Corrado Balducci, a theologian member of the Newvatican Curia, a consultant to Newvatican on demonology and spiritual matters, and a close friend of JPII, has gone on Italian national television five times giving interviews about extraterrestrial encounters as real and actually occurring to many people and as worthy of scientific investigation. Msgr. Balducci is also part of a small group of fellow demonologists and has provided consultation to the Vatican on the spiritual aspects of extraterrestrial encounters. Balducci revealed that Newvatican "is closely following this phenomenon quietly and is receiving much information about extraterrestrials and their contacts with humans." Balducci is associated with German "UFOlogist" Michael Hesemann in these "scientific investigations."
Seems beyond belief, doesn't it? Yet recent history demonstrates that Newvatican and its New, One-World Religion is laughable. Why shouldn't Ratzinger and the benighted Newvatican Curia believe in Martians? What's next: the Boogeyman?!
---
More Problems with the "Indult"
From: Anastasia & Matthias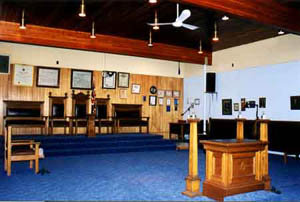 A Novus Ordo Parish, Right? Oops -- It's a Masonic Temple!
By Newvatican Fiat The "Indult" Is More and More Being Forced to Conform Itself
To Novus Ordo Temples and the Novus Ordo Counterfeit Mess
Dear Fr. Moderator:
Anastasia Writes: I have recently been in correspondence with an "indult" priest of the Fraternity of St. Peter, who said once upon a time that he would never celebrate the Novus Ordo. But while staying with some friends, he was refused permission from the local Newchurch bishop to say the "indult" Mass, even in private. So he "obeyed" and decided to "concelebrate" the Novus Ordo service with that Newchurch bishop! When I put it to him that he was complicit in sacrilege by joining in with that Newchurch bishop, he replied: "My Mass was reverent." What kind of training do these FSSP priests have? It doesn't seem very traditional to me!
Matthias Writes: A few days ago, a traditional Catholic had confirmation that he is dying. The "indult" priest who says the "modernized" 1962 rite (but who also advises his congregation to go to the Novus Ordo service if they can't get to the true Mass) was asked if he would go to this man in the hospital to administer the Sacrament of Extreme Unction. He declined, saying that "canonically he does not have the faculties and that he would not go against Canon Law."
Fr. Moderator Replies.
"Indult" priests and organizations are ultimately responsible to the New Order and, according Newvatican Protocol 1411 of 1999, must use the Novus Ordo Protestant-Masonic-Pagan service when requested by the local Newchurch bishop. It the "indult" priest doesn't kowtow to the Newchurch bishop, he's out!
Of course, there is no "reverent" Novus Ordo service. Coming as it does from a fabrication of a Masonic archbishop and six Protestant ministers with the explicit intention of making the Catholic "Mass" acceptable to the Protestants, it is hard to deny any longer that the Novus Ordo service, in any version, is unCatholic, sacrilegious, irreverent, scandalous, blasphemous, idolatrous, and conclusively invalid, because it fails to meet one or more of the three criteria established in Catholic dogmatic and sacramental theology for a valid Mass and most cogently in Pope Leo XIII's Apostolicae Curae.
At one time, the FSSP claimed that it had a right to use "exclusively" the "modernized" 1962 rite. The paper-tiger Ecclesia Dei Commission of Newvatican denied that claim and required "indult" priests to say the Novus Ordo rite when requested by a Newchurch bishop. If the "indult" organizations were honest, they would publicly refuse to say the Counterfeit Mess and go independent.
It has not done so. Instead, it has hypocritically changed its position as of 1999 and is now going along with the Novus Ordo, as your case indicates. Of course, for "political" reasons, it doesn't want to make this situation too public, as it would lose the support of many of its adherents, who still think that uses exclusively the "modernized" 1962 rite.
One must be very suspicious of any "indult" priest who would say what you heard: that the bastard Novus Ordo service can ever be "reverent." And, by the way, how did he know how to perform the Novus Ordo? He must have studied it somewhere or learned it on his own. Where? Is the FSSP now teaching its "indult" priests to be "biritual": with "modernized" 1962 rite and the Novus Ordo at the same time? The "indult" situation is rapidly getting worse and worse all the time. If the FSSP is so "approved," why is it that it so often has to butt heads with the Newchurch bishops? Should it have smooth sailing with purported Newvatican "approval." Apparently not.
The second case is even more perverse. One of these "indult" priests says that he cannot administer the Sacrament of Extreme Unction to a dying man. Puh-leaz! All this nonsense about "canon law" and "faculties" is just a ridiculous deception. It is just a line that the Novus Ordinarians use to confuse people. What this "indult" priest doesn't want to admit is that he can't administer the Sacrament of Extreme Unction because Newchurch has done away with it! Rather, has substituted for this most powerful Sacrament a mere "Blessing of the Sick."
Let this case be a lesson to all semi-traditional Catholics who still keep one foot in the phony Novus Ordo. Don't expect to get the Last Rites there. You'd better be prudent now. Get away from the New Order entirely, and all its "sacraments";find a traditional site now and establish a connection there. Then, like the virgins in the parable who were prudent enough to bring oil for their candles, you will have an opportunity to get the true Sacraments. Otherwise, you will find yourselves like the foolish virgins who missed salvation because they ran out of oil (the Sacraments).
---
February 10 - St. Scholastica, Virgin (Double Feast)
Lenten Fast Day
Means of Sanctity
From: Reg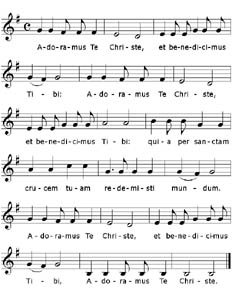 Adoramus Te, Christe
St. Paul and St. Augustine Recommend Hymns
As a Means of Sanctity
Dear Fr. Moderator:
If a Catholic is unable to attend daily Mass, are there other means by which such a person could obtain grace in order to become holy?
Fr. Moderator Replies.
Many, many ways. The best practice would be the praying of the Divine Office, of which the Mass is a part. In particular, each day of Lent has its own Office. One could also read and meditate upon the Propers of the Holy Mass for each day of Lent.
One might also pray one of the little Offices, such as the Office of the Blessed Virgin Mary or the Office of the Dead. Other traditional practices of prayer include the recitation of the Psalms, particularly in Lent the Seven Penitential Psalms, the praying of the Litanies (of the Saints, Loretto, Sacred Heart, Holy Name, St. Joseph), or the Rosary.
Another practice that few people think of is spiritual song. St. Paul encourages us to speak "in psalms and hymns and spiritual canticles, singing and making melody in your hearts to the Lord" (Ephesians 5:19/DRV). St. Augustine tell us: Qui bene cantat, bis orat. Thus, one might sing the traditional chants and hymns of the Church: Salve Regina, Ave Maris Stella, Adoro Te Devote, etc., for Lent particularly Parce Domine, Attende Domine, Stabat Mater, Adoramus Te Christe, etc. Traditional Catholics should know how to sing these hymns anyway.
In addition to prayer, there are also the fasting and almswork, the spiritual and corporal works of mercy.
---
Miracles Are not Doctrine
From: Daniel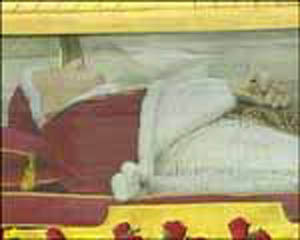 Johannes XXIII Defunctus
No Purported Miracle Could Disprove the Folly of Vatican II
Dear Fr. Moderator:
Reading the sad history of Modernism leading up to Vatican II and seeing that Pope John XXIII had, directly and/or indirectly, assisted the advance of Modernism, do you know if there has been a real miracle from God associated with John XXIII that will be used for his canonization? If so, how can a traditional Catholic reconcile a miracle from God with the history of John XXIII? Would a miracle for the instigator of Vatican II mean that God meant to have Vatican II (although maybe not the way it was implemented)?
Fr. Moderator Replies.
Such a miracle, if it is ever properly proven (and for that we must wait until after the Church is fully restored, and the investigative process for beatifications and canonizations are restored to that which ensures their validity) can be very easily reconciled, because a miracle could in no way bear upon Vatican II.
You are looking in the wrong place for your Catholic Faith. Catholics are not pagans who look for God's truth from the incantations of a tribal witch-doctor or the entrails of a sacrificial animal or Tarot cards or even purported miracles. Miracles are not dogma. The Catholic Faith is taught to us from Our Lord Jesus Christ, through His Public Revelation, that is, Sacred Scripture (the Bible) and Sacred Tradition.
Whether John XXIII was a Saint or not, no miracle would prove anything about the wisdom or folly of his ecclesiastical policies. It would bear upon his personal sanctity, which could well be substantially internal and known primarily to God.
Take the case of the present pope, for example. We know that a good deal of what he has done and failed to do toys dangerously with contravening the Catholic teaching of his 260 predecessors and 20 dogmatic councils. Moreover, he has surrounded himself with his own appointed rogues in purple and scarlet and allowed them to take possession of the Church -- rogues who have forsworn their sacred oaths to God by practicing and advocating the sacrilege of a New Religion, have preyed upon the innocent, have stolen church money and property, and have caused great scandal to the Church. JPII appointed all these ecclesiocrats and refuses to raise his voice or hand in correction. That is evil -- just as evil, if not worse, than those predecessors of his that allowed similar affronts to Almighty God to occur in previous centuries.
Yet JPII may be saintly interiorly -- not because of what he has done with the Church, which is objectively evil, but perhaps because of interior virtues, such as long-suffering endured on account of his grave and debilitating illness. If he is ever found to be a Saint (and that cannot occur with certainly until the Church is fully restored by faithful bishops and popes, not promoters of the New Order), it will be primarily because of interior virtues and in no way confirm the evils of his actions and inactions in governing the Church.
Take an example. St. Augustine was a Saint, one of the greatest Saints of the Church. Yet he was once a heretic of the Manichean sect, a persistent fornicator with a woman out of wedlock, and the father of a bastard child. Many miracles have been attributed to St. Augustine, but it would be blasphemous to hold that any such miracles were God's "blessing" on his sin. Quod Deus avertat!
---
February 9 - Ash Wednesday
Lenten Fast Day & Complete Abstinence
Burying St. Joseph
From: James

A Statue of St. Joseph
Is It Superstitious to Bury It to Sell Your House?
Dear Fr. Moderator:
What is your opinion of burying a statue of St. Joseph upside down in your yard, in order to help sell your house?
Fr. Moderator Replies
One must be very careful with such practices to ensure that they are not superstitious, as superstition is a sin of excess against the virtue of Religion. Superstitious attitudes are commonly found among Catholics, alas!, for example, with respect to such sacramentals as scapulars, as there are those who wrongly believe that if they wear some scapular, they won't go to Hell, whatever sincerely unrepented evil they do, even fornication, heresy, sacrilege, etc. This is no sounder than the Protestants who believe that once they "accept Jesus Christ as their personal Savior," they cannot lose salvation, no matter what sincerely unrepented evil they do.
The web site that you pointed to is even worse: it attempts to make money off a religious practice, albeit dubious, as a commercial enterprise, "professed to work for all Faiths and Denominations." Simon Magus would have loved this one! This is treading very closely to blasphemy and quasi-simony.
A better prayer would be that of Our Lady, when confronting the most important choice of her life: Fiat mihi secundum verbum tuum.
---
Even in Hospital Pope Is Novus Ordo All the Way
From: Fr. Moderator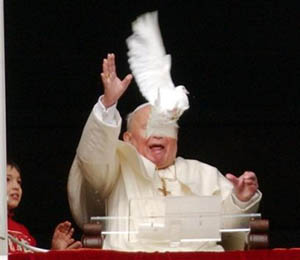 JPII Taxes Himself Resisting a Dove Attack
À la Novus Ordo, Doves Were Being Released as a "Sign of Peace"
From the Pope's Window in Bone-chilling Cold
The Episode Triggered Laryngial Spasms
and His Emergency Admission to Gemelli Polyclinic
If JPII can be respected for anything, it is for his long-suffering in the face of a desperate and debilitating illness. But, for all of that, he remains staunchly Novus Ordo. An Associated Press release indicated that "the pope's secretary was celebrating 'Mass' [the Novus Ordo service] in the hospital room and that John Paul was concelebrating from his bed." Concelebrating! There we go again.
The notion of "concelebration," that is, the joint celebration of Mass by several presbyters is not traditionally Roman Catholic, but a product of the post-Vatican II period. No such "concelebration" existed before the New Order was fabricated in the 1960s.
The only practice that existed in the early Church that bears any resemblance to this notion was the presence of priests peculiar to a bishop's Mass. The priests, however, did not "concelebrate" the Mass with the bishop. They were only present.
There were two other peculiar cases that survive in traditional practice, and these again involved a bishop's peculiar functions: those of ordaining and of consecrating. In these two peculiar cases, the new priests or bishop celebrate the Offertory and Canon of the Mass of ordination or consecration with the ordaining or consecrating bishop.
One serious problem that would exist with concelebration, if it were permitted, is that no matter how many priests would celebrate a Mass together, they would celebrate only one Mass and merit the fruits of only one Mass. If, however, the priests were to offer their own Masses individually, there would be as many Masses as priests individually celebrating, and the fruits would multiply by the number of Masses celebrated.
The traditional Codex of Canon Law (sec. 803) prohibits the concelebration of Mass by several priests together, save the two peculiar cases mentioned, which involve a bishop.
---
February 8 - St. John of Matha (Double Feast)
Beware Bishops' Appeals!
From: Fr. Moderator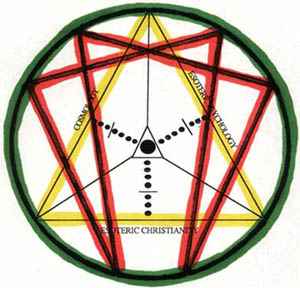 An Enneagram
Worship of Self Used Extensively in Newchurch
It Is a "New Age Mandala"
Related to Sufism, Zen Buddhism, and Yoga
Certainly no traditional Catholic should have to be warned about contributing to Newchurch "Bishops' Appeals." Yet, there are some, knowing of the errors of Newchurch, still cough up money for Newchurch programs. One might just as well shoot Christ in the foot!
We received one of these solicitations recently. The Newchurch bishop's letter was quite forthright in admitting where this "charity" money goes:
"Catholic" Schools. These schools are now worse than public schools, teaching fornication, divorce ("Catholic" style), homosexuality, "all religions are equal," "we all worship the same god" -- you know, the false teachings of the New Order.


Clergy and Lay Leadership Training. Money goes to ponying up New Order "presbyters," not priests, and "lay deacons." Every layman -- sorry, layperson is certified to teach his own version of the Scriptures and the Faith, making it up according to his (or her) own pleasure as he (or she) goes along. One would be better off going to the Protestant church down the street if one wants that!


Family & Youth Ministries. We know these Newchurch "ministries." Bishops giving catechism classes in bars "for outreach." Young people being enticed into World Youth Day "Catholic Woodstocks," which are little better than the perverted Woodstock of 1969.


Parish Support, Diocesan Services, and Spiritual Ministries. New ministries here include Taize, false "oecumenism," RICA, Renew, Focolare, Cursillo, the "Theology of the Body," Wicca (Gaia worship), and enneagrams.
The message here is: Save your money! Never contribute to anything Novus Ordo unless you want it to go for perversion, the worst perversion of all, the perversion of the Roman Catholic Faith.
---
Did Pope Pius XII Foresee the New Order Church?
From: Fr. Moderator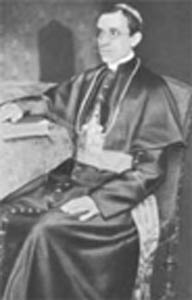 Eugenio Cardinal Pacelli, Later to Become Pope Pius XII
Even Before Becoming Pope, He Was Convinced of a Coming Disaster in the Church
What He Foresaw Describes Exactly What Happened after His Death
Even from before his becoming pope in 1939, Pius XII, as Eugenio Cardinal Pacelli, Vatican Secretary of State, foresaw the way the Church was going, and was very concerned about a coming disaster. He had seen deeper into the real meaning of the Apparition of Our Lady of Fatima than all the modern commentators:
I am worried by the Blessed Virgin's Messages to Lucy at Fatima. This persistence of Mary about the dangers that menace the Church is a divine warning against the suicide that would be represented by the alteration of the Faith, in her liturgy, her theology, and her soul.
While most modern commentators of Fatima amuse themselves with discussions of suns spinning in the sky and "endtimes," the pope saw directly to the heart of the spiritual message of the apparition, which (as most forget) did not even start with an apparition of Our Lady, but rather of the Holy Angels, adoring the Most Blessed Sacrament. And it is exactly that Sacrament that has been taken away from the Church of the New Order and the Novus Ordinarians. The pope was already hearing these dire rumors about the coming attack against the True Faith:
I hear around me reformers who want to dismantle the Holy Sanctuary, destroy the universal flame of the Church, to discard all her adornments, and smite her with remorse for her historic past.
Certainly this is a pointed summary of just what the Vatican II revolution brought in. Instead of the Church and its Sacred Liturgy being adorned to reflect the glory and beauty of God, it has been "simplified" into vapidness. The Holy Sanctuary has in fact been dismantled, and a mere Protestant table substituted for the altar of God. The universal flame of the Church, the Most Holy Eucharist has been reduced to a mere piece of bread, and the Novus Ordinarians now worship the "Great God Bread" in tabernacles that look like phalli (see the previous Commentaries). Constantly we hear that "the Church has changed," and anything that happened before 1962 is excluded as being "triumphalist." Yet the pope foresaw an even more chilling future, the virtual destruction of the True Faith:
A day will come when the civilized world will deny its God, when the Church will doubt as Peter doubted. She will be tempted to believe that man has become God, that His Son is merely a symbol, a philosophy held by so many others, and in the churches Christians will search in vain for the red lamp where God awaits them, like Magdalen weeping before the empty tomb, "Where have they taken Him?"
What an accurate description of the Church of the New Order, which doubts virtually every tenet of the Catholic Faith! The New Order makes man his own god, with his own made-up doctrines to suit himself. The red lamp of the Blessed Sacrament has indeed gone out for this Counterfeit Church, and the Novus Ordinarians now worship a mere piece of bread and grape juice. "God is not mocked" (Galatians 6:7/DRV).
---
February 7 - St. Romuald, Abbot (Double Feast)
Recently in the News
From: Fr. Moderator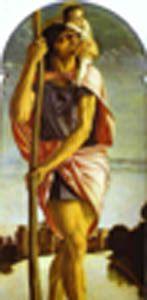 St. Christopher
"De-sainted" by Newchurch because of Lack of Evidence
Oops! The Evidence Has Now Been Found
Whatever Happened to Saintly "Infallibility"?
Here is a collection of revealing tidbits from recent news reports.
St. Christopher Vindicated. In the 1960s, Newvatican "de-sainted" a number of Saints. Among these were St. Christopher, one of the traditional Fourteen Auxiliary Saints. Newvatican claimed that there was no written evidence of St. Christopher (is Newvatican too Protestant to have heard of Tradition?). Now an Irish Classics professor has found the written evidence in ancient manuscripts. Tradition 1, Newchurch 0. And, by the way, for those who keep maintaining that canonizations are infallible (which they are not in all cases, even according to the Church's Principal Theologian, St. Thomas Aquinas), even Newchurch doesn't believe in infallibility for Saints. It has on several occasions "de-sainted" traditional Saints like St. Christopher.


Witchcraft Fastest Growing "Religion" in the United States. In the decade between 1990 and 2000, witchcraft (sometimes called Wicca) increased by 1575%.


Catholic Mexico Becoming Pagan. It seems that Our Lady of Guadalupe's influence is waning in Mexico. First, most Catholic Mexicans went Novus Ordo. Now they're going pagan. Mexicans are increasingly falling for the cult of Muerte, to whom Mexicans leave offerings of colored candles, cigarettes, and alcohol on the sidewalks. Sounds suspiciously like those "shrines" created at locations where someone is killed in an auto accident.


Animists Conduct Human Sacrifice. The animists that JPII loves so much have apparently not given up their practice of human sacrifice. Over 100 humans were sacrificed to the Devil at an animist shrine in Nigeria. Until the ascent of the New Order, Nigeria was a relatively Catholic country.


JPII Hands over Saints' Relics to Schismatics. JPII has handed over the relics of St. John Chrysostom and St. Gregory Nazianzen, both Great Doctors of the Church, to the Eastern schismatics at Istanbul.


Spain Loses Its Catholicism. The secular government now approves of divorce and abortion. 33% of Spaniards do not associate themselves with any religion. 50% of the Novus Ordinarians don't go to the Novus Ordo service. 70% of the Novus Ordinarians approve of "gay marriage."


Catholic Divorce Soars in the United States. 87% of all Newchurch "annulments" (which are just Catholic divorces in disguise) granted in the world are granted to the United States. Meanwhile, Catholic civil divorce has risen to 50%, the same figure as among non-Catholics.


JPII Chooses Pro-abortion Politician for Papal Knighthood. JPII has named Julian Hunte of St. Lucia in the Caribbean as a Papal Night. Said Hunte: "I think every woman must have a choice. I am a pro-choice man." He was responsible for casting the deciding vote on a bill legalizing abortion in St. Lucia. So much for JPII being staunchly anti-abortion.
---
Fr. Oswald Baker, Traditional Pioneer, Fought the New Order since 1975
From: Fr. Moderator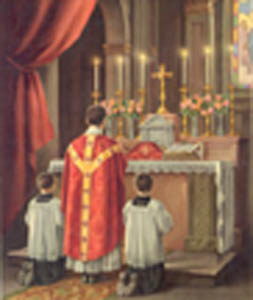 Fr. Oswald Baker (1915-2004)
A Pioneer of the Traditional Catholic Movement
"It Is Sinful to Take Part in It [the Novus Ordo]"
It was in 1975, five years after the introduction of the Novus Ordo service that Fr. Oswald Baker attracted national attention when he insisted on celebrating only the Traditional Latin Mass instead of the Novus Ordo service in his Roman Catholic parish of Downham Market, Norfolk, England, where he had been pastor since 1949.
Because Fr. Baker stood up for the Roman Catholic Mass instead of its Novus Ordo counterfeit, Charles Grant, the Northampton Newchurch bishop, determined to make an example of Baker. That bishop didn't realized that he had caught a tiger by the tail!
It quickly became clear that Baker enjoyed strong backing from the majority of his parishioners, who formed a "1570 Society" to support him, 1570 being the year in which Pope St. Pius V canonized the Catholic and Apostolic Traditional Latin Mass "in perpetuity" in accordance with the decrees of the dogmatic Council of Trent. Catholics started coming from all over the country to attend his Sunday Masses, and laypeople throughout the English-speaking world wrote in their hundreds to assure him of their wholehearted agreement with him.
At a time when toleration was supposed to be in vogue, the Northampton bishop and Newchurch as a whole were particularly embarrassed to find themselves looking both narrow and tyrannical. As the situation developed, Baker showed every sign of enjoying himself. He made barbed remarks about Novus Ordo services that made use of pop music and "sensuous dancing girls."
The Daily Telegraph, which often had a reporter in his congregation, recorded one sermon in which he pointedly referred to St. John of the Cross, who was jailed by his superiors for his beliefs in the 16th century, then was released to become Vicar General of Andalusia. To general laughter from his parishioners, Baker continued: "There is something about them, these priests who gain a misleading reputation for disobedience." He then added: "These bishops. They will have their little joke."
Meanwhile, the new parish presbyter dispatched by Grant performed the Novus Ordo service for a scant minority of Downham Market Catholics in the town hall. The people voted for the Traditional Latin Mass with their feet. Fr. Baker continued his ministry and intensified his fight against Vatican II and Newchurch. He publicly stated that "the new Mass is a sacrilegious parody of the true Mass: it is sinful to take part in it."
After the battle with the Newchurch bishop, Fr. Baker initially rejoiced when Archbishop Lefebvre's Society of St. Pius X sent young priests to England, following in the footsteps of the Reformation martyrs who had refused to accept the introduction of Protestantism. Baker denounced the New-Order Church produced by Vatican II, agreeing with the Lefebvre: "The Conciliar Church is a schismatic Church, because it breaks with the Catholic Church." However, although Baker was sympathetic to Lefebvre, Lefebvre's association with problematic popes Paul VI and John Paul II disappointed him.
Fr. Baker's congregation swelled when the film producer-director-actor Mel Gibson, who bought a house nearby, appeared for Sunday Mass and stayed for coffee afterwards.
Fr. Baker passed to his eternal reward on July 2, 2004, at age 89, having been born on May 1, 1915. [News-Telegraph]
---
February 6 - Quinquagesima Sunday (Semidouble Sunday)
More Tampering with the Bible
From: Fr. Moderator
The "Inclusive" New Testament
Part of the Rewritten, Neutered Bible of the Modernists
Vernacularism Has Been Used by Newchurch as the Trojan Horse
To Destroy the Catholic Faith
We have received more reports of tampering with the Bible through the veil of "translation." No wonder that the true Church has recognized only the St. Jerome's Latin Vulgate as authoritative.
A Novus Ordo organization, Priests for Equality, which, contrary to its name, is heavily composed of laypeople (including feminists) wanting to re-create the Church into an institution that bears no resemblance to Catholicism, commissioned a "rewritten," "neutered" Bible in 1994, which has found its way into parishes of the Church of the New Order.
In the complete rewrite of the issued in four volumes as The Inclusive Hebrew Scriptures and The Inclusive New Testament, masculine words such as king and kingdom and Son of Man are out. Husband and wife are out, and the neutered "partner" is substituted in place of traditional marriage terminology, in order to, they say, "acknowledge and value nontraditional relationships," e.g., Lesbianism ménages.
Of course, these people are neither priests, nor even Catholics. Their position statement reads: "The Bible is not itself the Word of God, for that would be idolatry. Rather, the Bible contains the Word of God -- or better yet, the Bible is the unique document of human beings' encounters with the Living God." That's a lot of gobbledygook for man can rewrite the Bible as he wishes.
No, these are just a bunch of egotists who reject the Catholic religion and want to make up their own New-Order religion. Since that is their goal, at least they should be as honest as Martin Luther and form a different Protestant (or New Age or whatever) Church. It is certainly not Catholic! Interestingly, most people are not fooled by this nonsense. On a poll that accompanied the Carolina Channel release, 93% of the respondents rejected this whole silly notion.
---
Vatican II "Was Not a Dogmatic Council," Says Pope
From: Tim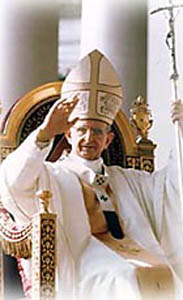 Pope Paul VI (1964-1978)
"[Vatican II] Was Not Directly Dogmatic"
General Audience of April 6, 1975
Only Traditional Catholics Take the Pope at His Word
Dear Fr. Moderator:
Please tell me the difference between a pastoral council and an oecumenical council. I keep hearing that Vatican II was an oecumenical council, but thought it was pastoral.
Fr. Moderator Replies.
It was both. It was oecumenical in the sense that that all the bishops of the world were invited, not just those of a particular region. It was pastoral rather than dogmatic because both the pope that called the council and the pope that promulgated its documents said that it had no special dogmatic force of its own; that is, that it was not to be accorded the authority of the magisterium of the Church, as was, for example, Nicaea or Trent. In holding that understanding, traditional Catholics are simply obeying the words of the two popes themselves. Anyone may, for just reason (and there is much just reason in the case of Vatican II!), hold that the council was imprudent or even in error, with no compromise to one's Catholic faith.
Because a pope called the council, does that mean that it was "inspired by the Holy Ghost," or what Newchurch likes to call "the spirit"? Not at all. As one theologian put it: "We do not say, for example, that a command of a pope or decision of a pope to call a council is true or not. We can say that it is wise or not... It is inopportune or not.... And we Catholics are never obliged to believe that a given command, or given decision of anyone, including the pope, is necessarily that of the Holy Ghost.... We can say that the Pope has the power to call a council. We can say that the authorities in the Church can call upon the Holy Ghost to guarantee, in a very narrow set of cases, that what comes from this council is de fide. And nothing in Vatican II was pronounced de fide....
Pope John XXIII himself said: "There will be no infallible definitions. All that was done by former Councils. That is enough." Pope John Paul II said: "Pope John conceived the Council as an eminently pastoral event."
Malachi Martin, who was quite conversant with the secrets of Newvatican, wrote: "He [Pope John] used to say at the end: 'This is no longer my council.' After the first session he knew that the antiforce had taken over.... And from then on he knew the Council was going down. Physically, then, the carcinoma was eating away at his vitals, and he was already over eighty. And he simply physically didn't have the strength. John Guitton, the only Catholic layman to serve as a peritus at Vatican II and a friend of the conciliar popes, quoted Pope John on his deathbed as saying: "Stop the Council; stop the Council."
Pope Paul VI, to whom it fell to promulgate the documents of the council, since Pope John had died without signing a single document, stated at his Address Closing Vatican II on December 7, 1965: "The magisterium of the Church did not wish to pronounce itself under the form of extraordinary dogmatic pronouncements...." (Interestingly enough, this was the same year in which Padre Pio said to papal representative Cardinal Bacci: "For pity's sake, end the Council quickly!")
Three years later Paul VI confirmed the non-dogmatic nature of the council, when he stated at his General Audience of January 12, 1966: "There are those who ask what authority, what theological qualification, the Council intended to give to its teachings, knowing that it avoided issuing solemn dogmatic definitions backed by the Church's infallible teaching authority. The answer is known by those who remember the conciliar declaration of March 6, 1964, repeated on November 16, 1964. In view of the pastoral nature of the Council, it avoided proclaiming in an extraordinary manner any dogmata carrying the mark of infallibility."
And, in his General Audience of August 6, 1975, Paul VI again confirmed the non-dogmatic nature of the council: "Differing from other Councils, this one was not directly dogmatic, but disciplinary and pastoral."
Most specifically, Paul VI stated in his Apostolic Constitution Missale Romanum of November 19, 1969: "The rite [of the New Mass] by itself is not a dogmatic definition." This language was quite different from the dogmatic language used by the Council of Trent and Pope St. Pius V.
In fact, it is easily possible for a future pope to wipe Vatican II completely off the books, as it were, just as was the Council of Ephesus in 449, Council of Florence in 1439 (parts), and the Council of Pistoia in 1794.
In fact, Paul VI laid the groundwork for this when he came, in the latter days of his pontificate, convinced that the Vatican II was the work of the devil. In his Sermon during the Mass on the occasion of the ninth anniversary of his papal coronation, he stated:
We have the impression that through some cracks in the wall the smoke of Satan has entered the temple of God: it is doubt, uncertainty, questioning, dissatisfaction, confrontation.... We thought that after the Council a day of sunshine would have dawned for the history of the Church. What dawned, instead, was a day of clouds and storms, of darkness, of searching and uncertainties."
For further information, click on FAQ08: What Is the Authority of Vatican II?
---
NOTE. We have received a report that traditional author Solange Hertz has suffered a stroke. We have no details at this time about her condition.
---
February 5 - St. Agatha, Virgin & Martyr (Double Feast)
Beware of the Bible!
From: Fr. Moderator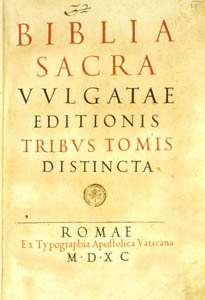 The Sistine Vulgate of 1590
Published at Rome by the Apostolic Vatican Press
In an Age of Unfaithful and Deceptive Bible "Translations"
St. Jerome's Work Remains the Only One Declared
Free of Error in Faith and Morals
Beware not of the true Bible, of course, but the so-called "translations" that have been proliferating since the 1950s. The Modernists, whether they pose as Catholic (that is, New Order) or Protestant, have slyly been "translating" error and heresy into Sacred Scripture. They can get away with this because even the clergy today are abysmally ignorant of the original languages and have been sold the bill of goods that a "translation" is just as good as the original. This story shows just how wrong and dangerous this notion is. Even in semi-traditional circles, the notion is sometimes heard that the Epistle and Gospel can be read in the "vernacular" from the altar. This is the barb on the Devil's tail. It sneaks in the error of Vernacularism, condemned by the dogmatic Council of Trent, and introduces these phony "translations."
From the Catholic perspective, the only edition of Sacred Scripture that has been recognized by the Church as not containing any errors of faith or morals is the Latin Vulgate of St. Jerome. St. Jerome based his edition closely upon the early version of the Church of Rome, the Vetus Itala. Perhaps St. Jerome had the original, Latin, version of St. Mark's Gospel. It is certain that he had Greek manuscripts to compare that are not available to modern scholars. So careful and literal a scholar was St. Jerome in dealing with Sacred Scripture that in cases where the Greek manuscripts are corrupt, his Latin edition can be used to restore the Greek text!
The most literal English "translation" of the Latin Vulgate, though it used other ancient manuscripts as well, is the Douay-Rheims version, so called from its publication of the Old Testament in 1582 in Douay and of the New Testament in 1609 in Rheims. In 1611, during the time of Shakespeare, was published that great monument of the English language known as the King James Version. Granted, this came from a Protestant source, somewhat less than a century after the English schism, but its language is superb and its few passages that deviate from the Catholic approach are well known and well documented. In fact, it relied quite heavily on the Latin Vulgate, and even the Douay-Rheims, for that matter. Surprising to say, perhaps, it is far to be preferred to the modernistic New Order version known as the New American Bible. Well, not really surprising, as we know that the Church of the New Order is worse than Protestant!
Shakespeare, whom an increasing body of evidence is showing was a closet Catholic under the reign of Elizabeth I, is said to have "signed" Psalm 46. If you count 46 words in from the beginning of Psalm 46 in the King James Version (corresponds to Psalm 45 in the Latin Vulgate and Douay-Rheims Version), you will find the word "shake," and if you count 46 words in from the end (excepting Selah), you will find the word spear. The King James Version was published in 1611, so Shakespeare would have been working on it most likely in 1610, his 46th year! No wonder this translation has a special verbal power.
As the best known version of the Scriptures in English, and very traditional in comparison with modern translations, the uncensored King James version, also known as the Authorized Version, of the New Testament is more than ever under attack as a type of "hate literature" that must be "cleaned up" or even "eradicated." Suppression of the New Testament passages critical of the Pharisees has emerged in a 1997 edition of the Bible published by, of all presses, the Oxford University Press. It appears that the venerable OUP has sunk in recent decades from being known as the scholarly press par excellence, which historically issued the Oxford English Dictionary, Liddell-Scott's Greek-English Dictionary, and, more recently, the Oxford Latin Dictionary, which, together with the Oxford Classical Texts series, are the de facto crowning glories of lexicography and textual science.
But now the Oxford publishers of The New Testament and Psalms: A New Inclusive Translation have censored the inspired words of Sts. Matthew, John, and Paul in order, as OUP says, "to portray the story of Jesus' life and death in a way that is not offensive to Jews." In the texts of Matthew, John, Acts, Corinthians, and the other sections of the New Testament, negative references to Jews have been censored and removed. Where the New Testament formerly referred to "the Jewish leaders," the Oxford Bible has bowdlerized its new version to refer only to "the leaders." For "Jews," the new Bible substitutes "men." The Oxford Bible publishers state: "When 'the Jews' is used to refer to ...unbelieving people, it is rendered 'the religious authorities' or simply 'the leaders' or 'authorities' to minimize what could be perceived as a warrant for anti-Jewish bias."
What a crock! If there is any "anti-Jewish bias" in the New Testament, it comes from Jews: St. Matthew, St. John, and St. Paul, the latter of whose Jewish credentials can hardly be disputed. Our Lord knew well the Jewish leaders. He inveighed against them often enough in recorded Scripture, in the harshest language, calling them a "brood of vipers," "hypocrites," and "white sepulchres." St. Paul was educated as a Pharisee. He knew well their traits.
One of the Zionists behind this hijacking of the Sacred Scripture is Irvin Borowsky, chairman of the American Interfaith Institute. The Oxford Press even hired him to change the wording of the Christian Bible. (Imagine the Zionist outcry if a Christian were paid to change the Jewish texts!) The American Interfaith Institute, is a Philadelphia-based organization exclusively devoted to the censorship of the New Testament by "working to remove anti-Judaism from Christian liturgy." So, now we see another factor involved the invalidation and corruption of the Novus Ordo service. It is not only Protestant, Masonic, and Pagan, but Zionist as well.
As Pope St. Pius X was careful to point out, there is a difference between Jews and Zionists, which has become even more clear in the century following his papacy. Studies show that only about 17% of those who call themselves Jews are sincere Mosaic Jews, sometimes called "observant Jews." The rest are what the pope called Zionists, that is, Modernists who enshroud themselves with the wrappings of Judaism, but who are merely political animals who have hijacked the term for their own political purposes. They are analogous to those Novus Ordinarians who call themselves "Catholics," but who have hijacked the term for their own political purposes.
The only solution is for true Catholics to hold fast to the Latin Vulgate of St. Jerome, to eschew the error of Vernacularism, to encourage the study of the original languages by their sons and daughters, if not themselves.
We are told by a Shakespeare expert among our correspondents that Shakespeare almost certainly worked on the King James Bible. It is not surprising that the commission rounded up the best poets to work on the Psalms (unlike today's committees, which for the most part consist of members deaf to the beauty of the ancient languages, let along their vernacular tongue).
---
Status Report from Rome
From: Jim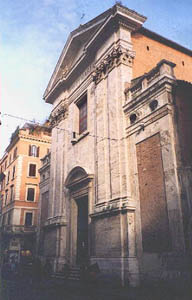 Ecclesia Iesu et Mariae ad Cursum
One of Eight Sites of the Traditional Latin Mass in Rome
Dear Fr. Moderator:
I read your February 7th Commentaries from the Mailbox with the greatest of interest, as I have just returned from Rome on a personal pilgrimage. I was fortunate enough to accompany an old friend on his first-ever trip to see those timeless monuments, those beautiful churches built for the True Mass, but now sadly not used for their true purpose. In sum, we visited about 32 churches and basilicas, and prayed at the various side altars and shrines and at the tombs of numerous Saints. Most importantly, we were able to assist at two Traditional Latin Masses in the Eternal City.
What struck both me and my friend is the same line we kept repeating in every place. "This is what the Faith is capable of": to produce masterpiece frescoes with intricate and precise themes, to produce stunning edifices that were built to serve as places to worship Almighty God until the end of time. In a word, to create, as closely as possible, "heaven on earth." This experience was capped off by assisting at Holy Mass offered in front of a huge altar piece depicting the Coronation of Our Lady at la Chiesa di Gesu e Maria, while four men chanted the Propers of Septuagessima Sunday, and the choir sang one of Palestrina's Masses. Mass ended with the hymn Alma Redemptoris Mater.
What amazed me is that this Traditional Latin Mass was so well attended, and not just by older people, but by young singles and young families -- even in Italy, where I surely thought that families didn't exist much anymore! Soon thereafter, though, you could count on your fingers the number of people congregating for the Novus Ordo service. The beautiful churches that the Faith built have been hijacked by the New Barbarians. But we traditional Catholics should take solace in the words written by the Great Eastern Doctor and Defender of the Faith, St. Athanasius, to his flock in those dark times when most of the Catholic Church, including its bishops and pope, was drowning in the Arian heresy: "It is a fact that they have the premises -- but you have the Apostolic Faith."
As you said in your commentary, art reveals the interior faith much more clearly than documents. The New Barbarians have done their best to destroy the old art behind the Faith in such forms as statues of "new saints," designer Novus Ordo tables, and hideous (that's a polite term, too) new Holy Doors on two of the four principal basilicas (I also note that JPII fully participated in the barbarity with his coat of arms plastered on them). I sincerely hope that Our Lord heard and will continue to hear the prayers I have offered for the restoration of the True Faith and worship of God through the intercession of some of the Church's greatest Saints whom I had the honor of venerating: St. Pius V, St. Pius X, St. Philip Neri, St. Ignatius, St. Gregory the Great.... The list goes on and on.
Here is another update. Last year or so, one of your correspondents wrote about JPII's "donation" of la Chiesa di SS. Vincenzo e Anastasio to the Bulgarian Orthodox schismatics. Out of curiosity, we ventured to the church on the Saint's feast day to pray for the church's rightful return to traditional Roman Catholicism. Anyhow, it seems that the church is being used as a "bi-ritual" shrine. The Novus Ordo table is still front and center, while the Orthodox iconostasis can easily be wheeled into place for the Bulgarian liturgy.
At the front of the church were several fliers. One was written in the Cyrillic alphabet, which I presume was a schedule for the schismatic liturgies. The other flyer was the Novus Ordo schedule in Italian. Lastly, and perhaps most amusing, was an advertisement for a week-long oecumenical liturgy fest. Sponsored by the Pontifical Council for Christian Unity, the fest boasted a different rite scheduled for each night of the week to promote better "Christian understanding." Among them were the Ukrainian, Greek, Syro-Malabar, and "Roman" rites.
---
February 4 - St. Andrew Corsini, Bishop & Confessor (Double Feast)
Complete Friday Abstinence
"Well, perhaps your feelings may be different," said Alice;
"All I know is, it would feel very queer to ME."
"You!" said the Caterpillar contemptuously. "Who are YOU?"
From: Kate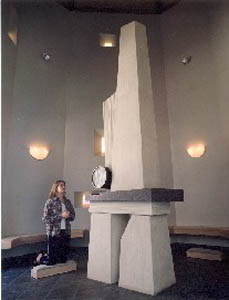 A Novus Ordo "Tabernacle"
In Sex-crazed Newchurch, Why Is It not Surprising
That the (Purported) Dwelling-place of the Lord Looks like a Giant Phallus?
Dear Fr. Moderator:
The local Novus Ordo parish church, which I quit attending, has "adoration" on Wednesdays in a chapel removed from the main church. I used to join a friend there, but quit that too. I told her the Novus Ordo service was invalid, hence also probably the consecration of the host. She insists that she can feel "Jesus" really there. My question is: is it idolatry to worship a cookie, just because she "feels" that it really is the Lord? Is it possible to have a validly consecrated host in a Novus Ordo Mess?
Fr. Moderator Replies.
If the Novus Ordo service is in valid (as the evidence, including Apostolicae Curae, clearly indicates), for a certainly the consecration is invalid. One follows the other.
Our epigraph above from Lewis Carroll says it all. Does this woman believe that she is a god (if she's Novus Ordinarian, she probably does)? Does she believe that if she feels a chocolate candy is a toad, the chocolate is a toad? This woman's mind is darkened, as St. Paul puts it, by the erroneous and deviant philosophy of Subjectivism, which is totally contrary to the Catholic philosophy of Realism, as propounded by the Church's Principal Theologian, St. Thomas Aquinas. This woman is a philosopher (we use the word very loosely) of the 20th-century school of the "Touchy-Feely, Me-First" philosophy.
Yes, of course, she is involved in idolatry, from several perspectives, whether she feels it or not. Ignorance is a relative term. Sure, one can madly chose to ignore the evidence around one and believe in Divine Toads. Just think what the judge in a criminal case would say to a defendant who attempted to defend himself from murder on the grounds that as he never read a lawbook, he was ignorant that murder was a capital offense!
This woman should ramp down on her feelings and start using the brain that God gave her. After all, that is what is in the "image of God." Or has she created "strange" Gods for herself.
---
It's the Art that Tells
From: Fr. Moderator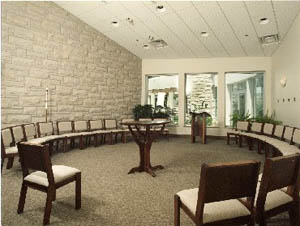 The Art of the Inane
What Is This "Space" Going in Circles?
Why, It's a Novus Ordo Chapel in Toledo!
Rather than looking into dusty documents, we can often discern the faith that motivates a Church better by its artistic monuments: its literature, its music, its art and architecture. In literature and music, it is undeniable that the Catholic Faith has been a constant stimulus for man to produce the best in his acknowledgment of the Faith. The two best of many examples would be Dante Aligheri's Divina Commedia and Johann Sebastian Bach's High Mass in B Minor.
In art and architecture, one needs only to contemplate those Catholic churches built for all time in the elegance of the classical Roman style or the power of the Gothic style. Walking into such churches, one is confronted unmistakably with Catholic truth. The structures of Newchurch, on the other hand, are hardly Catholic, let alone religious. They are often temporary Quonset huts, which take their form from the Masonic meeting hall with its giant chair for the Worshipful Master, its lectern, and its little table.
TRADITIO has consistently argued that those who wish to know the truth about where true Catholicism is should not look in Conciliar documents, which are written only for propaganda purposes, not as a statement about the Catholic Faith as it actually is practiced. How many of these documents are mere deceits, like Ecclesia Dei, which isn't worth the paper it's printed on so far as its reality is concerned.
Rather, those seeking the truth should uses their eyes and ears. Is the music they hear the most exalted every written: the Sacred (Gregorian) Chant or even Sacred Polyphony (Palestrina, Vivaldi, Mozart, etc.) Or is it the puerile Kumbaya, a Cub-Scout camp song? Is the architecture they see the expression of man's ascent to the True Faith, with solid classical columns or soaring buttresses? Or is it merely the jumble of the confused and banal, representing the confused and banal faith of Newchurch?
The art reveals the interior faith much more clearly than documents.
---
February 3 - St. Blaise, Bishop & Martyr (Simple Feast)
Beware of Oecumenical "Bible Study"
From: Wendy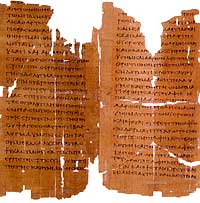 Oxyrhyncus (Egypt) Papyrus
The Oldest Manuscript of the Greek Septuagint in Existence (2nd Century A.D.)
Accepted by the Fathers as Inspired
But Protestant Versions Often Omit Several Books from Their Bibles
Dear Fr. Moderator:
I am in a Christian women's group Bible study. In the study, I have noticed there are seven more books we Catholics have than the rest of the group. Why do we have these books, and the Protestants don't? I am the only Catholic in the group.
Fr. Moderator Replies.
Sorry to say, these oecumenical "bible study" groups are the blind leading the blind. Our Lord warned of this kind of thing when he said: "Can the blind lead the blind? Do they not both fall into the ditch? (Luke 6:39/DRV). That is one reason why it is not permitted Catholics to participate in "bible studies" with Protestants. It is a danger to the Faith and also imbues the Catholics involved with, as the Church's expression goes, "the odor of heresy."
As to the canon of Sacred Scripture, the late Hebrew Church and the early Christian Church was Greek-speaking. They used the Greek Septuagint version for the Old Testament, which the early Fathers believed to be inspired. "With regard to whatever is in the Septuagint that is not in the Hebrew manuscripts, we can say that the one Spirit wished to say to them through the writers of the former rather than through the latter in order to show that both the one and the other were inspired" (St. Augustine, De Civitate Dei, 18:43). The earliest Apostolic Fathers freely quote from the whole of the Septuagint as being inspired.
The Eastern Orthodox Church also uses the Septuagint as the official inspired Old Testament. The Septuagint, compared to the Hebrew Bible, has the following additional books: Tobit, Judith, Wisdom of Solomon, Sirach, Baruch (including the Letter of Jeremias), 1-3 Machabees, Prayer of Manasseh, Psalm 151, 1 Esdras, as well as additions to Esther and Daniel. However, Martin Luther didn't like the Catholic teaching in some of these books, so he omitted them from his German Bible, although the King James translators translated them in a separate volume.
---
Are Catholic Charities Really Charitable?
From: Elaine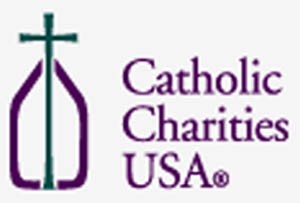 Catholic Charities
In the End, an Arm of the New Religion
Dear Fr. Moderator:
During the annual Combined Federal Campaign held at work, I pledged monthly payments to Catholic Charities taken out this year and the year before. Recently, I read that it is sinful to any Novus Ordo organization, which I believe this is. What should I do?
Fr. Moderator Replies.
It is true that Catholic Charities is an arm of the New Religion. There is also a question how much of the funds goes to support real charitable programs, how much of it goes to administration, how much of it supports the Novus Ordo directly or indirectly, etc.
In the New Order structure, there are a number of agencies that covertly (or even overtly at times) support anti-Catholic agendas: abortion, homosexuality, and always the Counterfeit Mess and New Religion. Don't be fooled by the name Catholic. Most organizations that call themselves Catholic these days are not. They are handmaidens of the New Order Religion, trying to fool if possible, "even the elect."
Frankly, we don't see the purpose in having a "middleman" administer your charitable donations and skim administration fees off the top to do so. You should be donating directly to worthy recipient organizations.
The next question is to what organizations to donate. At the top of your list should be the church or chapel where you hear the Traditional Latin Mass and receive the Sacraments. That is where your principal charitable obligation rests -- God first. The expenses involved in maintaining even a small traditional chapel are much more than most Catholics realize. Have you bought beeswax candles lately? A single candle can cost up to $10. Traditional vestments that used to cost $35 per set now have to be handmade, often at $1000 or more per set. Everything is much more expensive now because traditional liturgical items are not made in quantity any longer.
If you are not so fortunate as to have a traditional church or chapel yet, you should select one from the Traditional Directory, support it, and participate spiritually with it. Secondly, you should find a worthy charity, preferably one local to you, whose work you can monitor and even participate in, as -- neighbor second. The TRADITIO Apostolate is also available for your participation.
---
February 2 - Purification of the Blessed Virgin Mary - Candlemas (Double Feast of the Second Class)
Supreme Court Justice Praises Traditional Catholics
From: Fr. Moderator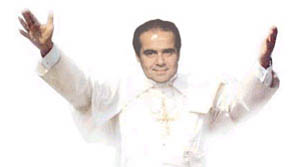 U.S. Supreme Court Justice Antonin Scalia
Is the Possible Next Chief Justice Becoming Traditional Catholic?
He Even Took on the Pope
Against JPII's Theologically Shaky Stance against Capital Punishment
One of these days, U.S. Supreme Court Justice Antonin Scalia might embrace fully the true (traditional) Catholic Faith, although for the present he is still mired in the structure of the Novus Ordo. Unfortunately, one of his sons is a Novus Ordo presbyter, so there is a family conundrum there. But he's a smarter man than that. He'll figure it out. For the present he may be cautious for political reasons, but he's a more courageous man than that. He'll find the courage. Pat Buchanan can show him the way. When Buchanan was running for President, he would consult the Traditional Directory to find traditional Mass sites wherever he happened to find himself on a Sunday.
In the interim, the Novus Ordo cloud over Scalia's sharp mind seems to be lifting. At a January 22 speech in Baton Rouge, the justice praised "traditional Catholics" who say the rosary, go on pilgrimages, kneel during the Eucharist and follow religiously the teaching" of the Church, adding that "intellect and reason need not be laid aside for religion."
And for "no greater model" for the Faith, he turned to one of the Church's greatest statesman Saints: St. Thomas More. The Catholic martyr and patron saint of lawyers repudiated Martin Luther's heresies and refused to endorse King Henry VIII's plan to divorce Katherine of Aragon or recognize the king as the supreme head of the Church of England. More was found guilty of treason and beheaded by Henry in 1535. More's example of Catholic truth and justice has been so strong that even the Church of England, which More condemned, embraces him as a model and has erected statues to him. "I find it hard to understand people who revere Thomas More, but who themselves selectively oppose the teachings" of the Church, said Scalia.
Scalia is discussed as a potential nominee for the position of Chief Justice of the United States Supreme Court when William Rehnquist leaves the bench. And from the looks of Rehnquist at the recent inaugural, that's likely to be very soon. President Ronald Reagan named Scalia to the U.S. Court of Appeals for the District of Columbia in 1982. Four years later, Scalia was nominated and unanimously confirmed to the U.S. Supreme Court, taking the seat vacated when Rehnquist was elevated to the court's top post.
The justice participated several years ago -- with Pat Buchanan and several other traditional-leaning politicians -- in a promoting a paid advertisement in prominent newspapers, challenging the pope's recent personal position against capital punishment. The advertisement was a masterly argument, from the Fathers and Doctors of the Church, of the justice of capital punishment and its rock-solid basis in Catholic theology. In effect, Scalia & Co. showed themselves to be better Catholic theologians than the pope, who gave way to European politics and the New, One-World Religion.
Scalia has described himself as an "originalist," following the U.S. Constitution as written by the Founding Fathers, rather than interpreting it to reflect the changing times. In November 2004, Scalia made headlines by saying that a religion-neutral government does not fit with an America that reflects belief in God in everything from its money to its military.
More than a year ago, he removed himself from the Supreme Court's review of whether "under God" should be in the Pledge of Allegiance after mentioning the case in a speech and complaining that courts are stripping God from public life. Last year, Scalia cast one of two dissenting votes in a 7-2 Supreme Court ruling that states may deny taxpayer-funded scholarships to divinity students. And in 2000, he stood with a majority of the court in upholding the constitutionality of taxpayer funding for parochial school materials in a Jefferson Parish case.
---
Will the Real Fulton Sheen Please Stand Up?
From: Fr. Moderator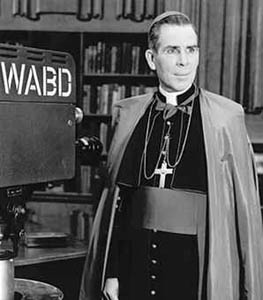 Bishop Fulton Sheen (1895-1979)
In His Traditional Heyday before Vatican II
Why Did He Go Wrong?
Back in 2003, TRADITIO reported that Newchurch bishop Matthew Clark had decided to "wreckovate" Sacred Heart Cathedral in Rochester, New York. Well, in spite of the fact that, according to the NWI Times, more than 7,000 Rochester Catholics and neighbors signed a petition opposing the changes and that the renovation project has been tied up in litigation for more than a year and that Sheen's niece, Joan Cunningham Sheen, is against the project, Clark proceeded with the wreckovations, which were "dedicated" on January 21.
We know, we know. All you Novus Ordinarians tell us that Newchurch is a Church of Love that listens charitably to its members. Do elephants fly? Strip the Modernist propaganda away, and Newchurch is exposed for what it really is: a Church of Hate. It is a church of lawlessness, in which the personal whims of bishops, not justice or Christ, are the supreme law, and even the pope refuses to stand for justice in the Church.
Sacred Heart Cathedral, where the noted 20th-century Catholic orator and author, Archbishop Fulton Sheen, served from 1966 to 1969, has been "stripped, disfigured, and severely secularized, with much of its Catholic identity eliminated." And several Sheen-related mementos and relics have been removed, such as his altar, pulpit, confessional, and tabernacle. "It now looks more like a performing arts center," said a board member of the Sacred Heart Preservation Committee in Rochester.
Perhaps the Novus Ordinarians of Rochester should take a page out of the book of one of their predecessors. Another bishop of Rochester tried similarly to wreck a church in that diocese, and that bishop was the renowned Fulton Sheen himself! Who, though he might have been a great orator in the 1940s and 1950s, was one lousy diocesan bishop in the 1960s, who succumbed to Vatican II and became a petty ecclesiocrat, just as bad as those of the present day.
After Sheen was installed as bishop of Rochester on December 15, 1966, one of his first attempted acts was to wreck a church that was dear to its parishioners, mostly of Italian descent. These gutsy Italians were not going to allow anyone, including some Newchurch bishop, to wreck their church! They took seriously the words of the Psalm: "I have loved, O Lord, the beauty of thy house; and the place where thy glory dwelleth" (Psalms 25:8/DRV).
As reported in Thomas Reeves' biography of Sheen, entitled The Life and Times of Fulton J. Sheen, America's Bishop, when Sheen drove up to the church in his episcopal limousine, the parishioners surrounded the car and pounded on it shouting (and we report here, for accuracy, the actual words used, as quoted by Reeves): "You son of a bitch! Give us our church back!" Sheen was so frightened at the Catholic zeal of the parishioners that the very next day he signed the papers to rescind the closing. Perhaps he feared that at the Pearly Gates God would judge him not as the son of a mulier but of a canis!
If Catholics from the first had stood up with righteous indignation toward the unCatholic, immoral, and unjust, even criminal, actions of these counterfeit bishops, large sections of the Church wouldn't have lost the True Mass, Sacraments, and Roman Catholic Faith.
But the question remains, and TRADITIO is asked it from time to time: how could such a highly-educated bishop (who held post-doctoral theological degrees) and one who so eloquently spoke of the traditional Catholic Faith and the Mass, have succumbed to the counterfeit New Order?
We shall hazard an educated guess, on the basis of certain comments in Sheen's published works. He should have known better, but he became an early papolator. He was so attached to the Conciliar Gentlemen's Club headed by Paul VI, whom he knew personally, that instead of performing his sworn episcopal role of correcting that pope's grievous errors, he publicly put him on a pedestal as part of a papal personality cult.
Sheen's writings, however, do indicate that by the time of his death in 1979, he repented of much of his weakness. He already saw what an anti-Catholic monster just fifteen years of the New Order had wrought. He spent most of his latter days leading retreats for priests in which he urged them to return to traditional devotion and trying to re-interpret Vatican II in a traditional light, the latter effort being a fool's errand, as we suspect that he himself might have seen, given a few more years.
---
February 1 - St. Ignatius, Bishop & Martyr (Double Feast)
"I Found the Whole Experience Humiliating"
From: Patrick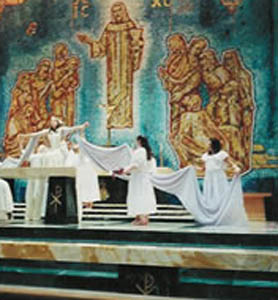 Liturgical Dancers Dance at the Novus Ordo Mess
"Indult" Priests Must Participate if So Requested by the Diocesan Bishop
There Is No "Exclusive Right" to the Traditional Latin Mass in Newchurch
Dear Fr. Moderator:
For the first time in over six years since I found the Traditional Latin Mass, I attended an "indult" Mass at a Newchurch parish. My family and I were vacationing away from the independent parish we regularly attend, and the "indult" was the only Mass within reasonable distance. The whole experience troubled me.
The impression I got was that I was being humored, and I found the whole experience humiliating. Nonetheless, I cannot accept (with a clear conscience) the idea that two rites can coexist side by side, especially when the true Sacrifice of the Mass is used as a ploy to retain a few "borderline" Catholics.
I am glad that I finally witnessed the "indult" Mass. The experience allowed me, once and for all, to see clearly the reason for attending an independent church or chapel not affiliated in any way with the Novus Ordo diocese, rather than be duped into the smarmy works of the "new" Vatican. Furthermore. I am much more thankful for the graces that God has given me. I can walk into my independent traditional church to worship Our Lord the way He intended -- without compromise, without shame, and without fear.
Fr. Moderator Replies.
It must be recognized that the perspectives of the "indultarians" have changed over the years, as they have been drawn closer and closer to the Novus Ordo. This is the avowed design of Newchurch, which has made no bones about the fact that the Protestant-Masonic-Pagan Novus Ordo service is their "Mass" now and that the "indult" is a very temporary bridge to get recalcitrant "traditionalists" over to the Counterfeit Mess.
The indultarians originally argued for the abolition of the counterfeit Novus Ordo Mess and the restoration of the True Mass of the Roman rite, the precedential rite of the Roman Catholic Church and of the See of St. Peter. In recent years, however, the "indultarians" have started to sing a different tune. To the Newchurch bishops they say: "Just give us our Mass, and the rest of the Church can go to H---." They envisage the True Mass and the Counterfeit Mess coexisting side by side, so that people can "choose." They envisage the "Church" offering both good and evil, both valid and invalid, both truth and fraud. That is about the sickest theology one could construct about the Church.
And then there is Newvatican's Protocol 1411 of 1999, which was issued when an "indult" priest refused to perform the Novus Ordo Mess when requested by his diocesan bishop. Newvatican backed up the bishop (no surprise there) and issued the protocol, specifying that no "indult" priest could refuse the order of his bishop to perform the Novus Ordo.
So, by Newchurch law, every "indult" priest is biritual: he is both a priest (sort of) and a presbyter. When officials of the largest "indult" organization, the Fraternity of St. Peter, claimed exemption because it had allegedly been given the "right" to use the 1962 rite "exclusively," Newvatican told the fraternity that the protocol specifically applied to it. So much for an "exclusive" right to the Traditional Latin Mass (well, at least the modernized 1962 version of it).
---
Novus Ordo Funerals Feature "Raucous Music, Dirty Jokes, and even Beer Bottles"
From: Fr. Moderator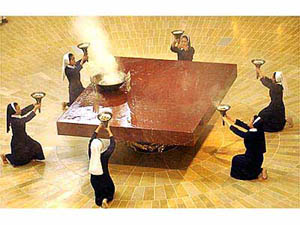 Pagan Rites at the Los Angeles Newchurch Cathedral
Novus Ordo Funerals Now Feature the "Unruly":
"Raucous Music, Dirty Jokes, and Beer Bottles"
If you're a Novus Ordinarian, that's what you can expect at your funeral. The institution of the Novus Ordo after Vatican II turned Newchurch into little more than a pagan temple. As we've seen in past Commentaries from the Mailbox, some of the Protestant churches are becoming more liturgical, but the Novus Ordo features dancing nuns, presbyters dressed as clowns, and now pagan funerals.
It's gotten so bad in Australia and New Zealand, once bastions of British propriety, that the Newchurch bishops there have decided to introduce "formal guidelines" for funeral services because Novus Ordo funerals have become "unruly," including "raucous music, dirty jokes, and even beer bottles opened at the altar." There have also been problems with laypeople giving "eulogies" and even lambasting Catholic doctrine!
Wouldn't you think that any Catholic bishop (of course, we know that the Newchurch bishops aren't Catholic) would put a stop to such sacrilege, pronto? But, no, the sacrilege will go on while a "commission subcommittee" reviews guidelines and reports back -- next year. Isn't this just like the Newchurch girly-bishops?! Slough their responsibilities off to a nameless "commission."
In the traditional funeral rites, of course, one doesn't need "guidelines." They're already there, and have been for a couple of millennia. There are no "eulogies" (how can there be when no one knows the interior mind but God). No laypeople permitted in the pulpit with their dirty jokes. And certainly no raucous music and beer bottles on the altar!
---

Return to Commentaries from the Mailbox.